Contents
---
---
When the long-awaited wedding day is approaching, the newlyweds and their parents prepare for it. A banquet hall was ordered, dresses, wedding rings were bought, and one cannot forget about the tradition of the groom's parents to bake ceremonial pastries - wedding cones. What is this ritual baking intended for, what symbolism does it carry and what place is reserved for cones at the wedding? Let's find out.
What does the wedding tradition of giving away cones to guests mean??
Wedding cones have reached contemporaries since ancient times, when the groom with the boyar or the bride and girlfriend did not invite people to the wedding with the help of postcards, but presented special sweet pastries to future guests. Each person who received such an invitation could not refuse the newlyweds and had to come to the wedding. There is another story: every guest who proclaimed in the old days a wedding toast in honor of the young, received as a gift sweet wedding pastries, a kind of attribute.
Now butter cones are directly related to the wedding loaf. These little buns and a piece of loaf of newlyweds are distributed according to custom to guests at the time of delivery of gifts. It is believed that during this ritual, the bride and groom give the guest a piece of their happiness and love, therefore, the invitees take these gifts very seriously. And so that luck smiles, according to legend, a tasty bump must be eaten before the end of the wedding.
When and how is it customary to hand cones at a wedding?
Often a similar ceremony of presentation is beaten by the master of ceremonies at a wedding. But if the newlyweds do it themselves, then they hand the baked cone into the hands of each guest after he handed his gift. However, there is a point that needs attention: the bump is sweet, and so that the guest's hands do not remain sticky, it is better:
Do not give cones without packaging. People get their hands dirty, holiday clothes, and buns can just dry by the end of the fun.
Do not wrap cones at the time of delivery. using a banal cellophane bag, as it does not look festive, but looks more like a sale.
If you want to do everything beautifully at the wedding - you have a chic banquet room decoration, expensive wedding dresses, the most delicious dishes are ordered - then every wedding cone should be packed beautifully. You can wrap it in transparent paper, tie it with a satin ribbon or add a nice wedding accessory, for example, a small heart or an angel.
Some give cones and bonbonnieres to all guests at once, turning off the lights in the hall, and decorate each bun with a candle and light it. All guests are asked to get up from the tables, gather in the center of the hall. Guests are delighted: the room is engulfed in romance, the atmosphere is amazing: 40-80 candles are lit at the same time and a quiet romantic melody plays. Do not forget, after the candles are extinguished, to offer each guest a beautiful bag for baking.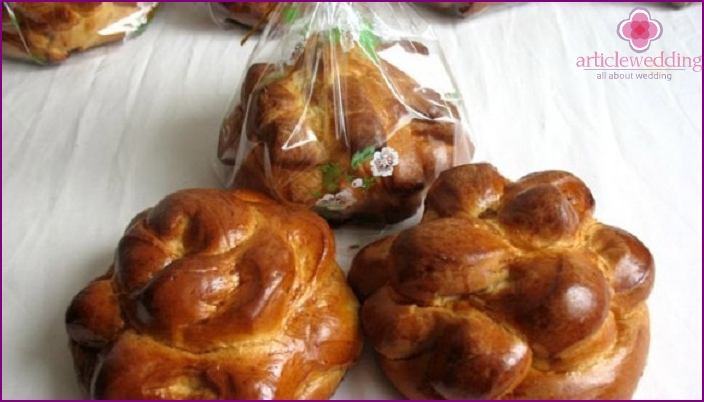 How to bake a sugar cone - recipe with photo
Fashion for wedding sweet buns is spreading fast, but not all housewives know how to bake and decorate a bump so that both an adult and a child like it at a wedding. In order not to spend money on ordering pastries in confectioneries, we offer a step-by-step recipe on how to bake a sugar bun. So, we need the ingredients:
margarine - 300 g;
milk - 600 ml;
eggs - 4 pcs.;
oil - 100 g;
sugar - 150 g;
saffron - 1 tsp;
yeast - 100 g;
flour - 3 kg;
vanilla sugar - 1.5 sachets;
salt - 1 tsp;
baking powder - 1 sachet.
Cooking method:
Make a dough: combine the yeast with salt, and then add warm milk, sugar, mix thoroughly. Cover the dough with a towel, set in a warm place for 30 minutes.
Then slowly add flour to the mass, grinding it with softened margarine, so that the dough is not heavy. To the resulting mass add softened butter, eggs, saffron, baking powder, beaten into foam, mixing again.
The amount of flour needs to be regulated, because it has different gluten, and the dough should be soft and in no case rubber.

From the above ingredients, 4300 g of the finished dough should be obtained. The weight of one bun is about 100 g. Portions are reduced or increased as needed..
To form a wedding bun, divide the dough into identical pieces, rolling them into long sausages.

We turn it into a snail shape, and then with the help of scissors along the length of the bundle we make notches.

We grease the baking sheet with vegetable oil, laying out our buns at a great distance from each other. We put the pan in a warm place so that the products fit.

Before putting the baked goods in the oven preheated to 200 degrees, grease it with a mixture of sugar, milk, yolk to provide sweets with an appetizing crust.

After 7 minutes of baking, lower the temperature in the oven to 160 degrees, leaving the buns there until golden brown.
Sprinkle still hot sweets with powdered sugar.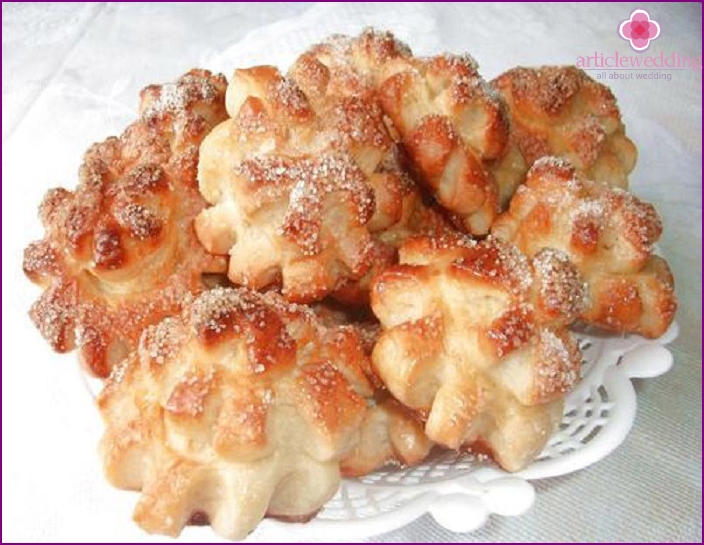 Video - recipe for making pastry buns
Wedding buns are prepared in different ways, so they come out big or small. We suggest watching in the video another recipe with which you can easily prepare delicious pastries for the wedding at home: