Contents
---
---
A wedding ceremony takes place, as a rule, once in a person's life, therefore it should be at the highest level. Unusual congratulations to the newlyweds are remembered for a longer period than the most expensive gift, so all those invited before the celebration think about how to congratulate the newlyweds at the wedding. In order to please the bride and groom at the celebration, it is advisable to dream up, inventing an extraordinary congratulation. Let's talk about original wishes for the young at the wedding.
Options for original wedding greetings
Those guests who pronounce the most cordial wishes to the newlyweds are remembered at the wedding. Units pronounce congratulations extraordinary and creative, but there are many options for self-expression:
For example, it is not necessary to have great talent to congratulate the newlyweds in poetic form. If you wish, it's easy to remake a famous song and such a congratulation will be a pleasant surprise for the newlyweds.
Or make a funny photo collage by choosing interesting photos of the newlyweds in different periods of life, starting from infancy. Come up with funny comments for them, pick up funny music, and give the newlyweds a merry congratulation that will cheer up everyone present for a long time.
An interesting congratulation will be recorded on video wishes from strangers whom you will meet on the street and ask for congratulations on the wedding of young.
Imagine - and you will definitely visit an original idea!
Beautiful words in verses and prose
Wishes to the newlyweds in prose - this is the most common form of solemn speech at the wedding, because not everyone decides to write poetry, and a custom poem is expensive. Wishes in prose should not be too long. In order not to lose the attention of those present, speech should not last more than 1-2 minutes. As a rule, a solemn congratulation ends with the presentation of a gift that adds significance to the spoken words. We offer several ideas for a solemn speech in prose, which the newlyweds will definitely like:
If you ask a variety of people what a marriage is, then we will hear a lot of opinions. Someone will say that it is the duty of the young to God. Another will suggest that this is only one month of love and the subsequent long years of a monotonous existence. Someone will add that marriage is a gift of fate. Each of them will be right, because the union of two people is such as they think of it. I wish you all the time to think about love, happiness and joy, so that your union is amazing for everyone!
One wise man said: «There are many who seek, but few who have found.». You are the happiest people, because you could find each other. Let your family hearth burn with an unquenchable flame, illuminating family life with the light of fidelity and love.
On the wedding day, they told you and presented a lot of good. But the most valuable prize you received from the Sun. It presented a piece of her love from which you created a family hearth. Keep this gift your whole life so that any wind of change does not extinguish your love, but only inflame it even more!
How to congratulate the newlyweds at the wedding with poems? Yes, very easy! We offer several poems that you can use in your ceremonial speech:
Groom like a swan - strong, slim!
So noble and smart!
I chose a girlfriend to match myself,
To love until the end of time.
We wish you good luck and patience.,
Happy life and victories!
And most importantly - family love,
Love you yes advice!
Young and innocent like two doves,
And life ahead - a clean slate!
We wish life gave a smile
And a flower blossomed on a leaf!
Take care of him, cherish, cherish,
After all, this is a symbol of a strong family!
Grow together, water together,
After all, only so will you be happy!
All your life go only close,
Loyalty to each other.
Do not allow an evil look,
Do not know how long you insults.
May the sun always shine on you.
And the days will be cloudless!

Never part,
Let your hearts be loved!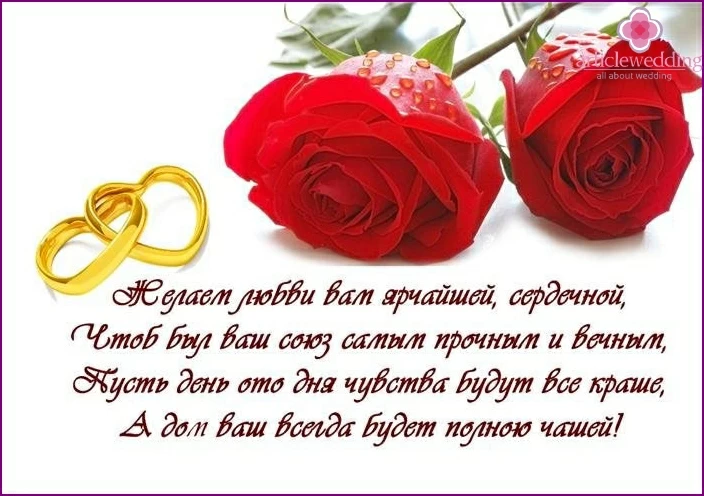 Short wedding greetings
You need to learn how to talk at a wedding with beautiful toasts or to hand in an original envelope with money. You can sign a card with a ready-made congratulation, but it is better if you congratulate the newlyweds in your own words. It is not necessary to speak beautifully or longly. Let your wish be short - it will not lose its relevance from this, because it is not in vain that they say: «Brevity is the soul of wit». Examples of short wishes:
One day I can say one thing,
After all, a serious step, I understand.
I just want to wish happiness,
I heartily congratulate you!
A family is born, like a new star in the sky.
Congratulations, friends, and remember that a wedding is forever.!
You connected your hearts
In a reliable and durable alliance.
We wish that love be preserved
And proud of the strength of the bonds!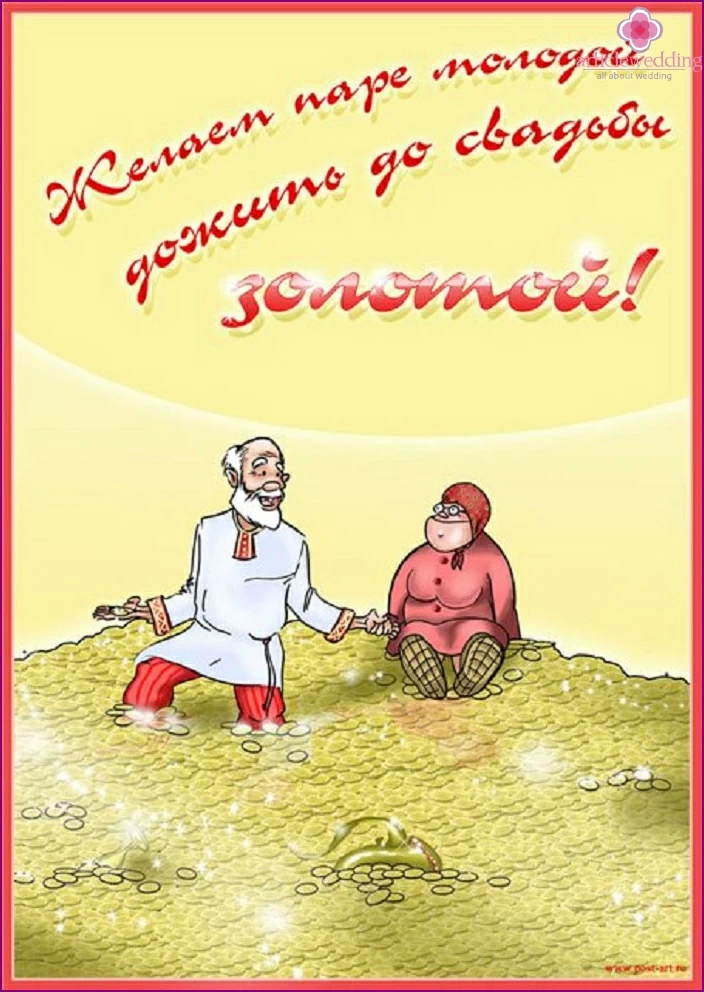 Funny greetings in your own words
If you are not a fan of memorized prose or other people's poems, congratulate the newlyweds at the wedding in your own words. Tell the bride and groom the most important thing that is in your heart, and if the words are cheerful, not only the newlyweds, but also the guests will take your speech with enthusiasm. The main thing is to rehearse phrases in advance so that you do not blush, stutter or get nervous during the holiday. It's better to write text on a piece of paper or to memorize a wish.
We offer examples of cool texts in our own words for newlyweds:
Chinese philosopher Confucius said: «Happiness is when they understand you». Now this statement is as relevant as it was many centuries ago. I want to wish the young people love and understanding, so that they always feel respect and support for each other.
We heartily congratulate you on your marriage! We wish your life was not bitter and not sweet, but in moderation: with sourness, peppercorn and zest!
In the ocean of marital life, family union is a ship. The wife is the helm of the ship, and the husband is the sail. I want to wish the bride to always find the right course, and the bridegroom - wisdom, endurance. Let the caravel of your family always find a calm course, and even if the weather is bad overboard, let love, peace and tranquility always reign on the deck of your ship!
How unusual to congratulate the newlyweds from their parents?
Parents at a wedding at children are the most honored guests. And their congratulations act in some way parting words in further family life. In order for the wishes to be original and for a long time to be remembered, parents should prepare in advance. And from us - a few examples of sincere congratulations to the newlyweds:
Dear children! We see happy smiles on your faces. May a good mood never leave you, and the happiness that overwhelms you now will last forever! We wish you a worthy journey along the path that is called family life, as yet unknown, but so interesting!
All parents rejoice for their children when they are happy. And we rejoice, because you found each other and met love. Let them shout at your wedding: «Bitterly!», and we wish that bitter days never come to life, and happiness settled in your house forever!
Wedding day is a magical time when all your wishes come true. We want to make a wish in your life that there is a lot of love, mutual understanding and respect. If you achieve harmony in the relationship, then all other desires will certainly be fulfilled! May you live happily ever after!
Video: Creative Greetings
It is not particularly important how creative words will be spoken at the wedding, the main thing is that they be spoken from the bottom of the heart. If you have not yet decided on the option of congratulating the newlyweds, then watch the video in which funny wishes are prepared for the bride and groom: