Contents
---
---
Little children behave naturally, relaxed in any process. Therefore, at weddings, they become the subject of attention of all those present. Such young guests are also expected to receive children's congratulatory words. They, like real adults, can deliver a whole speech or a solemn verse. Beautiful wedding greetings for children, or rather, the vast majority of them, are simple, unpretentious, but there are ridiculous options. Children can arrange a real scene with a declaration of congratulations or perform a congratulatory song.
Funny greetings from children with a wedding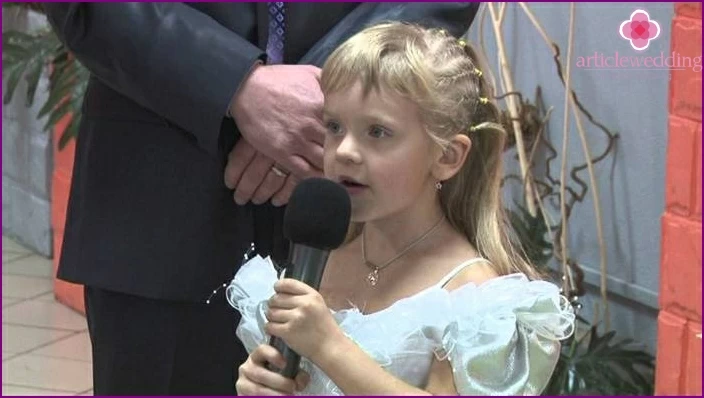 Parents who come to the wedding ceremony with the children try to find funny, beautiful and interesting children's greetings for them. It looks funny: from the lips of little girls and boys dressed up with real grooms and brides, congratulations to the wedding sound very nice, touching. Not all adults can resist such a scene without tears. After all, children personify love, and when they talk about happiness, real feelings in congratulations on the wedding, it is impossible not to be touched by these creatures.
To parents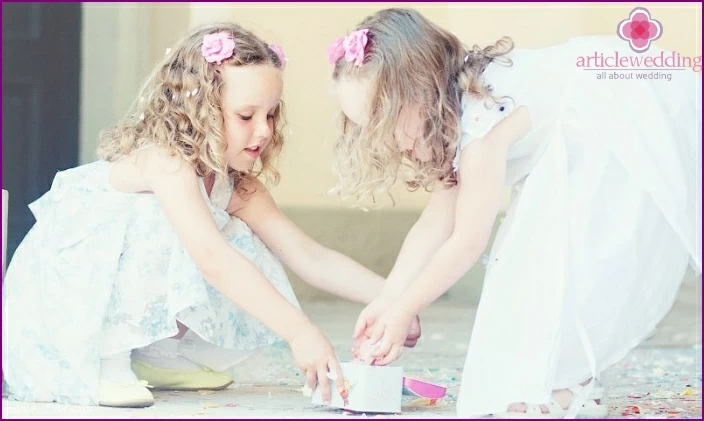 When children congratulate their parents on their wedding, you may not have to cook them in advance. If the child is shy, active, he will be able to best express his wishes: it will look cute, touching and, most importantly, sincerely. If in doubt, ask the child to write in advance everything that he would like to wish on a piece of paper. If necessary, help him, tell me the right words. If the child has talents, then he will be able to compose a poem dedicated to his own parents. Below we provide options for children's funny greetings.
Two hearts merged together
And two hands merged into one
Union be indestructible
For the rest of my life.

What could be more beautiful in life -
Her hand in his hand
The fire of love, may it not fade away
In your family hearth.

Big dear, not a trail
You holding hands go
And let the walk be easy
And fewer pebbles along the way!

Mom and Dad, I hasten to congratulate you,
And I give the most interesting gift.
You raised me perfectly,
And I lived with you very decently.

And on your personal wedding day,
Congratulations to me write not too lazy.
You live together soul to soul,
And you do not have «dark clouds».

You are an example of a family for each of us,
This holiday is just for you.

I am happy to congratulate you on your wedding,
Now I want to add a little bit:
So that you are happy together,
And, as now, they are always beautiful!

There is no finer word «forever»,
You are in wedding suits.
Here it is a paradise,
Accept greetings!

May your union be long,
Beloved parents!
Will not be stronger than these bonds,
Happier than the cloister!

Let the hearts beat in unison,
Burning in the heat of love.
And life is beautiful like a dream,
Lovers surround!
From uncle's nephews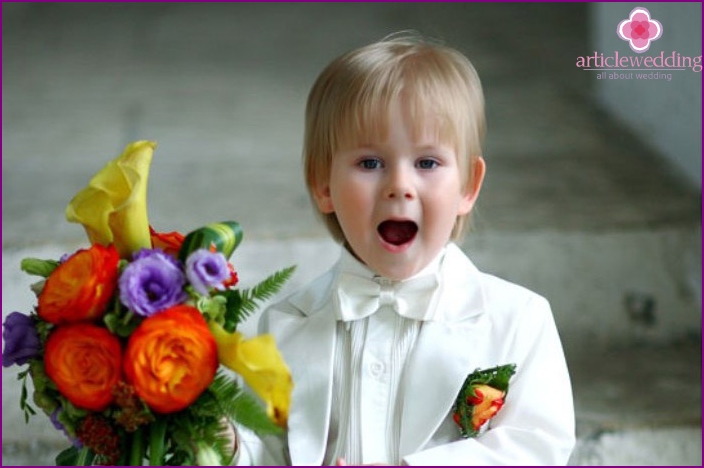 If the nephews of the groom are invited to the wedding, then the parents should think over the children's congratulations in advance. If the children are adults or adolescents, give them the opportunity to prepare for themselves: let them figure out what they would like to wish to their beloved relative (for example, a beautiful castle, a happy family, etc.). If the child has a sister or brother, then let them read the verse on the roles together. But what if the kids cannot themselves compose a children's congratulatory poem for a wedding? The following verses for the wedding will come to the rescue.
Gold rings sparkle,
And your feelings are so tender:
Love beautiful, young!
May the days be full of happiness!

Newlyweds congratulations,

We wish them love and happiness,

Husband - obey his wife

And love her alone.

And the wife - give birth to children,

Lovely, nice little rascals!

We are waiting for the heroes from you

And beautiful daughters!

And we also wish you

Forever be young,

Us for a golden wedding

Do not forget to invite!

Loyalty to each other,

Walk your whole life only nearby,

Not knowing the bitter, evil resentment

And a reproachful look.

May the sun always shine on you

And the days will be cloudless.

Never part,

Let hands not forget tenderness!
From godchildren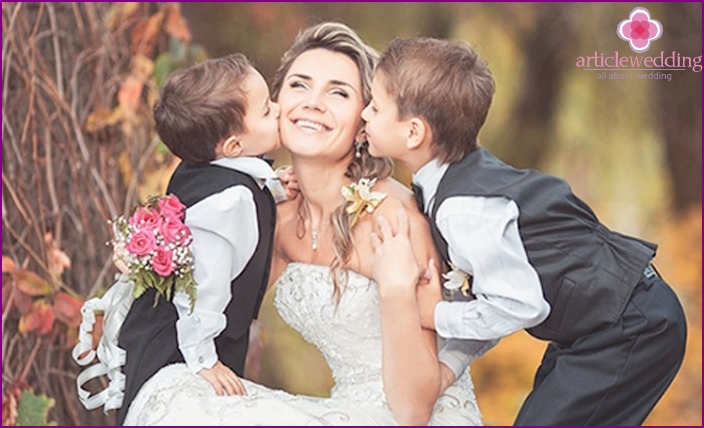 Godparents will look forward to receiving wedding greetings from their godchildren. Therefore, it is important to prepare the children for this moment. Kids can play a small sketch, tell children's congratulatory verses to the godmother and her chosen one. This moment will be very touching, emotional, bright for couples, especially if they do not have their own children. It's better to rehearse a learned wedding greetings with your child several times so that when excited, he does not hesitate, does not forget the words.
Let it never fade

Happy life dawn,

May it always be sweet to you,

And now you are bitter!

Life is a long road for you,

Hundreds of miles.

You are now on the verge of happiness,

Wedding door to enter.

So open this door wider,

To make it bitter with wine,

To be the best couple in the world,

To happiness drink life to the bottom!

Wish our newlyweds,

That the path through life was successful.

We wish to live in love and peace,

In a separate private apartment,

To make her sound for the whole

Cheerful sonorous laugh!

Any palace will become a hut,
Reigns where a good wife!
More expensive than all wealth,
More expensive than pearls and gold!
And I vote with a glass
For the choice of the groom - for the young!
Options for short greetings from young children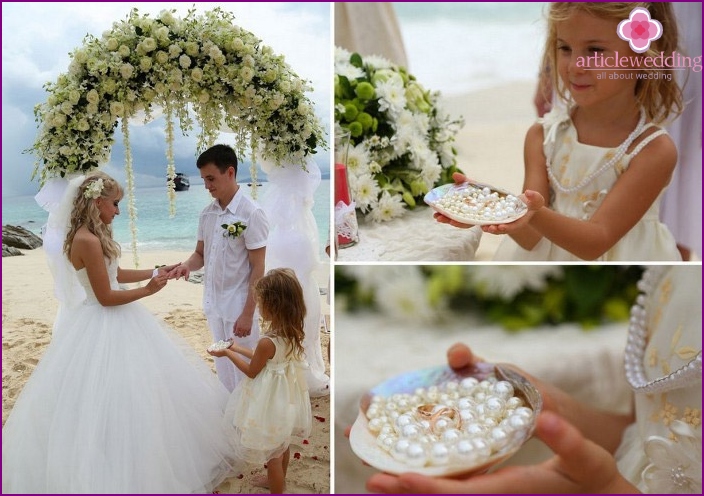 The youngest guests at the wedding can tell a little nursery rhyme. It will be interesting and sweet if at home with mom the child prepares a handmade postcard, for example, with an applique. Believe me, such a surprise will greatly please the young. It is better if the child is not far from the parents during the children's congratulatory speech so that they can give him a hint if he stumbles.
For you young palaces blue
In all cities they create,
So that those golden days were memorable
When you will be called family!

We wish to live in love and in peace,
It seemed like a fairy tale!
And to have a place in it
Nappies, nipples and prams!

We wish you to live without boredom
Happy friendly family
Until the day your grandchildren are you
Golden wedding greetings!

We want to wish you
Smile more often
And each other every day
Fall in love again
Always equally divided
Joys
And add strength
Storks work!

You have a great triumph,

Relatives and friends will raise a toast,

Cause it's happiness that you two became,

May the new family be strong!

Let the family be alright,

And it's always gratifying in the soul.

Let always accompany

Love, smile, kindness.

I want to wish you to always be together,
But do not get tired of each other forever!
To smoothly transition the honeymoon
In the honeymoon, then in the honeymoon!

I wish you to live in the city of Love,
On the street of Concord
So that the windows overlook Dreams Avenue
Leading only in Happiness!

We heartily congratulate you
On the day of this joy is great,
With all our hearts we wish you
Be a strong, friendly family!
Funny kids poems happy wedding day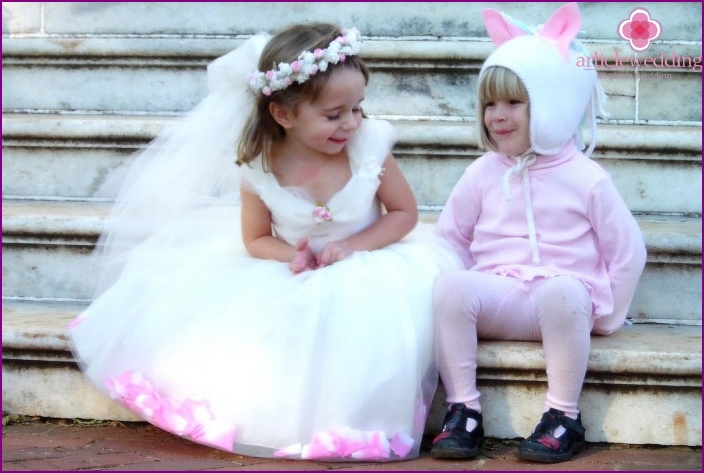 Funny children's congratulations on the wedding ceremony will amuse all the guests, the newlyweds. It will be a good discharge, an opportunity to throw out emotions. Prepare the kids in advance for a performance. They can simply tell a nursery rhyme to a wedding or accompany it with a theatrical stage, dance, or they can even sing. Rehearse the congratulations in verses several times so that the crumb is sure, calm. Also, explain to your child how to behave..
Congratulations, young, and I wish you different things:
Silent mother-in-law, mother-in-law safe,
Father-in-law to sponsor,
Well, the father-in-law to invest in you too!

Happy wedding day, happy wedding day guys,
Let them live in the house,
Nights so you don't sleep from now on,
A beautiful babies gave birth!

Happy wedding day from the bottom of my heart!
It's time for you to change priorities:
Did you love date and flowers,
Learn to cook borsch, meatballs...

Newlyweds, congratulations,
And I hand over the wish:
Always live together,
To do this, a little,
So that husband gives flowers to his wife,
He wore on time!
Wedding video greeting in the form of a song from a child
The video below shows a touching greeting from a child in the form of a song. In such a wonderful way, every kid can congratulate the young on their wedding by giving them a song.