A silver wedding is an important anniversary for a couple, because the husband and wife have lived together for twenty-five years. On this day, as a rule, they organize a big feast, where they invite close relatives (brothers, sisters, parents, children with small grandchildren), good friends and colleagues. Each guest seeks to come up with an original greeting «silver» spouses, which touches and touches their hearts. Those who want to give smiles and laughter to those present turn to ridiculous wishes that glorify a long and strong marriage of heroes of the occasion.
Options for funny congratulations on your 25th wedding anniversary.
When choosing a funny greeting for spouses who have lived together for a quarter of a century, you need to remember that it should contain not only a funny joke, but also sincere wishes for health, happiness, longevity, love and understanding for silver anniversaries. It is desirable that the words spoken to the heroes of the occasion were not vulgar or too vulgar. Thinking through the text of the congratulations, we can mention the symbol of the holiday - silver, to say that today the marriage of anniversaries is as shiny as this precious metal.
By the time of the silver wedding, the family had already experienced a lot, so it would not be superfluous to wish the spouses an easy and happy life journey, joy and carefree days ahead, even more little grandchildren, the appearance of healthy great-grandchildren and many more anniversaries, including a golden anniversary. If the invitees have a talent for versification, it is worth composing a real ode to silver jubilees in a playful and energetic manner. Those who can play the guitar can come up with funny ditties that will definitely become the main number of a noisy feast.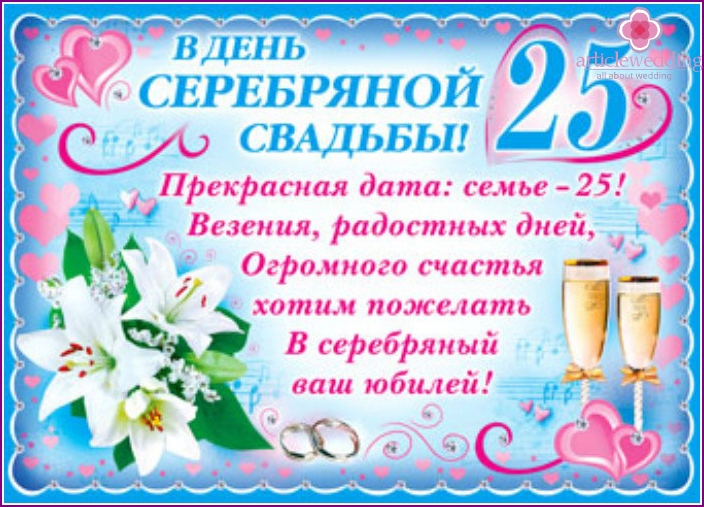 The congratulation in the verses does not have to be long: to make those present laugh, one short but capacious poem on four lines is enough. Works created by guests on their own will be especially valuable, because most of the guests have known the silver spouses for a long time, and therefore have learned their characters, know the history of their love for sure. The poem, containing real facts from the biography of the anniversaries, reflecting their features, will surely please everyone present at the table, will cause genuine pleasant emotions and sincere smiles.
If the culprits of the holiday already have grandchildren, their parents can try to compose a poem with the kids. Charming congratulations from the youngest guests of the holiday will not leave anyone indifferent, it will be the most touching moment at the event. If the guests of the holiday cannot independently come up with a funny poem, there are several ways out of the situation: turn to a professional poet who will write a poem to order, or find a suitable option for a wish on the Internet.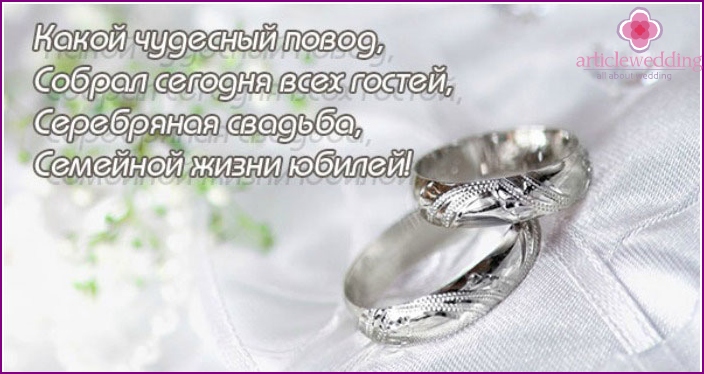 For those who, for some reason, can't attend the twenty-fifth anniversary, the option of joking congratulation by SMS is ideal (before this, you need to make sure that the silver pair of anniversaries can read it, because many older people do not use mobile messages). It is possible to say a ridiculous wish over the phone if the perpetrators of the 25th anniversary cannot read SMS, moreover, it will be much more pleasant for them to hear the voice of the congratulator than to read the text. Below are examples of interesting funny greetings for anniversaries.
Congratulation in verses from children
After many years, the most valuable acquisition in the family is not a career or acquired property, but relatives and friends who are close by. Children are the most important people for anniversaries, and therefore they must necessarily congratulate the perpetrators of the 25th wedding anniversary with beautiful words. Surely the daughters or sons of the silver spouses have already found a mate, therefore, this also includes congratulations from their husbands or wives. Children are well aware of their parents, learned their habits for so many years of life together, so it's easy to compose or pick up a suitable funny greeting.
No hesitation, no doubt,
I'm glad to inform you today:
Silver is a priceless metal!
Your years will confirm!
Let the whiskey get silver
This wisdom paints them;
Let faraway youth hid -
Forever happiness for two!
Only from life would not be tired,
Rejoicing at her every time ...
I'm having a silver wedding,
Congratulations to you today!
There is no beautiful anniversary in the world,
Native mother and father:
Your silver wedding is
Happy long years crown!
You went through heat and cold,
Spatters twinkle, separation hour...
But everyone is both strong and young:
Stopped time in you.
And I'm already flying winged
With your beautiful dream
There, congratulations where once
You with your wedding - golden!
The run of years is high and accurate,
But then the hour came:
Wedding day father-in-law!
I congratulate you!
It's not easy for you at first
I used to admit.
Gave a daughter, rocked -
My beloved.
How long happiness lasts, to know?!
But what is there to twist:
Before - in diamonds - weddings
I wish you to live!
A quarter century couple together -
Millions of gentle words,
Groom says bride,
Ready for her.
Although the groom is already an experienced,
But the bride is young.
We just say one thing:
So let it be forever.
Husband from wife
Congratulations from the silver spouses to each other, as a rule, are touching and beautiful, but a married couple is quite capable of approaching this ritual with humor. A husband can in a humorous manner appeal to his beloved, in a poem tell about her character and about the difficulties that she had to face in family life. But it is necessary to include in the text gratitude for the years spent together, for the warm hearth, for the tidy economy and sincere love. Spouse should tell beloved how good it is to live together on this Earth and to continue a long journey together.
Thank you dear,
That you are always with me,
We walk alone
And feel each other's eyes.
I wish you joy,
Strong health and strength!
You know that on the mainland,
Love you my best sweetheart!
Honey, you and I are so different!
How did we manage so many years
Survive all sorrows and holidays,
The pain of loss and joy of victory.
After all, by all laws, we do not fit
We are to each other - as rumor says.
But how many years have we found
You and I are tender words?
You're gray and I'm not young anymore.
A quarter century together is a date!
I often remember that minute,
How did you meet when.
How deeply in love with you then,
I still love you.
In children, like you, dear, similar,
I see my youth again.
Silver crowned wedding -
Our gift for each other.
How much is left for us? Here to find out,
What fate-friend prepares for us!
Be always with me, my joy!
I pray for the Lord about you,
And I don't need other gifts,
Because I love you.
Dear, my beloved spouse,
You are not only a husband, you are also my friend.
I am very glad that we are together
It's very interesting with you
I congratulate you with a silver wedding
I wish you great tenderness.
So that life flows like a stormy river
Passing all the rapids and bumps.
And so that together we as husband, wife
Celebrated the anniversary as much as a golden wedding.
And sending congratulations
I'll kiss the whole leaf.
Wife from husband
In response to the congratulation of the spouse, the wife should also thank him from the bottom of her heart, note the dignity of her husband, say how valuable the care, love and warmth that her beloved has been giving her for so many years. The culprits of the celebration can agree in advance about the humorous manner of wishes to each other: this will make their performances coherent, interesting and thoughtful. Greetings in poetic form can be said in front of the guests or written in a postcard.
When whiskey silvered gray hair,
Special love is given to us,
It has more tenderness than in old years,
When she is blind and young.
Everything in life was, after all already passed 25,
But we celebrate the wedding again.
Everybody calls her silver
After all, the silver glitters the joint path.
Health, joy, good luck, happiness light,
I wish to stay young for many years.
I have only one joy in the world,
There is a beloved, of course, and a tender wife.
You and I lived together for twenty-five years.,
So, we'll sing about the silver wedding.
Today I will give you a beautiful silver pendant I,
You look out the window, then go out onto the balcony.
Let people see different, any, everyone in the country,
That you are beautiful in the world and doubly.
And in the evening I'm having a family and wonderful dinner,
I will say how I love and how I need you.
You are the best angel in the world,
Read my greeting soon!
Wife, you and I are a pound of salt together,
Chew for a quarter century.
And he is sweeter than sweets for us,
The light envies our love.
I am writing you this funny greeting,
And I put our love under lock and key,
So no one can take it,
And give it to someone else!
Be the most beautiful as you are now,
Let everyone know, hear about us.