Contents
---
---
Bed linen in the bride's dowry was included in ancient times, because a beautifully covered wedding bed creates a special atmosphere of romance and happiness for young people. Currently, the bride does not need to purchase it herself, as she will definitely receive wedding bedding as a gift. Moreover, the best quality textiles made of such expensive fabrics as jacquard, luxury satin or even natural silk are presented at the wedding.
How to choose bedding as a wedding present
Newlyweds bedding does not have to be white: some like dark colors with large patterns or delicate pastel shades, and red in this vein means passion. Newlyweds are given sets with lace and ruffles, with embroidery and drawings, decorated with a 3D volumetric image. The most common materials for formalwear:
Silk.
Bamboo.
Tensel.
Satin.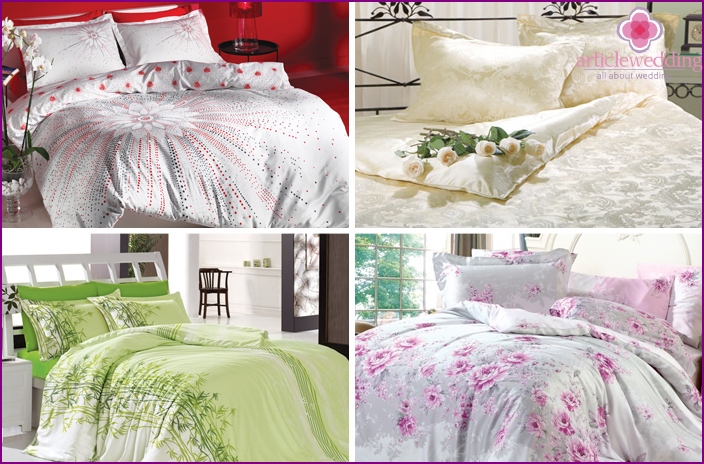 If you can afford it, give the newlyweds a silk bedding set. This fabric belongs to the elite price segment and is made from silkworm cocoons. Silk has unique thermoregulating properties that allow you to feel comfortable both in a sultry night and in the cold period. Bamboo fabric too «breathable» and antibacterial, but due to the fragility of the fibers requires delicate care.
Tensel is a wood technology performed using the latest nanotechnology. It is an environmentally friendly material that is ideal for people with allergies and, moreover, having high strength. Mako Satin or Luxe Satin is a cotton silk made from Egyptian long-staple cotton. In appearance, this fabric resembles silk threads, differing in matte, and not glossy, like silk, gloss. Thanks to careful processing, «cotton silk» has excellent breathability and durability.
Wedding Bedding Sets Options
Wedding linen sets come out with a beautiful design and handmade trim. For example, Japanese wedding bedding sets are distinguished by hand-painted and voluminous embroidery, and machine labor is very rarely used in their manufacture. Models with a large floral print or decorated with wedding-themed paintings are ideal for honeymooners: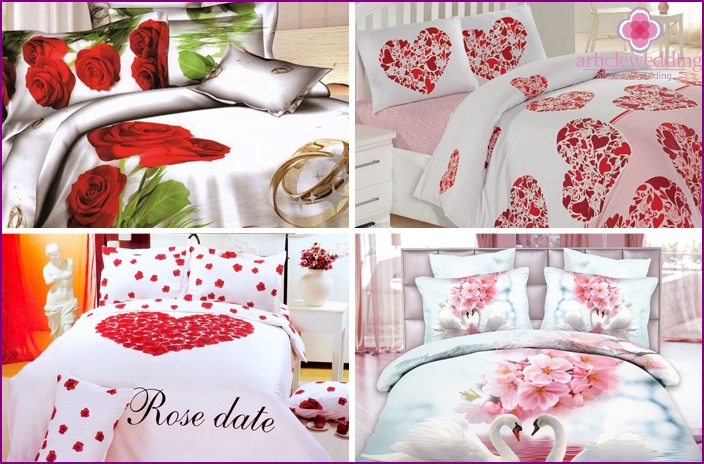 wedding rings;
hearts
swans
pigeons.
White linen is traditional for a wedding, but modern young people prefer practical color, so it is better to choose sets with patterns, prints or color embroidery as a gift to please the bride and groom. As for the size, the optimal is a standard double set, which will certainly fit on a newlywed bed. Watch a few wedding bedding options in the video:
With original embroidery
Embroidery gives the bridal bed set elegance, appeal and durability. It becomes very pleasant to the touch and the individual gift design is emphasized. Embroidery is applied to the outside of the kit, while it does not impair the consumer qualities of home textiles, because its application is thought through to the smallest detail.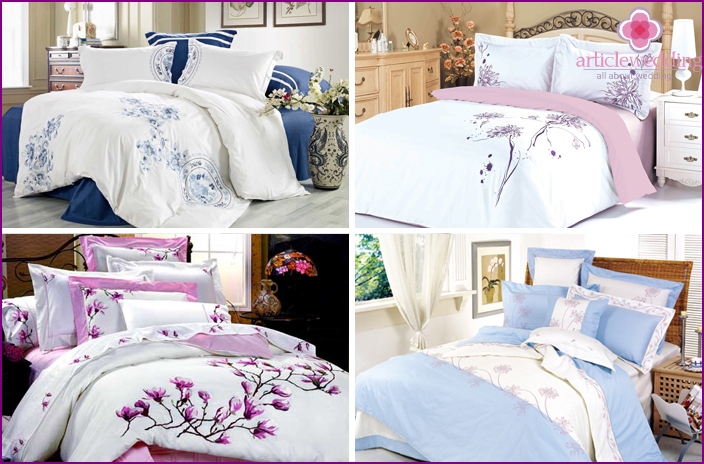 Decorated with a pattern
Collections of wedding home textiles are amazing with their diverse designs. Designers offer newlyweds large drawings in the form of lush bright roses, stylized Egyptian ornament, Japanese characters, animal skins, palm leaves and other African motifs. Newlyweds like a variety of bedding ensembles with large flowers on a wine-amethyst, matte lilac or mossy green background..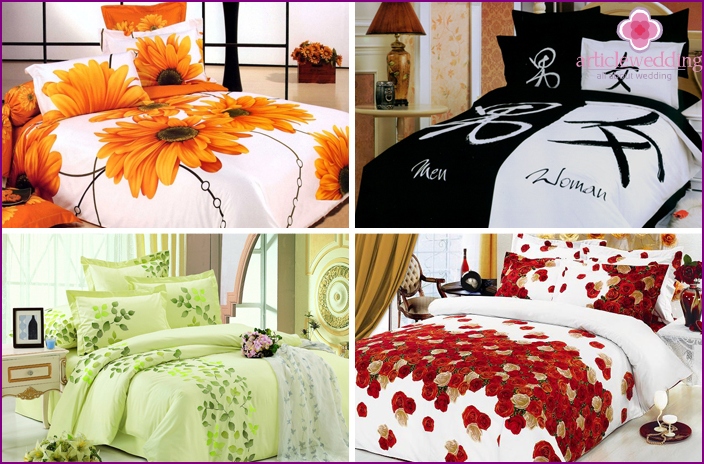 Lingerie with ruffles or lace
Lace wedding textiles are also distinguished by their diversity. It looks elegant and expensive, so it is ideal as a wedding gift. Frivolous ruffles on lace bedding will especially appreciate brides who prefer the design of their bedroom in the style of shabby chic: sentimental antiques and soft classics.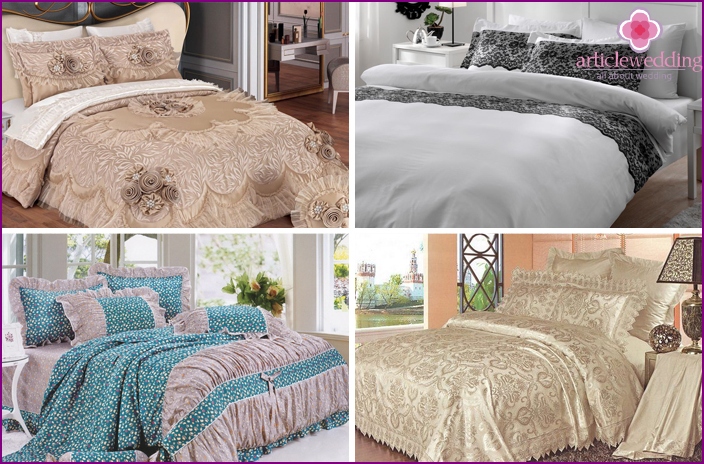 Color wedding underwear
Although there is a wedding tradition to make a bed on the first wedding night with snow-white sheets, sets with colored colors are now in fashion. Lingerie can be plain or with a variety of decor, which looks great on the wedding bed. Very popular are such colors as:
pearls;
Ivory;
green tea;
Bordeaux;
gold.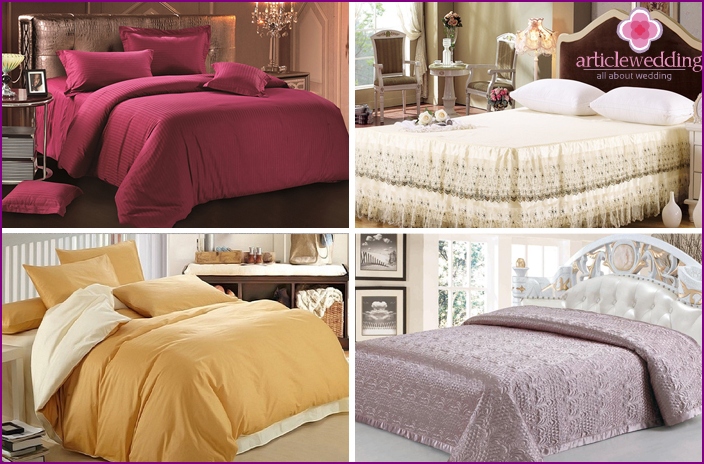 Wedding set with 3D effect
3D effect wedding bedding sets are a novelty among home textiles and the entire textile industry. For its sewing, satin is often used, on which a three-dimensional drawing is applied, which makes it possible for paints to stay much longer than usual, transmitting a very realistic picture. The picture is applied to the double-woven cotton thread using photo printing, and not by sticking a color film, as some consumers think.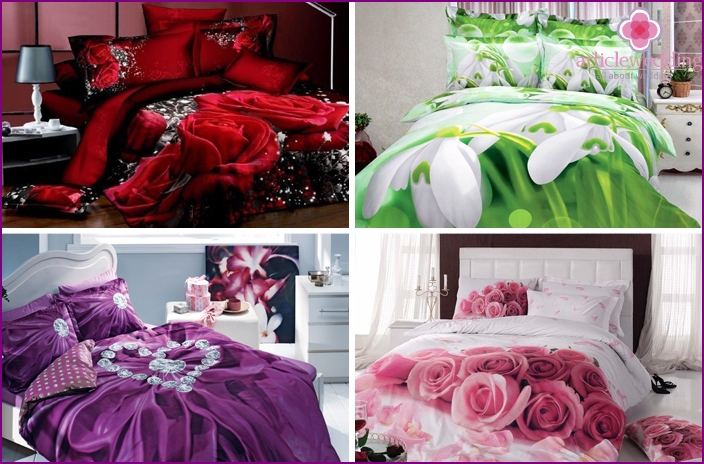 The color scheme of bed linen
To choose the color scheme of bedding for newlyweds is necessary taking into account the style of their bedroom. If the guest does not know the color preferences of the bride and groom, it is better to proceed from the psychology of color. Psychologists say that the poor choice of colors for home textiles can lead to headaches and internal discomfort. It is better to pay attention to colorful bright shades: blue, yellow, black. In addition to them:
Red is perfect for a bridal bedroom, because it is the color of love and sexuality.
White is a classic wedding color symbolizing purity.
Violet and brown should be approached with caution - in some particularly sensitive people, these colors cause depression..
Green color adds vigor, so as a basic shade for bedding is not very successful, because it can cause insomnia.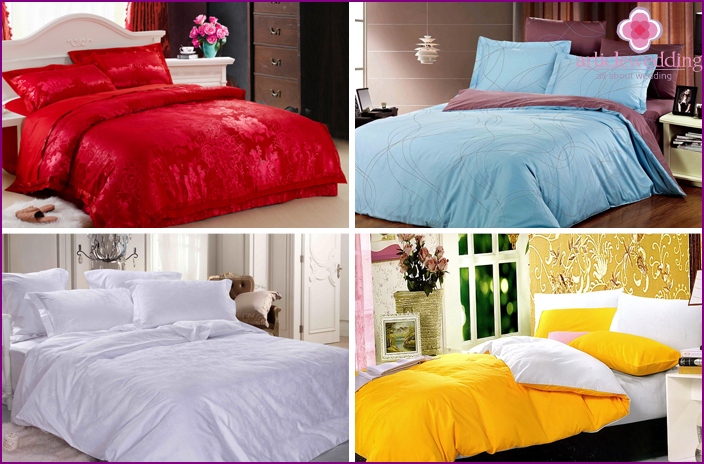 Photo of wedding bedding sets
The first wedding night the newlyweds should remember for life, therefore, the decoration of the matrimonial bed should be given special attention: everything should be perfect. The matrimonial bed, and with it the bed, covering it, should be beautiful, comfortable and romantic in order to enhance the couple's enjoyment with each other. Check out our selection of photographs showing examples of a good wedding bedding set..