Contents
---
---
The red wedding cake has an original appearance, but this does not deprive it of its beauty and appetite - two of the most important characteristics of the dessert. If the young ones intend to arrange a celebration in red, then the baking should correspond to the chosen style. Scarlet is a very energetic, bold tone, so the image of the bride should be no less vivid. She should be the modern incarnation of Carmen. A red bright cake for a wedding will not be appropriate if the young one appears in the image of a gentle, modest Cinderella.
Design options for a wedding cake in red
If the theme of the wedding provides for the dominance of red, then you are presented with rich opportunities for color combinations. Blue, white, green, black, cream, gold, many other tones coexist perfectly next to bright scarlet or burgundy shades. However, the most common combination for weddings is red and white. It is fair to say that a snow-white cream on a red background gives the dessert a tenderness, dilutes the main color, which alone would have looked absolutely appetizing.
White cake decorated with red roses
It's no secret that flowers are a traditional, classic version of decorating wedding cakes. Moreover, the buds can be both sugar and living. An ideal solution would be if the variety of decorative flowers matches what is in the bride's bouquet. Lush peonies, gorgeous lilies, proud roses, delicate anemones or ranunculi - these buds can decorate even the most modest pastries.
A classic three- or four-tiered wedding dessert, decorated with bright roses of different shades of red, will look elegant and appetizing. Interestingly, a single-level round product with scarlet or burgundy peonies looks unusual. Lovers of a gentle but satisfying cream can order a white wedding cake with butter cream with assorted pink-red sugar flowers as a decoration.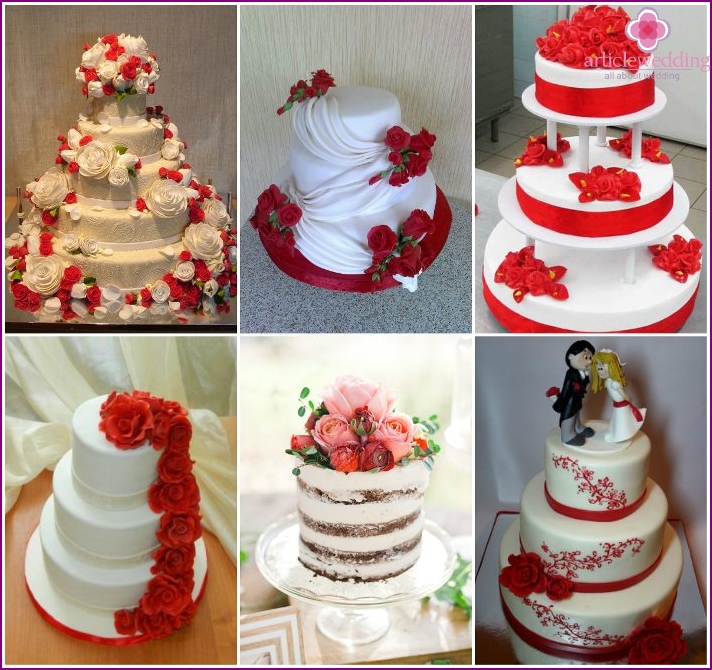 Gift box cake
If you ask a person what is a symbol of any holiday, he will most likely answer - a gift. So why not order a red cake for your wedding celebration in the shape of a gift box? Decorate the dessert with a bow made of mastic or chocolate, issue an inscription with congratulations - and the guests will be very surprised. A single or multi-tier confectionery tied with an elegant lush bow will be the apotheosis of the evening.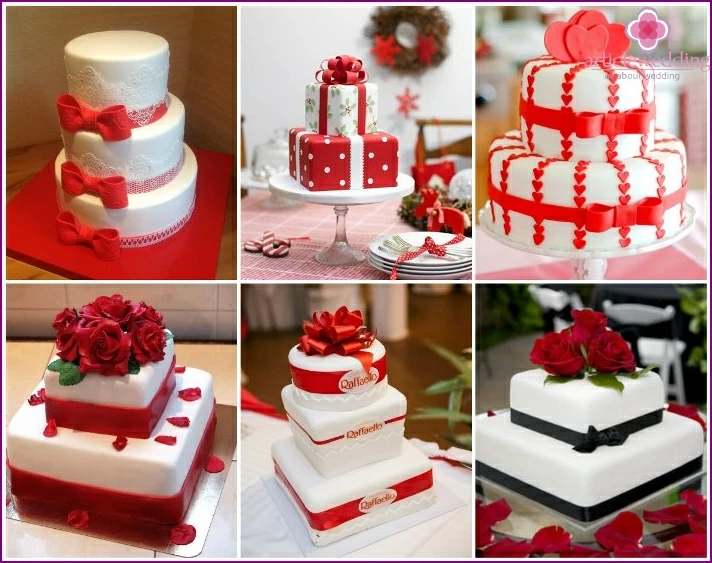 With ribbon and bow decor
No wonder ribbons and bows are so popular for celebrations, including weddings. They decorate a wedding dress, a bouquet of the bride, a banquet hall. Tapes are used for various competitions, as a basis for different garlands, they tie up balloons. But most importantly, wedding cakes are decorated with ribbons and bows. Since these elements play the role of an indispensable holiday attribute, choosing this option for decorating a dessert will guarantee you a confectionery worthy of the best wedding.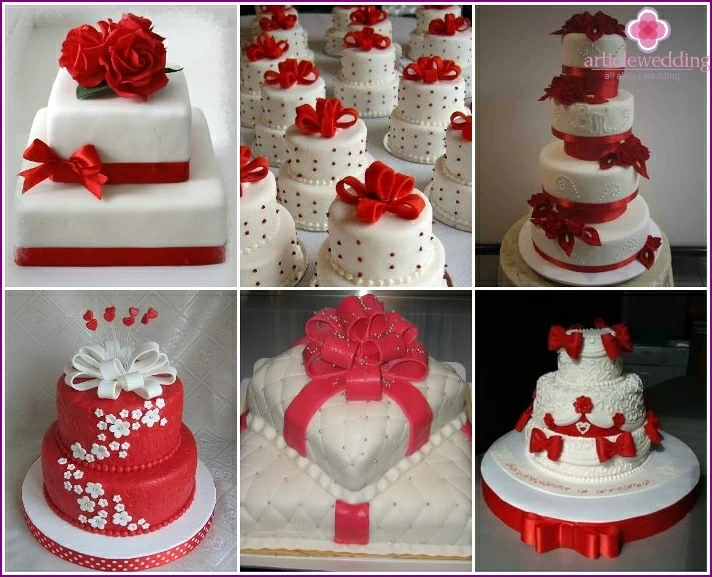 Decorated with a cascade of flowers
Red cakes decorated with floral cascades look very tender and charming. If your wedding combines two colors - red and white, then you can order a scarlet dessert with falling white buds (live or edible sugar). A chocolate product with red flowers looks tasty, which is worth buying if the design of the wedding involves the presence of red and black colors.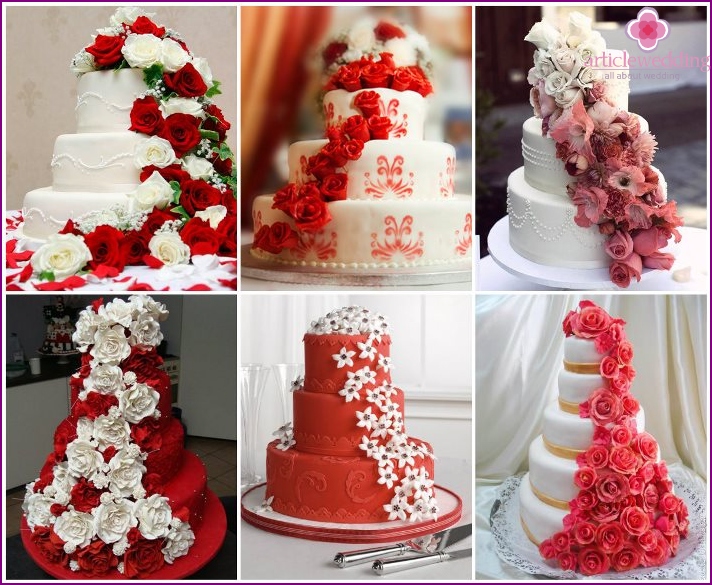 With lace painting or curls
For the decor of the wedding red cake, elements that are often used to create the image of the bride and groom will be appropriate. We are talking not only about traditional dessert painting with patterns and curls, but also about pastry lace: it is prepared according to patented recipes by professional confectioners. Confectionery made using this technique looks very gentle and romantic..
However, if you want to achieve not lightness and tenderness, but a vintage effect, then instead of white and pastel lace patterns, the wedding red cake should be covered with a contrasting dark chocolate net. There are a lot of options for decorating a dessert, each of them is unique, so young people don't have to worry that the product will look uninteresting or corny.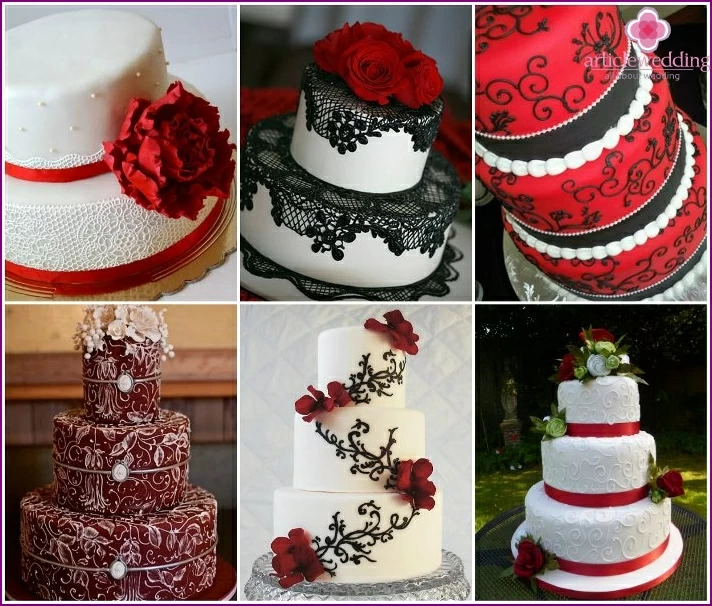 Red cake with golden elements
Gold is a symbol of wealth and luxury. Therefore, the most elegant wedding decision will be a dessert with golden drapery or containing stylish elements of this color. Imitation of precious metal will emphasize the importance of the event. Appropriately, such a cake will look at a chic celebration. However, do not overload the entire dessert with gold, it is better to limit it and cover it with only one tier, or use individual details such as golden beads or bows as decoration. Red color will look great as the basis for such a decor.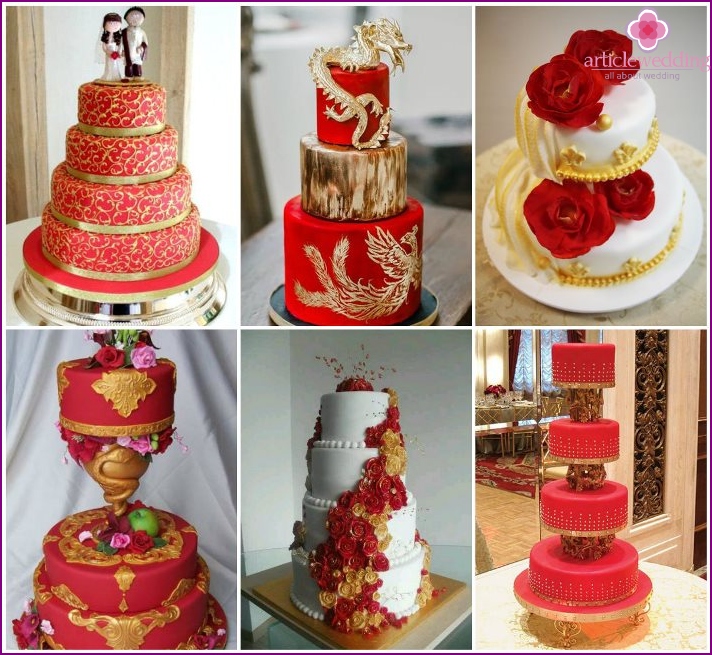 Options for Black and Red Wedding Cakes
Black should be used carefully so that the dessert does not look too aggressive. Its overload can discourage guests from trying pastries. An excellent solution would be a dark chocolate thin net on one or several tiers of a wedding cake. Delicate dark patterns on a red dessert will look beautiful. For piquancy, you can add strawberries in chocolate to the composition.
With the initials of the newlyweds
Words and inscriptions are a great idea for decorating a wedding cake, because they add personality to the dessert. For example, you can ask a pastry chef to make white cream on a red background. «Wife and husband», write your names, initials or funny nicknames that you call each other. This will create a good mood not only for you, but also for the guests. An alternative would be words that can be put on a wedding cake with skewers, toothpicks or streamers. This decor is uncomplicated, original and symbolic..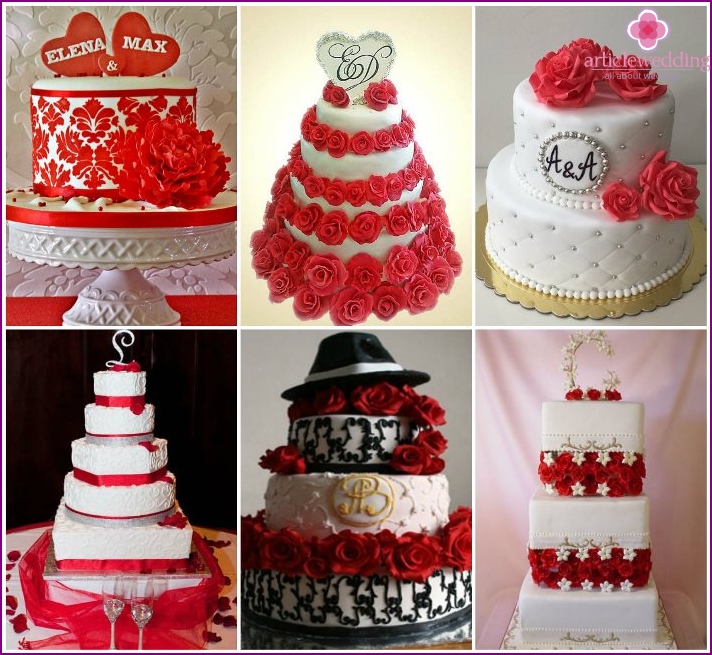 Photo of wedding cakes in white and red tons
Some couples pay great attention to choosing a wedding cake, others do not, but there are still more of them. Hollywood celebrities believe that a confectionery should attract everyone's attention, shine no less brightly than diamonds in an engagement ring. For many of us, a wedding cake is more than a dessert. Its appearance, taste characteristics, the moment of cutting - all this is very symbolic, so it should not only be beautiful and elegant, but also original.