Contents
---
---
New trends did not pass by the confectionery industry. The fashion trend in the world of sweets and treats is a naked cake. Strange name? There is an explanation for everything: this cake is not covered with cream or mastic, open cakes conquer with their naturalness, which is the attractiveness of the product. As decorations use berries, fruits, fresh flowers. No artificial dyes are used, only natural juice, which is not only modern, but also most useful.
Benefits of Naked Cake
The season of the current 2016 promises a peak of popularity for Naked cake cakes. The main advantage of a naked cake is a maximum of naturalness. With this final chord, you emphasize the individuality and style of your wedding, especially if it has an eco-direction. The main idea of ​​the treat is that the layers are not masked with cream, the component layers of the dessert are visible. Refusal of chemical additives, use of natural products will allow to treat even children with a cake without worrying about their health. Guests will appreciate the superior quality of sweet treats..
Design Ideas for Naked Wedding Cakes
Despite such a striking name - naked - the cake should be decorated and have an attractive appearance, creating a festive atmosphere at the wedding. The side part of it is on display, guests can see what kind of cakes the treat consists of, which layer was used. Using a variety of colors and tastes of the gifts of nature, the confectioner, applying his knowledge and imagination. prepare a dish that will be beautiful and delicious. Confectionery design should match the style of the wedding.
Cream Decorated
To keep the cake dry, cream layers are traditionally distributed between the cakes. It is better if it is a whipped cream based on natural cream or fruit jelly. The lush texture will give an elegant look, and palatability will benefit compared to oil creams or mastics. Sour cream, which melts in the mouth due to its airy texture, is also not sugary and promotes good penetration of cakes. On a snow-white layer of cream that does not fall over time, fresh berries and fruits look wonderful bright accents.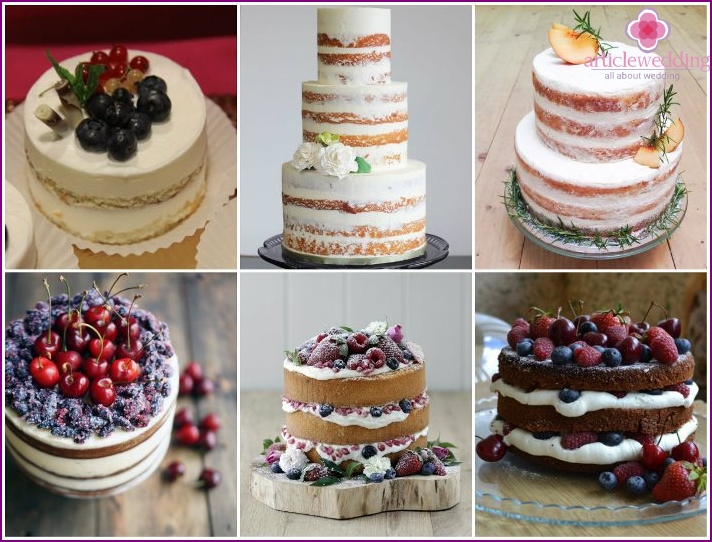 Cake decorated with fresh flowers
Fresh flowers, which are a non-standard decoration, look no less attractive on cakes. Flowers are processed with a special composition so that they do not fade and color the dessert. The use of similar colors for the bride's bouquet and the design of the banquet hall will be a harmonious continuation of the chosen style and color scheme. Floral arrangements on tables, their use in wall decor will successfully combine with fresh flowers used to decorate dishes for a sweet table.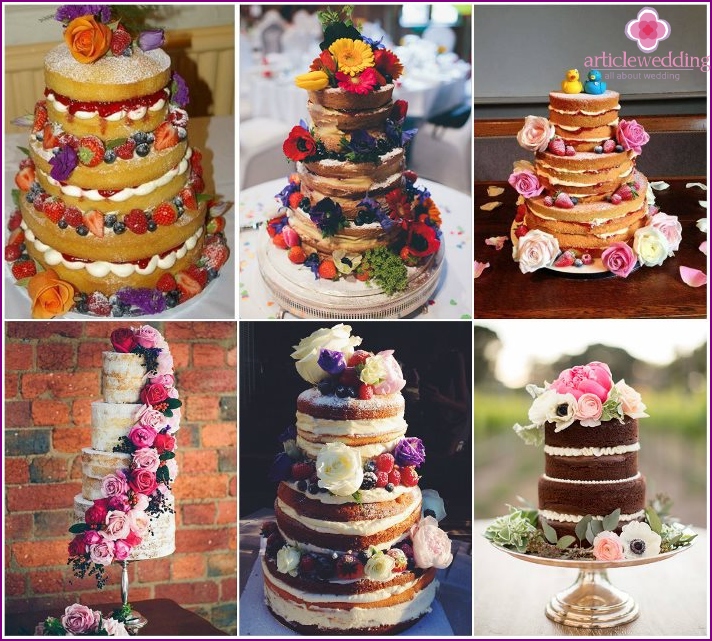 Naked Cake with Berries or Fruits
The most common option for decorating the main sweets at the wedding is still a set of berries and fruits. Bright colors, juiciness and excellent taste qualities perfectly affect the overall impression of the dessert. Freshness of berries, the aroma emanating from them will seduce any guest, even someone who is calmly treating sweets of various kinds. A vitamin cocktail on the surface of a naked cake will be not only attractive, but very useful, since fresh berries, fruits have not been seasonal products for a long time and are sold all year round.
If the dessert is layered, for each «floor» candied raspberries, blueberries and especially popular strawberries are laid out along the contour. Assorted berries, fruit slices, and citrus fruits are often laid out on the surface of the upper crust. In order for the dessert to have a complete look, the berries and fruits do not move, and the laid out pattern does not stray, the surface of the cake is poured with a thin layer of transparent jelly. In some cases, a small amount of berries are laid on cakes in a fresh state and sprinkled with powdered sugar.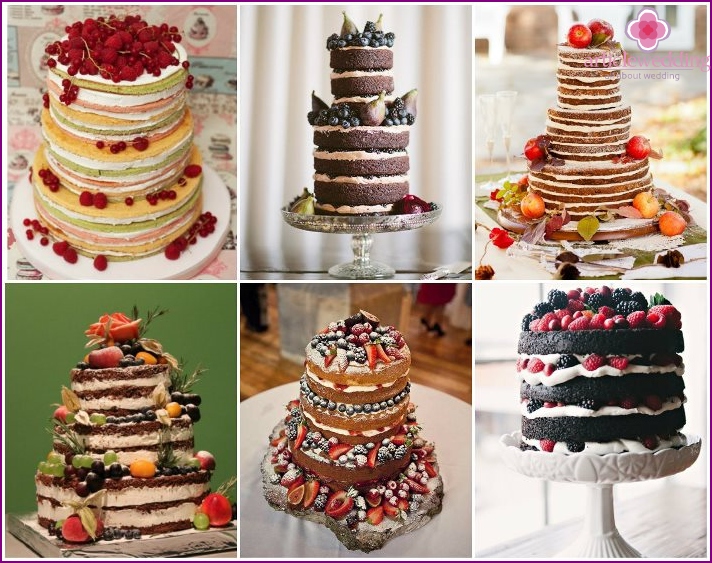 Decorated with sweet figurines.
It is impossible not to mention wedding cakes, on the tops of which figurines are set as decor. Small copies of the newlyweds, swans, cooing pigeons make a special accent, reminiscent of the purpose of the holiday - the wedding day. Birds are the embodiment of marital fidelity and pure love, and figurines of the bride and groom are sometimes made with humorous overtones. This brings a touch of chic to the holiday, while maintaining the style of celebration..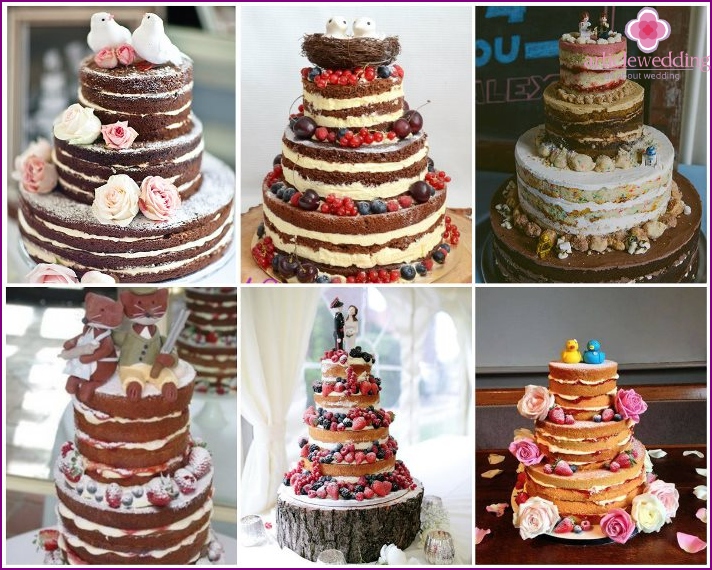 Cake with chocolate cakes
Confectioners did not ignore the sweet tooth, who prefer chocolate. Brown cakes, decorated with thin lace of white cream, look contrasting, elegant and elegant. Cocoa added to shortcrust pastry gives a persistent chocolate flavor. The cake can be made in several tiers, if invited a large number of guests. One of the options for decoration can serve as a picture or inscription on the top of the cakes, made with chocolate icing.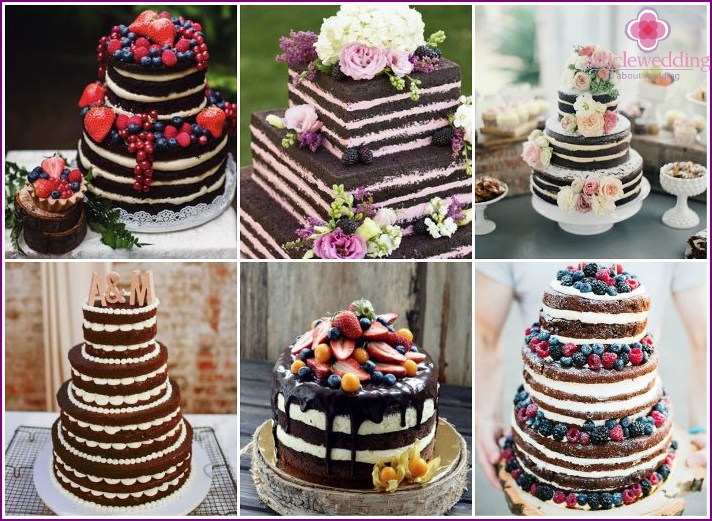 With sprigs of fresh herbs
Freshness to the wedding cake will be given by mint leaves or lemon balm, which are nicely arranged on top, around the cakes. Processed with a special solution, they will not affect the taste of the dessert and will not fade until the end of the holiday. The bright contrast of fresh greens against the background of cakes gives the delicacy a treat and reminds that the cake is made in an eco-direction. Edible odorous mint leaves give a feeling of simplicity, spiritual harmony, love of nature. An interesting solution would be to add a sprig of lemon balm or other greenery to which the dessert is decorated.
With ombre effect
Meaning of the word «ombre» - a smooth transition of color shades, gradually moving from dark to lighter. A feature of the ombre used for wedding cakes is that the technique of baking multi-colored cakes or making cream with shades of the same color helps to achieve an amazing effect that will not go unnoticed by guests. Using different berry fillings, confectioners make a gradual smooth transition of coloring of each cake. Ombre wedding cake is decorated with decorative butterflies, bows, flowers or beads, candied berries..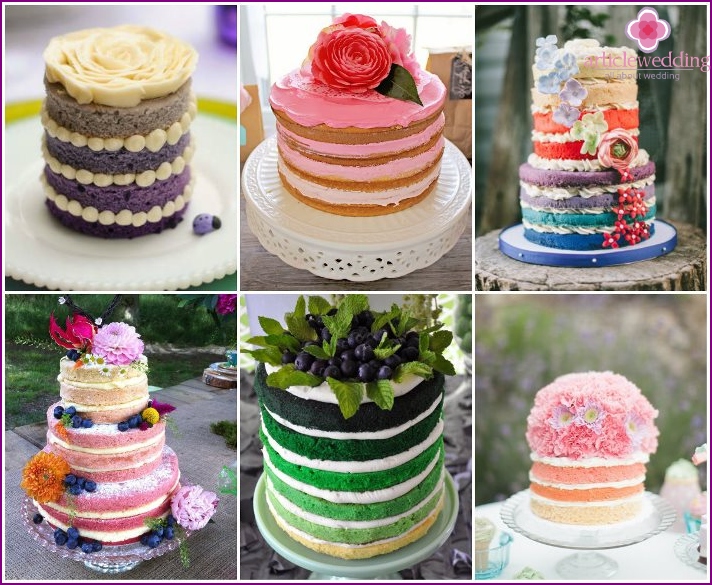 Photo of open wedding cakes
The fashion for creating naked cakes with and without cream appealed to a large number of newlyweds. In the era of preservatives and stabilizers of taste, people began to prefer natural foods, and healthy food has become a sign of good taste, so many chefs try to use the recipes of our ancestors in their work. Having worked a little on the appearance and making modern amendments, the confectioners create masterpieces based on natural bare cakes, and this can be seen in the photo selection.
Naked cake cakes that have become favorites this season are made without burdensome frills. Especially they will be appropriate for summer weddings, when on a hot day you do not want to worry about desserts, «floating» from high temperature. A variety of applications for berries and fruits for decoration, modern trends in baking cakes allow you to make the decoration exclusive to every dessert. There are all prerequisites that this modern trend will last at least a few more seasons..