Contents
---
---
Rustic is becoming more and more popular among wedding decoration styles. Translated from French, this word means rustic, rural, and creates an atmosphere of natural beauty, naturalness, naturalness. A wedding cake for such a celebration should also radiate natural beauty and charm. Due to its emphasized simplicity, it is easily made at home or can be ordered from a pastry chef. How to make such a dessert?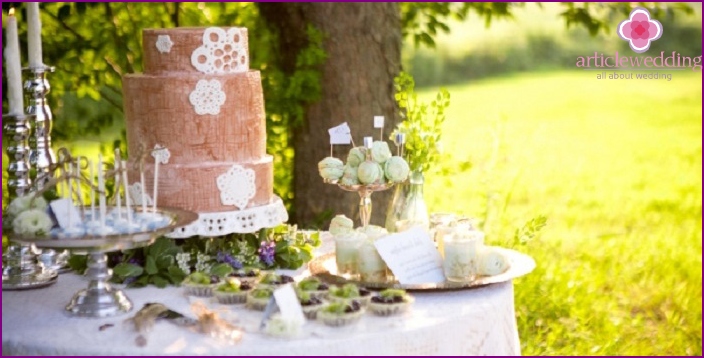 Rustic Wedding Cake Design Ideas
The main idea laid down in the preparation of a rustic style cake is beauty in a simple, natural. Therefore, for this decor, natural elements and motifs taken from the environment are used. Not all decorations are edible, but many are completely natural. For example, a widespread eco-stand for shortcakes is a polished section of a tree trunk; the cakes themselves often also resemble it. When creating the main wedding treat, slight negligence is allowed, reminiscent of home baking, and therefore creates an atmosphere of comfort, sincerity.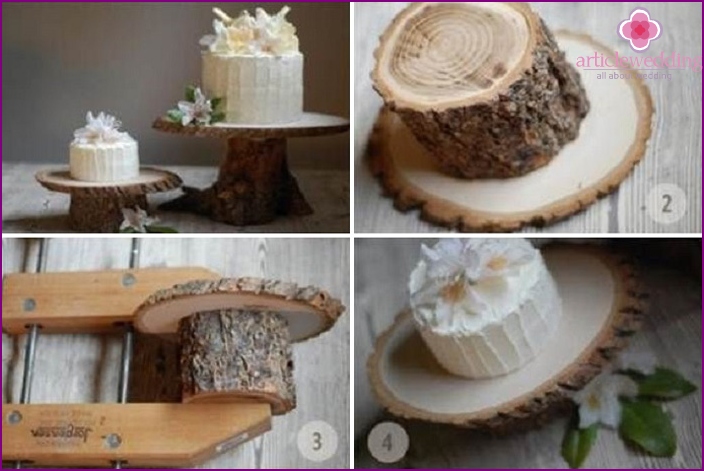 Cream cake with flower buds
A rustic-style cake can be as white as classic wedding treats, but always in a minimalist style. Cakes are coated with cream, less often with white mastic, decorated with delicate or bright flower buds, twigs or berries. When applying the cream do not adhere to accuracy, this carelessness gives tiers airiness, lightness. If the cakes are covered with mastic, then each cylinder is entwined with decorative elements, for example, lace, thin burlap, twine or bunches of straw.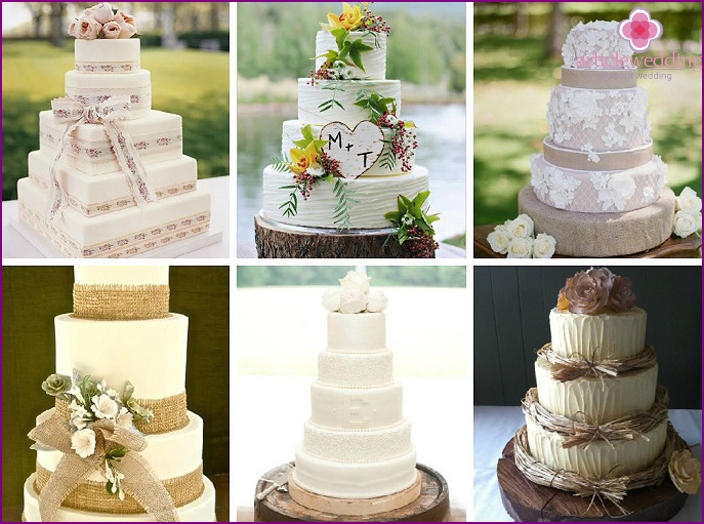 If the wedding is decorated in a glamorous rustic style, then the cake can be almost identical to the classic, but its decor should be more natural, geometric. As a stand, dishes or related accessories you need to use natural elements. A rustic-style cream cake, although more complicated to perform than a cake with open cakes, is also easily made independently without the involvement of professional confectioners. How to do this, you can watch in this video:
In the form of a woodpile with flowers
The original rustic cakes are woodpiles (from the word «log»), resembling a stump or slice of a tree trunk. The outer part of the cakes is decorated in the form of the bark of a tree, and the composition is completed with flowers or berries. Cake-woodpile delight guests and perfectly suits the overall wedding style. It is difficult to make such a masterpiece at home, so you should turn to professionals. On such a cake it would be appropriate «carved» heart with the initials of the newlyweds. It looks symbolic and romantic.!
In addition to natural flowers, often wildflowers, delicate roses or peonies, mushrooms (made using dough), branches (made from caramel, chocolate or natural), a small haystack, real cones, canvas bows and other elements of eco-romance act as decorations. If you are guided by a country rustic, you can install sweet cowboy boots or hats, intertwined horseshoes, horses harnessed to a cart instead of classic toppers (figures on the upper cake).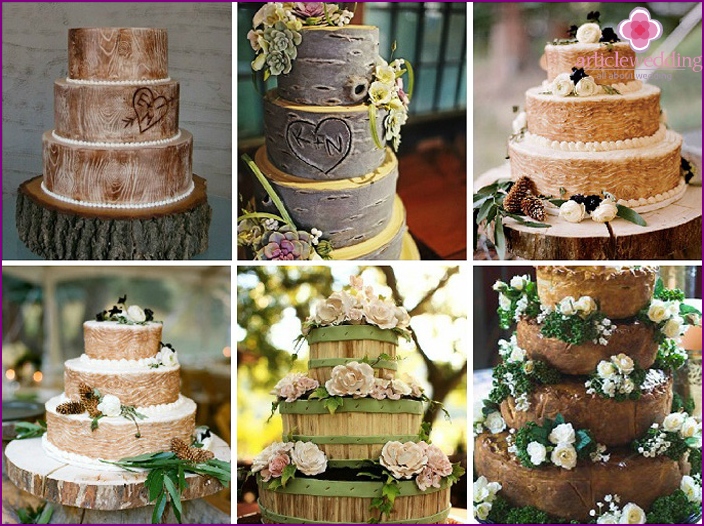 Naked Cake Decorated with Berries
Naked is called a cake or a multi-layer cake, the outer part of which is not coated with anything. Cakes and cream with which they are smeared inside remain open to those present. Playing on contrasts, confectioners often prefer dark or beige cakes to emphasize ply. Fresh whole berries appear as decorations, which are laid out in tiers and at the top of the product, often instead of toppers. Among the berries, several large buds are often laid out.
Naked cakes, like woodpiles, are a hallmark of a rustic wedding. They are rarely white, often brown with bright decorative elements, and therefore look very appetizing. Unlike cream desserts with floral decorations, the buds of which can lose freshness during the celebration and leak the cream, these cakes will wait in the wings without losing their original appearance. Another plus is the complete edibility of the goodies.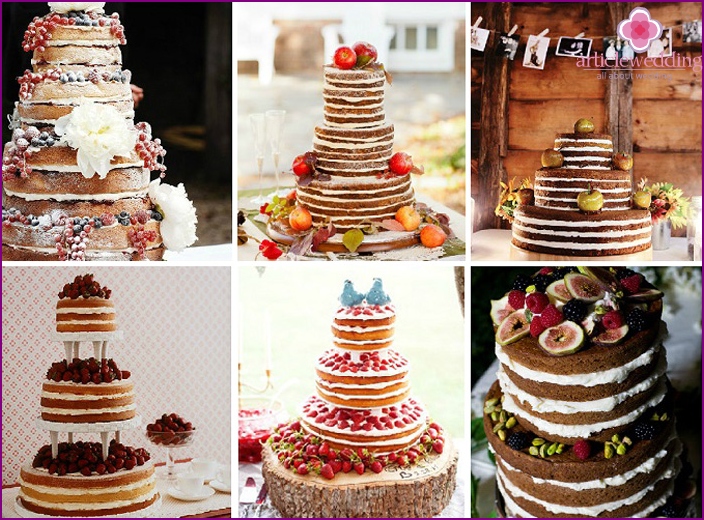 Cake with a nest and birds
A popular decoration of cakes for a rustic wedding are bird nests. This is a symbol of creating a new family, the formation of a married couple who plans to have children in the future. This wedding decor fits perfectly into the eco-concept that represents the rustic style. Nests are made from natural or edible components, birds are made from dough, chocolate or mastic, eggs are formed with chocolate icing. Birds in the nest or without it often replace the newlywed figures on the upper cake, but sometimes they also act as a decorative element of tiers.
Like other rustic cakes, items with birds are in good harmony with stands-woodpiles, which are made specifically for a wedding dessert. If the radius of the eco-tray is large, then in addition to the main treat, additional treats can be placed on it - cakes, muffins or cupcakes (in the form of bird nests). Such a solution will appeal to those couples who ordered a small cake.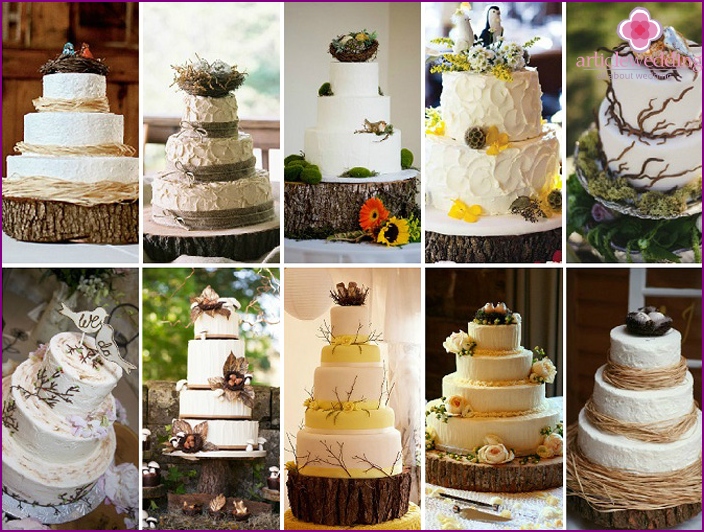 With maple leaves
Rustic style is chosen not only by couples who love romantic simplicity, but also by those who are married in the fall. Autumn is full of colors, and this must be used when organizing a wedding. Rustic perfectly emphasizes the beauty of nature during this period. Autumn cakes differ from typical eco-goodies, confectioners emphasize the poetry of yellowing foliage in their decor, use demi-season fruits and flowers.
Manufacturers mostly imitate yellowed maple leaves with an elegant shape. They are combined with tree branches, tangerines, perennial flowers - all this is done with the help of edible materials. Cakes are coated with white (or pastel shades of beige, pink) cream to create a contrast with «nature». The result will be the effect of leaves fallen on the wedding cake. For such a composition, classic toppers are also suitable - figures of the bride and groom.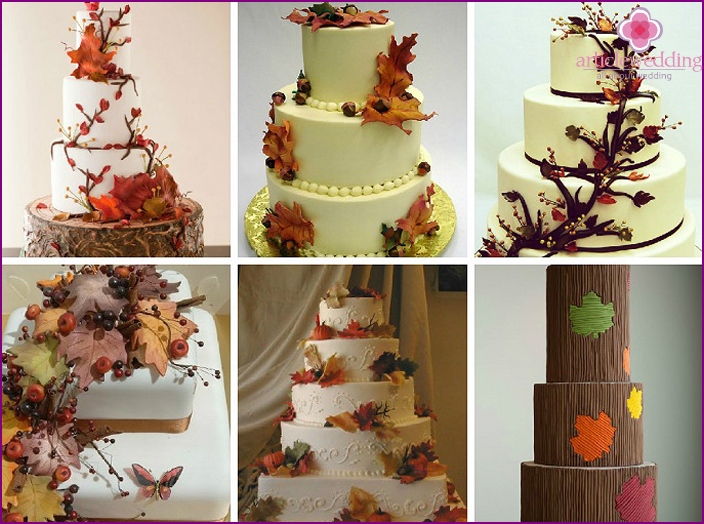 Rustic style wedding cakes
If you decide to order or bake a rustic cake for a wedding, you must first determine the size of the treat and design. It should be not only beautiful and harmonious in itself, but also ideally suited to the design of the celebration. See below for examples of such confectionery compositions. Perhaps one of the proposed ideas is suitable for your wedding in a rustic style..