Contents
---
---
Wedding cake is a decoration and a pleasant addition to the holiday. All guests and newlyweds look forward to the ceremonial removal, cutting and tasting of the dessert. To meet these expectations, the bride and groom in pre-wedding preparation devote a lot of time to choosing the best wedding baking. You need to find a good pastry shop with an experienced baker, determine the design of the cake, the number of tiers and decor. An important issue is the filling of the dessert, which will be a worthy addition to the delicate cakes, fill them with taste and juiciness.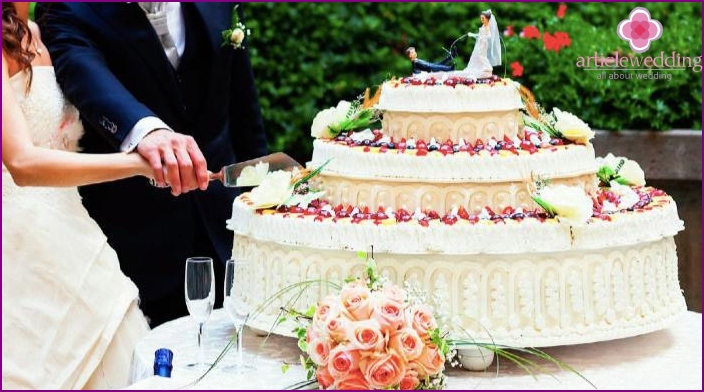 How to choose a filling for a wedding cake?
Wrongly chosen filling for the cake will lead to complete disappointment of the newlyweds and guests, so you need to carefully consider all the components of the wedding dessert. Each person has his own taste, it will not work to please everyone present, but still you need to try to choose the stuffing that most people will like. When ordering a wedding cake, one must take into account that they will try it at the end of the holiday after a plentiful feast. Therefore, the filling should be as light as possible and less caloric.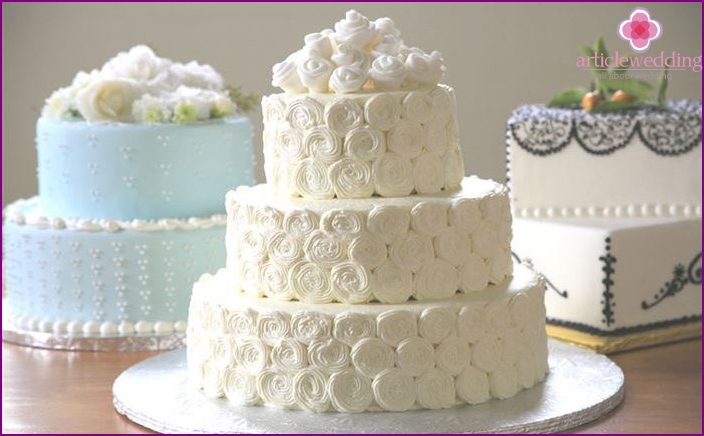 Few people can eat a wedding dessert soaked in thick butter cream, because it is excessively greasy and saturated. Avoid fatty cream cakes in favor of lightweight options. Most couples for their wedding buffet choose cakes with sponge cakes or a yogurt base that goes well with fresh berries and fruits. Many will like wedding pastries with a layer of souffle, berry jelly, whipped skim cream, cream cheese cream.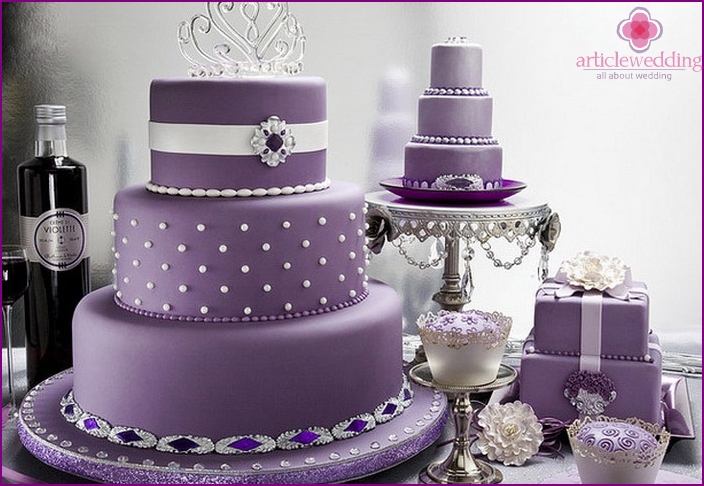 Options for the best toppings for biscuit cake
Sponge cakes are an ideal option for a wedding cake. Light air mass, supplemented with a gentle cream, will not leave anyone indifferent. The biscuit dough is less greasy compared to other types of baking, so it is traditionally used as the basis for a wedding dessert. If you want to make the cake even less greasy and low in calories, then choose light types of filling.
«Tiramisu»
Classic tiramisu is a famous Italian dessert made up of several layers. The composition of the original recipe includes mascarpone cheese, liquor «Amaretto», soaked cookies «Savoyardi», eggs, icing sugar and espresso. Some bakeries offer the newlyweds to make an original confectionery design consisting of small cakes for the wedding «tiramisu». They are laid out in several tiers, giving the form of a wedding cake. This dessert will appeal to many guests, it is light, airy and has a pleasant delicate taste..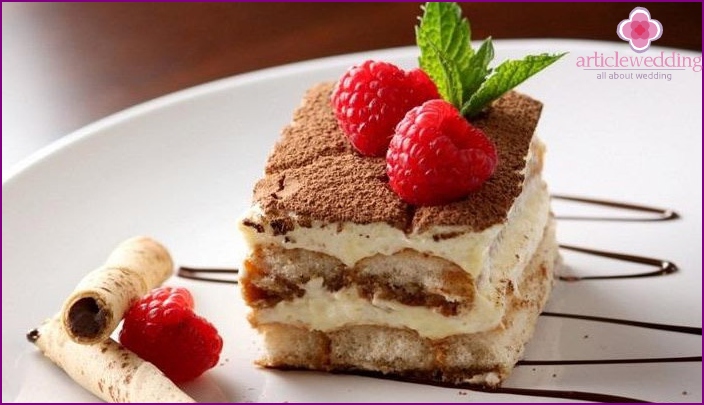 If you do not want to make separate portioned baking options, but strive to order a holistic multi-tiered cake on a stand, then you can also use a cream variation for its filling «tiramisu». In this case, biscuit cakes are separately baked, which are soaked in liquor and coffee. Each cake is covered with a layer of mascarpone cream and whipped cream. Decorate the cake with chocolate chips, cocoa powder, berries.
«Baileys»
Popular liquor «Baileys» many people like it, especially women, so wedding baking with the taste of this drink will impress even true gourmets. The basis for this type of dessert is chocolate biscuit cakes, which must be soaked with a small amount of liquor. The filling is made up of several types of mousse: the first is praline with crispy wafer crumbs; the second - from white chocolate with the addition of a drink «Baileys».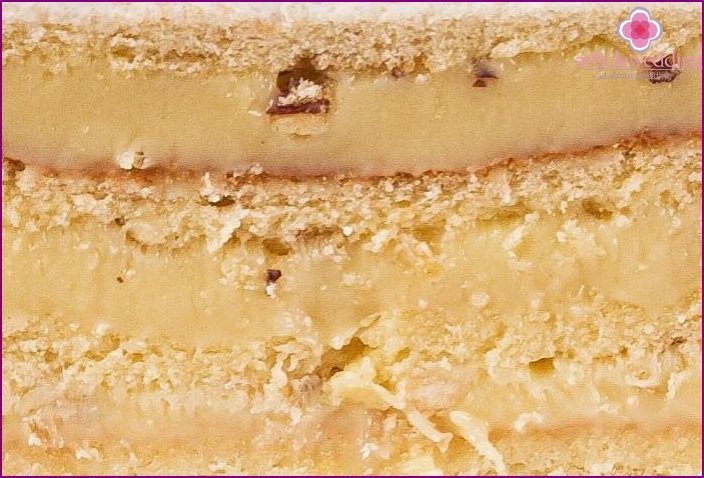 A jelly layer is laid out between the layers of mousses. To do this, it is customary to use peach jelly, which is optionally replaced with lemon, pineapple, cherry or other type. Since such a cake has a low resistance to load, it is used only for the upper tier. The rich bright taste of the filling makes the cake a wonderful final chord of a wedding celebration.
«Snickers»
This baking option will appeal to lovers of the same name chocolate bar «Snickers». The biscuit alternates with hearty fillings: meringue cake, a layer of caramel fudge and a layer of cream with boiled condensed milk, butter and a large amount of crushed roasted nuts (peanuts, walnuts, hazelnuts, almonds). The top nut layer is covered with melted dark chocolate.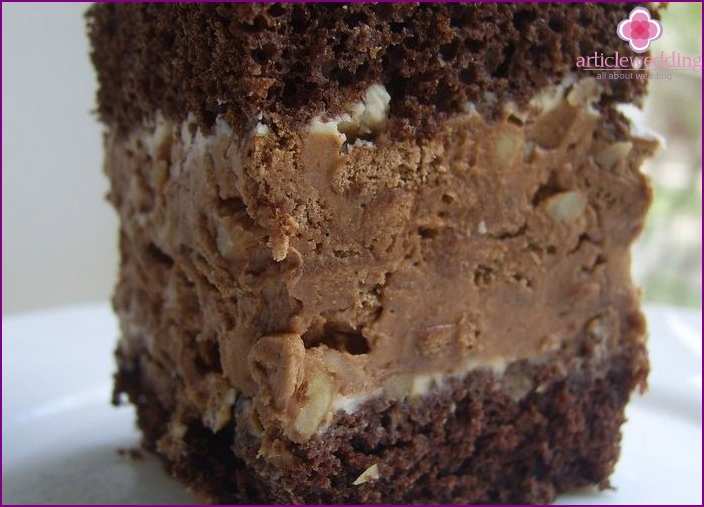 Choosing a cake «Snickers» for a wedding, it must be understood that it may seem overly satisfying and difficult. Although the meringue layer is tasty, but when cut, it crumbles and spoils the appearance. Treating guests present at the celebration «Snickers», you should make sure that there is no allergy to nuts in each of them. But this cake is highly resistant, making it ideal for creating multi-tiered confectionery designs.
«Three chocolates»
Chocolate lovers are encouraged to turn their eyes to the filling «Three chocolates». The perfect combination of three types of chocolate mousse and delicate sponge cake will delight your taste buds. Mousses are prepared for the filling based on high-quality Belgian chocolate: bitter, milk, white. Bitter mousse is spread on the biscuit, then milk, then white. Cakes are soaked with Cointreau liquor or sweet syrup (banana, coconut, vanilla or honey). Multi-colored filling looks beautiful in the context.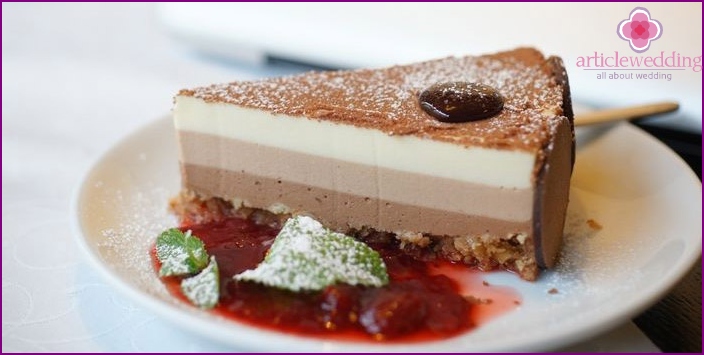 The most delicious mastic filling for cakes
Mastic is a popular confectionery material that is used to decorate cakes. Mastic is of different colors, due to the addition of dyes to its composition, with its help create beautiful sweet decorative elements for dessert. Among the ingredients for the preparation of this paste are powdered sugar, egg white, marshmallow - products that, in contact with greasy moist creams, can ruin the appearance of mastic and the cake as a whole. Therefore, not every baking is suitable for fitting with mastic without pre-treatment..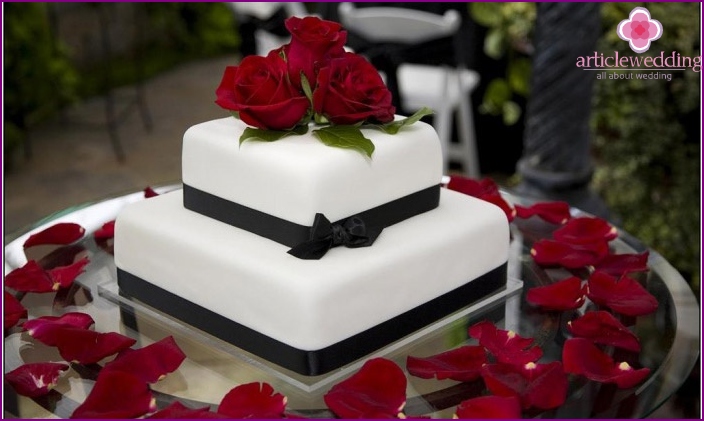 Biscuit, honey, sand desserts are wrapped in mastic. But desserts with delicate soufflé or mousse by type «bird's milk», «Three chocolates», «Baileys» must first be strengthened so as not to damage the delicate structure of the filling. To do this, around the soft filling, they create a kind of basket with a thin layer of biscuit, after which they are coated with a special cream for mastic. After almost all cakes, almost all cakes are suitable for wrapping pastry pasta. What toppings go well with mastic-covered cakes??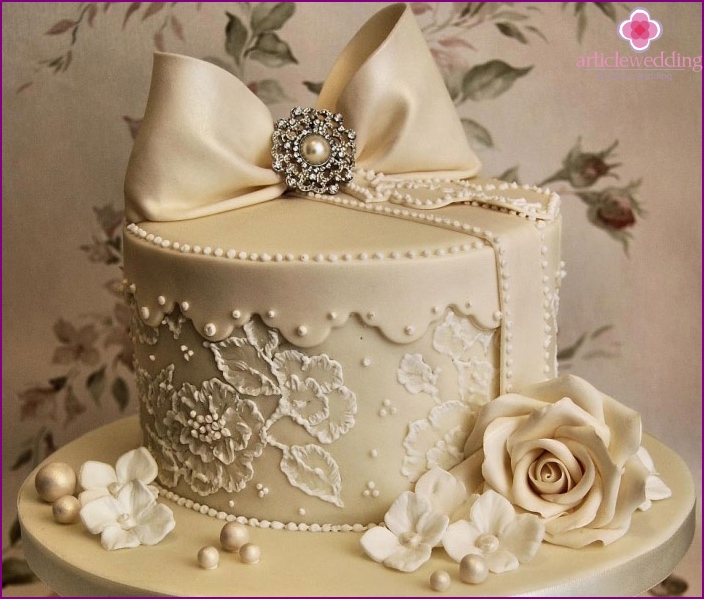 Fruit and berry
Fresh fruits and berries will decorate any cake, and if they were also added to the filling, then this guarantees a wonderful summer taste of wedding pastries. Berries are added in the form of fillers to the main cream, or fruit soufflé is prepared, with which selected cakes are layered. The more fresh fruit used in the decoration of the dessert, the brighter and more attractive it will look at the wedding.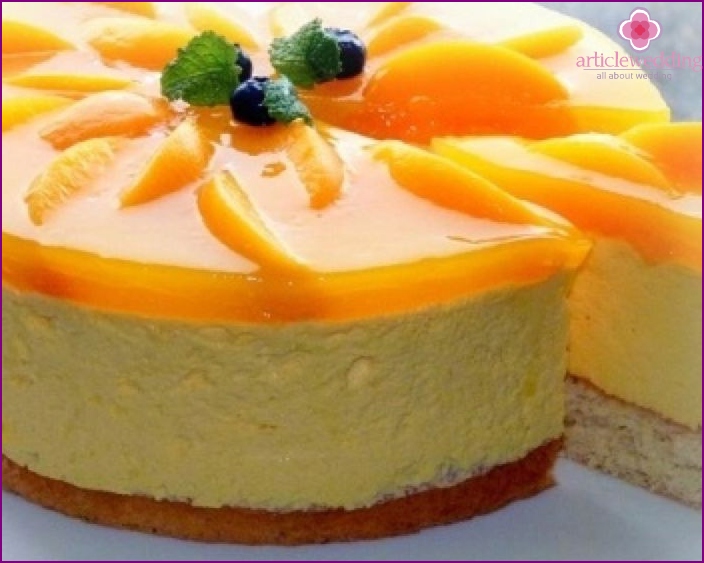 Berry mousse or souffle for wedding cakes is placed on airy biscuit cakes, which are soaked in sweet syrup, liquor, cognac. When choosing a pastry shop and a baker, specify what sweet pastes they use in cooking. A good quality cake should be made without the use of industrial fruit pastes. Only that dessert will be tasty, to the filling of which homemade berry puree is added, prepared manually, without the addition of dyes, chemical thickeners, stabilizers.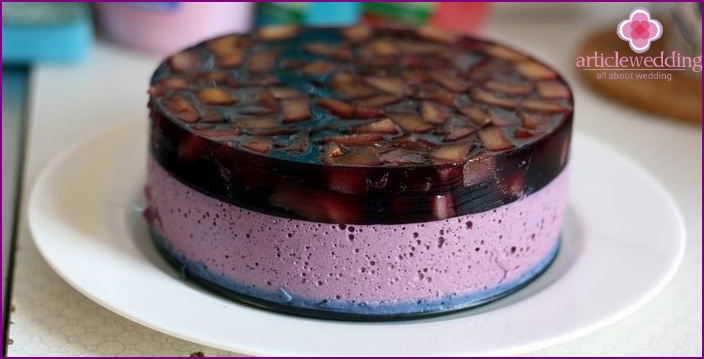 The choice of fruits and berries for the filling depends only on the taste and wishes of the newlyweds. Many people like the classic combination of strawberries and banana, orange with lemon, cherries and prunes, apple souffle with pieces of kiwi. For a winter wedding, baking with mandarin jelly is good, for a summer celebration I choose a filling with raspberries, blueberries, blueberries, peaches.
Curd and yogurt
Light delicate fillings for desserts are the choice of most brides with grooms. Even after a plentiful feast, no guest will be able to refuse a piece of cake with an airy tender layer. Curd, yogurt fillings are perfectly combined with most types of cakes. They are well suited for both biscuit and poppy seeds, baked goods with truffle flavor. Many couples choose for their holiday a traditional cheesecake, supplemented with fruits. Yogurt mousses for cakes are also prepared with berry fillers. Desserts with such a filling - a win-win option for a wedding.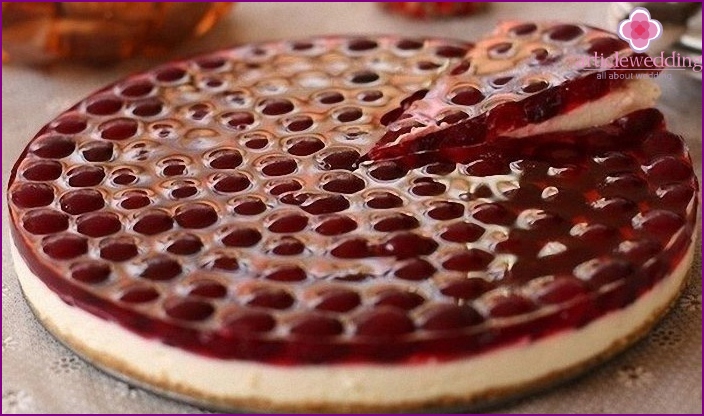 Sour cream or cream
Sour cream is loved by many. So that the cake for the wedding does not have unpleasant acidity, for this it is necessary to use fresh sour cream, with a fat content of at least 30%. It must be borne in mind that sour cream in the heat quickly deteriorates. For a summer wedding, it is recommended to prepare a cake with such a cream no earlier than 12 hours before the celebration, and store the finished product in a cool place. To give nobleness to sour cream, berries and fruits will help. Classic cake «Napoleon» also prepared for the wedding, adding to it custard sour cream with dried fruits.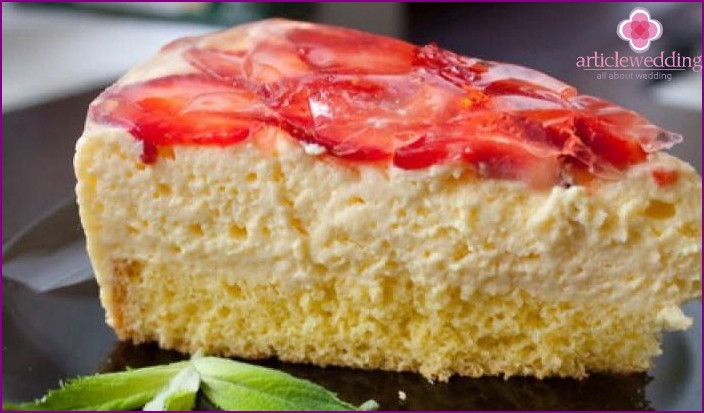 Butter cream is prepared on the basis of whipped cream. Various fillers are added to it: fruits, nuts, berries. A delicious filling comes with thickened whipped cream, combined with cream cheese type «Philadelphia» or «mascarpone». Such cakes are not only tasty, but also look beautiful in the context. Cream is impregnated with not only biscuits, but also other types of cakes (sand, puff, honey).
How to make a delicious filling - recipe with photo
To prepare a fruit souffle as a filling for a cake, you will need:
500 ml of Greek yogurt;
4-5 Art. tablespoons of sour cream with a fat content of 30%;
100 g of condensed milk;
fruit syrup of any taste (cherry, strawberry) - 5 tbsp. l .;
half a glass of plain water;
gelatin (20 g);
a few drops of rum essence.
Cooking sequence:
Pour water into the pan and bring it to a boil. When the water has cooled a little, pour gelatin into it, mix and leave until swelling.
Separately mix natural yogurt with fruit syrup. Add sour cream to the mixture.
Using a submersible blender, beat yogurt with sour cream until lush..

Introduce the condensed milk and whisk again.
Add a few drops of rum essence to the ingredients, which, if desired, replace with a tablespoon of berry liquor, cognac or regular rum.
Continuing to whisk yogurt with a sour cream mixer at a slow speed, gradually introduce the cooled, swollen gelatin. Beat mixture until smooth.

At the bottom of the split mold, place pre-cooked and chilled cake (preferably a biscuit, but you can also have another). On top of it, evenly distribute the yogurt mass. Cover with foil or cling film on top. Let the cake cool until the souffle thickens. Garnish with fresh berries.