Contents
---
---
Scrupulous preparations for the wedding overtake all newlyweds. A long search for the perfect bride's dress, groom's suit, place for exit registration, a restaurant for a banquet is exhausting, and the to-do list does not end there. But when the time comes to choose a cake, you again feel yourself full of energy, energy, because this sweet should be the crown of the evening. If you like romance, you will like a wedding cake with butterflies. Such beauty will best convey the tender feelings of your couple..
Butterfly Cake Making Options
A wedding cake with butterflies is a delicacy that embodies all relevant creativity and fantasies. Choosing a one- or two-tiered dessert is not a problem, it is more important to deal with the filling and decorations. Fill cakes with protein, chocolate, butter, cream creams or icing. But for sophisticated, elegant jewelry in the shape of butterflies, not all materials are suitable. The best options are mastic, caramel, chocolate and marzipan. What is the difference between them?
From mastic
Not every bride undertakes to bake a confectionery product on her own, so it is much easier and more tasty to entrust this matter to experienced craftsmen in the future. If you order a wedding cake with delicate edible butterflies, choose a mastic to convey the volume of forms. It contains powdered sugar, marshmallows, gelatin, starch, egg white. The mixture comes out in white, and if you want bright colors, you can ask for the addition of food coloring. the cake at the wedding will look realistic if you decorate the butterflies like living individuals. Original?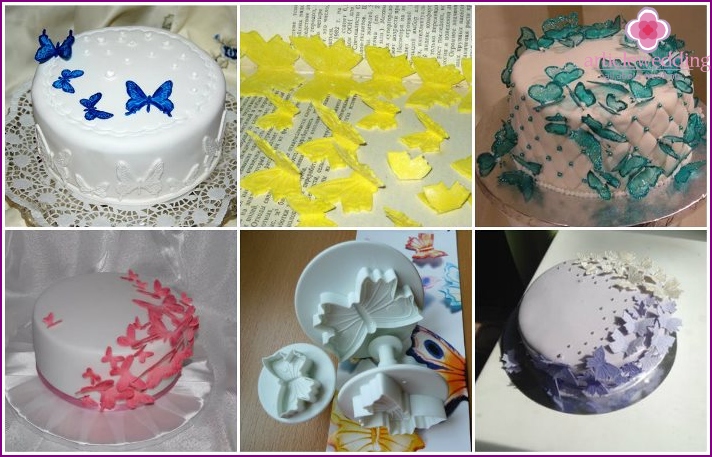 From caramel
If you want the festive cake to look sophisticated at the celebration, you will need one small detail - sweet butterflies created using caramel. It contains sugar, syrup and all kinds of food colors. The advantage of choosing caramel is that the effect of lace and volume is easily performed due to the shape obtained. Such butterflies can be completely invisible when a couple of lines are used to create a shape border, or fluttering creatures completely repeat the drawings of living insects.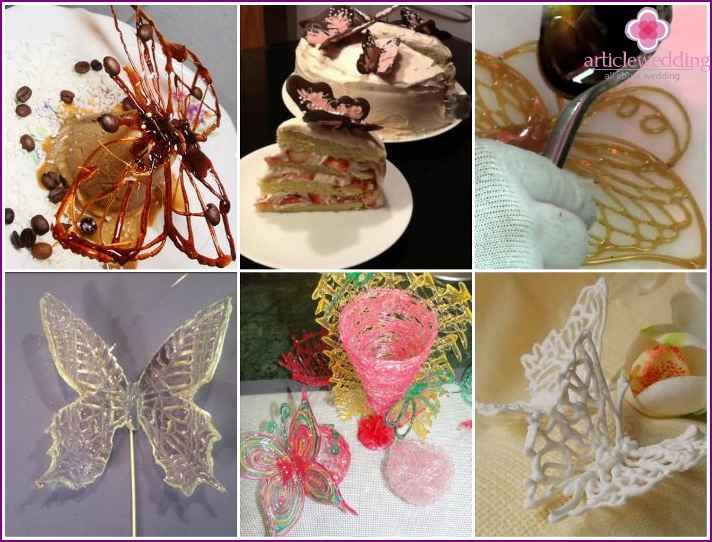 Chocolate and Marzipan
If you are a lover of a combination of nuts and some, then butterflies created with chocolate and marzipan are for you. 100% cocoa, minced almonds and sugar syrup will give you an unearthly, airy taste of decorations for a wedding cake. Marzipan is glazed with chocolate on top, getting candy in the form of butterflies. You can dilute the festive sweet taste by adding liqueur, orange zest, and spices to marzipan. All guests will appreciate such a wedding cake. Hurry, because butterflies are always eaten first!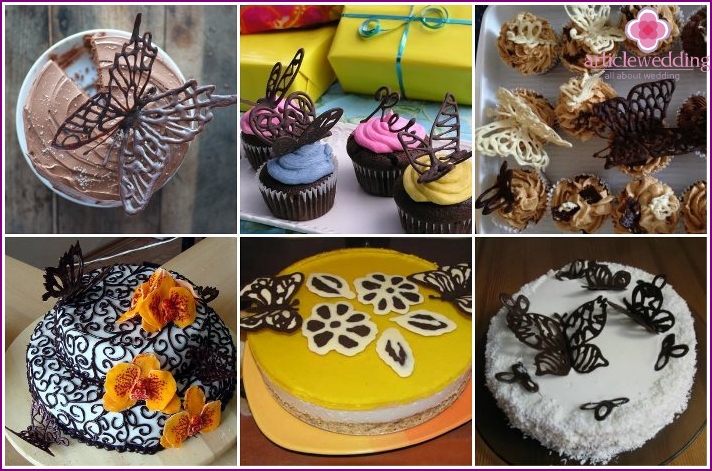 Wedding Cake Butterfly Design Ideas
After reviewing the materials for creating butterflies on a wedding cake, you need to determine what else will be on the treat in addition to these fluttering decorations. The right union of colors, the design of selected details and delicious toppings is what will ensure an unforgettable end to the wedding evening. Knowing the theme of the celebration, with shades and filling it is easy to determine. How to originally complement the decoration of butterflies for a cake?
For a small wedding, order a low two-tier cake, placing it on the top stand of the Candy Bar, and put cupcakes on the bottom, decorating each with a unique butterfly. To emphasize the tenderness of the ceremony, complement it with a real satin ribbon; a luxurious celebration will not do without a brilliant brooch; The decor in the form of a fixed cell on top will fit into the retro style. The classic idea of ​​decorating delicacies with butterflies for a celebration in the Tiffany style will be small edible pearls, decorative necklaces with pebbles. What else can be the decor of the cake?
Decorated with butterflies and figures of the newlyweds.
Classic is always in fashion. Figures of newlyweds are popular among brides and grooms of different generations. A delicious white dress and a black tuxedo are suitable for a luxurious wedding, but what if your celebration has an original style that goes beyond the classics? Passionate fans of tango will be delighted with the cake with scarlet accents and a figure of the bride in a ball gown, but do not forget about the soulmate! Other couples will display minimalism, a commitment to classical canons through a snow-white coating of goodies.
The original solution is to choose a cake for the wedding, taking into account your preferences in the movies. Dark purple hue, blue butterflies, crescent moon on top, gloomy but happy newlyweds - a delicacy in the style of film adaptation «Corpse of the bride». One half of the cake can be decorated in a classic snow-white color with fluttering butterflies, and the second - in the emblems of Batman, if the groom is delighted with this hero. Newlyweds in the role of angels will fit into the tender, reverent ceremony of lovers.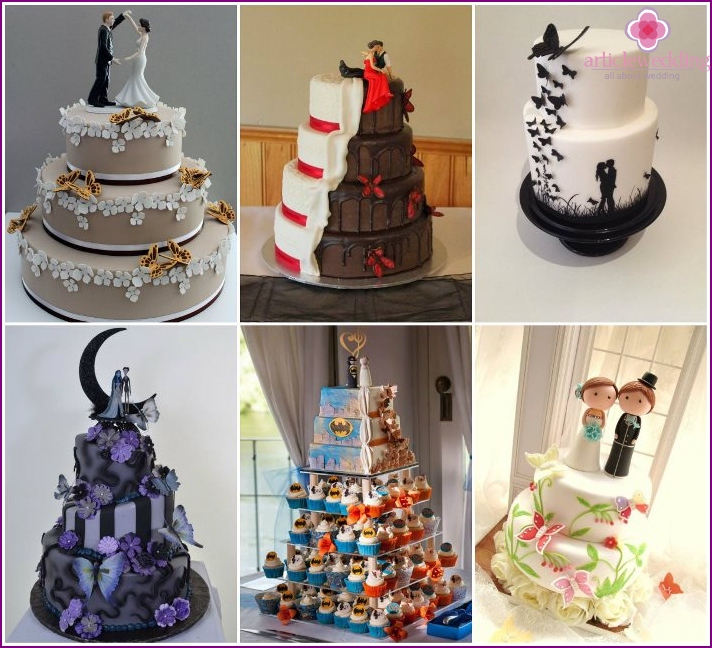 Decorated with a cascade of butterflies
A cake with a cascade of fluttering butterflies looks graceful and luxurious. They are located piece by piece on the sides, stretching from the bottom up from the title side of the treat or in a spiral along the entire area. A neutral light shade is chosen as the basis, and ornaments in the form of insects convey the theme of the wedding. If you have a classical ceremony, then it is appropriate to decorate a white multi-tiered delicacy with a contrasting color - black or red. Is your celebration full of colors and fun? Then the cascade of butterflies is painted in different colors, stretching from bottom to top, like the colors of a rainbow.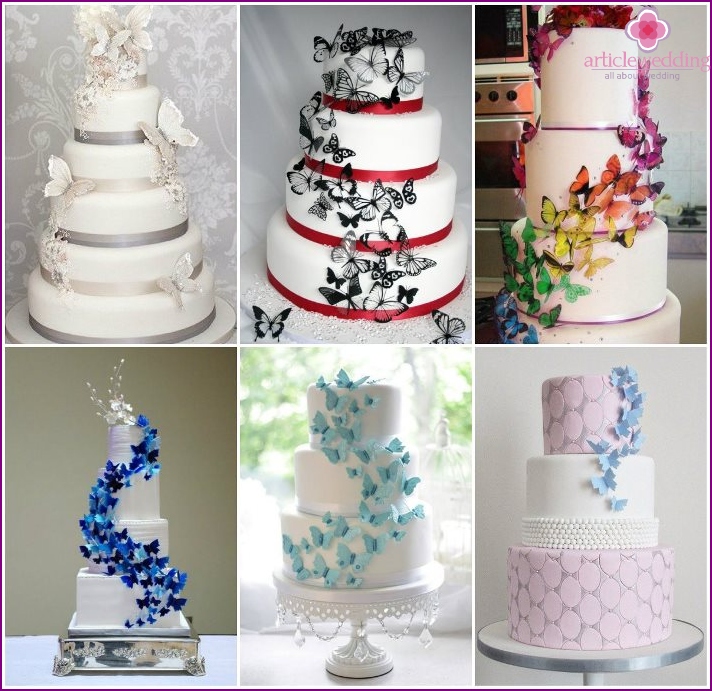 Cake decorated with butterflies and flowers.
If you have a wedding theme - a certain flower, then all the details should correspond, including the cake. Confectioners, using mastic, make believably fabulous petals and buds that all guests will like. Roses, eustomas, peonies, tulips, poppies, sakura, gladioli - not a complete list to display your wishes. Different shades of flowers look beautiful, so such a cake should be used as a decor in wedding photos. Many confectioners, following the western trends, decorate the goodies with live buds, which looks even more spectacular.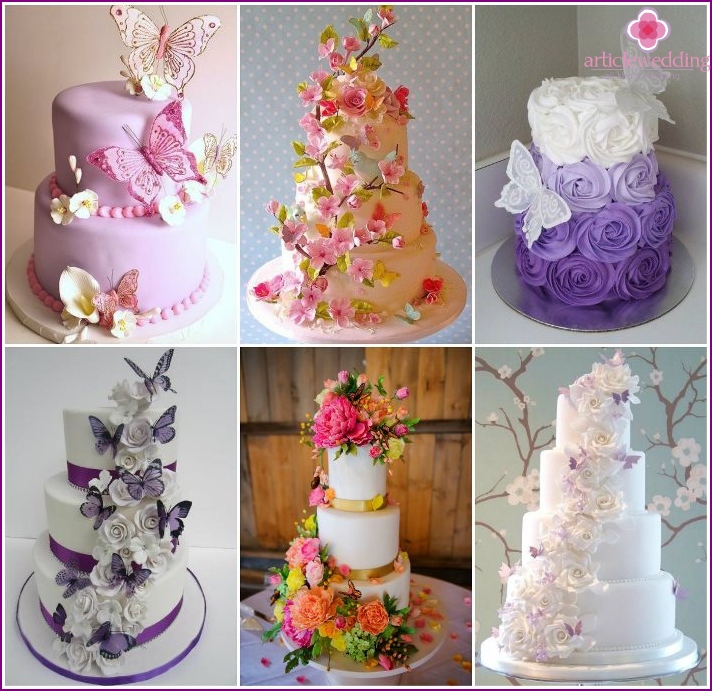 Cake with lace and butterflies
Vintage and boho weddings are gaining more and more popularity every day. These topics convey the tenderness, sophistication, romance and awe of newlyweds. An integral element of the decor of such weddings is lace. Cake, complemented by flowers or massive decorations, will not fit well with this style. The delicacy should ideally reflect the mood, so use delicious delicate elements as a decoration.
If the surface of the cake is made using a resistant structure that does not break when touched, then the pastry chefs decorate it with natural, delicate fabric. With a soft coating in the form of a cream, it is worth circumventing such options by choosing classic mastic, caramel or chocolate to perfectly display lace motifs. Cake with delicate decoration should be complemented with satin ribbons of a similar shade..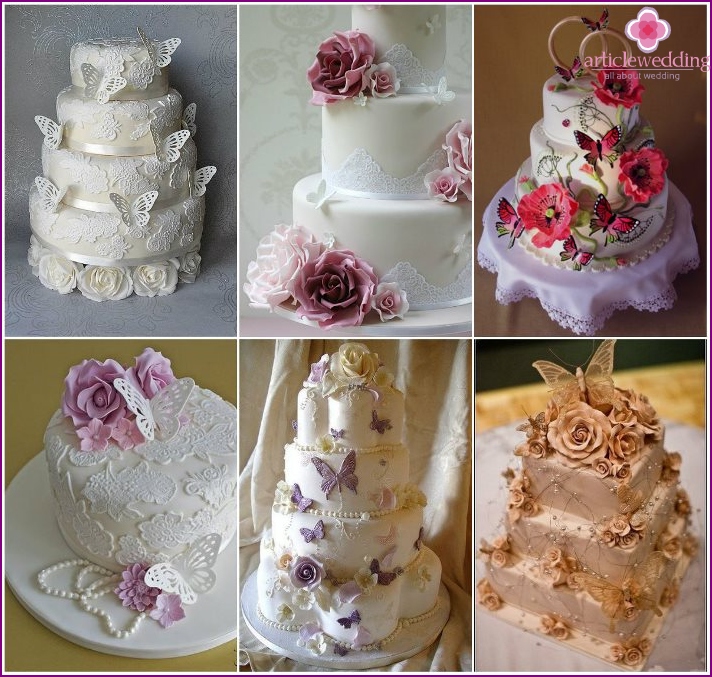 With butterflies and initials of the bride and groom
Whatever you add to the decoration of a wedding treat with butterflies, only one element will make it individual. The initials of the bride and groom, who at the end of the evening will already have one name, will emphasize the end of such an important day for the newlyweds. Confectioners perform them on order: discreetly on one tier, using mastic, in the form of jewelry on top of the cake, put on sticks, on top of each cupcake, which the guests can quickly disassemble from the candy bar.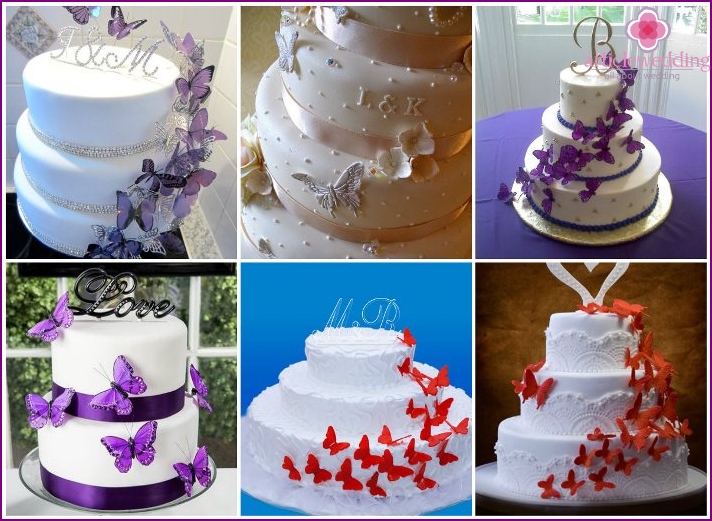 Photo of wedding cakes with butterflies
Cakes for a wedding with butterflies are full of advantages: aesthetically beautiful appearance, multifaceted colors, diverse decoration. For a chic effect «take off» tasty insects, ask the confectioner to arrange them on a treat in a spiral, and add chopsticks of different heights on top of which butterflies will be planted. At first, it will seem to many guests that this is a still image of a creation of nature. So you will surprise the guests with your unique cake!