Contents
---
---
A colorful, original cake is the culmination of a wedding event. Guests look forward to making the dessert with impatience, looking forward to seeing a unique confectionery. You won't surprise anyone with a classic multi-tiered cake, so more and more newlyweds are trying to choose original fancy pastries for their celebration, which will become a symbol of love and will remain in the guests' memory for a long time. An unusual wedding cake can be a work of art, if the confectioner puts all his imagination, skill into production.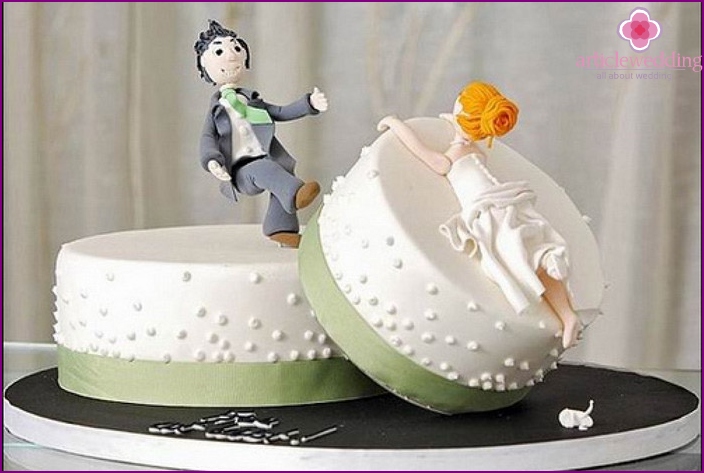 Ideas for unusual wedding cakes
Professional confectioners offer their services to modern newlyweds to bring to life unusual original ideas for a wedding dessert. Traditional wedding cakes are chosen mainly for a classic celebration, but for a thematic holiday incredible intricate confectionery products are suitable. Even in an ordinary wedding cake, you can make decor elements that support the theme of the event, will become a bright accent of dessert.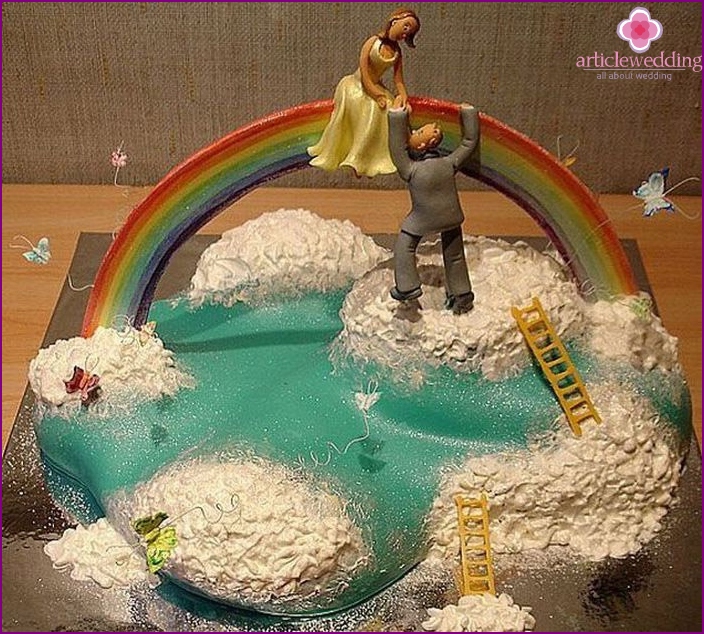 Candy cakes
For a bright wedding, creative newlyweds can choose such a rare but effective dessert as a candy cake. The meaning of this product is that in the creation of ready-made colorful candies are used. In some cases, the basis is ordinary cakes (biscuit, sand, puff), and the decoration is made with sweets. To originally decorate such a cake, use bright sugar candies on a stick (like candy). If they crown the top of the dessert, it will bring notes of originality, unusualness..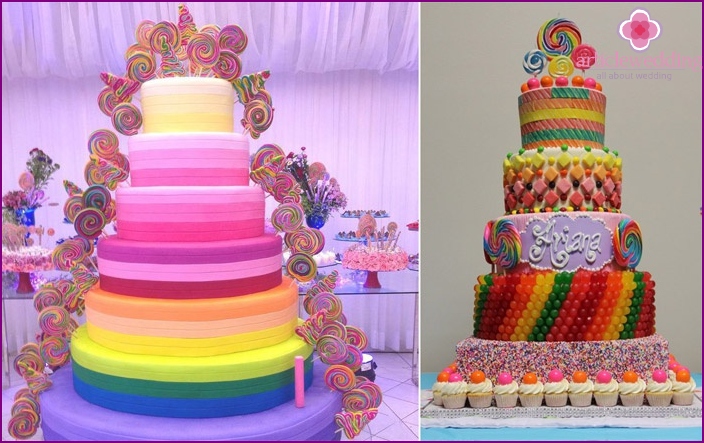 Some bakeries offer the bride and groom to move away from the generally accepted standards of a wedding dessert and make it whole from sweets. With the help of various sweets, the dessert is given the shape of a three-tiered cake, which at first glance will not be any different from traditional wedding baking. To create such a dessert, you can buy ready-made sweets or order sweets to order from an experienced pastry chef. With the help of high-quality chocolate, various fillings, he will create incredibly delicious handmade candies for you.
With statuettes
Wedding confectionery composition is usually decorated with cream flowers, fabulous butterflies or simply with the icing of the chosen color. But in order to give the product personality, it is recommended to crown it with a miniature figurine. Many couples choose for this figurines of swans, hearts, rings. But for custom desserts in the bakeries create original figurines depicting miniature copies of the newlyweds. Optionally, such images should be made in a conservative or retro style..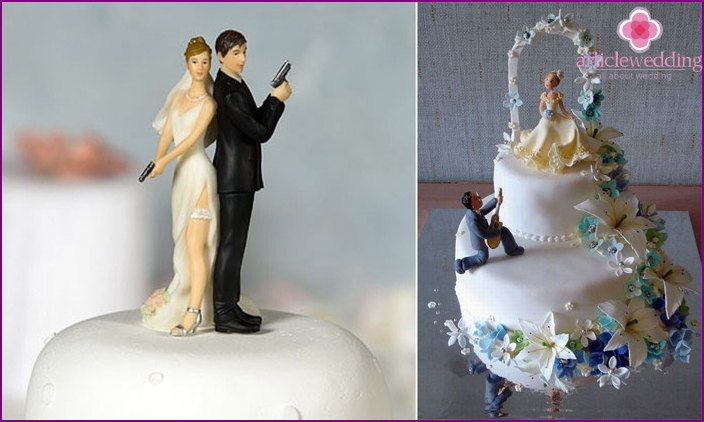 Figures depicting a romantic scene can crown cakes. The bride's figurine in the upper tier and the bridegroom's statuette playing the guitar and singing the serenade of her lover in the lower one will look original. Some couples celebrate their wedding day in the style of Halloween or in the Gothic. Then it's necessary to decorate the baking of such an event with skeleton figurines, which will look very funny and funny not only at the celebration, but also in video and photography.
From cakes
Cake with cakes is a new trend in wedding fashion. When ordering dessert, the bride and groom understand that traditional pastries in the form of solid cakes do not suit them: cutting such a cake is not at all simple, but it is problematic to deliver to the banquet hall. Some couples choose the option of portioned desserts. The confectionery composition with cakes is a multi-tiered design consisting of many small cupcakes, cupcakes or cakes. Portioned pastries are laid out on stands in the shape of a regular cake.
Each guest will be able to take the cake he likes, and the bride and groom will not have to try to please everyone present by cutting off portions of the same size. No need to make all the cakes with one filling or taste. On the lower tier there can be pastries with fruits, on the middle - cupcakes with cream, and on the upper - a small personal cake for the marriage and their parents.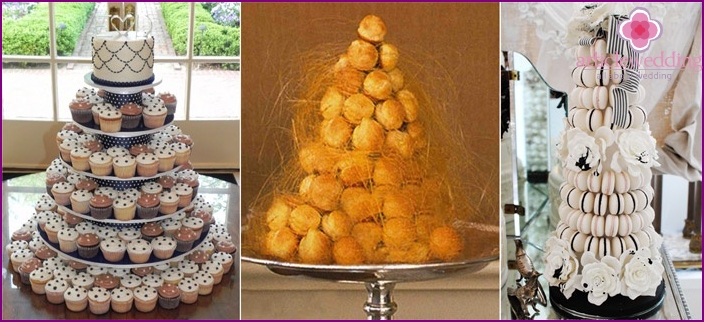 Respectfully, luxuriously look small profiteroles with a sweet filling, fastened together with caramel in a cone-shaped figure. This type of baking came to us from France and is called Croquembos. You need to decorate it with golden sugar threads. Such an unusual dessert will delight everyone present at the celebration and will become an elegant final chord of the day..
Fashionable macaroon cakes are also used to create fancy pastry for a wedding. Macaroons are considered the most difficultly made sweets in the world, so if you give your guests an unusual dessert in the form of a cake made from macaroons, they will definitely appreciate it and remember it for life. Due to the variety of colors of macaroons, you can make a dessert in color that will be combined with the theme of your celebration.
Original Chocolate Strawberry Cakes
Strawberries are always associated in people with romance, love. What could be more beautiful than a combination of this juicy berry and the taste of dark chocolate? Many confectioneries offer the choice of a classic wedding dessert, soaked in fruit syrup and decorated with strawberries covered with a layer of chocolate. This decoration looks stylish and fresh on confectionery. A chocolate fountain with fresh berries is the perfect complement to a fruit cake.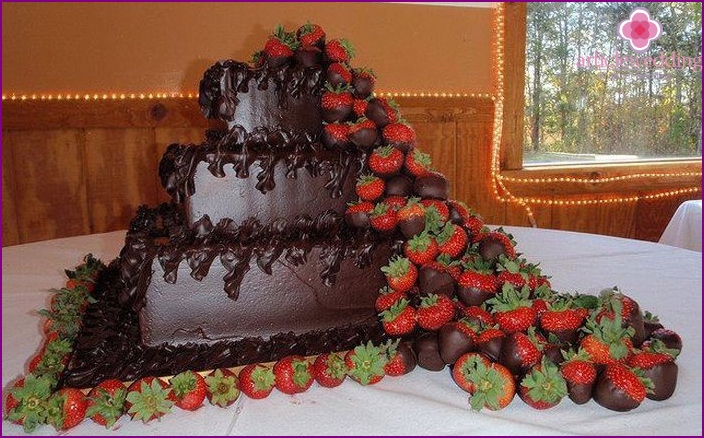 Cool multilevel
Cheerful and creative couples strive not only to bring celebration and fun into their lives, but also to make their most important celebration memorable and unusual. Such people choose unusual multi-level desserts for their events, striking with their originality and non-triviality. The only rule that should be followed when choosing such baking is the theme of dessert.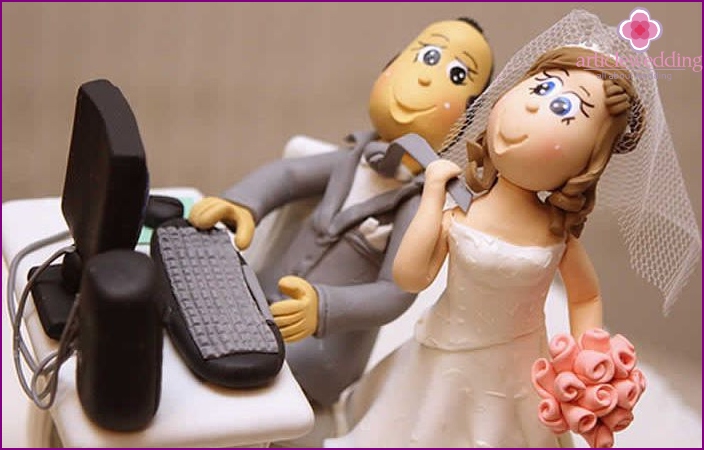 The theme and style of making the cake should be close and understandable to the newlyweds. For example, a cake can depict a scene where a bride and groom meet (if the first communication took place on the network, then the cake is made in the form of a computer or laptop). The couple's first date was at the diner - the dessert would be like a hamburger or pizza made from sweet ingredients. Everything that is close and important for the young can be depicted on their wedding cake.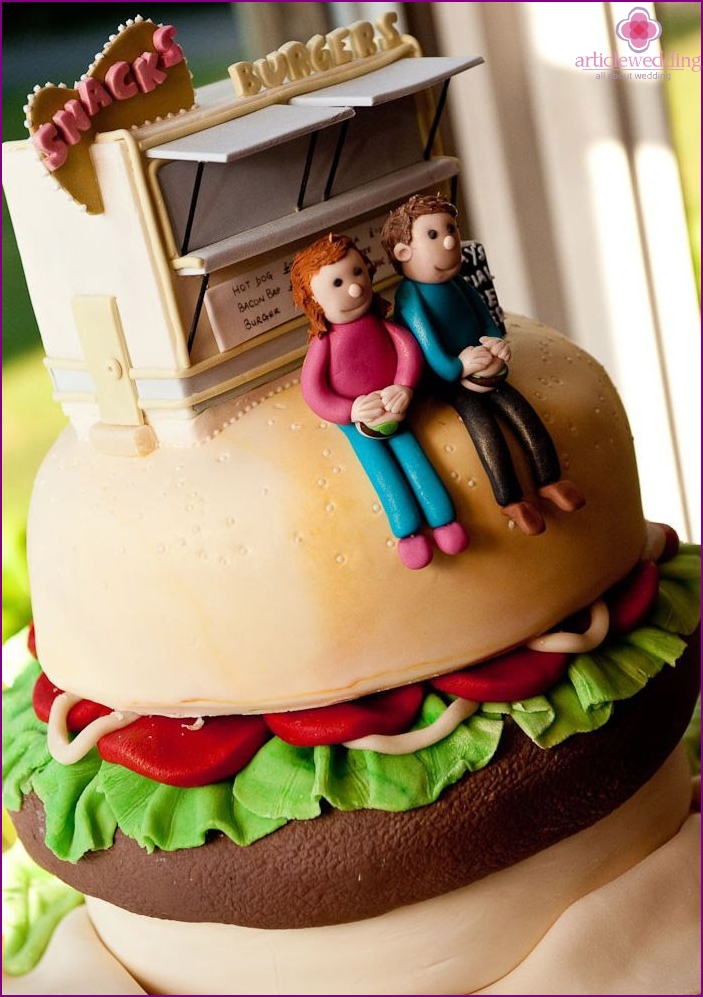 Photos of the most original wedding cakes of 2016