Contents
---
---
Word «vintage» translated from French - «good quality». For the first time, winemakers began to use it to express the unsurpassed quality of wine. Modern vintage fashion has engulfed all spheres of human activity, and the newlyweds are happy to arrange weddings that include a cake, a bride's dress, a car, a banquet hall, decorated in retro style. Vintage is a return to a charming and unforgettable past.
Vintage Wedding Cake Decor Options
There are a lot of options for decorating wedding sweets in retro style, and all of them are unique in their own way. They are dominated by beige, white, gold and champagne. The latest hit is a vintage cake with hand-painted dessert overlay. The scenery is very diverse: graffiti, black and white graphics and even realistic portraits of the newlyweds. The main thing is that the cook should be a good artist. Look at the video for a few wedding cakes in vintage style:
Vintage Lace Wedding Cake
Lace cakes look delicious. Aged in pastel shades, wedding desserts with lace are in demand not only for a thematic vintage wedding, but also for traditional celebrations. Decorated with edible patterns, they amaze with their splendor. White mastic or brown chocolate lace harmoniously look on color cakes:
beige;
cream;
creamy;
milk.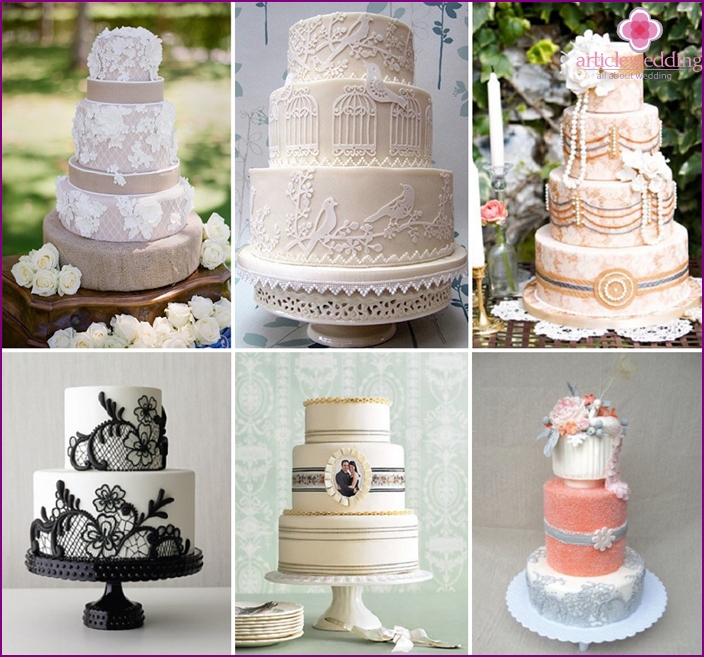 With floral decoration
Floral theme in vintage style cakes decoration the most popular. Edible or fresh flowers give the wedding banquet a special charm. Confectioners decorate a vintage dessert with sugar roses, daisies, pansies or other flowers. Large orchids or callas that look hard to distinguish from real ones look gorgeous on a retro-style bunk cake. Large flowers are often placed on the side of the sweet product in a cascade or in small individual bouquets. Small modest flowers make out, as a rule, on the upper tier.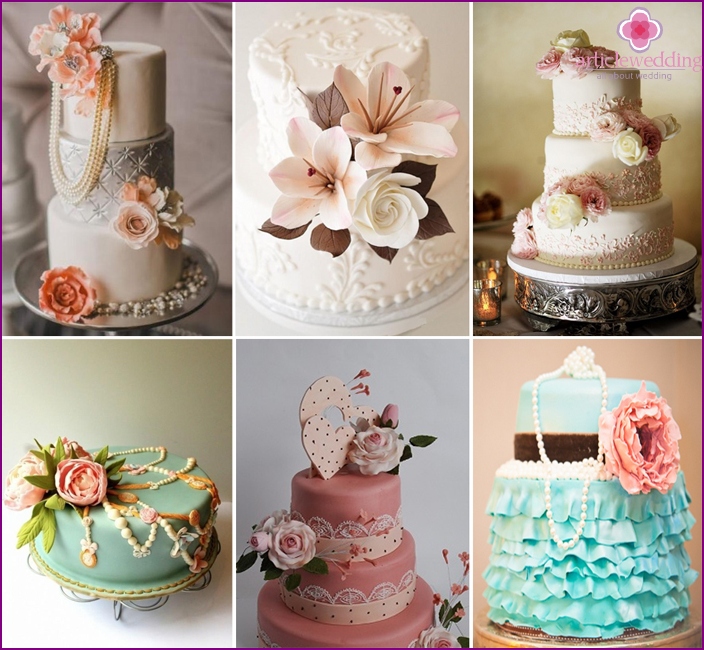 With sugar bows and ribbons
Colorful ribbons and mastic bows are a classic of vintage culinary art. An airy single-tiered dessert with a huge sugar bow on top is the dream of every bride. Such confectionery masterpieces come in different shapes, but all are incredibly elegant and festive. The discreet colors of the cake and the contrasting ribbon with a bow, very similar to the fabric, create a festive wedding atmosphere.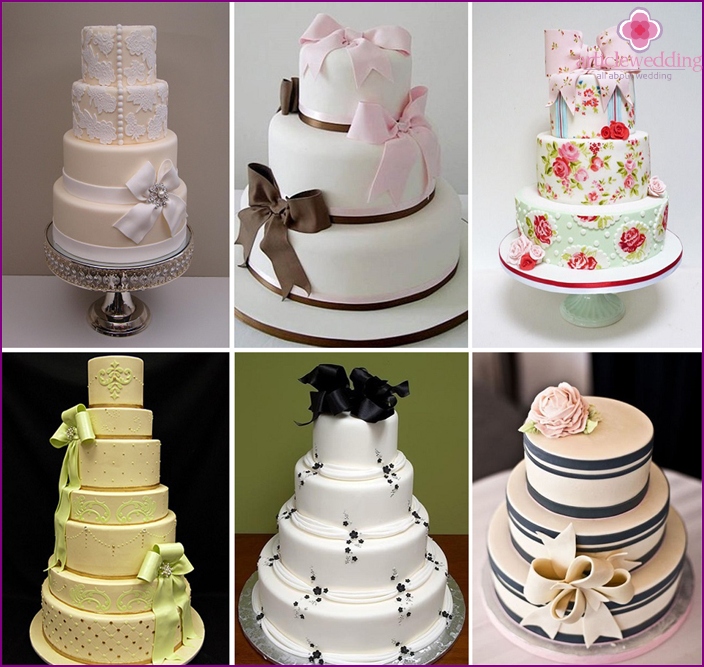 Cake decorated with beads and curls
Vintage culinary masterpieces are almost always decorated with beads or curls. Such an ornament fits perfectly on a golden or silver background with white mastic, whipped cream or multi-colored glaze. Curls or inscriptions made of gilding look very nice on the contrasting tiers of a wedding dessert, for example, the lower «floor» light beige, and the top is pale pink.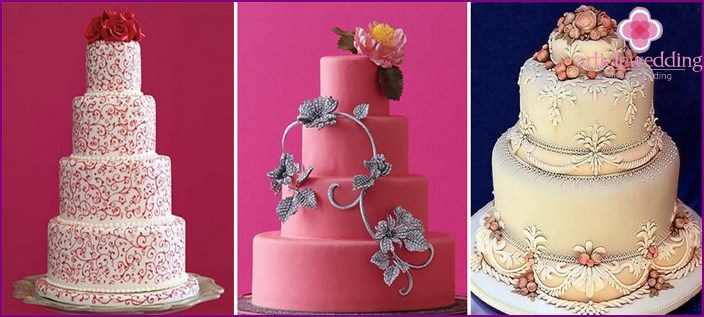 With black lace pattern
They cannot but surprise, not admire the black lace at the wedding culinary masterpiece. Black and white vintage has always been at the peak of popularity, so cakes in this design are also on the crest of style. Black lace adorns both feminine pieces and square more modest desserts. Such a culinary option will be the highlight of any wedding. Confectionery lace is made from colored mastic in two ways:
With the help of molds (special confectionery molds with silicone inserts).
Ordinary deep forms and a sharp knife.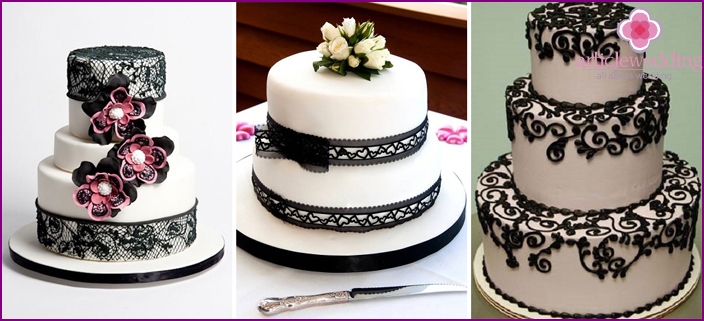 Vintage style wedding cakes photo
For any couple, choosing a wedding dessert in a vintage style is very difficult, because confectioners, trying to beat each other, come up with new taste and decor options every year. When choosing a cake, the newlyweds are guided, first of all, by two criteria: taste and appearance. Popular wedding culinary products:
curd biscuit;
fruit sponge cake soaked in syrup;
chocolate sponge cake with cherries and whipped cream;
vanilla cakes with sour cream and nuts;
honey cakes with dried apricots, prunes and walnuts.
Wedding vintage desserts are decorated with many products. It can be traditional chocolate, nuts, fruits, berries or more exotic ones - marzipan, confectionery paste with different tastes or sugar mastic. It makes no sense to give advice on choosing a cake - this is a matter of taste for each person. But I want to tell you: the vintage style does not like elaborate decor, so choose any one decoration - patterns or flowers, stripes or squares, in a word, decorations should be in the same style direction.