Contents
---
---
Wedding cake is a symbol of celebration. Modern masters are able to create a whole work of art for a wedding, using various elements and modern decor. The assortment of sweets is huge, but they contain the same patterns of design, allowing them to be classified. A gorgeous round-shaped wedding cake with floral decoration is a classic of a solemn dessert. Let's look at what other culinary masterpieces are for a wedding.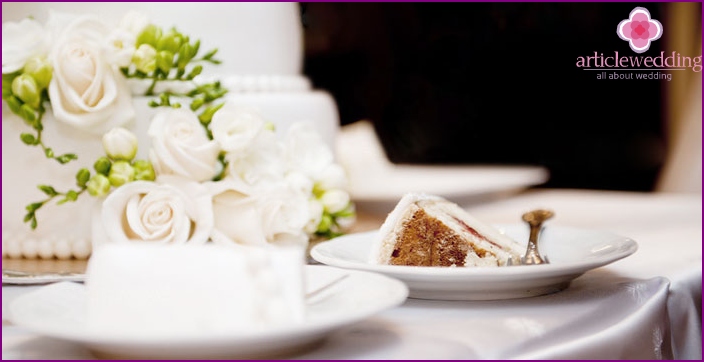 The most chic wedding cakes
Treats for the wedding are single-layer, multi-tiered, on stands and without, decorated with mastic, sugar, marzipan or chocolate figures. Cream bouquets, scattered in bulk on the glossy surface of the dessert or modestly perched in a basket, give the wedding table a solemnity. The inspiration for the confectioners can be the hobbies of the newlyweds or the beauty of the bride's wedding dress, which they can recreate to the smallest detail in the decor of the holiday masterpiece.
In the style of a sweet miracle, it is often used:
natural motives;
clear lines of modern Art Nouveau;
airy romanticism;
luxury royal style.
Modern technology helps confectioners create whole tasty cities with towers, roads and cars. The weight of some masterpieces reaches 23 kilograms, and the height is more than 160 cm. The main thing is that the couple had financial opportunities for this, and the fantasies of modern confectioners know no bounds. Check out the video below for a selection of the most chic wedding cakes.
Layered cakes with a huge cascade of flowers
Wedding cakes with a cascade of flowers is a classic that does not lose its popularity. Confectioners invent new methods for making delicate petals and chic buds, making floral desserts even more sophisticated. Instead of traditional roses, newlyweds often began to order noble orchids, beautiful tulips, unusual gerberas and other equally popular flowers. An original wedding treat, decorated with a cascade of fresh flowers, looks original.
For the manufacture of sweet buds, culinary mastic is used, from which various forms are easily and quickly molded. This material hardens in a very short time after final processing with tools or hands. Masters of culinary art decorate multi-tiered delicacies with chic colors that cannot be distinguished from real ones. Large buds with herbs and fruits are especially good in a wedding dessert. Stylish look flowers that are also on the bride's dress or in her bouquet.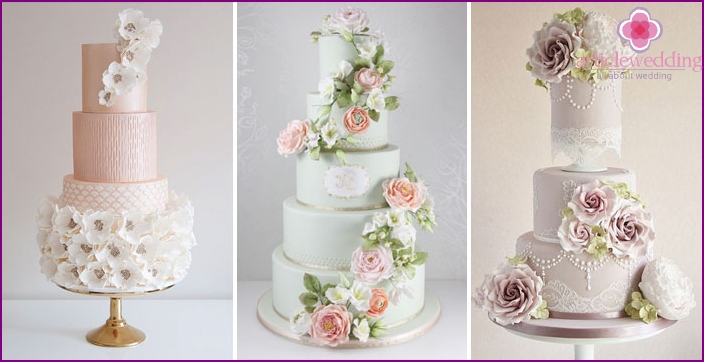 Decorated with rhinestones or Swarovski crystals
The most expensive and exclusive cakes are made for celebrity weddings. They are decorated with Swarovski crystals or multi-colored rhinestones, surprising guests with luxury. Such chic desserts shine so brightly that sometimes even the bride's ring overshadows. It is more than a sweet for a wedding. Several culinary experts participate in the creation of such a treat, showing maximum imagination. An exclusive cake should be not only beautiful and elegant, but also unique.
Some couples prefer meter cakes, decorated not only with crystals and rhinestones. Particularly generous newlyweds add several diamonds to their confectionery masterpiece, captivating guests with style. For a luxury wedding, confectioners primarily require the exclusive design of the main dessert with cakes, and the taste remains in second place.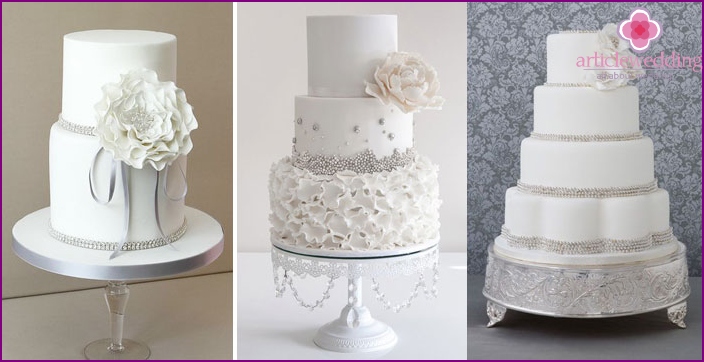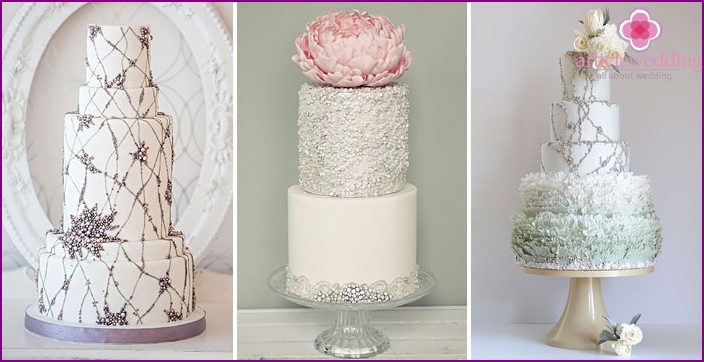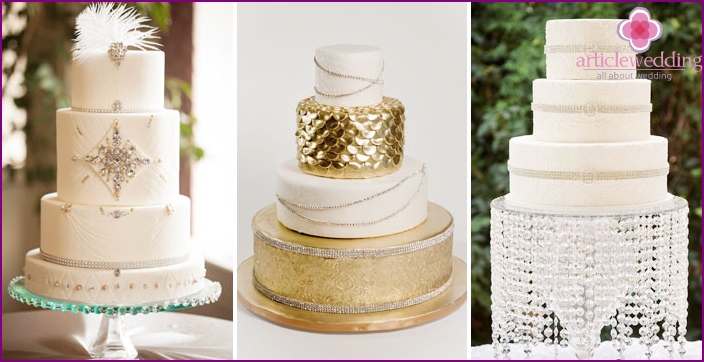 With gold and silver motifs
For a wedding in gold or silver tones, the cakes are decorated with gilding or silver. Wedding desserts are decorated with mastic of precious metal color, using lighter tones, as bright shades of gold and silver do not look very harmonious. Such cakes with volumetric patterns look gorgeous. And if young people want to add sparkle, then the culinary product is additionally decorated with ribbons, flowers, bows or rhinestones. Gold and silver colors are universal - they combine perfectly with many wedding styles:
rococo;
baroque;
minimalism.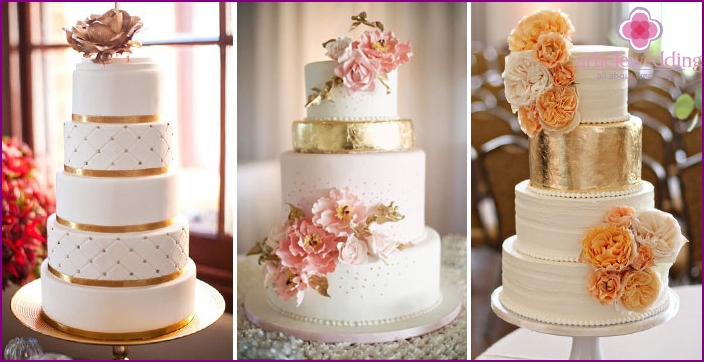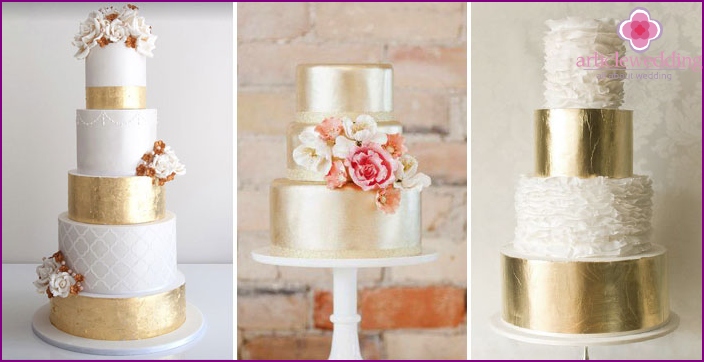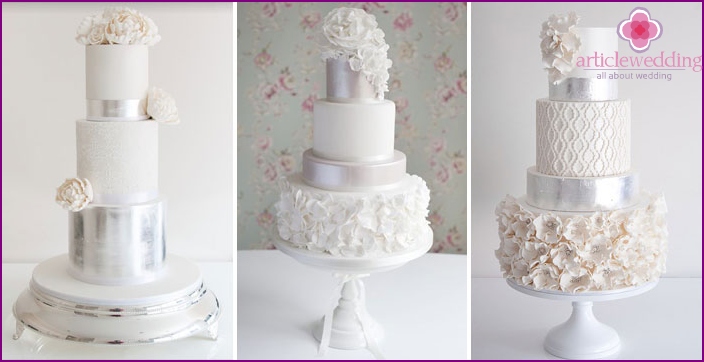 Cake in the form of a fountain or a vase
Multilevel wedding desserts in the form of a tall vase or fountain made of glaze amaze the imagination. For fancy cakes, special stands-fountains are widely used, on the design of which professional confectioners show miracles of craftsmanship. On them you can see whole sweet parks and castles surrounded by moats with «water». Colorful fishes swim in sugar fountains, and at the top of the sweet masterpiece, the groom holds his chosen one in his arms.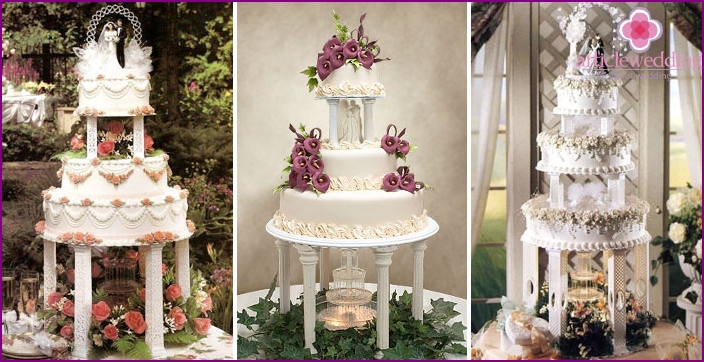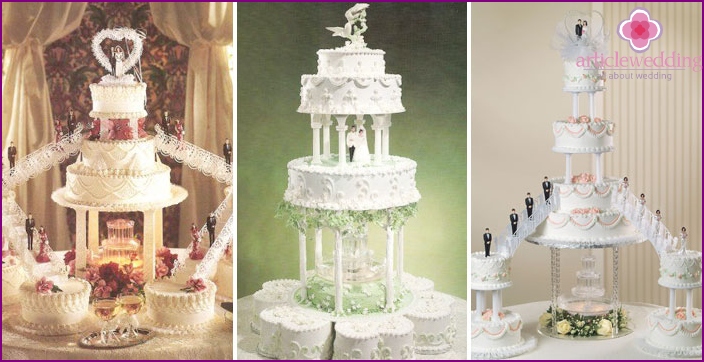 Chic cake in the form of a wedding dress
Confectionery for a wedding, like two drops repeating the bride's dresses, is a new trend for the bride and groom. A gorgeous cake-dress made of mastic immediately captures the admiring glances of the guests, because this is a creative that has not yet managed to enter the rank of the ordinary. The main thing is to entrust the business to a good pastry chef who will be able to convey to the smallest detail all the ruffles, folds and frills of the wedding dress.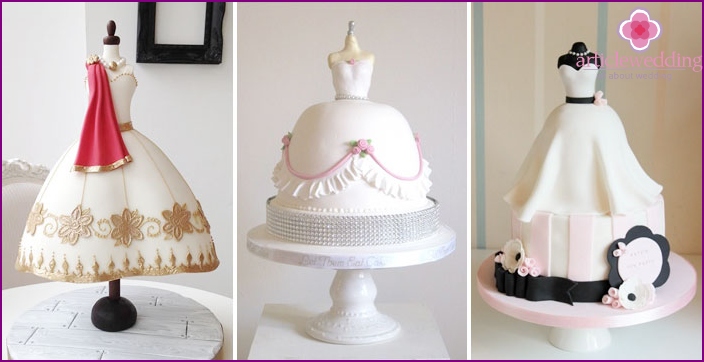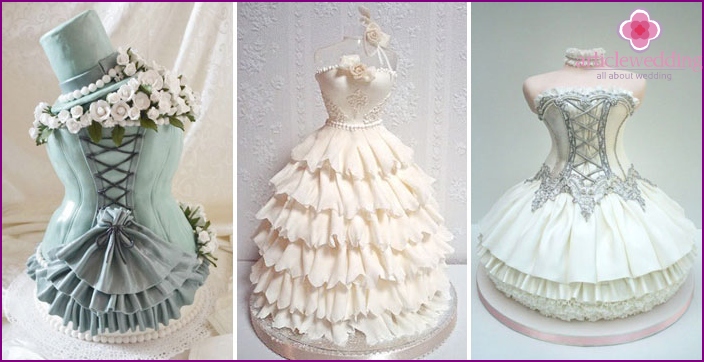 Covered in thousands of sugar flowers
Elegant and expensive wedding treats are made from royal glaze and sugar mastic. Layered cakes, completely covered with sweet flowers, look more like beautiful bouquets than edible products. Thousands of sugar flowers give the wedding dessert romance, I don't even want to eat such a culinary masterpiece, it is so beautiful. Classic white roses have been and remain favorite flowers for decorating desserts..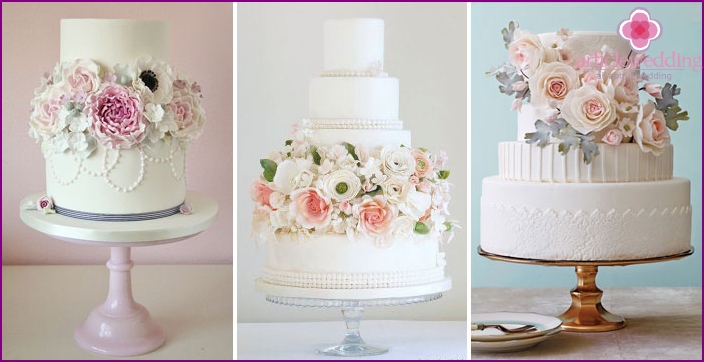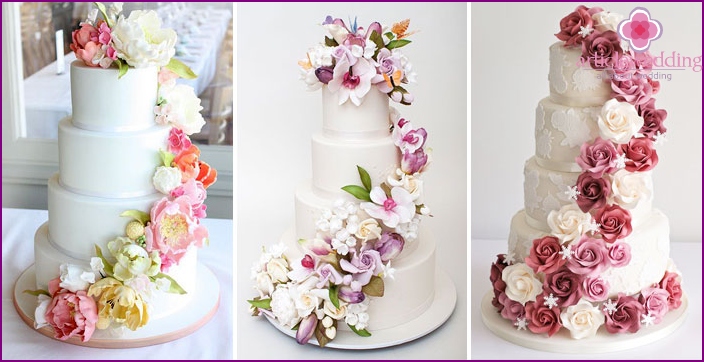 Photo of wedding cakes
Choosing a chic culinary masterpiece is necessary, given the general style of the wedding. So, for a celebration in the marine style, you can order a treat, decorated with mastic shells and starfish. An original dessert in the form of weapons or playing cards will be relevant for a gangster wedding, and for a holiday in an oriental style, a confectioner can offer a chic sweet sphinx decorated with gold.