Contents
---
---
The beauty of choosing a blue color for a wedding is the large number of its shades, among which the newlyweds will always be able to choose the most advantageous for themselves. In any season, the blue color will be a good find: in autumn it will remind you of the sky before a thunderstorm, in summer it will be the infinity of the sea, in spring it will indicate the last coolness, and in winter you can see frosty frost in this tone. The emphasis of the blue celebration and the stylish detail of the banquet decoration will be a cake in a blue-blue palette.
Blue Wedding Cake Decorating Ideas
White and blue weddings often use deep, rich colors, and wedding cake is no exception. Any shade of blue dessert is given in several ways:
Use dye for mastic or glaze.
Garnish with a fresh blueberry dessert.
Decorate the product with blue sweet elements: flowers, ribbons, bows.
Add inedible details of this tone, for example, natural or artificial flowers, satin ribbons.
The most popular dessert for a white and blue wedding is multi-tiered. Confectioners lay tiers on top of each other or on a special stand, where each «floor» has its own dish, which is mounted on glass or metal legs. The product is decorated depending on the taste of the newlyweds and the skill of the confectioner. The multi-tiered culinary masterpiece looks solemn and very impressive. Watch the video below to find out how to make a white cake with a very beautiful blue decor..
Gift Box Wedding Cake
A cake with unusual geometry in the form of a gift box is a new idea for a wedding, but it quickly took root among the newlyweds. A modest but stylish box with a white mastic ribbon and a beautiful sugar bow on top will not only decorate a white and blue themed wedding, but will also become a worthy wedding dessert for any traditional celebration. Stuffing inside this «a gift» may be different: chocolate, tiramisu, fruit and berry, strawberry, peach, lemon.

Decorated with a cascade of flowers
The flowers on the cake can be absolutely anything: voluminous or painted, from mastic or cream, living or artificial. A white dessert decorated with a cascade of blue or blue sugar colors is the most popular decor for a wedding treat. As a rule, floral decorations are placed on the top of the product, and then scattered in cascades over all tiers or around the circumference of each «floors».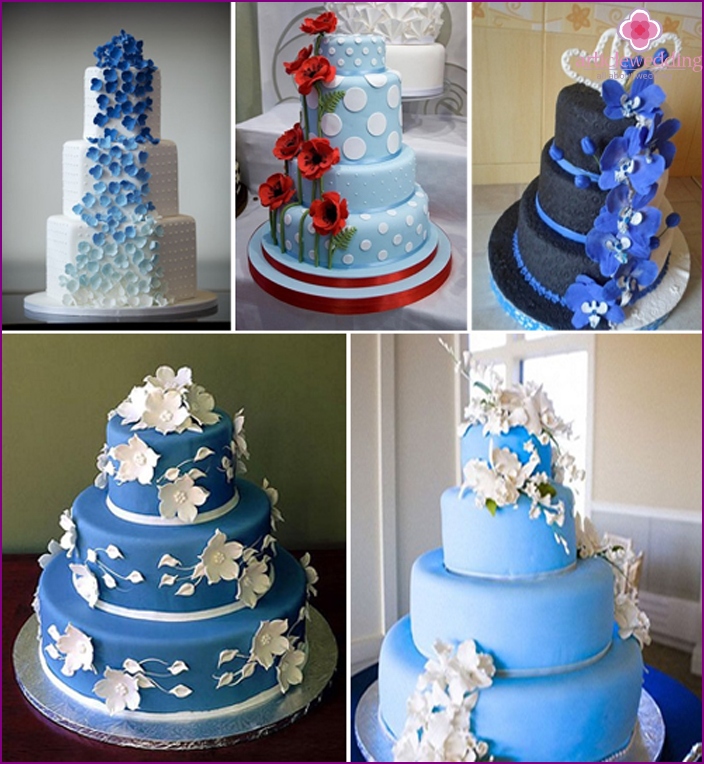 White cake with blue roses
White is associated with any wedding, so the snow-white cake at the celebration looks solemn, creating an atmosphere of romanticism. Decorate a white dessert in different ways, but contrasting blue roses look more advantageous on it. At will, cooks add bows, intricate patterns to this decor. But the less additional decorations there will be on a snow-white cake with blue roses, the more elegant and refined it will look at a wedding.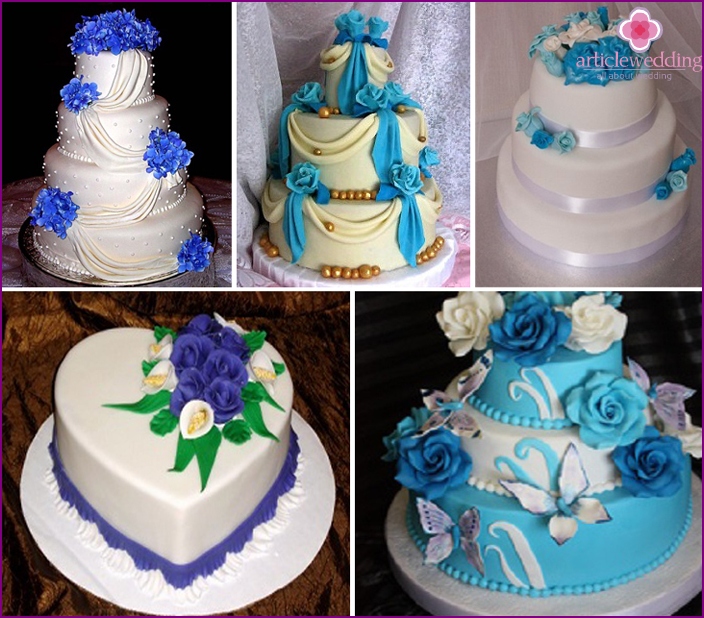 With ribbon and bow decor
Blue mastic ribbons and bows on a wedding cake look gentle, colorful and very neat. If blue violets are added to these elements resembling satin fabric, then the dessert will be made in the Victorian style, it will be so romantic and sophisticated. In some cases, small blue pancakes, tied with masticated white ribbons, are added to the main product, giving the sweet table at the wedding solemnity.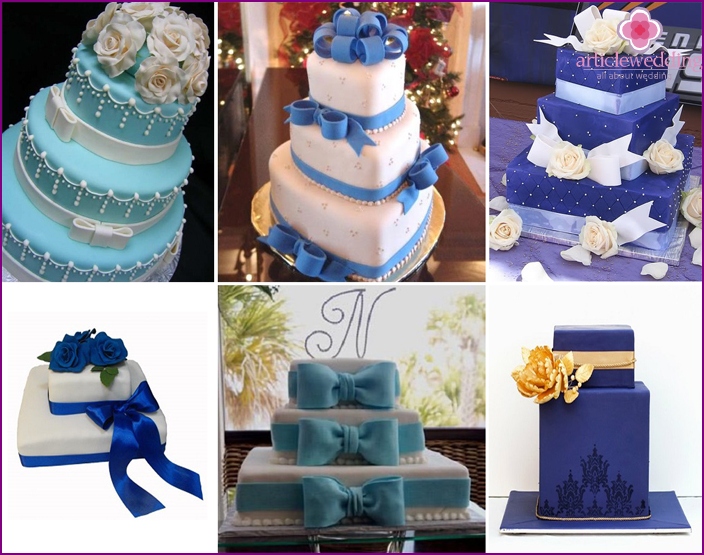 Cake with openwork mastic painting
Culinary products with laced mastic drapery fit perfectly into the blue and white theme of the wedding. White desserts with blue or blue mastic lace - elegance and tenderness itself. They harmoniously fit into any classic or themed wedding. Openwork elements look great not only on a white basis, but also against the background of other shades:
milk;
creamy;
beige;
cream.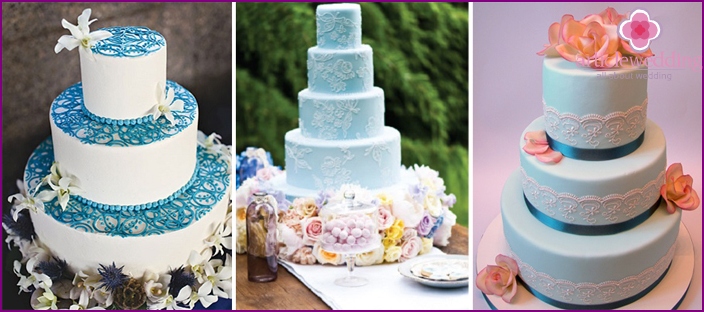 With sugar beads and pearls
Wedding desserts in blue are often decorated with mastic pearls and beads. This original decor is easy to find on sweet items dedicated to a thematic wedding, for example, a sea, New Year's, royal, pirate or ordinary classic celebration. Silver sugar beads often spread the initials of the newlyweds.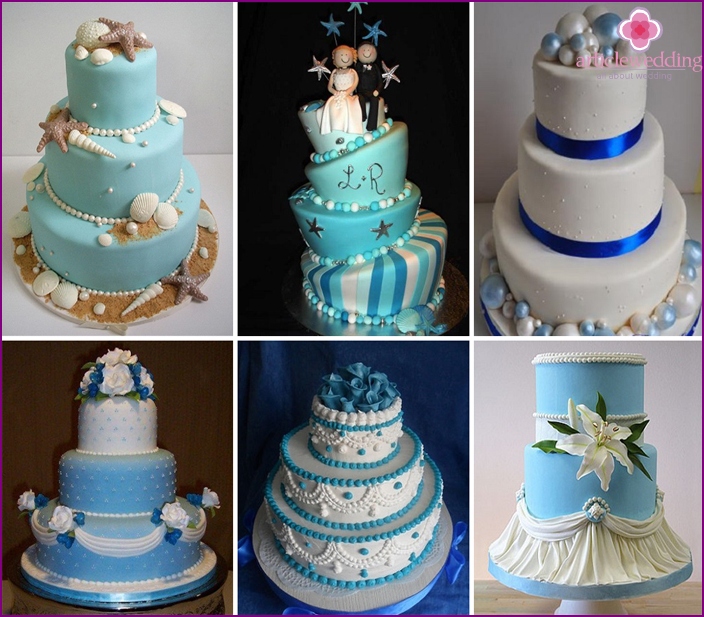 Designer cake
Choose the form for the main dessert of your wedding yourself, but if you want to surprise guests with a real culinary masterpiece, then it is better to turn to professionals for help. Designers do not always adhere to generally accepted standards, therefore, each time they create amazing works of art. At the request of the young, they will create either a gentle, or contrasting version, or decorated with a cream of gradient tone with a smooth transition from white to dark blue. Such an exclusive masterpiece will be expensive.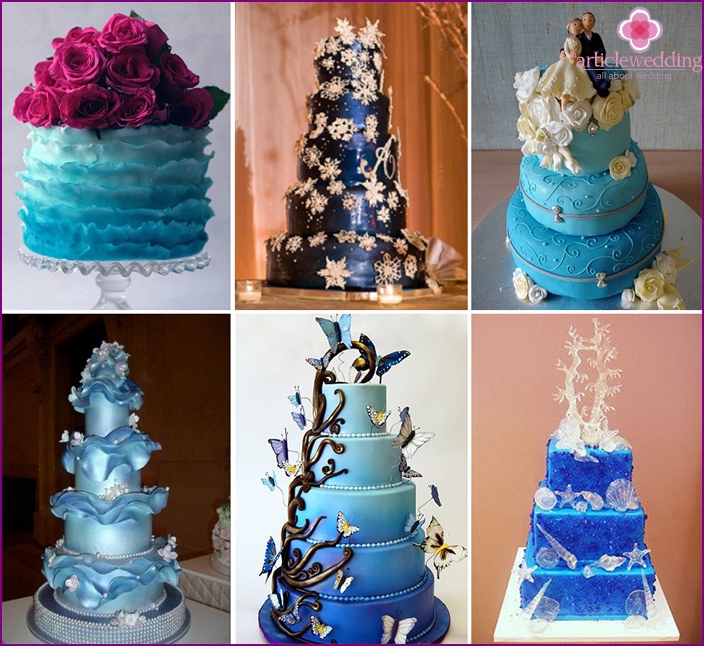 Photo of wedding cakes in white and blue
Cakes for a wedding in blue and white are designed differently: ornaments, figures, photographs of the bride and groom, edible or inedible decor. But what will be your wedding dessert, you decide. The main thing is that it should be not only tasty, but also decorated in the style of your celebration. This will not go unnoticed by guests, and the cake will become the main decoration of the holiday.