Contents
---
---
Wedding cake is not only the main element in the menu, but also a symbol of the future sweet life of the newlyweds. If you have not yet chosen a delicious dessert for the celebration, take a look at the original photos of wedding cakes 2016. Perhaps a couple of ideas will be to your taste.
Mastic cake
Mastic has gained great popularity in the confectionery world due to the fact that it holds its shape well. It is used to create all kinds of jewelry - artsy flowers, bows, three-dimensional patterns, inscriptions, figures of the bride and groom. Both color and fully monophonic decoration with mastic looks great, look at the photo below.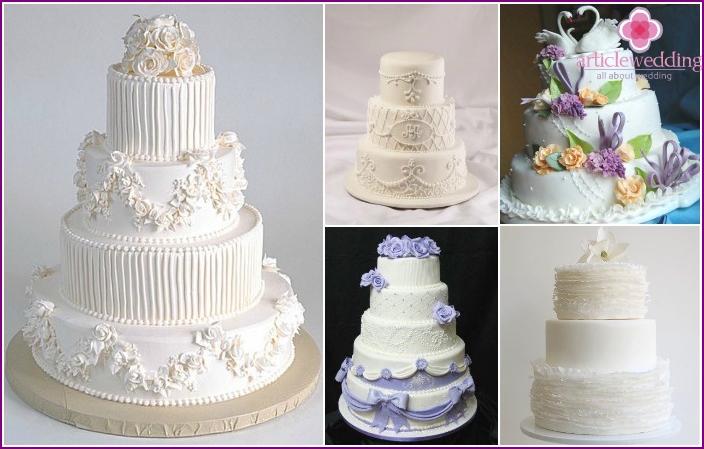 Single tier
A single-tier cake is perfect for a modest wedding with a small number of guests. Round, rectangular or in the shape of a heart - it will generously decorate the table.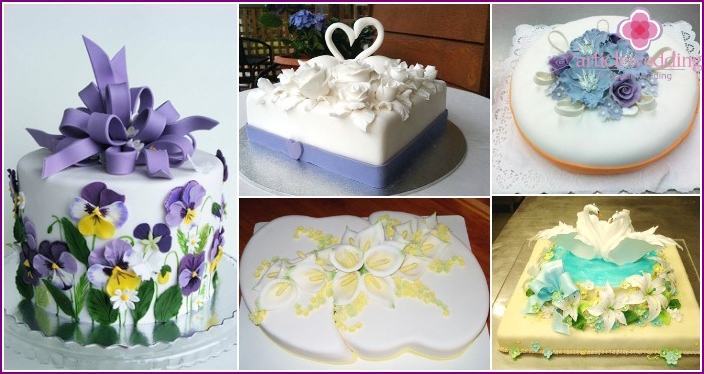 Tiered
Layered cake looks majestic and rich. For it, a stand-shelf is used, which corresponds to the design of the hall. At the peak of popularity in 2016, themed weddings, to which the same thematic multi-tier cakes are baked.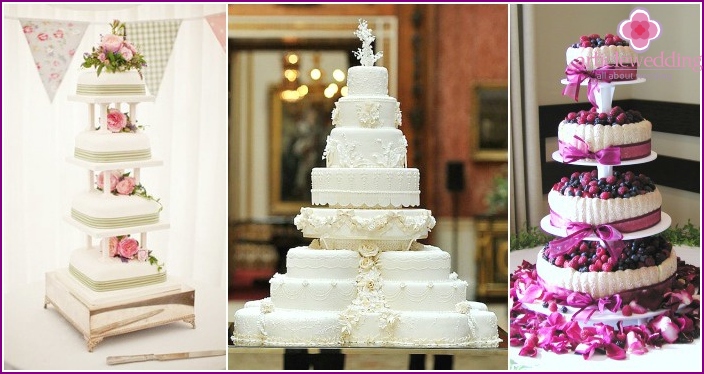 Crocambush
French cone-shaped sweet dessert called «crocambush» served at weddings. The constituent elements of the dessert are profiteroles, bonded with caramel sauce. Crochembush design options, see the photo.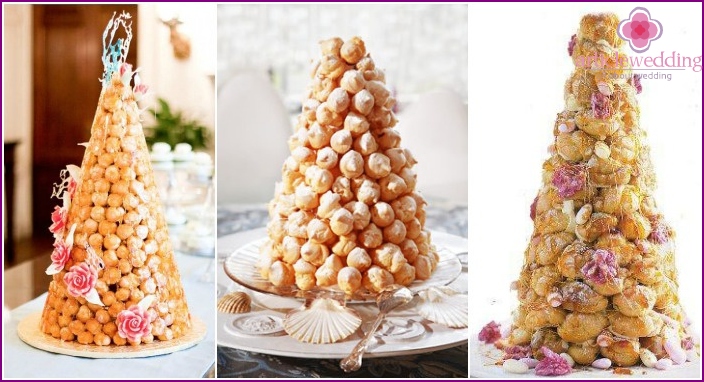 Cupcake Cake photo
An original and convenient solution for a wedding is a cake, the elements of which are cupcakes. These small cupcakes (cupcakes) are easy to convey to guests, and the likelihood of staining the bride's dress or groom's pants tends to be zero. For the last tier, a small cake is usually baked, which is cut - as a tribute to tradition.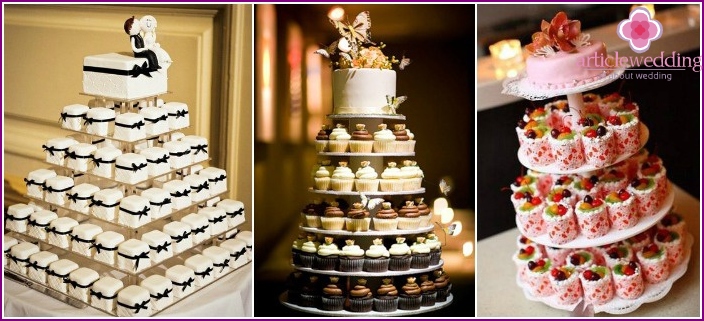 In the shape of a symbol
Symbol cakes - a unique treat for a wedding. This is an opportunity for lovers to tell about their dreams and plans (go on a trip, create a family) through a pastry masterpiece or share a story of acquaintance with guests.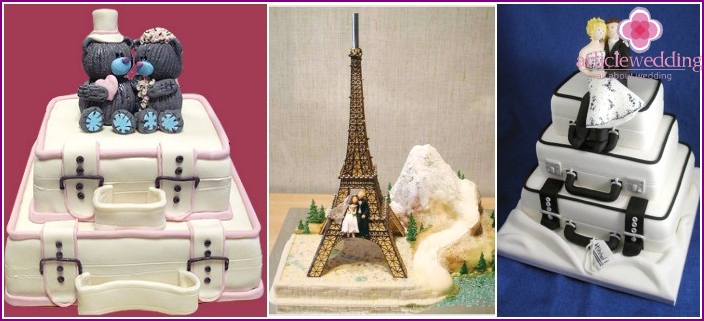 With a photo of the newlyweds
When making such a wedding dessert, the photo of the newlyweds is printed with food gels on rice paper. This delicacy will definitely surprise guests and delight future spouses..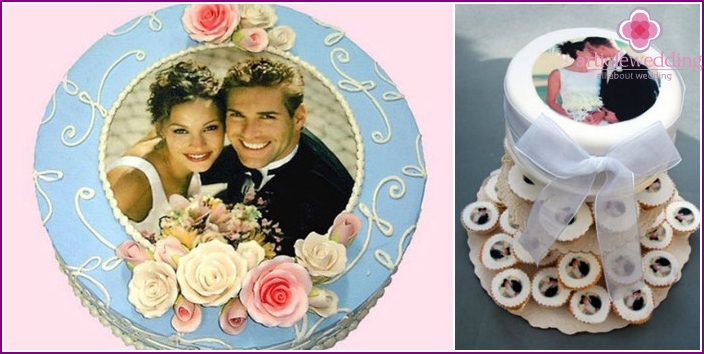 With color transition (ombre)
Ombre or degrade is a smooth transition from one color to another. This design style looks elegant and graceful. It can be increasingly seen in the photo of wedding cakes 2016.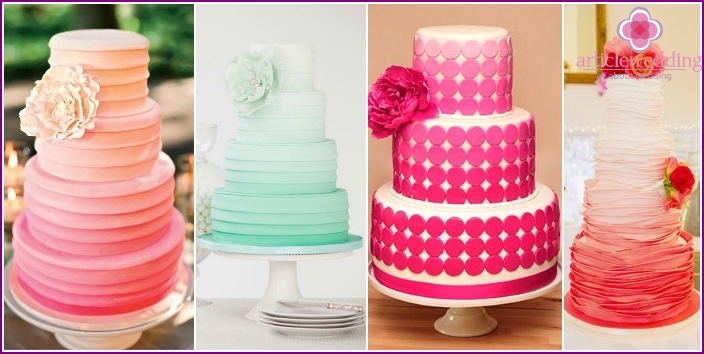 Unusual photo shapes
If you are tired of symmetry, refer to unbroken forms. Triangles, uneven tiers, smooth bends - together with the pastry chef you will realize even the craziest ideas.

Cake Decorations
Decorate a festive treat with various elements - berries, fruits, glaze patterns, nuts, sugar beads and even large fresh flowers (roses, chrysanthemums, lilies). See the photo below: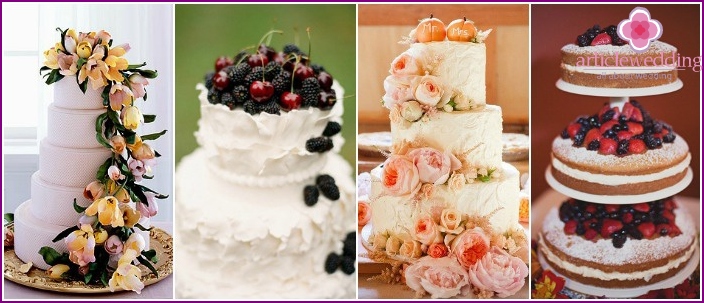 Filling
The composition of the wedding cake should be light. Fairly fed guests are unlikely to want to eat hearty cakes smeared with fat cream. Preference should be given to treats that do not overload the stomach - tender biscuit, yogurt cakes, souffle cakes. Choose the taste of the filling according to your tastes - it can be chocolate, nut, caramel, fruit or different in each layer.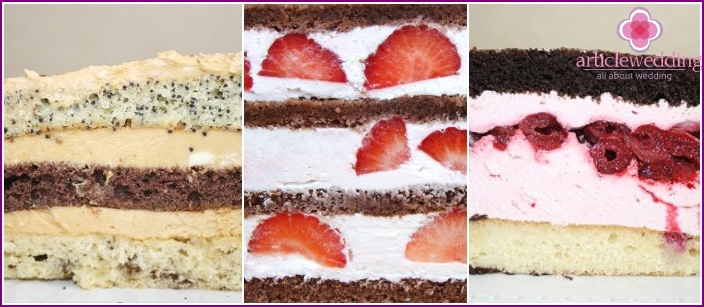 Choose a wedding cake based on the concept of your celebration and your imagination. No matter what type of treat you prefer - it will be a wonderful decoration for the festive table. Share your ideas for creating an unusual wedding dessert in the comments.