Contents
---
---
A treat such as a cake at a wedding in Love is style is waiting for all guests. And in no case should it disappoint them. For this, it is important to choose the right design, shape, filling. Love Love wedding cake is a real masterpiece of culinary art, with a fun decor, unique and delicious filling. It can be made in different forms, but one thing remains the main thing - in its appearance, any detail should be associated with the famous chewing gum Love is. The filling can be any, its variations are very diverse, and are traditionally decorated with cute inscriptions and figures..
Photo of wedding cakes in the style of Love is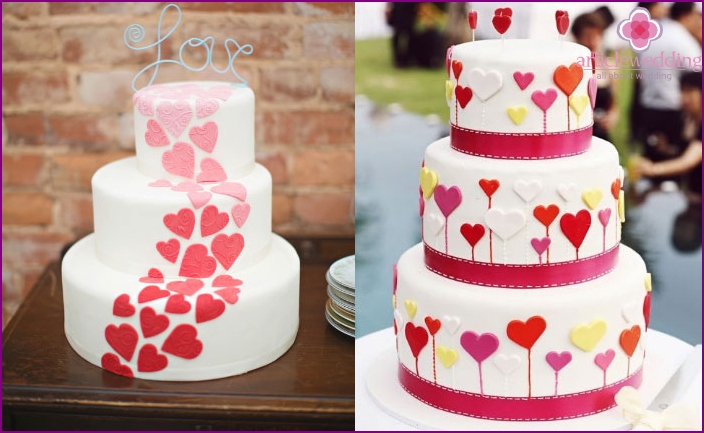 Tips for choosing a wedding cake in the style of Love is

When choosing the original Love cake from, you should be guided by the following general rules:
Design must be consistent with the color scheme of the celebration..
The perfect delicacy in the design takes into account every detail of the wedding.
Choose a figure in advance so that it fits harmoniously into the design.
If you want multi-tiered baking, it is not forbidden for everyone to choose their own filling. That is, each tier will have its own taste.
Try several fillings, do not choose them in appearance.
Consider the interests of the guests, because someone may suffer from allergies, for example, to red fruits.
Order a treat slightly larger than required. So you give a piece to those people who could not come.
Some cakes serve fresh fruit and sweet sauces separately..
Immediately stipulate the delivery of a wedding dessert to a restaurant in a patisserie.
Love cake from should not be too fat, because after a plentiful feast you want lighter desserts.
Take care of a beautiful knife and a spatula for cutting dessert.
Discuss in the restaurant the delivery of hot drinks to the dessert, because not everyone wants to eat pastries with cold drinks or even dry.
To select a suitable confectioner, go around several manufacturers, look at the assortment, photos of previous works. Do not give up tasting.
Stand and number of tiers
An important point is the calculation of the weight of the cake, which depends on the number of guests. Many confectioneries recommend such a standard - 100-150 g per person. But there are nuances: when the filling is light, then this norm is suitable, but if, for example, the cakes are saturated with liquor, which makes the cake heavier, filled with a layer of chocolate, then it is better to allocate 200-250 g for each. The weight of one portion is multiplied by the number of guests, for example, for a wedding of 50 people, a Love cake should weigh at least 7 kg.
In addition, there is another important detail: the dependence of the number of tiers and the weight of the cake. For example, a cake in three tiers should weigh at least 7-9 kg. This is due to the fact that the lower tier weighs 3-4 kg in order to withstand two more tiers and not to fail. Therefore, if you have a wedding for 30 people, for which 5 kg of Love cake is enough, it cannot be three-tiered. If you want a multi-tiered weight, then you are not forbidden to make one tier of fake.
It is important to choose a Love cake stand from which will be beautiful and elegant. Its use has many advantages, including:
Easy to feed and transport.
Each tier has its own plate, which prevents them from failing, settling or even collapsing.
Dessert on a stand looks more solemn.
Design color and filling

In the cake for the Love holiday, in terms of colors there is where to take a walk. You can safely use the bright colors that are found on candy wrappers from chewing gum, beloved by all in childhood: bright pink, blue, light green, etc. But here you should also take into account the color scheme of the celebration itself. On a bright cake, patterns and reliefs look very beautiful, but on white they are visually smeared into one spot. A combination of two colors looks very stylish in the design of Love cake from.
Honey and nut cakes, biscuits, yogurt base, meringue are used as the basis of the wedding cake. For the Love style dessert option, a sponge cake is ideal, which can be done in any color in contrast with the top icing of the whole cake. Fillers and a layer in the form of cottage cheese, soufflé, pastes with chocolate and nuts, fruits, berries, perfectly complement it, making the cake sweet and juicy. The cream can be curd-yogurt, custard, sour cream, cream and protein.

Consider the wishes of the guests and their tastes when choosing the filling. It is undesirable to use too heavy, oily creams. Berry and fruit fillings, cream, yogurt, soufflé - ideal for a wedding cake. If the delicacy is multi-tiered, combine different tastes, for example, one filling - honey cake, the second - tiramisu. A heavier filling should be in the lower tier, and lighter in the upper tier, so that the Love cake from retained its shape.
Decoration and romantic quotes
Visual design is a very important part, because in the first minutes of the appearance of goodies everyone is trying to consider it. Outside, Love cake is coated with icing or creams. Great opportunities also open marzipan mass, which is prepared on the basis of ground almonds and powdered sugar. With its help, various delicate details and figures are molded. Also used mastic.

Figurines of the bride and groom, rings, angels, pigeons serve as decoration. For the Love theme, the figures of the pair are ideally suited, which resemble the outward appearance of the heroes from the candy wrappers of the famous chewing gum. Wedding themes on the cake can also look in the form of various quotes, for example, from the same candy wrappers:
Love is a sign that spring is just around the corner.
Love is carefree.
Love is to be far, but mentally close.
Love is to miss a movie because of the search for her slipper.
Love is not to notice her wrinkles.
If you do not want to fully match Love's gum from, it is not forbidden to make other romantic inscriptions:
Cute short love inscription.
Lyrics for the first wedding dance.
Cake with a wedding oath.
Literary Quotes About Romantic Feelings.
All sorts of poems on the sides of the treat.
Master class on cooking Love cake from

To make a cake for Love's wedding, you need the following products:
For red biscuit: 1 glass of sugar, flour, 1 g of dye «Cherry», 4 eggs, 1 tsp. baking powder.
For mastic: 3 tbsp. l water, 250 g icing sugar, 100 g marshmallows, starch.
For decor: chocolate topping.
For Meringue cream: 420 g of powdered sugar, 4 protein.
Let's move on to baking:
In a water bath, dissolve marshmallows at the rate of: per 100 g of marshmallow, mix thoroughly. By consistency, the mass should be sticky and soft. We roll the mastic in the starch, wrap it with foil, put it in the refrigerator for a couple of hours.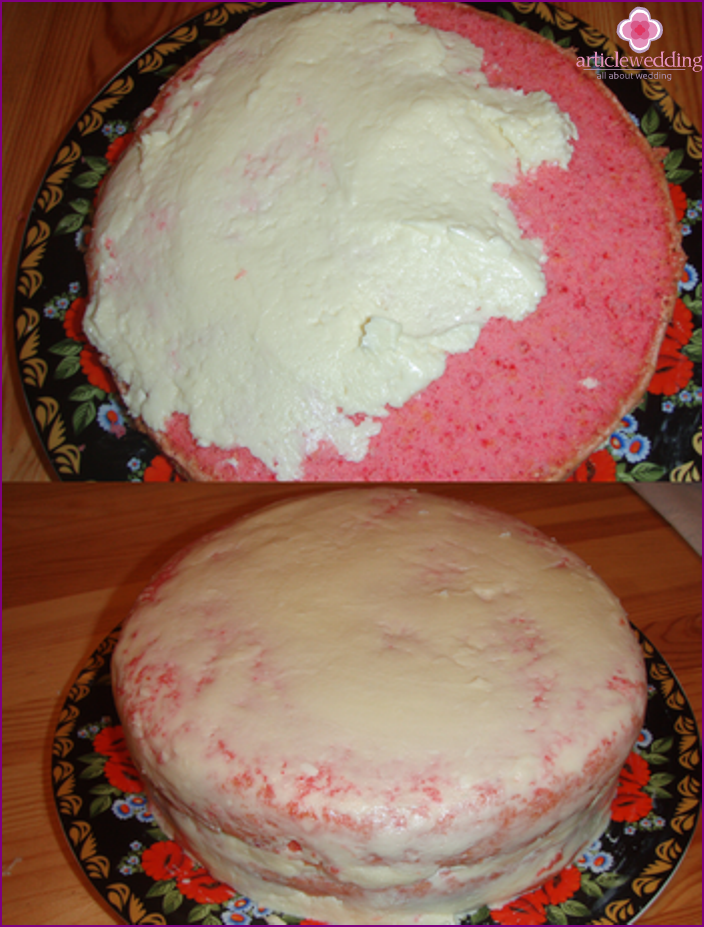 For a biscuit, beat sugar and eggs until lush foam, pour in flour, dye and baking powder. Pour into a mold and bake for 45 minutes. When the biscuit has cooled, we take it out of shape.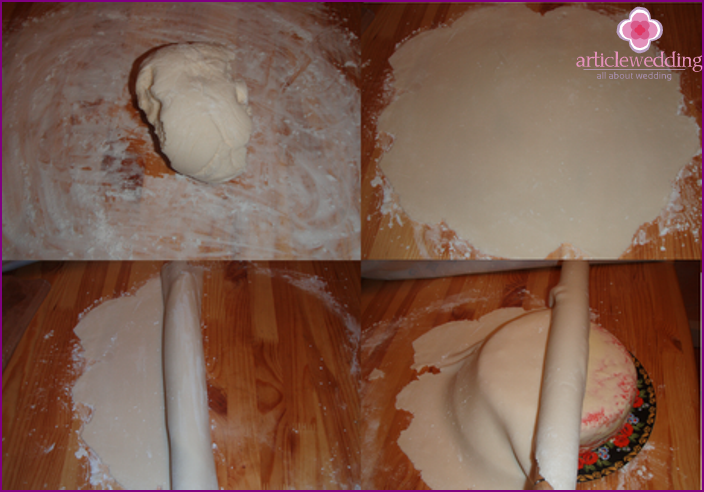 For a cream in a water bath, put a mixture of powder and proteins. With constant stirring, bring the powder to dissolution and remove from heat. Beat the whites at high speed with a mixer until the fluffy foam is about 20 minutes. Add the butter at room temperature, chopped into pieces. Continue to beat slowly until a creamy, lush mass is obtained..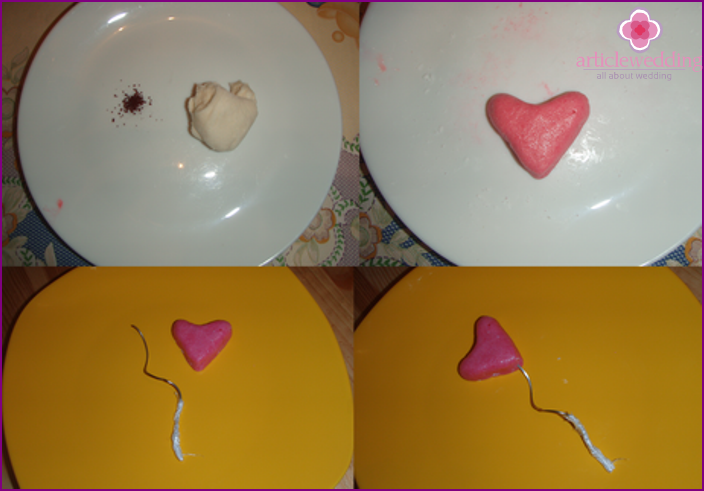 Cut the cake into three parts, layered with cream, coat the remaining surface. Level the entire surface, put in the refrigerator for an hour.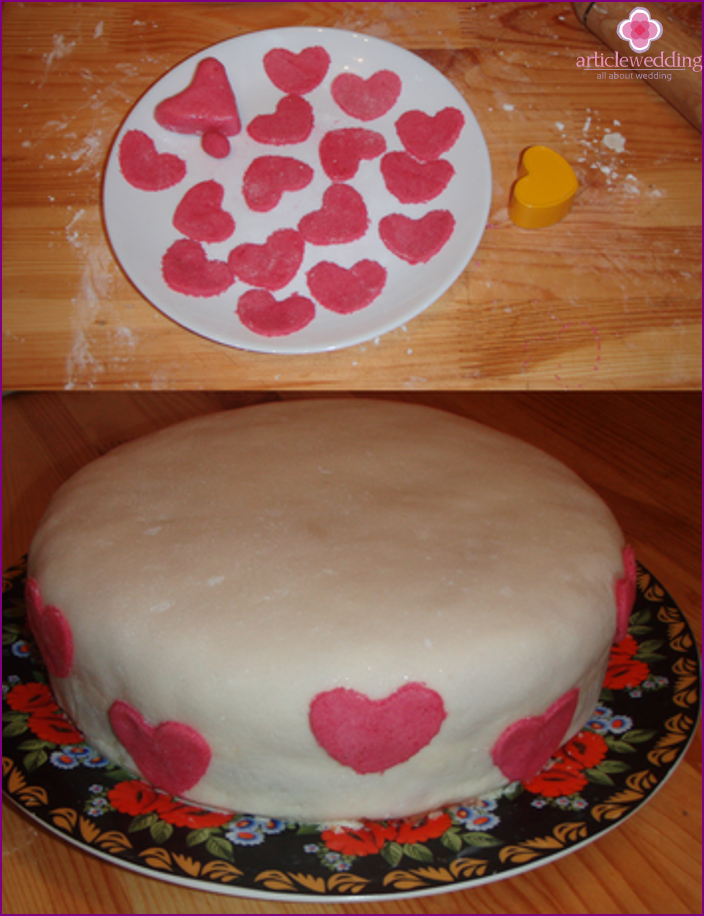 We roll mastic with a thick layer in diameter more than a biscuit. Roll on a rolling pin, distribute by treat.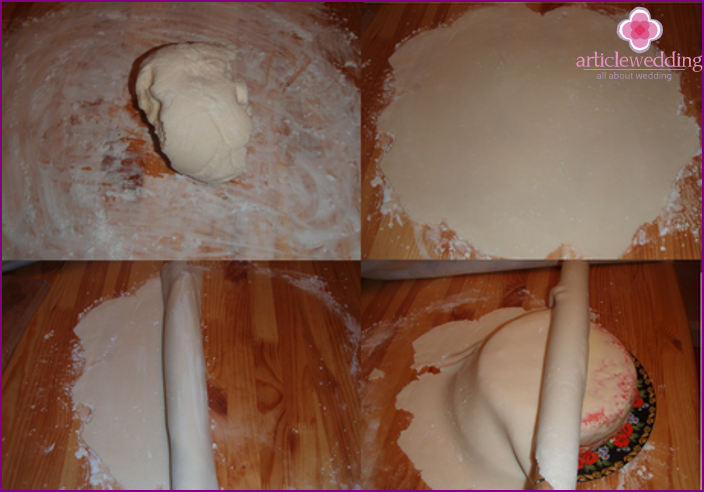 We make a heart out of mastic, prick it on a wire and decorate a biscuit. Separately we sculpt more hearts, distribute them on the baking surface.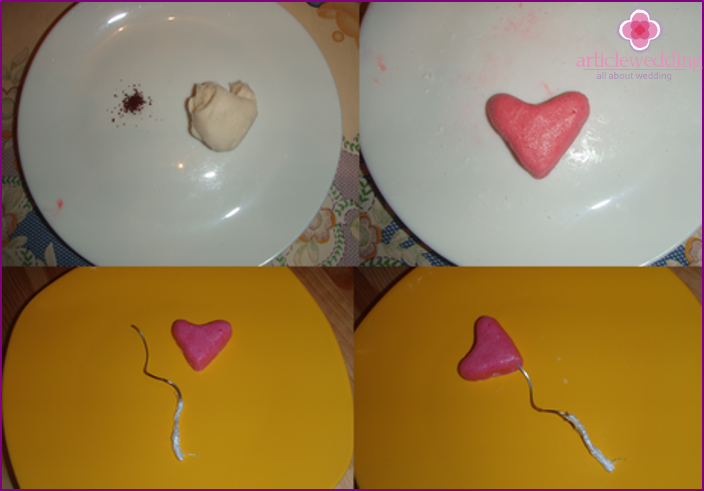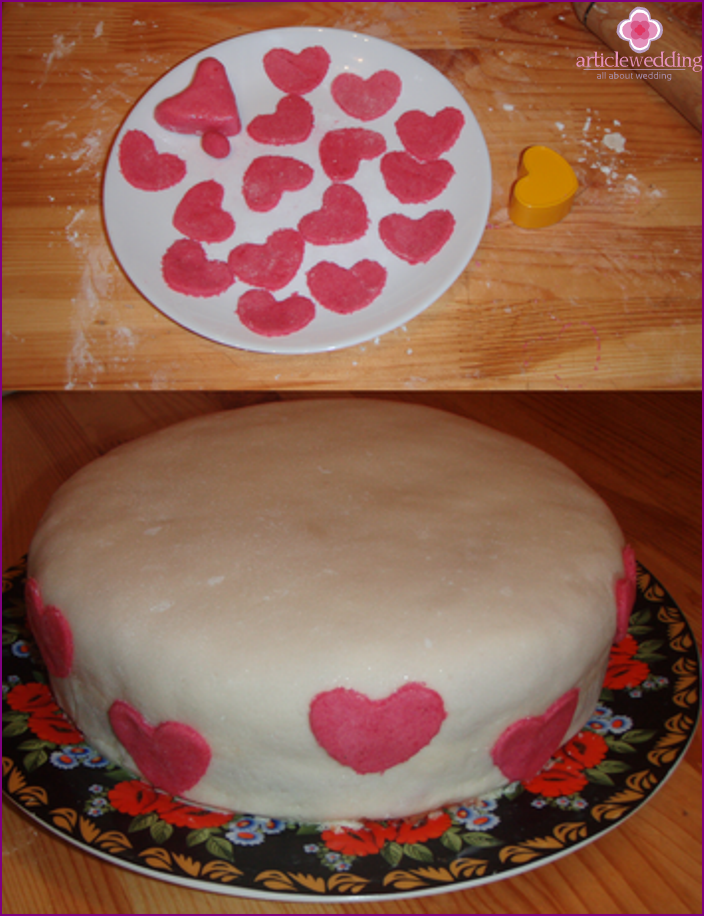 Chocolate topping do the inscription.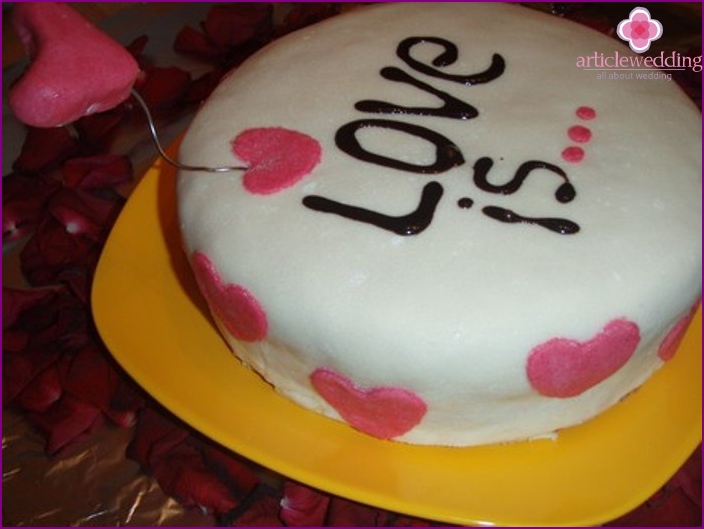 How to make figures of characters from mastic
Traditionally, figures from the bride and groom are placed on the Love cake. They can kiss, hold hands, ride in a car, dance. Their appearance is desirable that they personify the lifestyle of the newlyweds. The easiest way to shape them with mastic. This is an edible mass of high viscosity with an adhesive texture. It feels like plasticine. For the manufacture of Love statuettes from the following mastics are used:
Honey - it does not crumble and crumble, it is based on honey.
Dairy - made on the basis of condensed milk.
Gelatin - used for complex products.
Flower - used to create petals, flowers.
Sugar - made on the basis of sugar, but may crumble, crumble.
If you do not know how to sculpt, then this is not a problem. Below we give a master class of photographs that show in detail the step-by-step execution of each element of the groom and bride from mastic. According to such instructions, even a child will do it. The heroes of the Love treats presented below resemble the pair depicted on candy wrappers of the same chewing gum. The groom holds a suitcase in his hands, which indicates the imminent journey of young.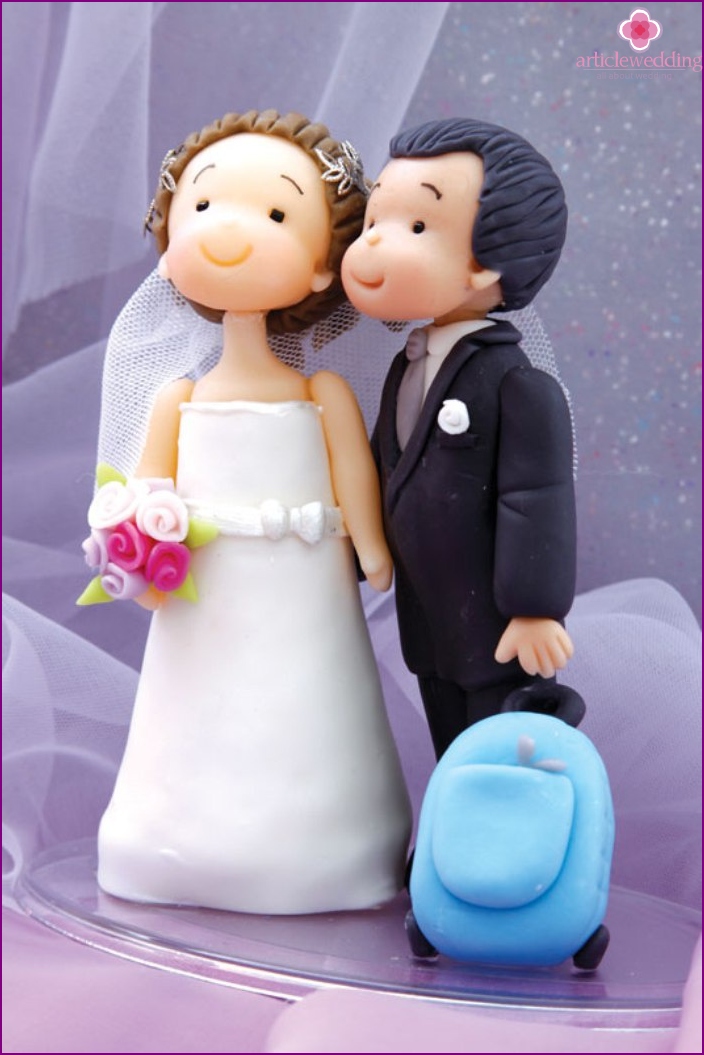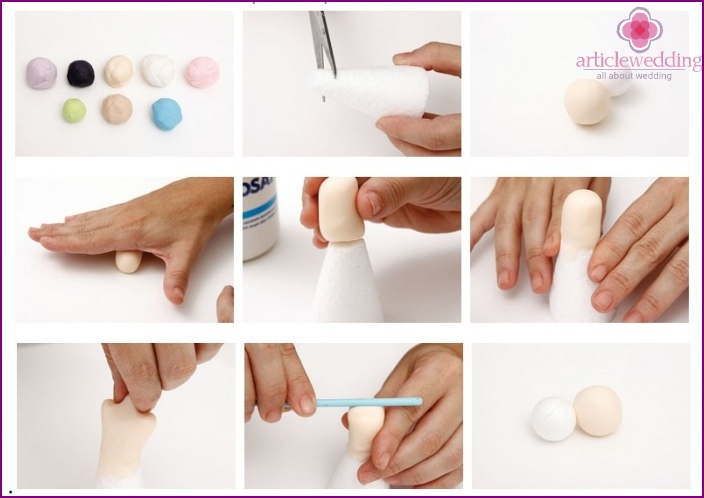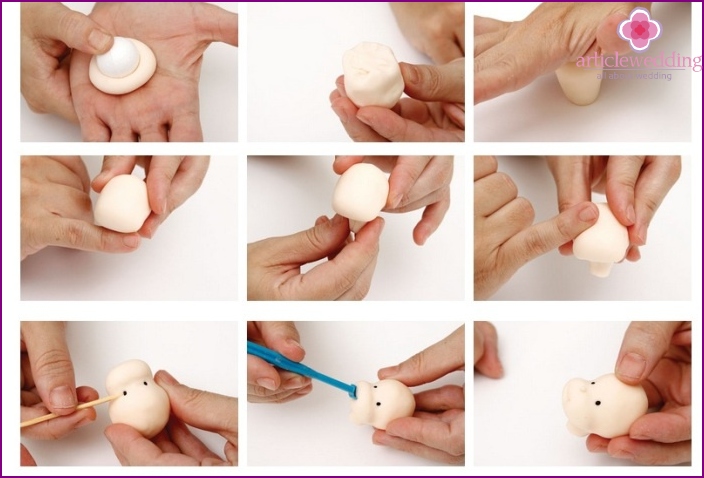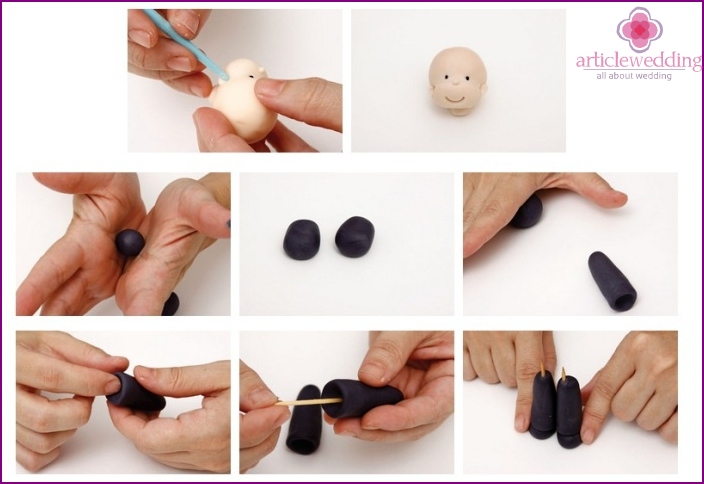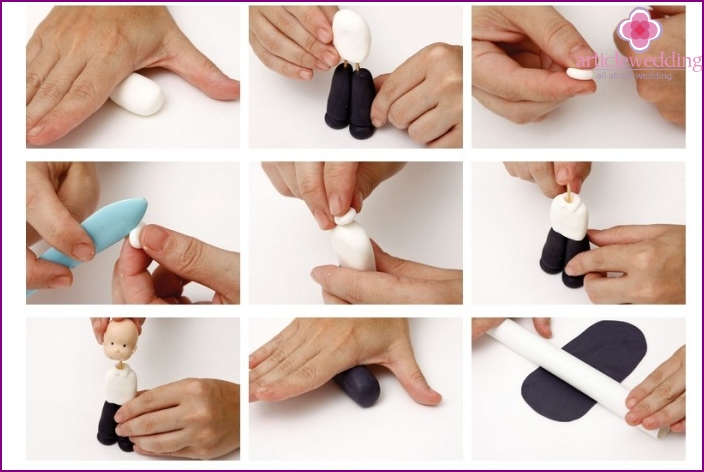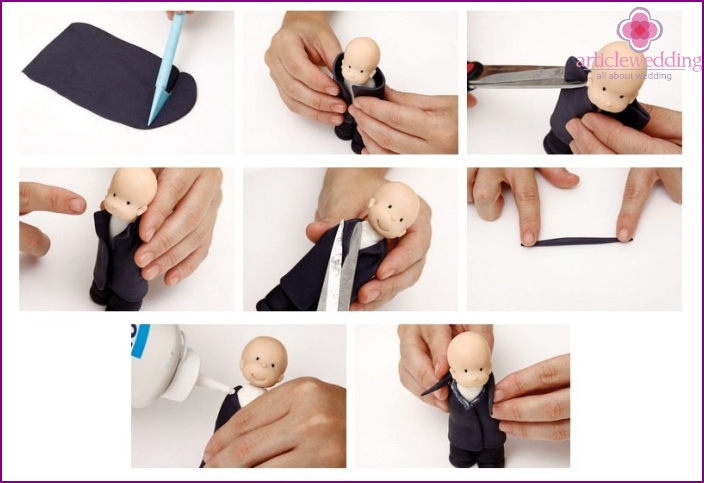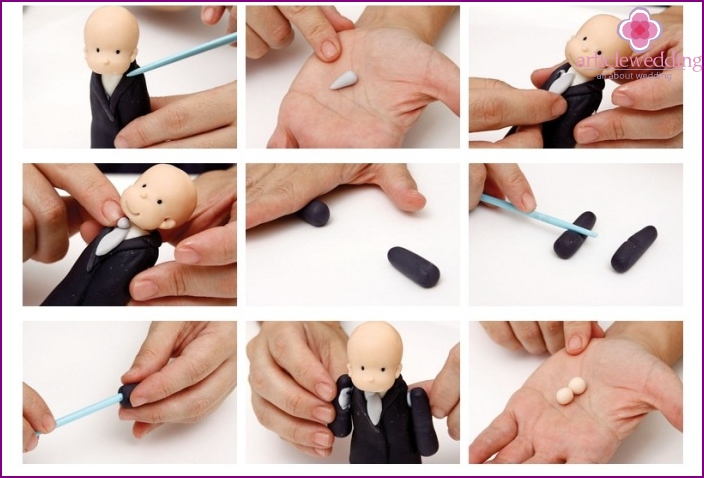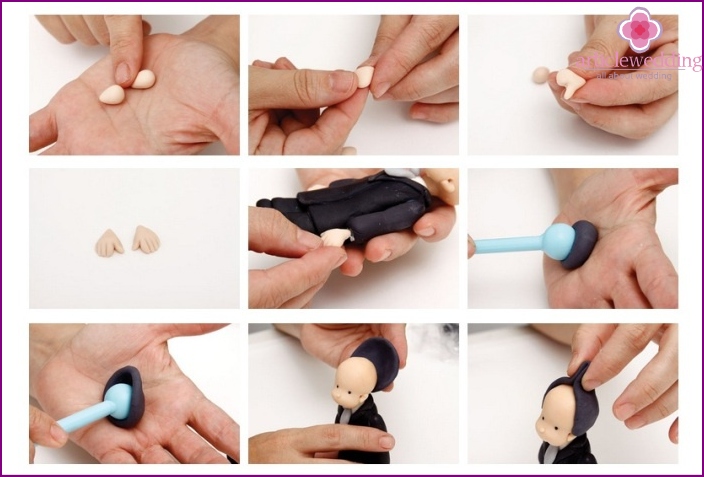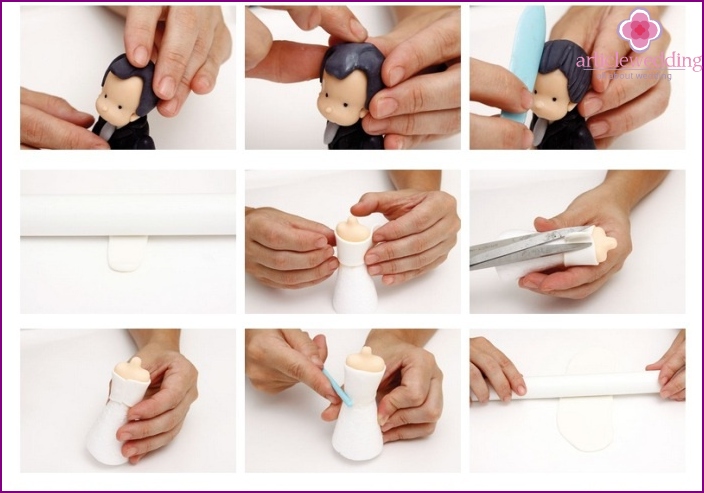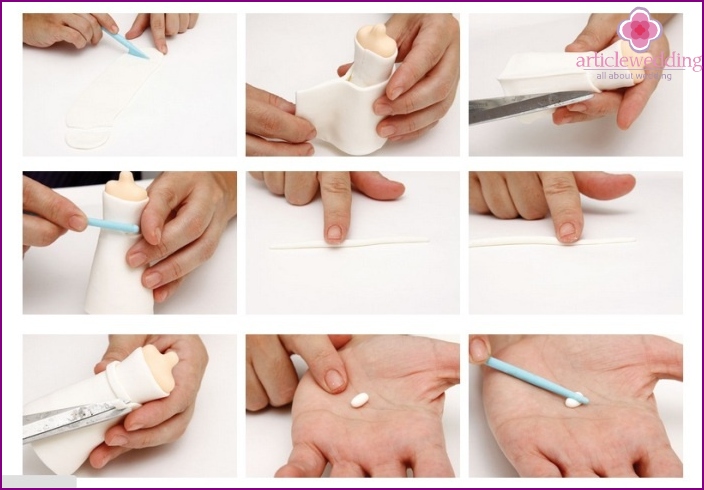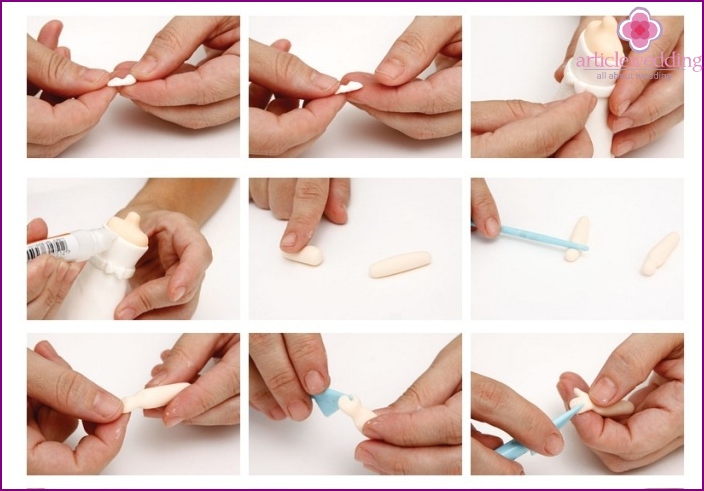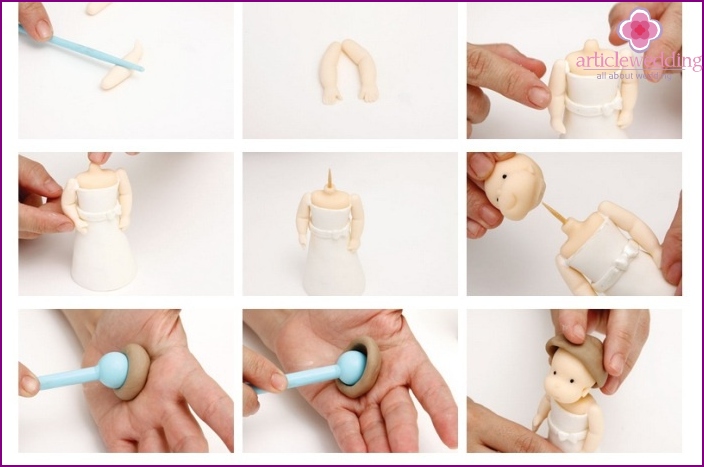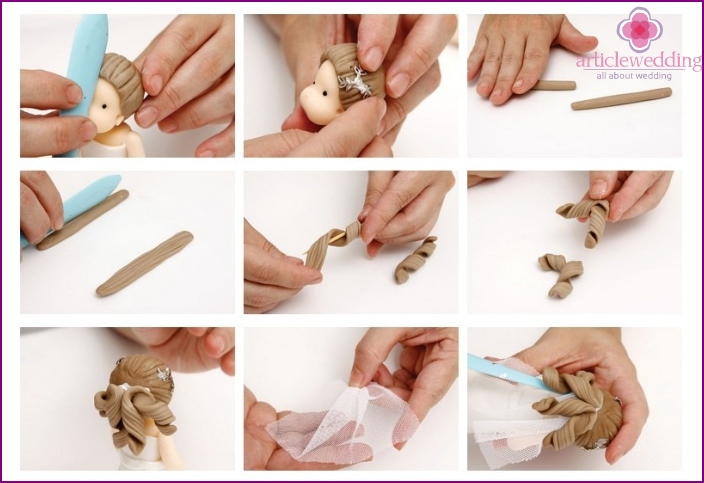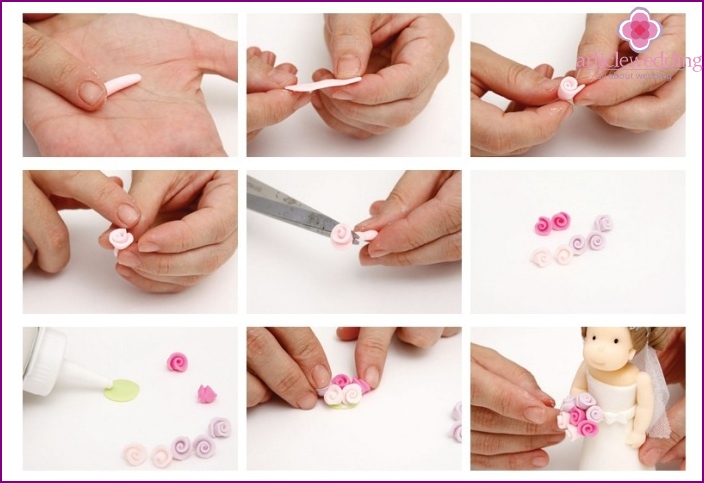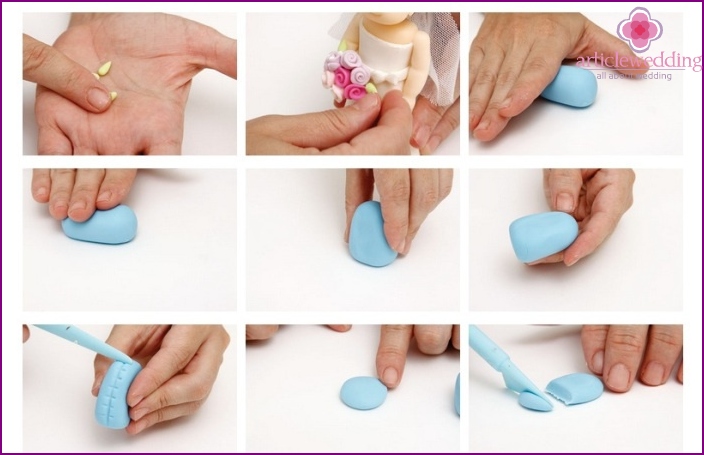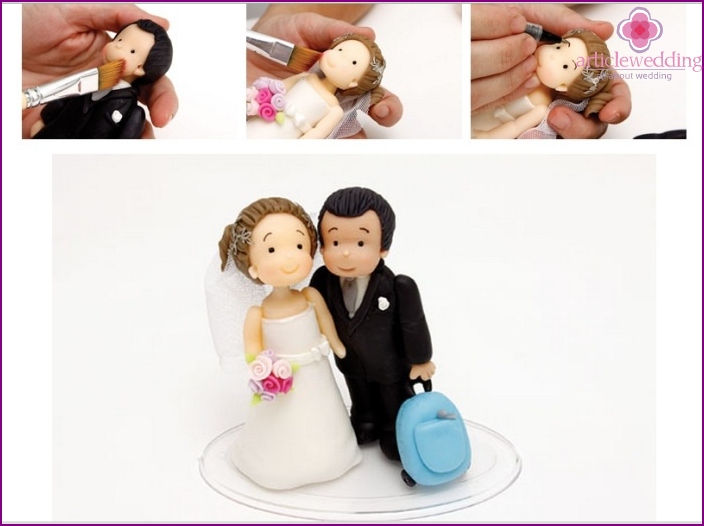 Video: chewing gum cake «Love from»
In the video below, a variant of the cake for Love's wedding is clearly shown. It is made in the shape of a rectangle in bright blue color, outwardly completely imitates the shape of chewing gum.