Contents
---
---
A magnificent beautiful cake at a wedding celebration is not just a traditional sweet treat serving as a spectacular decoration for a banquet table, but also a kind of symbol of family prosperity and well-being. Pink wedding cake will be the perfect complement to the celebration, the design of which will be sustained in delicate pastel shades. But the elegant delicacy of saturated color is perfect for a bright colorful wedding decor. When choosing the design of a festive dessert, you should consider the style of the planned evening..
Design Ideas for Pink Wedding Cakes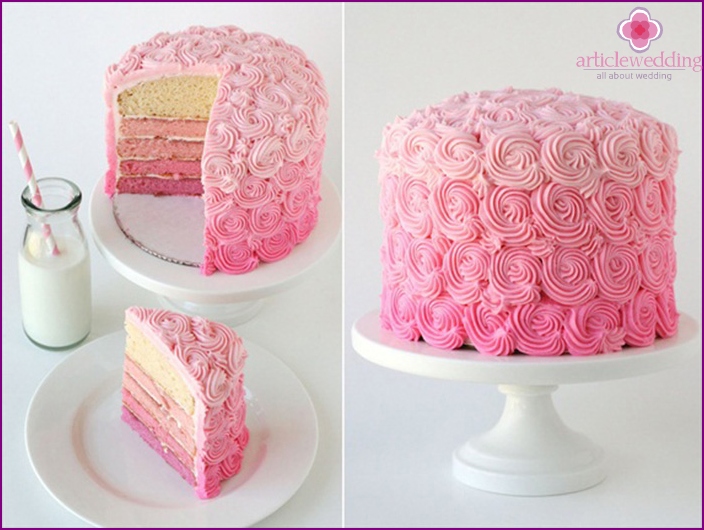 Modern confectioners offer the widest selection of wedding cakes of the most unimaginable tastes, shapes and colors. Nowadays, inedible decorative elements, as well as sweet beads, bows, flowers, lace patterns are used as decorations for a festive dessert. Pink color looks great on the main sweet treat of the wedding evening. Professional masters of confectionery art use elastic marzipan pulp made from ground almonds and powdered sugar to create original decor elements..
Recently, solid mastic, which is a plasticine substance based on powdered sugar, is often used to decorate wedding desserts. Using this material, you can create amazingly realistic colorful shapes, all kinds of complex compositions. In other words, the possibilities of modern pastry art are almost endless. Newlyweds can only choose a sweet treat design suitable for the style of the holiday.
Decorated with flowers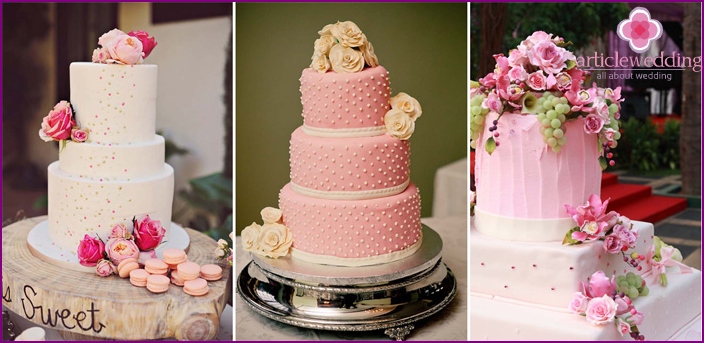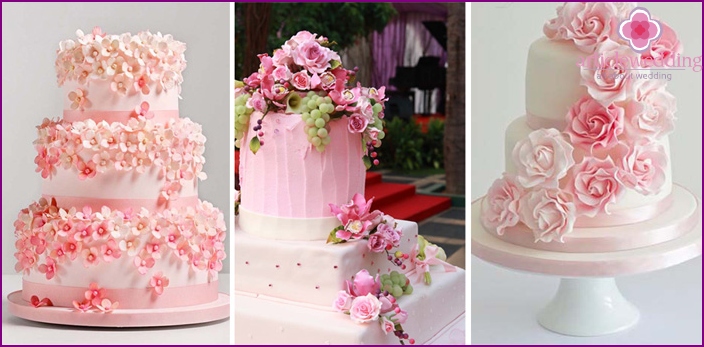 Luxurious pink cake at a wedding celebration is the real highlight of the festive evening. Decorated with lush flowers, he will personify tenderness, purity, love. Modern holiday desserts, as a rule, are decorated with incredibly realistic edible decorative elements. Voluminous sugar buds will make the main sweet dish of the banquet table spectacular and unique. It can be a scattering of charming tea roses or, for example, lush pink peonies.
Ombre Wedding Cake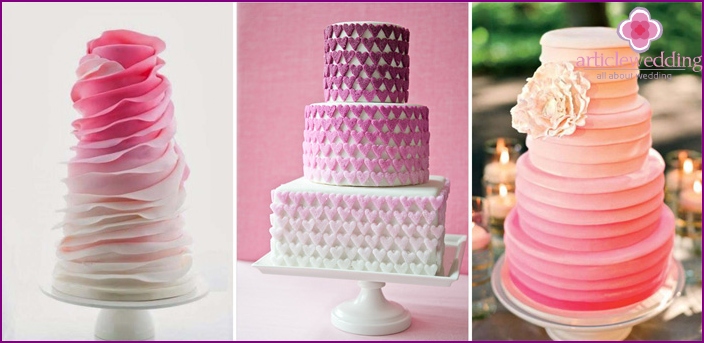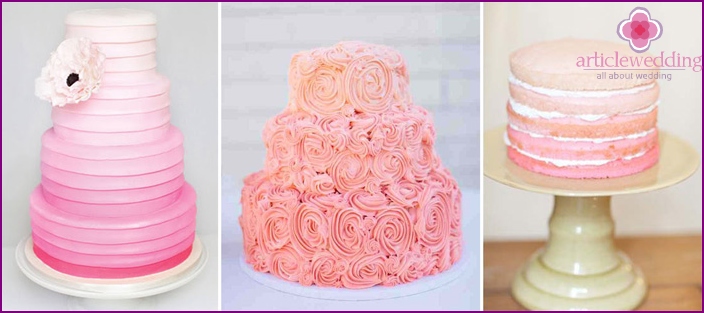 The ombre style, that is, the color transition from saturated colors to paler ones, is one of the most popular methods for decorating sweet holiday treats. A fashionable gradient can be used to design the appearance of a dessert or be traced in its context. Ombre in shades of pink looks especially gentle, sensual. This option is ideal for a celebration decorated in pastel colors. Fashionable decor may well become the highlight of the festive evening.
A wide variety of design solutions for wedding desserts, stylized with a gradient, opens up a wide choice for young people. A corrugated ombre dessert with lush ruffles made of cream or mastic will look spectacular. An equally popular trend in the confectionery art is an ombre-colored dessert, completely covered with luxurious cream roses. Wonderful traditional decoration of heart-shaped treats will be figures of the bride and groom.
With decor in the form of ribbons or bows made of mastic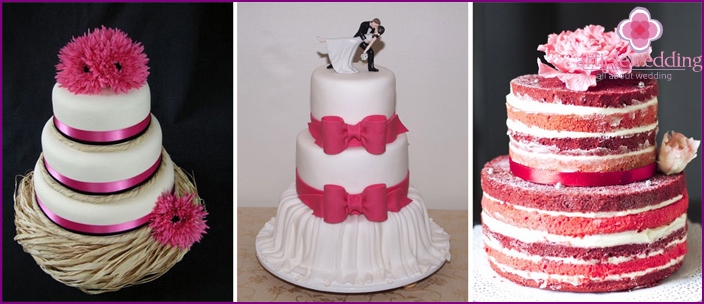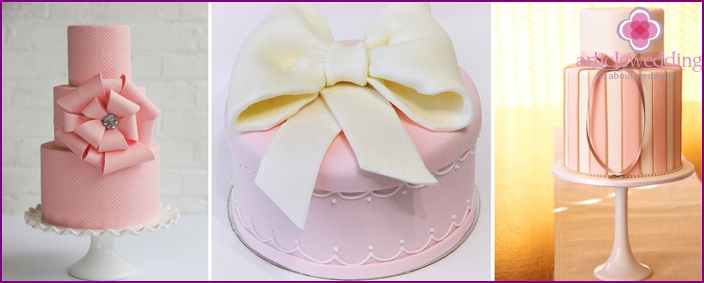 As noted above, mastic is often used by pastry chefs to create all kinds of decor details, including surprisingly complex realistic compositions. This plastic material often becomes the basis for creating spectacular ribbons and magnificent bows. A decorative detail of a delicate or saturated pink shade on a white glaze can become a bright accent in the design of a festive treat. A mastic bow - an original solution that will help to make a luxurious multi-tiered dessert brighter, more interesting.
Butterfly Cake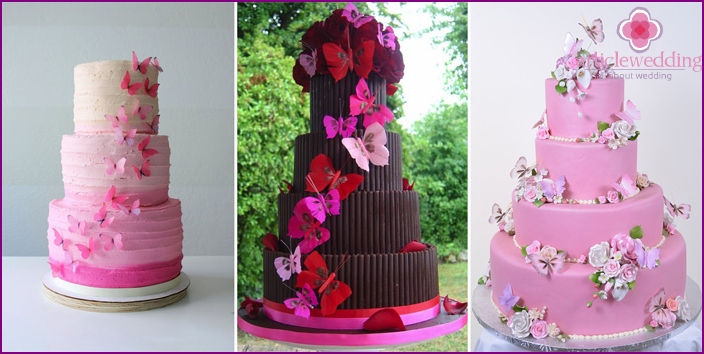 Butterflies, charming, as if fluttering around an elegant sweet dessert, are another original idea for decoration. Such decor will look incredibly touching, especially in combination with icing or cream of delicate pink color. Butterflies on a festive treat will be especially appropriate at a summer celebration. Unusual decorative ornaments can be either inedible, or made of chocolate or, for example, sugar. The spectacular treat design will be appreciated by invited guests..
Wedding cake with lace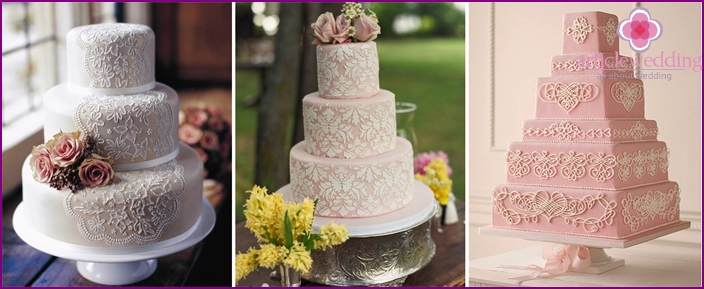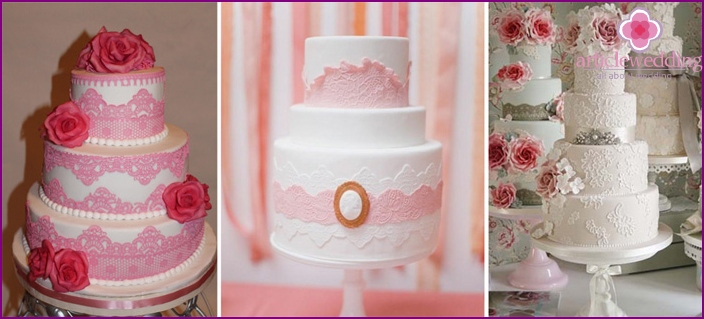 Sweet lace ornament is another fashion trend in decorating confectionery for a banquet. The ornate pattern, neatly framing a spectacular multi-tiered dessert, will give the appearance of the treats sophistication, elegance. This decor option is suitable for almost any thematic celebration. Openwork drawings are ideally combined with delicate shades of pink, perfectly complement other pastel colors. A sweet lace holiday ornament is the perfect choice for a romantic couple..
With sugar beads or pearls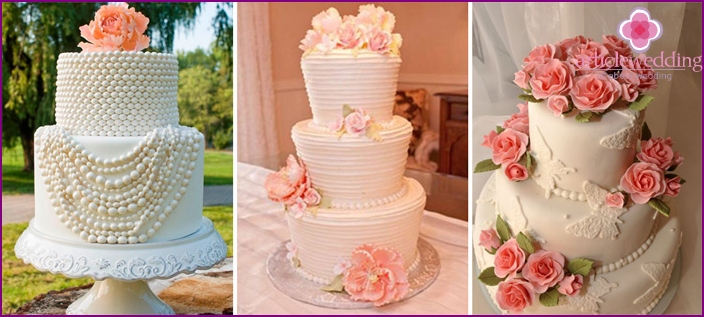 Luxurious wedding cakes are often decorated with an abundance of pearls. Delicate beads, as if scattered around a dessert or vice versa, neatly framing a sweet elegant treat, give its appearance a touching charm. These decorative elements more often than usual have a sugar base. A large lush flower on the top tier of the cake will help to complement the scattering of beads. In addition, pearls go well with delicate shades of pink, so if you decide to design a festive evening in pastel colors, pay attention to the dessert decorated with beads.
Photo of wedding cakes in pink colors
Lush multi-tiered cake in pink - a spectacular key emphasis on a wedding party. For this reason, young people are especially careful in choosing not only their taste, but also their appearance. This color is characterized by a wide range of shades, allowing you to choose a color combination that is ideally suited to the style of your celebration, whether it is the main color of the glaze or the filling. Pink is a symbol of tenderness and love, so it will always be appropriate in the design of the wedding.