Contents
---
---
Thinking through every detail before the wedding, it is very important not to forget about the dessert. Modern pastry chefs offer a huge assortment of cakes with different types of cakes and cream. But the first thing that catches your eye is the external decor of a sweet treat. What fantasies just don't come true in the form of a cake! Favorite theme for the wedding - figures of the newlyweds. But this is not the limit. An experienced pastry chef will come up with and develop a whole picture, from which everyone present at the wedding will be delighted.
Design Ideas for Creative Wedding Cakes
Specialists often have ideas for decorating wedding cakes based on the wishes of customers. The future couple can express their views on the appearance of the dessert. Sometimes there are gloomy pictures of Gothic, but creative newlyweds order, and bakers perform. Do not take extremes into account. A wedding is a celebration of fun and joy. Dessert should also evoke positive emotions, like the wedding ceremony itself. Bright jewelry, figures, inscriptions, unusual shape of the product - all this will create a festive mood.
Decorated with bright ornament
Decorating a cake with ornaments in bright colors is a modern approach for wedding style. So the delicacy will be able to fulfill the function of not only a sweet dish, but also table decoration. Many guests try to photograph such a work of confectionery art as a keepsake. The ornament can be built on the basis of national motifs or as a geometric pattern. To apply such a decor, a mass of mastic, cream, marmalade or fruit is used. Bright contrasting ornament on a plain background enhances the feeling of a holiday.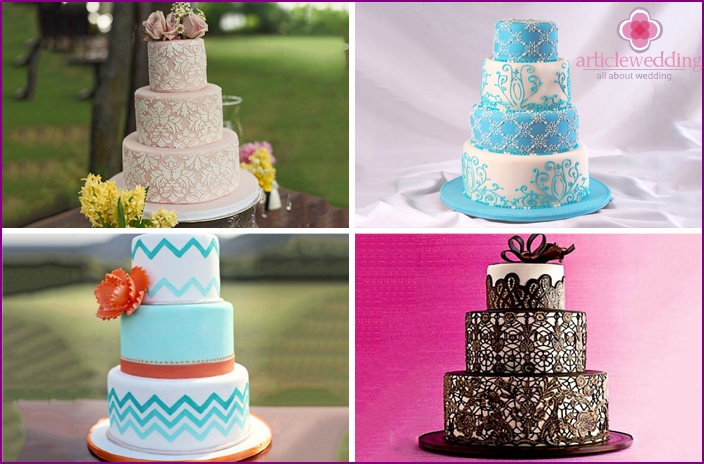 Decorated with original figures
Wedding figures of the bride and groom, towering on a pedestal, are performed in various poses: hugging, rushing towards each other or simply standing next to each other. There are often comic variations on the theme of the life of the newlyweds, where the main role is played not only by the groom, but also by the bride. The plot situations of the figures will tell about plans for the future: vacation, children. The image of the bride and groom is sometimes presented in the form of animals, which also looks original and funny..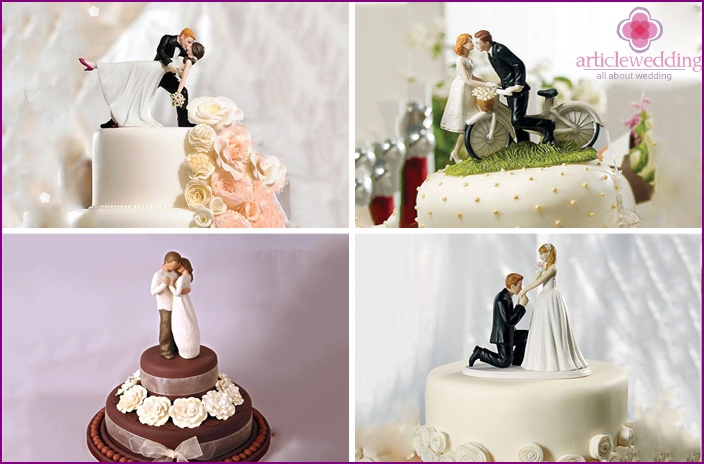 With creative inscriptions or decorations.
An unexpected decision for guests at the wedding is a cake, which is apparently an enlarged copy of the marriage certificate. Repeating lines and words of an official document will cause emotion and a smile. The cake, where the newlyweds' plans for the honeymoon are presented, will not leave anyone indifferent. Fashioning figures using mastic, confectioners put their soul into this matter, and their creations are comparable to sculpture. Inscriptions make icing.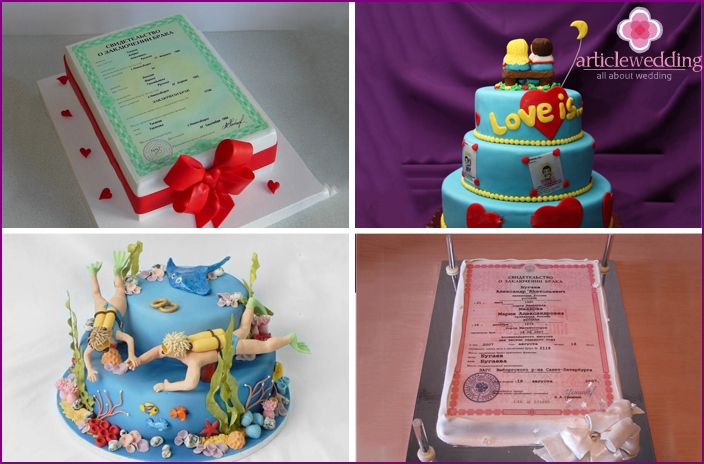 Creative cake unusual shape
Among wedding cakes, there are not only interesting decorations or inscriptions with cream, but the shape of the lined dessert is sometimes amazing. It can be castles, a heart, all kinds of creative pyramids, even the attributes of a bedroom. Among the confectioners there are such professionals that the result of their creations is often a pity to incise to try. For creative ideas, edible mastic of different colors is often used, with the help of which the necessary forms are easily fashioned..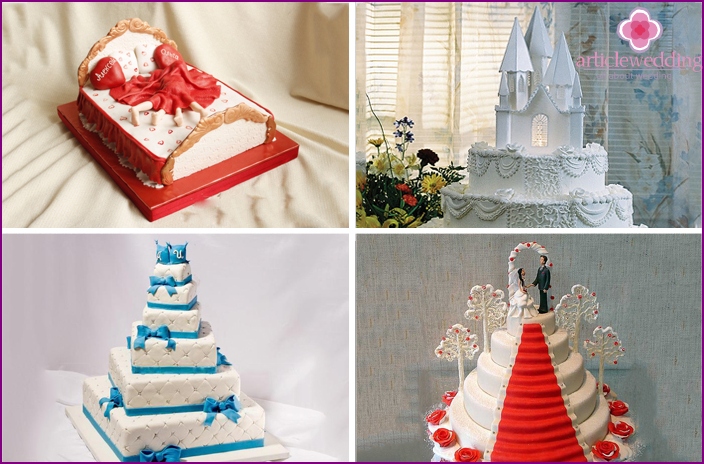 Profiteroles in the shape of a cone
The basis of the French-style cake cone is profiteroles with a gentle airy cream filling. Small balls of custard dough are held together with caramel or a special sweet chocolate sauce. Creative dessert is decorated with sugar flowers, other figures, fried almonds or fruits. Unusual in appearance, in our understanding, a croquembush cake is very convenient to eat. Even portions of easily separated cakes make it easy for guests to share.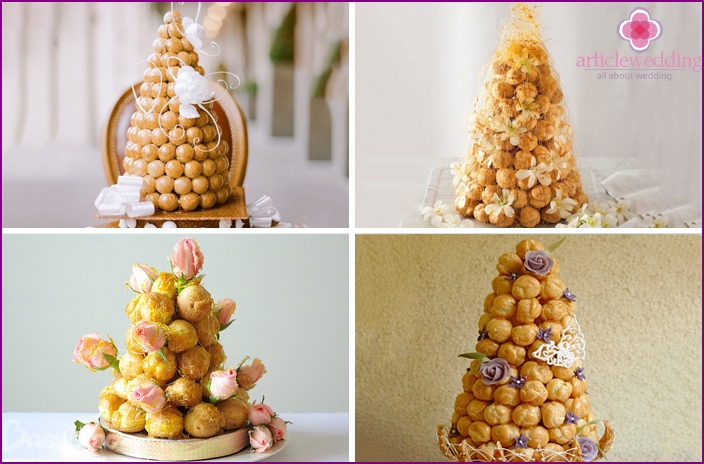 Cannoli or waffle cake
Cannoli is a traditional Italian dessert, which is a baked crispy wafer roll stuffed with Mascarpone cheese and cream based on whipped cottage cheese. They are unusual for a wedding celebration, but are very popular with guests and newlyweds. A tower of crunchy cakes poured with syrup, or garnished with icing sugar, will be appreciated. Wafer cake with layers of air cream, can be decorated with berries, whipped cream, fruit syrup or grated chocolate.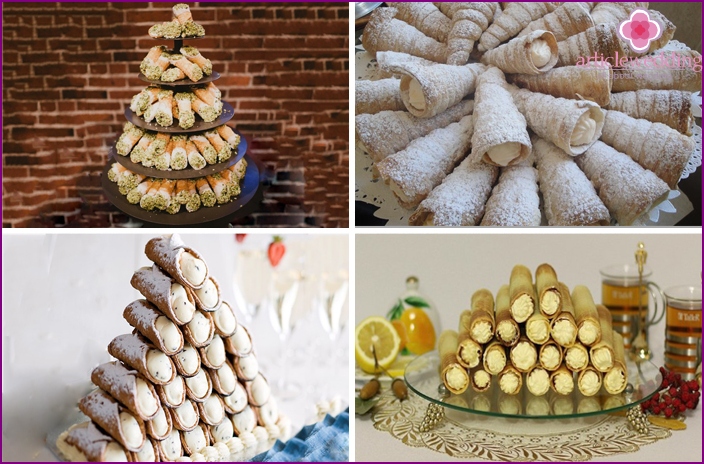 Cake tower of macaroons
Macaroon Tower - A French alternative to multi-tiered wedding cakes. If you want to surprise your guests, this is the surest way. An unexpected solution for a creative wedding table is small cakes arranged in the form of a pyramid. It is convenient to count portions by the number of invited guests. Tastes of macaroons delight with its variety: pistachio, blackcurrant, raspberry, mint, apple, praline, chocolate. Any guest will find a cake to their taste, as they differ in color.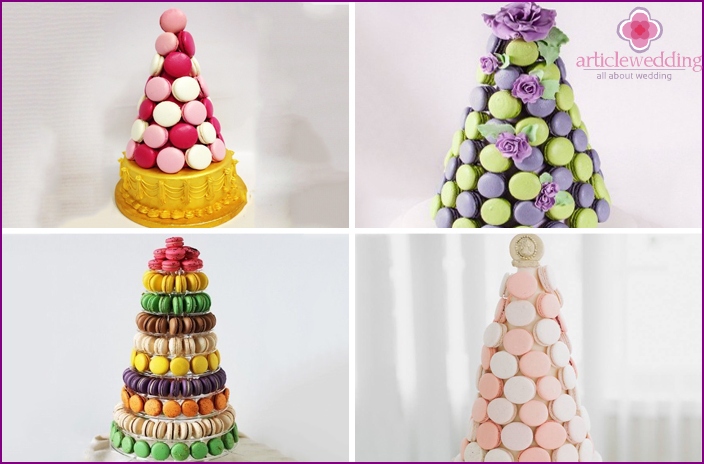 Pancake Wedding Cake
Cake, in which pancakes instead of cake, always captivates guests at the wedding. This is a typical Russian treat. Everyone loves him - children and adults. Pancake-based cake will be the highlight of your wedding! Truly a creative national dessert. Multilayer, with a sweet filling of condensed milk or cream, such a cake will amaze all guests. If the layer is made multi-colored, then the pancake will look even more interesting. Having made small pancakes, smeared them with cream, you can get individual portioned cakes and will gladly treat those present.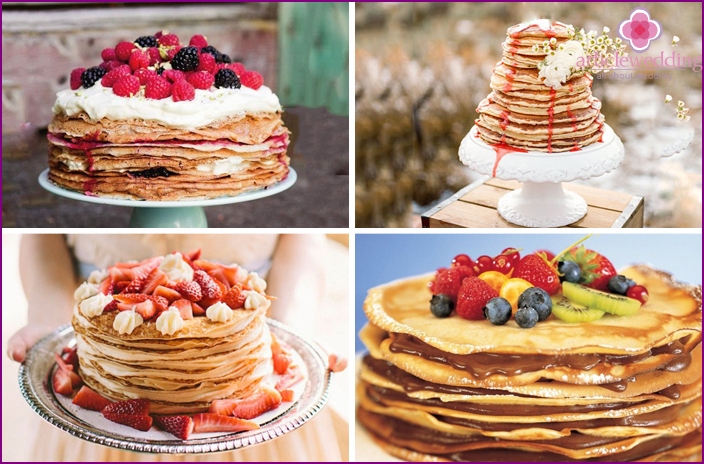 Photo of creative wedding cakes
A kind of beautiful logical conclusion to the gala evening is the wedding cake, it is served at the end of the celebration. New technologies, fashion trends, a creative approach to design - all this makes dessert the main course of the celebration. Such a wedding attribute will be remembered for a long time not only by the newlyweds, but also by everyone invited. Combining imagination and skill, it is easy to get unusual, original and tasty cakes, as in the photo below.