Contents
---
---
Not a single wedding goes without a cake. Usually a wedding dessert ends the celebration when the newlyweds cut it with their own hands and distribute the pieces to the guests. It is believed that the newlyweds share their love with those invited. Edible and inedible decor is used to decorate the dessert, but a wedding cake with swans is a classic. Figures can be small, located on the upper tier, and can occupy the entire surface of the main dessert of the holiday.
Options for making swan figures for a cake
For the manufacture of figures using different materials:
ceramics;
polymer clay;
china;
marzipan;
mastic;
caramel;
chocolate;
candy mass.
If the newlyweds want to keep the jewelry for a long period of time, then inedible swans are selected. Moreover, according to the old Russian tradition, wedding paraphernalia brings prosperity and happiness to the house of spouses. Edible figurines can also be kept in the refrigerator for a while, for example, to arrange a cake with them on their wedding anniversary. Such decorations are made in the same place where the cake is baked. Watch the video below how quickly professionals create beautiful swan figures for a wedding dessert.
From mastic
A viscous edible substance, which in its composition is similar to homogeneous plasticine, is called mastic. The figures from it are not only beautiful and tasty, but also natural, because for their preparation they use honey, milk, gelatin, sugar, soft marshmallows or powdered sugar. You can easily find mastic in the store or you can do it yourself at home.

From caramel
Caramel is a preheated sugar syrup. The difficulty in making caramel figurines is that the syrup cools quickly. But if the pastry chef does not have time to dazzle the necessary part of the decor, the caramel warms up again. Caramel swans are made in different sizes, from a small miniature to a majestic sculpture, making a large sweet composition with dessert.

Chocolate and Marzipan
Confectioners have a special elastic paste that includes powdered sugar and grated powdered almonds called marzipan. This mixture has a certain fat composition, which is ideally formed into different figures without the use of adhesive additives. Often made marzipan decorations glaze with sugar, lemon or chocolate. Chocolate-marzipan swans - an exquisite decoration for a wedding cake.

Wedding Cake Design Ideas with Swans
Confectioners love to decorate their products with edible flowers, fruits and herbs, perfectly combining delicious decor with swans. The choice of jewelry for a wedding dessert depends on the imagination of the newlyweds and the professionalism of the master, but there are several standard ideas:
Figures of white swans are located opposite each other, and thin graceful necks create a heart shape..
Sweet figures are placed next to the birds, indicating the type of activity of the newlyweds, for example, a harp, if the bride is playing it, or a soccer ball, if the groom is fond of this sport.
Delicate lilies, roses or callas almost always accompany a sweet couple of swans.
Single-tier with swans and rings
A wedding cake with swans can be large in diameter and weight, but so that a sweet dessert does not take up much of the holiday table, it is better to order it for a small number of guests. The composition of a single-tiered cake is different: with biscuit, honey, sand or puff cakes; protein, curd, creamy or sour cream and fruit, liquor or coffee impregnation. As a filling, use nuts, fruits or candied fruits. But the main decoration of the single-tiered product will be snow-white swans and two wedding rings, as a symbol of marital fidelity.

Layered with bird figures and roses
If you need a big cake, then it is better to cook it in 2-3 tiers. Often, newlyweds order different to taste «floors» with various fillings. For example, first vanilla, then chocolate, and peach on top, on which sweet swans and chic marzipan roses are picturesquely placed. A variety of tastes will appeal to all guests, and so that the tiers of the cake were with an ideally smooth white or colored surface, they are covered with special sugar paper, which is based on natural ingredients.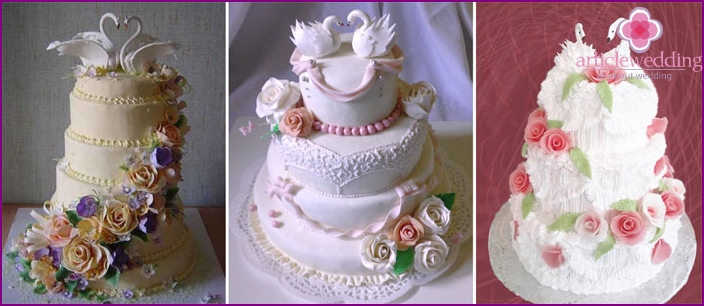 3D Swan Cake
3D cakes with 3D effect are becoming more popular among newlyweds. Such sweet masterpieces are created by high-class professionals. To make a 3D dessert in the shape of a swan, the same recipe is used as for other wedding cakes, only the dough during baking is laid out in a special form, oiled with butter. The swan cream gives the 3D effect to the swan, with which the feathers of the bird are made.
Photo of wedding cakes with swans
The priority of choosing a wedding cake is its external performance. However, do not forget about the ingredients, because not all guests are able to eat a heavy dessert after a plentiful feast. Choose light biscuit treats with layers of whipped cream, berries or fruits. They will be appropriate and desirable for many guests. To ensure that the festive dessert does not look messy when cut, it should not have fragile components. See below a photo selection of wedding sweet masterpieces. You might like some idea.