Contents
---
---
Cream wedding cake is a common dessert option, the practicality of which at the wedding and its anniversaries is undeniable. It is satisfying, tasty, neat, and there are no borders of ideas of composition and decor that could be applied to a classic cream cake. It can be made by the bride herself, and to invite a specialist to decorate, which will save considerable money. For more information about wedding baking from cream, read on.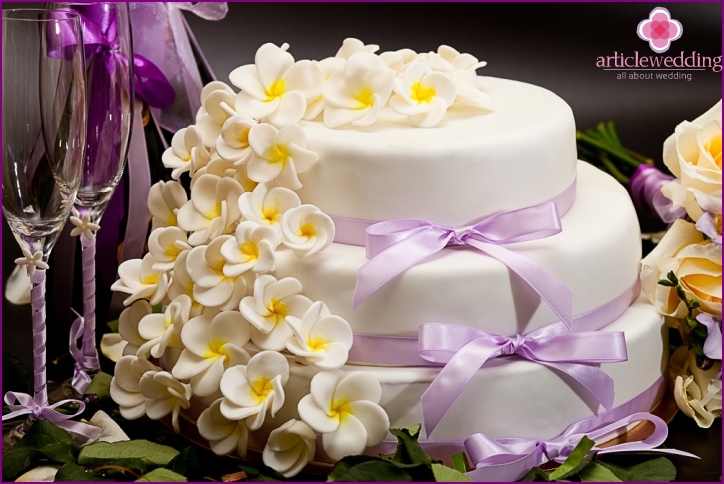 Benefits of Cream Wedding Cakes
Cream cakes is a broad concept that combines high desserts based on any dough, smeared with cream. Most often these are products on a biscuit basis, especially true for wedding cakes - crumbling dough will be impractical at such an event. However, puff or waffle pastry cakes well smeared with cream will be no less durable than biscuit.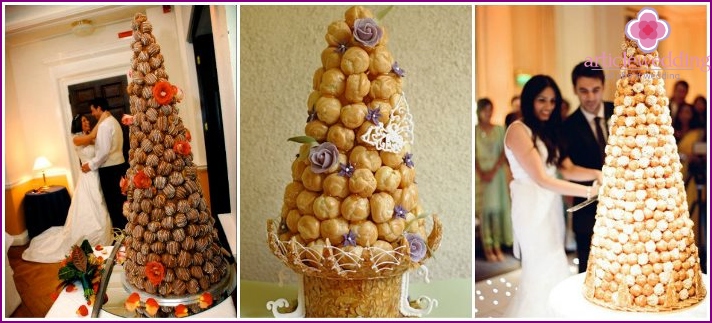 Desserts based on yogurt, mastic, meringue, cottage cheese, as well as croquembush (balls of dough folded in a slide and smeared with caramel or cream) and cupcakes (small cupcakes of various shapes) can be considered competitors of a cream cake. The advantage of cream cakes over similar treats:
Cream cakes have a stable, reliable shape, without losing tenderness. This can not boast products based on meringue or yogurt..
Cream cakes have a large yield of the finished product, they are often made of biscuit dough, which is whipped, increasing in size several times. Cupcakes are also increasing, but their portioning does not allow to regulate the issuance, as a result, someone may not get a treat.
Creamy hearty products. This is not true for meringue-based cakes that simply melt in your mouth. Many guests would like supplements, but there can't be many, then such a cake should be huge, which is not practical.
Cream cakes are moderately sweet. Mastic based cakes may seem cloying.
Such cakes have great maneuverability in expressing ideas. They can be of any composition and be decorated as you like. The rest of the desserts are limited in this (either in form or in the main ingredient).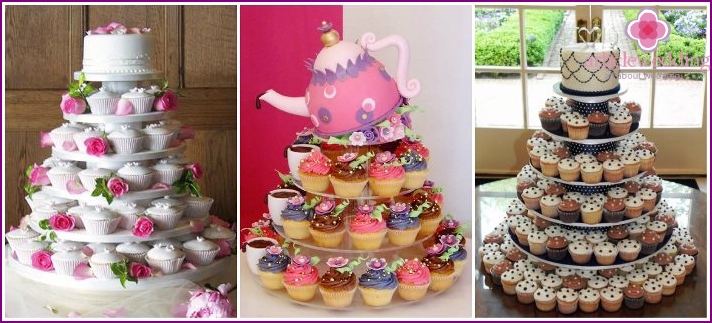 Cream Cake Wedding Tips
Choosing a wedding cake, you need to pay careful attention to appearance and taste, like a bride, this treat is an ornament of a wedding celebration, the central figure of a banquet. All eyes will be riveted to him, he should surprise everyone present, and also fit into the wedding concept. In order for the cake to perfectly play its role, it is necessary to pay attention to its size, color, decor, taste, semantic load, which it must bear. How to do it right?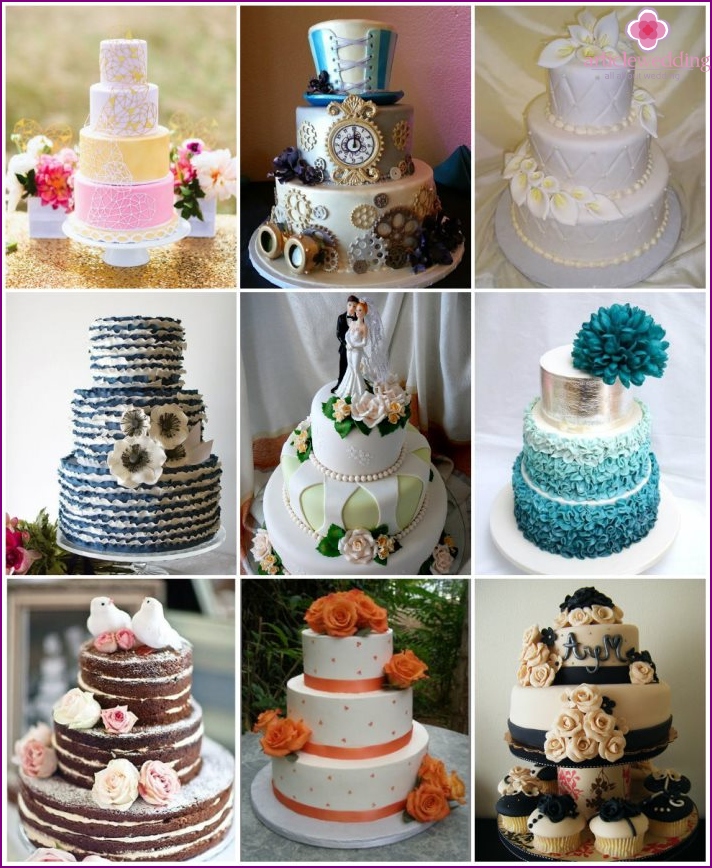 Stand and number of tiers
Choosing a cream cake for a wedding, you need to plan the number of tiers of which the treat will consist. The number of levels will depend on the volume and weight of the cake. The weight of the treat is calculated according to the number of guests: if the cream is heavy, then 200 g per person, subtract the number of people who will not eat desserts (about 10 people from each hundred invited), and you will get about 8 kg per 50 people. If the cake is airy, light, then take half of this weight - that's enough.
If the dessert is airy and the total weight does not exceed 6 kg, then the tiers can be placed one on top of the other. If the product weighs more, then it is worth using a special stand-shelf, it is still convenient because it will be convenient for young people to remove the upper tier, designed specifically for them, from the pyramid, the tiers of which are located on top of each other.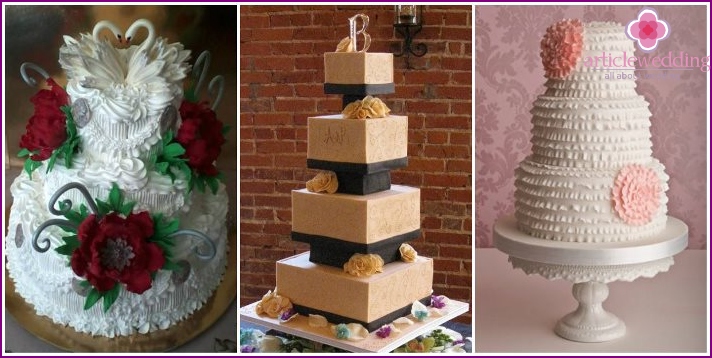 Design color and filling
When ordering the filling, it is better to ask to make tiers of different levels of fat content and sweets, so that guests with diabetes, dieters, as well as children, can try this delicacy. However, in taste, such changes should not be reflected. What size tier should be dietary, calculate the number of guests who will use it.

Design can be completely different. It is usually customary to make wedding sweets in pastel tones (beige, pink) or snow-white. In recent years, they have been moving away from this tradition, making cakes close to natural, metallic or ombre colors (smoothly moving from a light shade to a more saturated one), to the shade of a bride's dress or bouquet, or to match the decor of the room.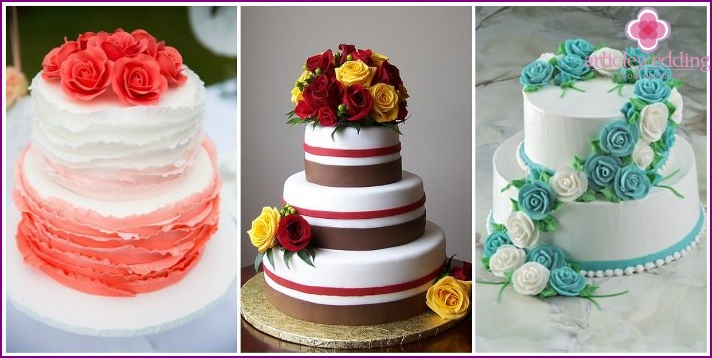 Decoration and decoration
Decoration and decoration can be completely different. Pastry chefs are real artists who can create a unique masterpiece. To do this, use mastic, cream, caramel, cream, chocolate and other materials. Recently, cakes with ruffles are considered fashionable (they made side decoration of products with a cream), classic shapes, decorated with fresh flowers or berries, cylindrical, trimmed with silver or gold, high cakes with a pronounced lack of decoration («natural»), tiers with geometric painting.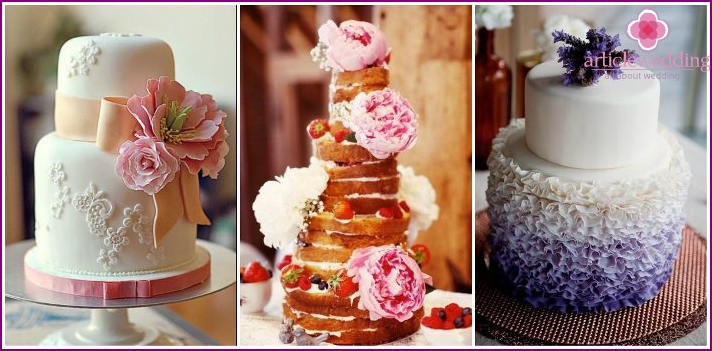 Jewelry can be absolutely copyrighted and reflect the hobbies of the young, the place of the first meeting, the future common house or the theme of the celebration. They also experiment with figures of young people who are depicted in their original form or pose, can have portrait similarities or are replaced by figures of an abstract but thematic nature (for example, two snowboarder penguins, if they met at a ski resort). Such jewelry reflects the personal characteristics of the couple, symbolically show the love story of the bride and groom.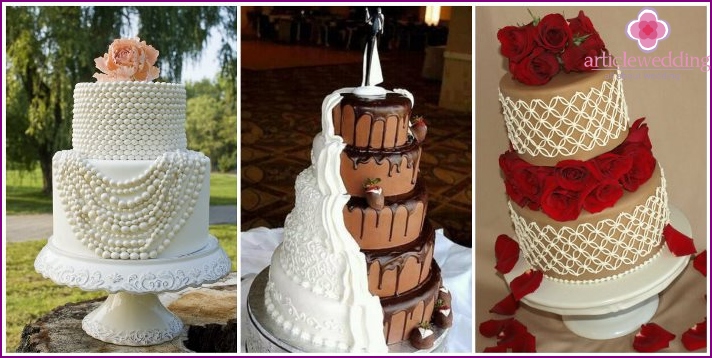 The recipe for biscuit cream cake
The natural-style cake is easily made at home. For a biscuit-cream cake-pie, the preparation technology of which is very simple, you will need (the ingredients need to be proportionally increased if you want to cook a larger product):
Eggs (9 pcs.).
Sugar (9 tbsp.).
Flour (9 tbsp. L.).
Condensed milk - 10 tbsp. l.
Butter - 200 g.
Dessert wine (1 tbsp. L.) Or liquor / cognac (2 tsp.).
Sugar (4 tbsp.).
Dessert wine / liquor / cognac (in the same amount as on the cream).
Water (150 g).
Cooking process:
Divide the ingredients into 2 cakes: for the first, take all five (eggs, spoons), for the second - 4. As a result, the first cake will be slightly larger than the second.
Prepare the dough for cakes: beat the sugar and eggs (the mass should increase by 3 times), gradually introduce the sifted flour, mix with movements only from top to bottom (until the lumps are dispersed).

Put the finished dough in a pan or in a mold greased with oil (or grease) and covered with baking paper. Bake for 40 minutes at a temperature of 180-200 ° С. After 40 minutes, check the cake for readiness by piercing with a match (there should not be a test on it).
Make and bake the second cake as well.
Do not rush to remove the cake from the paper, it may break, let it cool down for several hours at room temperature.
Carefully align the edges of the cakes. Dry and chop the cut edges.
Prepare the impregnation: add water and wine to sugar, boil the syrup and leave to cool.
Prepare the cream: melt the butter slightly, add the wine and condensed milk, you can sprinkle a little vanilla, whisk with a mixer.

Soak the cooled cakes with syrup (half for each cake). Pour gently through your fingers so that the cake is not softened and soaked evenly.

Lay the cake so that the bottom side is up (if baked in a pan), then the cake will have a beautiful shape that tapers up.
Lubricate it with cream.
Put the second cake on top (bottom).
Soak and cream, including the sides of the cakes.
Roll the sides in crumbs.

Garnish with roses or hearts made of cream - with a pastry syringe. The cake is ready! You can decorate differently, make square cakes, do not cover the side surfaces, add fresh berries and fruits (for example, cherries or strawberries), pour with chocolate icing, sprinkle with powdered sugar and ground nuts. Everything to your taste.
Production Tutorial «Boston» cream cake
Boston Cake is a wonderful cream dessert made from biscuit dough. His cakes are divided in half, the gap is filled with cream «Patiere», and top cover with ganache (chocolate icing). The result is a delicacy that can please even the most demanding taste. Preparing such a dessert is simple and easy, it will work with any housewife. How to do this, see the video:
Photo of beautiful cream cakes