Contents
---
---
According to statistics, not every marriage can withstand 10 years of marriage. As the husband and wife do not try, but to find a common language, to consolidate the family they do not always succeed. But there are people who ripen every year, complement each other, improve, become a strong couple. This process is similar to pearl development. 30 years old - enough for a family «pearls» matured, and the couple became a reliable support for each other. The date of the pearl wedding is a proof of the efforts of the spouses. Which cake to choose to decorate such an anniversary?
Cake Decorating Ideas for 30 Years of Wedding
This day must be celebrated. Start with a touching conversation with your spouse, and in the evening arrange a gala dinner with your closest people. Over the years, a lot of such people have accumulated - children, grandchildren, friends. Settle your purpose with them, let their gifts be original and unusual. A great example is a pearl wedding cake. What can be this delicacy?
In the form of a half-open shell
You can take a chance - prepare a cake in the form of a half-opened shell for a pearl wedding yourself. To do this, you need to find the most delicious volumetric dessert recipe. Take the recipe as the basis «Napoleon», «Honey cake», «Sponge cake with condensed milk or protein cream», and on top it is better to cover with white chocolate or icing. For a half-open shell, use mastic or ice. They keep their shape perfectly, are edible, and are not harmful to health..

Decorated with coral and marine life
To order a cake for a pearl wedding is not a problem. Above all, indicate exactly what you want to see and eat. If the confectioners will help you decide on the filling, then it is better for you to choose the design yourself. Edible figurines of corals and sea inhabitants (fish, starfish, skates, shells) can be the thematic cake decor on the 30th wedding anniversary. All of them need not be performed in natural colors. Try decorating the festive table in delicate light shades..

With bows and ribbons.
You don't want to dive too much into the marine theme, but prefer something simple and festive? A chic cake with bows, ribbons without pearls will look luxurious, festive. Decor elements can pick up brighter shades than the main part of the dessert. The colors you choose can symbolize the idyll of family relationships. And let the only jewels at the party be real pearls, mined deep in the sea.

Cake decorated with mastic pearls
Are you inclined to make your own wedding cake? Then chewing marshmallows «Marshmallows» - irreplaceable assistant. To prepare the mastic, you will need gelatin, milk powder, white or black chocolate and marshmallows. Having mixed all the ingredients, you will get various forms of jewelry, including and pearls. Experiment by adding butter to your cake recipe. Having rolled up the mastic in the correct form, it's worth a little wait. To shine the pearls, use kandurin (dry powder). Brush the surface of the jewelry, and you will have a chic cake with glitter on the table!

Decorated with flowers
If the date of your pearl wedding coincides with the warm season of the year (spring, summer), then the design of the holiday should be airy, floral, light. To add beauty to the atmosphere of celebration, decorate the cake for the pearl wedding with flowers. In this area of ​​design, you can take a walk in earnest. Consider the following factors: temperament, warmth of feelings, mood. Based on them, draw the correct conclusions about the choice of cake:
The relationship is dominated by a pronounced temperament, do you still feel a passion for a partner? Do not hide it! 30 years of passion is more than a familiar relationship. You can light a spark in each other, which means you need a cake with fiery red flowers - roses, poppies, tulips.
If you feel warmth and tranquility, being next to your beloved husband, then light blue, light pink flowers perfectly express mutual feelings. Sweet cornflowers, orchids, callas, peonies on the cake will be the end of a romantic holiday.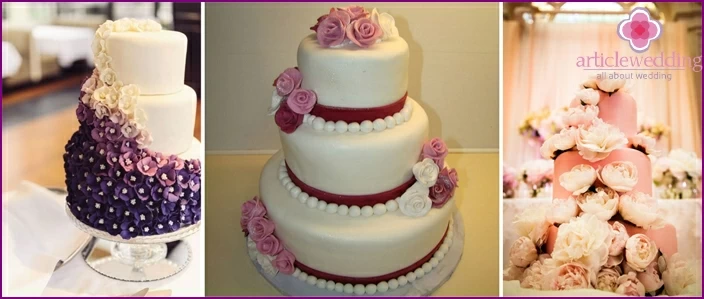 Cake with a pair of white swans
A classic wedding anniversary option is a cake with a pair of white swans. This design symbolizes rebirth, chastity, wisdom. For couples, white swans are family unity, loyalty and affection. You can arrange them on the dessert so that they form a heart shape. Complete the cake with pastel ribbon or two or three colors for asymmetry, snow-white dishes. To create your own swans, you will need:
condensed milk - 180 g;
milk powder - 150 g;
icing sugar - 150 g;
lemon juice - 2 tbsp;
cognac - 2 tsp.
Combine all dry ingredients, add condensed milk, cognac and lemon juice. You will get mastic from which you blind swans: first the head, neck and torso. Next - individual wings, feathers with notches. The mastic should be warm, so if necessary, heat it in a microwave oven. Glue all parts of the body with gelatin or egg white. Be sure to wait for drying after each connection of the parts. Decorate the beak and eyes with swans using food colors. The top cake layer is often covered with butter cream with vanilla powder. Done!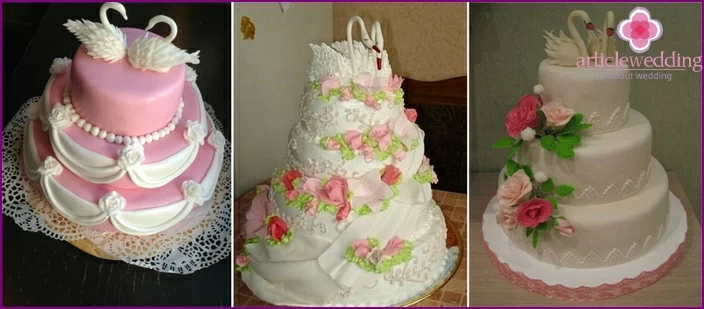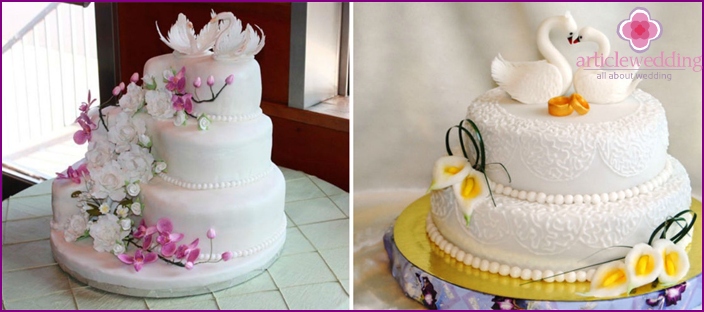 Layered, square
A multi-tiered wedding cake is a luxury. And if it is also square in shape, then this is the guarantee of originality. No one has canceled the order in the confectionery workshop, but if you decide to make multi-layer tiers yourself, then you need to stock up on additional elements. In the inventory there should be supporting sticks made of wood or plastic, substrate for cake, knife, icing or chocolate. The sticks will take on the whole burden of the upper tiers, and the substrates will provide the dessert with durability. Icing or chocolate - filling and impregnating a cake.

Photo of wedding cakes for a pearl wedding
A pearl wedding happens once in a married life. Fix this date in the highest order. Your marriage has successfully formed, both of you are mature, accomplished people, honed by care and love. Marriage Anniversary Cake can be a direct reflection of your family relationships. What are they like? What example would you like to show your children? Get ideas for decorating the anniversary dessert in our photo selection of cakes.