Contents
---
---
Eco-chic weddings, or, in other words, green weddings, have already gained popularity all over the world. If you are an environmentalist or just want to make your wedding as original as possible, but at the same time inexpensive, then this option is for you!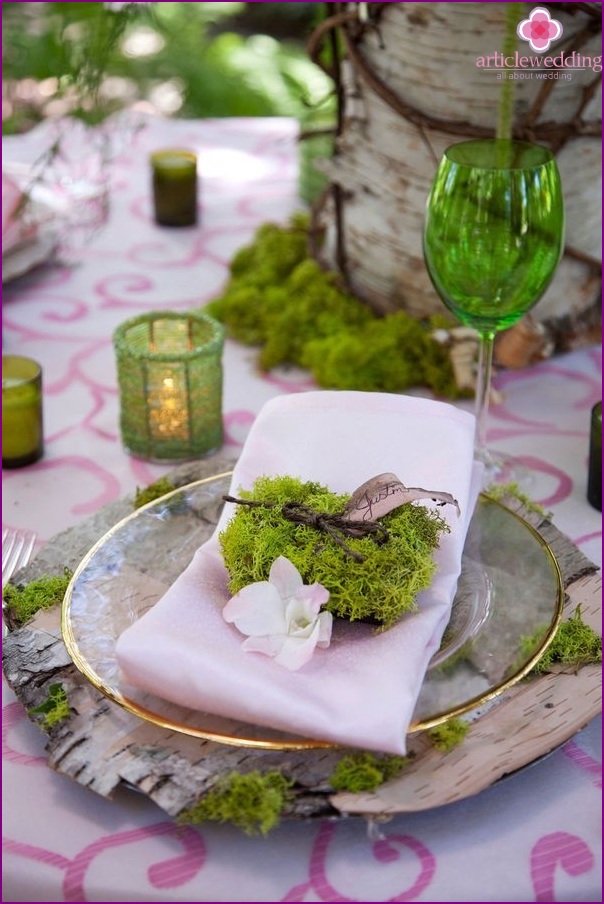 What is an eco-friendly wedding??
Young people are increasingly taking a careful approach to nature, so weddings in eco-chic style are now in fashion. The scenario of such a wedding involves the rejection of the destructive influence of civilization on the living world. The main idea is simplicity in everything and maximum environmental friendliness, which does not exclude, however, individuality and originality. It may seem right away that green wedding absolutely not connected with the concept of luxury. But in reality, such a marriage is full of elegance and style. Moreover, there is another indisputable advantage that attracts newlyweds: adhering to this scenario, you can almost halve wedding budget.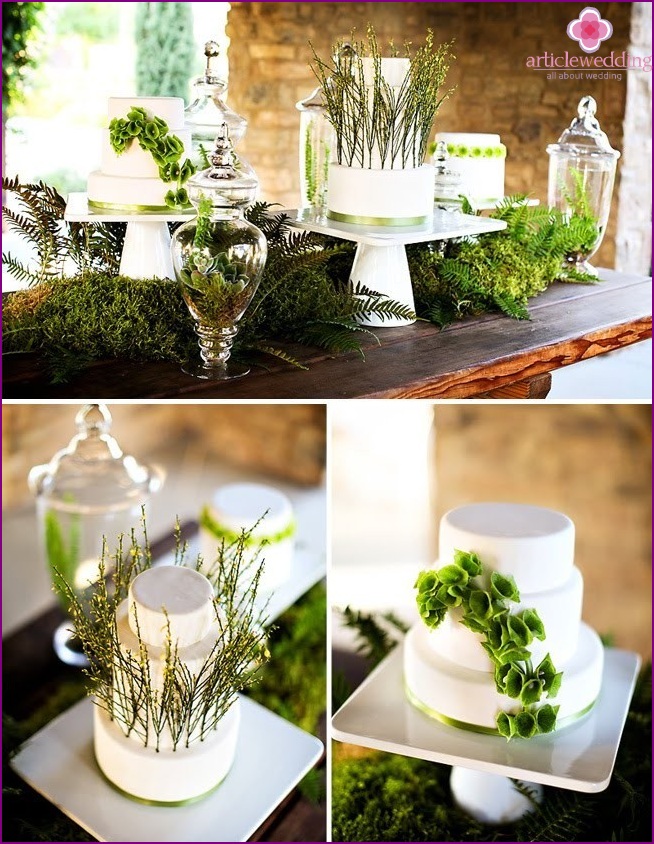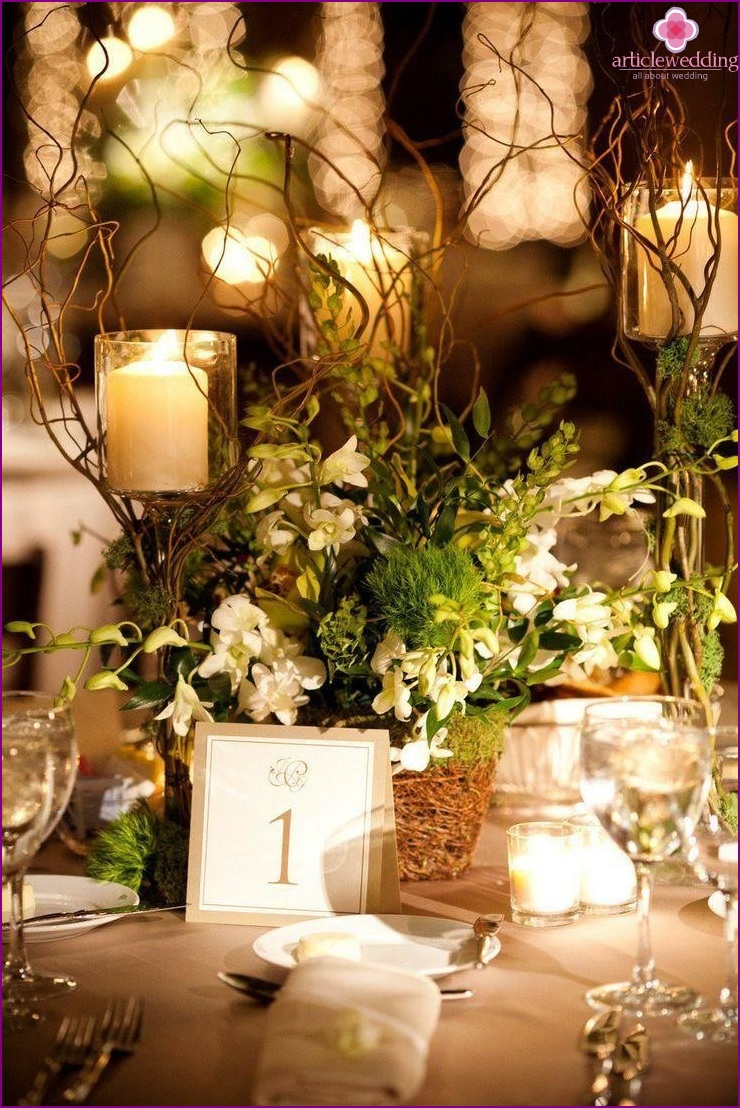 Features wedding eco-chic
So, to implement the idea of ​​a green wedding, you need to know that:
Eco-chic wedding traditional color palette with green, brown and beige tones.
For such weddings, accessories made of natural natural materials are relevant - wood, cardboard, recycled paper, newspapers, glass jars, natural fabrics. Instead of the usual bouquets, use evergreen, field or potted plants and flowers grown at your dacha. At such a celebration, of course, there is no place for plastic, polyethylene and other unnatural products.
The best interior for a wedding in eco-chic style is a lawn in a park or in a forest, a garden, a rustic wooden cottage. Wedding in nature or in a house made of wood will only emphasize the idea of ​​the scenario of your wedding and will not leave anyone indifferent.
The materials and elements used to organize such a wedding should talk about saving resources. The site www.articlewedding.com advises you to choose natural lighting, having organized a wedding in nature, and thereby spend less electricity. In the evening you will need additional lighting - use candles that will create an amazingly romantic atmosphere. Order live music, not DJ services. And finally, choose the ecological mode of transport: bicycles, boats or even a horse train. Believe me, such a wedding celebration will be remembered by you and your guests for a long time.!
Dishes at a green wedding are made only from the freshest and natural products.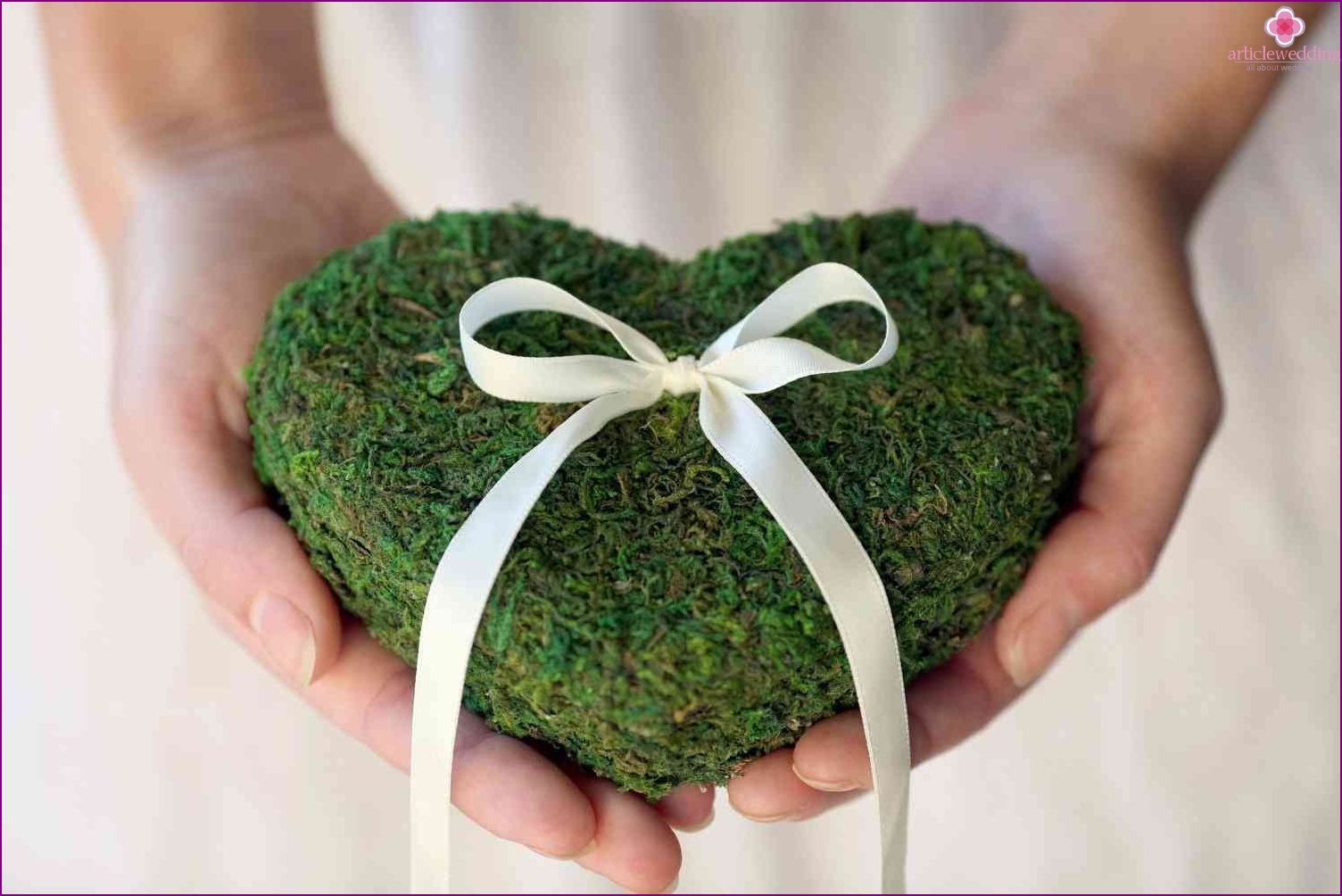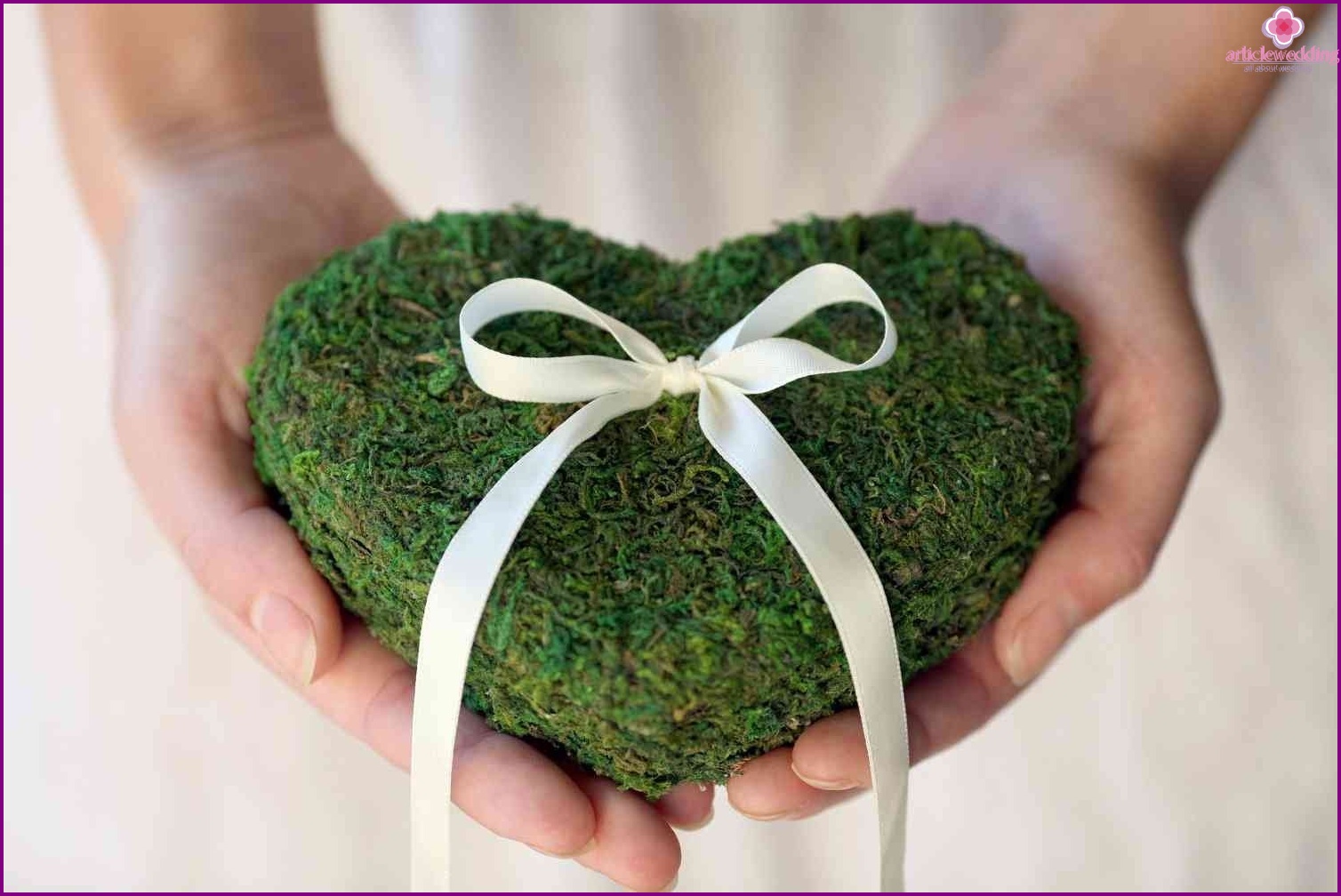 Just married style
The image of the young couple should match the chosen style of the wedding. For the bride, the perfect choice in this case - vintage wedding dress and accessories matched to it. For example, you can take old grandmothers or mother's jewelry, which will add a touch of nostalgia. For makeup, it is preferable to use natural cosmetics. There is also no need to make a bright make-up, because the main idea of ​​the wedding is simplicity and naturalness.
For the groom, the best option for a wedding dress will be a suit made of natural materials without the use of synthetics and chemical dyes - silk, linen or organic cotton.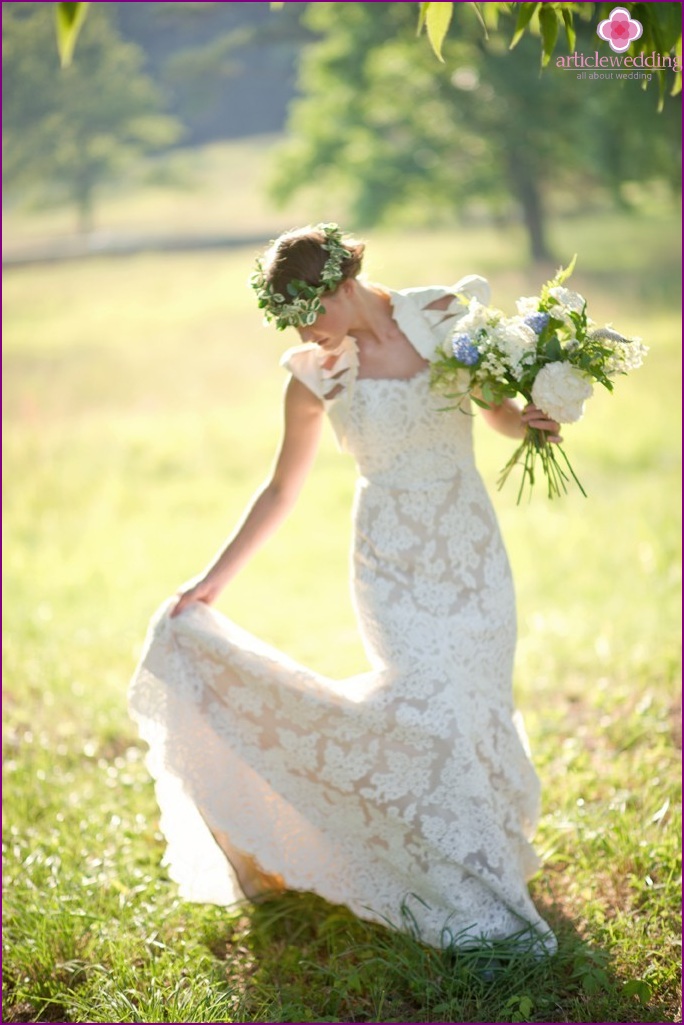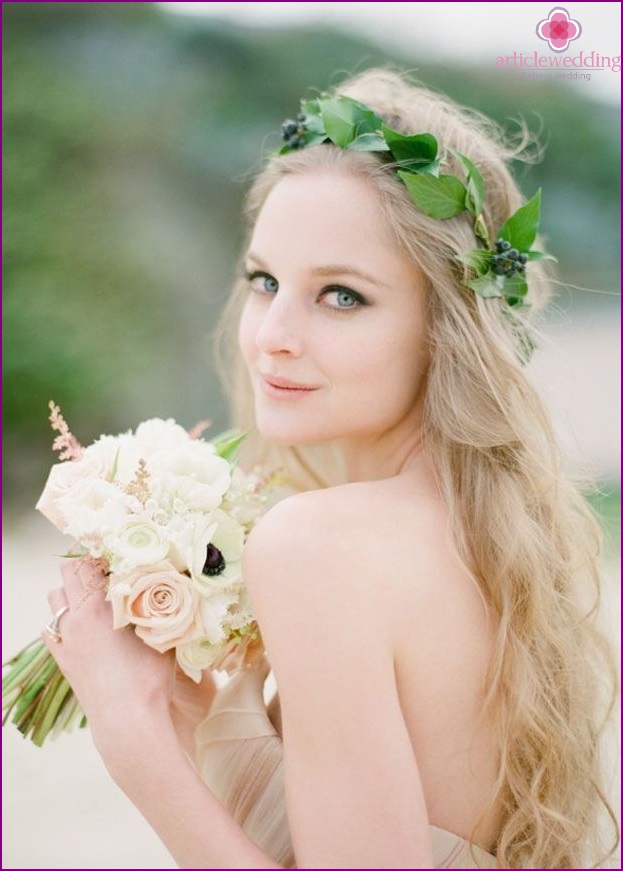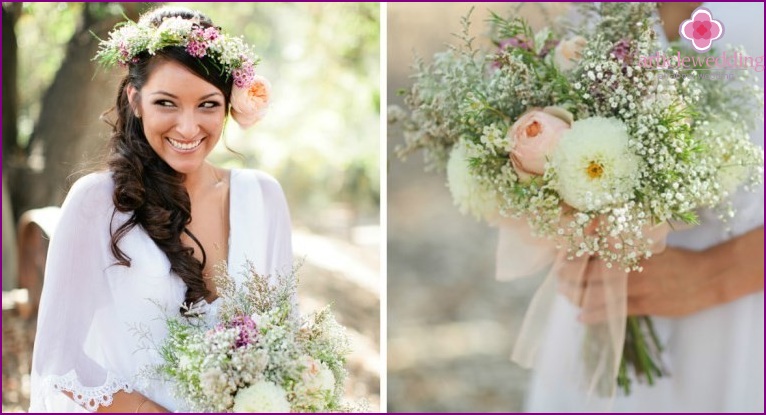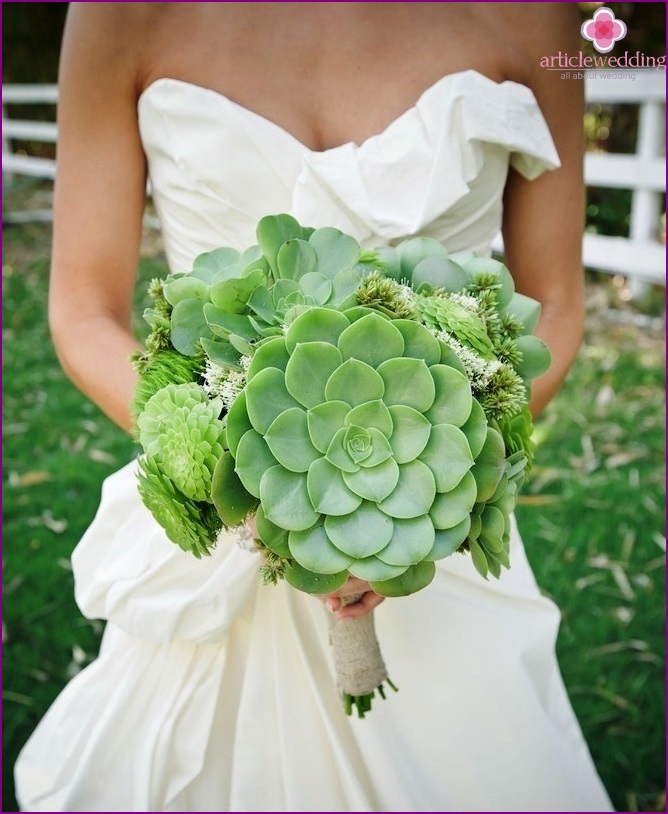 Original decor ideas
One of the important details of any wedding is the decor, which should correspond to the chosen style of celebration. The wedding portal www.articlewedding.com offers several interesting ideas that will only emphasize the originality of the eco-chic wedding.
For invitations, take recycled cardboard, paper or material that does not harm the environment, such as bamboo.
Use fruits with guest names and table numbers carved on them instead of traditional table cards. Another option is to put them in small pots of herbs.
Instead of flower vases, take used bulbs or glass bottles. And instead of candlesticks - ordinary banks or ... small birch logs.
For decoration, you can use burlap, threads, old newspapers, books, cones and logs, tin and glass jars, plants - everything that is very easy to find in everyday life without any special material costs.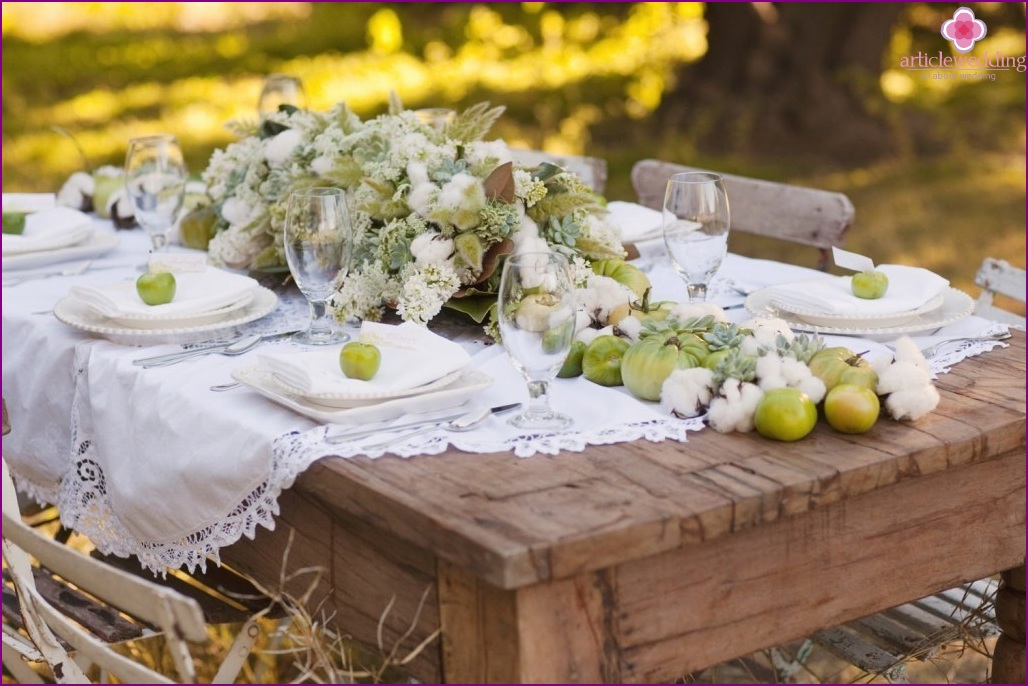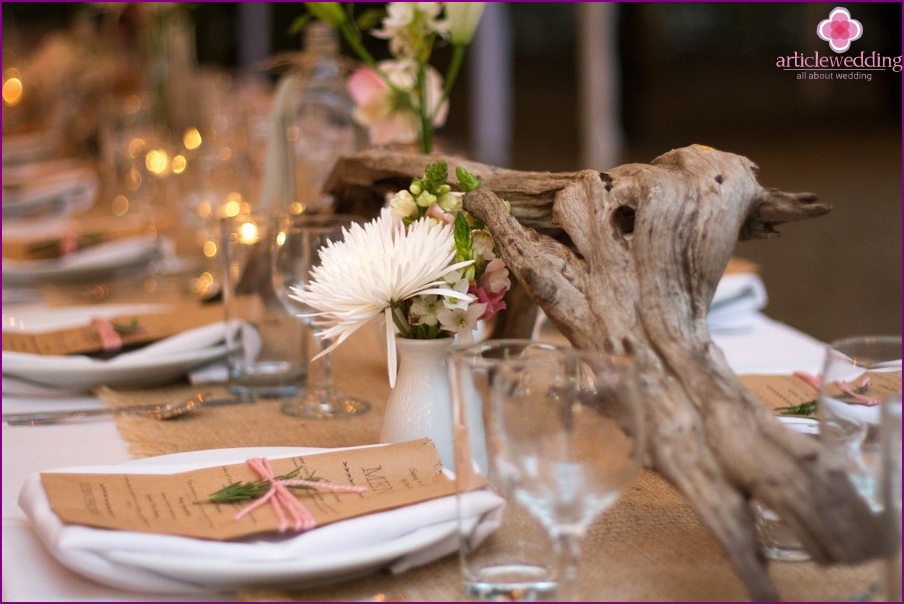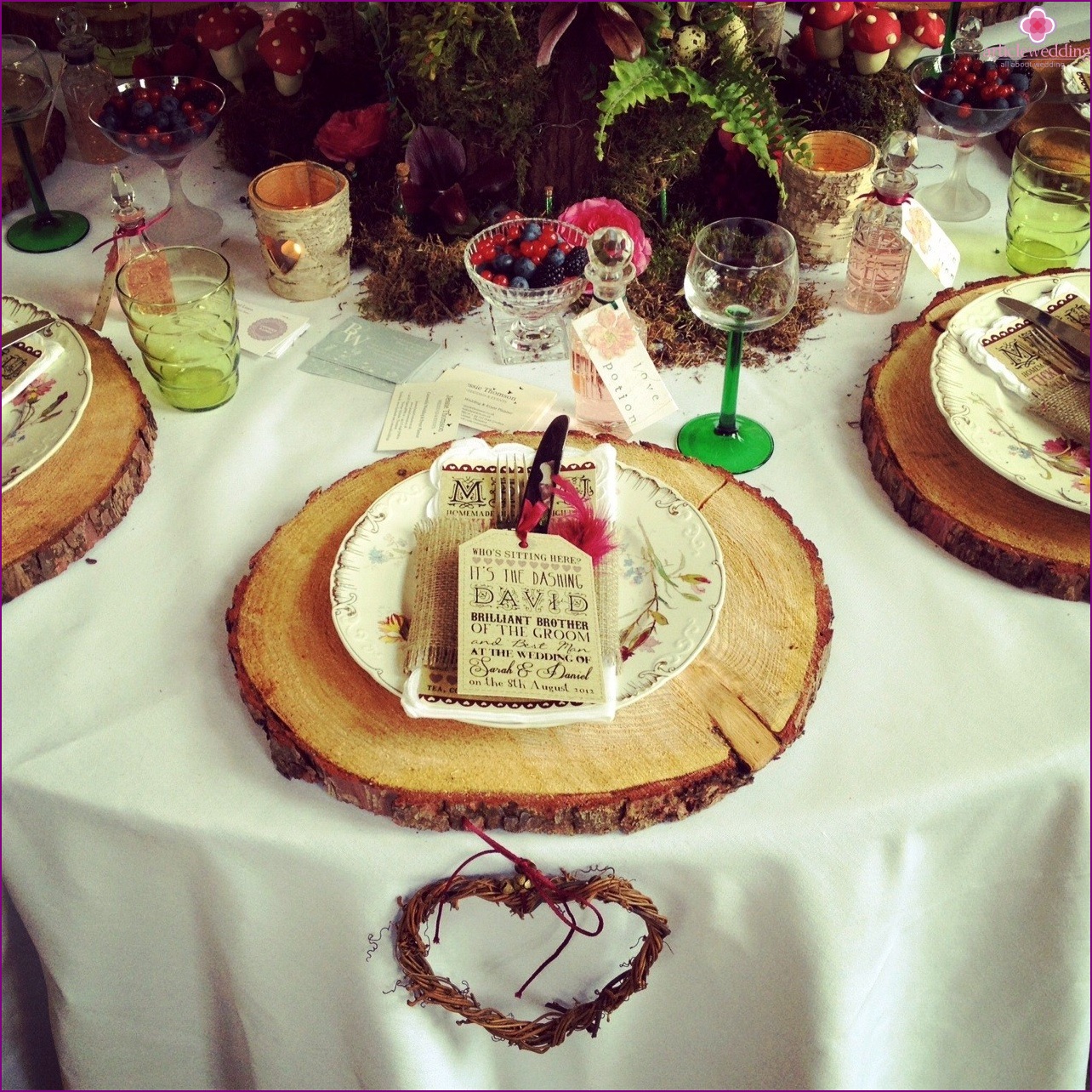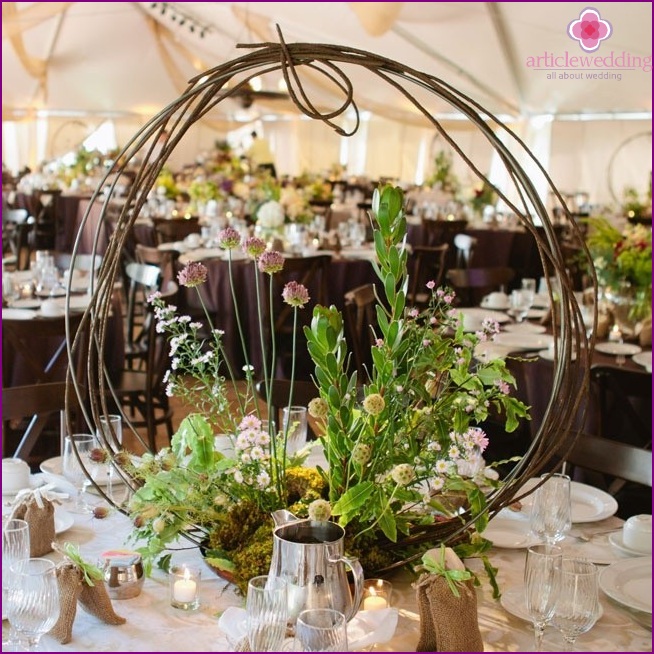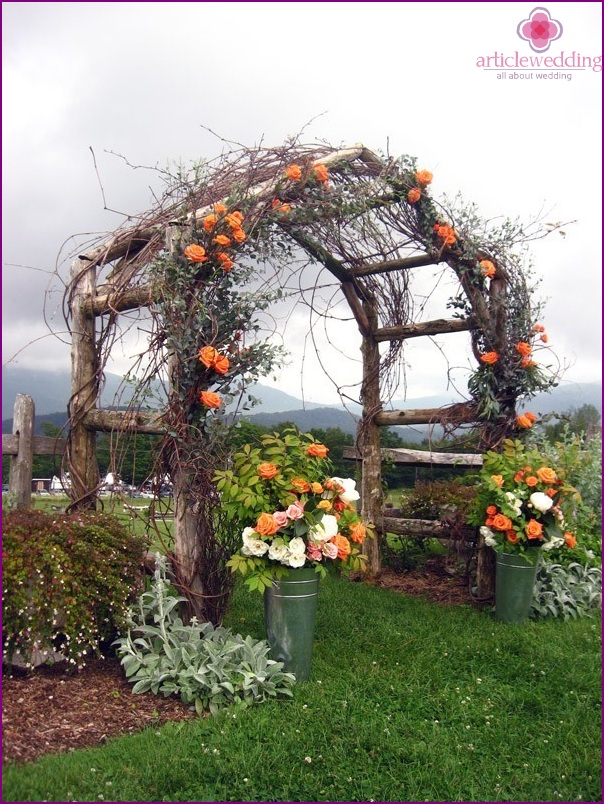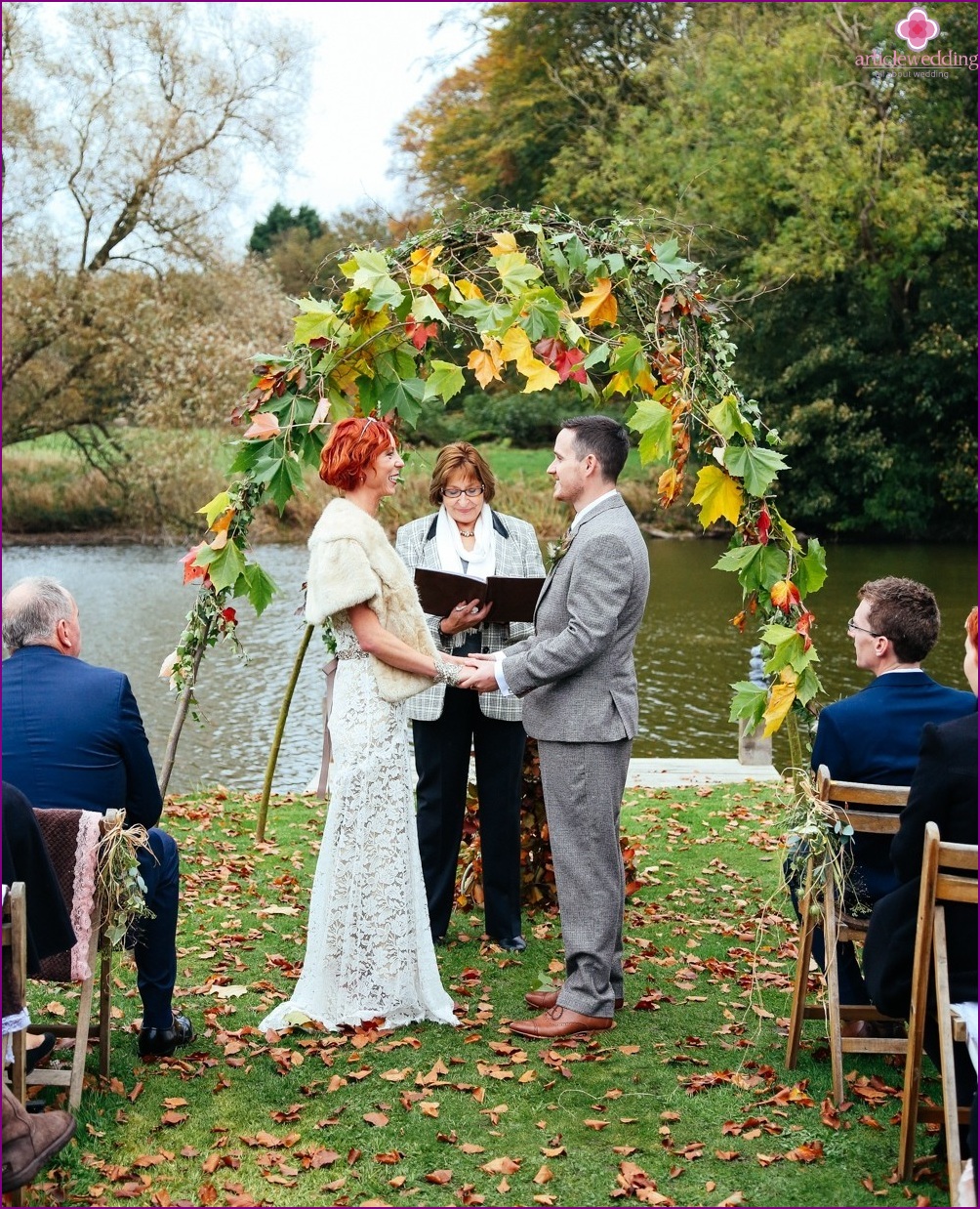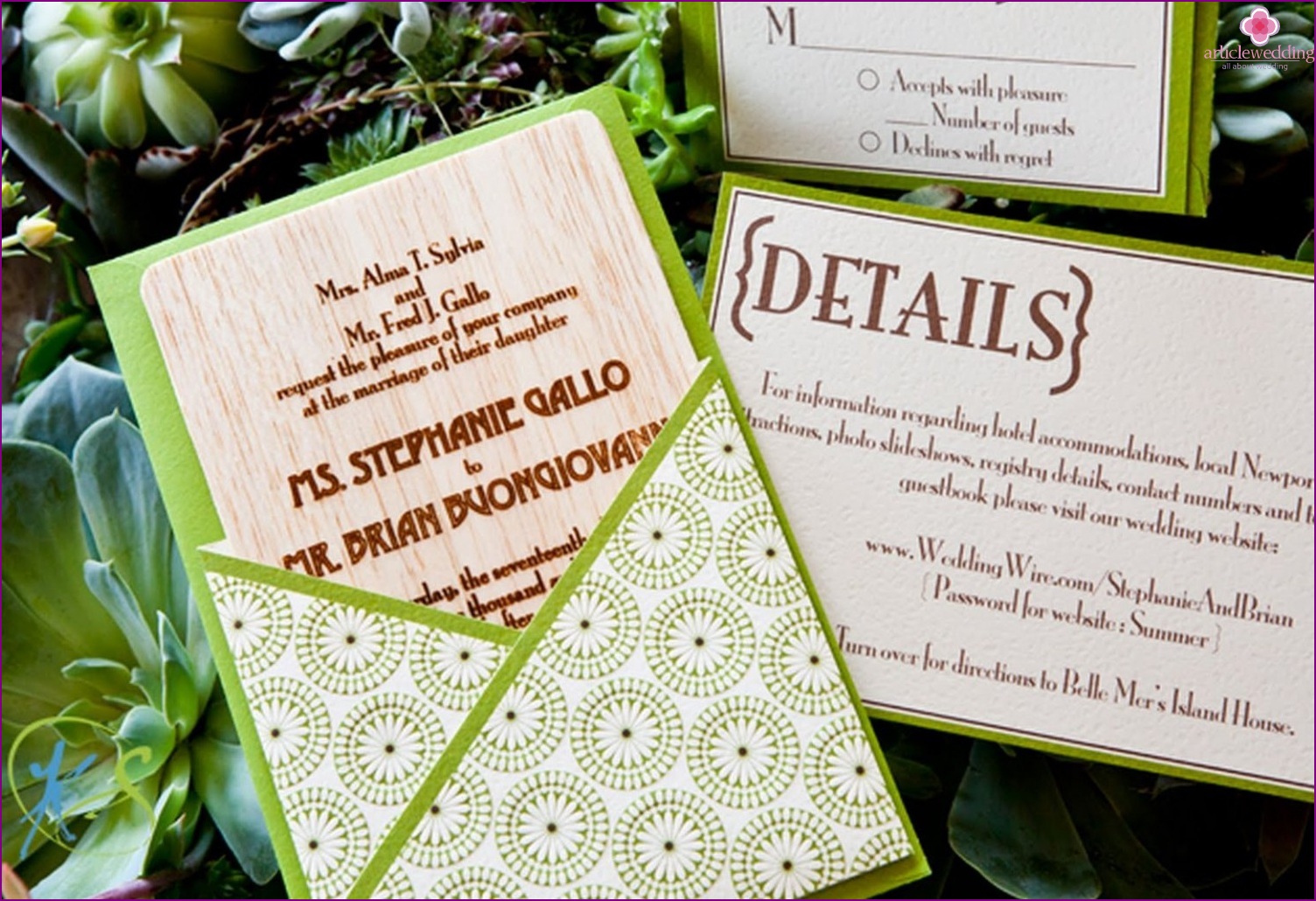 A wedding in eco-chic style requires your imagination and creativity. But if you try, then as a result, it will look original and very stylish. An important role is also played by a notable cost savings during its implementation. That is why a green wedding is becoming more and more popular in the world.