Contents
---
---
Geometry, as a fashionable trend, unexpectedly turned into the wedding sphere and firmly entrenched in it, having entered wedding trends in 2020. It is not surprising, because the decor and images of the newlyweds in this style look spectacular and interesting!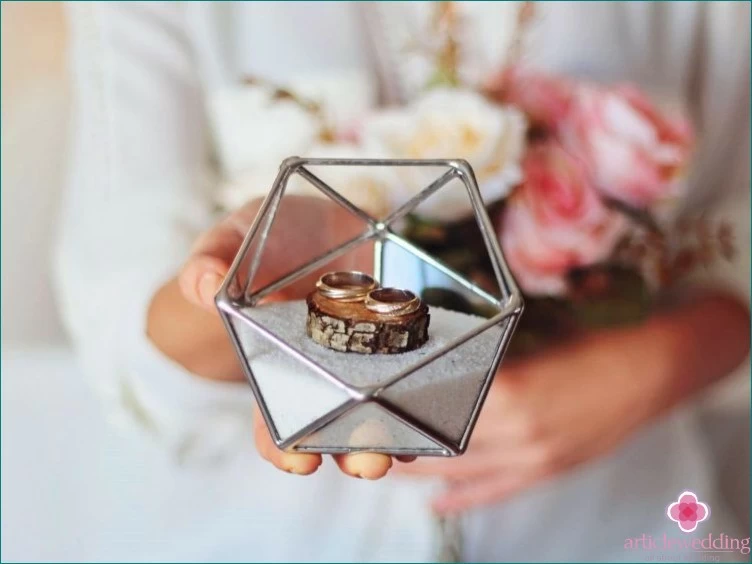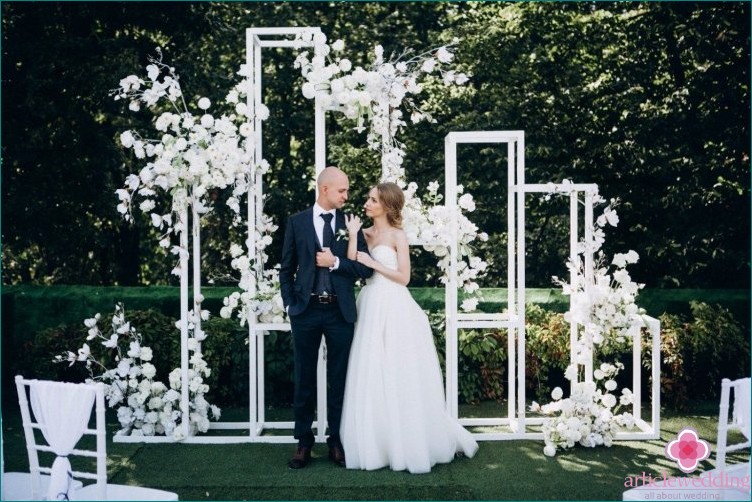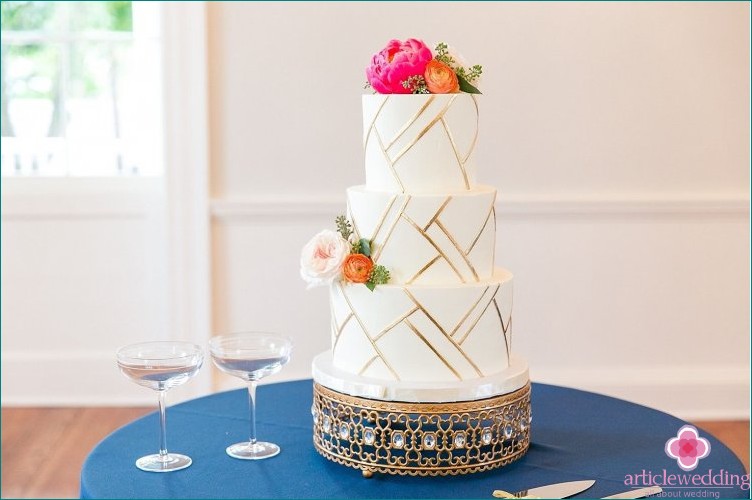 Portal Svadebka.ws will tell you in detail what a geometric wedding is, how to organize it and what nuances you need to consider in order to carefully adhere to the theme of the celebration. Our tips will help you create a perfect, original and stylish wedding that will be remembered for a long time..
Geometry as a trend: what the newlyweds should know?
The wedding event in geometric themes involves the use of various figures in the image of the newlyweds, the design of the venue and accessories. In order for the celebration to be as relevant as possible to the chosen topic, you must remember the basic rules:
no smooth lines, unless it is a circle and an oval, of course, we use both geometric shapes (square, rectangle, triangle, polygons, etc.), and broken lines;
We try to use geometric elements wherever applicable, but do not overdo it;
we take into account our taste - geometry can be entered both in a colorful design with bright shades and in a minimalistic style;
give free rein to your imagination or watch thematic photos on the Internet for inspiration.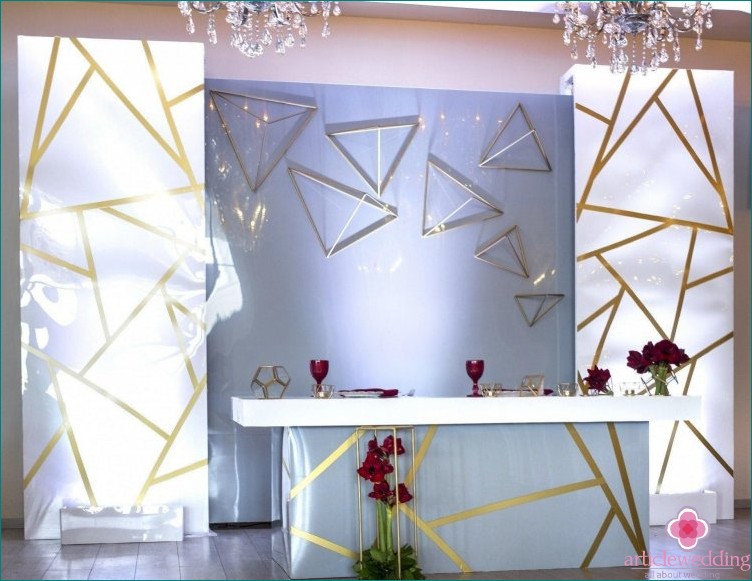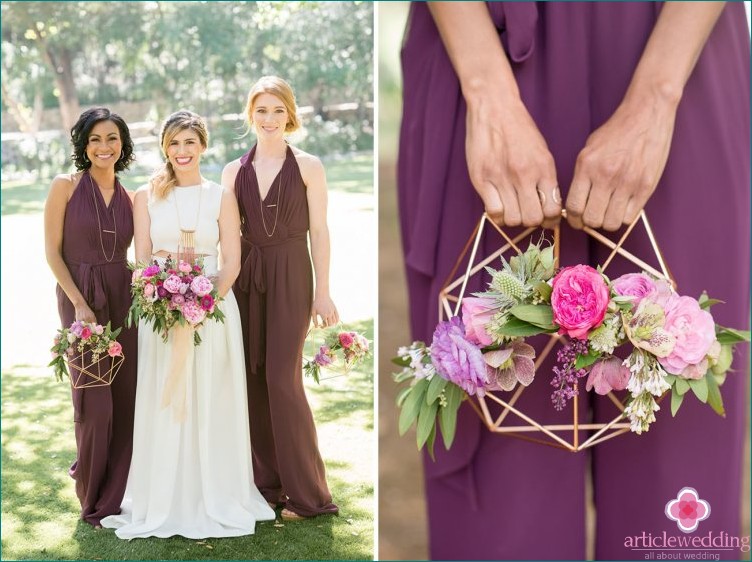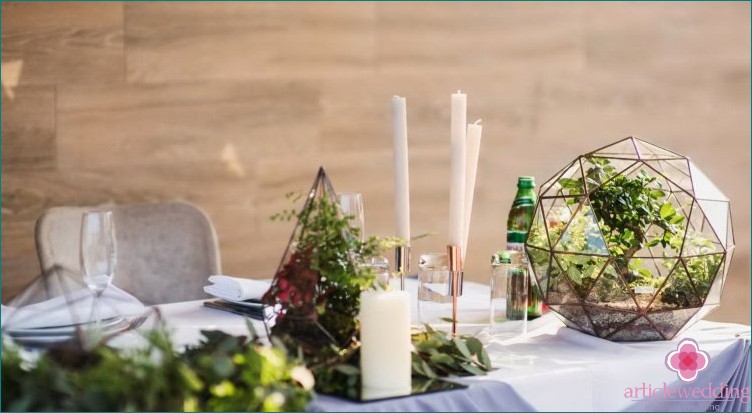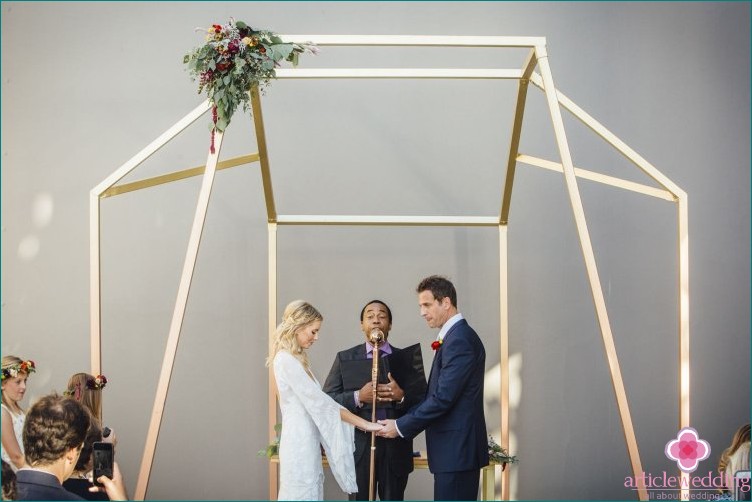 Wedding dress and other details of the image of the bride in a geometric style.
If everything is clear with the suit of the groom (a suit in a cage will be an excellent option), then with the outfit of the bride everything is a little more complicated. The difficulty lies precisely in the choice, since there are many options for creating a female image. For example, the bride can choose a wedding dress with a geometric design. It can be:
inserts in the form of various figures;

folds along the hem or on the bodice;

letter neckline «V».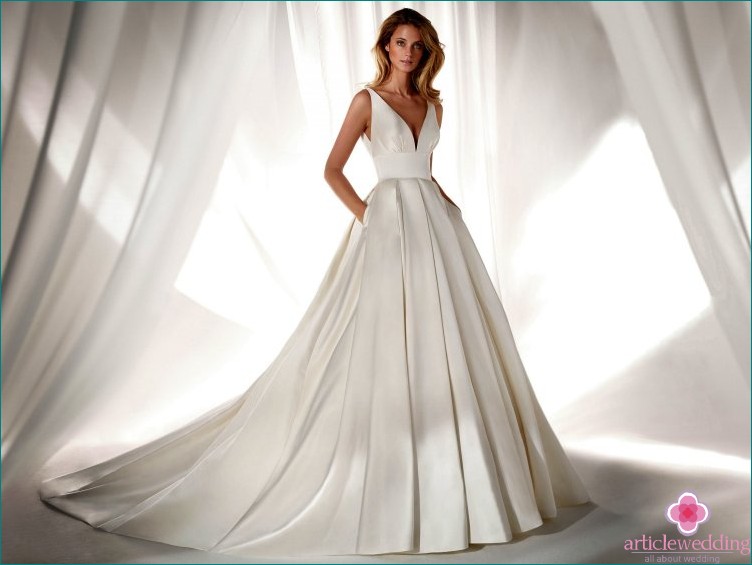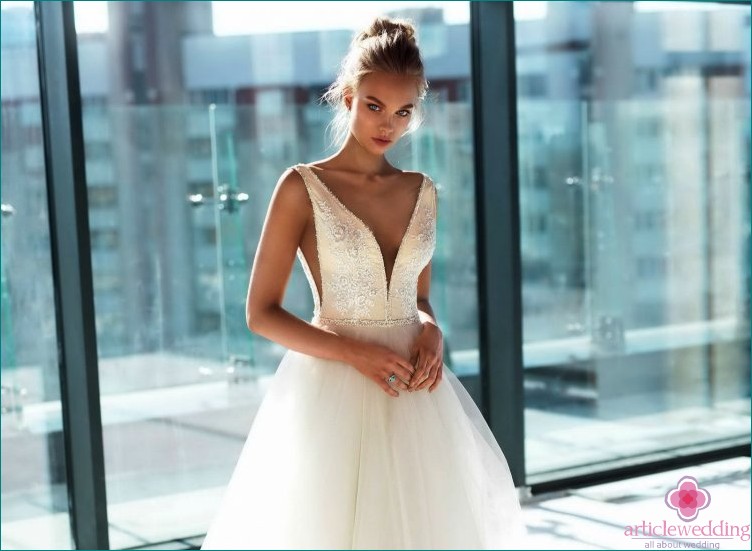 Also, the geometry may be present in the form of decoration of the outfit (brooches, embroidery, belt, etc.) or a print on the fabric itself. It is important to choose a dress that will emphasize the merits and hide the flaws of the figure. For example, a triangular bodice can beautifully emphasize thin collarbones, and a print on a skirt can distract too much attention from the large upper part.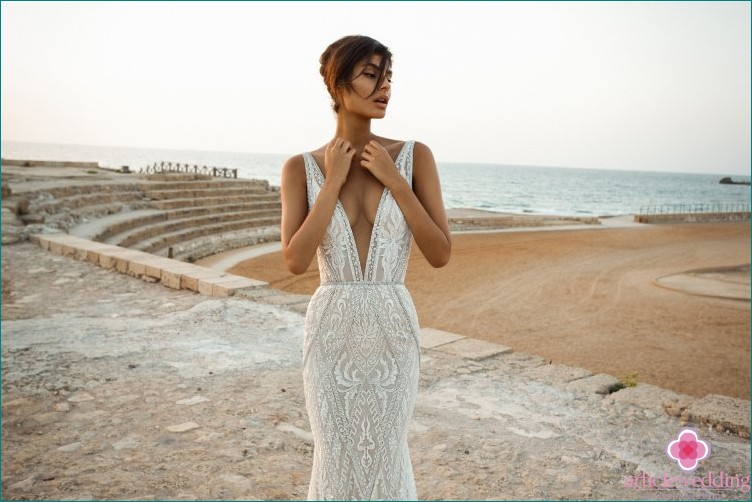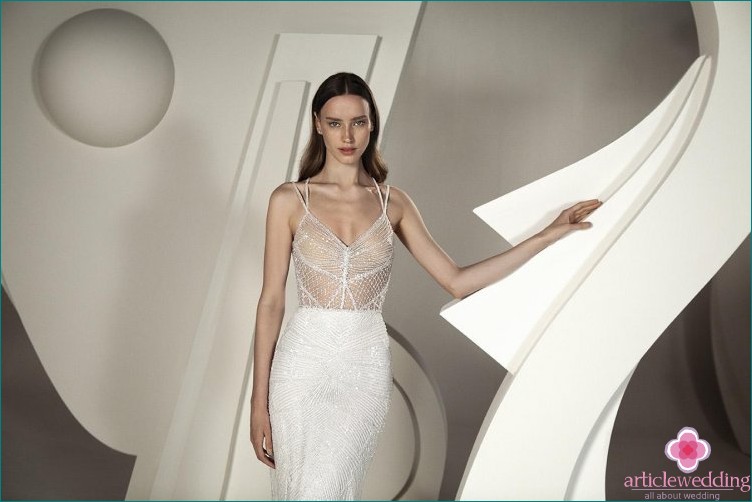 Accessories for the bride
As for accessories, today in fashion shows in a huge assortment of wedding jewelry 2020 is presented. Earrings in the form of a square or with a combination of a triangle and a circle, stylish asymmetric products, bracelets and necklaces with geometric motifs, tiaras and hairpins - all this will help or complement the thematic image, or even become accent details if the dress is simple.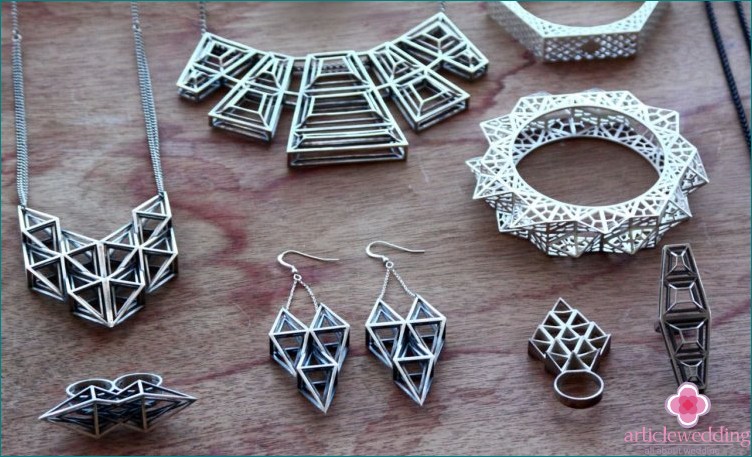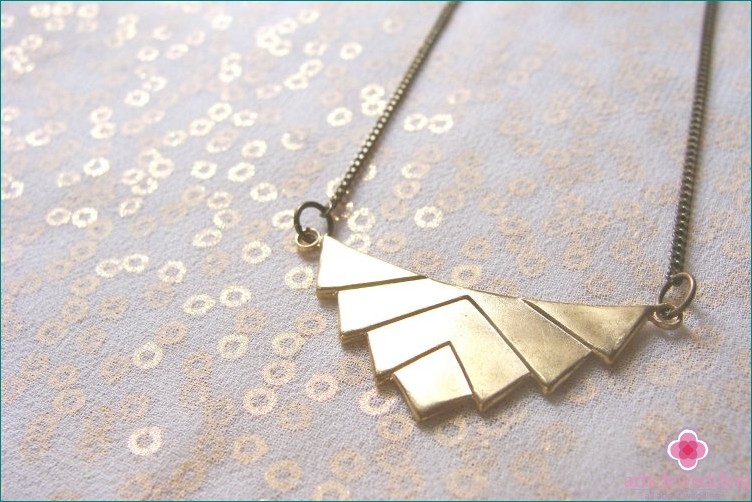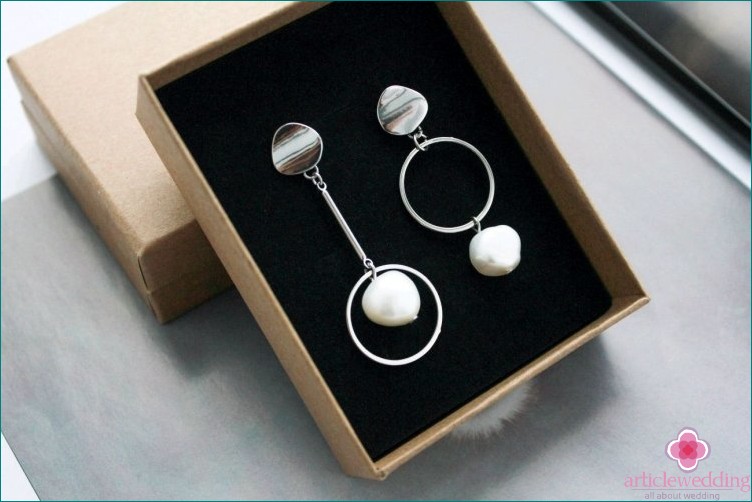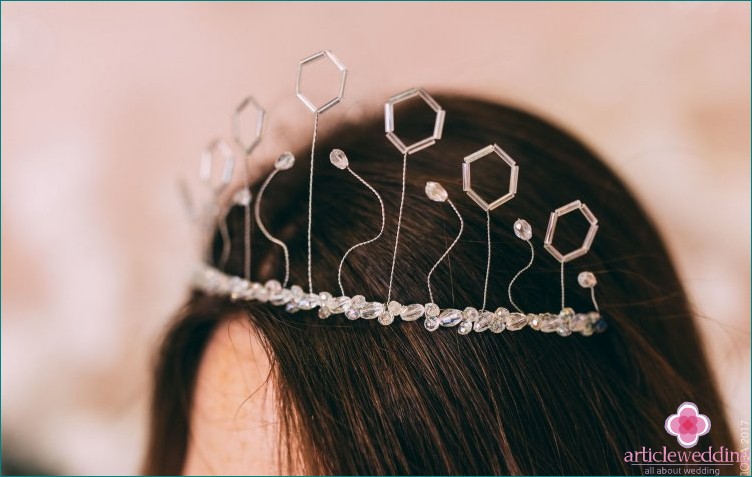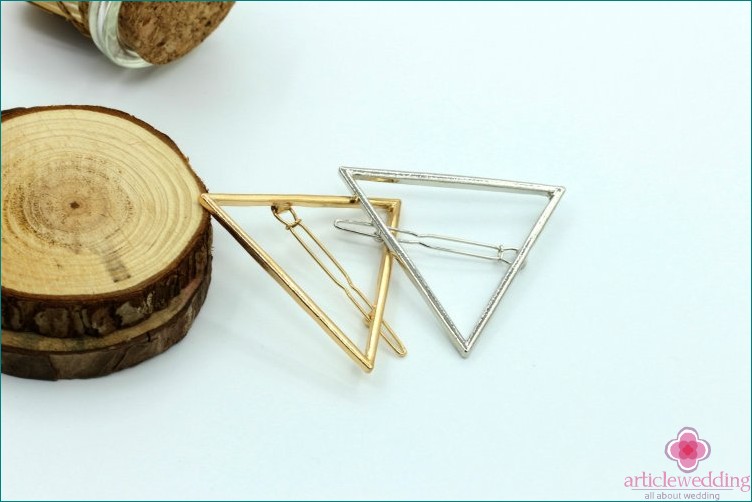 Bridal makeup and hairstyle
A wedding in a geometric style also involves a special make-up and manicure. If any designs can be realized on nails, then what to do with the face? Not every bride will decide on an eccentric makeup with elements of makeup. In principle, it is not needed, there will be enough graphic clear arrows that can be made colored - another 2020 trend. Also an interesting and fashionable detail is a vertical gold stripe on the lower lip imitating a piercing..
Doing a hairstyle with geometric elements is not worth it, but to supplement it with such jewelry is quite worth it.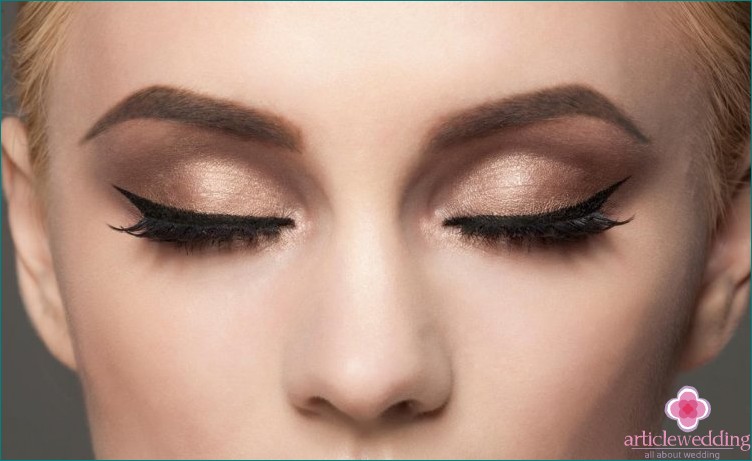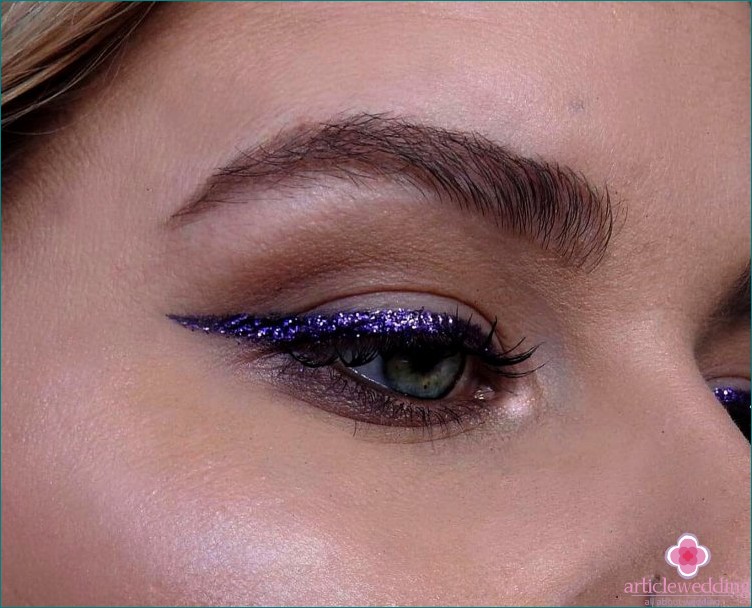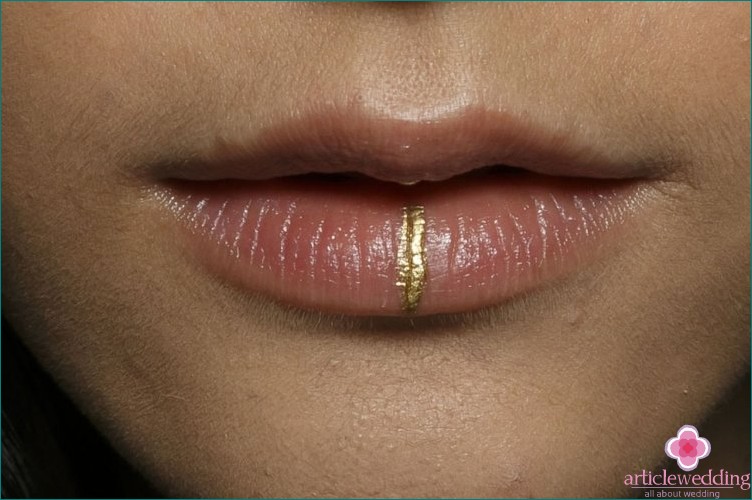 The bride's bouquet
Geometry at the wedding should be present in its design. For example, you can decorate the leg of a bouquet with such decor or add geometric elements to the flowers.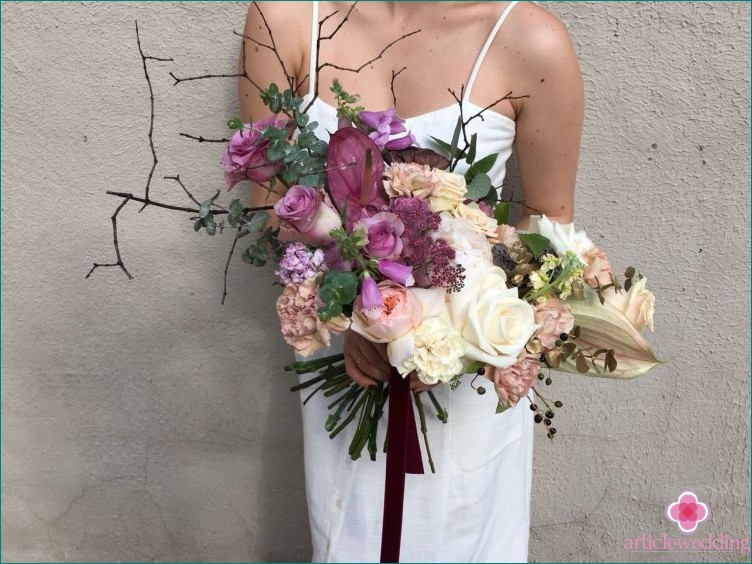 Geometry in a wedding decor
Wedding decoration includes many little things, each of which is worth paying special attention to. The geometry in the wedding decor looks very stylish and even futuristic, if you do not go too far with the decorations and competently combine them with each other, creating a fashionable wedding decor.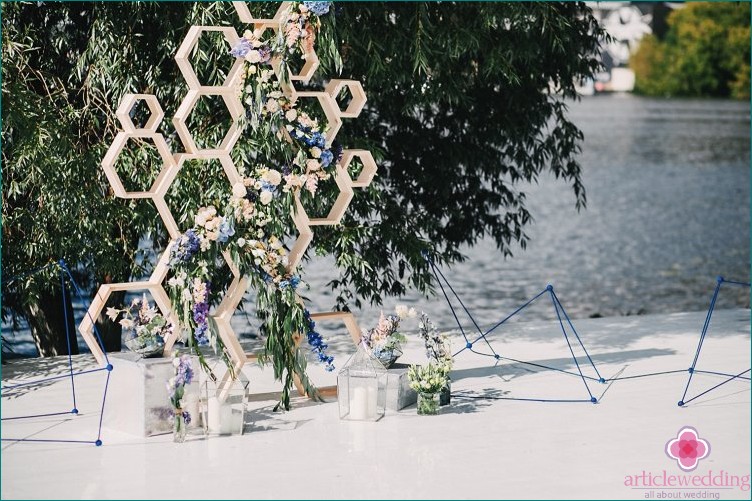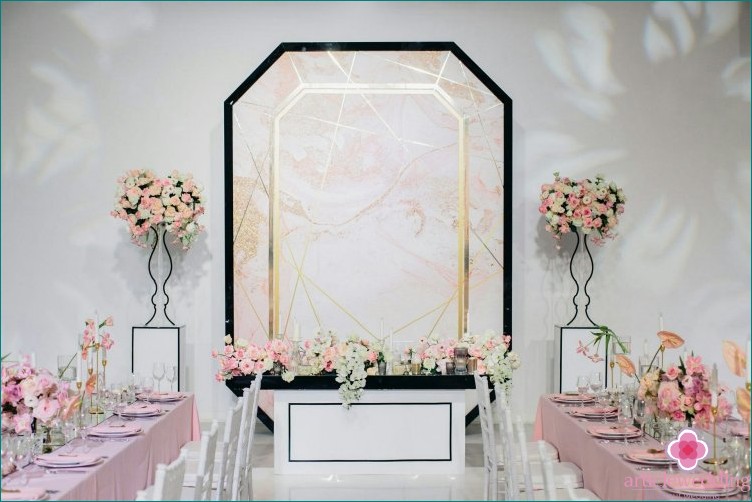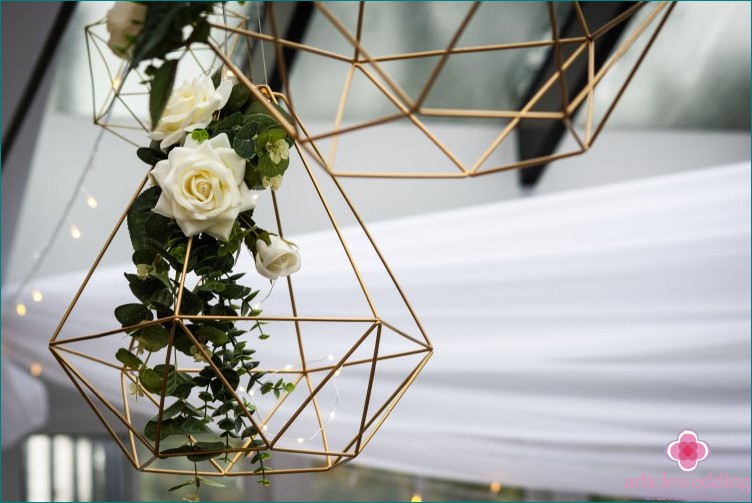 Decoration of the wedding ceremony
If you are having an outdoor wedding ceremony, you should withstand its design in a geometric style. There are many tools for this:
Instead of the classical arch, choose laconic structures made of wood or metal in the form of a polygon, triangle or trapezoid, and for greater romance, you can decorate them with flowers and / or greenery.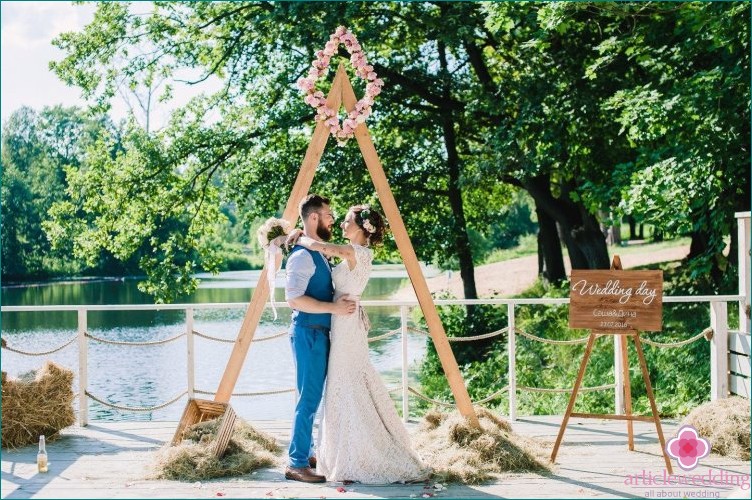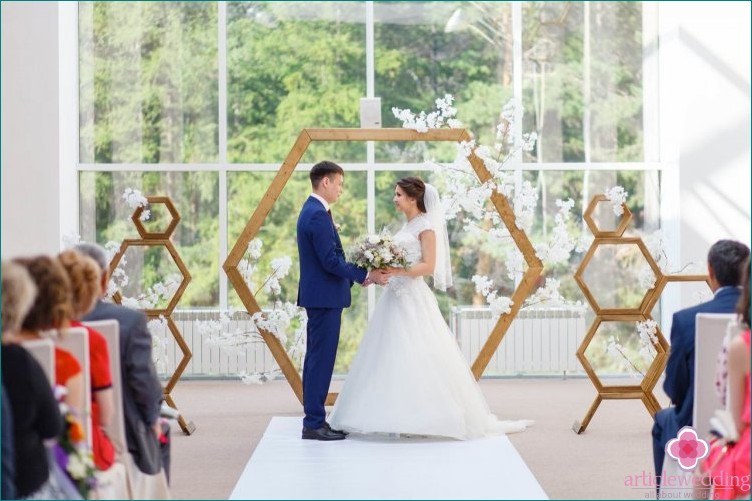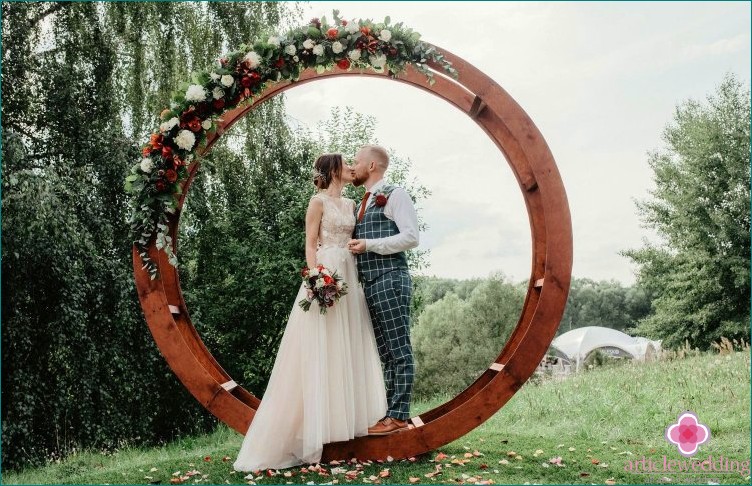 Pay attention to the seating places of guests, an excellent option will be original chairs or benches in the style of Scandi.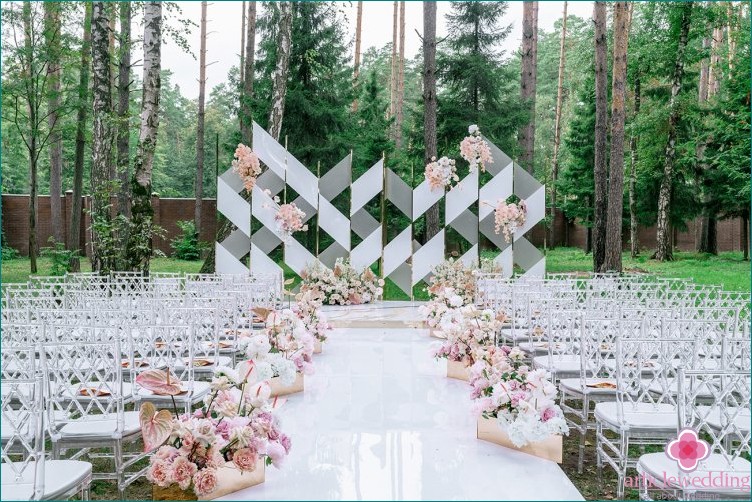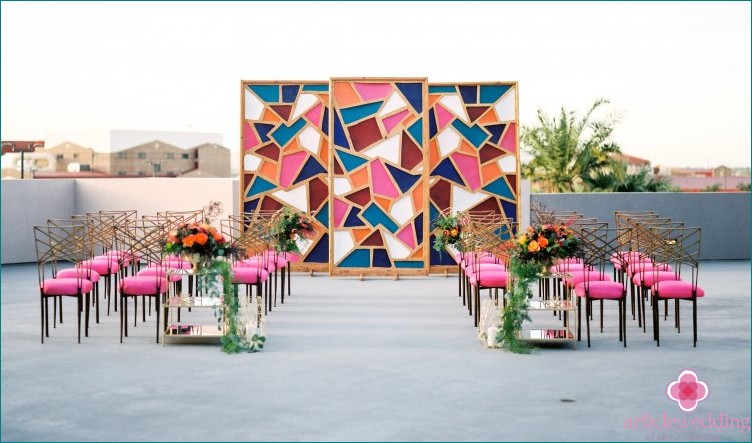 You can add geometry elements to any decoration of the venue for the ceremony: from the track with geometric prints to the cube table for painting.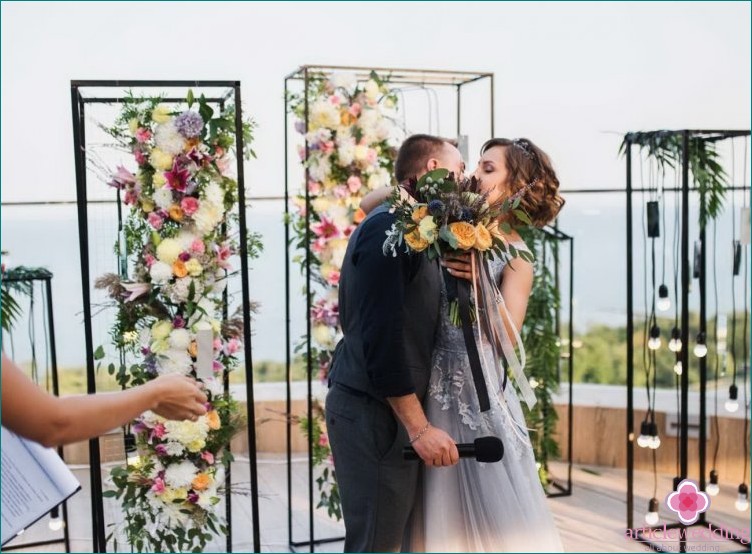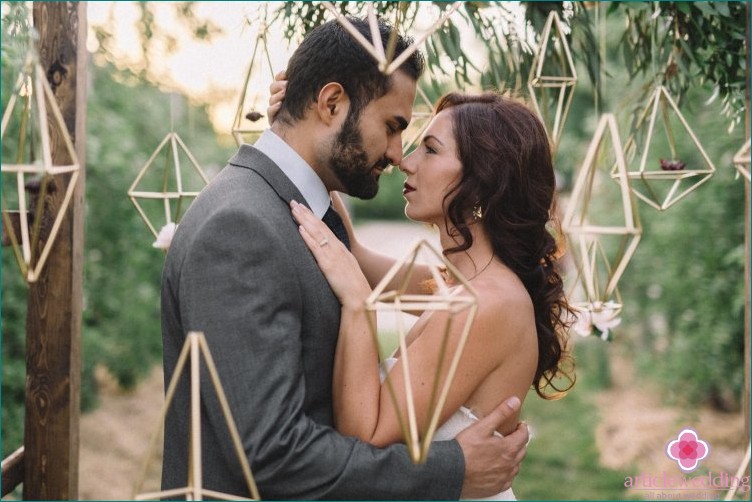 Banquet room decor
To give the room where the main part of the celebration will take place more grandeur and style, geometry in the wedding decor can be present in the form:
garlands: they can be made even with your own hands from wood, plastic and paper;

fixtures: geometric lampshades for lamps can also be made with your own hands from wooden sticks or ordered ready-made from a master;

candlesticks;

a photo zone with geometric prints can be built both on the street and indoors, everything will depend on the weather;

the use of geometry in the design of a book or a stand for the wishes of guests, as well as other accessories: banquet cards, table numbers, a box for rings.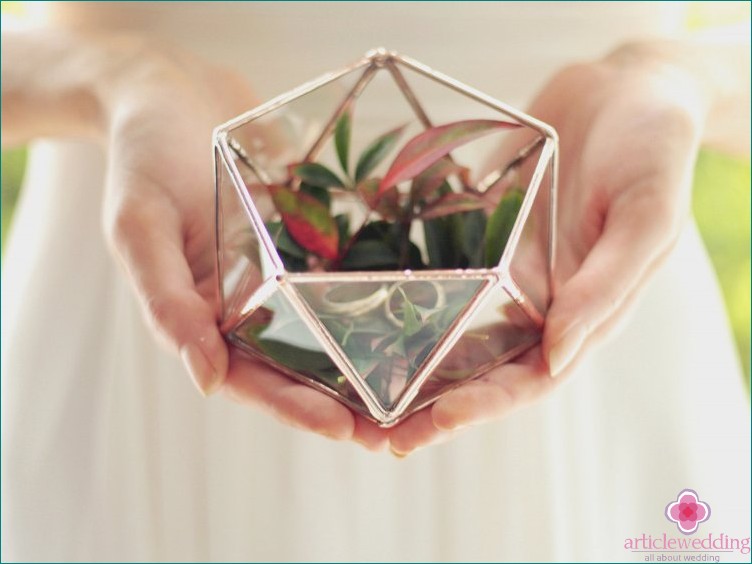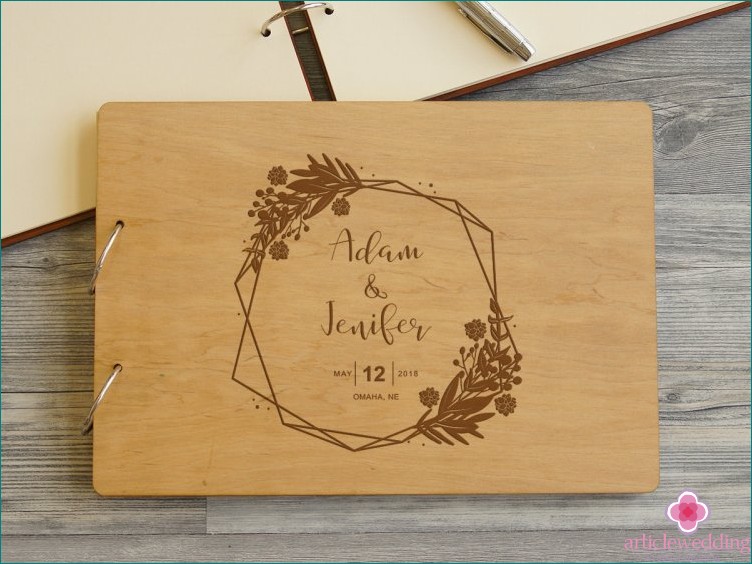 Table decoration
Geometric motifs at the wedding must be present in the decoration of tables. Moreover, they can be decorated both the same way and with differences, for example, in the style of a square, rhombus, circle, etc. The table itself can have a certain shape, it is worth choosing a tablecloth with a print, and also use suitable dishes and accessories. Today, the market has a huge selection of plates, cups and glasses of various shapes and with diverse images - all this allows you to withstand the geometric style in the design of your wedding.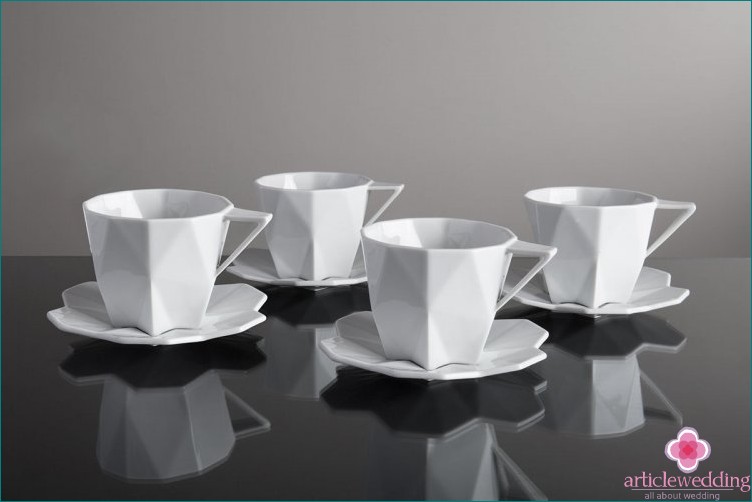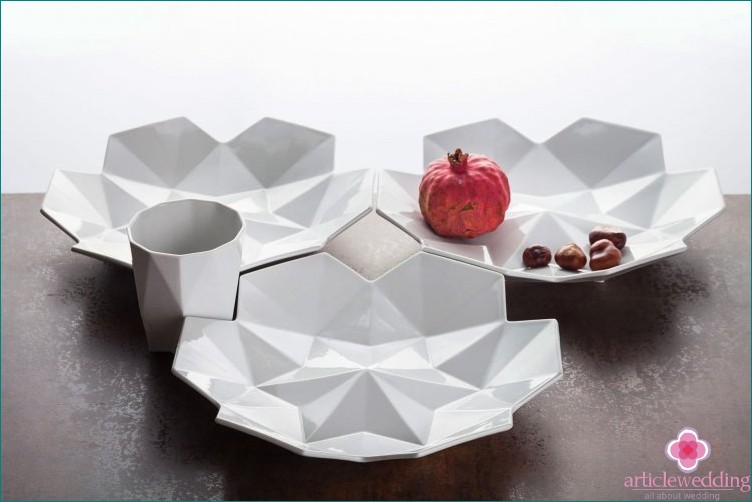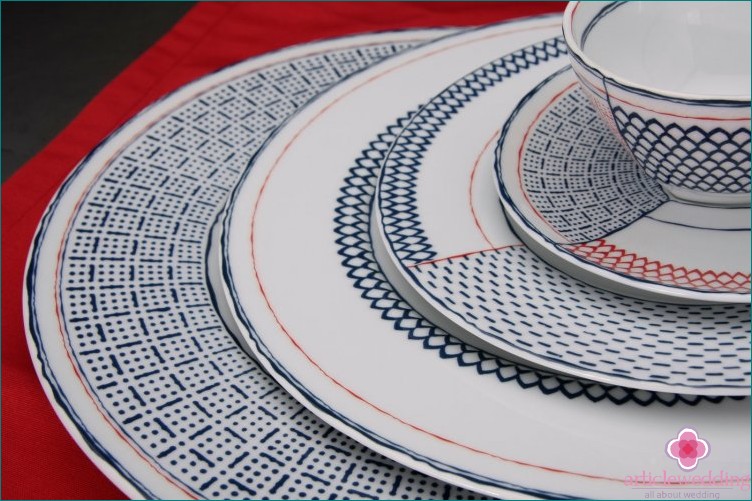 Do not forget about such trifles as cards for seating guests: they can be cut out in the shape of figures or even made voluminous using the origami technique. If flowers are used in the decor of tables, place them in transparent florariums with contours - they have long been at the peak of popularity in interior design, and at a wedding in the style of geometry they will be very relevant.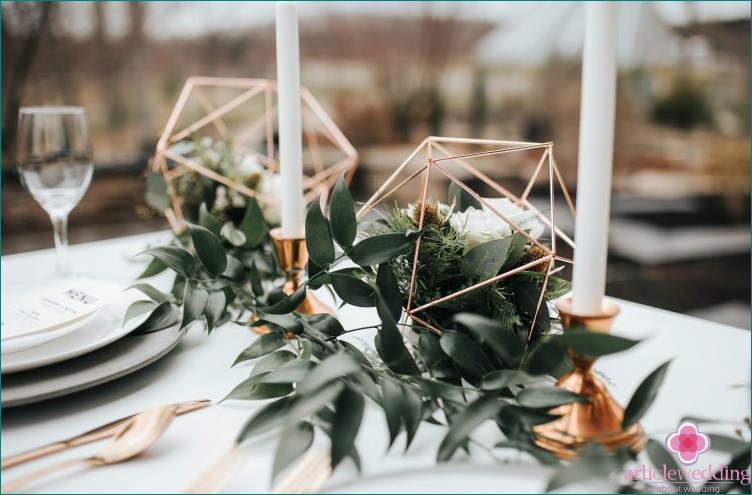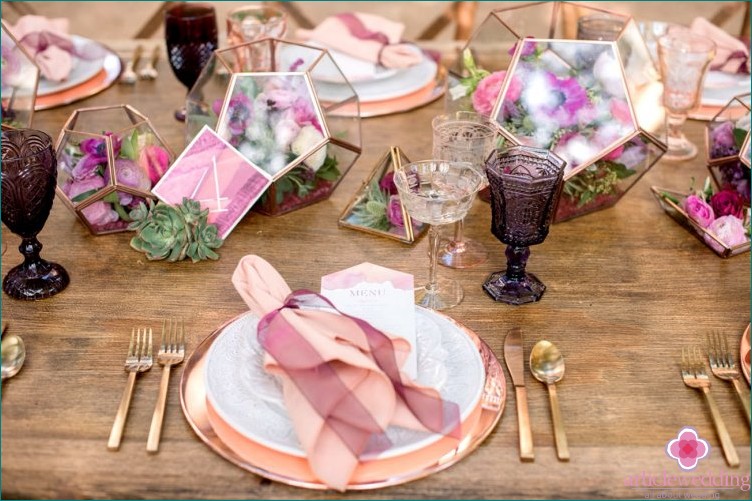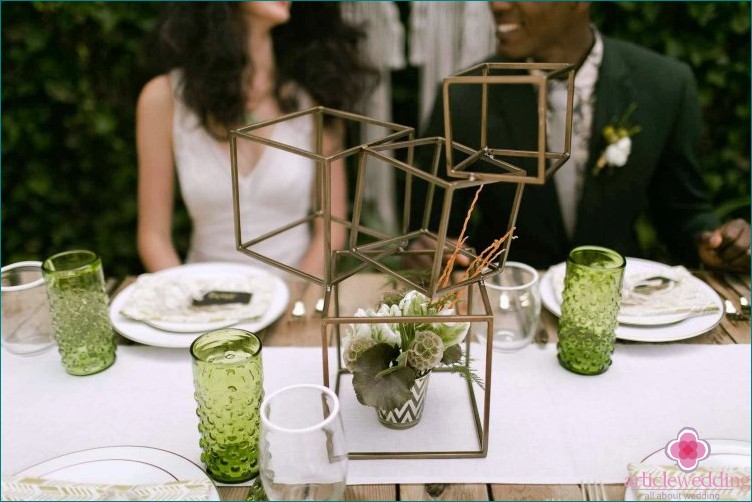 Treats for guests
Not only table decor should be given attention to when decorating in the geometry style, but also dishes. Everything is simple here: ask the cook to prepare and arrange dishes in a given theme in advance - this usually does not cause problems. In the arsenal of an experienced chef there are always many forms for laying out salads, side dishes, appetizers and meat dishes.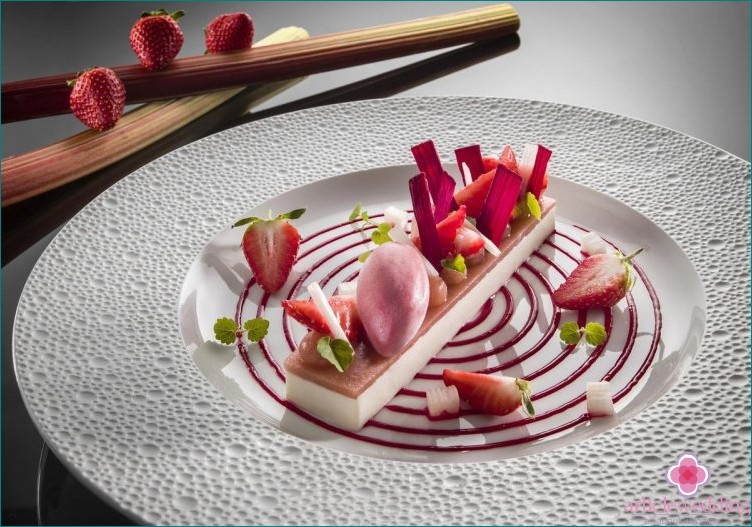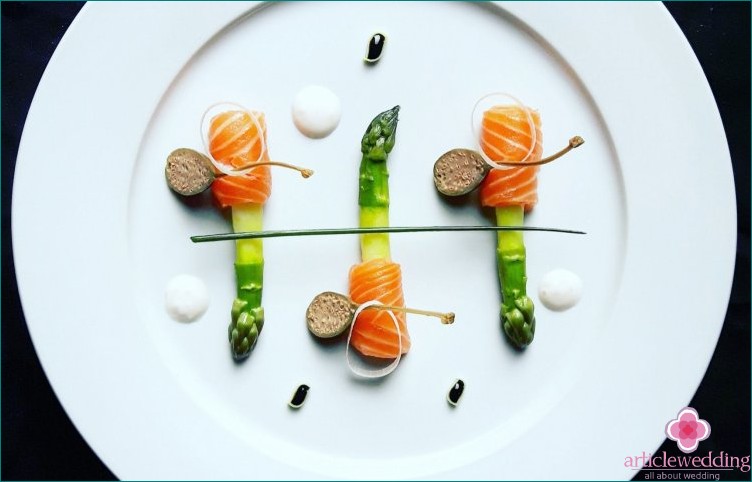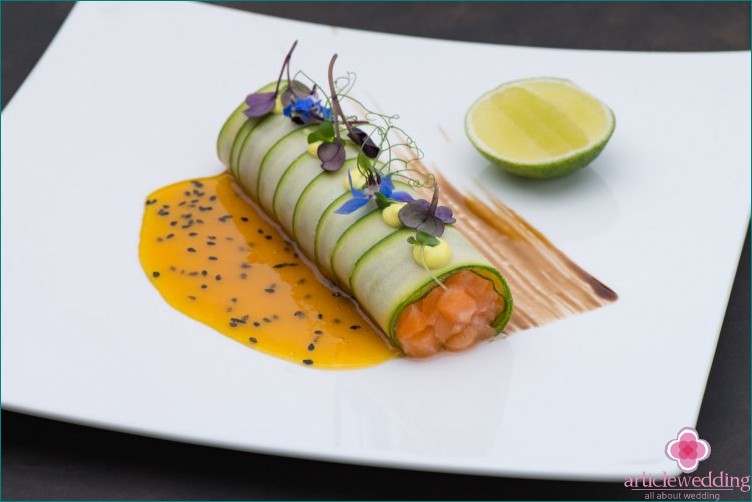 Also pay attention to the candy bar, which must be further decorated in the chosen style. As treats, you can use round macaroons, spherical sweets, canapes in the form of squares and rectangles, triangular cookies, trapezoid cupcakes and much more. And the highlight of the program - a wedding cake - can have both an unusual shape and a special decor.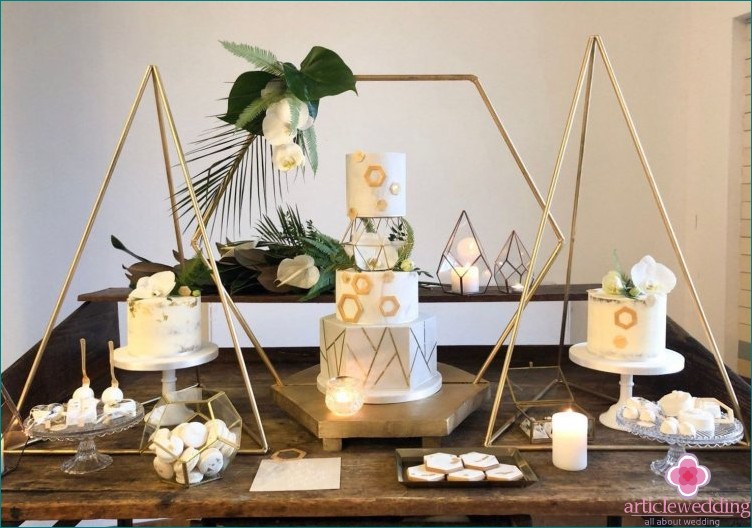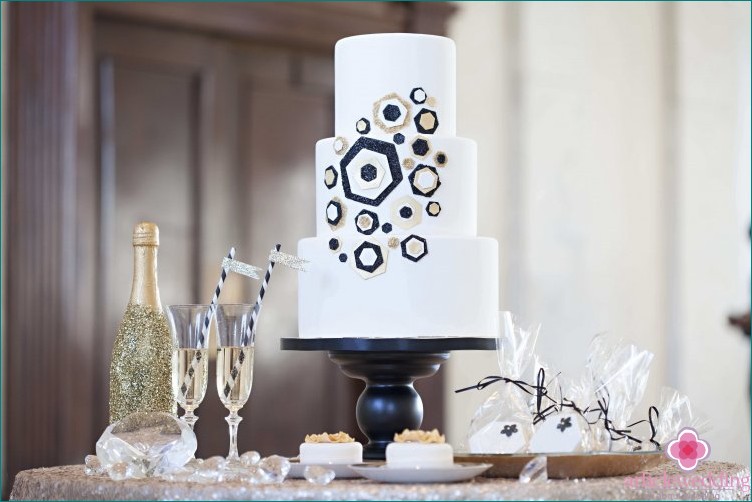 The portal will always share with you useful information about what a geometry style wedding is and how to organize such a stylish celebration. If you take at least a couple of ideas and adapt them for yourself, we are sure that you will have a spectacular wedding that will be remembered by your guests for a long time!