Contents
---
---
The word rustik is translated as rustic. This style is famous for its simplicity. This is precisely his main nuance and feature that distinguishes him from all other wedding styles. Simplicity is guessed in everything: in the image of a bride and groom, decorating a place for registration and arranging a wedding banquet. Ease of choosing different colors, decoration of a wedding party, selection of various accessories and much more. But let's talk about everything in order!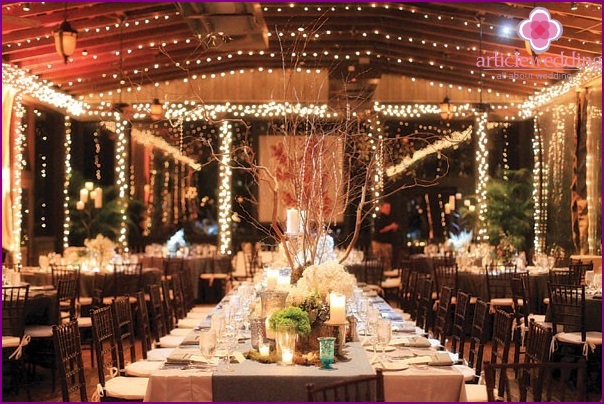 The image of the newlyweds
There is no rigor and crinoline in this style. That is, the bride and groom should not have strict classic costumes. The bride's dress is usually simple and simple at such a wedding, no frills and additions.
You can opt for a sundress, which is slightly upgrade. As accessories, you can use a wreath consisting of wildflowers, and simple ballet shoes.
Do not make a complicated hairstyle. Just loosen the hair that will flow over your shoulders. Wedding make-up must also be natural.
The groom can be dressed in any jeans or some relaxed pants. The top button on the groom's shirt should be unfastened. To organically fit into the image of the bride in a sundress, the groom can casually tie a tie around his neck. The look is complemented by moccasins, a rustic straw hat and a light mess on the head..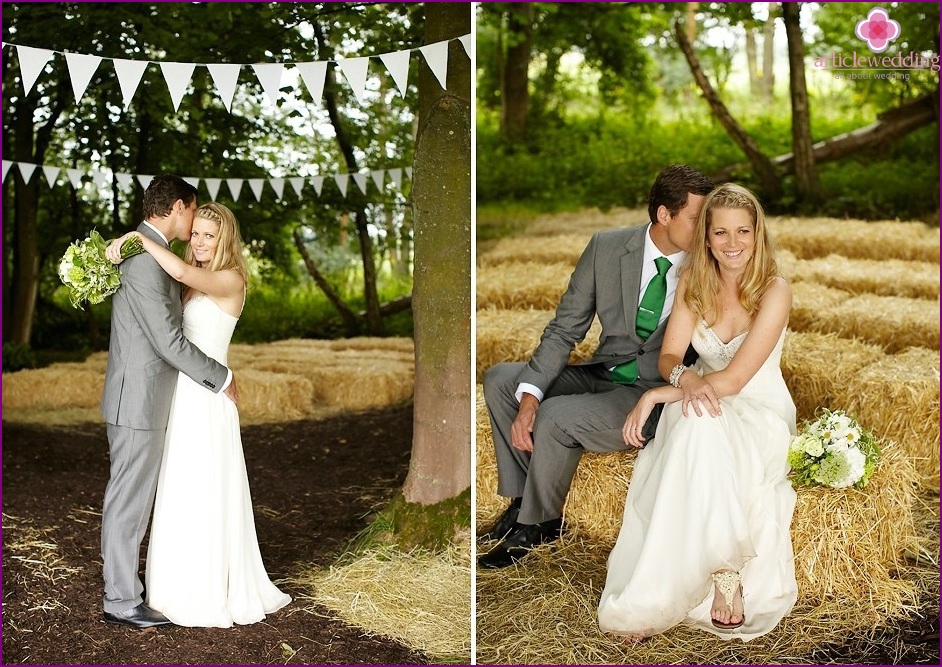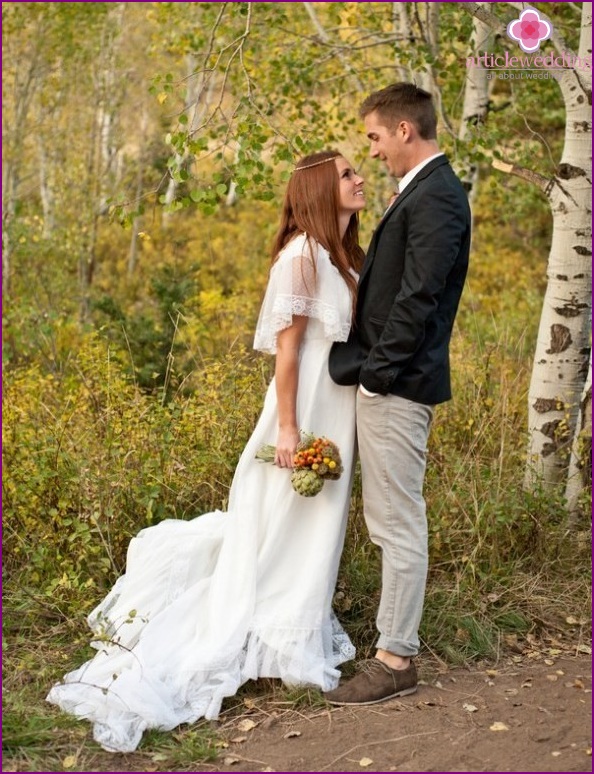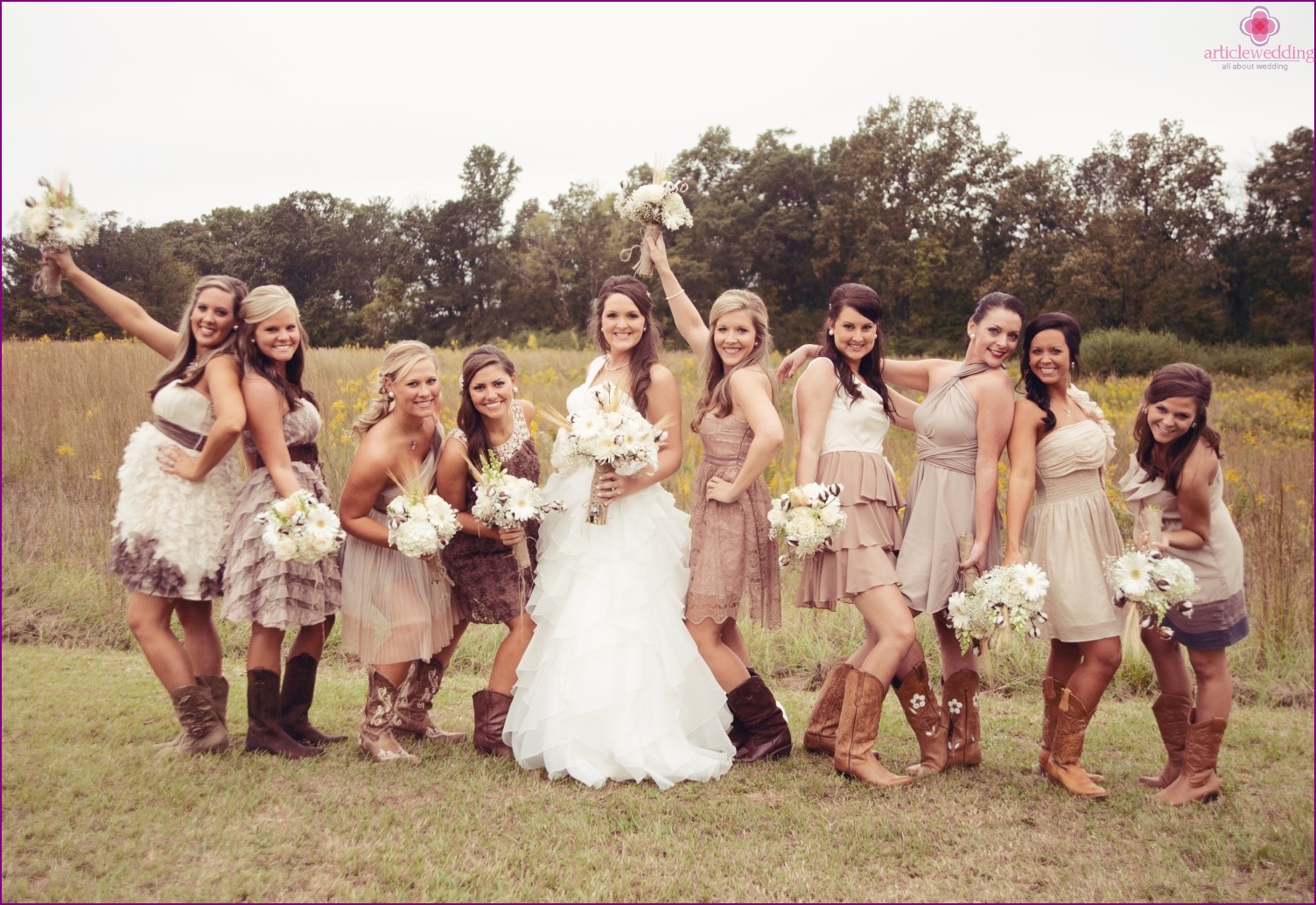 The bride's bouquet
The bride's bouquet should consist of the simplest flowers, preferably wildflowers. The highlight in the bouquet can be decorating it with cones and moss..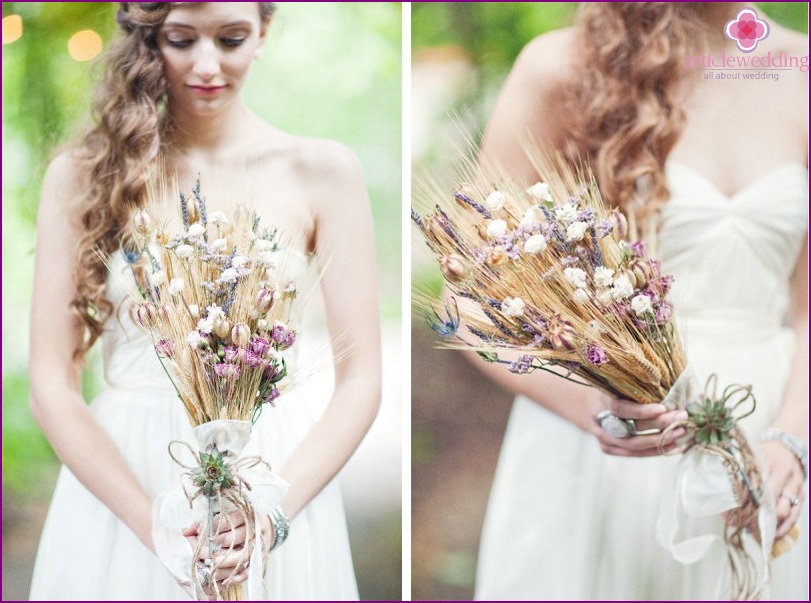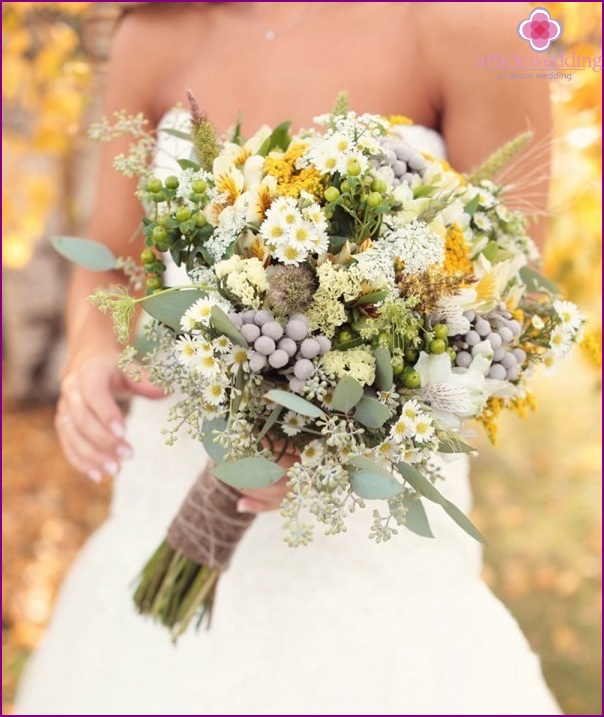 wedding ceremony
The main thing in this style is natural simplicity. This principle should be followed when organizing registration. If you want an arch, then it must certainly be from materials that have a natural origin, for example from branches. Our portal www.articlewedding.com recommends that you use decorating with the simplest fabrics - burlap - for this style..
And of course you can not do without beautiful wildflowers that organically fit into the design. It is possible that the arch will not be needed if there is some kind of picturesque tree that can be decorated with various materials. Instead of chairs for dear guests, you can use compressed hay cubes, on which burlap fabric will be scattered carelessly.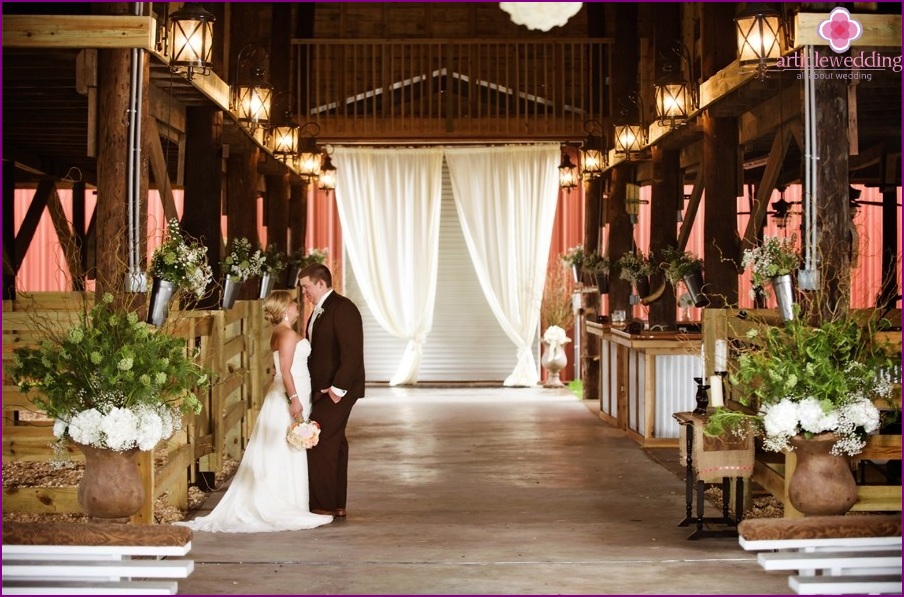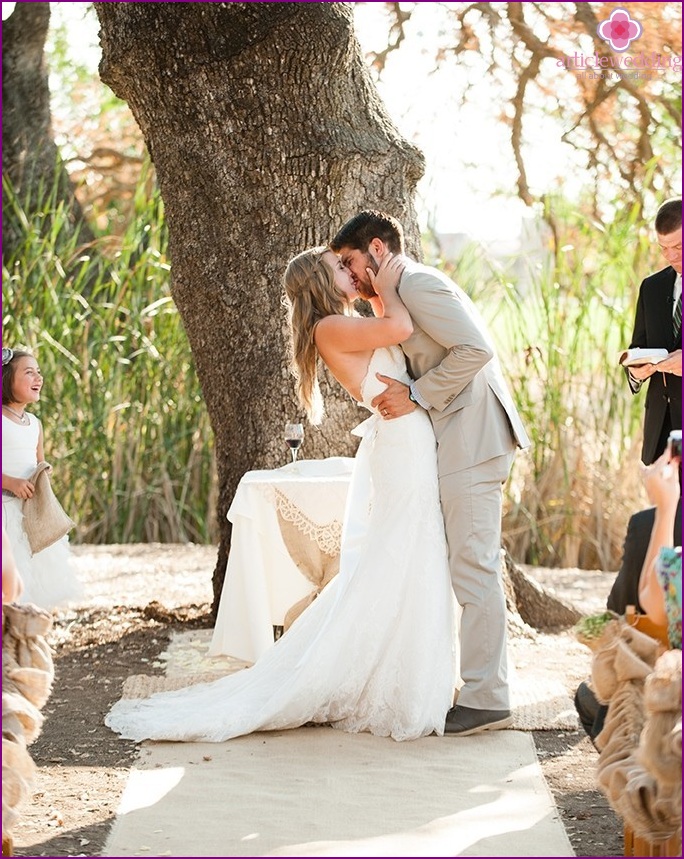 Wedding place
Portal Svadebka.vs recommends an outdoor area for such a wedding style. That is, it is better to spend outdoor wedding. You can arrange a wedding celebration in the fields with haystacks or under the crowns of old large trees.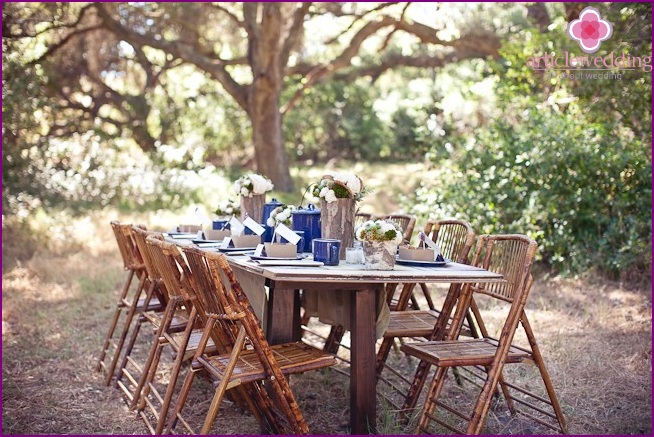 If the weather turns bad
If the weather suddenly turns bad, you can use some kind of tent or a wooden house. When decorating a wedding, it is necessary to use twigs of dried plants, wildflowers in the tent. You can also use smart glass painted cans, or you can even bring small haystacks to the hall. Everything connected with the village can be used in the design of the premises.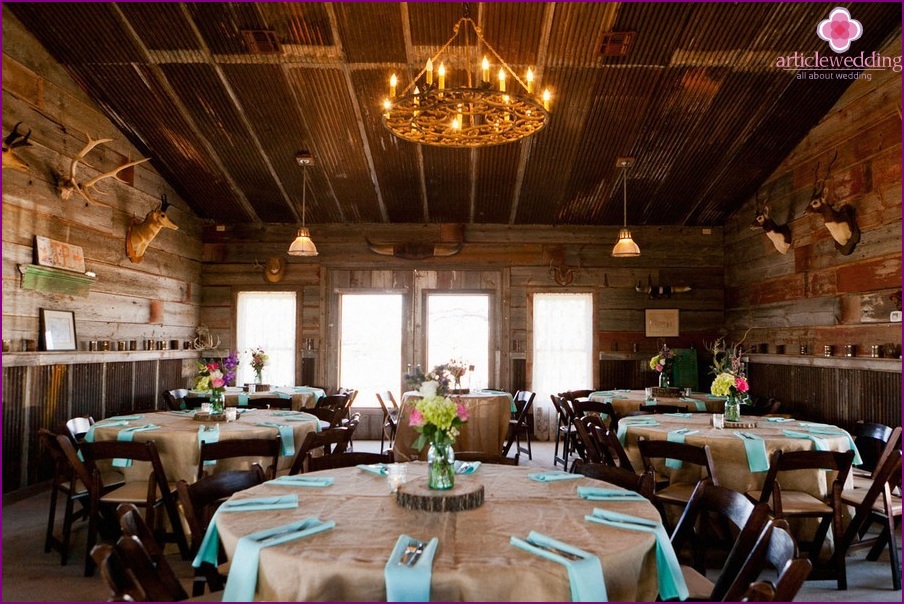 In the rustic style, family heirlooms that we have left from the grandparents that are available in almost every family can and should be used. This will bring a certain flavor to the atmosphere of the holiday and help make it unusual. In addition, heirlooms will help to feel the continuity of generations.
Banquet
At a wedding in a rustic style there should not be any gourmet dishes and expensive wines. At this wedding, you need to use simple rustic dishes: baked potatoes, various pickles, vegetable and meat stews and homemade wine.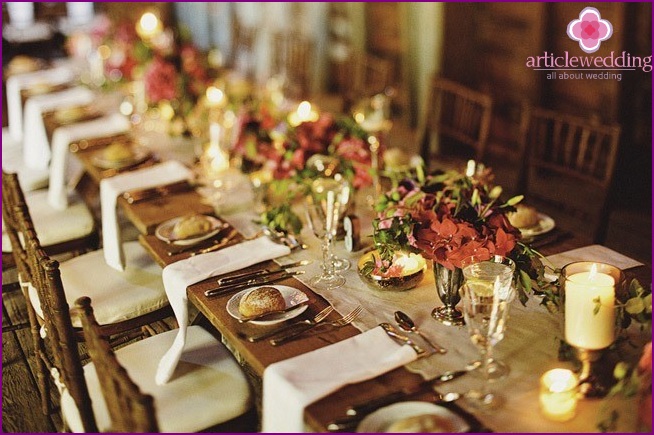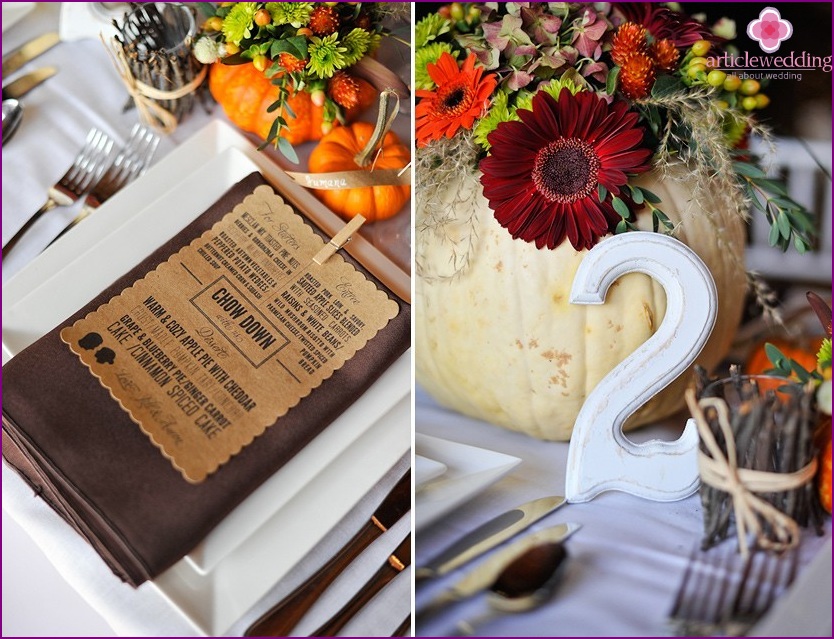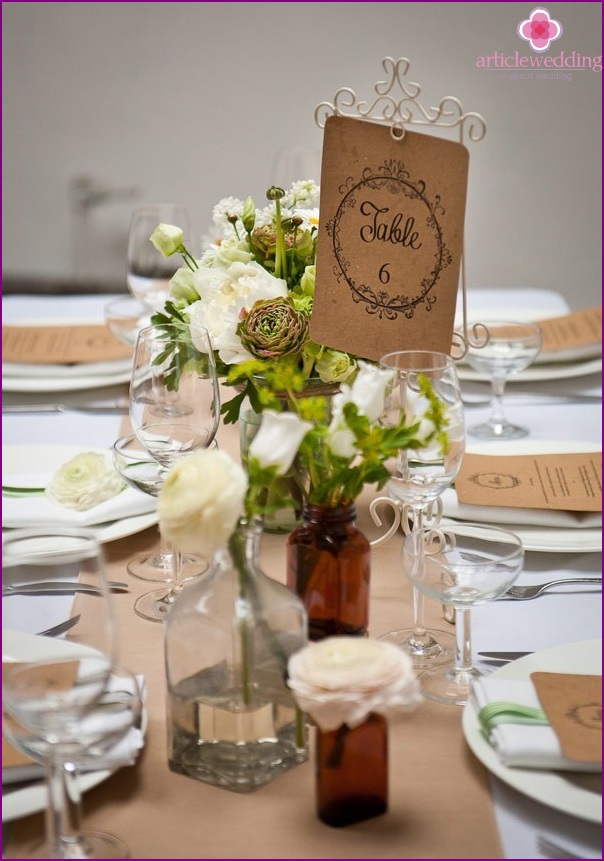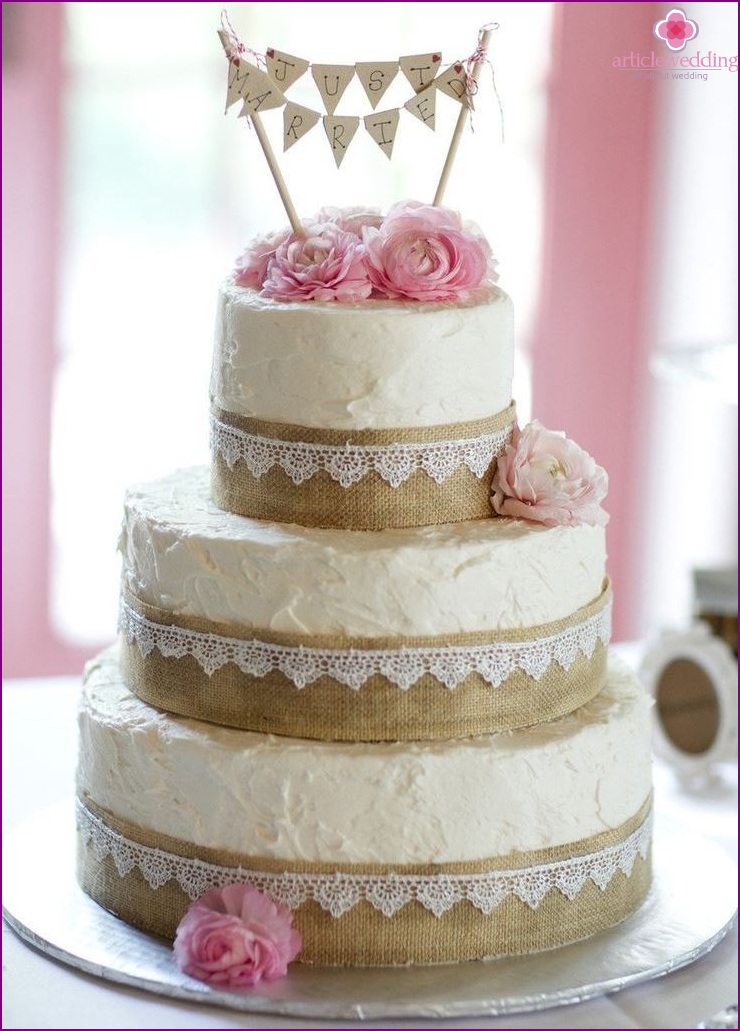 A wedding in a rustic style will win the hearts of your guests, because they have never attended such a cozy, homely wedding!