Contents
---
---
Designers unanimously call the mint color the king of the 2015 wedding season. Despite the fact that a gentle pastel color, it seems, is more suitable for spring, the mint color will have to be on the table at any time of the year. The main thing is the right combination.
Color tandem
Despite all its beauty and tenderness, the wedding portal www.articlewedding.com advises not to make mint color the sovereign master of the wedding celebration. Its proximity with certain shades of the color palette will look more beautiful and stylish. A play of contrasts or, on the contrary, consistency in a single style is a matter of taste. A summer wedding can be decorated with a delicious combination of mint and lemon shades. The brightness of the autumn wedding will emphasize the proximity of delicate menthol and magical blue. And on cold winter days, "warm" yourself with soft turquoise, spectacular red or deep burgundy shades.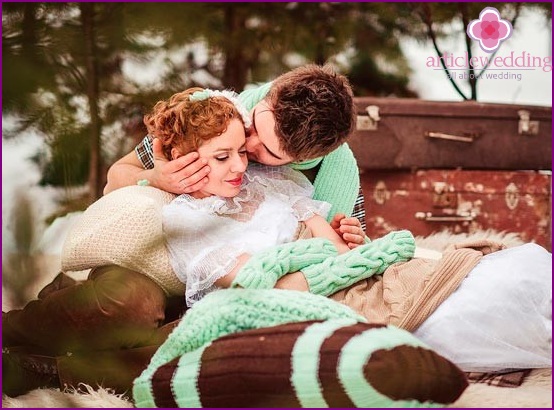 Mint color is very fond of all shades of golden, peach and beige. Fresh and interesting colorize wedding ceremony tandem menthol lavender.
Crumpled outfit ... that is, mint!
Mint wedding suggests a consonant color in dresses, both young and guests. You can make pale blue or green color base. But speckles of mint shades will look much more spectacular. Say, "menthol" shoes and a belt of a wedding dress in tone. Or maybe chic earrings with chrysoberyls the color of sea foam? Or, nevertheless, the accompaniment of light turquoise varnish and ribbon in the hair?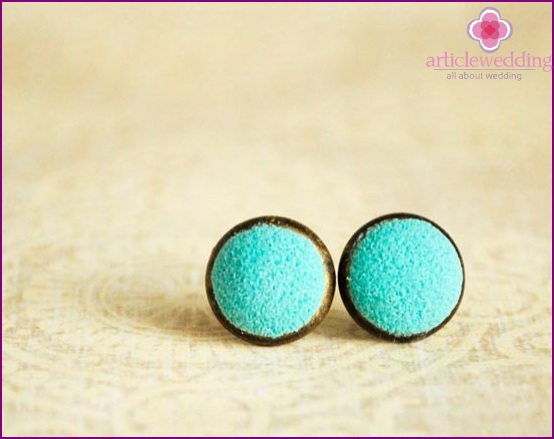 By the way, mint shades can advantageously beat outfits of bridesmaids. In photographs, such a "spectrum" will look very advantageous.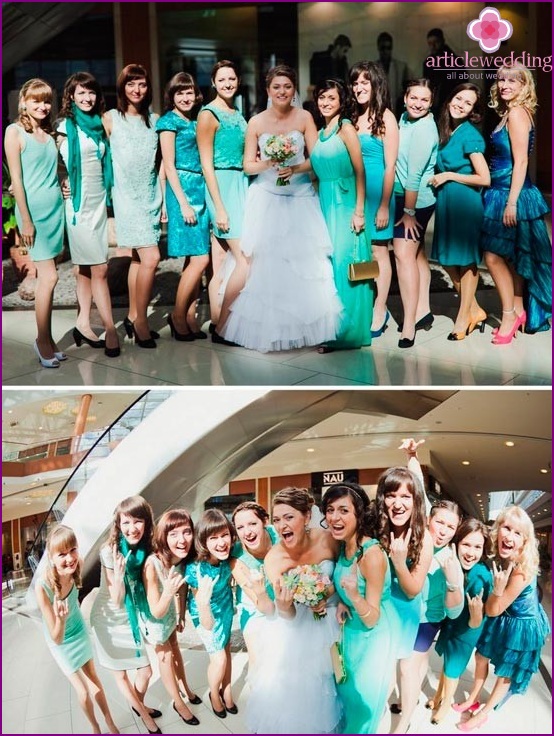 The male half of the wedding can be chosen both on elegant light suits and on trendy accessories. Ties, butterflies, neckerchiefs, buttonholes, cufflinks - the choice is fabulously wide.
Stylish decor of a wedding party
It is logical that a mint wedding celebration is an abundance of blue and green shades. In everything from invitations to the wedding menu. Of course, keep the mint freshness and especially the color on wedding invitations it will be hard. Therefore, it is worthwhile to turn to textiles, leather, ribbons of the corresponding tone.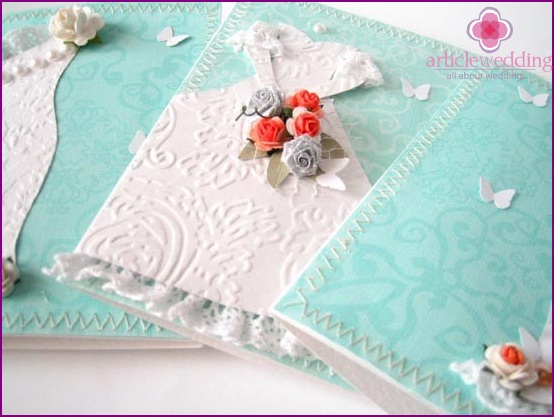 Gentle turquoise dishes and gilded or "gilded" cutlery will look very impressive. Mint bows on chairs, fragrant twigs and leaves of green lemon balm in bouquets, buttonholes and miniature vases on tables.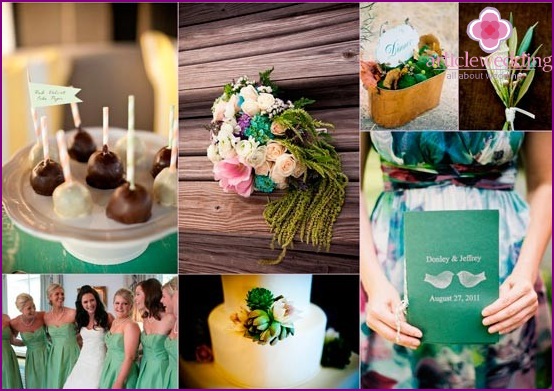 Listen to the site www.articlewedding.com and duplicate the mint range in a composition of candles, in garlands of balls. It will look impressive. Even a traditional slide of champagne can be decorated with menthol syrup. And do not forget to fill guests' bonbonnieres with delicious mint sweets in bright candy wrappers!
Mint Flavored
The chosen theme is simply obliged to find a response in the wedding menu. Unfortunately, organically incorporating mint into the main course is difficult. If only because in the process of cooking the necessary colors are lost.
But desserts are a grateful "ground" for the scope of mint fantasy. A scattering of menthol pasta, glazed cap-cakes, dessert design with elegant sprigs of mint. Complex compositions of fruits, flower petals and leaves of lemon balm. Mojito will surely be a hit for mint wedding drinks. What, if not the cool freshness of lime and mint, will cool the heated guests and support the main theme of the wedding celebration?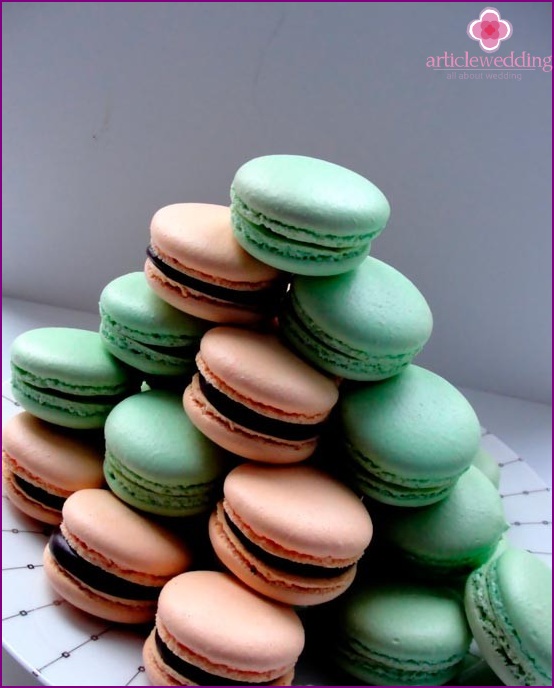 The main guest of the banquet, and we are now talking about wedding cake, It will also not be amiss to stylize in a common theme. Colored glaze, contrasting patterns, carved marzipan leaves of mint, or maybe the cake itself can be fashioned as a mint branch? But even more successful option is a wedding cake with a mint flavor. An explosive mixture of sweetness and freshness will be remembered by your guests for a long time!