Contents
---
---
A pirate-style wedding is a bright and unusual celebration that your guests will remember for a long time. After all, none of the wedding styles will give such fun, positive and laughter!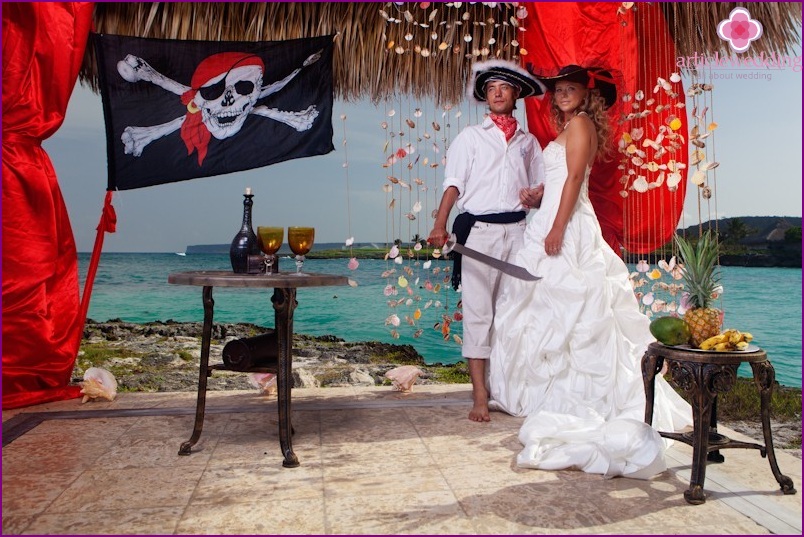 Wedding invitations
A pirate-style wedding should begin with the preparation and distribution invitations on holiday. The invitation can be issued in the form of a bottle filled with sand and shells and, of course, a letter that is written on old paper, the edges of which can be burned a little. Guests will surely be amazed and intrigued by this invitation.!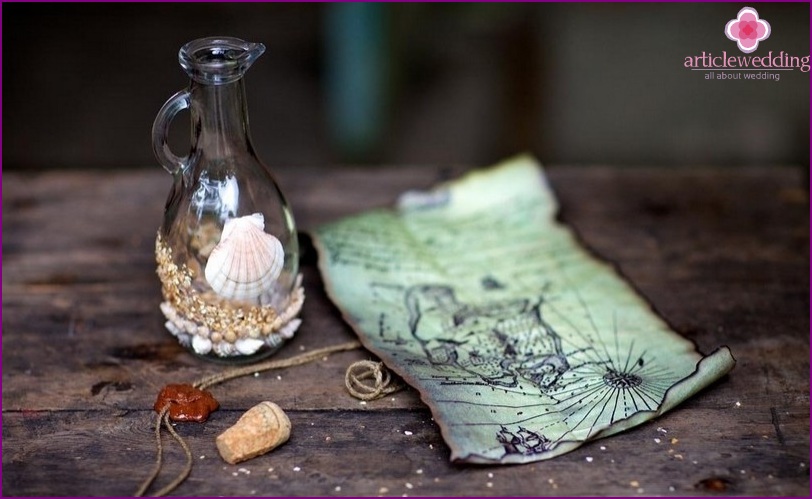 Newlyweds outfits
Happy newlyweds can choose both pirate outfits and costumes in the style of the Middle Ages. In the first case, it will be a black and white sailor suit with pants or a pirate dress. If you choose a medieval style (where the bride will be held hostage by a pirate), then pay attention to the bride's dress was made of expensive and beautiful fabrics. Do not forget about the appropriate jewelry that will harmoniously fit into the style of the evening (marine or medieval style).
For the groom, the choice is obvious: a black and white sailor suit, black pants and, of course, a pirate hat or bandana. All kinds of accessories in the form of crossed knives and skulls can be beautifully beaten in details by the groom's boutonnieres, bandana, etc..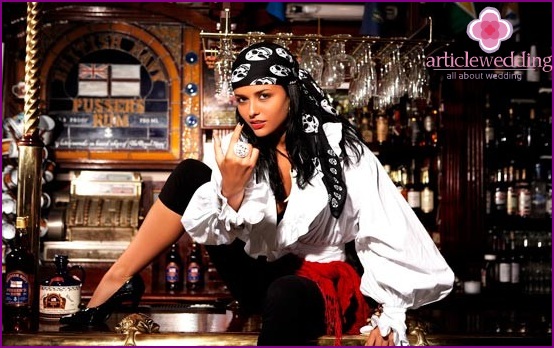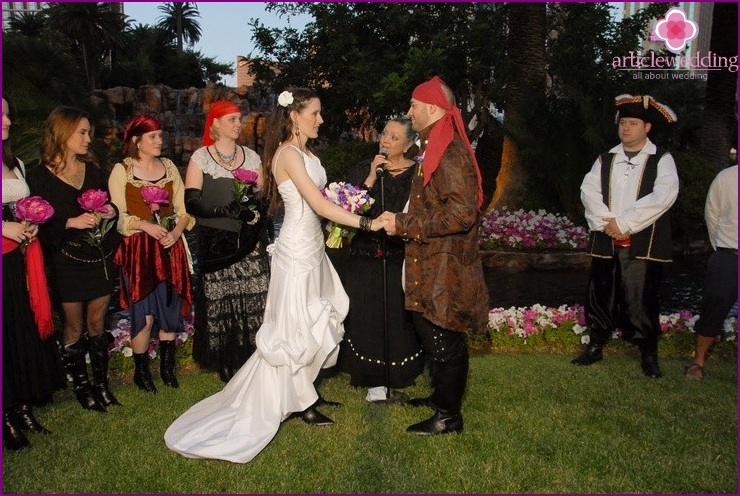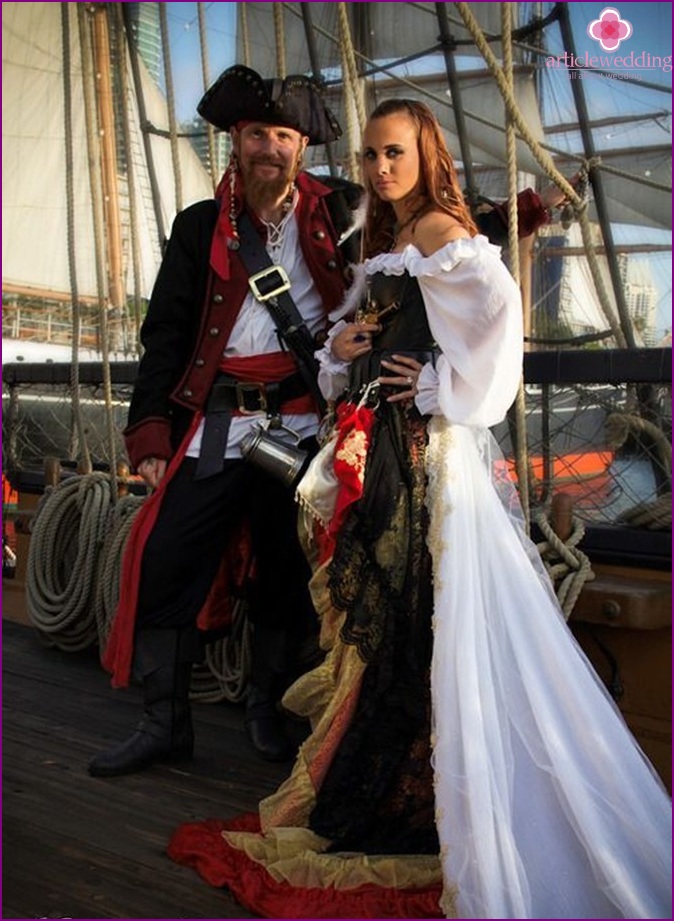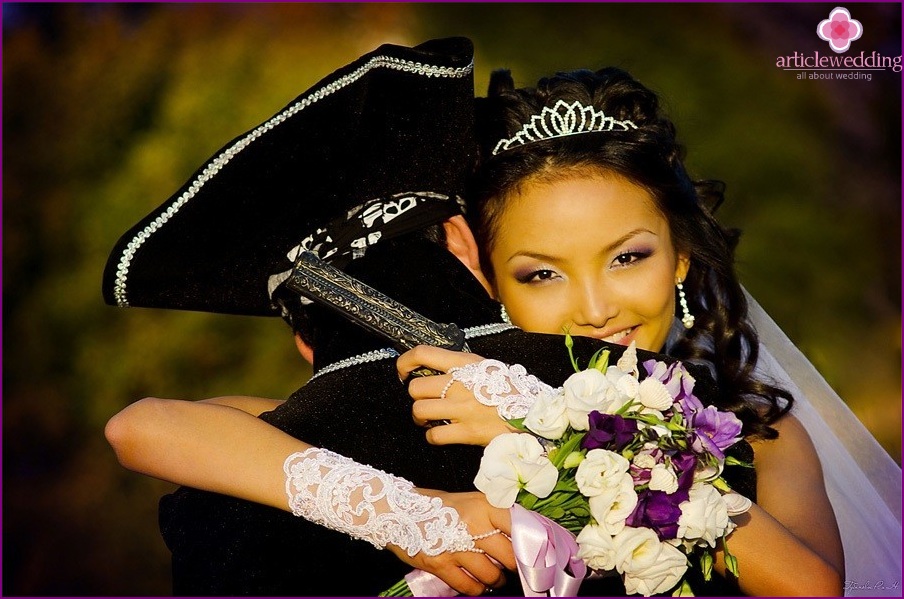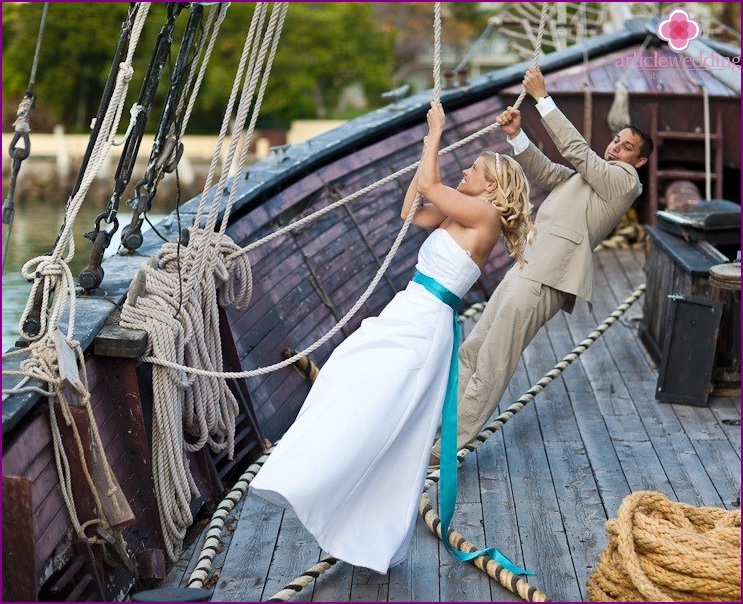 Queen pirate bouquet
Our portal www.articlewedding.com will tell you about the bouquet of the pirate queen. A bouquet of a happy bride should be made up of plants that imitate algae with pearls that are tangled in them, as well as corals and shells. If the wedding takes place in the winter, then you can use cones and needles in the bouquet. With this bouquet you will feel like a storm of the seas and the queen of pirates!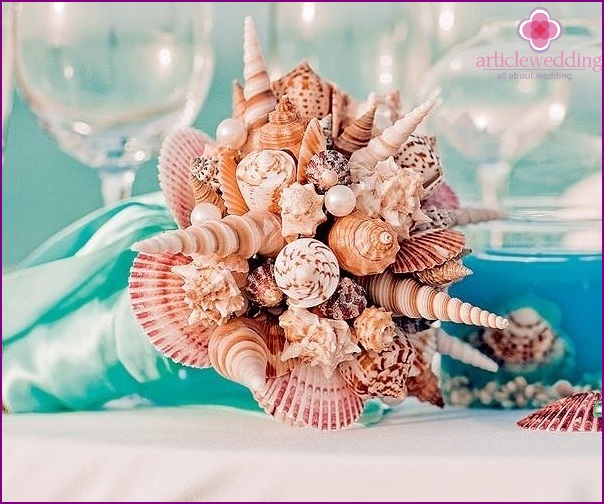 Guest outfits
Ideal for bridesmaids dresses from materials of green, heavenly and emerald colors. These colors will symbolize the endless sea. Hairpins or jewelry for shells, fish, starfish and other things related to the marine theme, as well as pearl beads and various fans, will look good in the hair of girlfriends. Here it is - the image of sea nymphs and mermaids that protect and surround the queen of the seas!
Friends of the groom, in order not to disturb the fun pirate atmosphere, should wear bright shirts, boots, bandanas, cocked hats with a painted jolly Roger. Let them have smoking pipes and stuff related to pirates. Guests can also be handed pistols or sabers.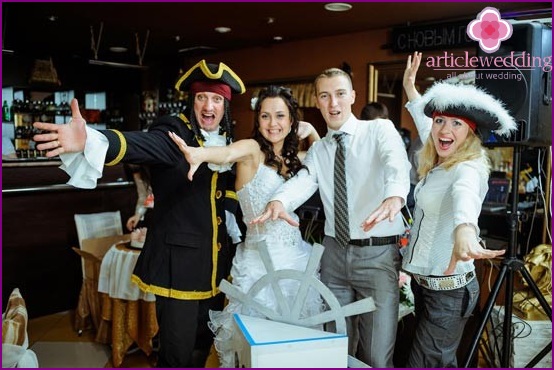 Music at the party
For a wedding in this style, it's worth hiring musicians whose repertoire includes songs about sea adventures, mermaids, etc. For some wedding scenes, the sound of the sea and the cries of seagulls are suitable as a background. Songs from cartoons and films about pirate adventures are well suited: "Pirates of the Caribbean", "Treasure Island" and so on.
Hall decoration and accessories
For this holiday, men's color themes are ideal, but with elegance and sophistication. Velvet and black color in combination with gold and red will fit very harmoniously into the theme.
Tablecloths for wedding tables should choose dark tones, and dishes can be gold tones. Decorate the wedding hall with treasure chests. A chest should also be standing next to the newlyweds. He will help in organizing wedding contests and tests. You can decorate the chest with flowers, put colored beads, beads on it and shower the chest with coins. You can use not real coins, but chocolate, sold in many stores.
Next to the chest, place candles that will play the role of a hearth. A great talking parrot will fit very well into the celebration. He will entertain guests and you, not letting you get bored.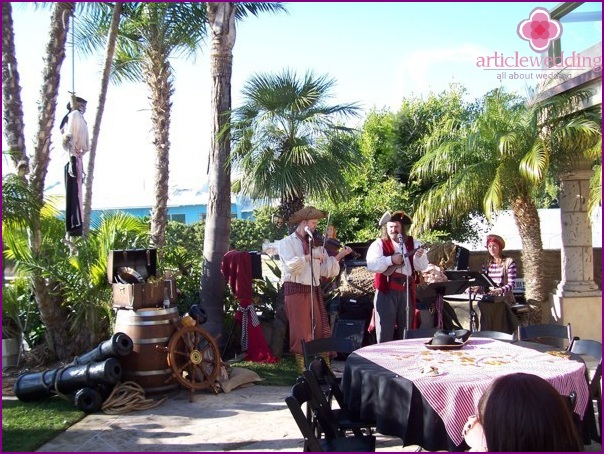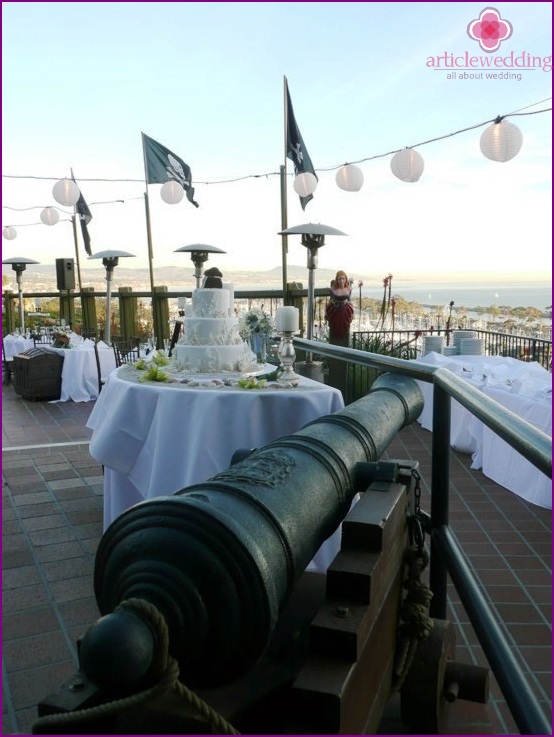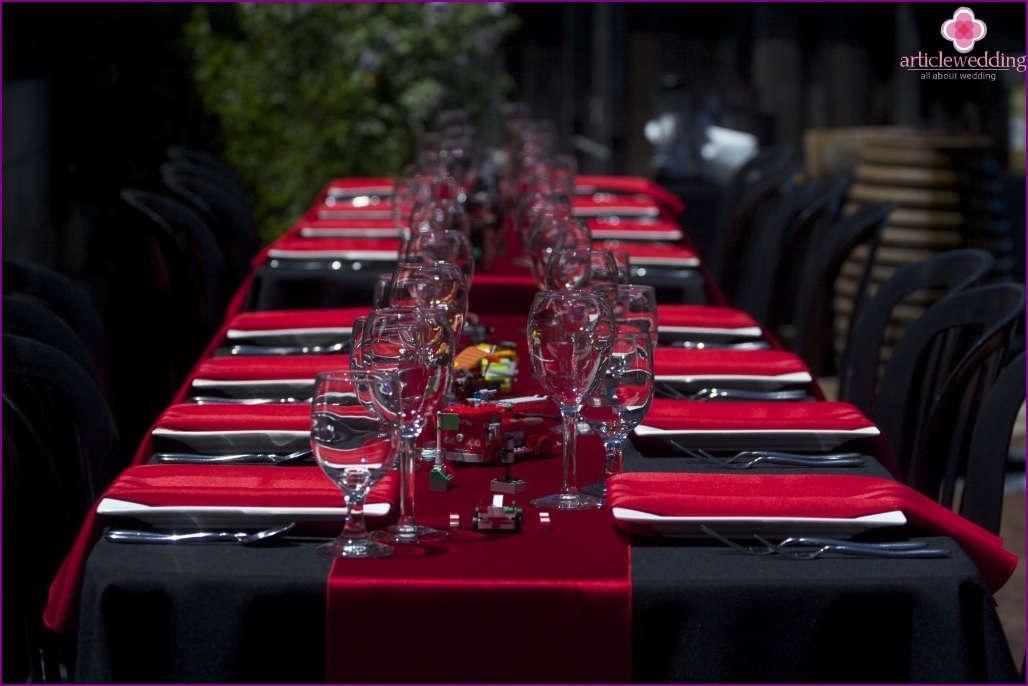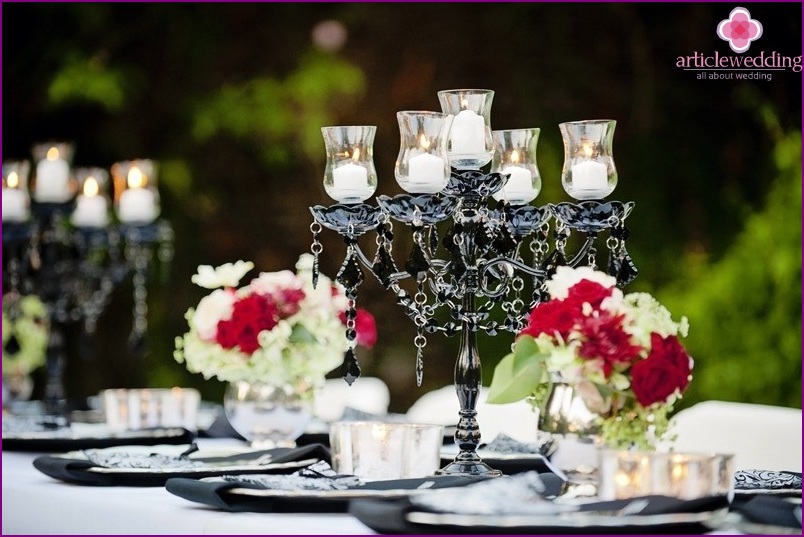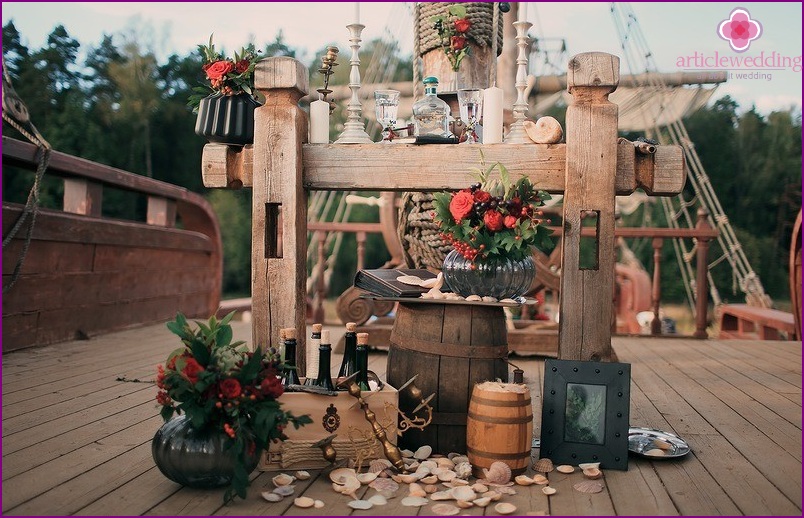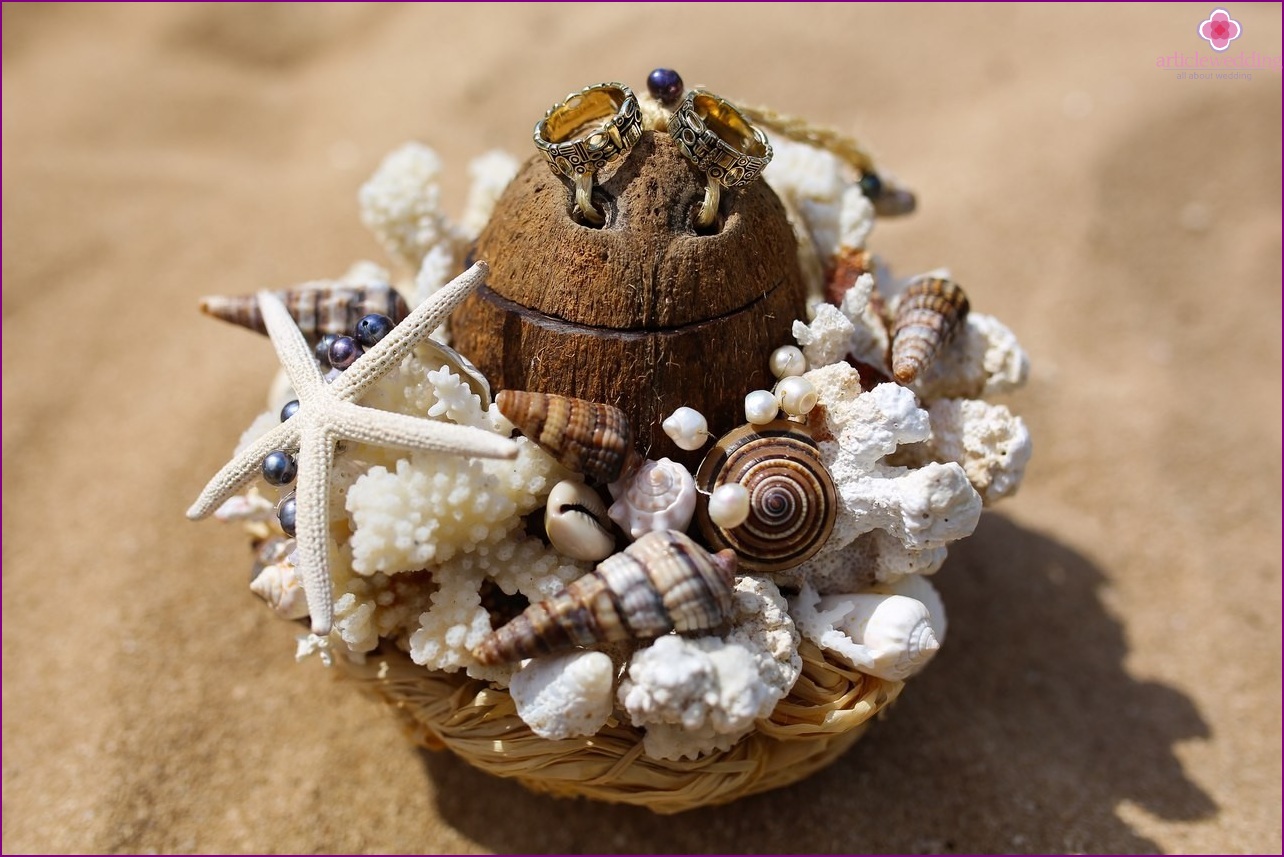 Wedding feast menu
For this style, a separate table where you can eat with your hands is perfect. The menu should include corn, turkey legs, chicken in various forms and slices of bread. And what is a pirate party without rum? ! It is a must drink for pirates.!
The final stage of the feast is a wedding cake, in the choice of which you can dream up. You can choose a multi-layer cake and decorate it again with coins and a flag with a "jolly roger".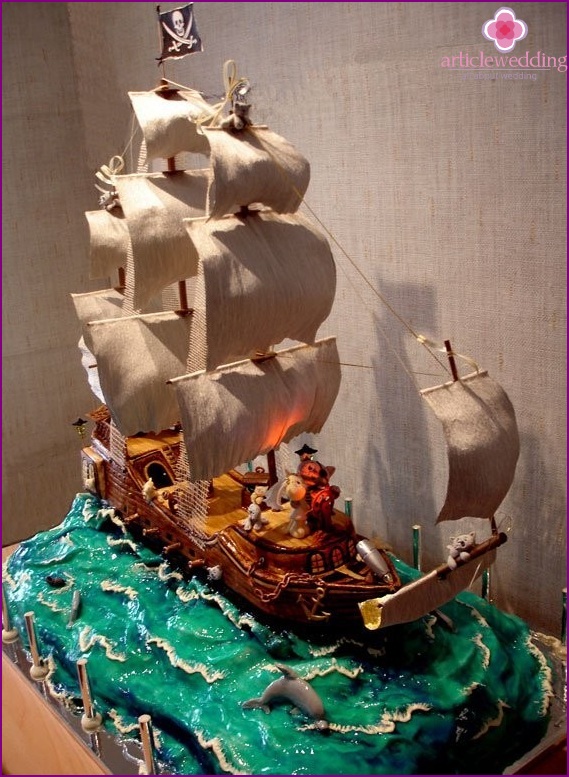 Our portal www.articlewedding.com told you about a pirate wedding. We hope that you choose this unusual wedding style. After all, then your celebration will be really fun, perky and bright!