Contents
---
---
Honey is a product with many beneficial properties and positive symbolism. It is associated with purity, inspiration, poetry, wisdom and bliss. Honey was considered the food of the gods and signified the sweetness of the Word of God. So why not make this wonderful treat the theme of celebration?
For weddings, honey-golden colors are perfect. Honey and bees can be the highlight of wedding decor and accessories. And, of course, honey treats are a great option for treats and bonbonnieres..
Honeymoon Outfits
The bride can opt for a white dress with gold trim. On the one hand, such an outfit will look quite traditional, on the other - fit into wedding style.
Another option is a laconic white dress in combination with a lush wreath of voluminous honey flowers. Stylish and bright!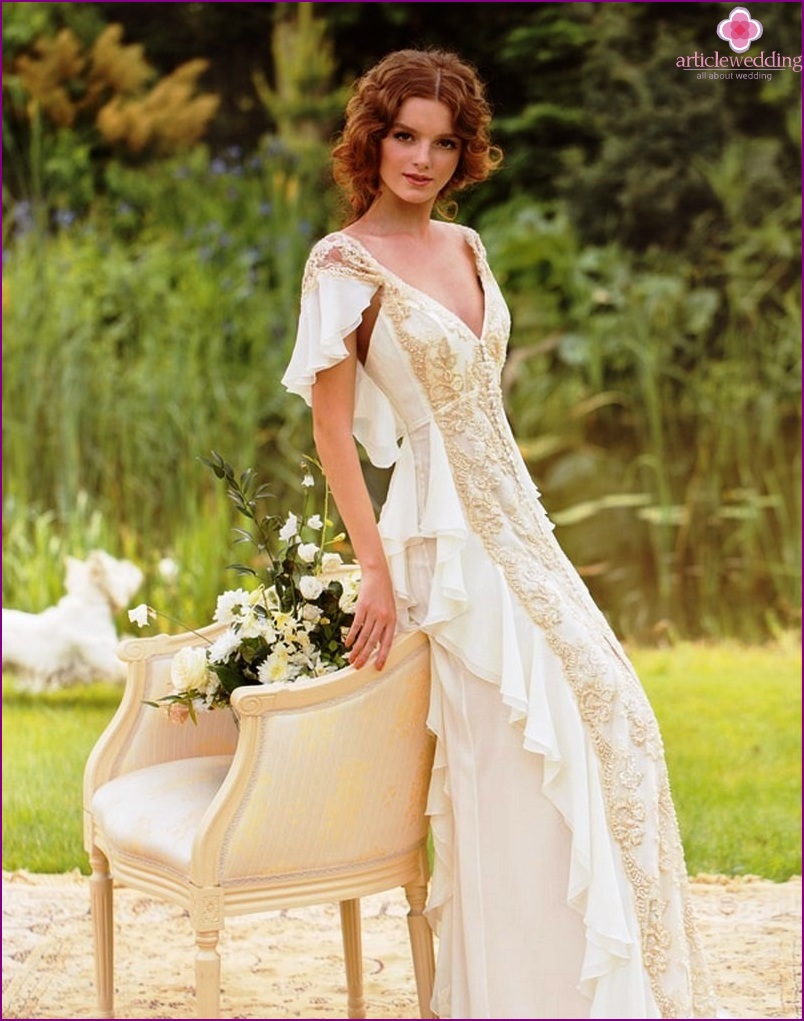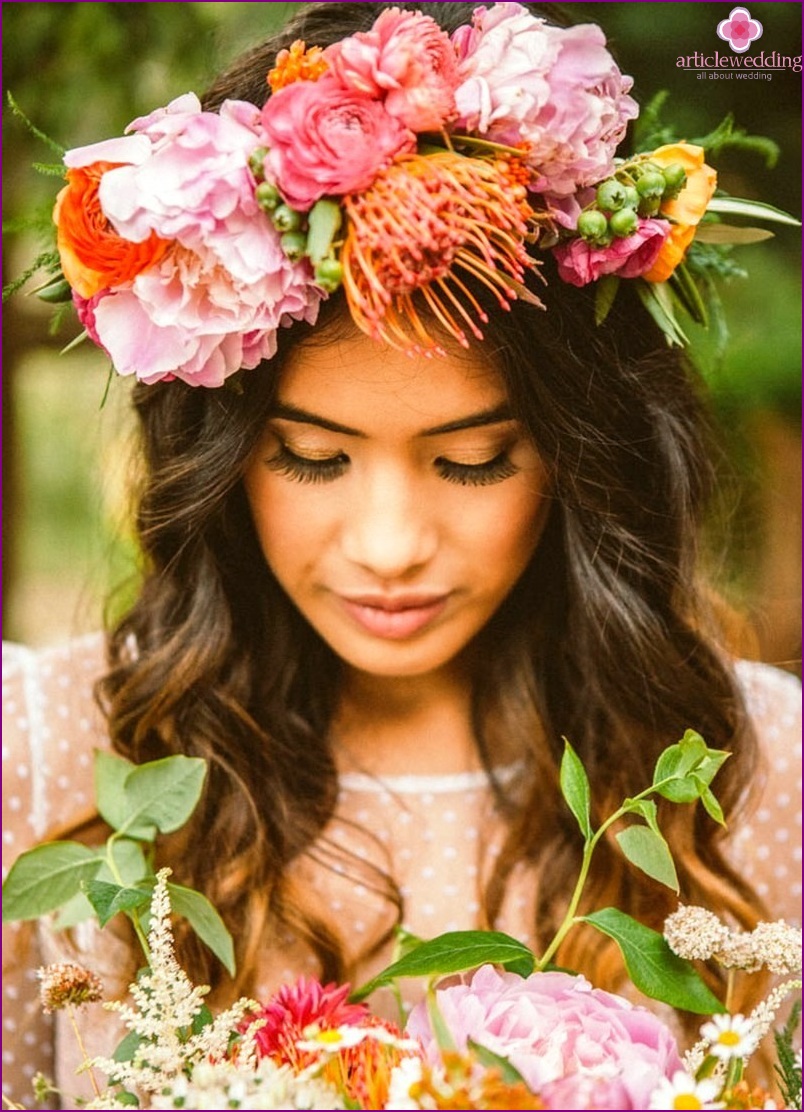 Accessories bride and groom
Almost any honey-golden accessory is suitable for a honey wedding. For the bride it can be shoes, a belt, jewelry, for the groom - a boutonniere, tie or bow tie. If a fun and mischievous wedding is planned, the groom can choose for himself a tie with a bright pattern - honeycombs or bees, the wedding portal offers www.articlewedding.com.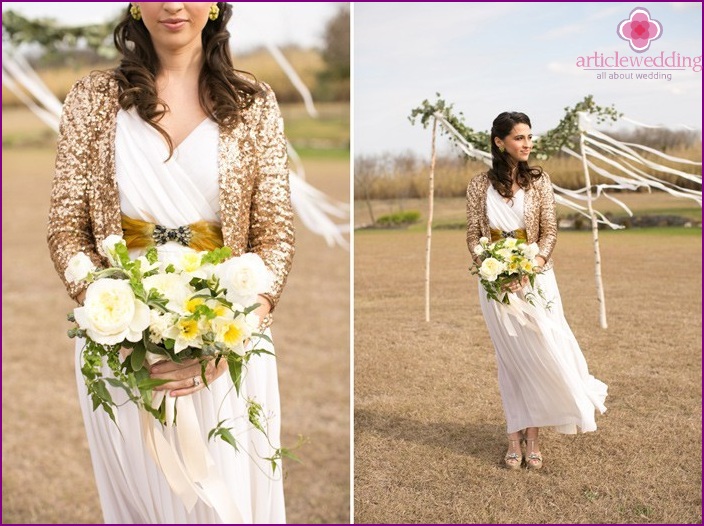 Flowers for the wedding
For a bride's bouquet, a combination of white and yellow flowers is suitable. Add some meadow herbs, greens to it, decorate the stem of the bouquet in the style of shabby chic. If you want, you can make a couple of bees from polymer clay and fix them on a flower or decorate the stem of the bouquet with an appropriate brooch.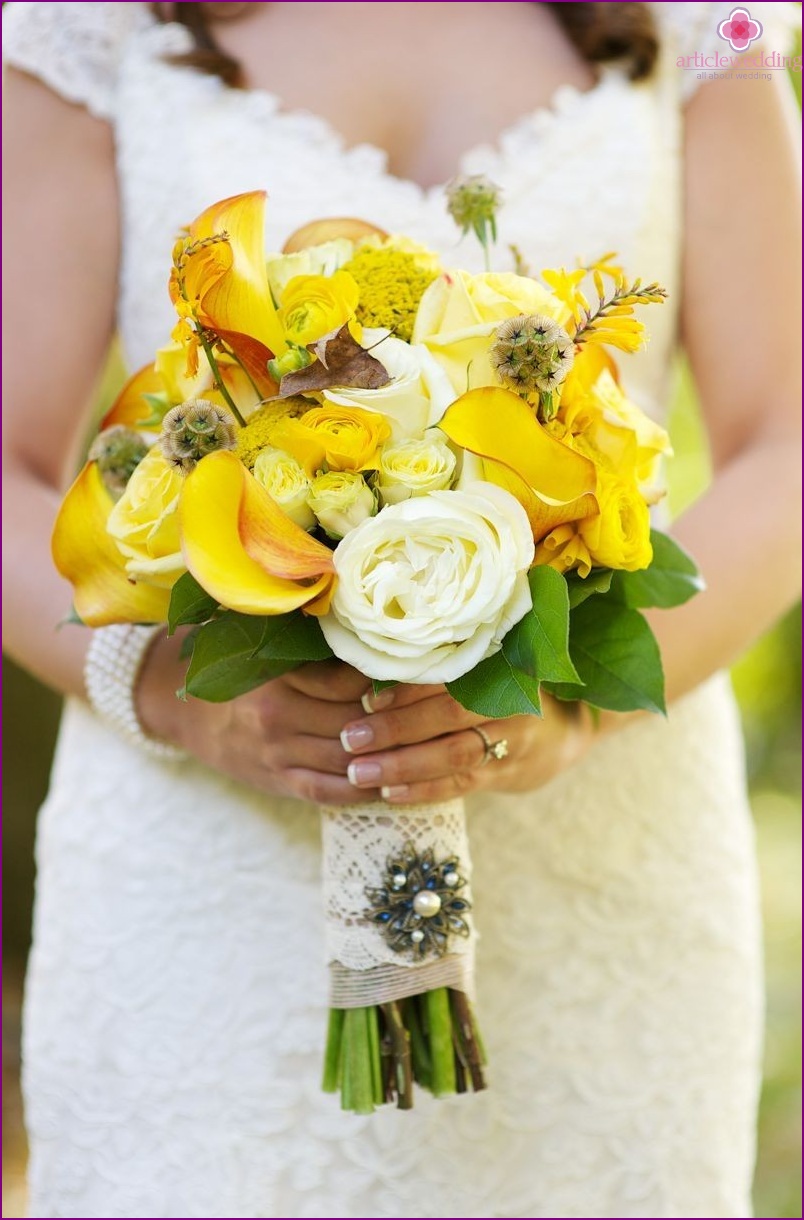 Honeymoon Photoshoot
For a honey wedding, just go for a walk in the grove or meadow and have a little picnic there. As photo shoot props you can use the inscriptions in yellow, which used the play of the English words "bee" (bee) and "to be" (be).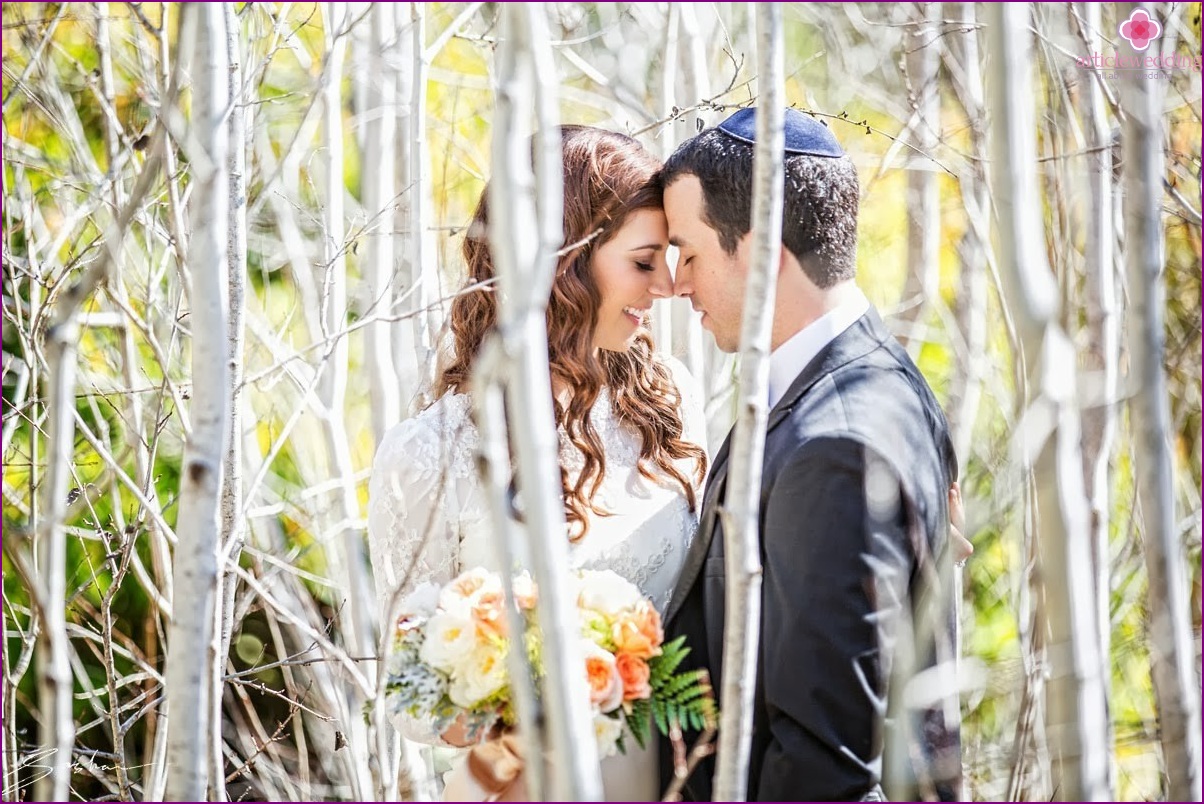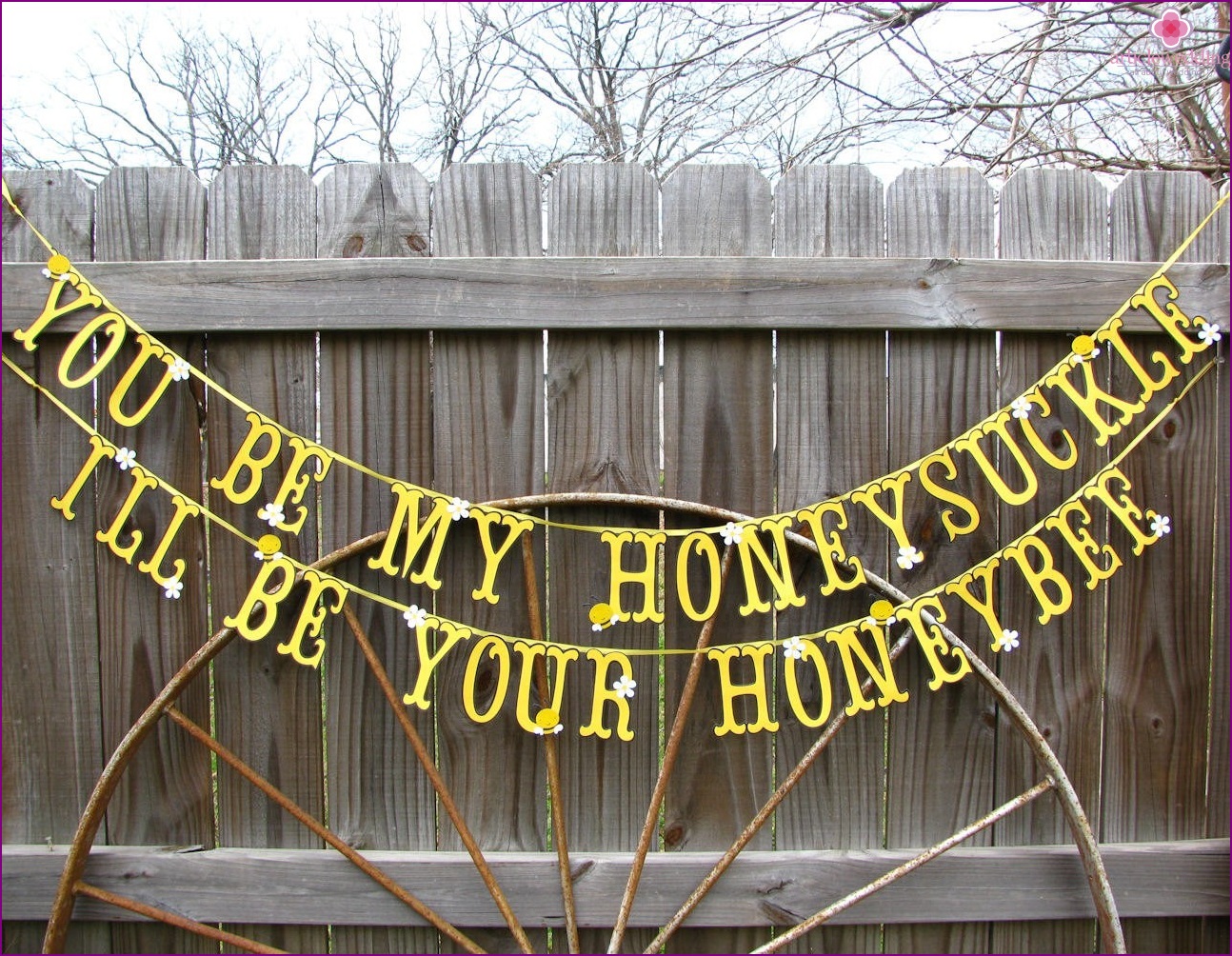 Honeymoon Decoration
A honey wedding is a good option for a cozy family celebration, when the guest list consists of only the closest relatives. Then the whole holiday can be arranged in a country house.
To create the appropriate color, use the style of shabby chic. Woven and linen tablecloths with lace trim look beautiful. Various jars, bouquets of simple wildflowers, decorative watering cans, wooden objects, etc. are useful for decoration..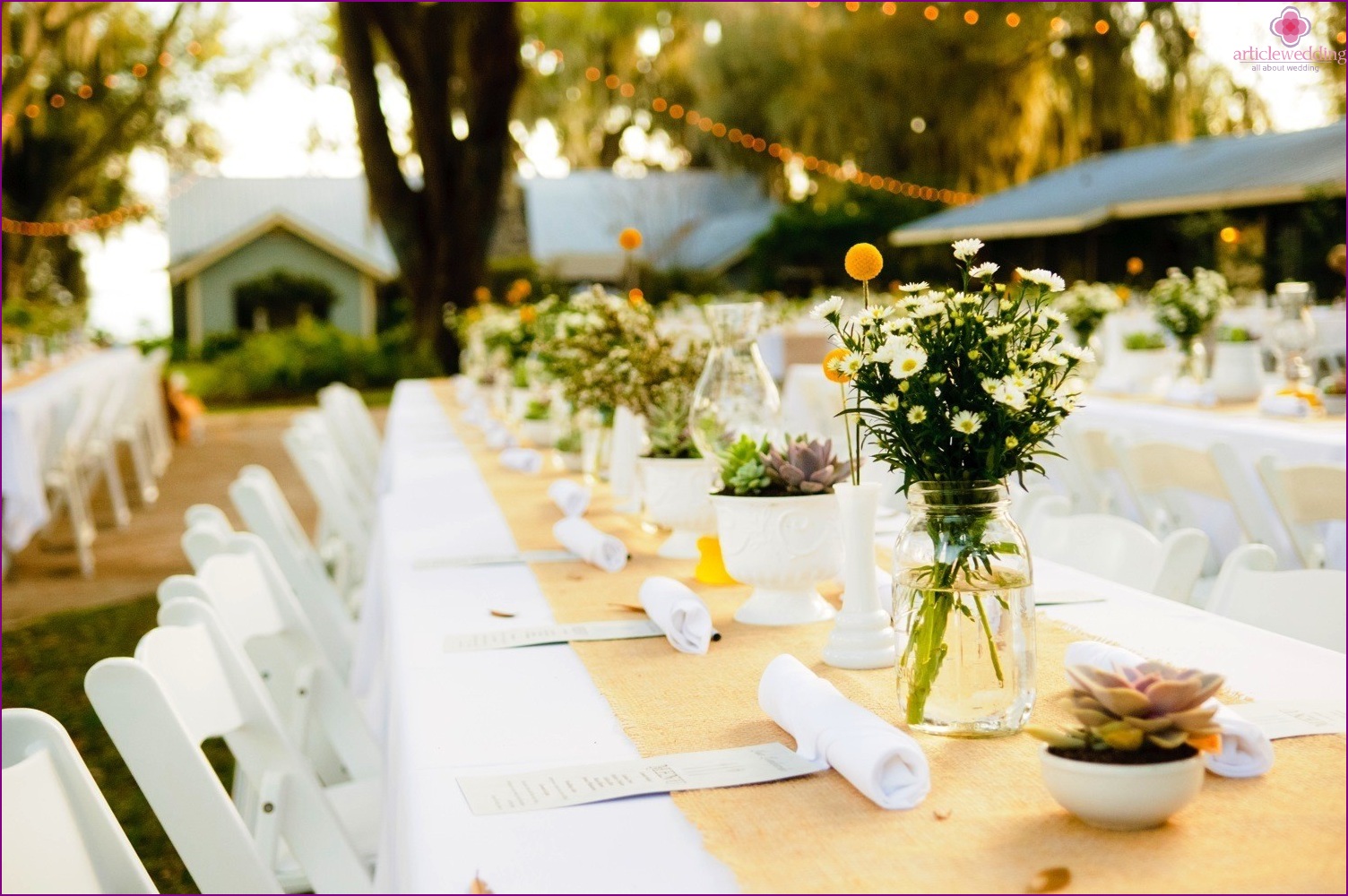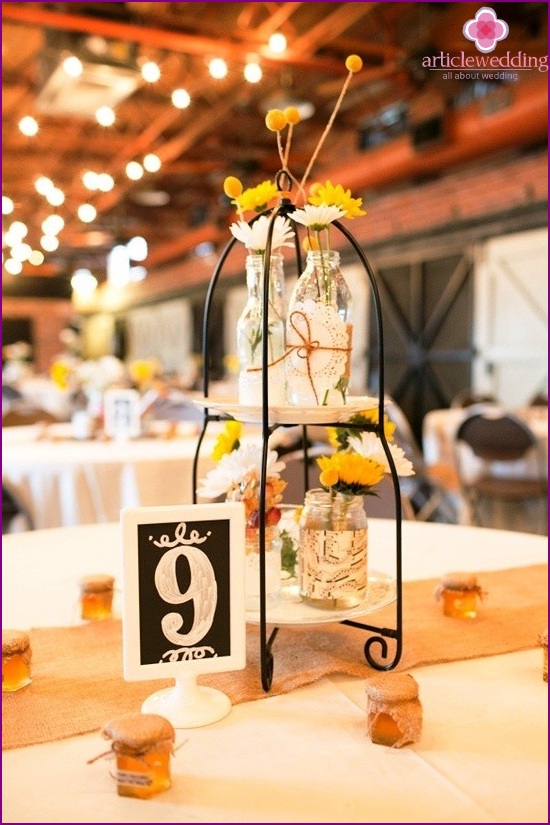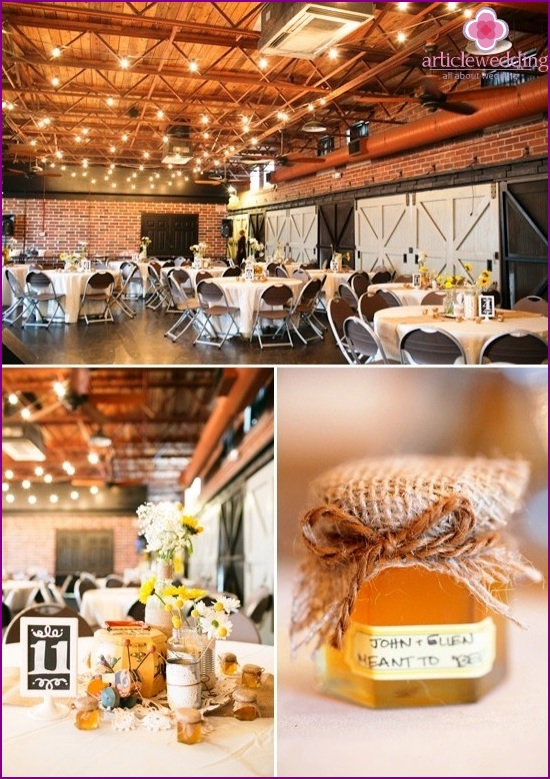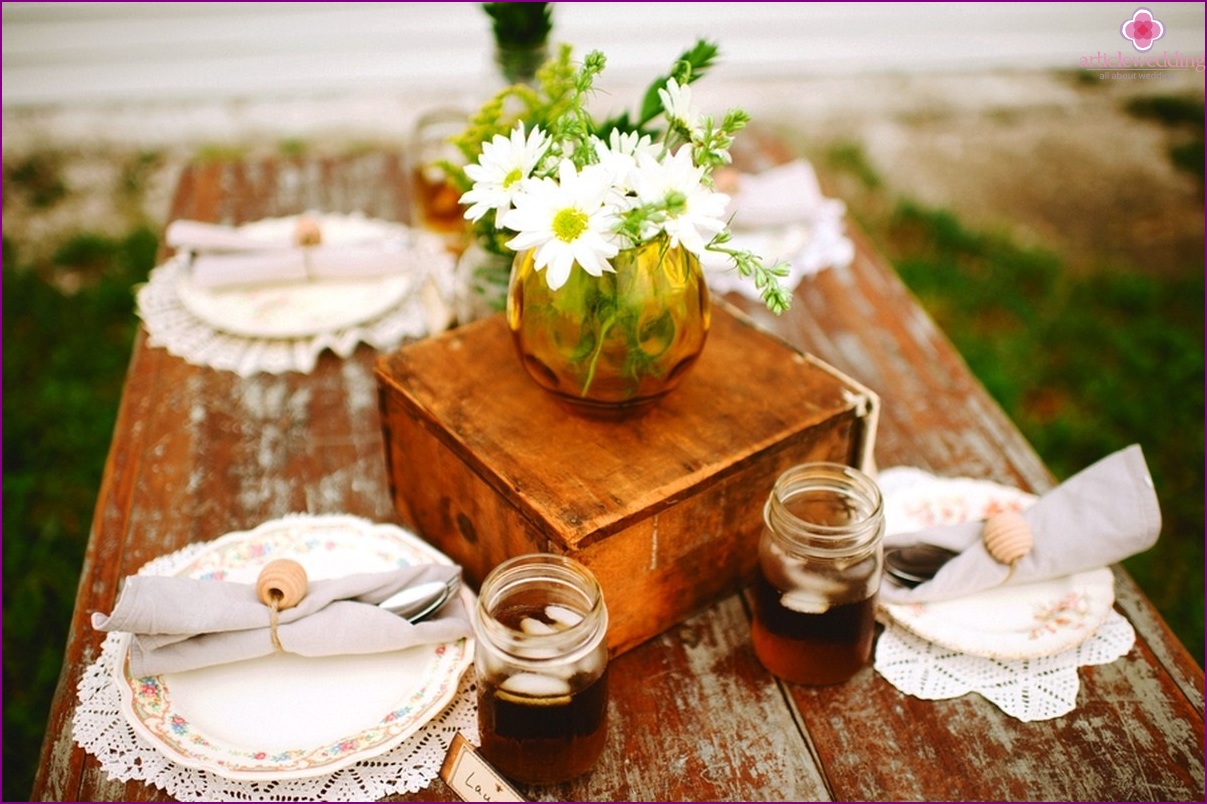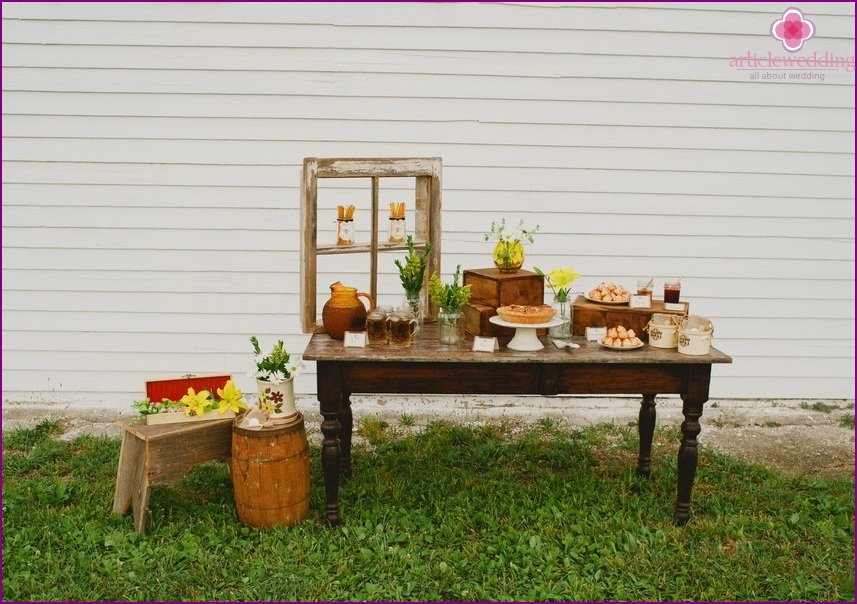 Honeymoon Treats
A honey wedding involves many treats, including honey. First of all, pay attention to the composition wedding cake. For Sandy bar, you can prepare tastings of various varieties of honey, cookies, pastries and tea. A good option is a tea party with honey treats. The only caveat - remember that some of your guests may be allergic to honey. The website www.articlewedding.com advises you to find out in advance and prepare alternative treats..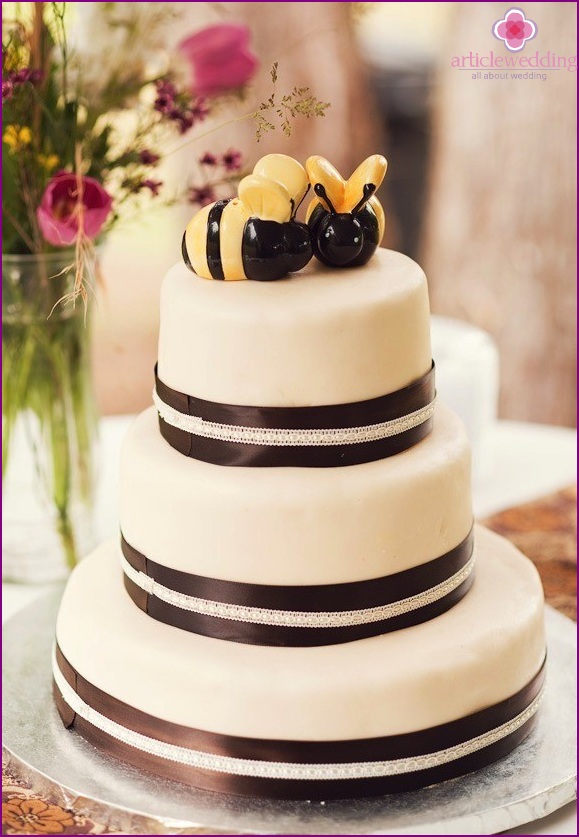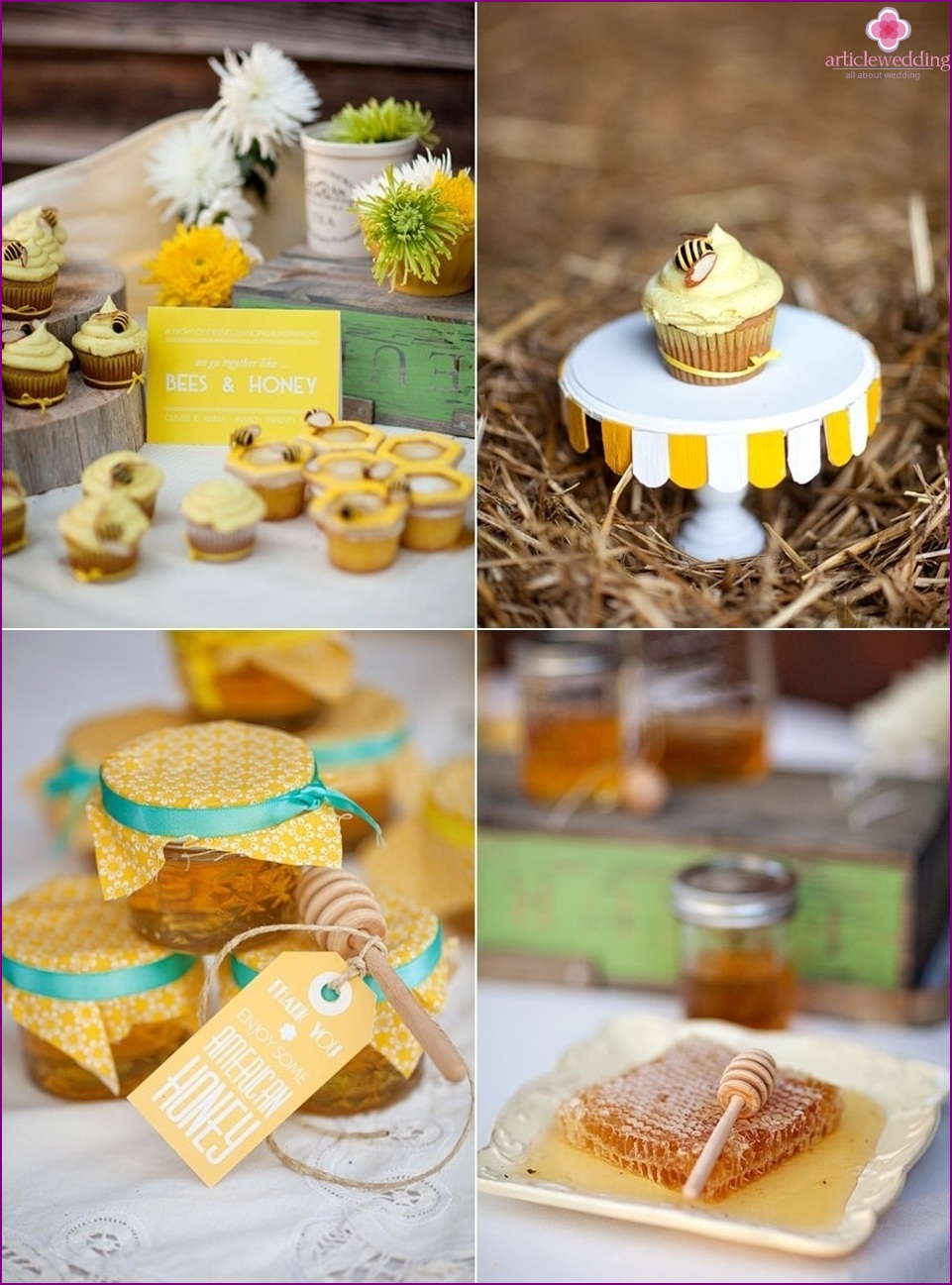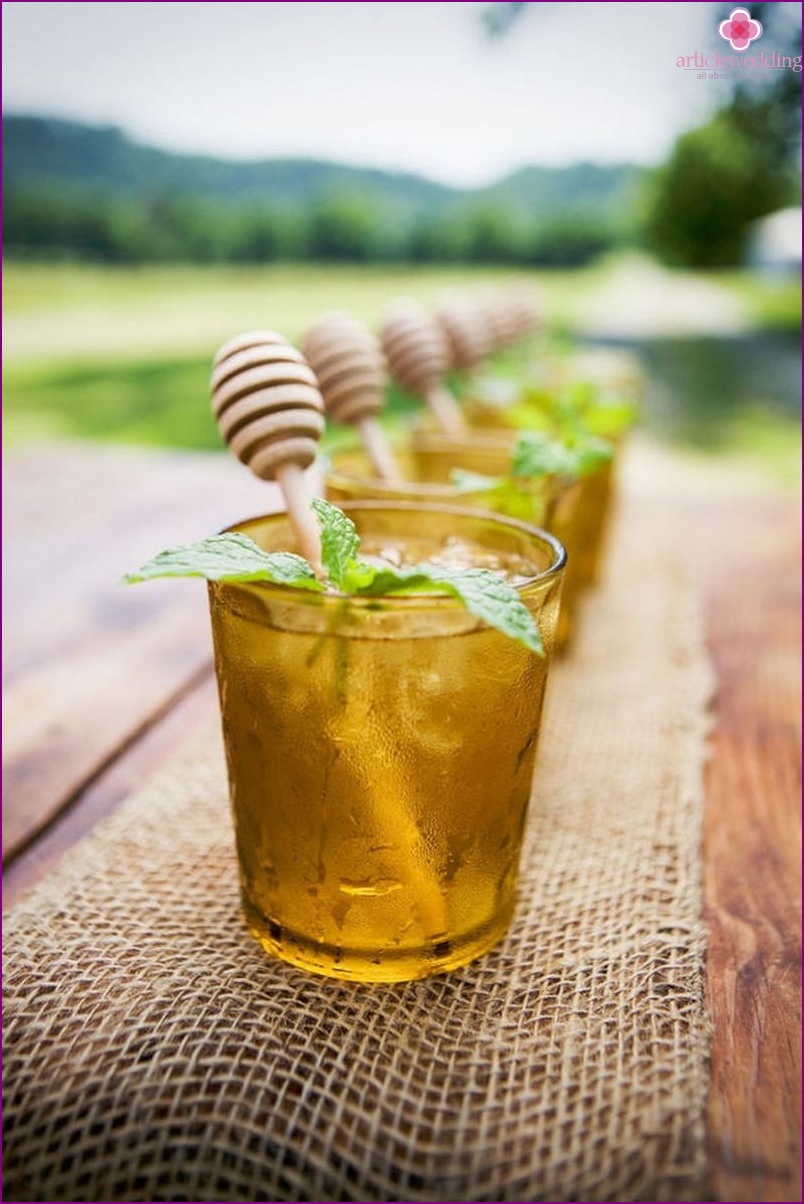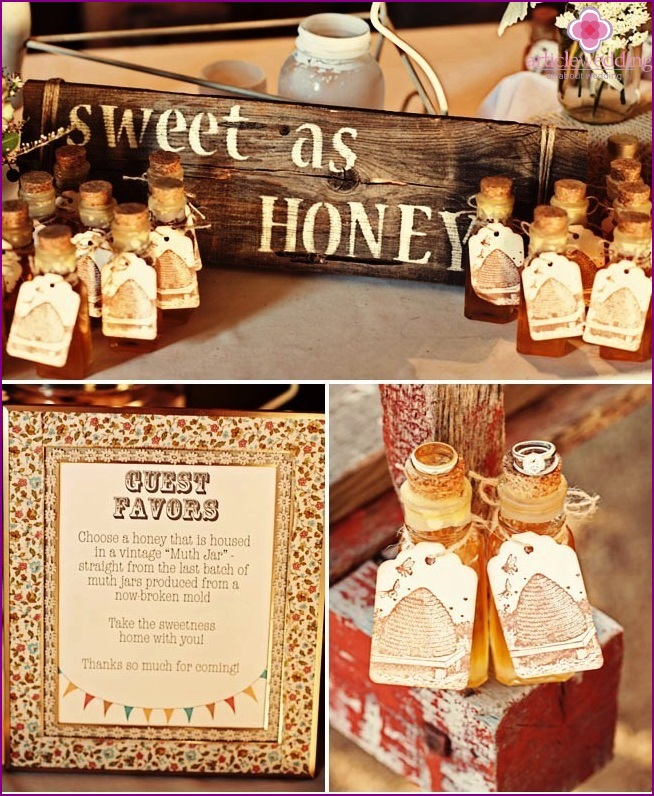 Honey Wedding Accessories
As accessories for a honey wedding, items related to honey and bees are suitable. It can be souvenir bees that serve as holders for banquet cards, or objects in a yellow-black color scheme.
Separately work through the invitations, picking up paper with a texture in the form of honeycombs and decorating them with images of bees. Such accessories can be quite fun and lively..
Universal accessories can be small jars of honey. They can act as banquet cards, table numbers and, of course, bonbonnieres.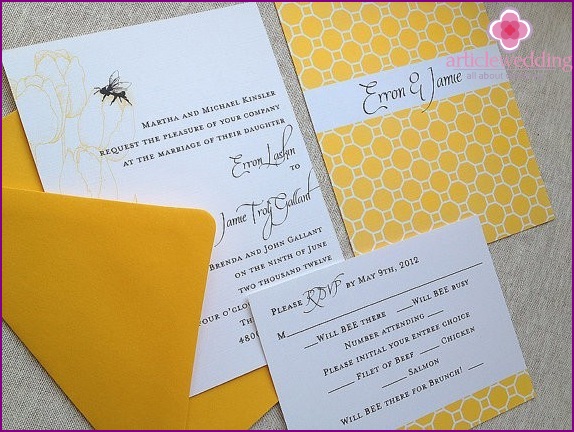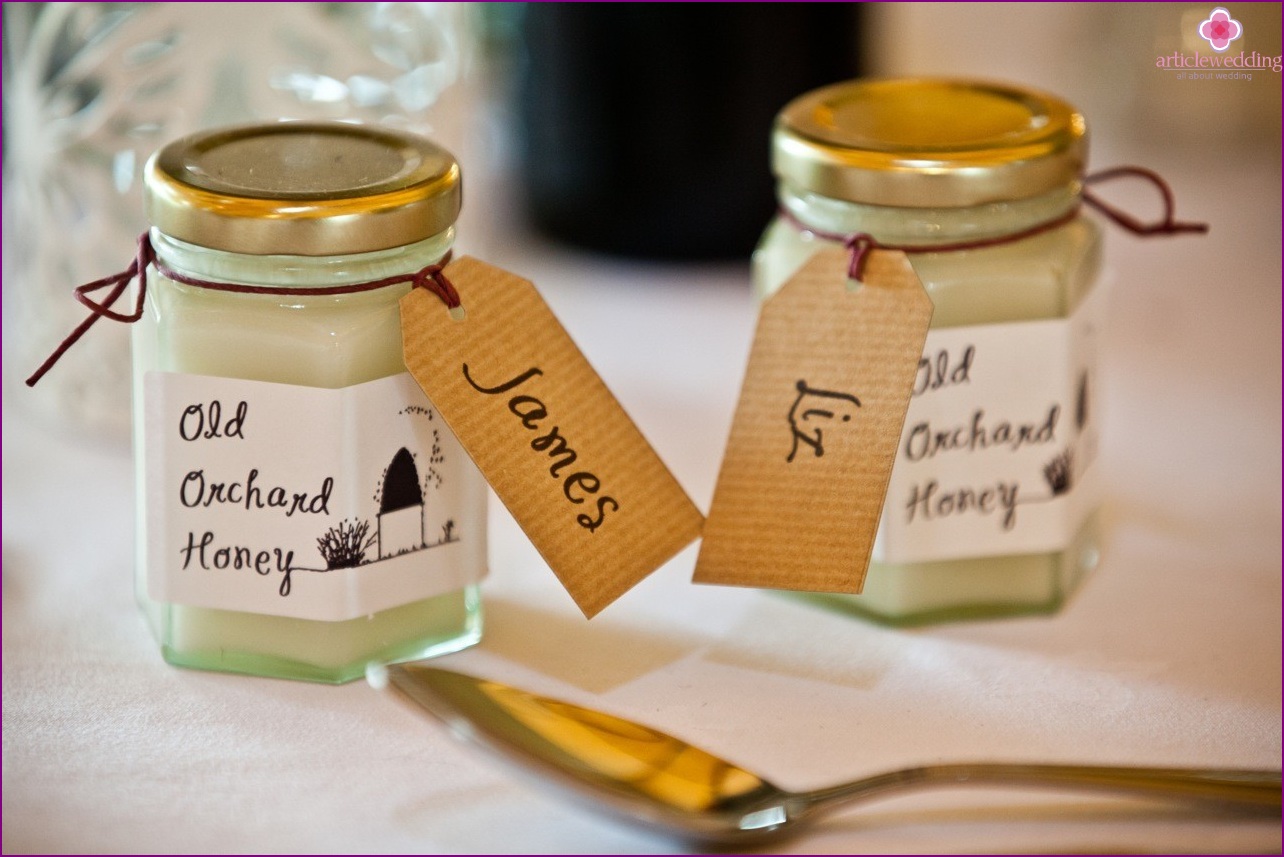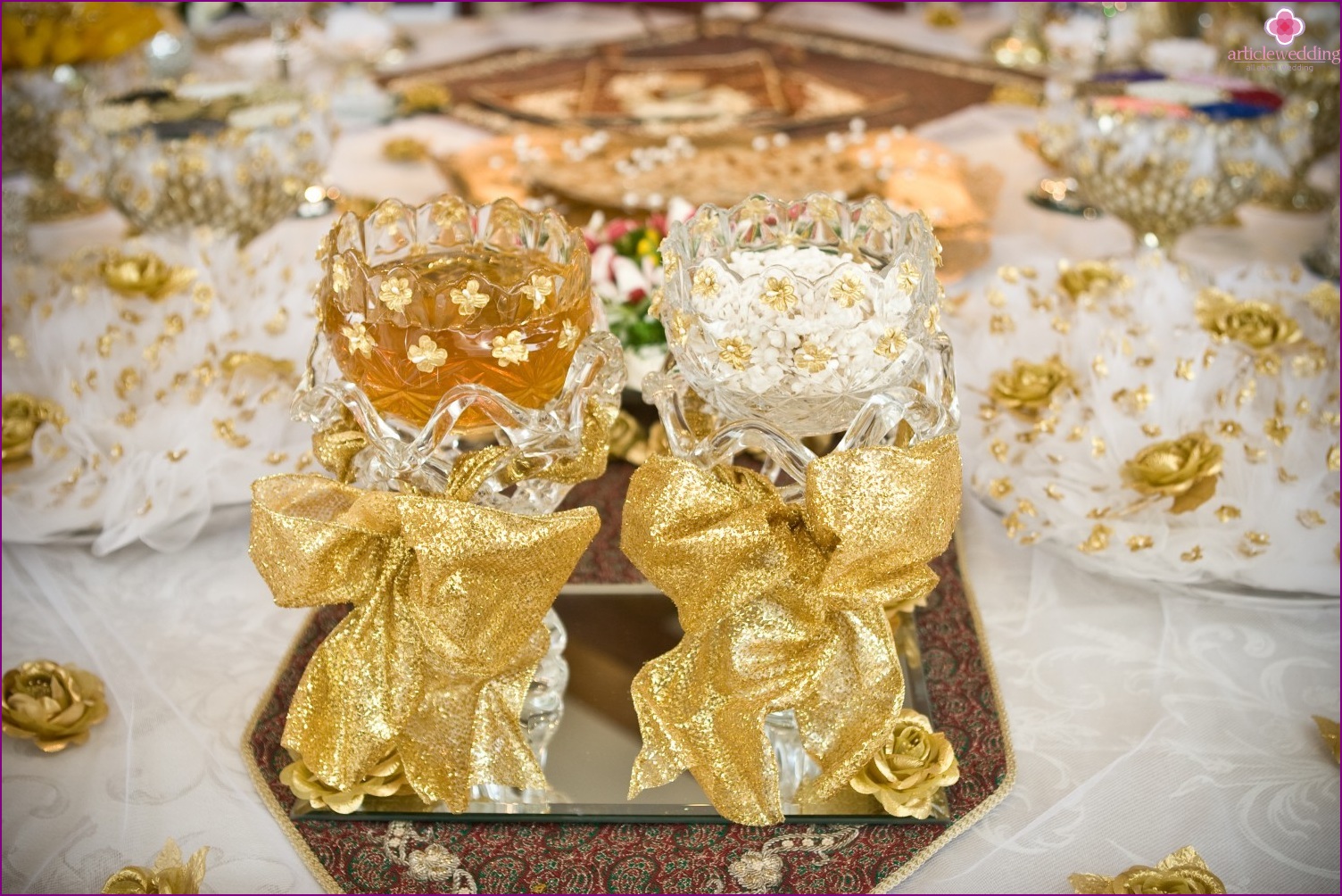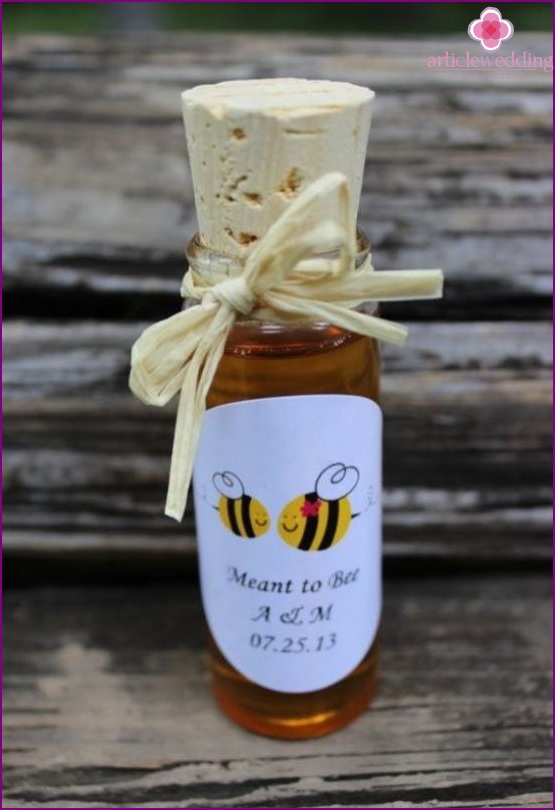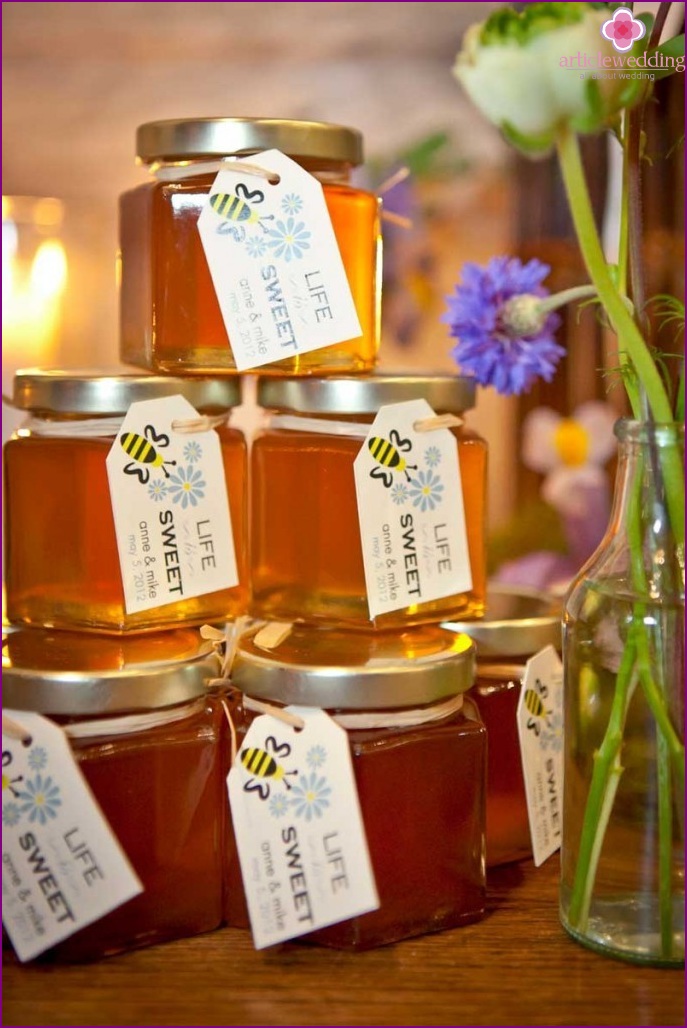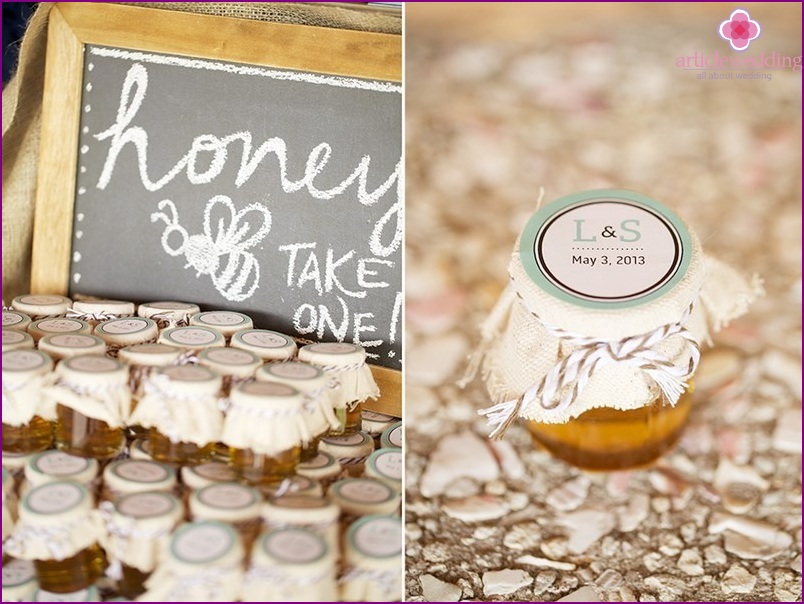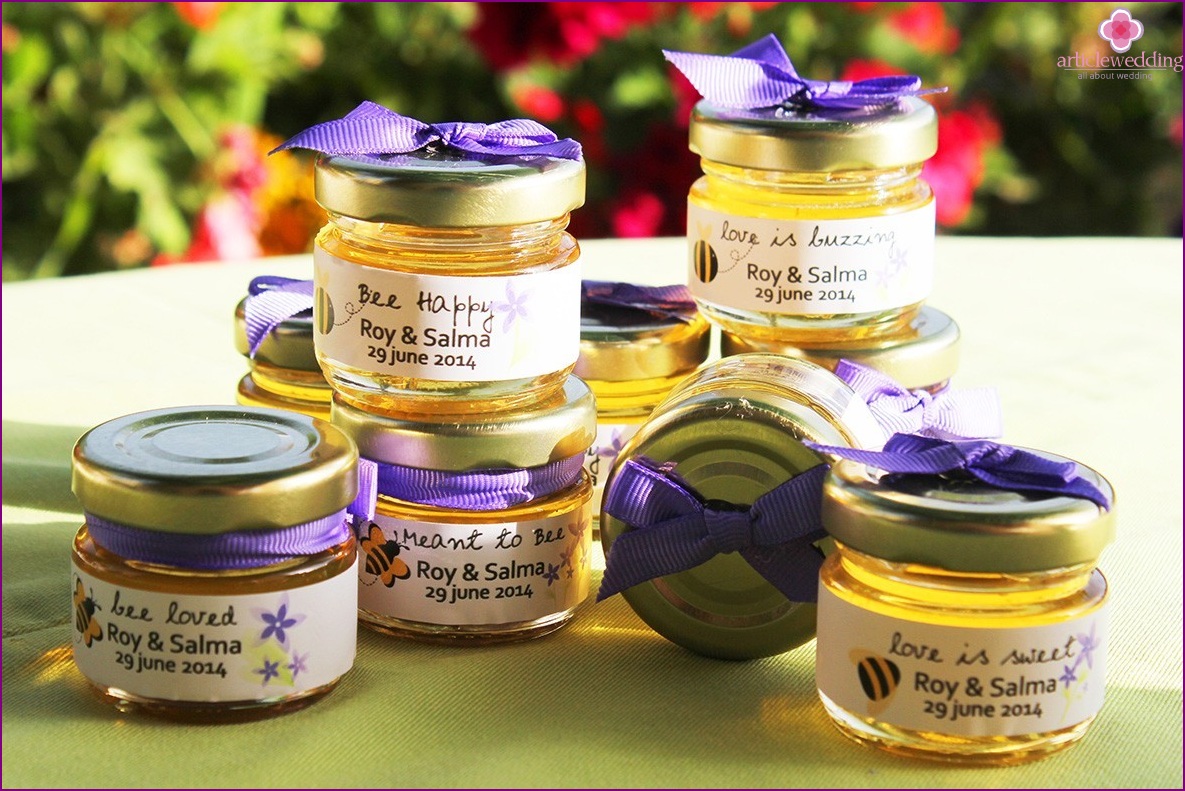 Honey wedding is a variant of a cheerful, positive and cheerful celebration. And most importantly: the tradition according to which the newlyweds tasted honey, has deep roots and promises a young couple a happy and sweet family life.