Contents
---
---
More and more often, newlyweds for the organization of modern weddings are looking for inspiration in past centuries. If you have the desire and opportunity, then organize a magnificent wedding in the Rococo style, which will be significantly different from other celebrations. Grace, refinement and luxury are the main features of the Rococo style. This means that your wedding will be just that - dear, unique and royal pompous!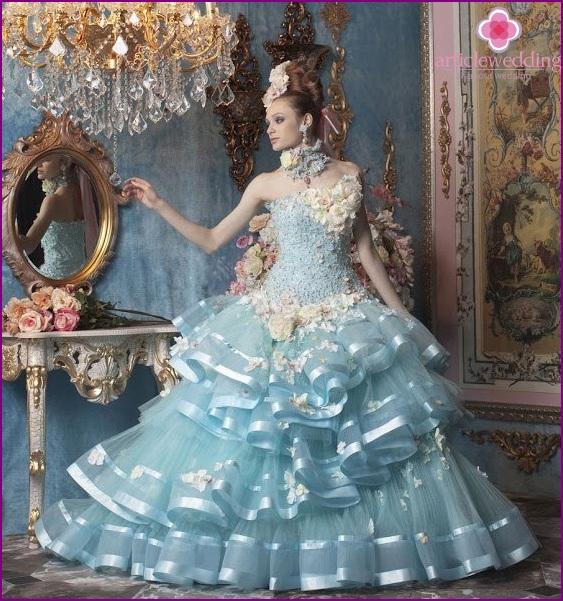 Coloring of the rococo wedding
The main palette of the royal style is made up of delicate pastel shades: pink, blue, cream and beige. You can add pearl or marble shades to them. You can not do without the golden color, which should become one of the main in wedding colors rococo.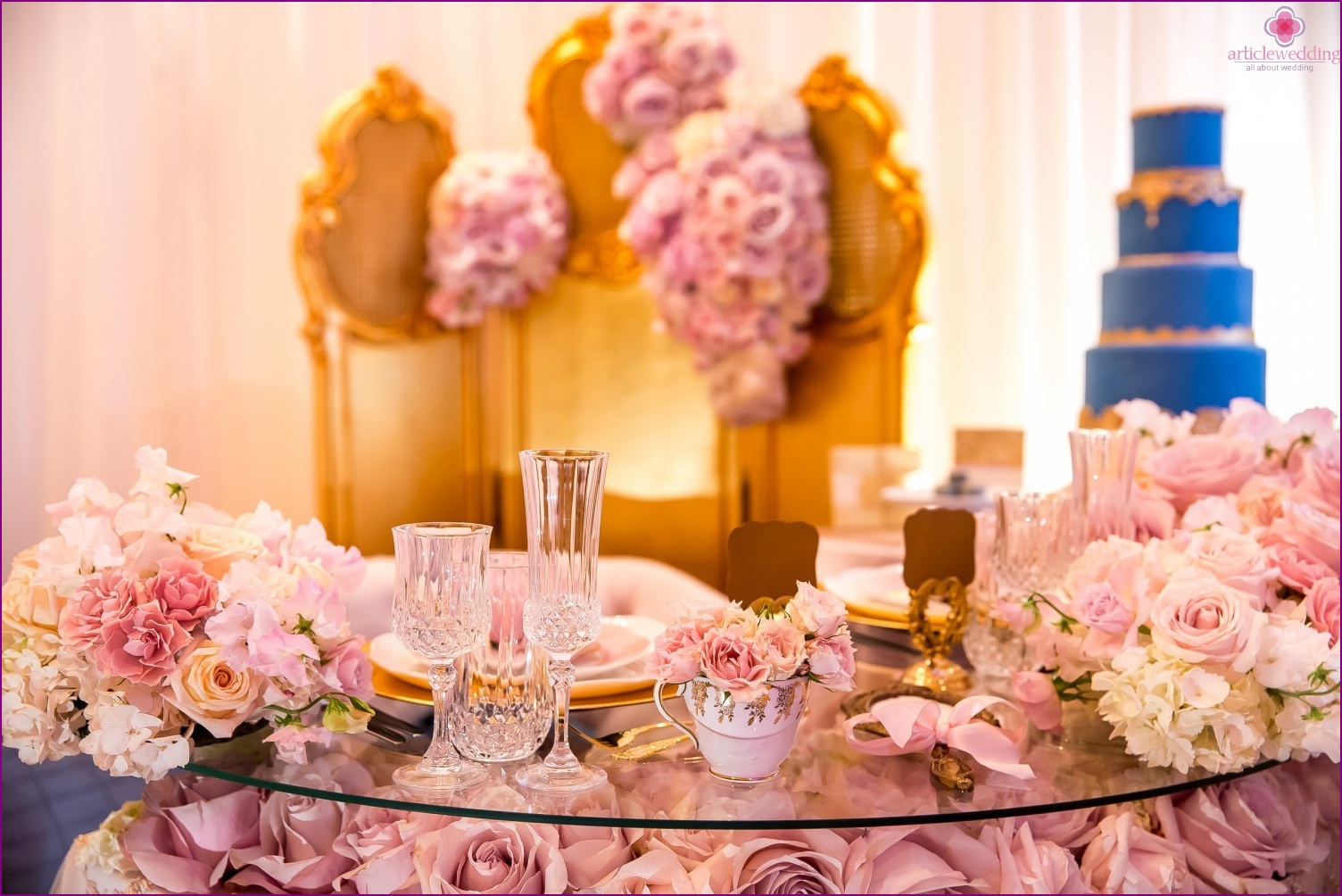 Basic elements in the rococo style
Characteristic details will help to recreate the atmosphere characteristic of the Rococo style. The portal www.articlewedding.com draws your attention to such elements as:
feathers,
wigs,
mirrors,
candelabra,
cameos,
fans,
Chinese porcelain,
screens,
lace,
tapestry.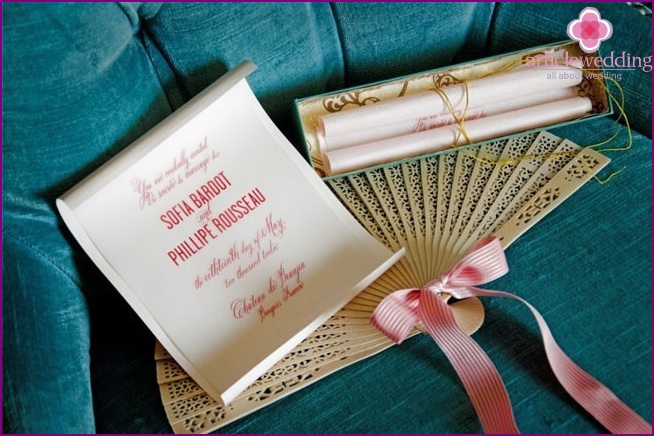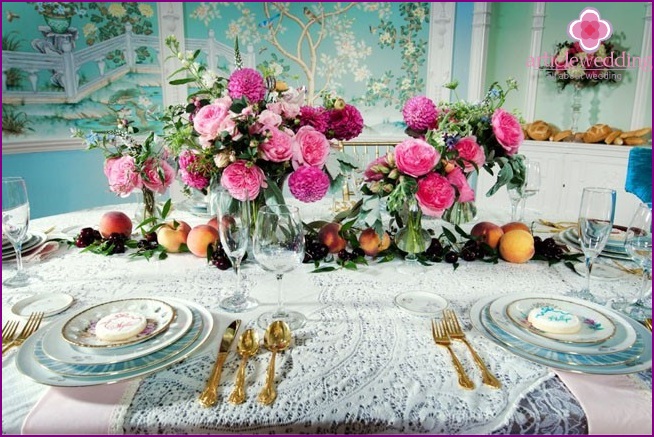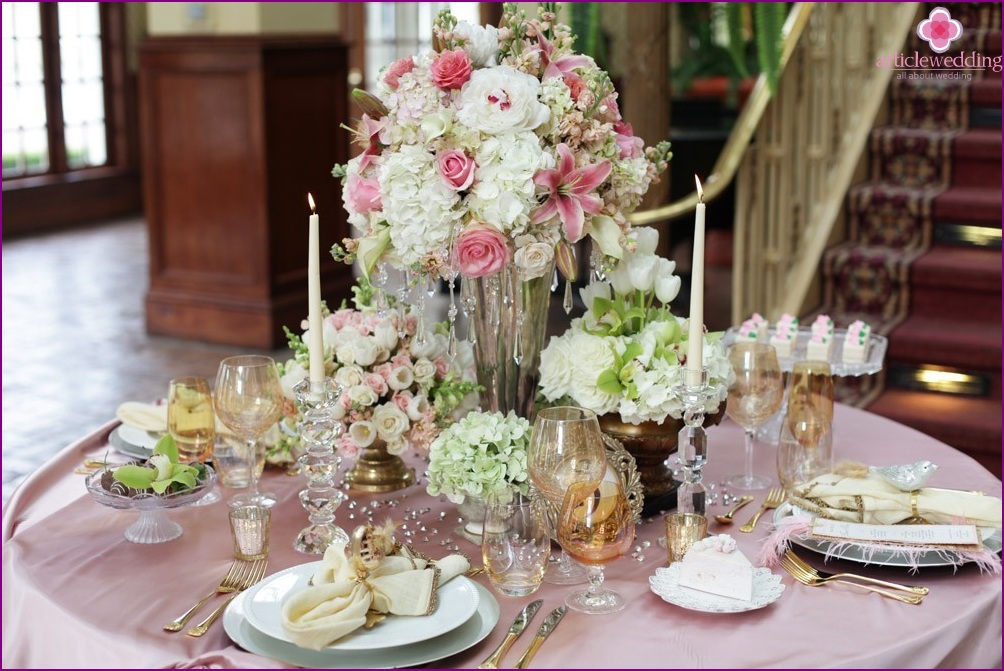 Rococo style wedding format
We note that the format of the wedding directly depends on the number of invited guests. A small wedding can be arranged in the form of a rococo-style salon. If you have invited more than 30 guests, it is better to turn the wedding into a ball or even a masquerade ball. Your guests will be happy to get acquainted with the dance art of that era. They will be able to experience in practice the beauty of polonaise, minuet and other ancient dances.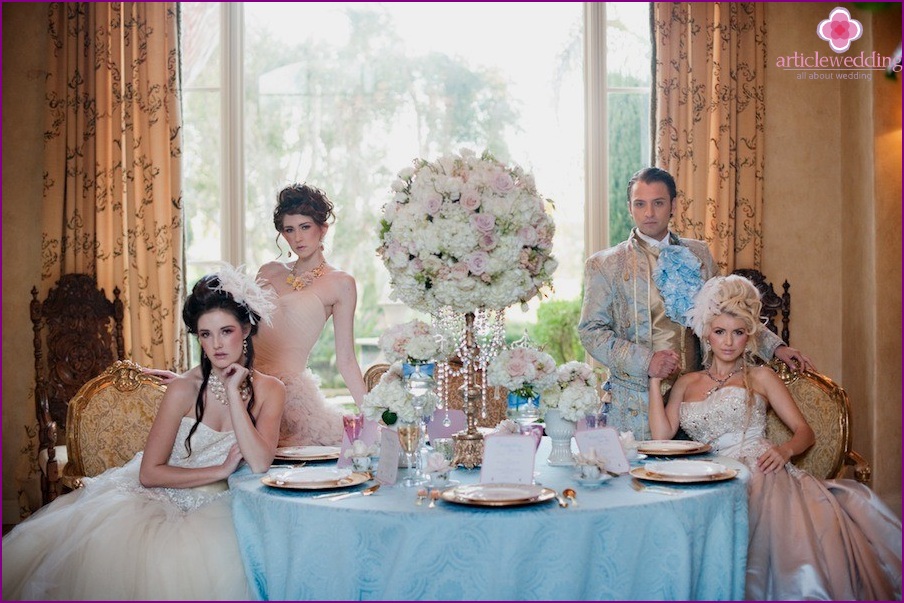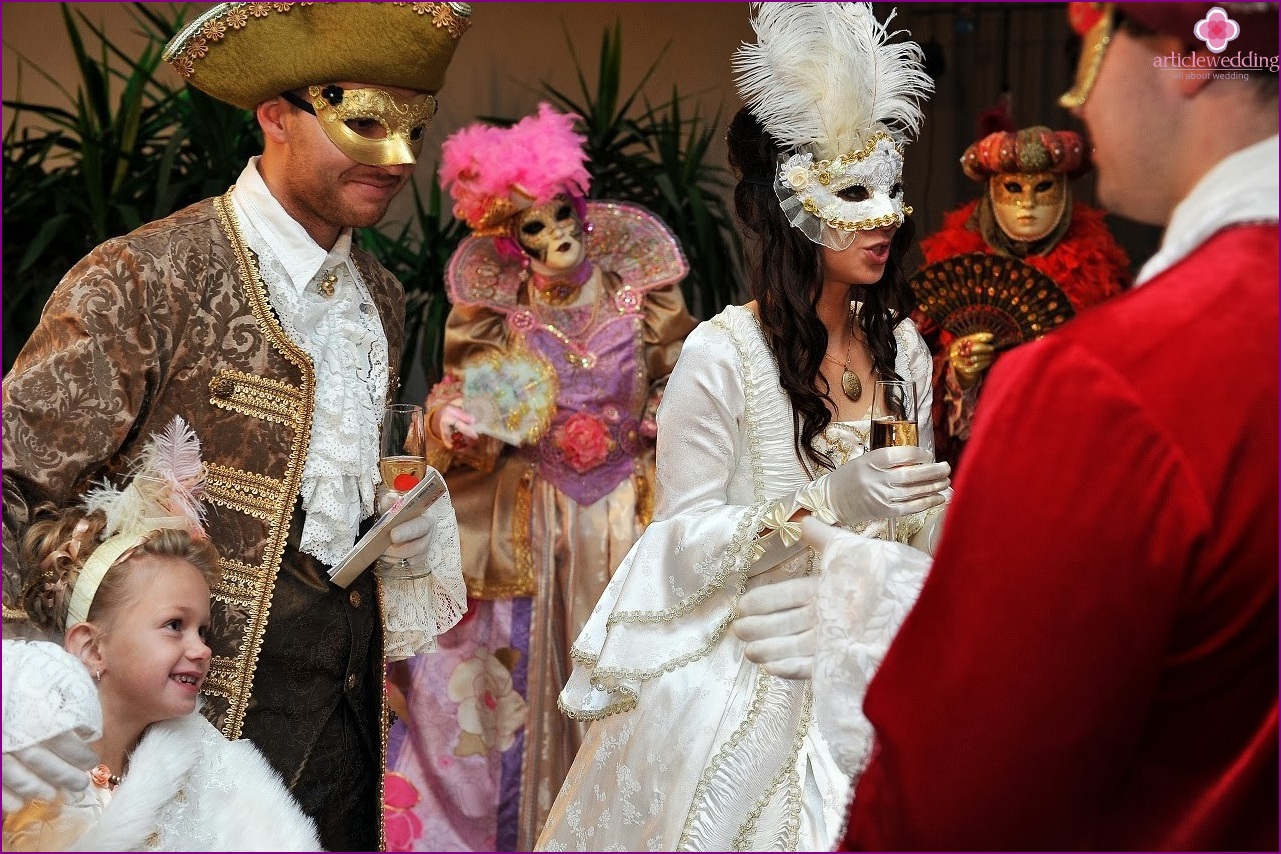 Rococo wedding venue
A good place to hold a rococo wedding is a country palace with luxurious rooms or an expensive restaurant with an appropriate palace interior.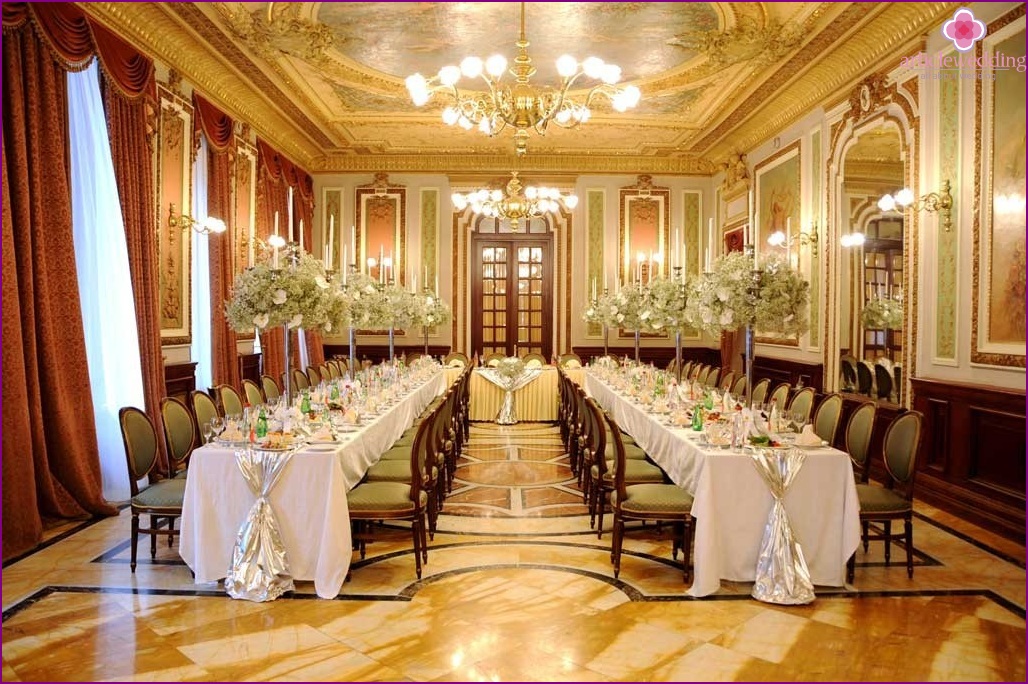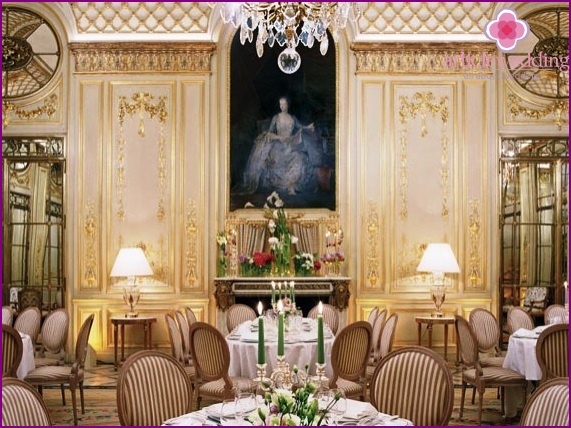 Festive dinner and table decor
Wedding menu Rococo style should be light and sophisticated. Choose sophisticated French cuisine with a sumptuous presentation. Wedding tables can be decorated with delicate white lace tablecloths, an expensive vintage set service and gilded appliances.
It is very important that a rococo wedding has a lot of flowers. Floral and floral motifs are one of the most basic distinguishing features of this direction. Take beautiful painted vases and place lush bouquets of garden flowers in them. Floral arrangements on tables can be complemented with fresh fruits and berries. Moreover, they can not be placed on plates and trays. The table decor will look much more effective if the fruits are laid out between plates and vases.
Do not forget about the decor of chairs - we decorate them with flower garlands and satin ribbons.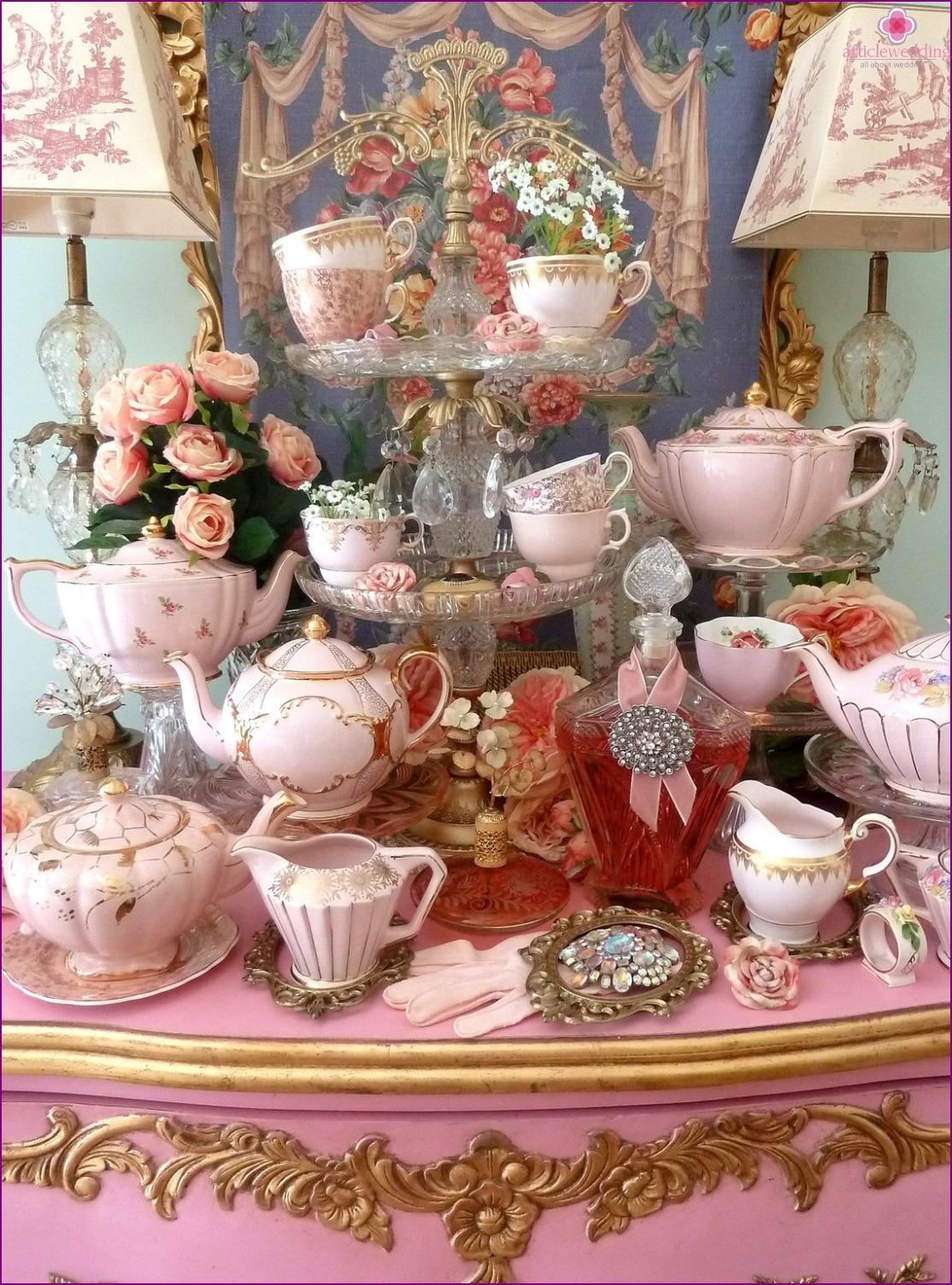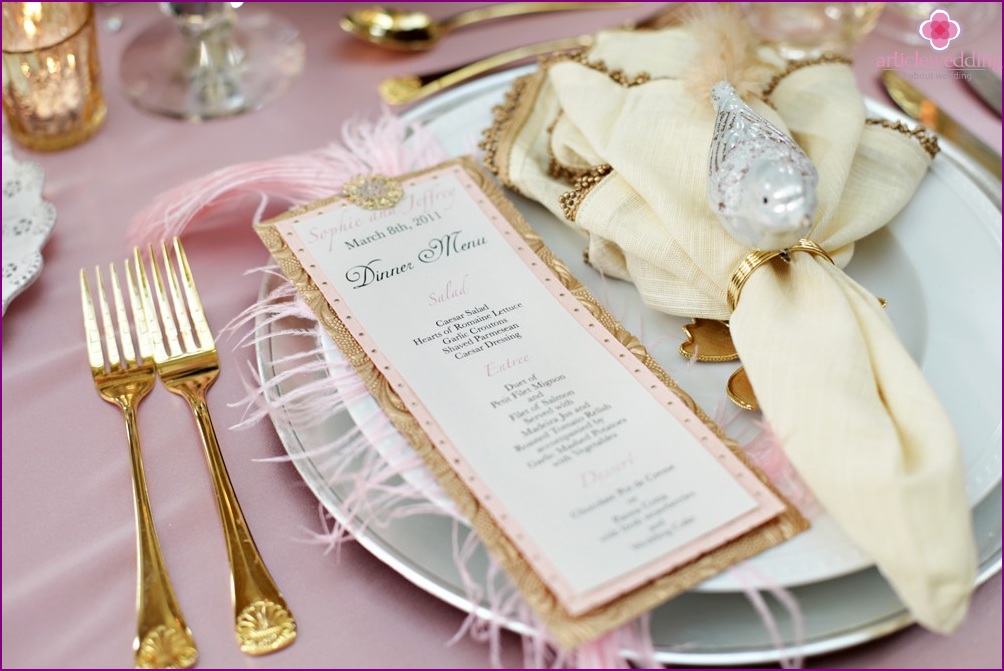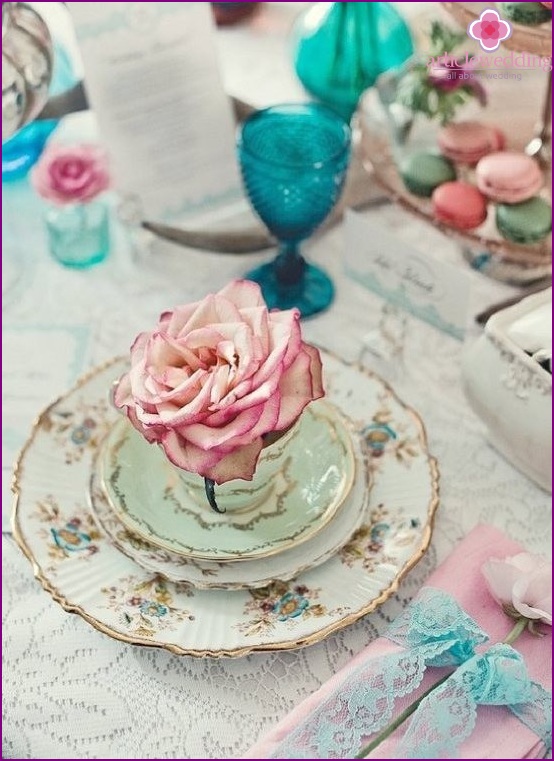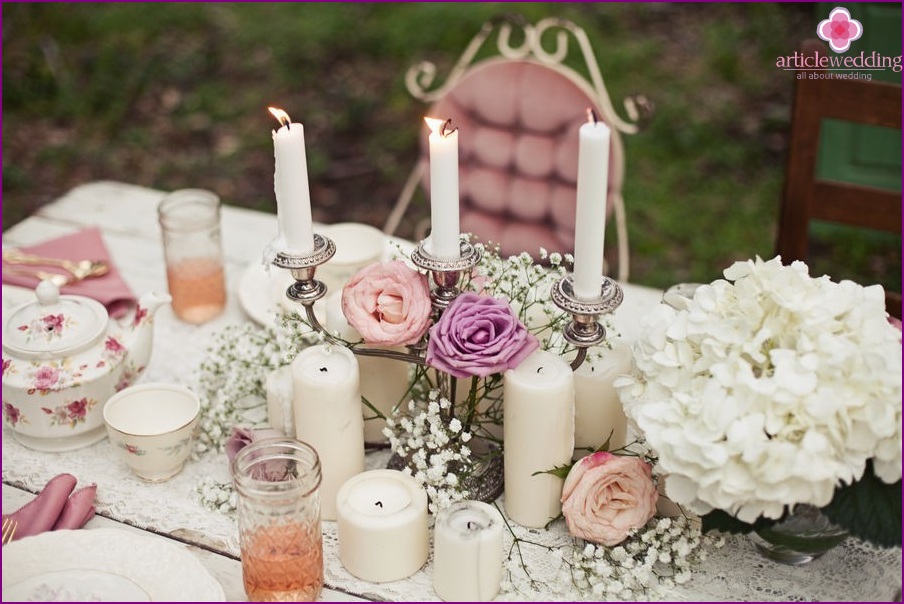 Wedding Hall Decor
The charming interiors of the 18th century were filled with decorative elements. You should also adhere to this feature, recalls the portal www.articlewedding.com. Make sure that the venue of your wedding is decorated in accordance with the decor of ancient salons and boudoirs in the Rococo style.
The interior welcomes an abundance of mirrors, gilded objects and decorative candelabra. You can also decorate the interior with paintings and figurines. Watches, stucco molding, fabric tapestry, flower garlands, festoons - all this should be used in wedding decor.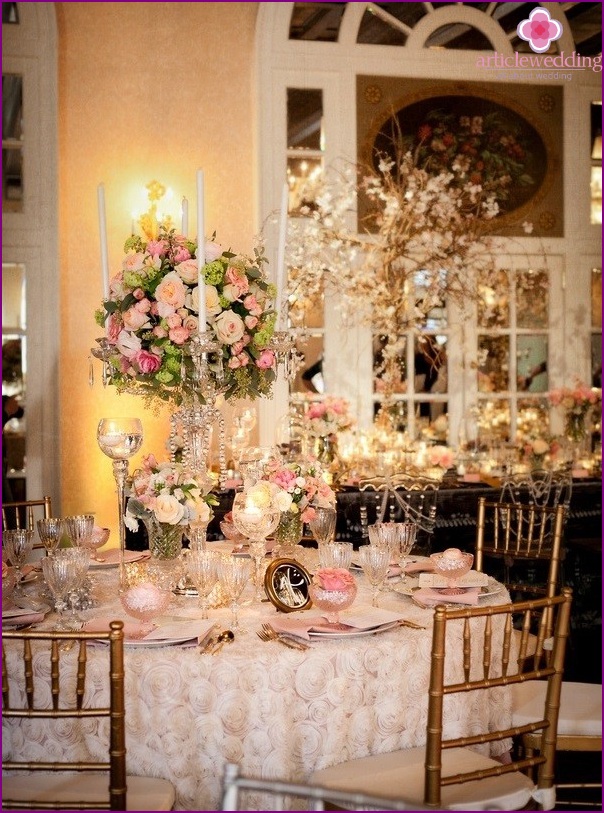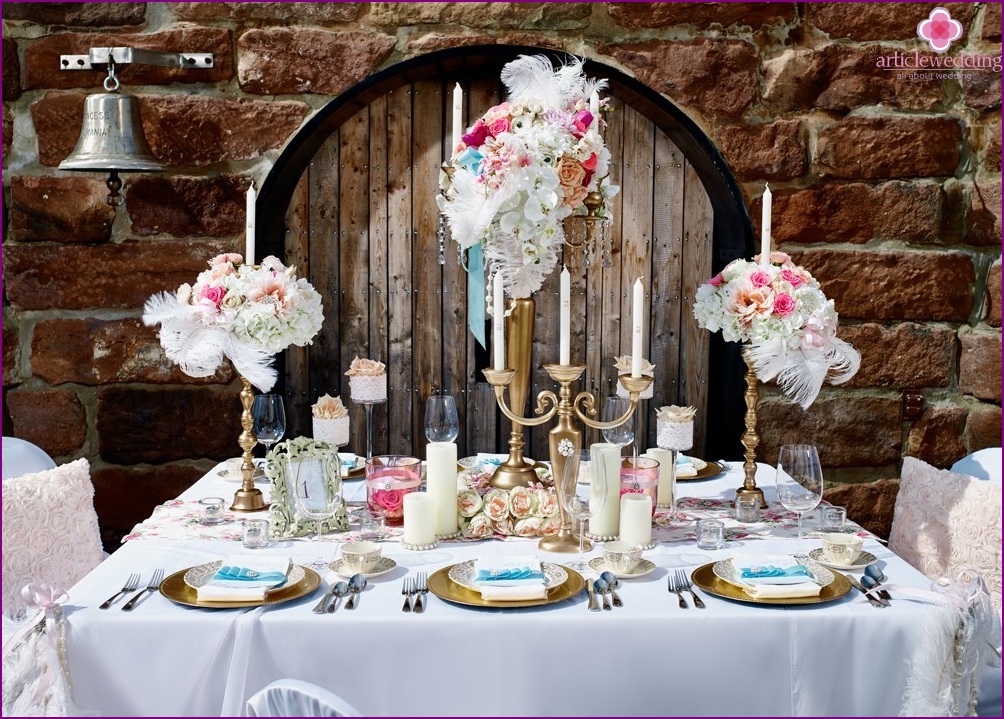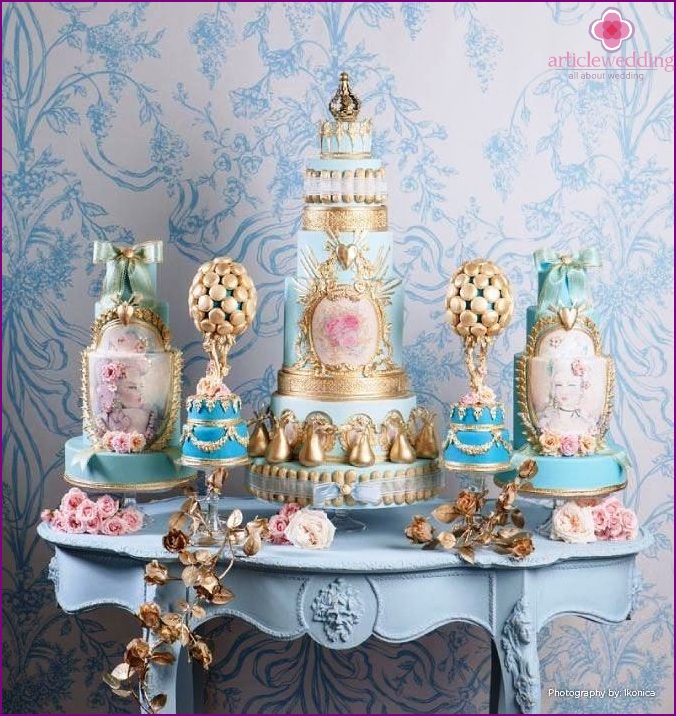 Wedding invitations
Wedding invitations can be made in the form of a sonnet, epigram or playful message. In addition, the invitation may take the form of a scroll. The text of the message is better written in complex calligraphic font..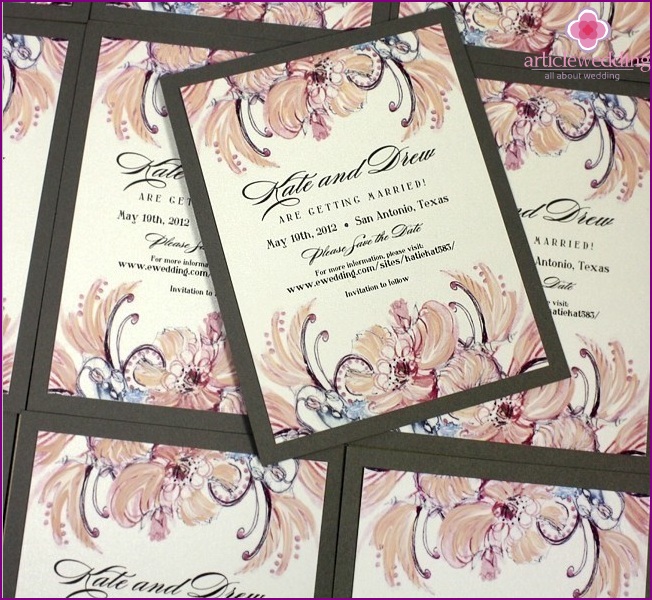 The image of the newlyweds
The image of the bride in the Rococo style is similar to the puppet one. A lace floral dress with a full skirt, a tightening corset, an abundance of ruffle and finishing elements - a characteristic wedding outfit in the Rococo style. Mandatory attributes of the image of the bride are pearl jewelry, fans and gloves.
Highly raised hairstyle should be complemented with flowers, ribbons and feathers. The most important part of the wedding look is makeup. Puppetry and theatricality of the bride's image should be emphasized with powder, blush and saturated color lipstick.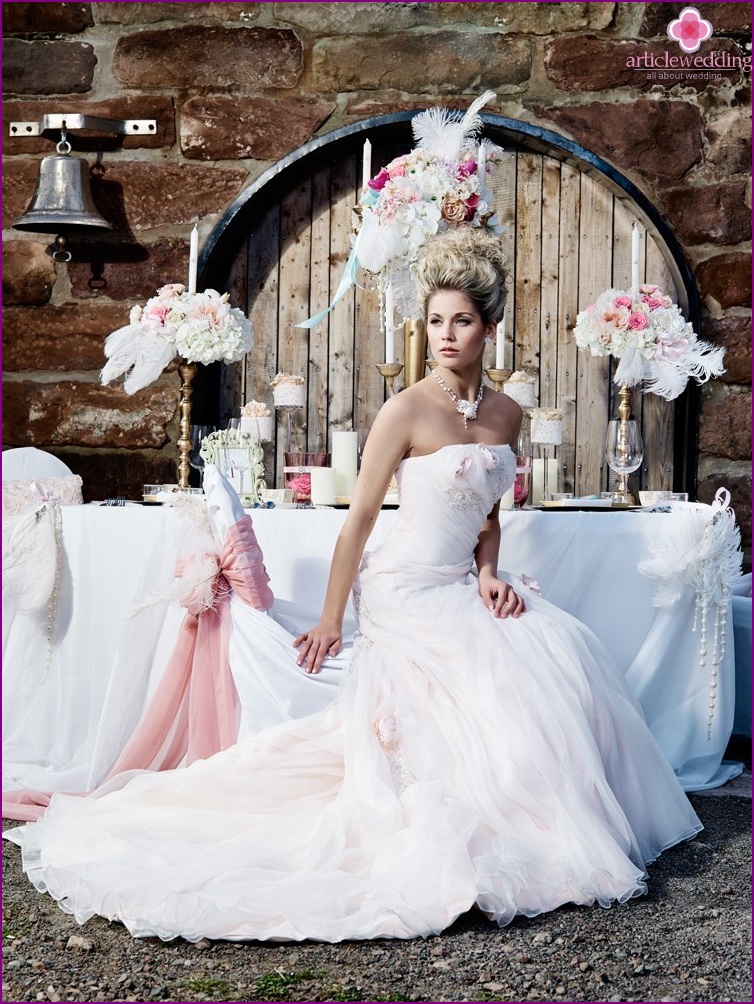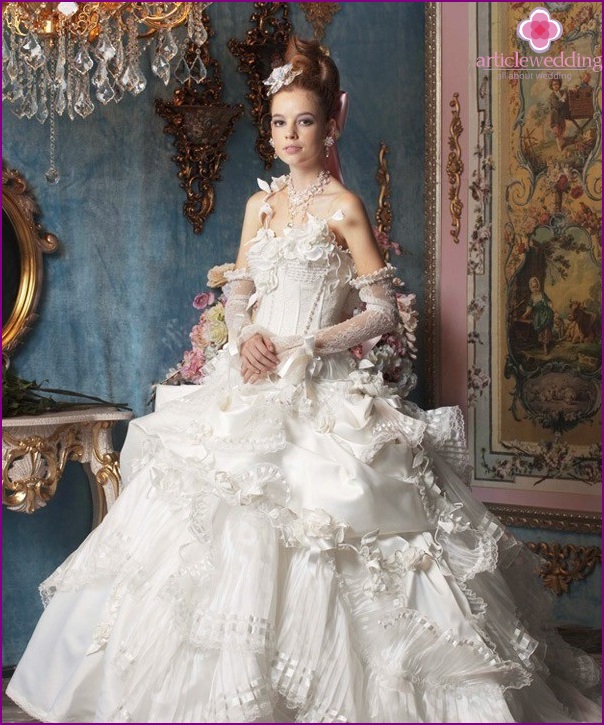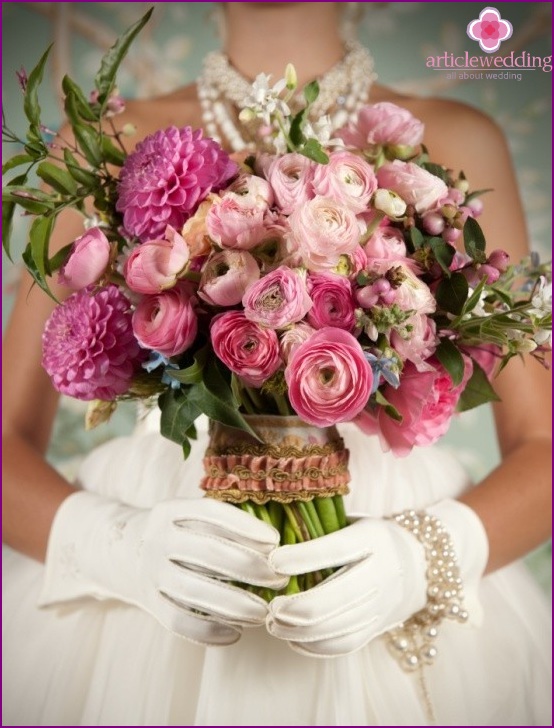 You can choose a groom or a black suit in a classic style for yourself.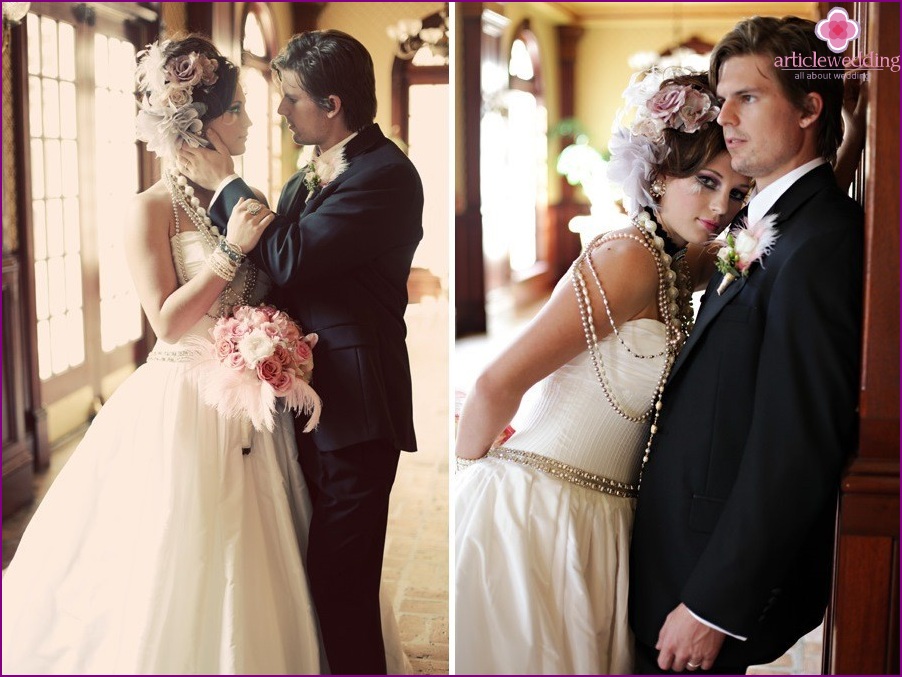 Sweet table
A sweet rococo table should be full of an abundance of mouth-watering desserts with luxurious decor. Order airy cakes with colored cream, pink champagne, glazed sweets, exclusive pastries. Be sure to show all the beauty wedding cake with quilling, feathers and flowers.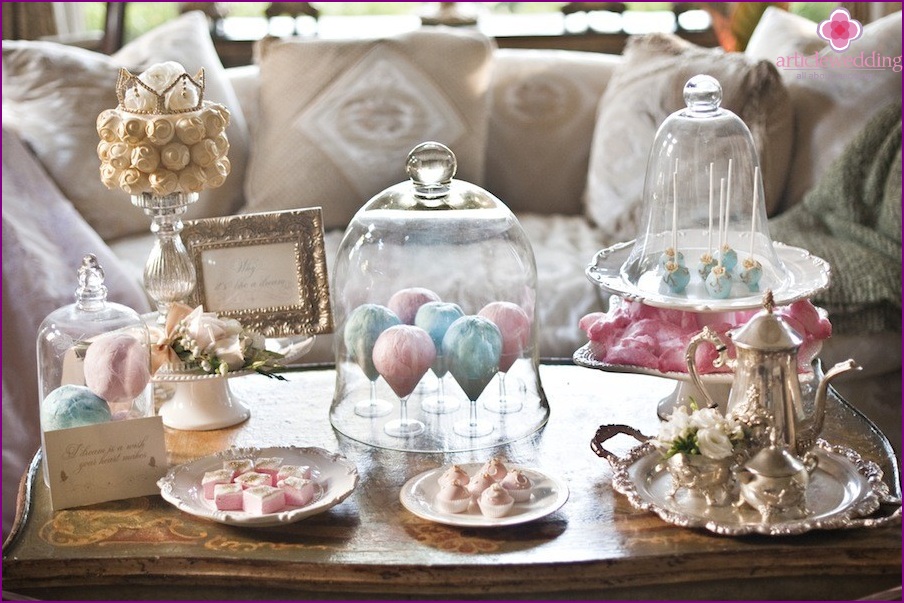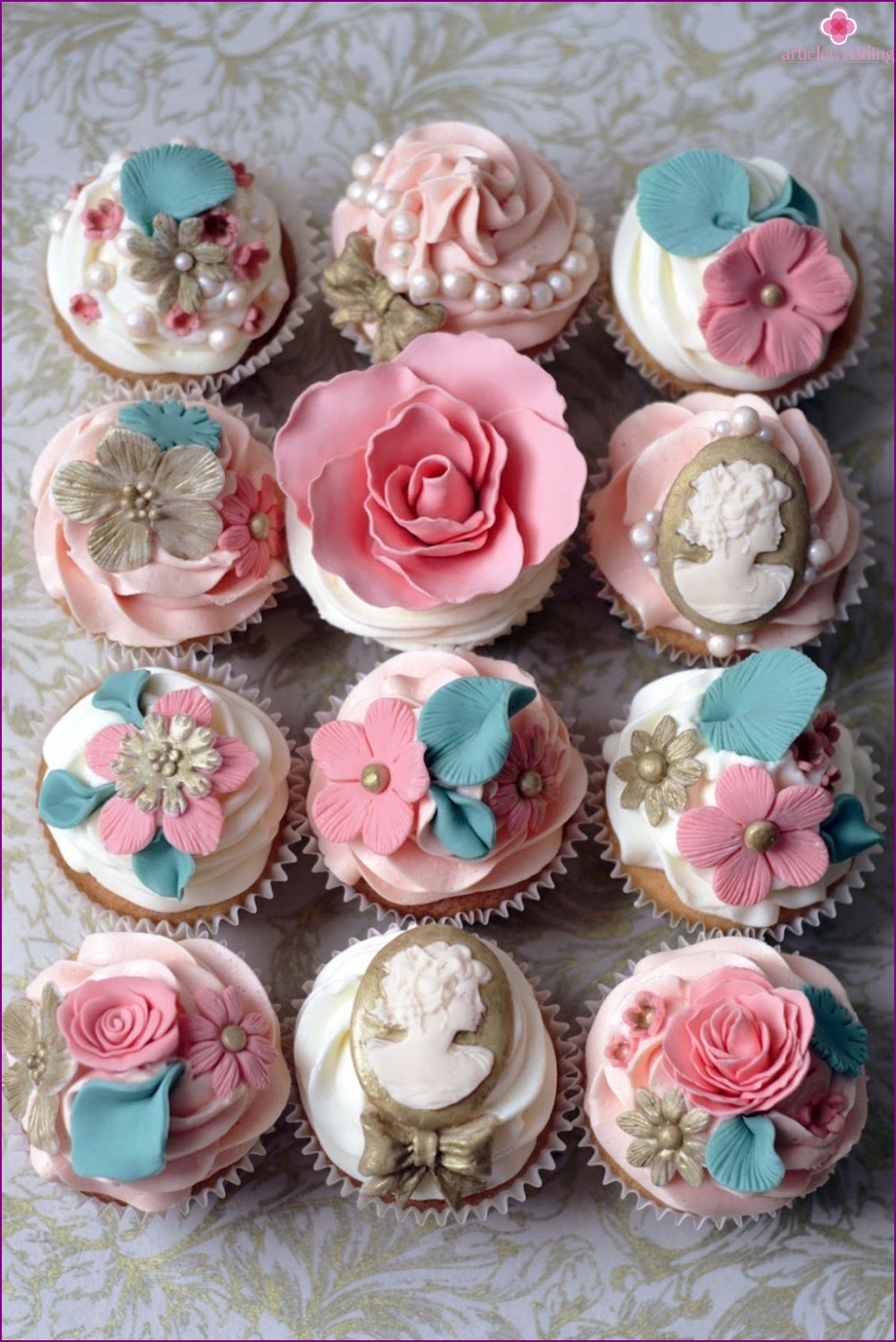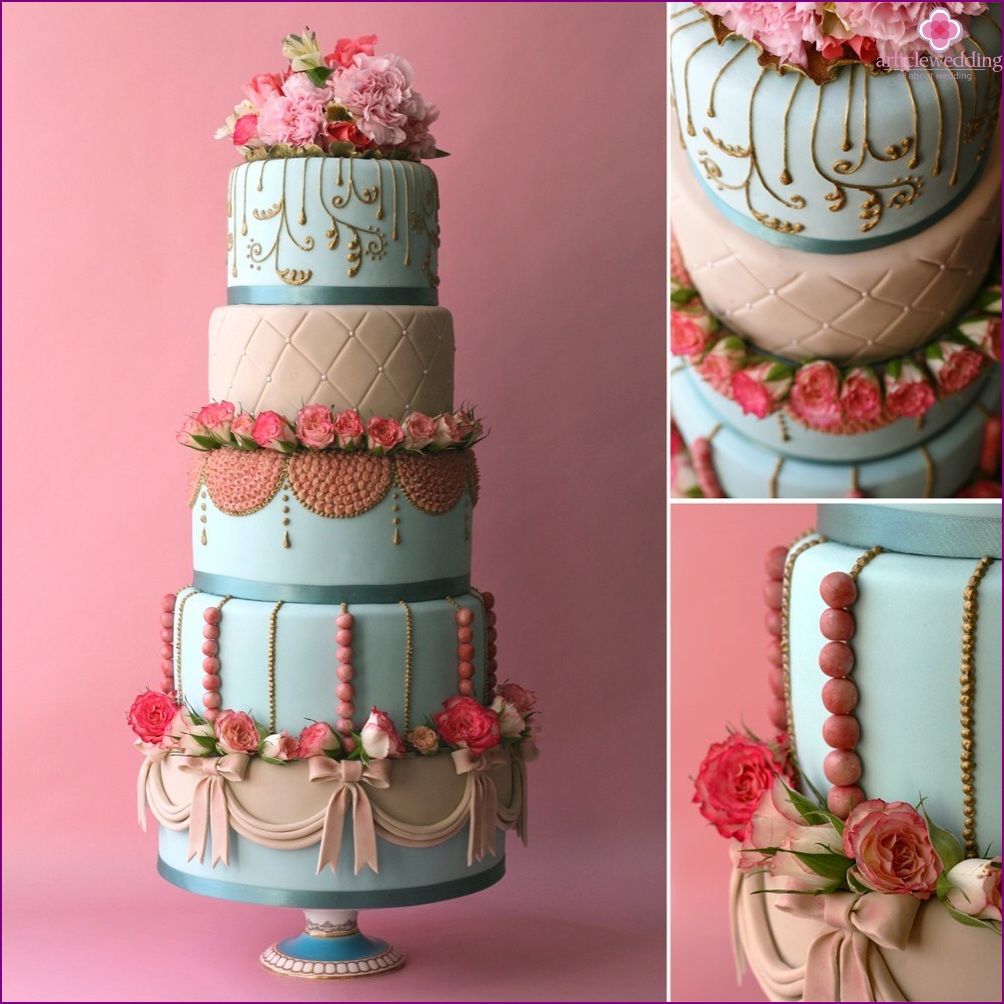 A rococo wedding will be a truly unforgettable theatrical celebration!