Contents
---
---
The first serious anniversary of marriage together - five years - is called wooden. This is the first round date, which is definitely worth noting, even if you celebrated previous marriage anniversaries purely symbolically or did not celebrate at all. A wooden wedding is an important date, indicating that the relationship has become stronger, warmer. You survived many trials and at the same time managed to preserve love, maintain family warmth, home.
Wooden Wedding: Celebration Traditions
Many people ask themselves: 5 years of marriage - what kind of wedding? But this is the first anniversary in the life of young people, which is called a wooden wedding! The holiday has its own traditions, customs, which, if desired, you can take into account and follow them. By this time, spouses, as a rule, equip their housing, establish a life, give birth to children, grow roots to each other.
The first five-year milestone of family life began to celebrate couples in southern Germany in the Middle Ages. All relatives and friends were invited to this celebration, who for 5 years helped to protect the family, were always there. During the celebration, the house was decorated with wooden figures, fir branches, a festive table was set..
Later, the tradition of celebrating a wooden wedding appeared in Russia. The anniversary was celebrated on a grand scale - they rolled a feast, inviting all relatives, even the most distant. Such a celebration testified to prosperity, prosperity, generosity, determined the status, position of the family in society.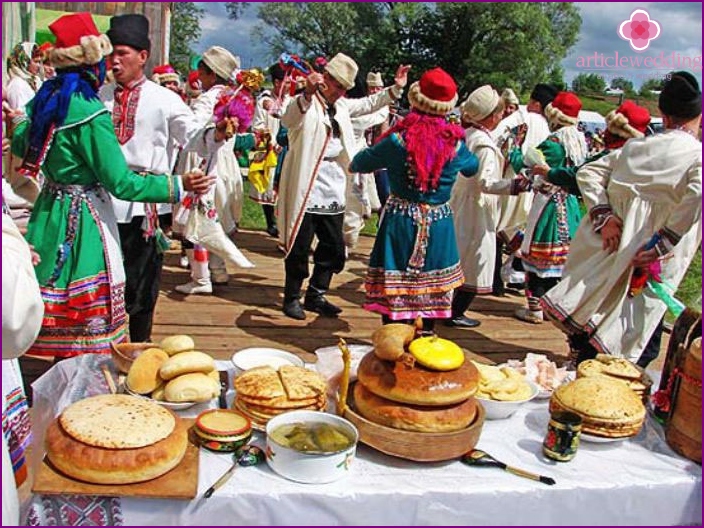 An important tradition that has been preserved since ancient times is tree planting by a young family. Everyone remembers that a real man must build a house, raise a son, plant a tree. Fifth wedding anniversary - a great chance to implement the third paragraph.
According to tradition, a couple celebrating a wedding anniversary of 5 years should plant a tree together. As a rule, a fruit tree is chosen as a seedling, which will bear fruit by the time the children grow up and get stronger, possibly even at the time of the appearance of grandchildren. Such trees are considered a symbol of fertility, procreation.
To plant a tree, select and buy a seedling, plant it on a summer cottage or in a front garden under the windows of a city apartment. The main thing - do not forget to look after your tree so that it grows, grows stronger, like your love.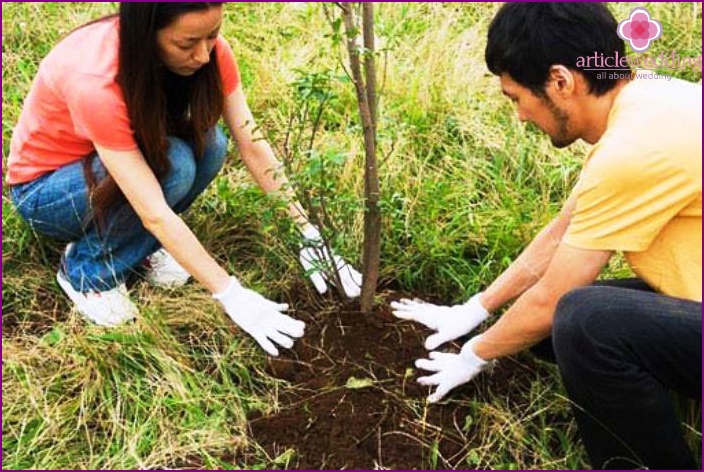 In addition to fruit, it's nice to choose another tree, the planting of which has its own meaning:
By planting an acacia or oak, you will ensure family loyalty, longevity.
Choosing a birch - enrich the family with tenderness, add romance to the relationship.
Maple will give the couple financial stability.
But do not forget that these are beliefs, and not a panacea for all problems.
It is considered a good tradition to decorate yourself and planted trees with bright ribbons. It was believed that such trees will give strength to a married couple.
How to Celebrate 5 Wedding Anniversary
A wooden wedding is an anniversary that you should definitely celebrate. How to do this, with whom to spend a significant day - it's up to you, it all depends on your wishes, financial capabilities.
Where to celebrate
The venue for the celebration depends on the number of guests and the scale of the celebration. An ideal option would be a celebration in nature, surrounded by trees of great importance in the context of the name of the wedding itself. You can rent a gazebo, a house in the forest or on the river bank, if the celebration takes place in summer.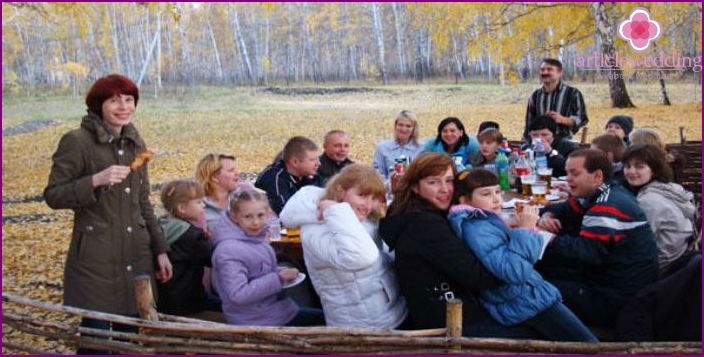 If the celebration of five years from the date of the wedding is planned in the cold season, choose a restaurant for the event or mark it at home in the family circle, giving joy to yourself and your closest people.
Who to share the holiday with
5 years of family life is an important date, which is desirable to celebrate among family, friends. This is an occasion to gather everyone you want to share your happiness, arrange a noisy celebration with fun, comic contests, dancing, a feast, a delicious cake for dessert.
You can organize a quiet event by inviting only parents as well as immediate relatives. Sitting, chatting, indulging in memories of how your family journey began, what you had to endure, what difficulties to cope with and what moments you especially enjoyed, were proud of - a wonderful pastime.
Often the anniversaries of the wedding day want to spend in a romantic setting only together. They have the opportunity to enjoy the minutes of togetherness by organizing a romantic walk or a quiet romantic candlelight dinner. This option of celebration, for example, can be chosen by couples with a child (or several children), sending children to stay with their grandparents.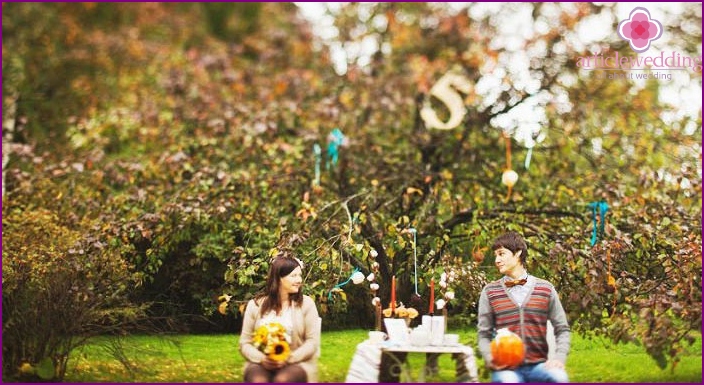 Five years of married life (a wooden anniversary) is a great date to have a wedding ceremony, if you have not already done so. Making a wedding decision is a serious step that will confirm your love, strengthen relationships and bring them to a new, higher standard of living.
«Wooden» PHOTOSESSION
Recently, thematic photo shoots have been especially popular. It would be nice to organize an exit photo session dedicated to the wooden wedding anniversary. Hire a photographer, he will think over the scenario of the photo shoot, help organize everything, take amazing photos that will remain with you for a long time..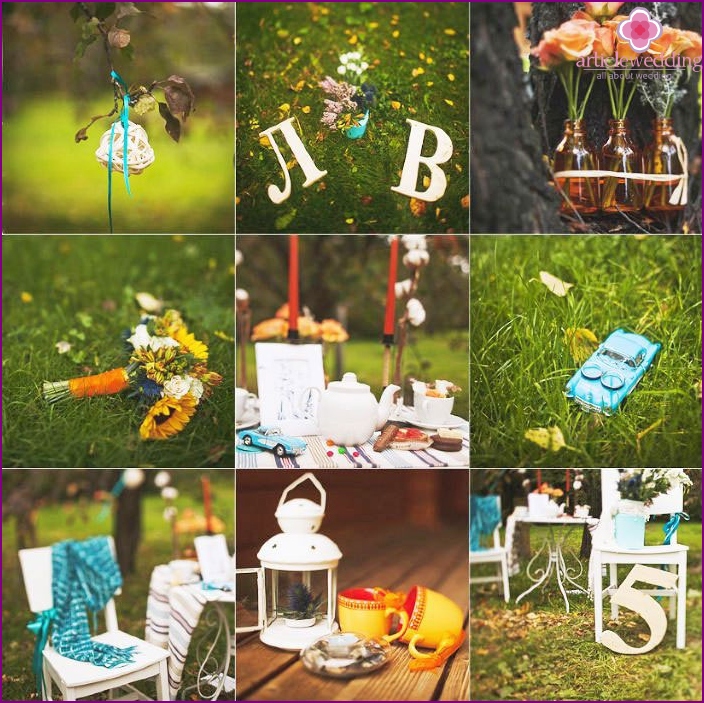 Anniversary script
You can create your own wooden wedding scenario by organizing the anniversary as you wish. For a fun event, it is worth hiring a professional host, who will do all the work for you and will not allow your holiday to turn into a simple feast.
The choice of scenario for this date depends on personal wishes: you can organize a noisy holiday, go on a short trip together or just for a romantic walk. It doesn't matter how you decide to spend this day, the main thing is that you be with your soulmate and this day will be remembered by both.
Gift for a wooden wedding
What to present for this date? As a gift for the wedding anniversary (wooden), various things made of wood are perfect. It is preferable that the gift was made of natural wood: oak is an ideal material. Carved caskets, amulets, pictures from a tree, candlesticks, spoons, various kitchen utensils are considered to be common gifts on such a date..
Friends and relatives can buy any gift, but at least some trifle made of wood should be in it. Not necessarily a gift must be expensive, first of all, it is important to pay attention to the fact that the gift is given from the bottom of the heart with a piece of soul. It can be a simple postcard with a beautiful short inscription expressing warm feelings and attitude towards a married couple.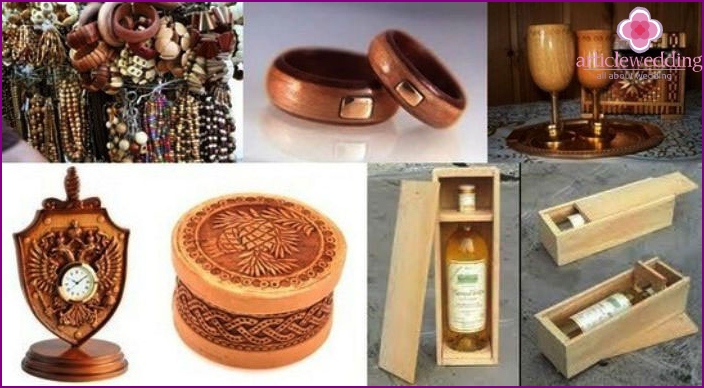 Spouses themselves must also exchange gifts. A husband as a gift can do something with his own hands - cut a spoon from a tree or make a beautiful wooden frame and insert a family photo in it. A wife can give a spouse a wooden beer mug or chess (checkers) if a man is fond of such games.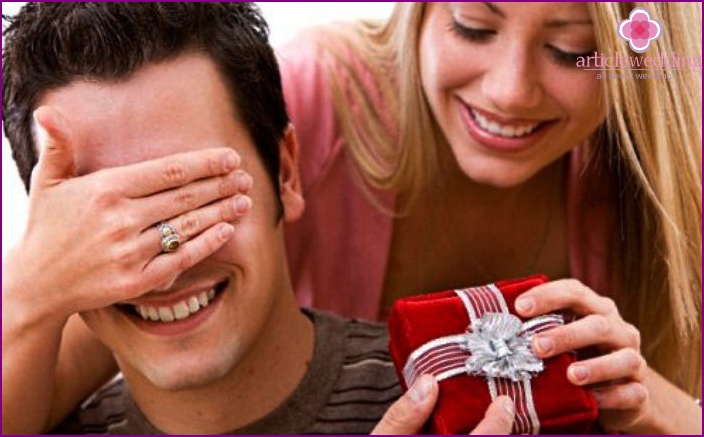 Examples of wood products that are suitable as a gift for a wooden wedding, see the video:
If you are far from the heroes of the occasion and do not have the opportunity to personally congratulate, use the Internet connection services by sending a playcast - an original card with a cheerful congratulation, animated letters and a beautiful melody suitable for the holiday.
5th wedding greetings
For the five-year anniversary of the wedding (wooden), you need to prepare in advance by picking up a beautiful congratulation (poem or prose) with which guests will turn to the anniversaries. See congratulations examples below: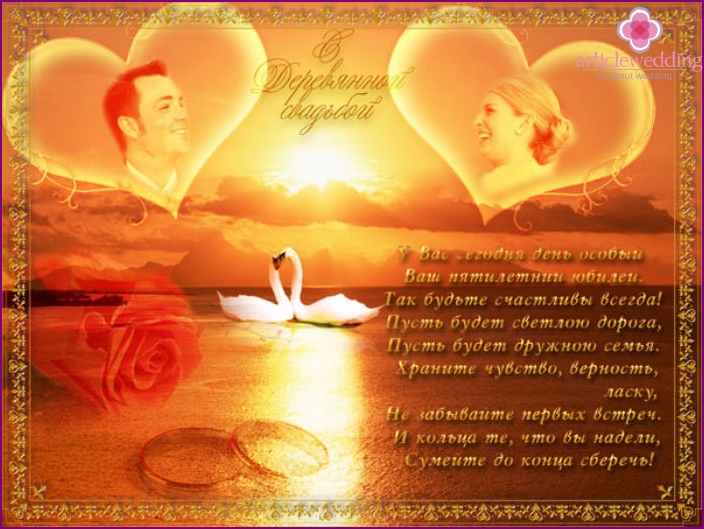 Over the 5 years of living together, a lot has been experienced, but not all roughnesses between the spouses have been smoothed out yet, there is something to work on further, developing relations. Wood is the first solid material (not like paper or fabric) that appears on the wedding calendar. But the tree does not last forever, it is exposed to water, fire, wind, therefore you should not relax, you must continue to take care, and also strengthen the relationship until the golden wedding.
How did you celebrate your fifth anniversary? What did you give to your relatives or friends for 5 years from the wedding day? Share in the comments!