Contents
---
---
Each family celebrates a special holiday - the wedding anniversary. Many men with the approach of this treasured date puzzle over what present to present to their wife on their wedding anniversary? There are tons of various presentations, but each spouse wants to give something special. At least a faithful husband should give his wife a gorgeous bouquet, and for a good mood, attach a pleasant surprise to him. But which one to choose?
What to give your wife on your wedding anniversary?
Each year of living together has its own name, therefore, choosing a surprise for the wife on her wedding anniversary should be judged by her symbolism. For the right choice, you must know your spouse well about her hobbies, hobbies, tastes, preferences in jewelry and accessories. Listen to your wife, maybe she will give you a subtle hint about what she wants to receive. In addition to a bouquet, a chic candlelit dinner, we offer you the following selection of gifts for your wedding anniversary, depending on the name. So how to surprise your wife on your wedding anniversary?
1 year - chintz
The first marital year is called calico. He got such a name, because the relationship between the young is still shaky, there is a grinding of characters. According to tradition, on this wedding anniversary, the couple should exchange chintz handkerchiefs, tie knots on them, giving vows of love. After this rite, the scarves are hidden in a secluded place, stored until the end of life. A husband can give his wife chintz, pajamas, or a set of bed linen. You can go the other way and give your spouse a wedding anniversary surprise in the form of an ornament wrapped in beautiful calico fabric.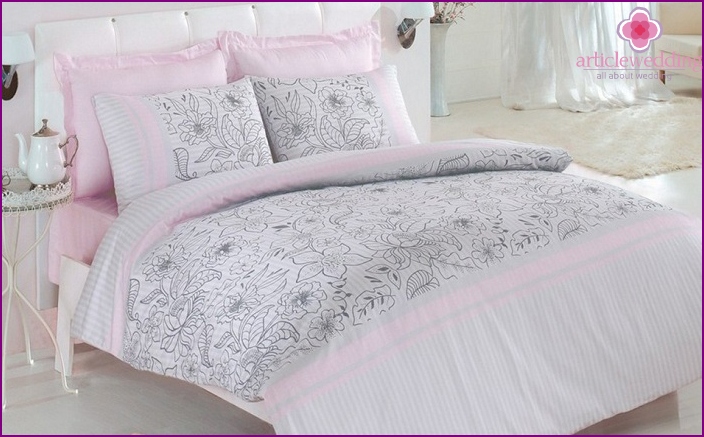 2 year - paper
A paper wedding anniversary is called that because paper can endure everything. It is believed that the next joint year should begin «from scratch». What a gift to give my wife a paper anniversary? If the spouse loves to read books, leaf through magazines, is interested in ancient publications, then the question of a gift is decided by itself. A paper anniversary is a good reason to give money, a certificate to a perfume or jewelry salon. A good and suitable gift is a family photo in a beautiful frame, complemented by an open one with beautiful romantic poems.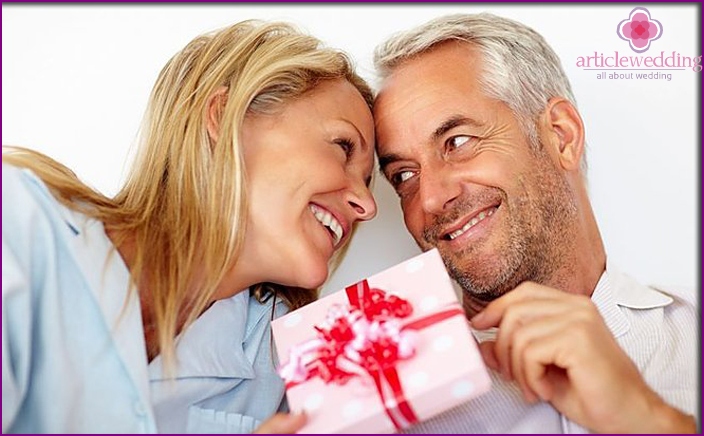 3 years - leather
The leather wedding anniversary is called so because the relationship is becoming stronger, stronger, and the spouses are more flexible: they are not so keenly reacting to each other's wishes, they respect everyone's choice. According to traditions, on this day the couple wears leather clothes, throws out broken dishes, repays debts and apologizes to each other for everything bad. Choose your wife such gifts for a wedding anniversary of 3 years, such as genuine leather gloves, bags, wallet, coat, jacket, boots, shoes. Such a present will be appreciated by the spouse.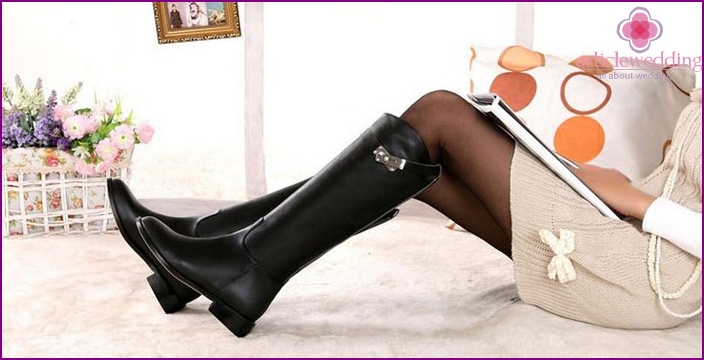 4 years - linen
The fourth wedding anniversary is called linen, and this is no coincidence: for the years lived, the couple attached themselves to each other, as if with strong ropes made of linen. This material is considered very wear-resistant and durable. In the past, flax was considered a symbol of wealth, wealth. According to one tradition, the wife should sew new linen bedding, which symbolizes the family dooming their wealth.
The flaxen anniversary suggests that the husband presents his wife with products that are made from this material. It can be expensive sets of linen, towels, and even curtains, bedspreads, tapestry woven from linen threads, a picture painted on canvas. Since flax is a very breathable material that allows good air permeability, excellent summer sundresses, pants, tunics, and shirts are sewn from it, which will serve as a great gift for the wife.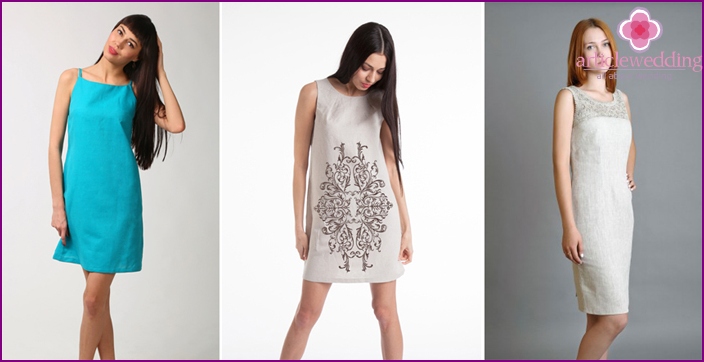 5 years - wooden
The essence of the wooden anniversary is the solidity that appears in a couple after five years of marriage. This is a solid base for building further relationships. On this day, it is customary to exchange gifts made with one's own hand. Husbands present wives with oak products - forks, spoons, plates and other kitchen utensils. A spouse can find a lot of wooden presents on sale: caskets, jewelry with instructions for wood, jewelry, hairpins, combs.
Wooden figures will symbolically look. The fair sex will not remain indifferent from a bird of happiness, a cat, a couple in love. Spouse can find amulets that protect love and family hearth. If the wife understands art, choose a wooden picture for a gift. This unique work of art will take its rightful place in the house..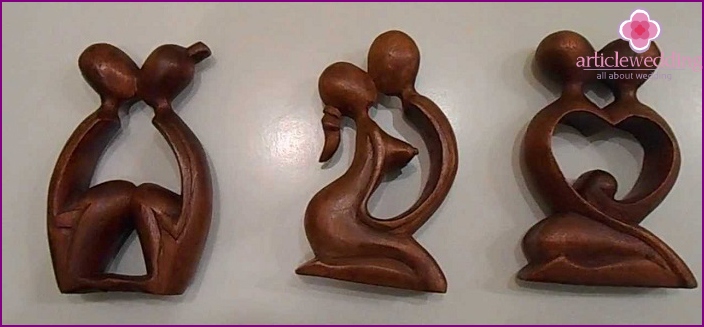 6 years old - cast iron
The cast-iron wedding anniversary symbolizes a strong home. Cast iron is considered to be heavy metal; pots were made from it, which can withstand high temperatures in the furnace, so this anniversary means the strength of the family. According to tradition, the spouse on this day must show their culinary skills and cook dishes in cast-iron dishes. The spouse can present to his wife a metal stand with kitchen utensils, a frying pan, figurines.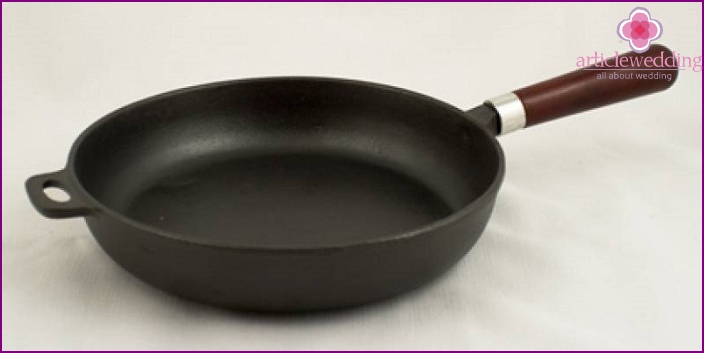 7 years - copper
The brass wedding anniversary is a serious date. This metal is characterized by plasticity, softness, therefore it is assumed that the spouses have already got used to each other for 7 years. In the old days, on the anniversary, husband and wife exchanged copper coins as a symbol of material well-being. In addition, over the threshold of the house, the couple hung a horseshoe, which served as a talisman for the family.
The best gift for a wedding anniversary of 7 years to a wife will be copper things. It can be candlesticks, cutlery, dishes, fruit vases, old coins, caskets or home decoration. The second name for this anniversary is woolen. How many different gifts can you come up with? This and plaids, cardigans, coats, cozy sweaters and many more options.

8 years - tin
Tin symbolizes a measured, calm flow of life. According to tradition, the wife on this wedding anniversary put on jewelry made of tin plates with printed patterns. On the floor of the stable, the couple left a tin sheet: if a horse steps on it, leaving an imprint of a horseshoe, then the married life will be long and happy. Presenting everything to the wife is brilliant, for example, baking dishes, trays. In addition, there is such a wonderful custom - to change the matrimonial bed on a tin anniversary.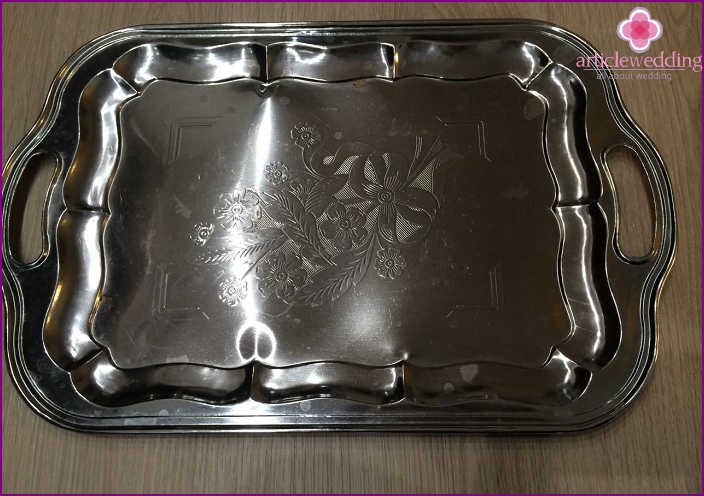 9 years old - earthenware
The ninth anniversary is a faience wedding, which symbolizes the fact that married life becomes as strong as tea brewed in earthenware bowls. Earthenware symbolizes harmonious life, since dishes are made from this material. Spouses on this day should beat the cracked, old dishes. It would be nice for his wife to present a faience set, and they also traditionally give crystal products. A good gift option - rhinestone earrings.

10 years - pewter
The main symbol of the tenth wedding anniversary is tin, which symbolizes flexibility. Spouses know each other well, understand perfectly, in their life mutual respect and love reign. Another symbol of the holiday is a rose, which embodies passion, deep feelings. Be sure to give your wife a gorgeous bouquet. Attach to him such a gift for a wedding anniversary of 10 years, such as candlesticks, frames, cutlery, figurines or vases.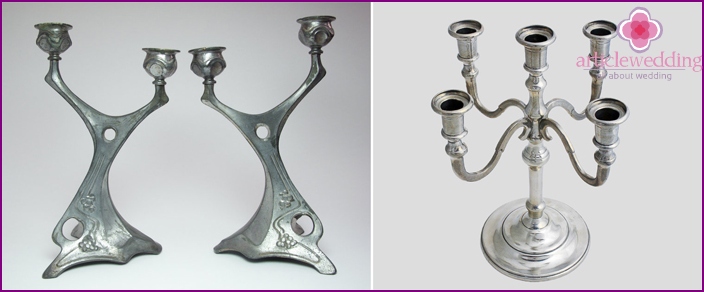 20 years old - porcelain
On the 20th anniversary of the wedding, the table is traditionally served with china. Since this material came from the East, the spouse must make at least one eastern treat. As a gift to his wife, the husband can present a coffee or tea set, porcelain figurines, vases, dishes, desserts, piggy banks.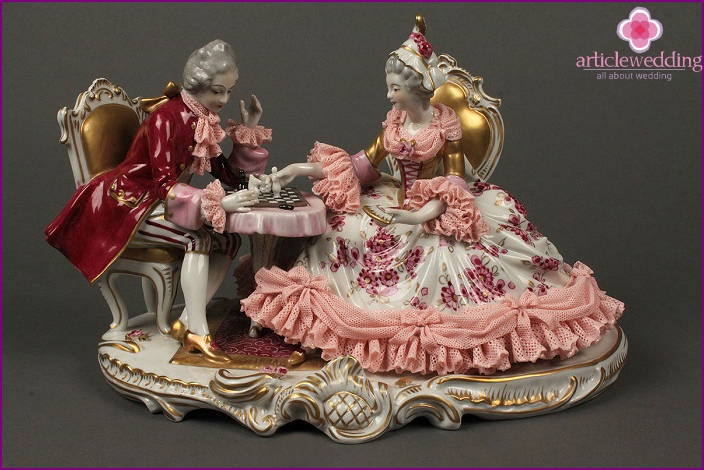 30 years old - pearl
Ripening pearls is a painstaking and long process. The transformation of crumbs into a gemstone is compared with the transformation of a young couple into wise spouses over the years, the relationship between which is very strong. According to tradition, the husband gives his wife a necklace that contains 30 pearls, which shows the value of all the tears shed by her. Any pearl jewelry will be the best gift for your wife.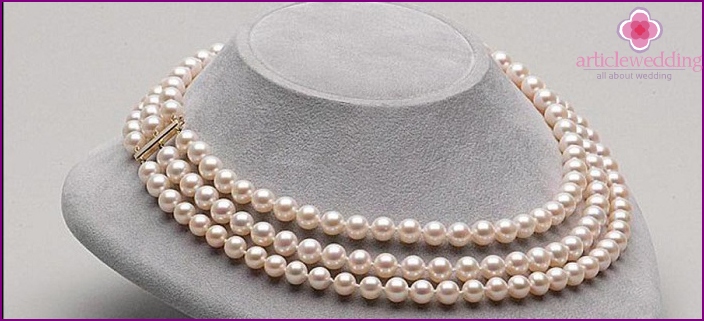 40 years old - ruby
Ruby wedding anniversary is a very solemn, interesting event. After processing, the ruby ​​becomes a precious beautiful stone. So family relationships, which have been polished for years, gain a fortress. According to tradition, the wife's wedding rings are changed to ruby ​​rings on this day. A husband can present his wife ruby ​​earrings, a casket, a pendant, a necklace, a bracelet.

50 years is golden
The golden wedding anniversary is a real event in the life of a married couple. Gold represents a special malleability of character, which is necessary to achieve such an anniversary of the family, the constancy of the direction in moving towards a single goal, the immutability of feelings with external adverse factors. By tradition, celebrating the fiftieth anniversary should be as magnificent as the wedding itself. It is customary for the husband to give his wife a new engagement ring with or without inlaid diamonds, but always as a symbol of the loyalty and inextricability of their connection.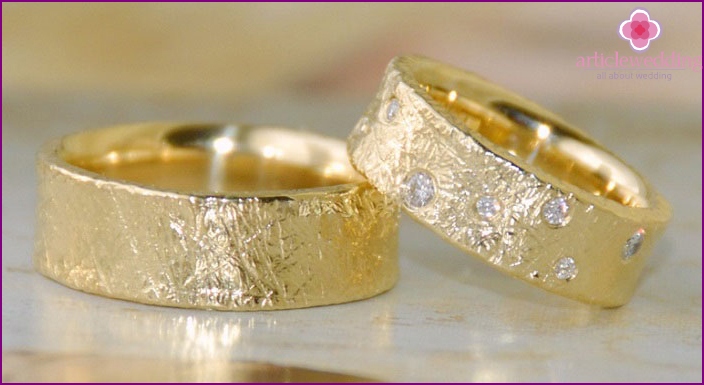 What kind of gift can you make yourself?
A gift made by the hands of a loved one is very valuable and unique. It does not matter how much such a thing will cost, but it will remain in memory for a long time as a sincere expression of fidelity, feeling. Men can easily make a present to their wife on their own: some carve wood, draw, do things for the home. For example, every woman will like to sit at a table or in a chair made by her beloved.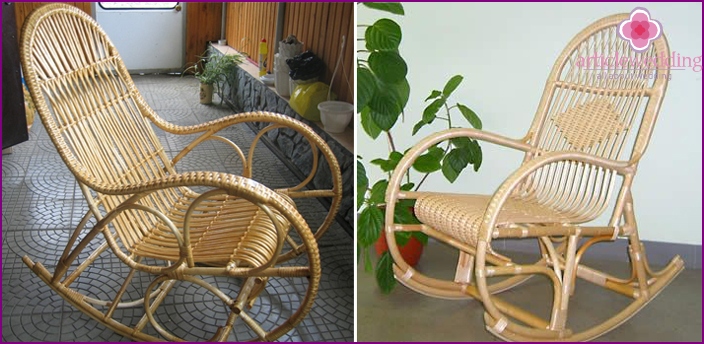 An excellent DIY gift will be massage and other body caresses, gourmet cooked food, a walk under the moonlight. This may be all that you can embody physically, but not necessarily materially. A homemade decoration will be a great idea. It may not be as exquisite as that of a jewelry salon, but all your love and warmth will be enclosed in it. In addition, for your beloved woman, you can record a romantic film about past years.
Video: an original surprise for his wife on her wedding anniversary
On the wedding anniversary, the husband can arrange a true holiday for his wife: a romantic dinner by candlelight, a sea of ​​gifts, pleasant surprises, a subscription to the SPA salon and much more. But nothing will express all the sincerity of feelings and the value of your soul mate, as a surprise made by yourself. For inspiration, watch the video presented, where the husband gave his lover a whole film about their life together with sincere confessions, romantic songs and collections of photos of the family archive.