Contents
---
---
26 years of marriage - an important date for a married couple. This year a jade wedding is celebrated. As the name implies, a stone with a unique property is considered a symbol of celebration - it is difficult to break into small pieces, has high strength and durability. And if you hold it in your hand, you will feel the heat for a long time: it is able to accumulate it, and then give it away very slowly. In this regard, jade products have healing properties. But back to the 26th wedding anniversary.
Traditions and customs for 26 years of wedding
Like other wedding dates, jade involves following some traditions. On this day, the spouses exchanged medallions made using stone, inside of which photographs of each other were inserted. On the day of this anniversary it is customary to exchange vows - such a custom strengthens feelings, brings novelty. If guests are invited to the celebration, then these should be the closest friends. And before the guests come, the couple walks in memorable places, for example, in the park where the first date took place.
Cool celebration script
The anniversary, which is celebrated 26 years after the wedding day, has its own beautiful and special traditions for couples, the observance of which is a pleasure, brings a joyful note in the mood of the spouses. Want a pre-made jade wedding script? Give your loved one an interesting gift and an unforgettable day:
First of all, suggest writing wedding vows in advance and exchanging them - this will breathe new feelings into your family life.
Take each other's hands and, looking into your eyes, utter the warmest, most sincere words. Such a ceremony will certainly bring you closer, strengthen relationships.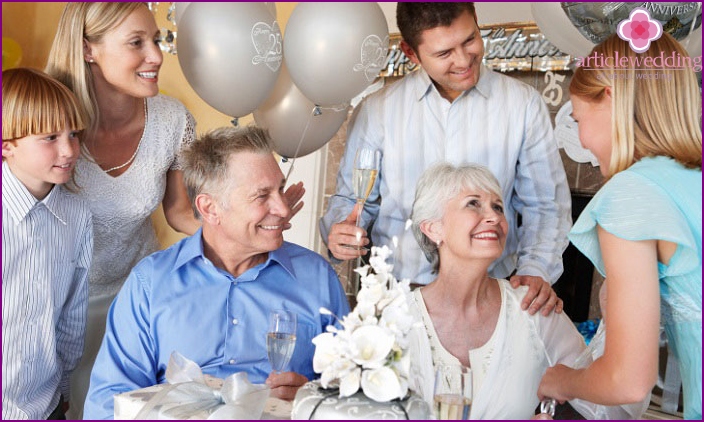 The 26th anniversary of the wedding provides an excellent opportunity for spouses to gather their closest friends and relatives at a common table. But there is another option - to arrange a quiet romantic dinner for only two, because this is your holiday. You can stay at home to watch a romantic movie with a glass of delicious wine or take a walk around the city, visiting all the places that are imprinted with your love. During the walk, remember how the acquaintance went, how you planned the wedding, how the first years of your life passed.
How to celebrate the anniversary of family life?
Usually a jade wedding is not characterized by a magnificent celebration. The celebration can take place at home or in a restaurant that reminds a couple of the beginning of a relationship. In summer, an excellent solution will be the organization of a festive picnic in nature: the sun, water, barbecue, a narrow circle of closest people - what more could you want? During the celebration, remember what goals you set for yourself, and at the same time compare them with what you have achieved in life. Do not forget to dream about the future, make plans for the coming years.
To make the holiday fun, come up with contests, or repeat those that were during the wedding - this will remind you of pleasant moments of the past. If witnesses are present at the jade anniversary, they can repeat the toast that was addressed to you at the wedding. It's good when the jade wedding ends with the spouses dancing to the same music that was at the wedding banquet. At the end of the evening, the couple should give each other 26 kisses, which will symbolize the number of happy years lived together.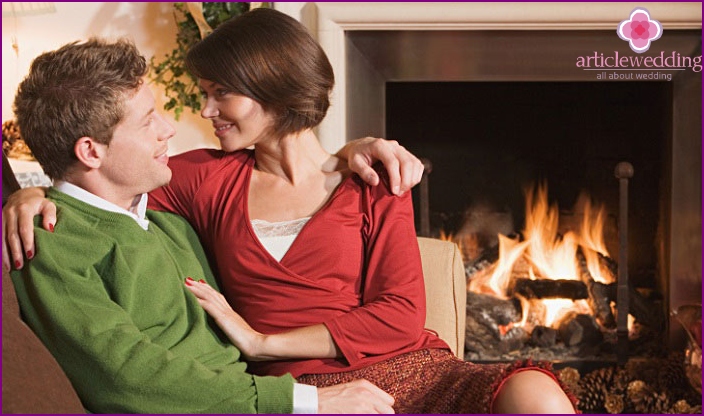 If you do not like this festive moment of the feast and company, arrange a romantic dinner in the restaurant. It happens that the day goes in a frenzied rhythm, then it's not bad to organize an evening of relaxation - watch your favorite movie with your spouse, order a dinner from your favorite restaurant, buy wine. Nothing more important for you tonight than spending time together, indulging in memories..
What to give for a jade wedding?
Even if the jade anniversary was modest and quiet, it is good if the couple pleased each other with good gifts. First make a general gift for the family - a flower in a pot with bright green leaves, similar to the stone to which this date is dedicated. He will personify well-being, strong family ties of the wife and husband. After that, think about individual gifts to each other: it is desirable that they include a stone symbolizing this holiday date.
Gift Ideas for Wife
The beloved wife deserves the best gifts that the husband will present to her on the day of the jade date from the day of the marriage in addition to the festive bouquet and compliments:
The best surprise for your wife will be an elegant jade jewelry - beads, earrings, ring.

Figurine with a romantic connotation - for example, a heart or jade pigeons - will please your wife.
A tray made with interspersed stone looks status and beautiful. On such a tray, the husband will gladly present breakfast to bed to his beloved wife.

A good choice is a tea set that is made of jade or contains stone as decorative elements. Such a gift is not only beautiful, but will prove useful: the mineral is able to improve the structure of the liquid, positively affect the human biofield by increasing vibration.
A valuable and unique gift to the wife on her wedding anniversary is jade wine glasses. They will last you a very long time. In addition, the glasses keep the temperature perfectly, so the wine or champagne in them will not heat up for a long time.
Each wife will approve a green set of beautiful bedding..
If the husband does not want to give something that symbolizes the jade anniversary, then there is another option - to give that beautiful thing that the wife dreams of. Maybe she had long wanted to visit a SPA salon? Then it is worth giving her a certificate for his visit as a gift. Favorite dreams of a new thing? A spouse can drive her into a fashion boutique and not refuse anything. so that my wife picks up a dress, blouse, other clothes.
Original presents for husband
The husband certainly will not mind receiving a beautiful, original gift on the day of the jade anniversary of the marriage of his beloved wife:
If a man wears ties, give him a beautiful accessory of rich green color. The shirt in the kit will also be good.
The jade totem is a gift for the collector. If the husband collects something, find a new exhibit for him..
Figurine with a husband's zodiac sign will charge with positive energy, develop positive qualities.
A set for writing instruments - a beautiful gift for a jade anniversary that will delight business people.

A jade head massager for a husband is a great way to relieve stress, headache, have fun, relax.
The jade pyramid on the desk is a symbol of power, giving its owner initiative, positive energy.

Money tree with jade stones, jade coin - such objects attract well-being, wealth to the house.
A ring is a gift for those who wear jewelry. Men love a certain form, where the stone plays an important role.
To tobacco lovers, bring a jade mouthpiece. It is believed that the mineral neutralizes the effects of toxic smoke..
Beads from this stone help relieve bad mood.
Jade Chinese balls relieve stress, set up for positive, absorb negative energy.

Order a beautiful jade frame, make a collage of joint photos, insert inside.
A great gift is a watch or other souvenir made of green stone with an engraving of the wedding date, greeting phrase, name of the spouse.
Jade Wedding Poetry
A great couple for a wedding anniversary gift will be beautiful words of congratulation. Since the holiday is associated with a charming stone, wishes should be associated with its appearance or qualities. As an example, a strong family, a long-lasting union just like jade. Spouses easily find what to say to each other. If not, then you should look for ready-made congratulations in advance.