Contents
---
---
Many couples, having lived together for a long period of time, find it difficult to answer what is called a wedding anniversary of 29 years. This is a velvet wedding. The celebration was given such a beautiful name in honor of velvet - soft and delicate fabric that resembles the quivering and tender feelings of lovers. Having married 29 years ago, the couple were able to maintain their relationship, learned to give in and support each other in difficult life situations. Therefore, such an event must be noted at the proper level so that the couple remembered the day when they were newlyweds.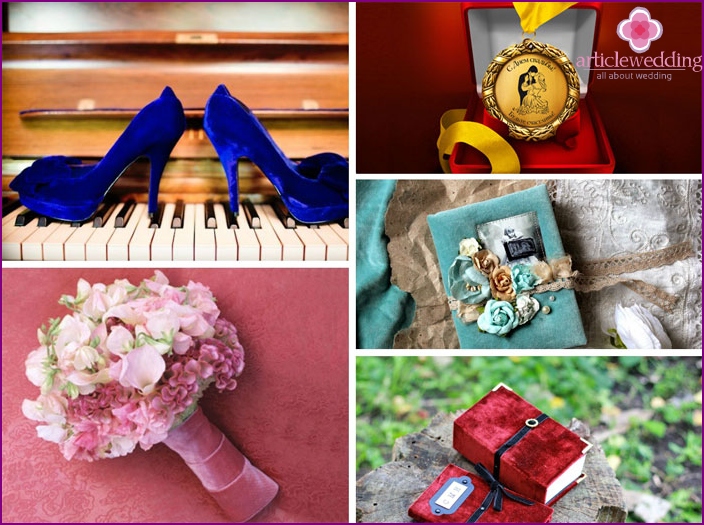 Wedding Anniversary Greetings and Toasts
The solemn day of a significant date should be full of sincere wishes. A married couple who celebrates the 29th wedding anniversary receives many congratulations from family and friends throughout the day. To make your wish different from others, it is necessary to prepare it in advance. Spouses will appreciate your efforts if you write poems or a toast yourself and read them at a gala evening. This will cause a storm of positive emotions from the couple and the guests present..
Congratulatory words in verses
If you plan to recite a verse at the festive table, then first learn the words and practice in front of the mirror. This will help to avoid fear of the public. In order not to forget the lines of the poem, write the work on the sheet, which will become your indispensable cheat sheet at the right time. If you cannot decide what words to devote to a married couple, use these examples of original wedding wishes:
We congratulate your family-
Twenty nine years old how she was born.
Let your house be a full bowl,
And spring always reigns in it.
So that folding life was like a song,
And the sadness of the two was easy,
So you walk along life
Eye to eye, hand to hand!
Congratulations on your 29th wedding anniversary!
And on this anniversary your velvet,
Love stronger, wish you stronger,
Destined for each other!
Love let souls shine with happiness,
Let troubles, showers drive away!
Let pursuit be good luck,
So that we can always help each other!
Our dear spouses!
29years - not yet a date,
But it's still an anniversary.
You were young once,
But years rush faster.
You lived a little together,
And that day we shouted to the bride:
Less scolding husband and children.
And you lowered all your eyes,
And gently caressed the groom ...
Short SMS Congratulations
If a family that celebrates the 29th anniversary of living together lives far away, you can congratulate her with a text message. Modern technology allows you to quickly deliver electronic wishes to the recipient's phone. For congratulations of this kind, it is recommended to use short verses, but containing pleasant and warm words. Do not forget at the beginning of SMS messages to address by name to the addressee. This is considered a sign of a good tone in electronic communication..
The length of such a request varies from 60 to 120 characters, which corresponds to one or two notifications. Do not write long congratulations, different phone models may differ in technical capabilities and do not transmit long SMS. You can make original wishes in honor of the wedding anniversary yourself. For example, using our selection of such congratulations.
Velvet wedding - a beautiful, bright day.
The world has found another happy family.
And now keep in your hearts
You are your boundless love!
Congratulations on your wedding anniversary!
29 years you are in peace and in love,
Let the ice doubt melt,
You were born to each other!
29 years ago you were exactly married!
I congratulate you on your anniversary!
Hearts are still happy to sparkle,
So that only tears of joy from the eyes!
Congratulations to you fly to the 29th wedding anniversary!
Presented to each other you are destiny,
And this is such happiness for you -
Living with a sincere and devoted soul.
What is customary to give to a velvet wedding?
Velvet is a symbol of luxury, wealth and greatness. If the couple was able to maintain their relationship for 29 years, then the day of the velvet wedding must be celebrated with all the chic and brilliance. By this time, the children had already grown up, graduated from high school, university and started families. And after such a date, a married couple may well diversify their lives with joint trips, trips to the sea or excursions.
An alternative to an active holiday on the wedding day can be a gift in the form of a festive evening in a restaurant whose decor is made of velvet. Make a reservation with the administrator in advance about the presence of a velvet tablecloth, curtains or chairs. The presence of such a fabric in the interior will emphasize all the grandeur and luxury of the event. But if spouses prefer to celebrate the celebration in the family circle, then on the wedding anniversary it is customary to invite parents, children, grandchildren, close friends.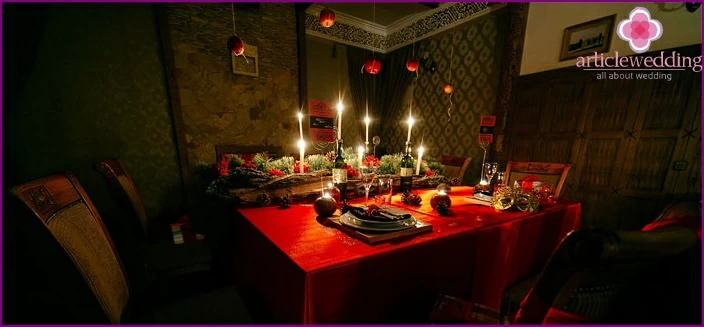 Adhering to the traditions of the wedding, spouses need to exchange gifts on this day. A long life together helped partners to get to know each other's habits, tastes and preferences well. Therefore, a gift dedicated to the date of the wedding, you need to choose carefully. Given the name of the celebration, the surprise should consist entirely of velvet fabric or contain its elements. If the husband selects a gift for his wife, it is worth considering the option with a present in the form of jewelry, packed in a velvet box or bag. Other relevant surprises include:
velvety cape or shawl;
velvet dress;
scarf;
velvet handbag;
home bathrobe;
velvet casket.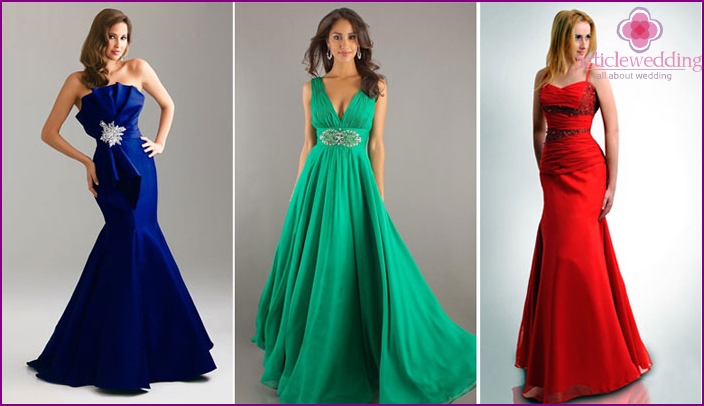 Choosing a gift for a husband, it is not necessary to buy a product made entirely of velvet. If you present a gift wrapped in this fabric, this will also be a wonderful surprise. You can pick up good, expensive glasses for your husband by putting them in a velvet case. Also, the spouse will appreciate the surprise in the form of a jacket or shirt, which are fully or partially made of this fabric. A gift in the form of a velvet castle, which symbolizes fidelity, will help to recall the first day of the wedding. According to tradition, the attribute must be hung on the bridge, and the key thrown into the river.
Gift Ideas for Parents
If you are going to the wedding anniversary with your parents, children need to prepare a surprise for this event in advance. Establish a tradition to give postcards for each solemn date. A small beautiful card will remain with parents for many years. To please the loving dad and mother on the wedding day, it is also recommended to present pleasant presentations:
Bouquet of roses. Consult a professional florist for help. A specialist will collect a bouquet of velvet roses that can convey all the grandeur of a wedding day.

The picture. If parents appreciate art, then give them a reproduction of a painting by a famous artist. In order for the surprise to fit the theme of the wedding, the canvas should be decorated with a velvet frame.
Congratulations to the local magazine. If you know that your parents write or buy specific magazines or newspapers, call the editorial office and ask them to publish a personal congratulation. Such a service is present in all print media, where the wish section is located on the last pages. After reading a printed congratulation, parents will be delighted with this unusual wedding gift..
Photo album. Parents over 29 years of living together have accumulated many photos that reflect the joyful moments of their lives. You can purchase a velvet photo album and post family photos on its pages. Such a sentimental gift will bring parents warm memories of the past years of marriage..

Pillows These products made of velvet fabric will help to decorate the interior of the parental home. In advance, order in the furniture salon the manufacture of individual designs of several such accessories that will be an excellent gift for parents at a wedding.

Theater tickets. Many parents prefer spending time in the theater together. Buy tickets for a romantic performance for mom and dad, the plot of which can remind them of feelings and cause positive emotions.
Why is the 29th anniversary of marriage not celebrated?
Some superstitious couples believe that one cannot celebrate 29 years of marriage. In numerology, there is an opinion that this number may bring bad luck for the current year. Therefore, spouses are not recommended to celebrate 29 years from the wedding day. Couples who do not believe the magic of numbers justify their refusal to organize the celebration by saying that this date is insignificant, planning a large-scale feast for the upcoming thirty years next year.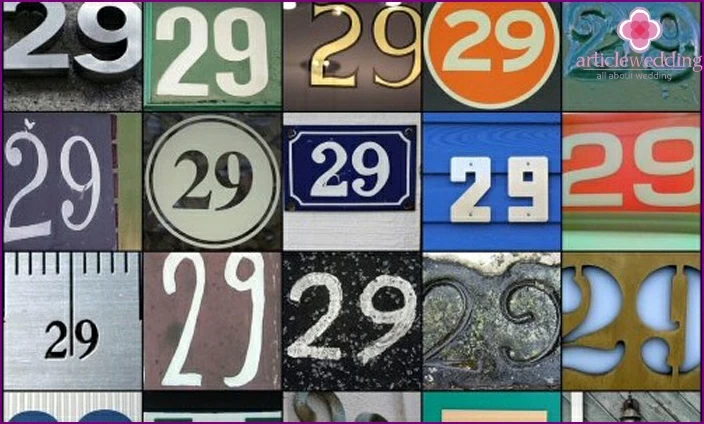 If you do not take into account superstition, regardless of the date of the wedding, the celebration must be celebrated annually. It is not necessary to organize a chic celebration, inviting a large number of guests. If a wife and husband arrange a small romantic evening for themselves, this will help them remember the wedding day and honeymoon. May such a celebration help you get together again and become your annual family tradition.