Contents
---
---
40 years of marriage has received the beautiful name of a ruby ​​wedding. This name is due to the fact that it takes a lot of time and energy to turn corundum into a sparkling faceted ruby. So to create a strong, friendly family, you need to make every effort to maintain love, respect, and warm relations between spouses for 40 years. In addition, ruby ​​comes in a variety of shades, from pink to scarlet, which symbolizes passionate, gentle, sincere love.
Ancient traditions and customs for 40 years of wedding
Ruby anniversary wedding anniversary, which is certainly worth celebrating. This must be done as you wish, but you should not forget about the old traditions of this holiday. What are the traditions that should be followed for a wedding anniversary of 40 years?
According to ancient tradition, on the day of the fortieth anniversary of marriage, spouses change their wedding rings to others, with an inlaid ruby. They put the old rings in a casket in order to pass them on to their grandchildren, and together with the rings the love, experience and mutual understanding accumulated over many years.

There is an old custom according to which the spouses pick a cherry with fastened tails from a tree of ruby ​​color and eat berries without breaking tails, and bones are buried. According to the legend, if the couple lived a family life in love, peace and harmony, then after a while two cherry trees with woven roots grow. This beautiful ceremony is not necessary to conduct directly on the day of the anniversary itself, you can do it throughout the year following the date of celebration.
Another good tradition came to us from the Caucasus: the couple should eat one pomegranate for two. Half goes to her husband: eating one ruby ​​seed, he should say compliments, praise his spouse. The wife should also list the merits of her lover with each pomegranate seed. If the couple were able to eat pomegranate, praising each other and not repeating, then they lived a happy life, in love.

Ruby wedding: how to celebrate an anniversary?
As a rule, spouses celebrating 40 years of family life are about 60-70 years old. For them, this is a great opportunity to gather at home all relatives, close friends and good comrades. How to celebrate 40 years of a wedding, what is better to cook and how to decorate a room, observing a ruby ​​theme, questions that a married couple thinks about before a wedding anniversary.
To correctly celebrate the anniversary, you need to know the history of its occurrence and why this date is called a ruby ​​wedding.
Ruby gem, second in value after diamond. As a result of the long efforts of nature, the stone takes its shape, and after cutting it becomes a real jewel. As a rule, ruby ​​is dark red in color; shades of lighter pink and scarlet are rare. True natural beauty hides for many years. spent on its creation, and this is exactly what happens in family life. Beautiful relationships in people hide behind the screen of family life the turmoil, disputes and disagreements that necessarily met on the way of the spouses.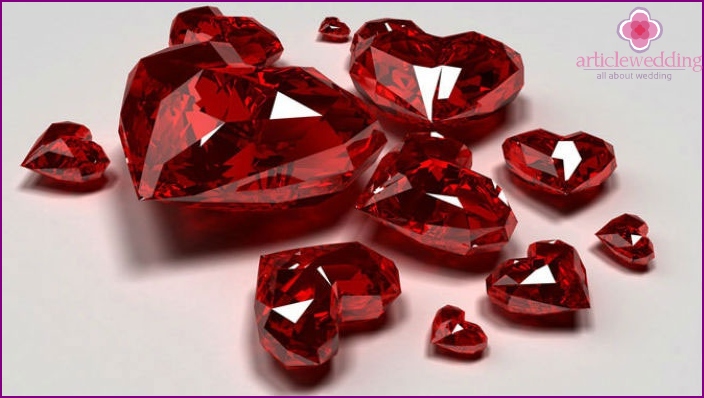 Choosing a venue for the celebration
Wedding anniversary is a great family celebration. It is better to celebrate it in a cafe or restaurant so that the couple can relax, have fun with their relatives. For the celebration, it is better to choose a small cozy room where the whole company, led by the heroes of the occasion, will feel comfortable. It is important that there is a place for those who want to dance, as well as for those who prefer to have a hearty chat with friends.
Decorating the hall is best done in ruby ​​colors, because this color is a symbol of the 40th wedding anniversary. For decoration, you can choose red fresh flowers, for example, roses, as well as other tulips, peonies, carnations, other in season. A great option is red balloons. The tablecloth and napkins should also be in tone with the celebration.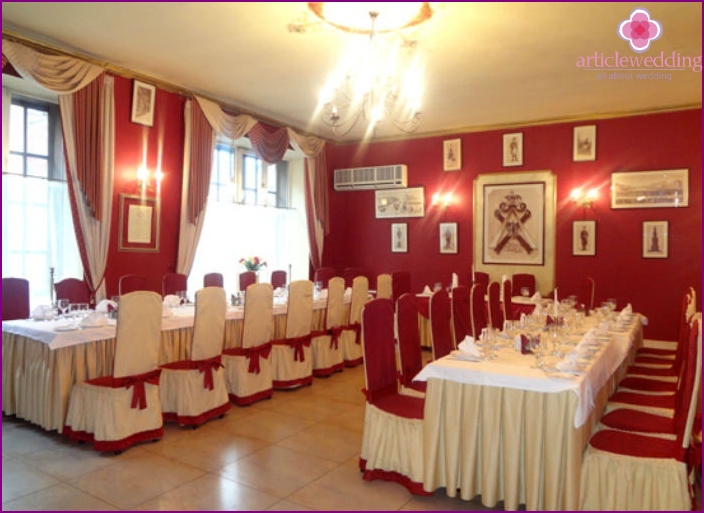 If there is no opportunity to go to a restaurant, and the celebration is planned at home, then the rooms, kitchen, hallway also need to be decorated. It is good to use the same flowers, multi-colored balloons, a garland of red corrugated paper, symbolic carved hearts. It is wonderful if children, grandchildren of spouses, make their efforts to decorate the apartment or house.
What to wear for spouses
40 years of marriage together is an anniversary, because the couple should look great. What to wear for the heroes of the occasion is up to them to decide, because hardly anyone will follow the latest fashion trends in 60 years. Clothing should be festive, elegant, but at the same time comfortable. The outfit must have elements of ruby ​​color or its other shades. As such elements for a woman, jewelry can be red beads, earrings, a bracelet, and for a spouse a scarlet or pink tie or shirt in red.

Who to invite
The issue of those invited to the 40th wedding anniversary is decided by itself. First of all, children, grandchildren and closest friends, relatives are invited. If the couple decided to celebrate the holiday on a grand scale, then neighbors and good friends are invited. It is better to invite those people who helped and supported you on your life path, helping to realize the value of your family. With such people you will have something to remember, something to talk about, and you can have a wonderful time.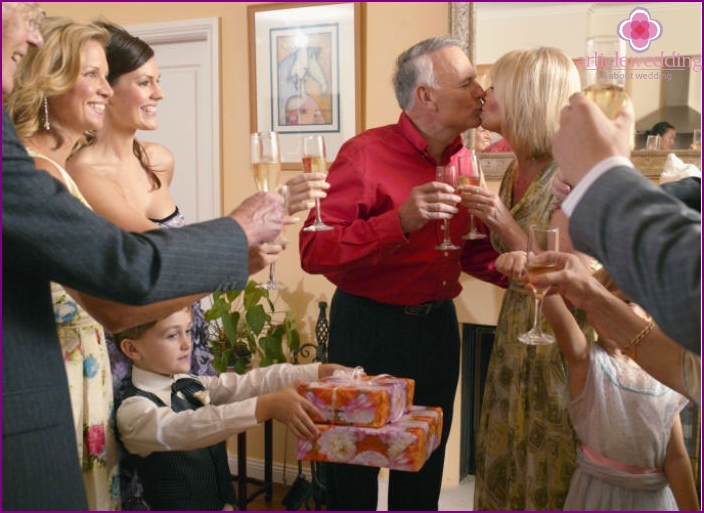 Often children on their own initiative organize a celebration for their parents, making a surprise for them. Parents will like such a celebration, they will be happy not only to meet with loved ones, but also to care, attention.
What should be on the table
Ruby wedding is a celebration, the symbolic color of which is red, therefore the table should be served in tone. It is good when the table is decorated with a red tablecloth, napkins of the corresponding color. If possible, it is better to choose dishes with red flowers or abstraction..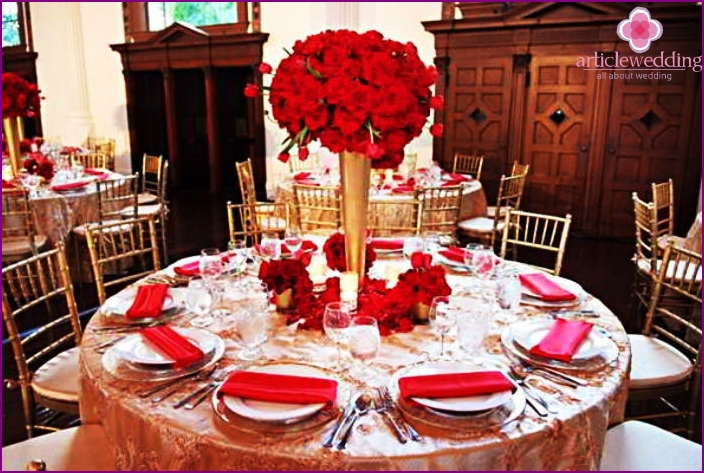 On the table must be present a bottle of good red wine, which will help cheer guests. The wine is worth choosing natural, not fortified, but tasty. Do not forget about red and pink varieties of champagne, sparkling wines, red berry liquors. By the way, treating all guests with a hand-made liquor made with ruby-colored anniversaries that is made according to the company's family recipe will be a wonderful gesture.
For dessert, treat your guests with fresh red berries of strawberries, strawberries, raspberries, or you can order a delicious, original cake if the anniversary is celebrated in winter. Examples of such cakes, see the photo.

Celebration script
For the celebration, you can invite a professional toastmaster or entrust the organization of the entertainment part to someone from relatives, friends. So that you don't get bored on your wedding anniversary, you can organize fun contests, a quiz with standard questions: for example, how many years is a ruby ​​wedding? How did the heroes of the day meet? , 40 years of marriage What wedding? when was the first child born? dancing.
The ruby ​​wedding, the script of which was prepared in advance, will be wonderful. When planning a celebration, it is necessary to coordinate all the moments with the heroes of the holiday so as not to put them or the invited guests in an awkward position.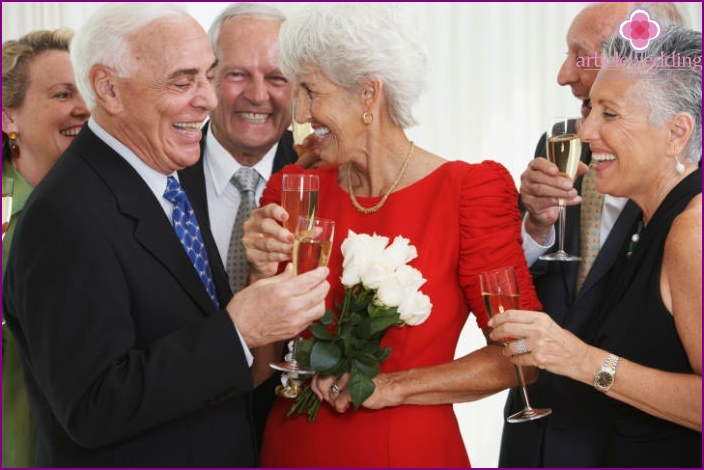 What to give for a ruby ​​wedding
The 40th wedding anniversary is a festive date for anniversaries, and for the holiday it is customary to give gifts. What to choose as a gift for your 40th wedding anniversary to your spouse? What should parents give for a ruby ​​wedding? The best option for a gift is jewelry, interesting figurines, crafts with ruby. It is important to remember that ruby ​​is not only a jewel, but also an amulet that can protect the love of anniversaries.
From jewelry, it's nice to buy earrings, a heart pendant, a necklace, a brooch, a beads, a key chain, a watch with an inlaid ruby. You can also choose a beautiful red vase, a box with ruby ​​or give any gift wrapped in red wrapping paper. Not necessarily a gift should cost a fabulous amount of money, because the main thing in this matter is attention.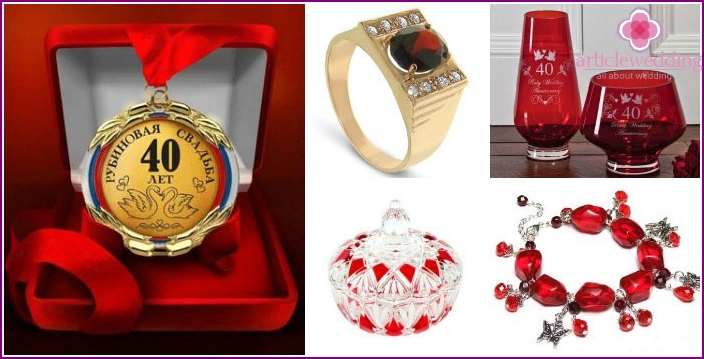 Ruby Wedding Greetings
A beautiful congratulation is an integral part of the anniversary, therefore it is worthwhile to prepare in advance a speech or a toast with which you will appear before the anniversaries. As a congratulation you can choose an original poem, beautiful sincere words in prose.
If you don't have the opportunity to visit the anniversary, you can send an SMS message or a playcast online postcard with a beautiful song, picture, congratulation. Non-standard ideas for congratulations on a ruby ​​wedding are especially popular..
You can also make a beautiful video greeting. See an example of such a gift in the video:
An anniversary wedding is a great celebration for anniversaries at which they celebrate their family's birthday. Having lived up to the ruby ​​wedding anniversary, the couple can be proud of a warm relationship, a strong marriage, sincere mutual love, which they built and kept for forty years. Having passed this date, anniversaries need to strive to live in peace and harmony until the golden wedding.