Contents
---
---
On the eve of the wedding anniversary, every woman tries to prepare a romantic or original surprise for her husband. Modern men do not reject the courtship of their wives and gladly accept unusual signs of love. With the help of a small but special gift, a woman will be able to remind her husband of her feelings, care, attention. Given the preferences of the spouse, you should carefully choose a romantic, comic or extreme surprise. Presented gift will be appreciated by your lover.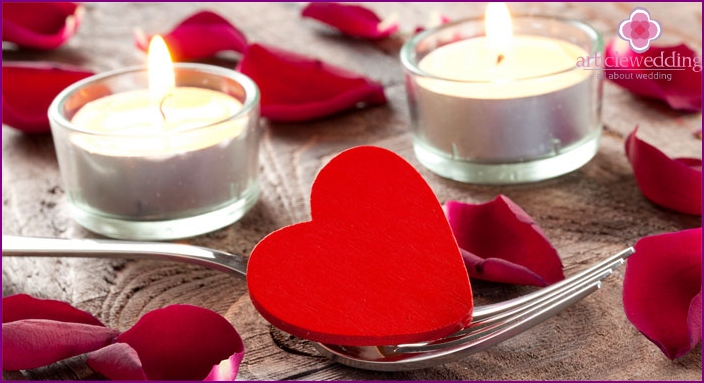 How to arrange a surprise for your husband on your wedding anniversary
Surprising people you live with is not easy. In order for a spouse to surprise a gift, it is necessary to carefully hide all stages of preparation. You can call your friends or relatives who were present at your wedding for help. Relatives will be interested in helping you arrange an unforgettable surprise for your beloved husband..

Ideas for the most unusual surprises for a husband
In addition to verbal congratulations, you should find among all the abundance of unusual gifts the one that your husband will love. Before arranging a surprise for your husband, carefully consider the preferences and tastes of your lover. Remember, perhaps the spouse has a long-standing dream that he wants to realize. This will be a great occasion to turn it into a surprise..
Romantic
Wedding anniversaries are a great way to remind your spouse of your strong and enduring feelings. Starting the day with small signs of attention, a delicious breakfast or passionate kisses, you will give your husband the opportunity to remember his first dates. In order to bring diversity to family life and fill the house with new vibes of love, we suggest using the following options for enchanting surprises:
Romantic trip. Wedding anniversary is a joint holiday. For a surprise for the two of you, plan a romantic trip. Choose a vacation in warm countries or book a fascinating tour of your hometown.
Memorable clock. You can convey all the romance of a significant date with a memorable gift. To turn an ordinary watch into an original surprise, preorder the engraving on the back cover. As an option for an inscription, you can choose a quote from a book or a line of a song.
Romantic dinner. You can replace a familiar family meal with a romantic date. For dinner, choose interesting dishes that will surprise your sweetheart with an unusual taste. It is not necessary to visit an expensive restaurant on this day. You can arrange a date at home, having previously created romantic conditions.
Give a photo shoot. To pleasantly surprise your husband, give him an album with your photos. To do this, discuss the idea with a professional photographer in advance and implement imagined images.
Night of love. You can embody old erotic fantasies with the help of a relaxed night. Let your husband enjoy unforgettable intimacy with your beloved wife.


Comic
To add a touch of humor to everyday life, comic surprises will help the couple. With the help of such a gift you will cheer up and make your beloved smile. A few weeks before the significant date, you need to carefully consider the options for submitting the chosen surprise. We offer the following interesting ideas for preparing a wedding anniversary gift:
The song is in its own performance. If the wife has vocal abilities, then she can congratulate her husband on the wedding anniversary with the help of singing. To make the surprise original, write your own lyrics for the song, describing some fun moments from family life.
Private dance. A surprise in the form of a private dance will help demonstrate your dancing abilities to your beloved and surprise him with your graceful movements. To get a beautiful setting, you must first practice. Pick up erotic music, put on the appropriate outfit and give your husband a fascinating dance.
Clothes with funny inscriptions. For your wedding anniversary, you can give your spouse a T-shirt with a joint photo or comic inscriptions. Your husband will be able to proudly demonstrate such a gift to his friends..
Edible underwear. Modern technologists surprise every day with an assortment of manufactured items. One of such original surprises will be edible underwear, which is made from chocolate or sweets. You can present a miracle gift personally for your husband or appear in front of your spouse in an unusual robe.
Cake in the form of a female breast. The confectionery masterpiece, which repeats female forms, will help to make the spouse laugh. Bake the cake in advance and decorate it with mastic in the original way. If you doubt your culinary skills, then order the product from a professional.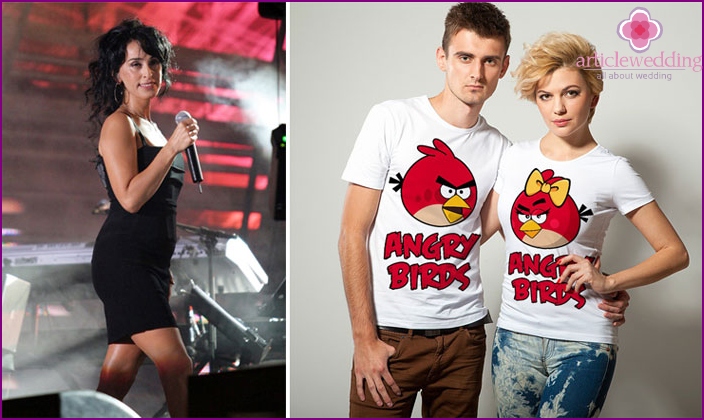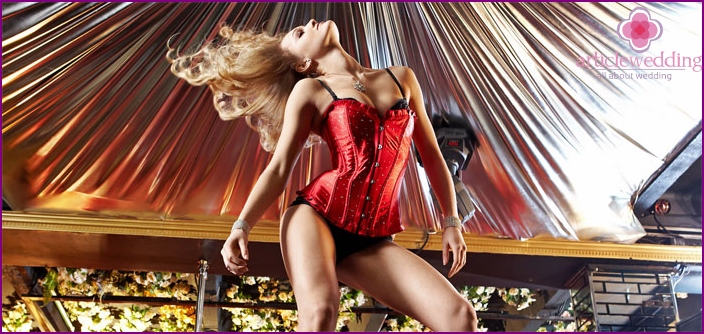 Extreme options
If the husband is an adherent of extreme sports, then you can pick up a surprise according to his preferences. Immersed in daily family worries, responsibilities, the spouse may feel a lack of adrenaline and vivid emotions. To brighten up the wedding anniversary, we offer to organize an extreme surprise. On the eve of the upcoming holiday, you need to purchase a certificate to receive one of the following types of unusual gifts:
Paragliding. After passing a small master class, your husband will learn how to independently manage this aircraft. If the spouse is insecure, then a tandem flight with an experienced instructor will allow you to enjoy the height.
Helicopter control. Helicopter flight will help you to see the land from a height. For a surprise, do not forget to pre-book your time at the summer club. Experienced instructors will be able to quickly teach you how to control a helicopter and allow you to fly independently. Modern devices are designed so that even a novice can sit at the helm.
Skydiving. You can get a shot of adrenaline if you organize skydiving as a surprise. Aerodromes that provide such a service will issue a certificate of completed action after the flight. Having received such a diploma, the husband will then be able to brag to friends about the courage and exciting emotions.
Roller coaster. Modern amusement parks have extreme attractions in their assortment. You can feel the adrenaline with your spouse by inviting him to the roller coaster. A few steep turns will give an unforgettable experience.
Bungee jumping. If your husband is brave and decisive, give him a jump from a high bridge on his wedding anniversary. Free fall on an elastic cable will be the best surprise for your spouse.
Paintball. Close friends will help you organize such a surprise for your husband. Invite guests in advance to the wedding anniversary at the paintball club to battle each other in a fun but extreme game.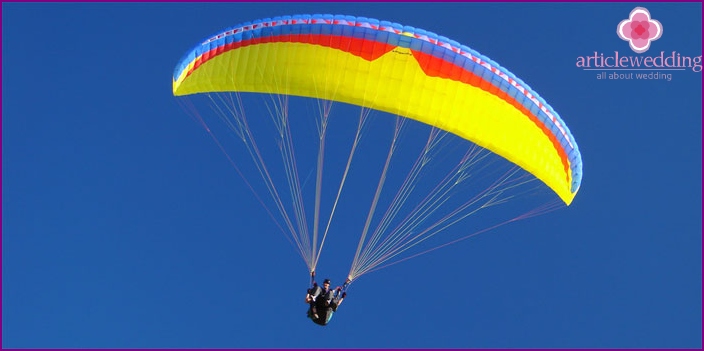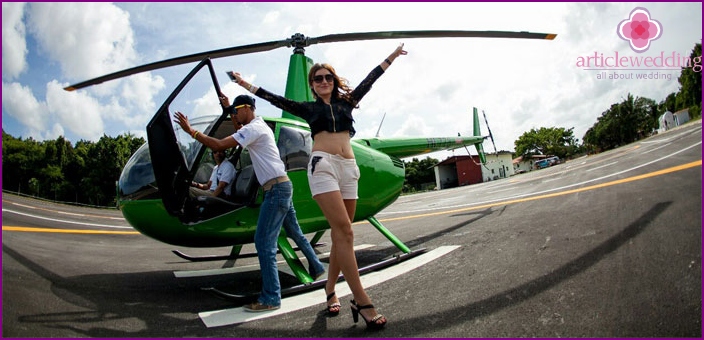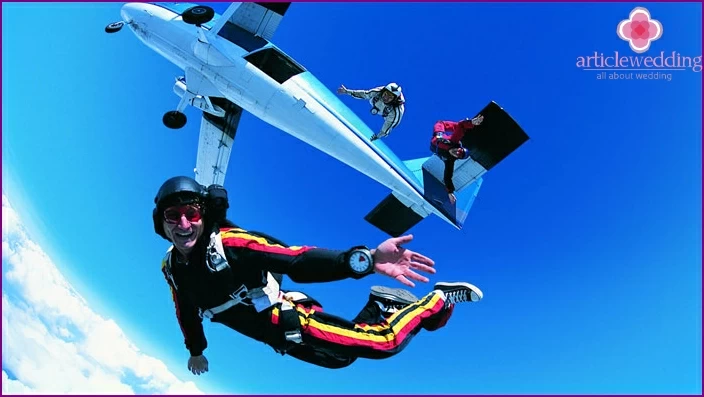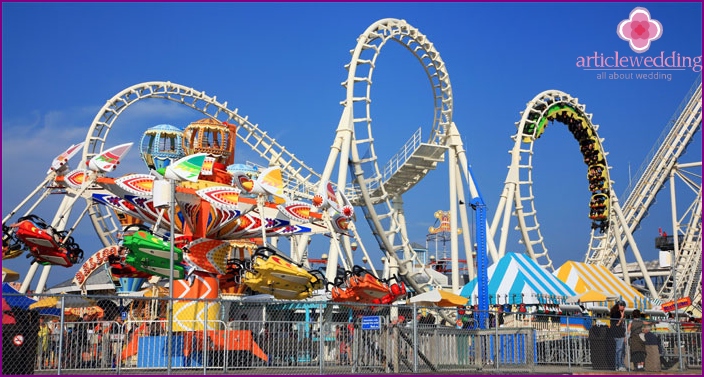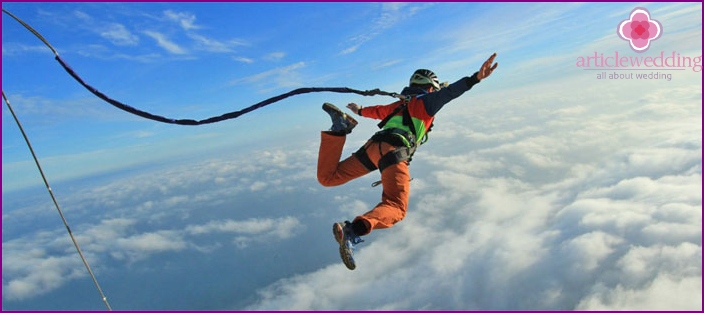 What a surprise you can make yourself?
If a woman is fond of needlework and knows how to create unusual things on her own, this is a great opportunity to give her husband an original gift. A self-made surprise gains special value and makes one proud of one's skills. If you tie a warm scarf, socks or sweater to your spouse, he will appreciate your choice and efforts. For needlewomen who know how to work with beads, a picture or icon embroidered in the original way would be a good idea. Sewing lovers can give a shirt or pants as a surprise.
If the wife adheres to the tradition of giving gifts in accordance with the name of the wedding anniversary, it is necessary to prepare an appropriate surprise. For example, after a year of marriage, there is a chintz celebration, for which it is customary to give scarves from this material. To show which wife is a craftswoman, she can independently make this product, adorning the perimeter with original embroidery.
Video: unexpected surprise to your beloved
If you do not know what surprise to prepare for your husband, use the ideas presented in the video below. Such an extreme gift will force the spouse to receive a large portion of adrenaline and a lot of positive emotions that you can get with your husband if you are not afraid of heights.