Contents
---
---
Wedding anniversary 55 years is an important date, which bears the beautiful name emerald wedding. Like a precious emerald, a marriage that has survived so many years is a real rarity. Spouses probably already have children, grandchildren, often great-grandchildren. At this stage, one can't even recall those minor minor troubles that accompanied the anniversaries in the first ten to twenty years of their life together. All that remains is the love and respect that they managed to carry through the years.
Ancient traditions and customs for 55 years of wedding
55 years passed after that solemn day of marriage. How then the wedding took place, the spouses already remember with difficulty, only old photographs tell them about this. Well, if they survive, because this is a kind of beginning of the history of the whole family. Both heroes are already over 70 years old, they are at a respectable age, therefore, children are traditionally organizing such an anniversary. A couple who has passed the fifty-year milestone probably had both happy and difficult times, but their loyalty to each other is respected.
Fifty-fifth year of marriage, the anniversaries should begin to wake up together, have breakfast, talk, remember the past. Touching and appropriate gifts for the event will be jewelry with a precious emerald stone, which they can present to each other: for women, an elegant ring, earrings or pendant, for men, personalized cufflinks or simply faceted stones. These things will later become heirlooms to be inherited..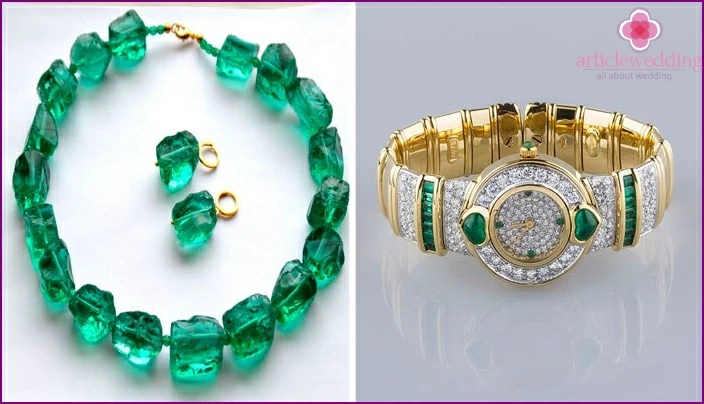 Emerald wedding: how to celebrate the anniversary?
The 55th wedding anniversary is a massive anniversary; it needs to be well prepared. This is an occasion to invite old friends, to find those who were present at the very first celebration, to call work colleagues. The scale of the event depends on the financial capabilities of the organizers, the state of health of the heroes of the occasion themselves is also important. When holding an emerald anniversary, it will be inappropriate to hire an active toastmaster calling for contests, a calm presenter is more suitable.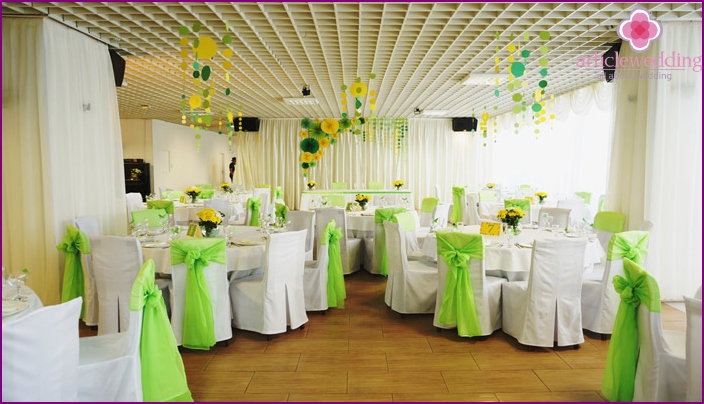 The celebration, which is thought out to the smallest detail, can easily do without outsiders. Old people love to talk, and emerald wedding, to which acquaintances, friends, distant, close relatives are invited is a great occasion to indulge in pleasant memories. Such a holiday will give spiritual heroes anniversary, make them happy, because at this age jewelry and fun are not so important. True happiness for emerald spouses to be surrounded by good friends, children, grandchildren.
Choosing a venue for the celebration
Not every married couple wants to arrange a magnificent celebration, in which case the home version of the celebration is suitable. For the heroes of the occasion, the organizers of lunch or dinner can prepare a small table at which only the closest will gather. If the emerald anniversary is celebrated on a grand scale, children can rent a restaurant banquet hall and arrange a chic event that will be another pleasant memory for anniversaries.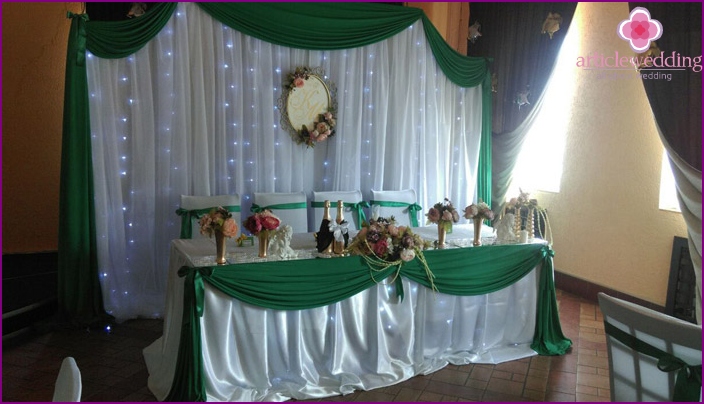 Of great importance is the style of the venue of the festival. It would be nice to decorate the room with green fabrics (tablecloths, draperies on chairs, curtains, napkins), all kinds of green accessories, candlesticks, coasters. The music that will accompany what is happening is also important: the couple probably have their favorite old songs that are of particular importance to them and it is at the emerald anniversary that the couple will be pleased to hear them.
What to wear for spouses
To fully comply with the style of the celebration, spouses can wear green festive costumes. In fact, they don't have to completely put on an emerald robe, a light suit and several bright details of a suitable shade are enough. A woman can decorate her neck with a dark green shiny scarf, wear beautiful jewelry with an emerald, use other details of the image of shoes, hair clips, a belt.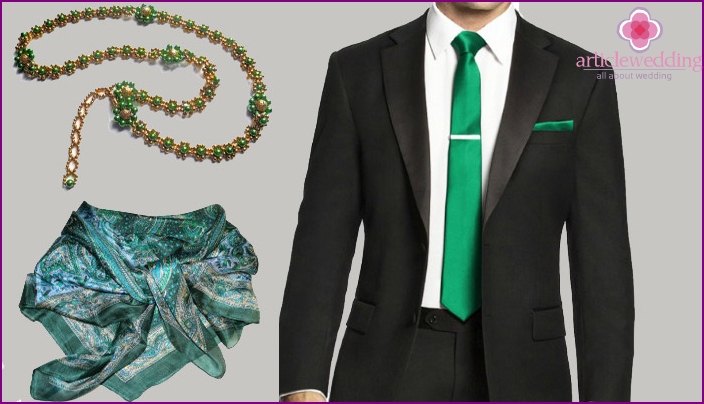 A man can wear emerald cufflinks or decorate a suit with a green tie, shirt.
Who to invite
Organizers can invite old loyal friends of a married couple. Surely there are those with whom the couple did not see each other for a long time, because there was no suitable reason, and sometimes a lot decides the distance, because it is not easy for older people to travel long urban distances. It is worth inviting everyone whom the anniversaries would like to see, having previously agreed with the list. However, if you call guests who are not easy to independently reach the celebration, you should arrange transport for them.
What should be on the table
Food during the holiday should be light salads, low-fat snacks, lean main dishes. If not the spouses themselves, then some invited guests at this age may have poor health, which will not allow them to eat too heavy food. Let there be many vegetable dishes, seasonal, and not exotic fruits. From alcohol, light and red wines, champagne, and older vodka appreciate this drink. You should also decorate the table with flowers.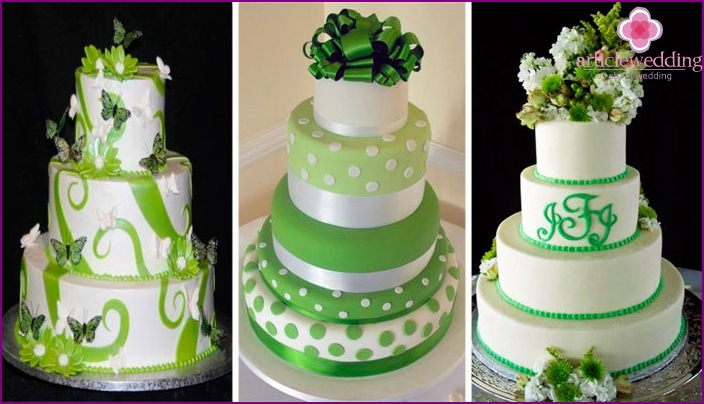 Let the cake be the highlight of the holiday: traditional recipes or new offers of confectioners not so important, the main thing is to make pleasant anniversaries. Cupcakes or other small portioned cakes decorated with radiant emerald decor can be an interesting option..
Celebration script
A large-scale wedding should not take place without using a script, it will make it easy to navigate in time, not to get lost. The scenario of an emerald wedding should be beautiful, interesting. You should not include active contests there that will not be too accessible to the heroes of the occasion.
One of the options for distributing time is as follows:
meeting with guests,
seating,
dinner,
pronounce congratulations toasts,
presentation of gifts,
view slide show,
wedding dance of anniversaries to the song that sounded at the first celebration 55 years ago.
The latter will help the spouses to feel young again, just starting a long joint path. To end the celebration you need a common photo with all the guests.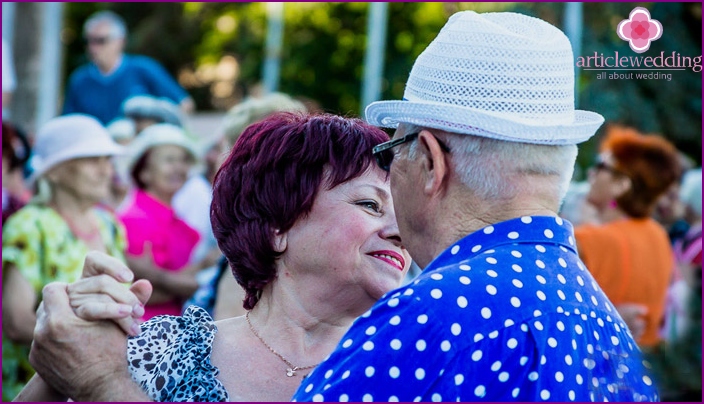 What to give for an emerald wedding
An ideal gift for a celebration is an emerald decoration. However, if guests do not have wide financial capabilities, any thing that reflects the attitude of the donor to the anniversaries will do. The wedding anniversary of 55 years of marriage marks a wise age when material values ​​are no longer so important.
Emerald Wedding Greetings
Congratulations on the emerald anniversary of the birth of the family should praise the experience, fidelity and love of the anniversaries who carried it through many, many years.
Watch the video congratulations from children to parents on the 55th wedding anniversary:
The emerald anniversary of the birth of a family is an excellent occasion to get together as a family, give each other attention, care, and also share pleasant memories. This is one of the few moments when heroes of the day can see all their loved ones together, spend a few happy hours with them..
Have you been involved in organizing the 55th wedding anniversary? Leave a comment under the article.