Contents
---
---
Family life gives joy and sorrow. However, if a husband and wife walk together in life 10.15, 20 or more years, it means that they have learned to live in harmony, overcome difficulties, enjoy every year they live together. For spouses, any anniversary of their marriage is a special event. Printed cotton, ruby, sapphire, golden wedding - these are the names of anniversaries of the husband and wife living together are widely known. But what is the name of the 37 year of married life? What is remarkable about him?
What is the name of the 37th wedding anniversary?
If you have lived together for 37 years, which wedding to celebrate? This non-circular date of married life has its own name - a muslin wedding. Why such an unusual name? Husband and wife, who have lived together for 37 years, have developed over the years, and also learned to maintain good relations with each other. Their love has been replaced by a mature sense of love, which has become the basis in the union of two hearts. To achieve harmony in family life, they took a lot of effort, labor.

And muslin is a fabric that in past times was expensive because it took a lot of time and effort to make it. In ancient times, only a person with a large income could acquire muslin material. The painstaking work of creating it is a symbolic parallel with 37 years of spouses' efforts to create a happy family. Muslin is a beautiful, thin, but durable fabric. Such her properties perfectly emphasize the relationship of the husband and wife at 37 years from the wedding day.
Spouses who have lived together for so long, even more begin to appreciate, love each other. Their relationship is strong, but warm, tender. Like a weaver, who has been diligently creating muslin for a long time, the 37-year-old couple tried to strengthen the union of two loving hearts. They succeeded, because no incidents of life did not separate them and did not deprive of happiness in marriage. Just as a fabric includes threads tightly interconnected, so strong marital relations are built by daily kind words and deeds.
Original wedding anniversary greetings
Children, relatives and friends can originally congratulate anniversaries on their 37th wedding anniversary. There are many options. For this purpose, a gift is suitable, as well as kind words for «young». The main thing is that the congratulation should sound sincere, kindly. Words coming from the heart will be noticed and accepted with thanks. In the congratulations can be noticed the positive aspects of the spouses, their faithful love, devotion to each other. Look below a few options for beautiful, warm, kind words for anniversaries.
Congratulations on your anniversary. A little more, and it is time to celebrate a beautiful date, but today we are happy to celebrate your thirty-seventh wedding anniversary. Let your feelings, your love and joy shine brightly for many more years.
I want to congratulate you, my good ones, on a muslin wedding. 37 years have already passed since we shouted to you bitterly and raised glasses for a young family. During this time, you recognized each other from different angles, but did not waste your warmth. So let the fire of your love not fade away from the wind of minor quarrels and insults.
Beautiful greeting words in verses.
If you want to interestingly and unusually congratulate the spouses, then compose a poem for them or memorize someone else's creation about a muslim wedding. Poetry has a great impact on the mind, feelings, so through it you can better convey your sincere congratulations to the heroes of the occasion. Read below examples of beautiful words in poetic form for spouses who have crossed the 37th frontier of marriage, and select the lines you like.
37 years - a solid side of life,
You've been through a lot together,
The border at your wedding is strong matured,
And new sprouts sprouted in the heart.

And like muslin, the wedding is smart,
Tender, strong and so pleasant.
Forget all your affairs,
Let the date be fun.
Marriage - it is always salted and peppered,
But over the years it gets tighter and tighter.
Love does not dry, love does not fade,
Blooms like a muslin cloth pattern.
Congratulate you with your half
With a beautiful, muslin wedding!
Muslim wedding in your home today -
37 years with each other in love (with love)!
We wish that passion never faded,
So that your life remains beautiful,
So that your health is always strong,
Grandchildren and children gave joy!
Under a loud laugh and a heartbeat,
To the clink of glasses, serene,
Muslin wedding we
Celebrate today as before.

And we wish you not to grow old,
Cheerfully live, do not lose heart,
Love your children stronger,
It is worthy to bring up grandchildren.

Go on for many years,
Hand in hand, as now,
Love and happiness carry,
And be an example to us all!
Oh! Rushed like an instant,
Magic wave, blow,
Your 37 years old...
Many bridges burned,
And made bonfires,
And your catch was rich -
Weddings made of flowers, silk...

Congratulations from the bottom of our hearts,
And we sincerely wish
So that your health is strong,
So that friends do not forget,
So that the sorrows away,
Misfortunes with them would depart,
Days have come lighter...
37 years ago
You created a wonderful family.
Today everyone is happy to congratulate you -
You saved your love!
We wish you peace and warmth in your home,
For fate to be happy,
To always be lucky in everything,
To make love beautiful!
37 long years ago
You created your beautiful family.
A lot of life rewards
You got your love for
Beautiful children, even more beautiful - grandchildren,
Warm and faithful circle of friends,
Good people for honest merit.
And this day is wonderful and wonderful
Let conceived happiness be fulfilled!
Thirty seven seemed a lot,
But I want to wish you,
Health, happiness to you earthly,
But don't forget and fly.

And so that you fly higher,
Did not go aground
On the wings of joy, love,
They wouldn't live together without them.

Do not forget to dream
During the morning dawn.
You also have thirty seven together,
And you can two more and three.
You are thin and gentle,
Like a festive muslin;
All years serene
Your marriage is like a picture!

In beautiful wedding dresses
You made the right vow:
And in a gentle, sweet embrace
You bask for many years.

We will remind you today,
That thirty-seven is not the limit!
We wish that with the will of the Lord
Your marriage has been burning for a long time!
Long time no cotton and no linen,
Now it's getting closer to silk,
And thirty seven years we are with you,
Come on - hand in hand, foot to foot...

You are my everything, my whole life,
You are my light in the window for me,
And with gray hair at the temples,
I will smile at you, you are my sun!
What to give for a muslin wedding?
Going to the 37th anniversary of a married couple's life, you should choose the appropriate gift «young». A traditional gift for this occasion is a muslin product. It will clearly show the spouses how strong their long alliance is. Also, this thing will remain with them as a reminder of the celebration in honor of 37 years of marriage. Muslim curtains are a popular gift to celebrate this wedding anniversary. They are often presented as a gift for such an occasion. It will be symbolic if the husband gives his wife a muslin nightgown for the anniversary, and the wife gives the spouse a shirt of the same fabric.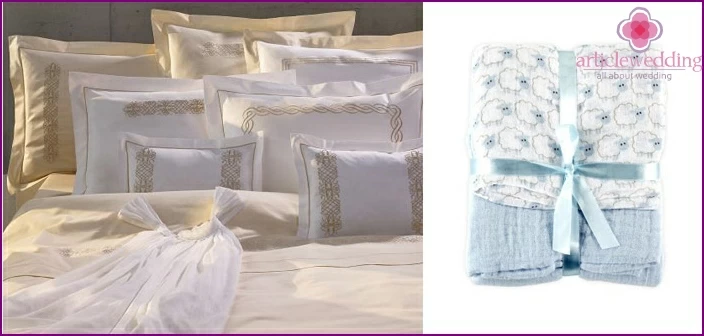 Gift Ideas for Parents
Guests can give muslin clothes to anniversaries. But nowadays such things are rarely sewn. If you do not find muslin products, then present another gift. It can be any objects, things that are useful to anniversaries in everyday life. For example, dishes, interior items. Valuable small gifts in muslin bags will look original. Whatever you give, the spouses will be grateful to you for paying attention to their holiday. And what to give parents on the 37th anniversary of marriage? It is believed that children should give muslin curtains to their father and mother for this anniversary.

How to celebrate 37 years of marriage?
According to tradition, a muslin wedding is not celebrated catchy, noisy, like the 40th anniversary of marriage. This holiday is family. Usually the spouses decide how to celebrate the date. On this day, they better pay attention to each other. Some anniversaries decide to invite children, grandchildren and close people to a festive dinner. During a friendly conversation at the table, spouses with relatives can recall the pleasant moments of their life together, interesting occasions during a wedding or a courtship period.
They can also reveal the secrets of a joyful and happy life together to newly created families or children. The wisdom of elders will help young people avoid mistakes and disappointments in their relationship with their soulmate. The transfer of life experience is better done not as moralizing, but in the form of an exciting game. For example, spouses can write tips and suggestions on how to improve marriage on small pieces of paper in advance. All these pieces of paper must be folded into a vase or other container. Then invite the guests to take in turns one sheet from it and read out the wish aloud.
Each guest will receive advice from anniversaries who know a lot about the difficulties and joys of family life. So much fun and at ease during the game, young families will learn valuable advice from a wise couple. And guests who have been living in a marriage for a long time will be convinced that it is worth further appreciating their other half and giving her love and tenderness. Also, anniversaries will be pleased to go out for a walk with their children and grandchildren. Be sure to capture this happy day of living together in the photo.