Contents
---
---
Walk hand in hand a half-century-long path ... For a family where love and respect are the main feelings, the venerable age of living together is a reason for pride. Adversity did not become an obstacle for people who joined their fates 48 years ago. In a big strong family, children, grandchildren grew up, great-grandchildren grow up, and feelings «newlyweds» as durable as half a century ago. This is a quiet family holiday, worthy of bright congratulations. What is the name of the date that is customary to celebrate 48 years after the wedding? How to congratulate relatives on a holiday, what to give?
What is the name of the wedding anniversary 48 years?
Living together for half a century in harmony, overcoming difficulties on the path of life! Such relationships, based on love, fidelity, are strong, reliable and admirable, like a beautiful amethyst stone - a symbol of the 48th anniversary of marriage. There is an opinion that the language of stones is a world of feelings. What the amethyst has earned respectable «position» symbol of almost half a century of family life?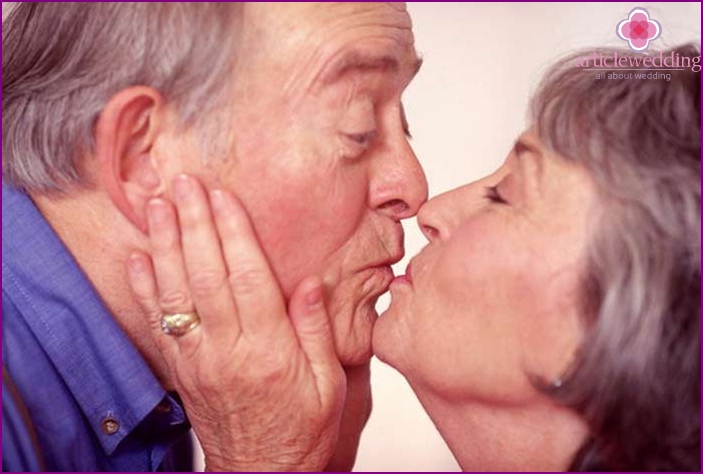 This is a stone of spiritual purity, peace of mind. There is a belief that amethyst protects against temptations, gives harmony. If you are in love, it will only strengthen your feelings. Therefore, the 48th wedding anniversary is called amethyst. The legend of the beautiful nymph Amethyst, who turned into stone, but did not betray her love, underlines the importance of feelings, fidelity, consent for long and happy years of family life.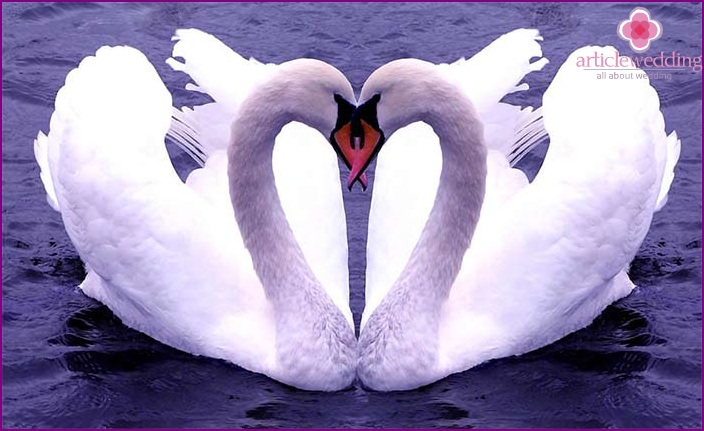 The stone strength on the Mohs scale is 7 out of 10. So is the name of the anniversary «amethyst wedding» indicates strength of feelings, unfading love, mutual respect. Relationship «newlyweds» like jewels from amethyst: they can charm, become an example to follow for future generations. Couples celebrating the joint anniversary are admirable, because behind the shoulders of 48 years passed hand in hand in joy and sorrow. How to congratulate the heroes of the occasion? What to gift «newlyweds»?
Original wedding anniversary greetings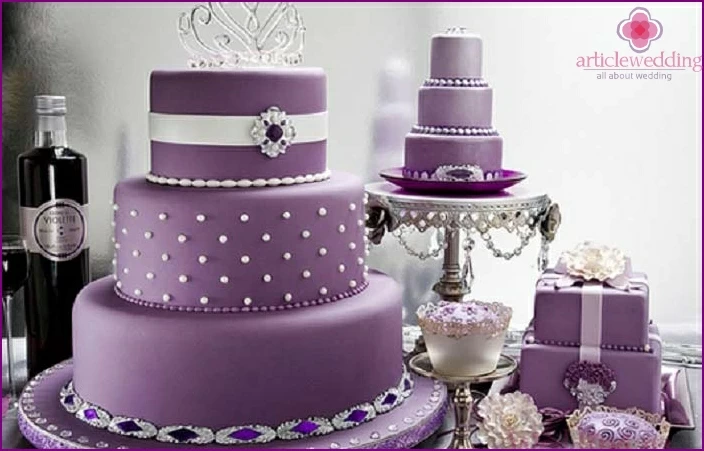 Amethyst wedding is a cozy family holiday, and according to tradition it is customary to celebrate it together, without noisy banquets, feasts. Anniversaries will be very pleased to receive congratulations from children, grandchildren, great-grandchildren. Serving the latter as an example of fidelity, love, mutual support, «newlyweds» will be glad to receive wishes in the form of SMS with several quatrains on the phone.
Call in the morning, warmly congratulate you on the holiday, emphasize how you love anniversaries, admire experience, the ability to value each other, find compromises without losing the main thing in your relationship - love. If the heroes of the occasion chose to spend this day together, visit «newlyweds» late afternoon, give a small souvenir symbolizing the amethyst wedding anniversary.
Poems, written by hand on an ordinary postcard, emphasize care, tenderness on your part to «newlyweds». Want to get your whole family together for dinner, congratulations on your wedding anniversary? Help organize a gala dinner. Prepare beautiful verses; learn funny rhymes-congratulations with kids-great-grandchildren, draw memorable drawings.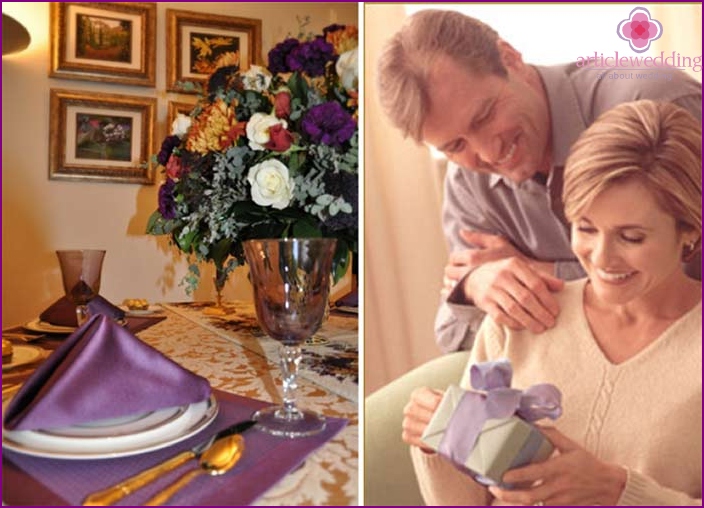 How to congratulate each other on amethyst wedding? Give your wife a bouquet of flowers in the morning, putting a card with a confession of feelings, prepare a joint breakfast. Take a walk in honor of the anniversary in the park where you first met, filling with romantic memories all day. Invite your husband on a date: to the theater, cafe, confessing to warm feelings. Congratulate each other in poetic form on your wedding anniversary.
Beautiful greeting words in verses.
Congratulatory poems are always relevant, unexpected and romantic. Health toasts «newlyweds», Mutual declarations of spouses in love, strong as amethyst, funny verses from the younger generation ditties: you can't count everything. Sincere words will fill the holiday with fun. Neither jewelry nor jewelry will replace the warmth of a family meeting, affectionate speeches. Here are some examples of congratulations in verse:
Do you remember the time when
Mutually said yes,
Ready to be husband, wife -
Happy and friendly family?!
Living the laws of love,
The words you kept your!
Now it's time to congratulate you
With an amethyst wedding, cheers!
Today everything is for you - flowers and wishes!
Happy Amethyst Wedding!
We wish you smiles, kindness and prosperity!
So that the new day seems more beautiful than it is now!
Let the cherished dreams that did not have time come true!
Let the birds sing a beautiful hymn of love!
Let strong health not let you get completely bored!
We wish you the main thing - to bloom with our soul!
Hoppy tart wine
Sparkling fun in the glasses.
Today is not a sin to drink,
Others only dream of your anniversary!
All 48 years you are so friendly,
Like the stars in the moonlight!
So be happy, gentle,
Always and everywhere be together!
Today we will say the right thing about you:
You are bound forever by fabulous love.
Today we celebrate: wedding anniversary!
And this is a very important reason for joy..
And the river will flow wine, flow without banks.
And let the bright days pass in comfort a string.
And our congratulations will tell you all about,
How youth and joy fill your home.
Today we will fill you with beautiful flowers,
And everything that you considered in life to be dreams will come true.
Let the nightingales whistle about happiness again today,
That everything will be fulfilled, that the word predicted.
Grandparents are relatives,
We want to congratulate you again!
You are such good,
We make sure every hour!
Forty eight you live together years,
We are in a hurry to congratulate you today!
We know - you expect happiness from life,
And health hurries to you again!
The joint life of our 48,
And from the bottom of my heart I want to tell you -
My husband, I have never regretted,
I managed to marry you.
You and I are very happy together,
And our bright home is full of joy,
I want to wish you health,
And be as brave as to continue!
What is customary to give for an amethyst wedding?
If you want to please «newlyweds», celebrating the amethyst anniversary, pay attention: call and congratulate on the occasion, present a gift, help organize a festive dinner. What to give beloved / beloved in honor of almost half a century since the wedding day? Having lived so many years together, «newlyweds» they will most likely appreciate the soul enclosed in the gift, whether it is a precious set with an amethyst or an ordinary children's drawing, postcard, embroidery, made by hand. And it doesn't really matter how much it costs. Feelings and relationships have no price, they are priceless.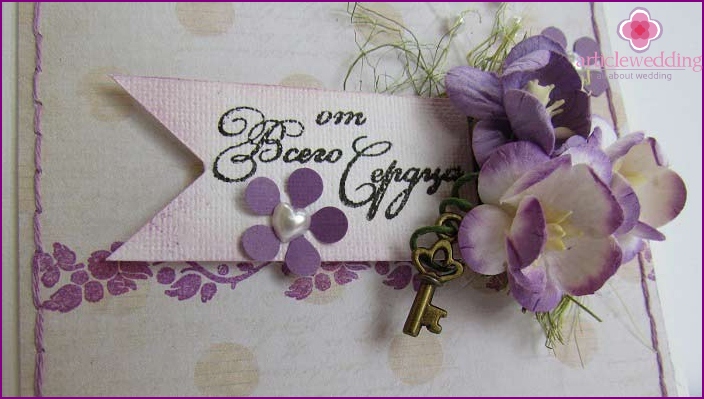 Wedding anniversary presents gifts associated with her symbol. Any gift presented for 48 years from the date of the wedding carries the energy of harmony and balance. There is a belief that a woman who wears an amethyst amulet is not afraid of envy, anger. Wedding anniversary provides freedom in the choice of gifts: amethyst jewelry; edged weapons inlaid with this stone; gift ware sets, decor elements in amethyst colors. With its unique color, the mineral emphasizes the radiance of the eyes, rejuvenates, gives vigor.
Gift Ideas for Spouse
Do you have to meet amethyst wedding? An old belief says that on the 48th anniversary the spouse should give his beloved wife a piece of jewelry or a set with a mineral symbol of the holiday:
earrings and pendant with amethysts;
a bracelet and necklace made of silver, adorned with such minerals;
amethyst ring and earrings;
hairpin inlaid with this stone.
The fact that your spouse decided to present you such a nice gift in honor of the amethyst anniversary of your wedding emphasizes the strength of feelings between you, the brightness of relationships, the fire of mutual love. Gentle words, a bouquet of favorite flowers, a cozy evening in a small restaurant or cafe - an excellent gift for the 48th anniversary of life together.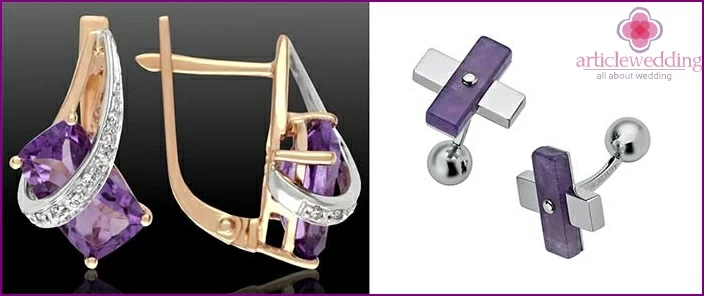 The amethyst anniversary provides an excellent occasion to talk about your feelings, to confess to a love that does not fade over the years, to thank for many years of patience and understanding. Beloved husband, even in retirement, hurries to work? Present him beautiful amethyst shirt cufflinks. An excellent gift will be a tie with a harmoniously selected clip inlaid with amethyst. An album or gift book decorated with this mineral will be a wonderful gift for a collector's spouse..
What to give if you are a guest?
An invitation from parents or grandparents to visit the amethyst wedding anniversary is a pleasant, solemn event. Arrange «newlyweds» surprise: organize a gala dinner in a cozy cafe, invite relatives to celebrate their own wedding anniversary. You think that to give to relatives than to please them? Let's try to find the answers.
Present jubilees amethyst jewelry: jewelry, cufflinks, tie clips.
Gift Books - Always a Great Wedding Anniversary Gift.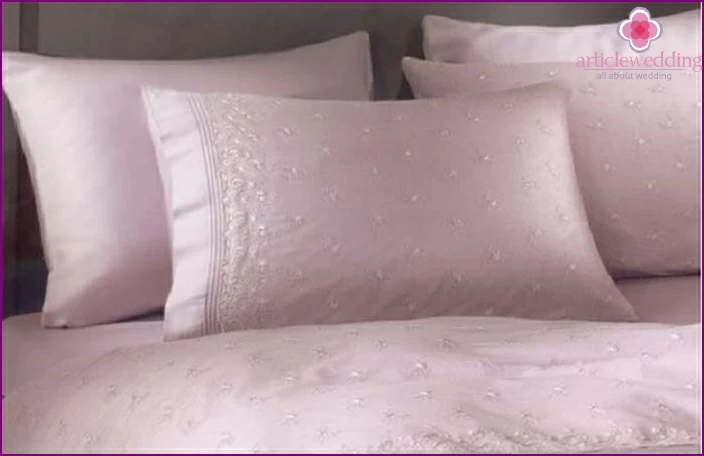 Any interior items of unusually beautiful amethyst color will become a reminder of a happy date.
Bedding, household items matching the wedding anniversary will warm your heart and soul «newlyweds».
Give a pair gift: a warm cloak for mom, a sweater or a vest for dad, in amethyst tone.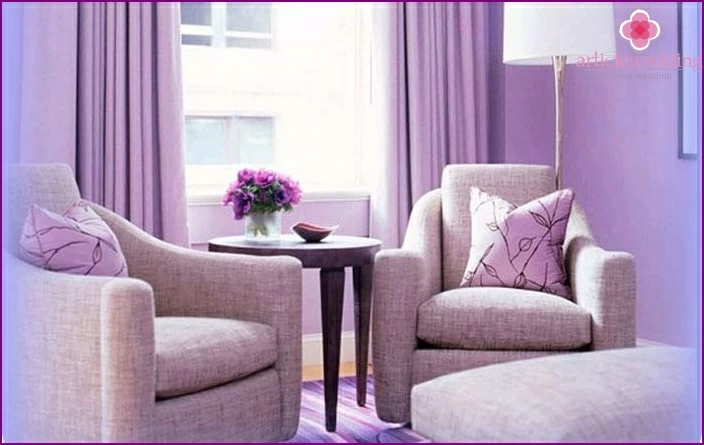 Tickets for the theater, for the concert of your favorite artist will delight «newlyweds», and trips to the sanatorium, rest house will give the opportunity to remember the honeymoon.
Do not forget to pick up a beautiful bouquet of flowers, possibly in tones of a symbol of celebration.
Sets of dishes: dinner sets, glasses, inlaid with amethysts - what is not a gift? No wonder there is a legend that goblets with this gem do not allow their owners to become intoxicated. Wish u «newlyweds» my head was spinning only from the feelings that they carried through decades.
How to Celebrate the 48th Anniversary of Living Together?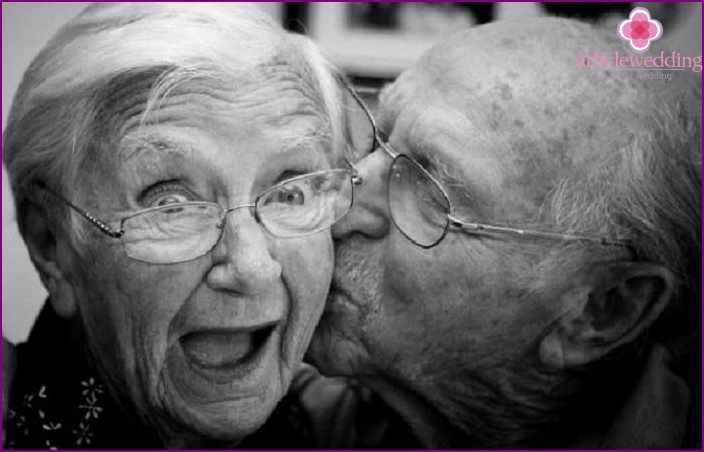 Amethyst anniversary - a family holiday. Pass on experience and traditions to future generations; remember the funny moments of living together; to show an example of tender feelings and unfading love - this is its deep meaning. Date does not imply a major celebration, because «newlyweds» save up strength for a golden wedding. Traditionally, the 48th anniversary of a happy family life is celebrated in a narrow circle. How to Celebrate a Memorable Date?
Invite children, grandchildren, great-grandchildren to gather in the evening for a cup of tea and cake.
Arrange a joint walk with your beloved places in honor of the wedding anniversary «military glory»: dates, meetings.
Have a cup of coffee in a small cafe, recalling the best moments of family life.
Meet with your wedding witnesses: remember youth.
Celebrate the anniversary with an evening exit to the theater, for a concert. This is a great occasion to wear an amethyst necklace presented in the morning with your beloved husband..