Contents
---
---
Six years from the day of the wedding is a long time for the spouses, but this is only the beginning of a long journey together. From the time of Russia to this day, this anniversary has been called cast iron. Cast iron is metal, and it is symbolic that it appears first after chintz, paper and other weddings. It is not as durable as gold, silver, easy to crack. The beauty, strength of cast iron depends on care, and in the family - during this period it is necessary to maintain a strong relationship. A cast-iron wedding symbolizes the transition of marriage from fragile to strong.
Cast-iron wedding 6 years of marriage: customs and traditions
Previously, a cast-iron traditional wedding was held in compliance with the main rite: the hostess put up cast-iron kitchen utensils for the neighbors to show her tidiness, the ability to take care of the house, household and husband, to keep comfort. If the dishes were polished, shone, this meant that the wife corresponds to the status of the guardian of the hearth. Her work was highly appreciated, because cast iron is a whimsical material that needs regular care.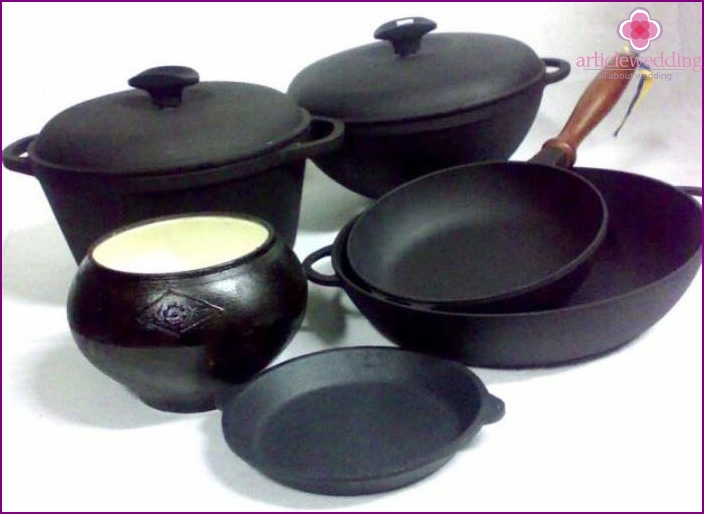 In different countries, the six-year period of life of spouses is called differently: in Europe, the name «candy wedding», «rowan wedding». At these celebrations, it is customary to give young people a candy house, which becomes a symbol of comfort, or a handful of mountain ash (it is believed that it can help a woman give birth to a male child).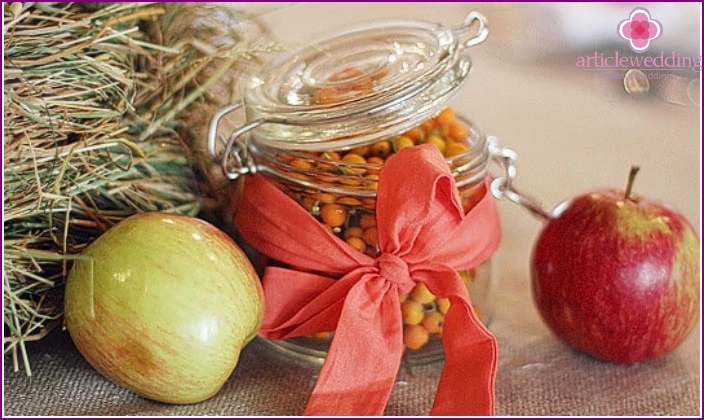 How to celebrate a cast-iron or mountain ash wedding
A cast-iron wedding is an excellent occasion to invite close friends, relatives and celebrate this joyful event in a close circle. The celebration scenario can be as follows: a play show of iron utensils so that those present could appreciate the efforts of the hearth keeper, a delicious dinner that she prepared herself, congratulations, and then fun contests, games. An old-fashioned cast-iron wedding also included advice for couples from seniors, following which helped to keep love.
Choosing a venue for the celebration
A traditional cast-iron wedding is intended to emphasize the warm feelings of the spouses, the comfort of their life together, so it is better to hold the event at home with relatives. However, modern people often transfer the place of celebration to the territory of restaurants and cafes. Then the hostess can not boast of clean kitchen utensils, but the celebration will probably be joyful. During the warm season, the option of anniversary in nature is possible, where you can make a bonfire, cook kebabs, play active games.
What to wear for spouses
There are no strict rules regarding clothes on the anniversary day; the main thing is that it should be festive. If a traditional cast-iron wedding is held, during which ancient rites are performed, spouses can wear costumes that match those worn several centuries ago in Russia. In this case, the design of the premises should also be made appropriate. Take a closer look at the themed costumes in the photo below: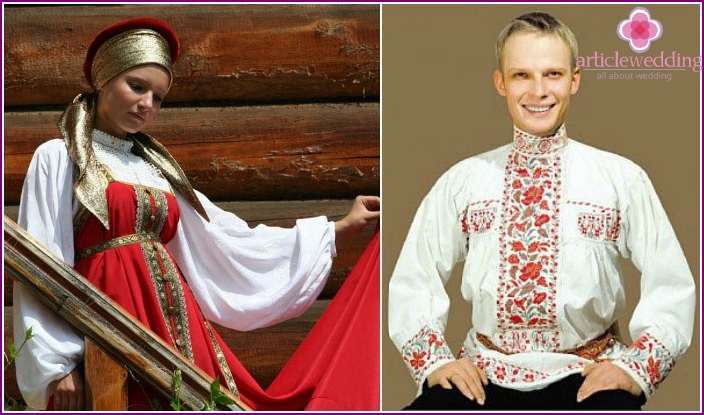 Who to invite
It is imperative to invite the closest relatives - mothers, fathers, grandparents, who have long gone through the six-year frontier of relations, have experienced ups and downs together. By tradition, they can give some advice to a young couple. Also on this date it is customary to call good friends who were witnesses during the celebration, and other close friends. Usually this wedding anniversary is not widely celebrated, so the guest list should not be too long.
What should be on the table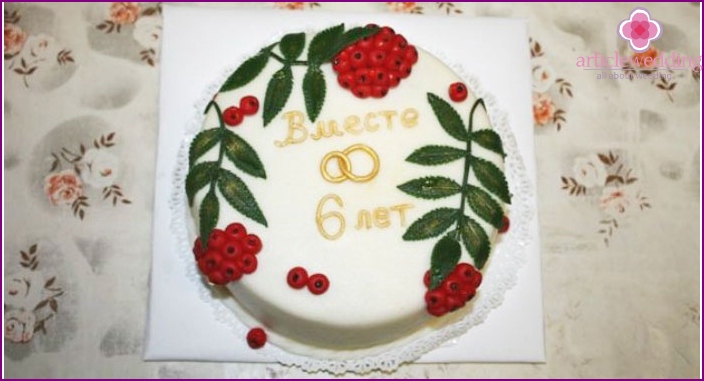 During the celebration, it is customary to set the table in a cast-iron bowl, which the husband and wife have prepared together. The festive menu may include potatoes, meat, vegetable stew, cooked and served in baking pots, all kinds of fried, boiled dishes. The table should not do without light snacks, salads, fresh vegetables, and for dessert the hostess can bake a delicious anniversary cake or cake. Suitable table decorations - flowers in vases, towels, candles.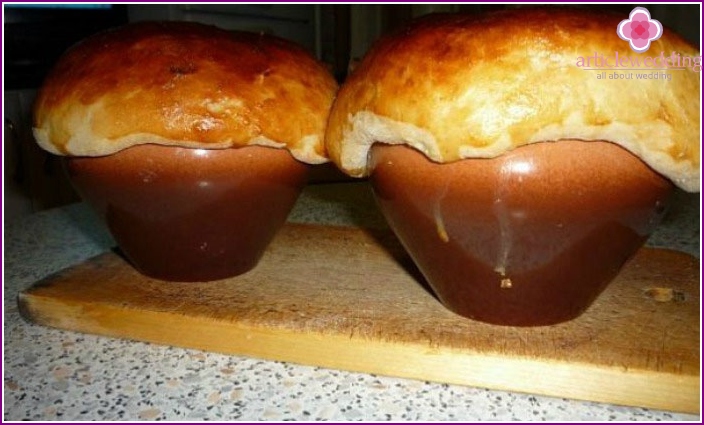 Celebration script
The scenario of a wedding anniversary of 6 years includes a meeting of guests, a delicious home-made lunch or dinner, congratulations to the couple, games, competitions that are easy to hold at home, showing dishes and a clean house for guests to evaluate the hostess's worth. Spouses should also make gifts to each other..
6th Wedding Anniversary Gift Ideas
An old cast-iron wedding was usually accompanied by kitchen items made of this material - cast-iron, pans, pots. Modern housewives prefer non-stick cookware, so when choosing a gift for the kitchen, it is better to choose more convenient and useful utensils. What to give for a cast-iron wedding to spouses:
Kettlebells, dumbbells;
beautiful lattices for a fireplace with openwork patterns;
all kinds of souvenirs: figurines, sculptures, candlesticks of an interesting form;
caskets with a picture smelted from cast iron, postcards;
beautiful coins.
As a gift, any things useful to the household are perfect.
Greetings from a cast-iron wedding
An obligatory part of the six-year anniversary scenario is the congratulation of the spouses. It can be in the form of touching prose or humorous verses, you can see examples here:
Watch a video collage with a congratulation from a wife to her husband for a cast-iron wedding:
A traditional cast-iron wedding is an event designed to remind spouses that family happiness depends on themselves. Only understanding, love, endurance - can polish the cast iron of a relationship, make it light, shiny, durable.
Tell us in the comments how you want to celebrate or celebrated your sixth birthday!