Contents
---
---
Among the tops for wedding cakes you can find the most diverse variations of decorations. This can be monograms, figures of the newlyweds, floral arrangements and more. Each of the possible tops carries a certain meaning. Therefore, you yourself choose what information you want to convey to others using this decoration.
Floral arrangements and hearts, perhaps, are classic versions of such tops. Today you have the opportunity to learn how to make yourself an unusual and very beautiful decoration for your cake or the cake of your friends. The wedding portal www.articlewedding.com offers you a master class on making such an unusual wedding accessory with your own hands as a decorative heart made of felt.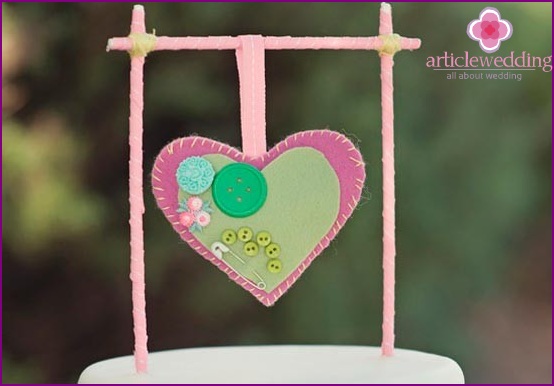 Materials and tools:
felt of two contrasting colors;
3 sticks for candy;
textile glue;
satin ribbon;
pins
finishing knife;
paper for freezing (optional);
decorative decorations: buttons, buttons, appliques, etc..
thread floss and needle;
stuffing.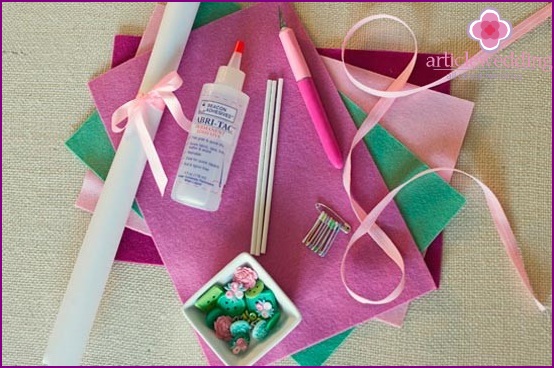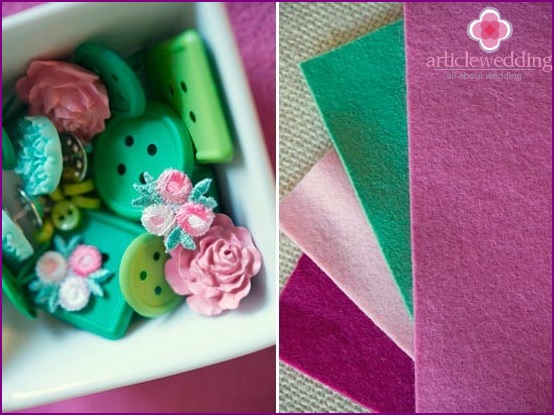 Time:
1 hour 15 minutes.
Detailed instructions:
Start by creating a heart template. Draw a heart of the desired size on paper. Gently cut the pattern. To check the symmetry of the product, fold the heart in half. Pin a paper heart to felt and cut into shape. Repeat to make a second identical half.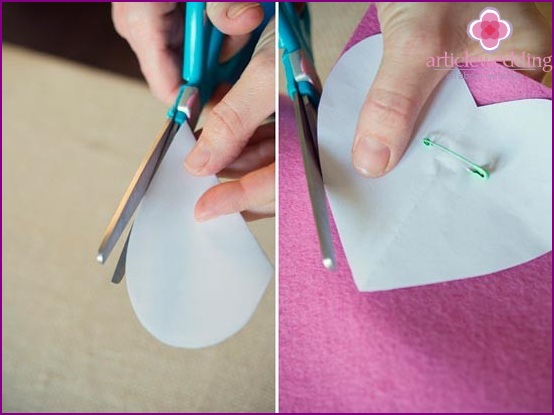 Repeat the previous steps and make two more smaller hearts of felt of a contrasting shade. Using textile glue, glue a small heart to a large one. Do the same with the other halves of the hearts. When you have glued together large and small hearts, you can start gluing decorative ornaments. Arrange the jewelry in any order acceptable for you and glue it with textile glue. If you use buttons and other similar jewelry in your work, fasten them on the back with special clips (caps).

Next, cut the required length of the ribbon, fold it and glue it in the place where the holder for the heart will be located. It is better to stick the tape on the inside of the product. Choose a floss of a suitable color and sew stitches along the edge of the heart, leaving a small space so that it is convenient to fill the product with a printed pattern. Fill the product with stuffing and finish the work with stitches..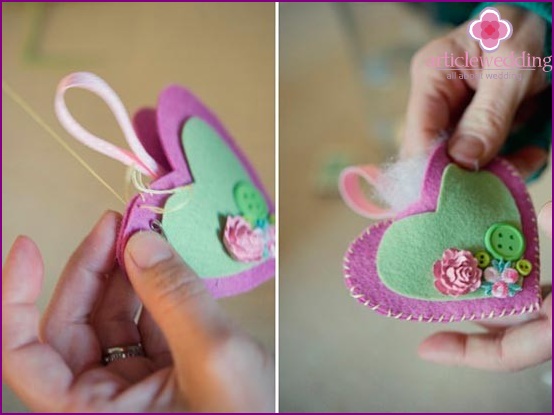 Wrap each lollipop stick with a satin ribbon. Secure the tape with glue. Using a floss, tie the sticks together. Hang the heart on sticks and gently insert into the cake.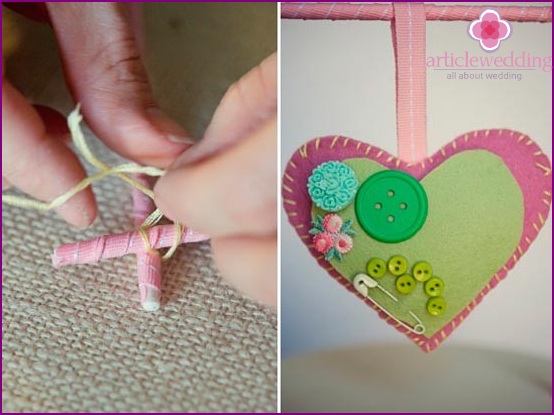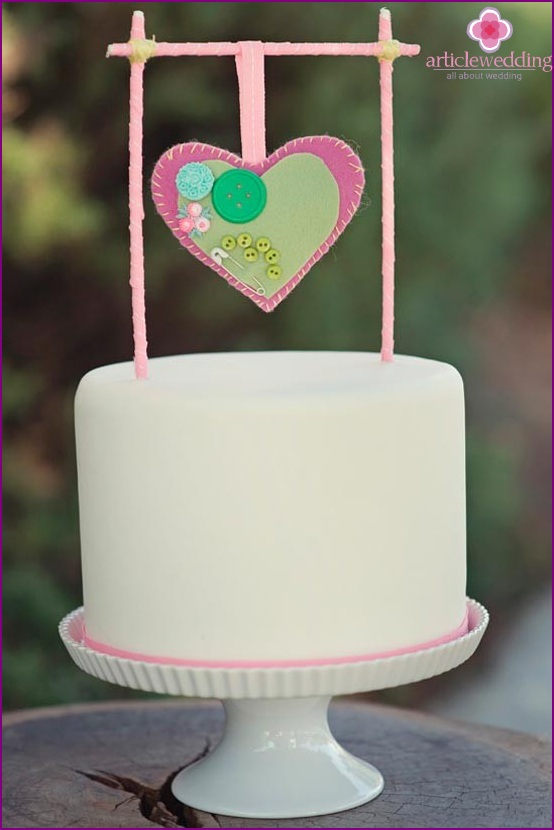 A cute wedding cake top decoration is ready!
Application options
Decorations like this felt heart can be used not only for wedding cakes. They can decorate children's sweets or sweets for Valentine's Day..
To create a sense of style unity, you can decorate all the pastries from the Candy bar at the wedding with such tops and decorate the sweet zone itself. Such decorations can be presented in the form of a gift and distributed to little children at the holiday, they will be happy for such a soft and pleasant surprise.
You can also leave yourself a heart-top and use this decoration to decorate a new cake - a symbol of another shared year. Perhaps in time you will want to add this composition to other elements from felt - then remember the useful tips of the wedding site www.articlewedding.com. Here you will find many interesting and useful.!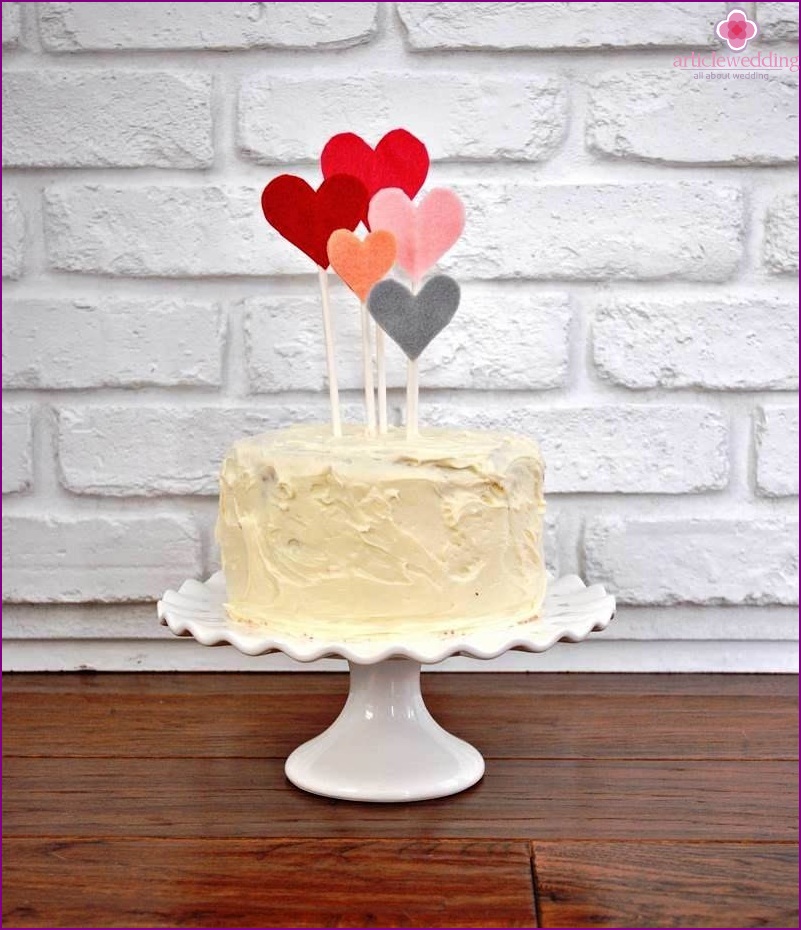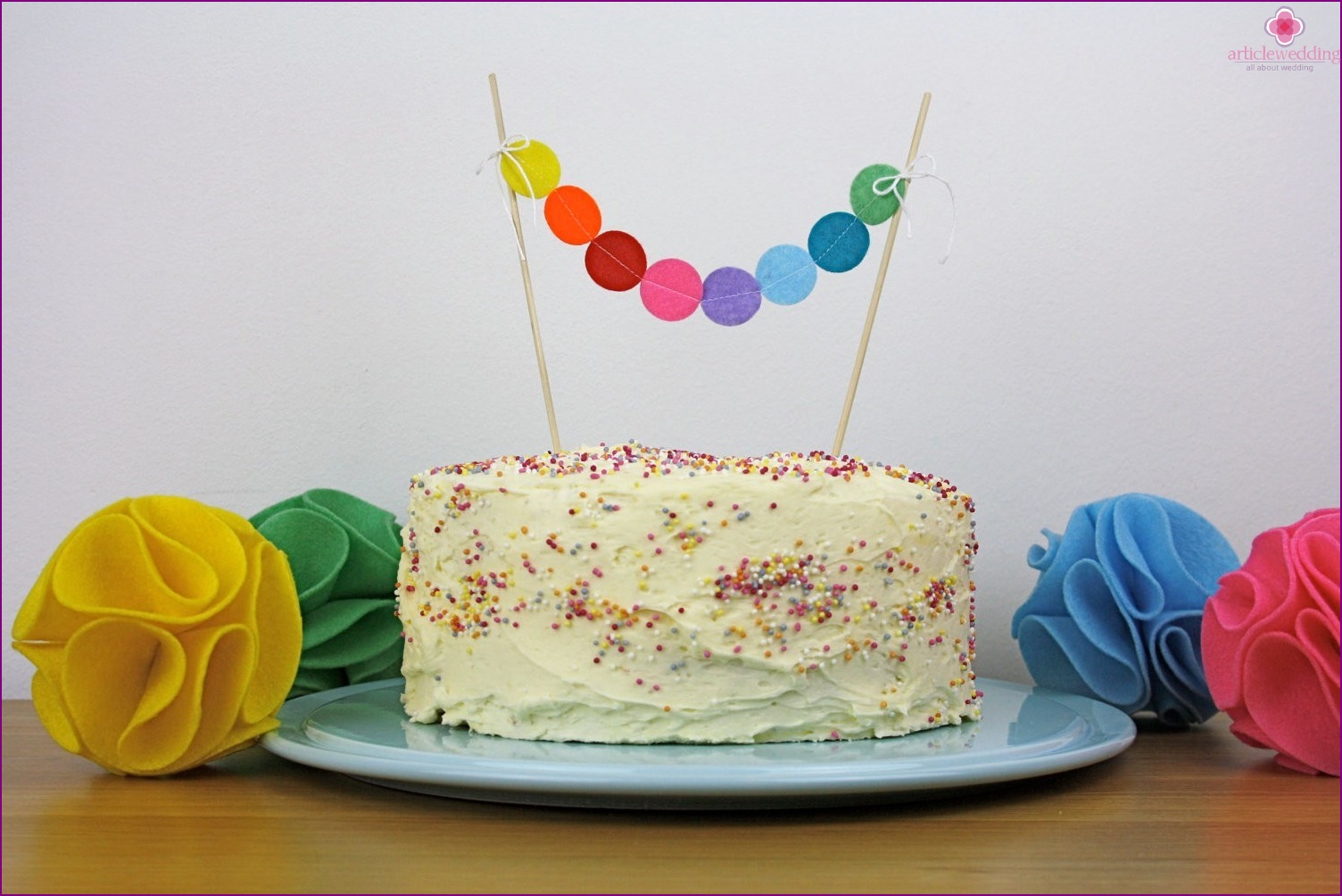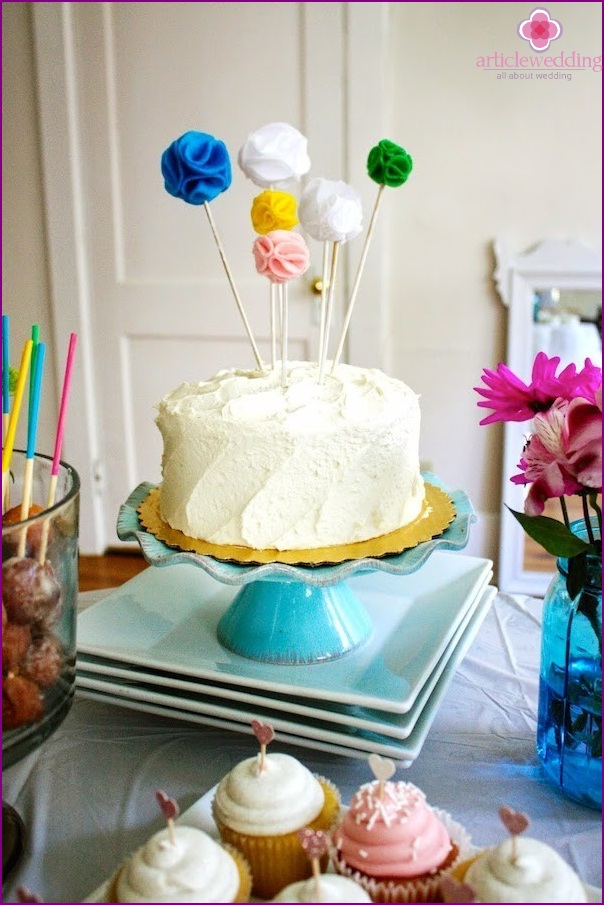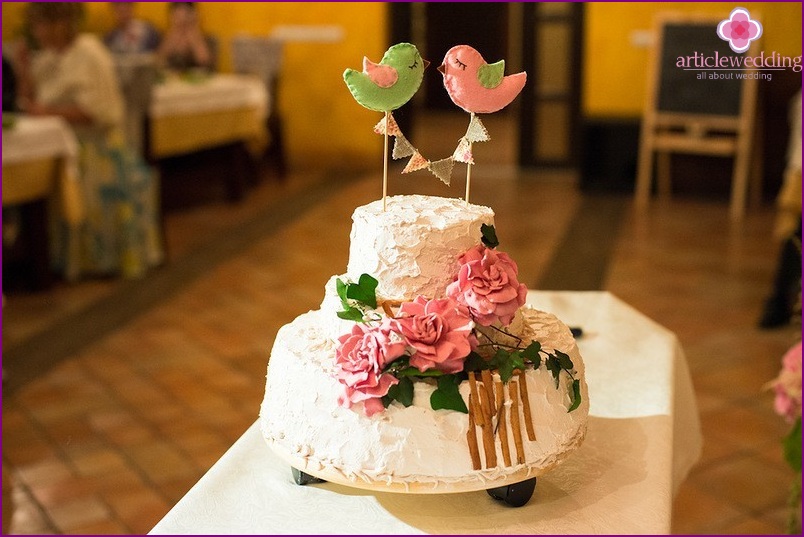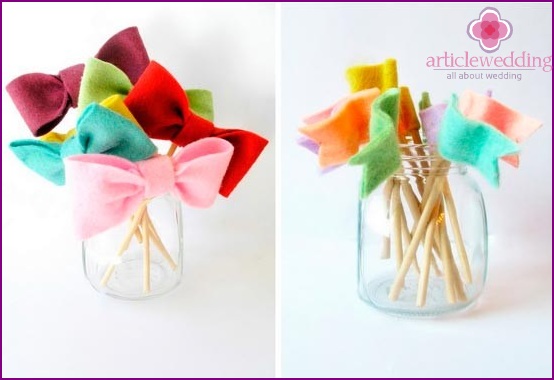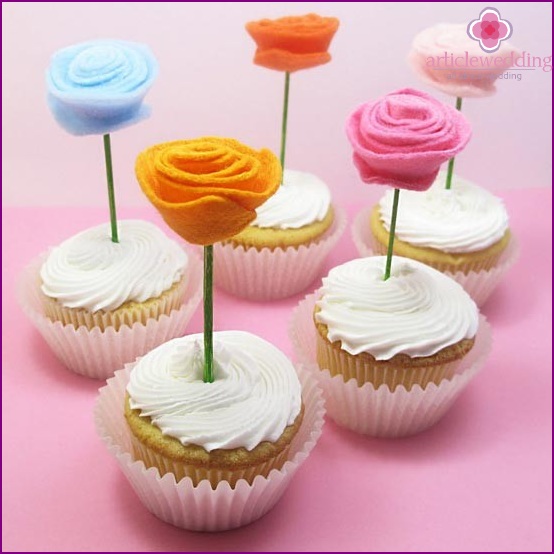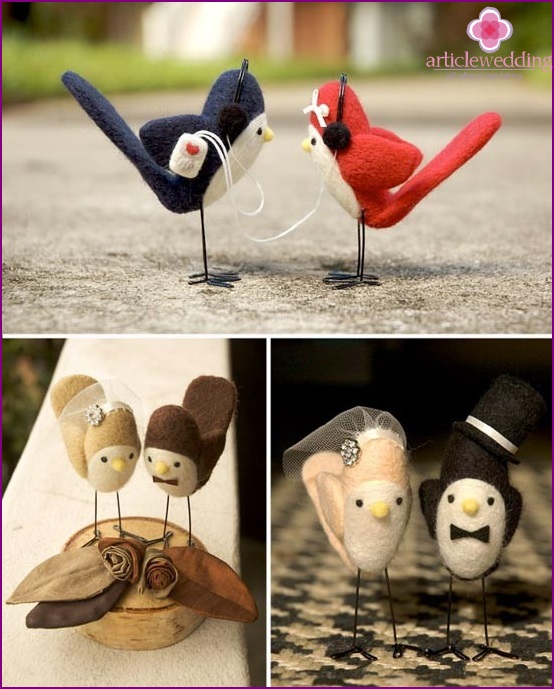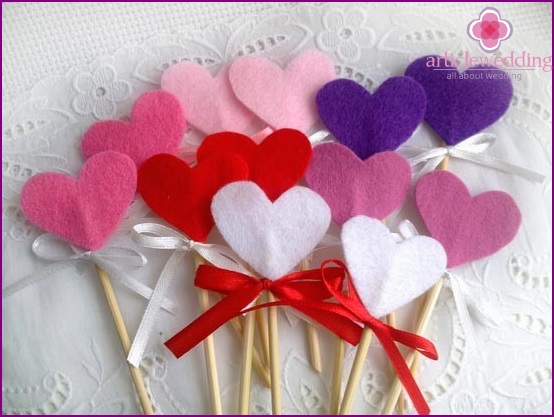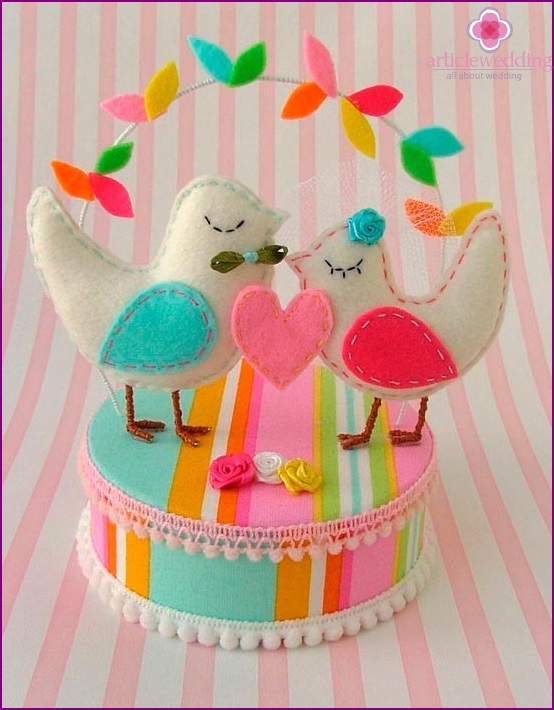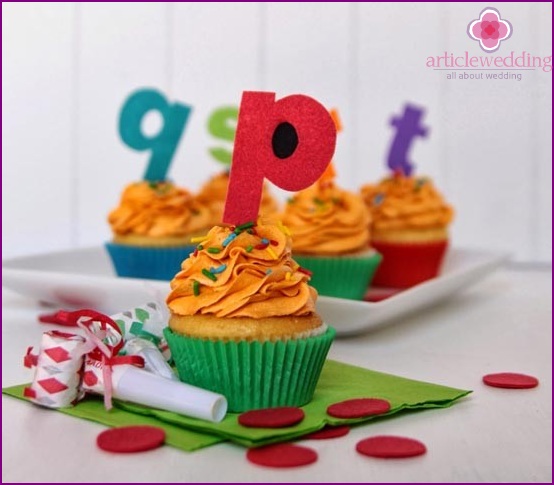 Stay original in your endeavors and please with exclusive ideas of guests gathered at your holiday!