Contents
---
---
If you can't afford expensive jewelry, do not despair. With the help of simple materials such as paper, cardboard and sparkles, you can create a brilliant design for your wedding cake, and all this with virtually no financial costs..
The site www.articlewedding.com will share with you some simple tips on how to add originality and brightness to the cake without much effort! Choose the brightest and most saturated colors for your accessories to make the wedding cake truly festive. Forget about faded tones, it's time to create a bright accent of the wedding evening. You can bake a cake yourself or order in a bakery, but you will have to work on decorations. Step-by-step instructions will facilitate your task and allow you to decorate the cake in just half an hour. Here we go?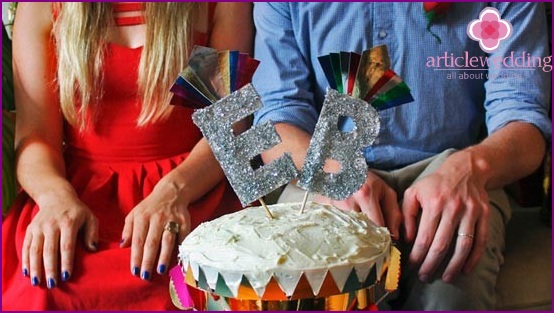 Materials and tools:
colored paper (metallic color);
scissors;
ruler;
double sided tape;
Templates
hot glue.
Time:
30-50 minutes.
Detailed instructions:
Prepare all the necessary tools for future garlands. Everything is done very simply, do not worry. The main thing is to be patient and carefully follow the instructions. Also in our wedding master class, we attached stencils to create our garlands.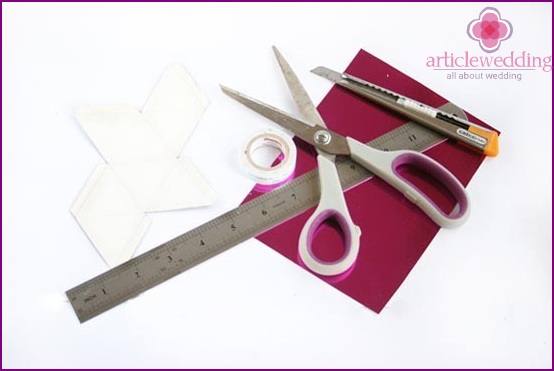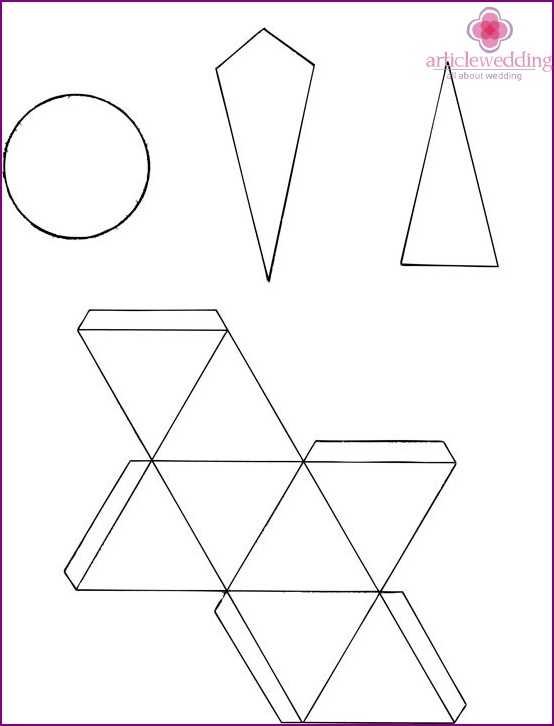 Cut out a diamond-shaped template from paper, which you need to circle with a pencil and a ruler on colored paper. Next, you must carefully bend all the lines, as shown in the figure..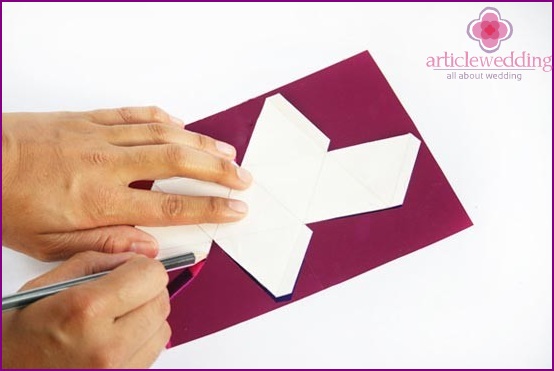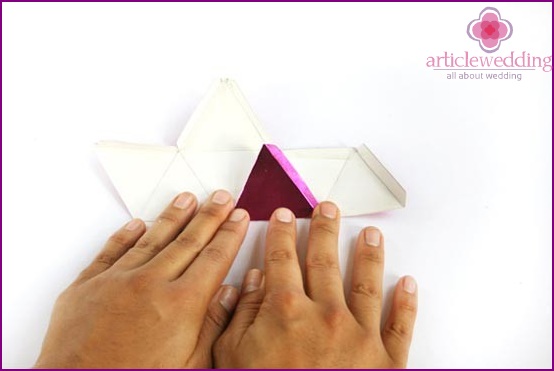 Attach a strip of double-sided tape on each external bend and connect the rhombus into a single composition, tightly pressing the edges to each other. It is better to make several rhombuses for decorating a wedding cake at once, using paper of different colors.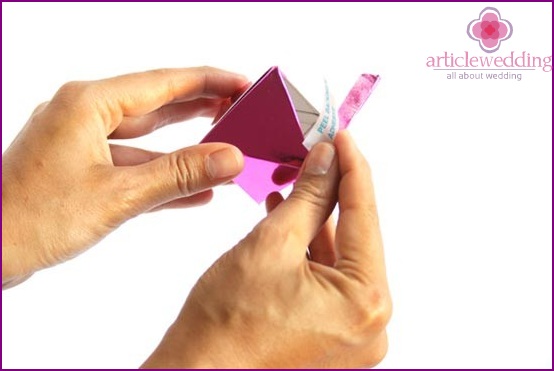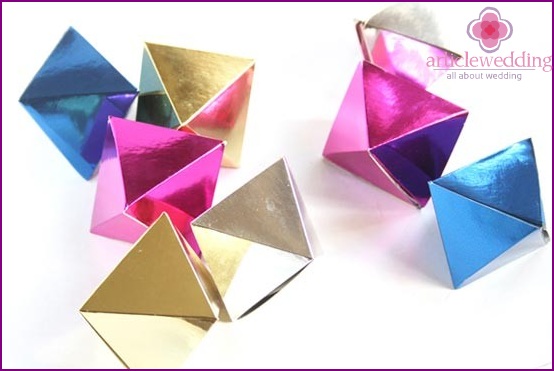 Now it's time to start making the next garland. To do this, use all of the above materials, as well as garland thread, hot glue and 2 skewers. Also use circle patterns.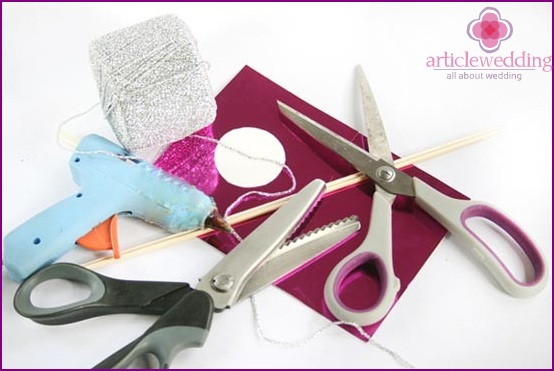 Using the pattern of circles, cut a dozen circles from bright colored paper. Fold all the circles in half, setting aside five of them. These semicircles will serve us as a kind of fringe. Using scissors, cut many stripes at the edges of the semicircle. Shorten them with zigzag scissors.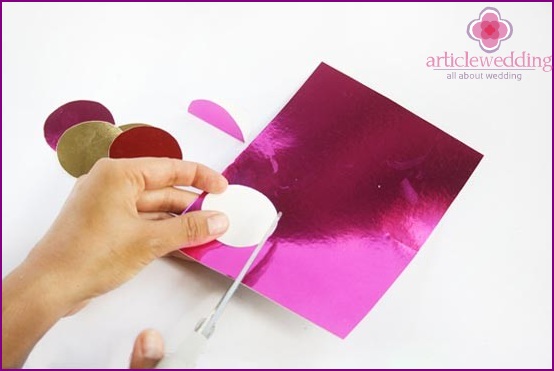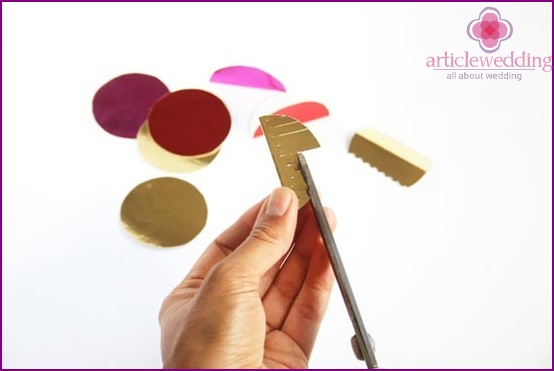 Now glue the fringed circles to the usual with hot glue. Thus, we get volumetric elements of a garland. Glue a beautiful thread or rope to the inside of the circles. Tie the ends of the rope to the skewers..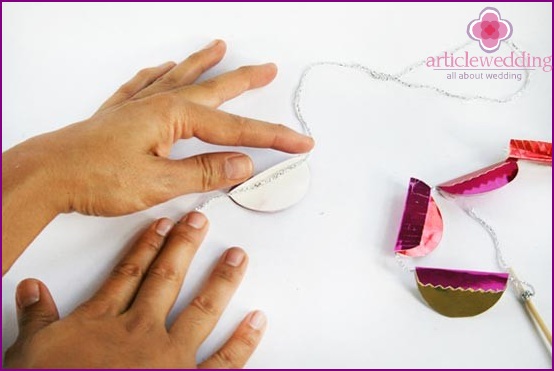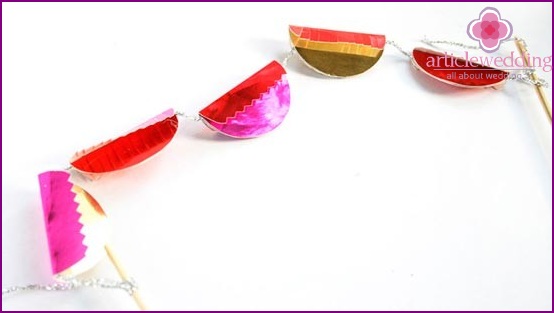 Now we have the final element of decoration. To do this, we will need letter templates that you can easily find on the Internet. Print them on the printer in the necessary size. Also arm yourself with color and white paper and bright sparkles.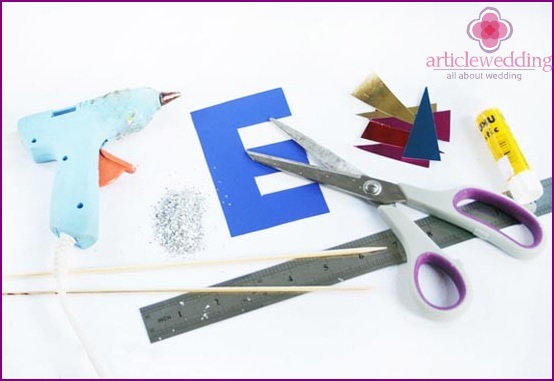 Use patterns to cut out your initials from white paper. For each initial, cut out 8 triangles and 1 rhombus from a paper using a template. Glue the triangles and rhombuses as shown in the picture.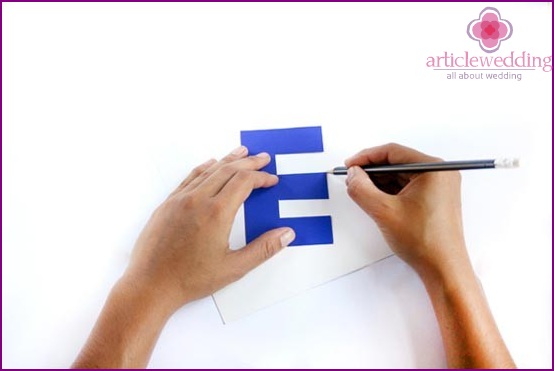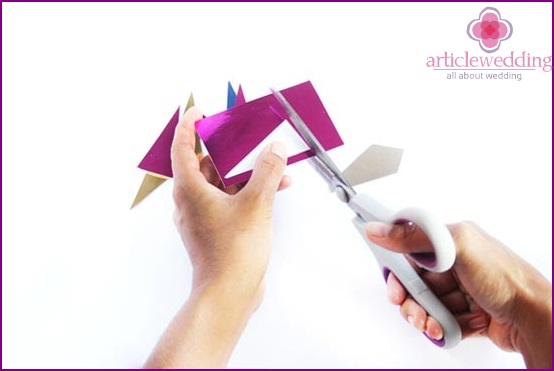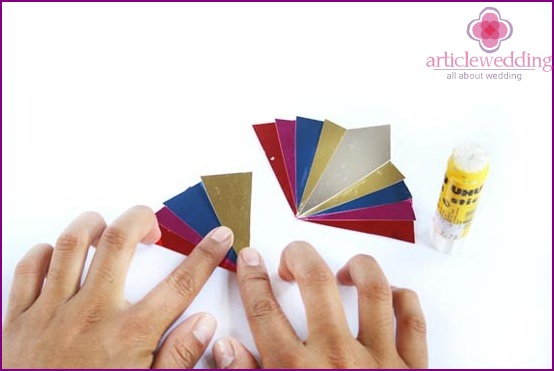 Apply hot glue to the initials and sprinkle them with bright sparkles. Let the glue dry, then blow off any excess sparkles. Now is the time to stick on the reverse side of the initials our composition of triangles using wooden skewers. Well, our initials are ready!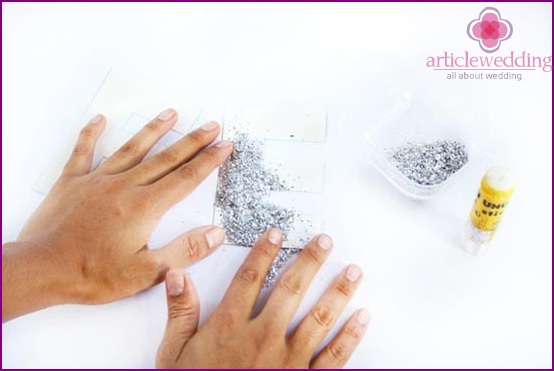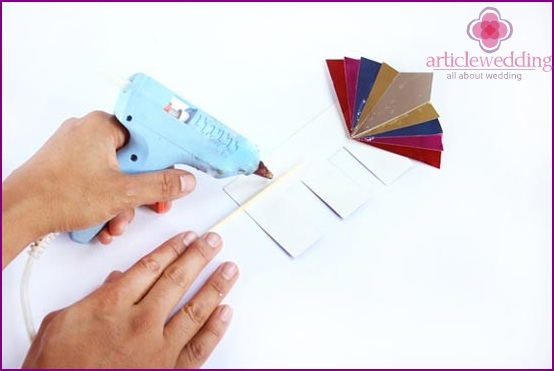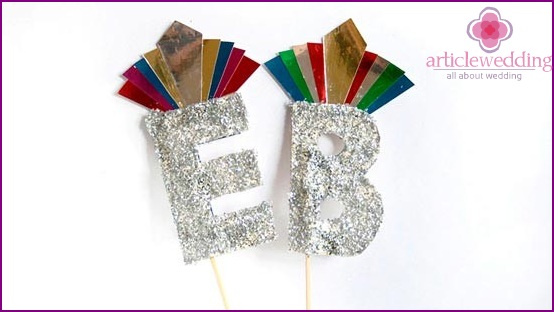 Application options
Using plain paper, you can come up with many more wonderful garlands and decorations. Such garlands will decorate a birthday cake and add mood. They can also be reused if necessary or decorated with a banquet hall..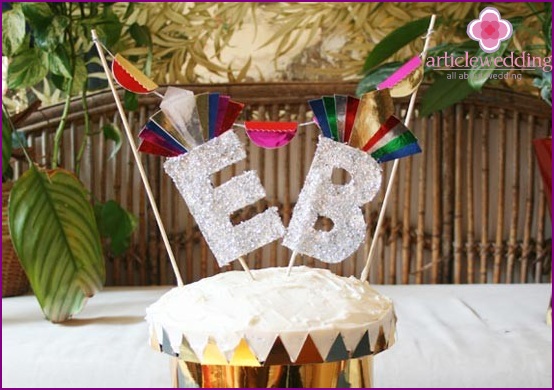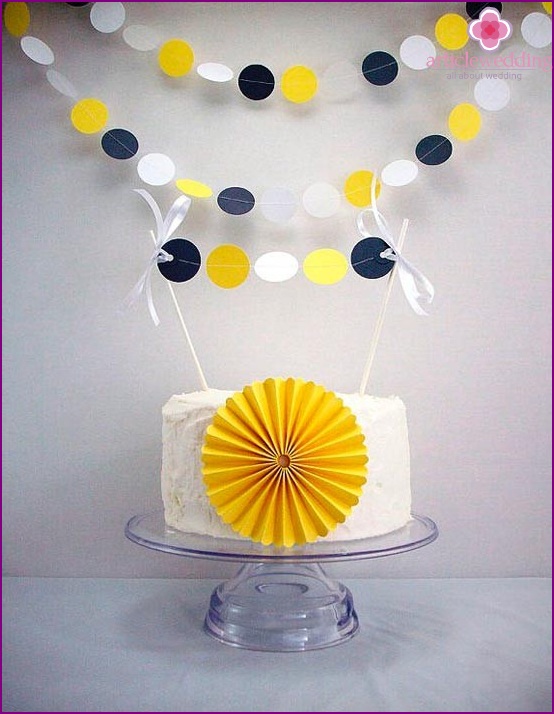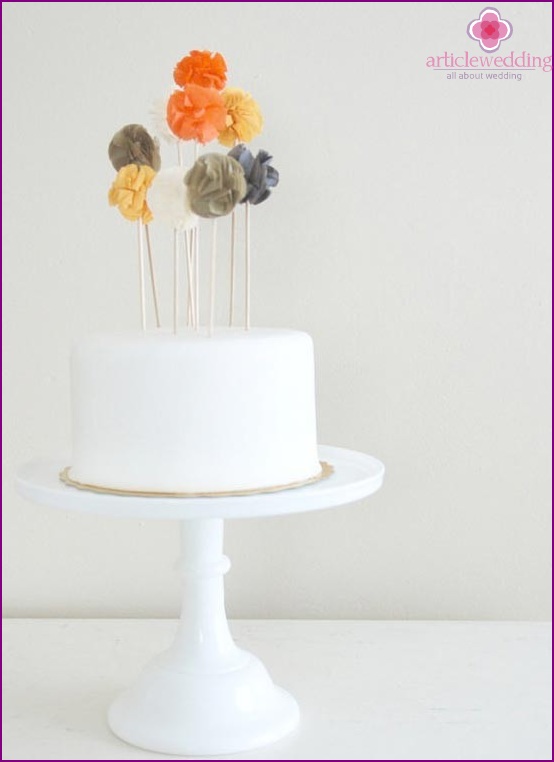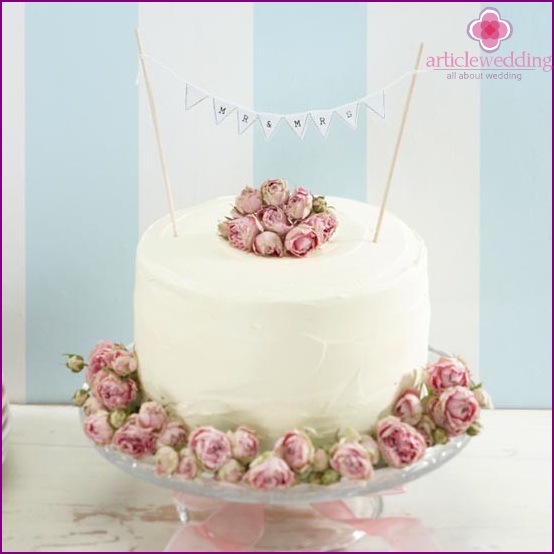 The wedding portal www.articlewedding.com does not cease to share bright ideas that are so easy to implement without leaving your home!