Contents
---
---
Today, no real celebration can do without the wedding tradition of scattering confetti. This fun tradition originated in Italy, where at first during the balls, masquerades of street processions, the audience threw various sweets. Today, multicolored paper, silk, fabric circles, rose petals are used as confetti. The main thing is that there should be a lot of confetti, because only a sufficient number of shiny jewelry creates a sense of celebration.
So, each participant in the wedding ceremony should have enough confetti to create a colorful and vibrant effect. But the question arises, where to put this bunch of colorful tinsel? Pockets and handbags are clearly not suitable for this purpose..
The site www.articlewedding.com offers to make DIY wedding envelopes for confetti with a wonderful lace decoration. You can also see the contents of the envelope, as it has a window. You can make such a wedding accessory with your own hands, moreover, it is very simple and quick. And guests will definitely appreciate the fun idea. In the end, confetti will give guests the opportunity to plunge into childhood and enjoy the extravaganza of bright fireworks from shiny tinsel.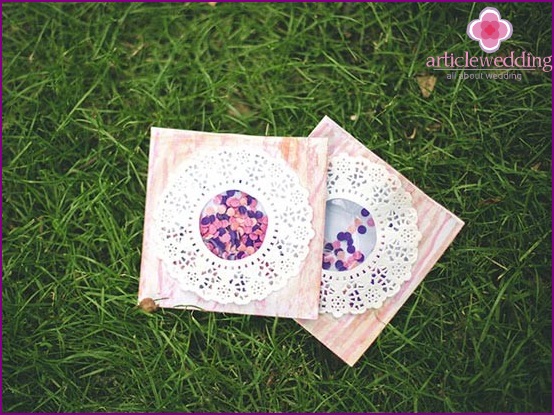 Materials and tools:
scissors;
brush for painting;
paint - watercolor or gouache;
oil paints;
glue stick;
lace paper napkins (11-12 cm in diameter);
paper envelopes for CDs with transparent window.
Time
: 10-15 minutes.
Detailed instructions:
Prepare envelopes for CDs. This choice was not made by chance, because it is a very convenient and not expensive option. Prepare the materials. You need a minimum of time, and you will definitely get pleasure from the process!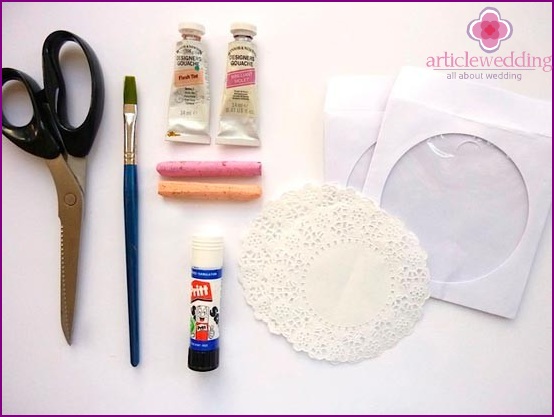 First you need to colorize our envelopes. You can choose a striped design using peach and pink oil paints, and then apply light strokes of peach watercolor on top. It will also be interesting to experiment with the color scheme in order to create a common flavor with what will lie inside the envelope, namely with confetti or tinsel.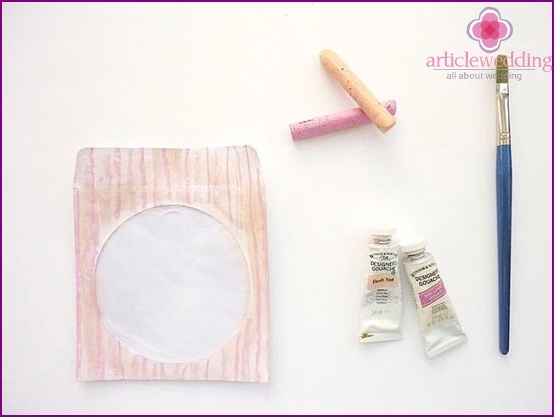 While the paint is drying on envelopes, take your napkins and bend in half. Use a pair of scissors to cut a circle of sufficient diameter inside, keeping the lace at the edges.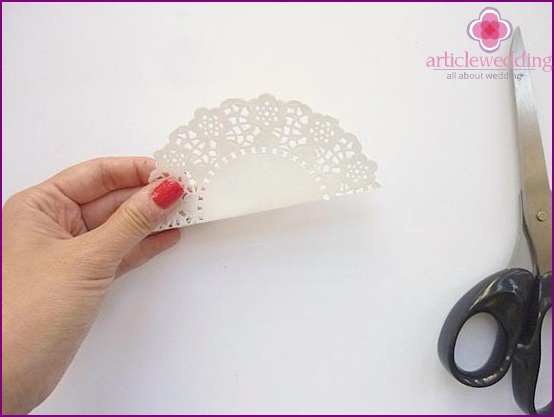 Using glue stick, fasten the openwork napkin to the window of the envelope so that the cut out center coincides with the transparent window. The original decoration for the envelope turned out.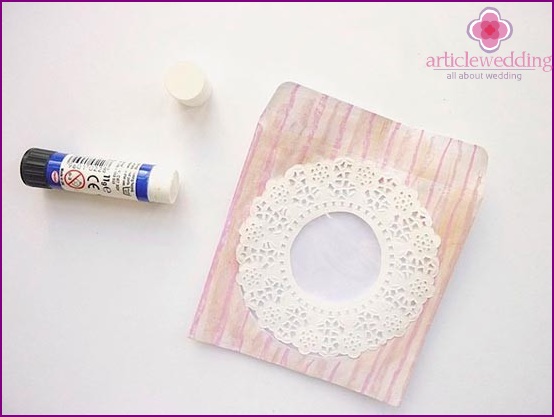 Remained the final touch. Fill the envelopes with ready-made confetti, which you can buy at the store or make it yourself using colored paper and a hole punch. Close the envelope - and the cute accessory for the guests is ready!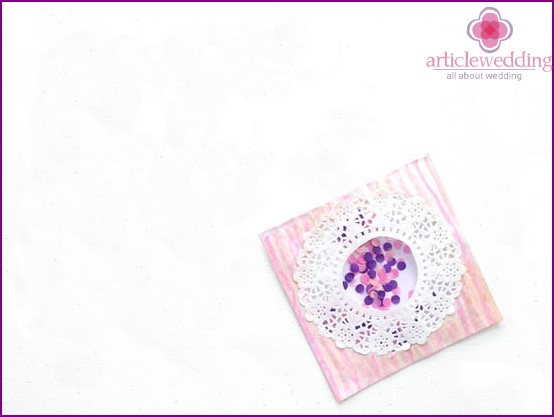 Application options
You can safely give vent to your imagination using various materials, colors and decorative elements! Instead of confetti, you can put cute sweets or candies in envelopes and present them to guests as bonbonnieres. In any case, guests will be pleasantly surprised by your creative approach to such trifles. Everything that a person does on his own is of great value, even if it is a small accessory for a wedding. Your guests will leave the holiday with pleasant emotions and good mood.!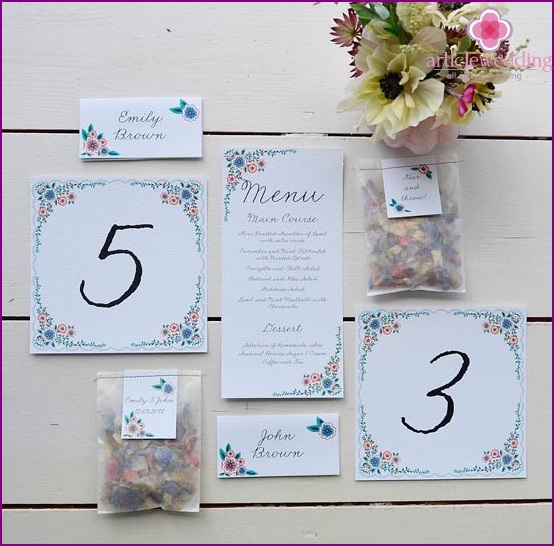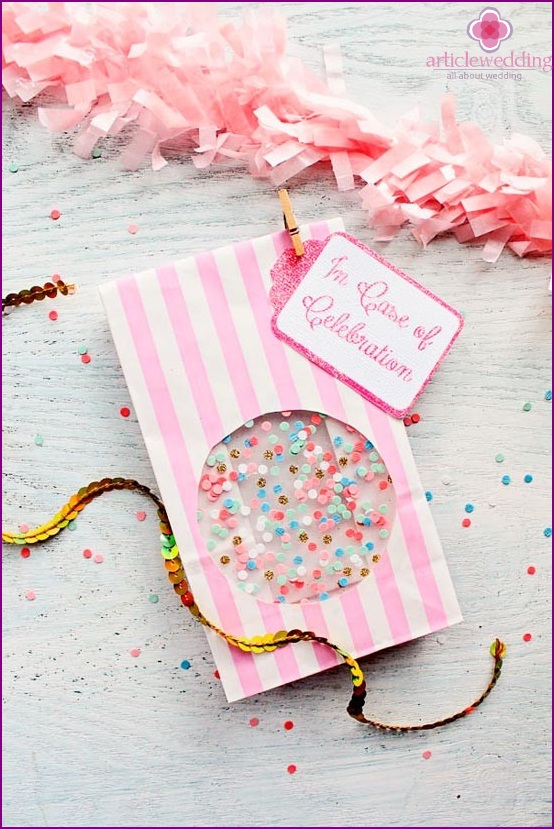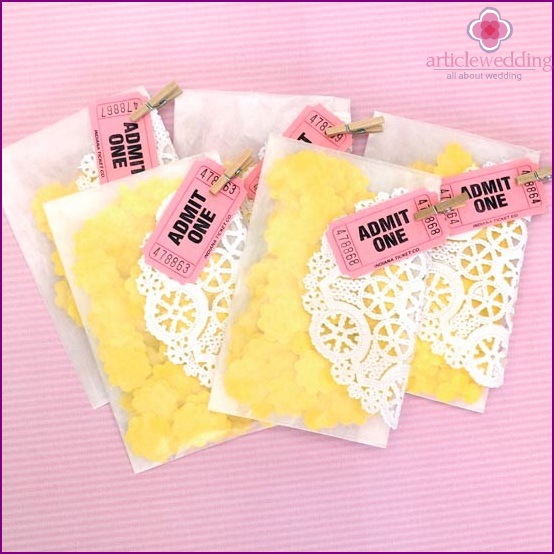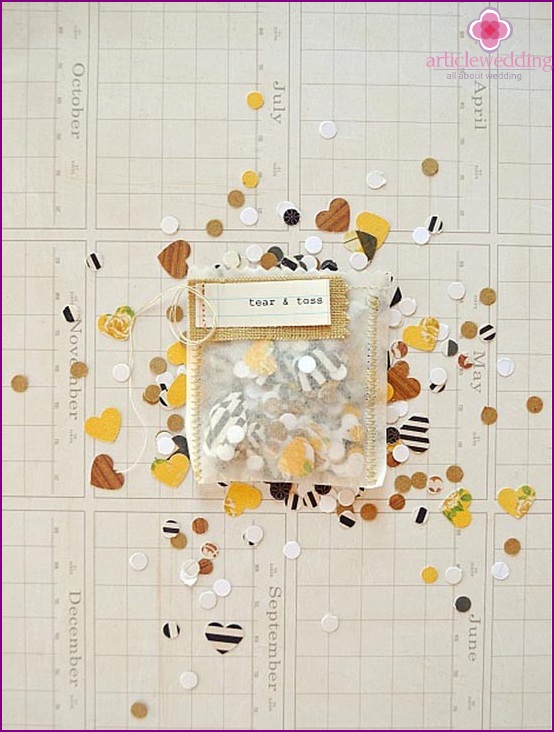 The wedding portal www.articlewedding.com hopes that your wedding will be the most extraordinary event in life, because it is your day, your holiday and your road to happiness!