Contents
---
---
Bright, light, airy crepe paper pompoms are a wonderful wedding decoration. They are great for decorating weddings in a specific color, they will decorate carefree weddings in nature, as well as many wedding accessories.
You can make pompons in almost any color, thereby setting the color base and the wedding palette. The website www.articlewedding.com is sure that colorful pompons will make the celebration fun and lively. Making them is quite simple, in fact, it resembles the technique of making woolen pompons for hats and scarves. Visit your nearest art store and get to work.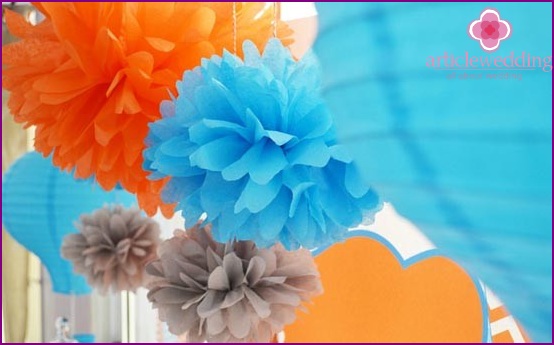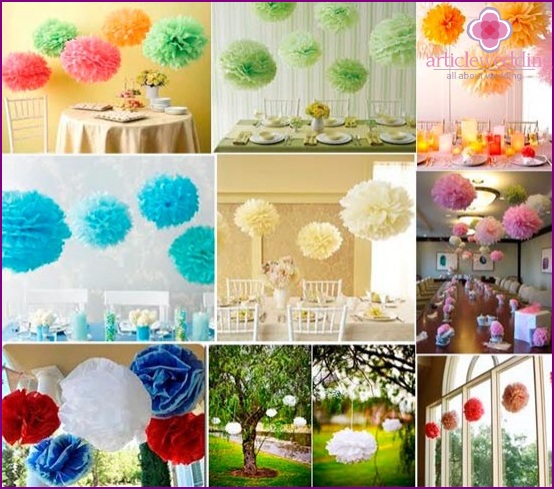 Materials and tools:
crepe paper;
thread, tape, twine, etc .;
scissors.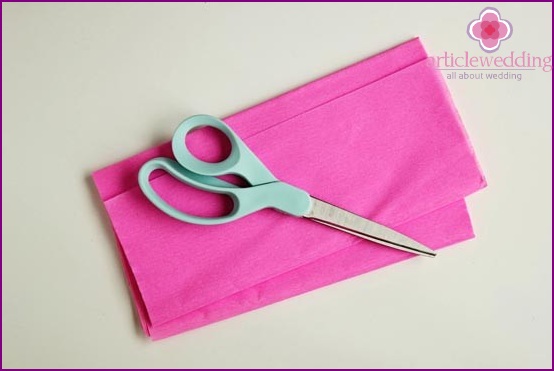 Detailed instructions:
Cut the paper into rectangular strips. It is more convenient to buy paper not in rolls, but in blocks, then you will have less work left. It is desirable that the strips are neat and the same, but this is not necessary. You can «trim» the edges of the finished pompom.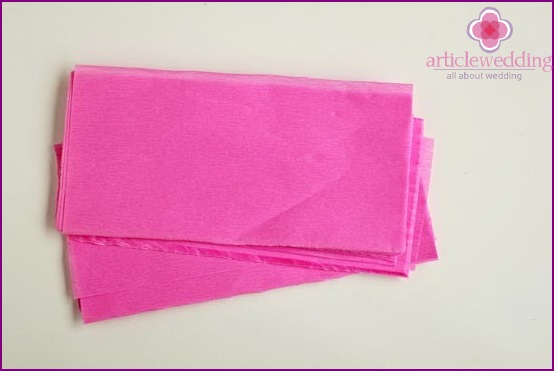 Each strip is necessary «to pin» in the middle. This is a rather laborious process. Try to make sure that all strips are taken at the same point..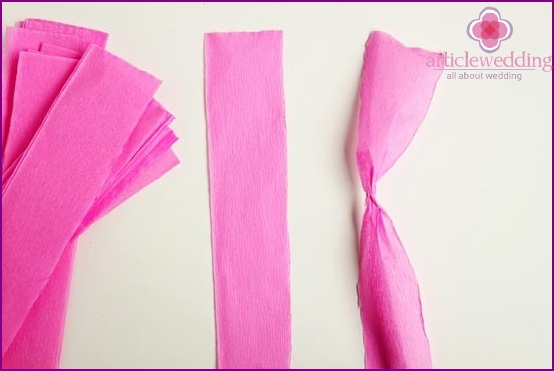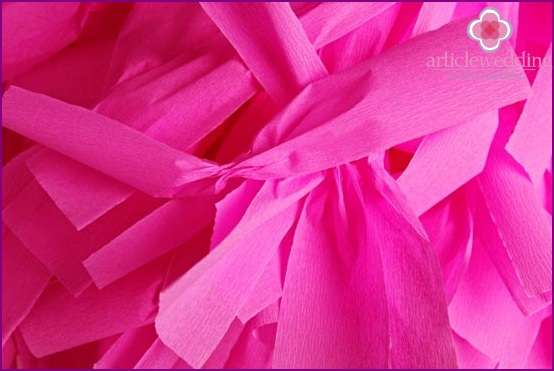 Gather all the strips in your hand and hold them by «attached» places. Thus, you will hold all the strips in the middle and you will have a peculiar shaggy flower in your hand.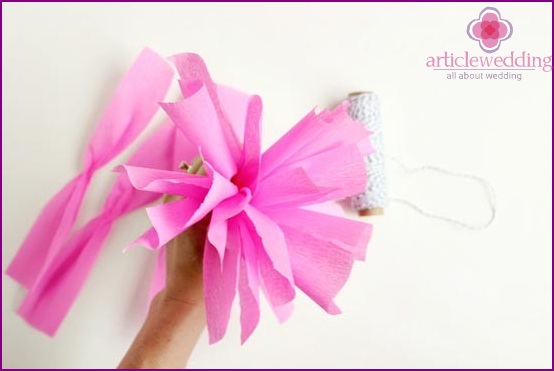 Tie the strips in the middle where you held them.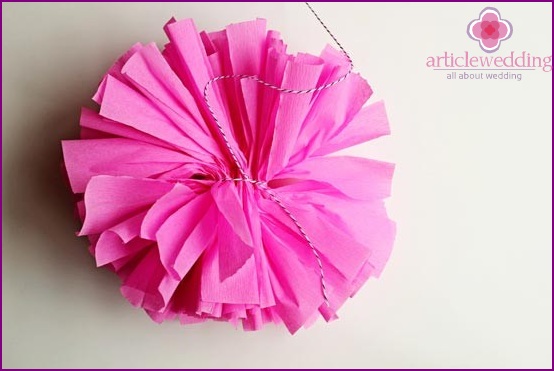 Fluff the ball. If necessary, trim the edges of the pompom with scissors, giving it a round shape and removing excess «sticking out» pieces of paper.
Everything is ready! Now you can make other pompons to decorate your holiday with them..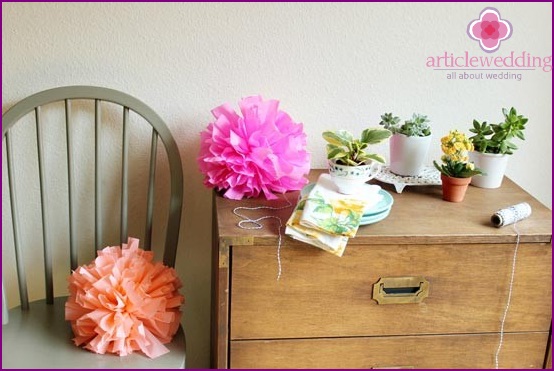 Application options
Crepe paper pompons - a versatile wedding decoration. They are light and airy and perfectly set off spring and summer weddings. If you decide to organize a wedding in several colors, pompons are an irreplaceable decoration. They are simple in execution, but effective in the design of the wedding. Pastel colors can be used as a basis, and brighter shades will become magnificent color accents, the wedding portal www.articlewedding.com offers.
Paper pompoms are suitable for decorating many wedding components. So, light balls look good among candies and sweets Candy bar. They can decorate both buffet areas and the main banquet hall. Place pompons over tables at different heights to create an airy and festive atmosphere.
Crepe paper pompons are both a spectacular accessory in their own right and for other wedding decorations. For example, garlands of bright pompons will become a fun accessory for a photo shoot. They can also decorate a wedding procession. Use pompons instead of bows to decorate wedding gifts or bonbonnieres. An unusual option - multi-colored pom-poms instead of bouquets of bridesmaids.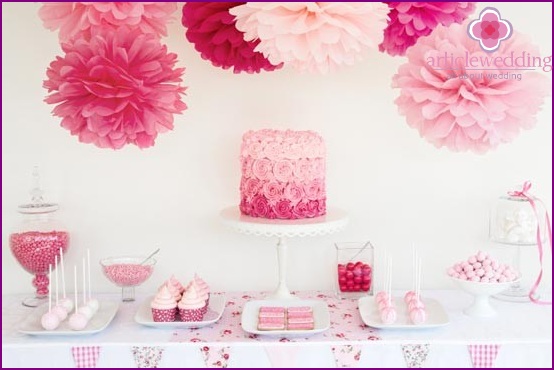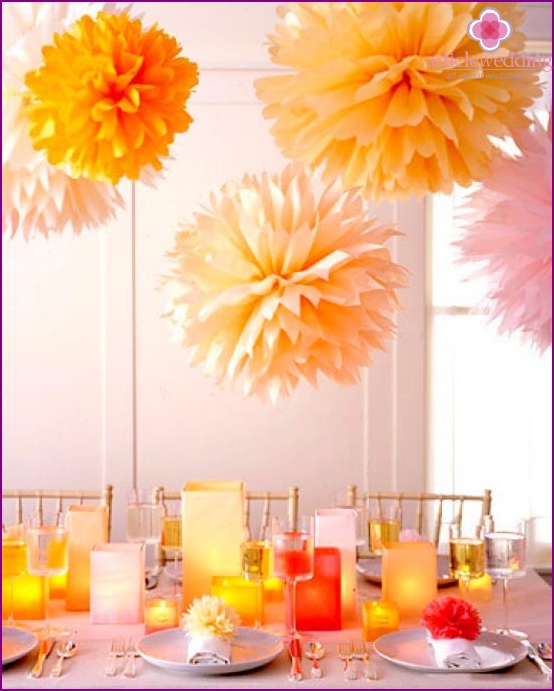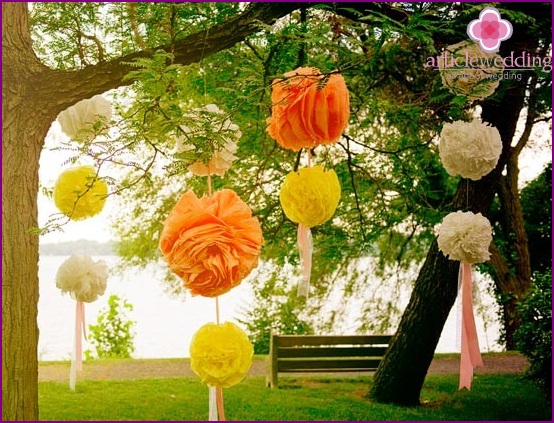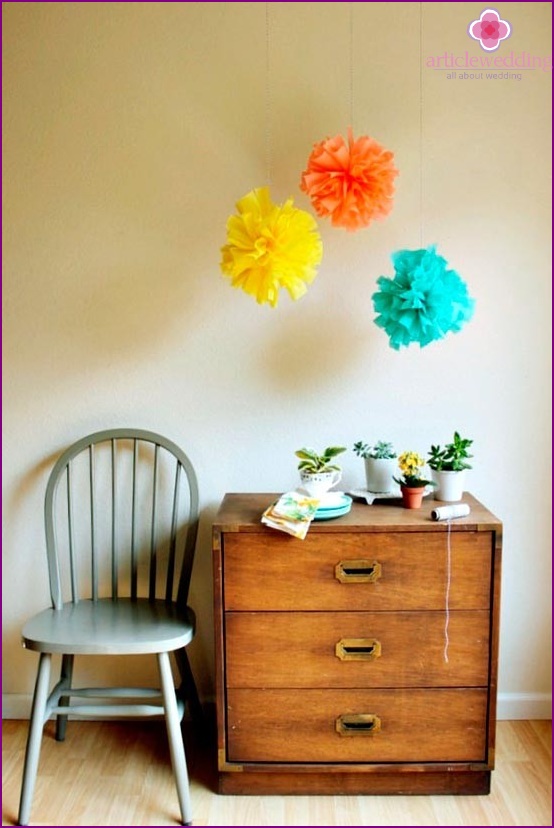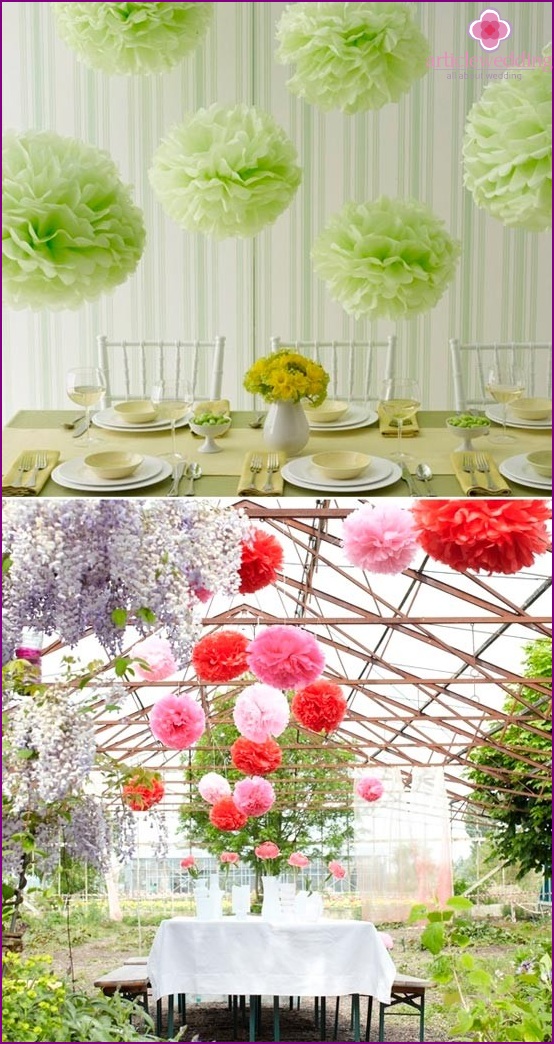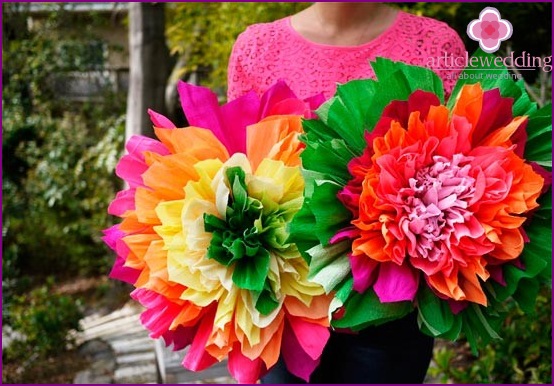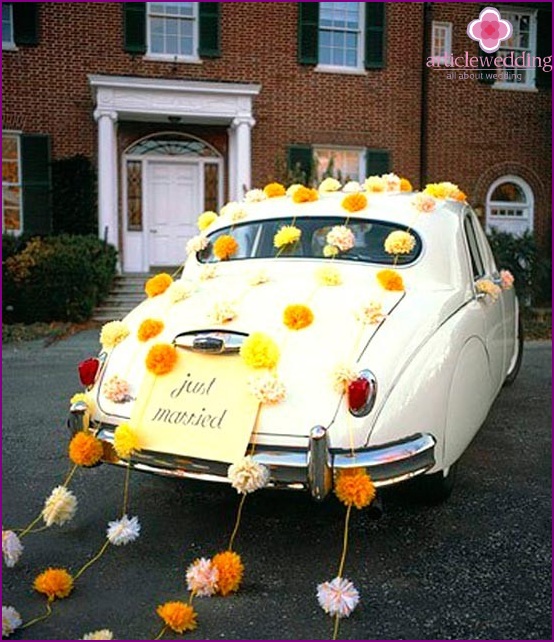 Decorate your wedding with pompons and crepe paper balls. This is an easy-to-use, but surprisingly useful accessory that can be used in many situations. Add colors, make the holiday bright, fun and airy!