Contents
---
---
Making gifts is always a real pleasure, but why wait for the wedding day, if you can please the bride in a few weeks. In today's workshop at the wedding site www.articlewedding.com, bridesmaids will be able to learn how to surprise and please the bride before such a crucial day in her life. A magic calendar that can be presented for a bachelorette party will delight the bride every day.
The calendar consists of windows, each of which has a surprise. Who doesn't like surprises, especially every day? The excitement will go by the wayside, because every day the bride will be in anticipation of what is hidden in the window. Such calendars were initially given to children at Christmas. Different sweets were hidden in each window: sweets, candies and pretzels. If the wedding is scheduled for the winter months, then such a calendar will be even more relevant. It is necessary to think in advance what can please the bride. Perhaps she is very fond of beautiful romantic underwear, or maybe she is sweet and will be happy with an unlimited number of goodies. In the windows you can also put nail polishes or small shadows. Such a wonderful calendar will remind the bride of her childhood and return to the fairy tale. And making such a gift is very simple, especially if you make it with a friendly company.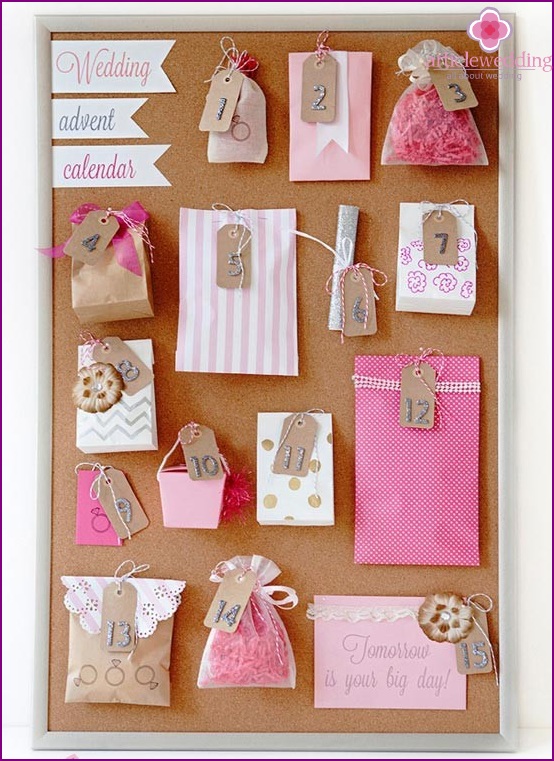 Materials and tools:
a large piece of cardboard (50x70 cm.);
spray paint;
Gift tags
gifts (cosmetics, sweets and much more);
gift wrapping;
ribbon and rope;
pins
number stickers.
Time
: 30 minutes/
Detailed instructions:
Sometimes a wedding master class can be so exciting that you not only make a beautiful gift, but also have a great time in good company. Making a wedding calendar is a very creative task. Everyone can come up with their own gift or decoration idea. Prepare all the materials and gifts, and start tinkering.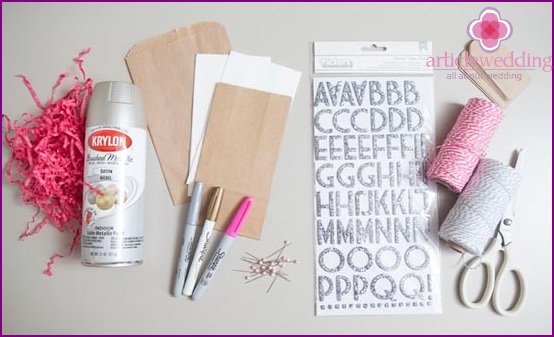 First, print the name of your calendar on paper and carefully cut out the words. Next, you need to mask the cardboard on the back of our «paintings». To do this, use sheets of white paper or just white paint in a spray can.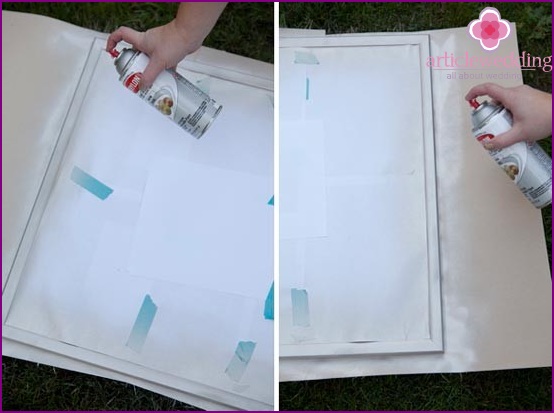 Now you need to decorate the labels. Depending on how many gifts you want to make on the calendar, prepare the appropriate number of tags. On each stick a bright shiny number. Cut the tape or rope and thread it through the holes in the tabs.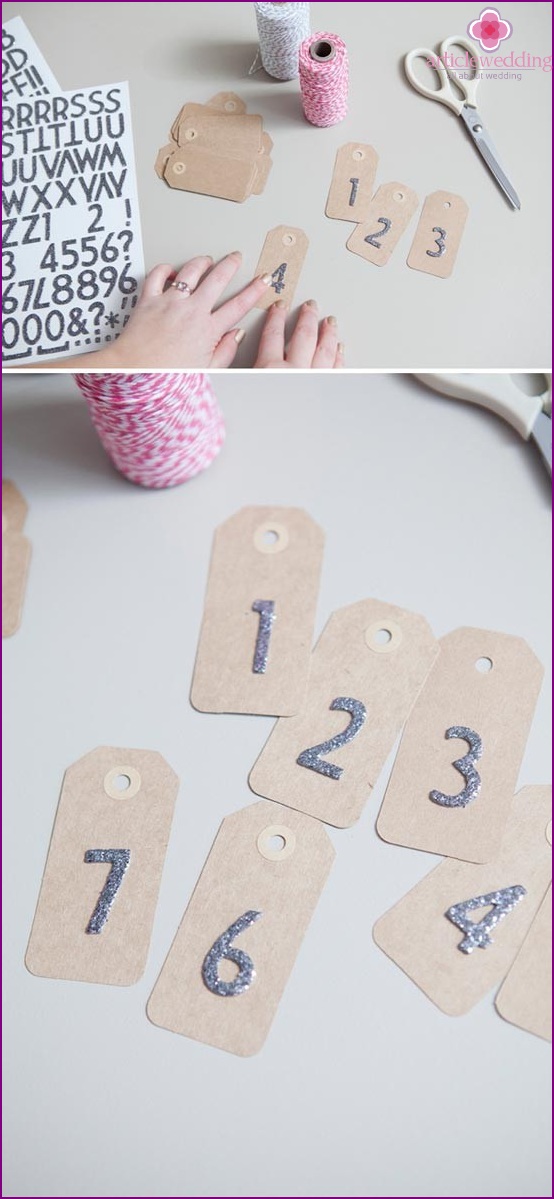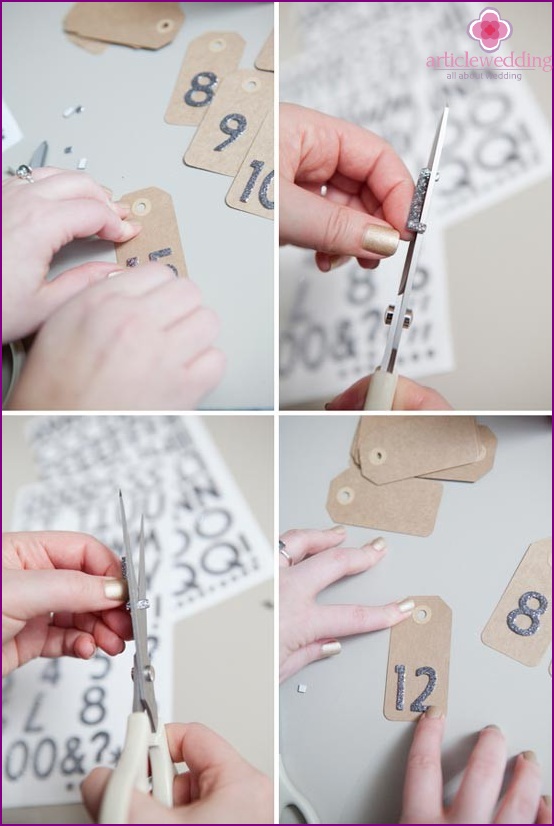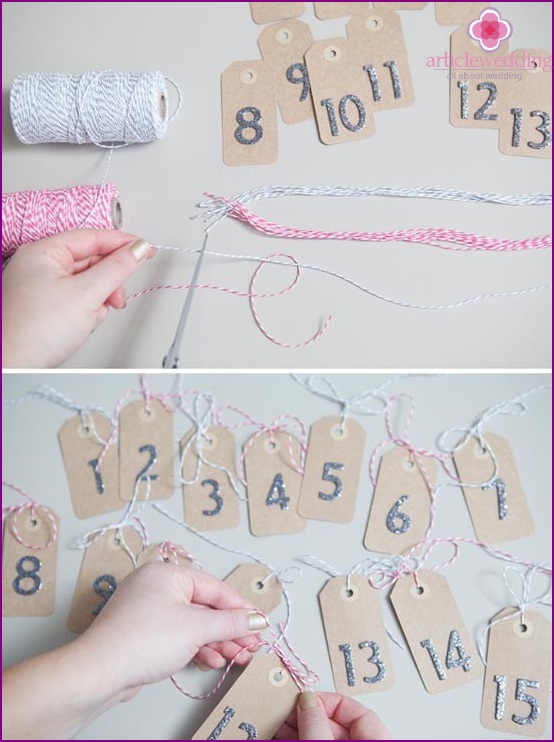 Now is the time to decide on gifts. Of course, these can be sweets, such as sweets or cookies. However, you can be more original and give beautiful linen, warm socks, lip gloss and nail polish, a face mask and scented candles, hair clips, chewing gum and much more.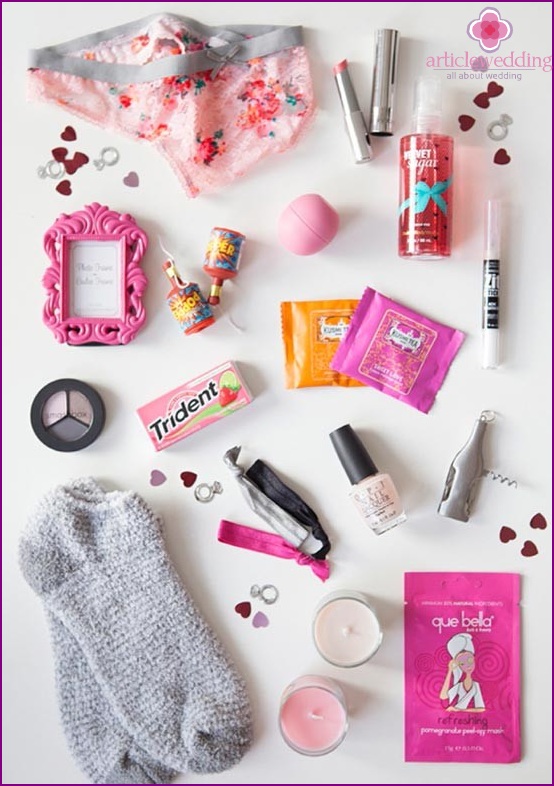 Gently stick the name of the calendar to the cardboard. Pack gifts in gift wrapping. It is best to choose different boxes to make the composition even more original. Using pins, carefully attach gifts to cardboard in ascending order. The magic calendar is ready! The bride will be delighted!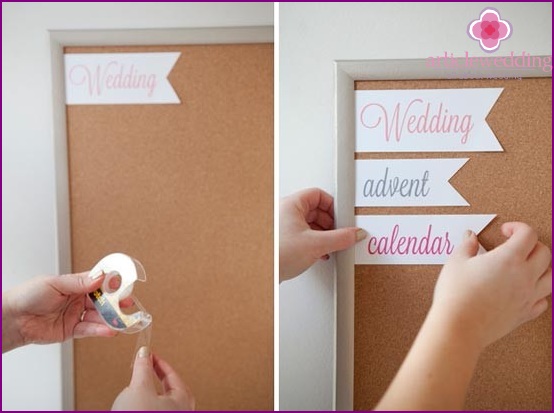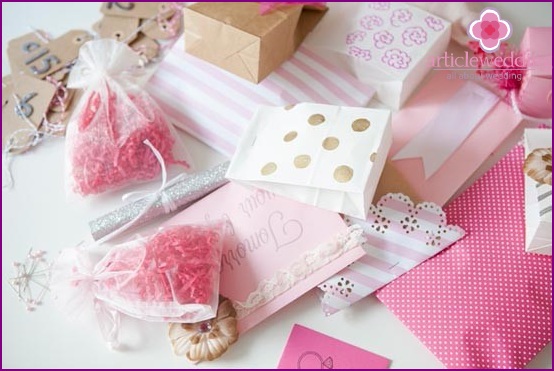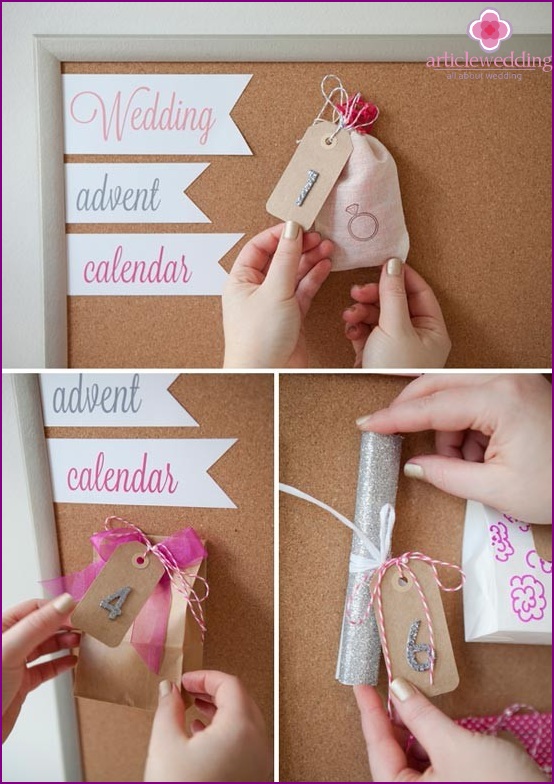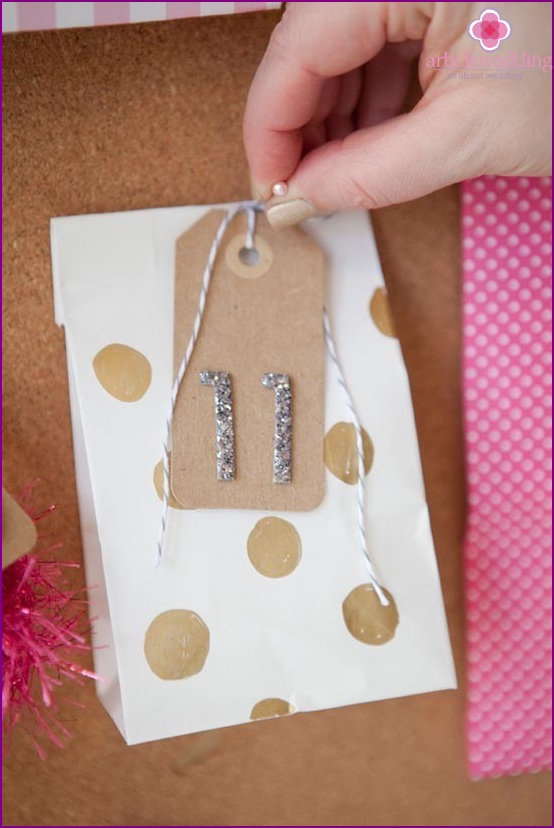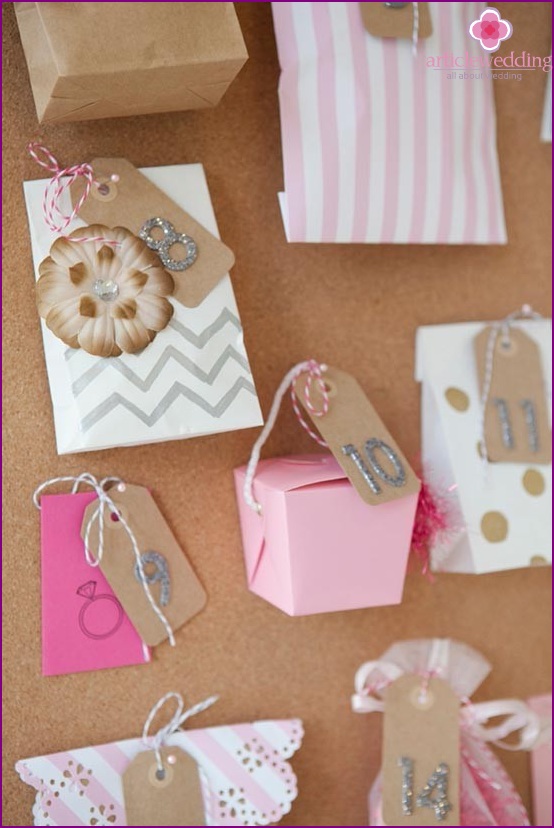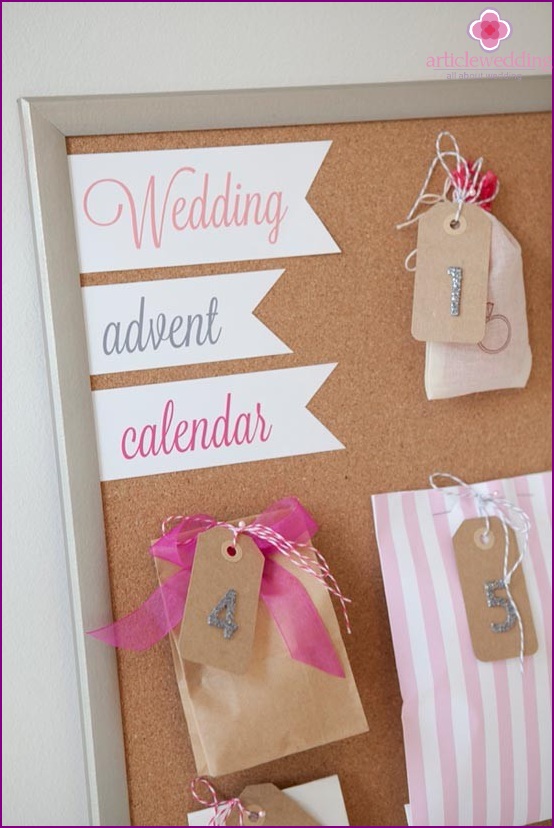 Application options
A luxurious calendar will be the most unforgettable pre-wedding surprise or even a wedding gift, because beloved girlfriends made an effort to create it!
The choice of gifts depends on you, because only you know what the bride loves most. If the wedding is scheduled for the winter, you can safely use Christmas motives in your calendar. You can make a calendar in any form using various gift wrapping - bags, sachets, boxes. Everything sweet and tender is ideal for creating such a gift.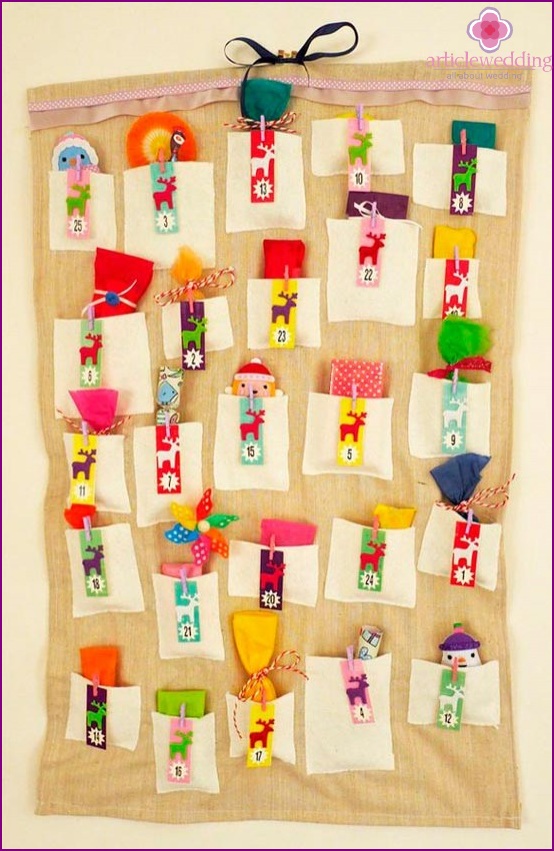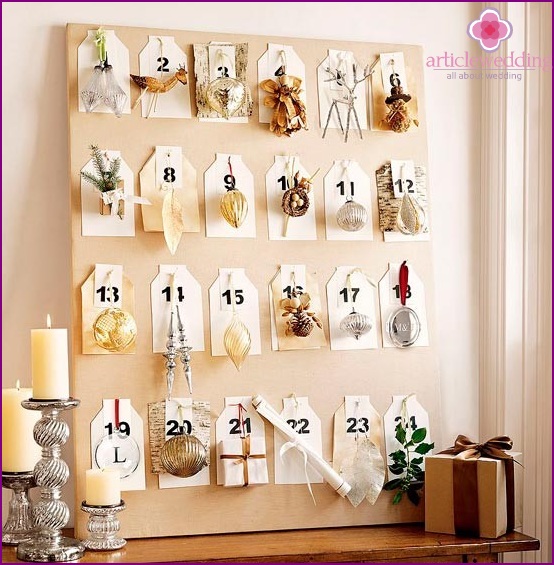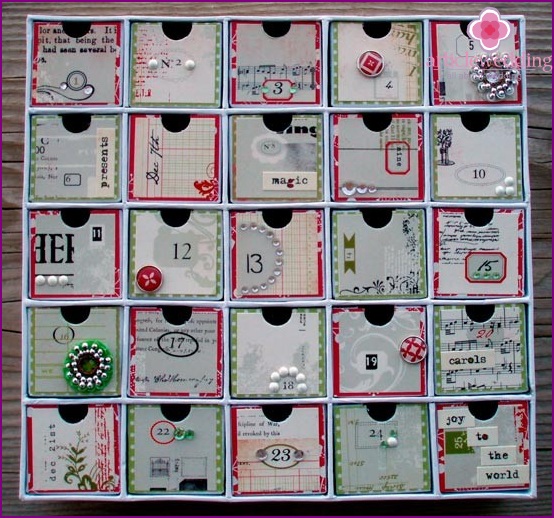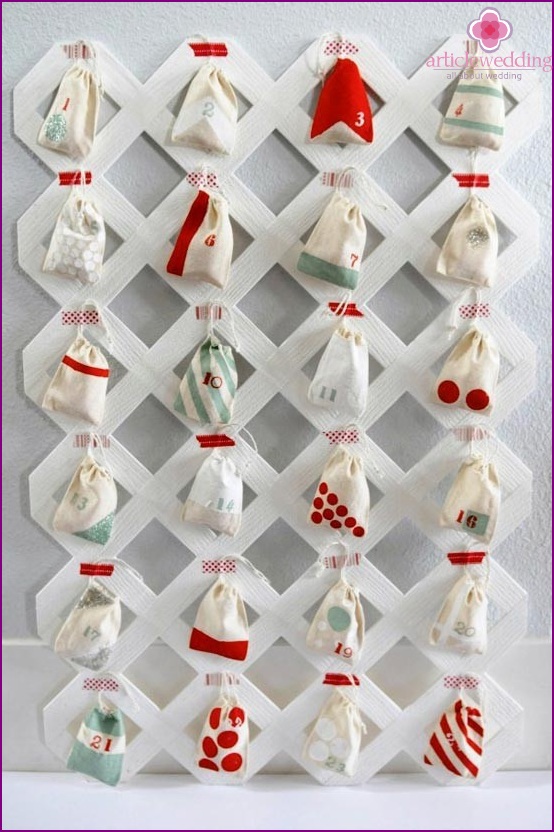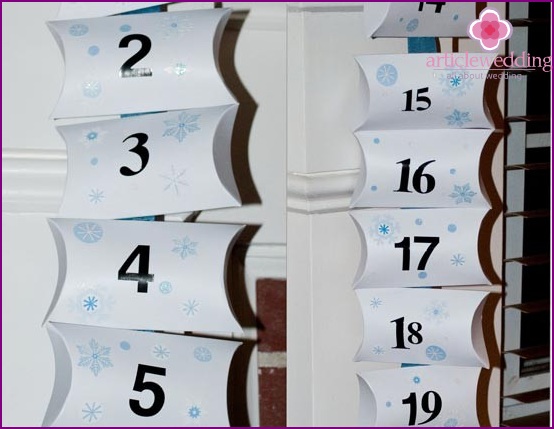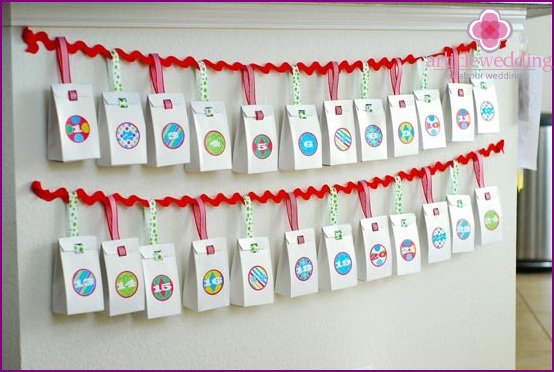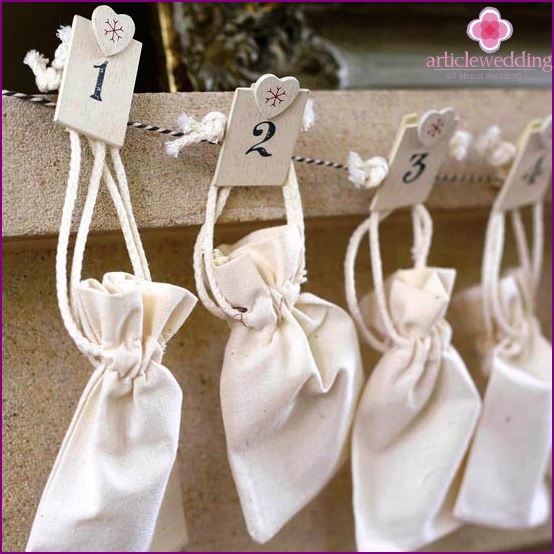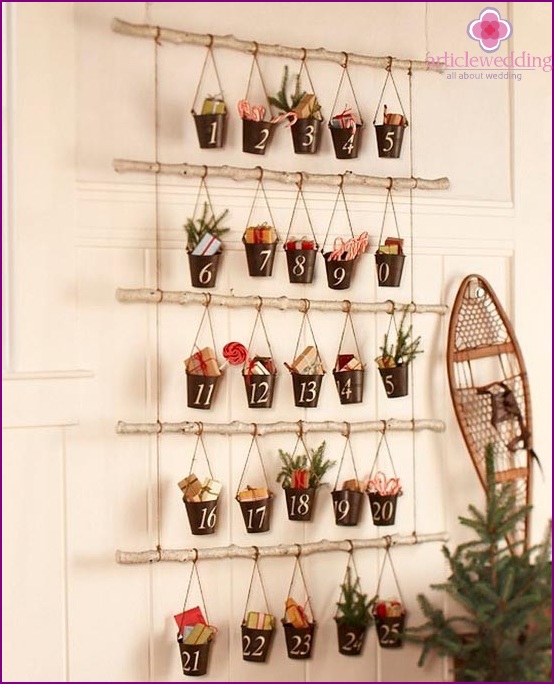 At www.articlewedding.com you will learn how to use your time and craft something original and unique..