Contents
---
---
A neat, originally designed suitcase will be an excellent storage for postcards, envelopes and other small souvenirs. It will emphasize the theme and style of the wedding, because it can be made in almost any style: ancient, vintage, oriental, fabulous, marine, etc. An unusual suitcase will also serve as an interesting designer accessory for the home of a young family or summer house.
To make this accessory, you will mainly need imagination and skill. As a suitcase, you can use both real antique bags and special cardboard containers for needlework, which are sold in specialized stores for needlewomen. The site www.articlewedding.com offers you a master class, following the steps of which you can make an unusual wedding accessory yourself.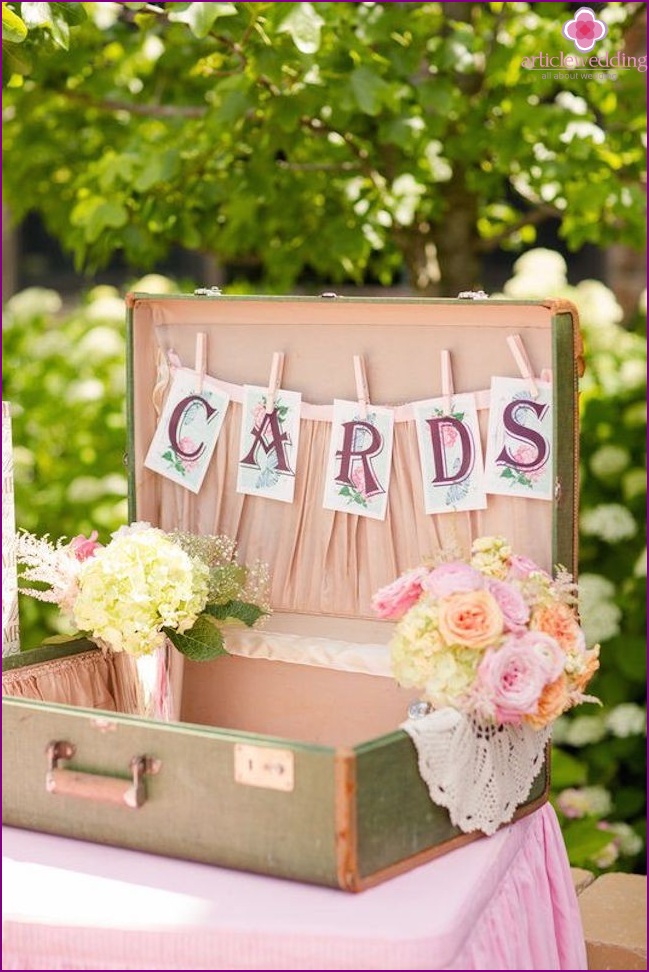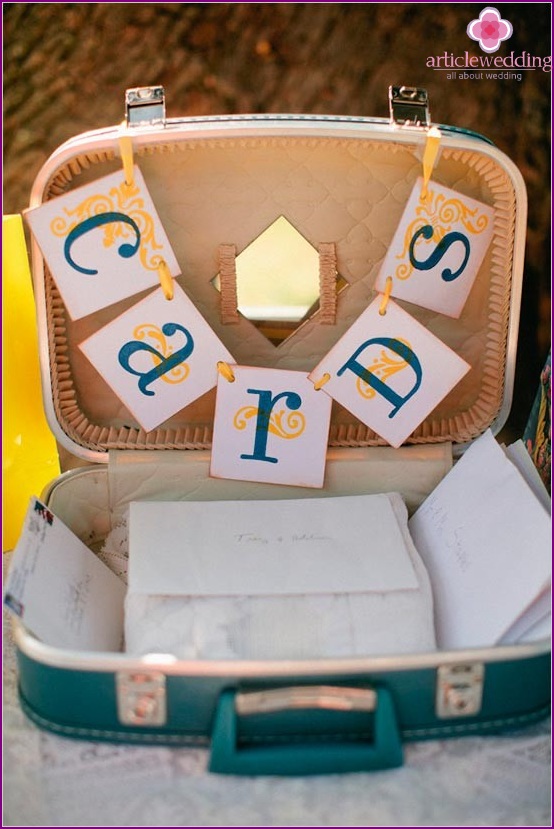 Materials and tools:
a small suitcase;
cards or other images;
spray can with paint;
glue;
thick cardboard;
paper;
markers, sparkles and other decorative elements;
a thread;
small wooden clothespins (perhaps as for decorating gifts);
scissors;
needle;
glue brush.
Detailed instructions:
If you are using a real antique «grandmother» case, first of all, clean it from dust, «getting out» thread, etc. Then paint the suitcase with spray paint. Wait for it to dry. Re-apply paint if necessary..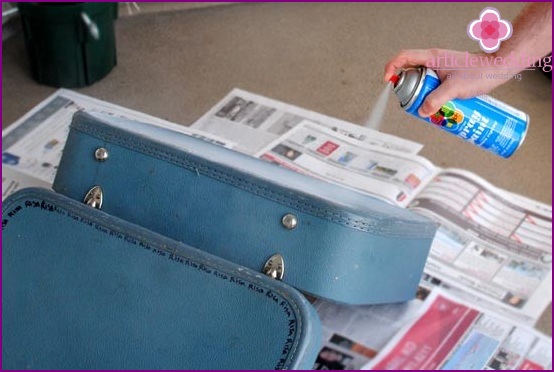 Open the suitcase and open the lining. Measure the bottom and «cover» suitcases. Cut out thick parts of thick cardboard.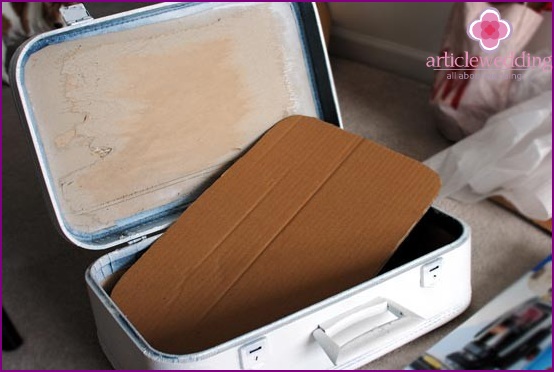 Card over the side walls of the suitcase.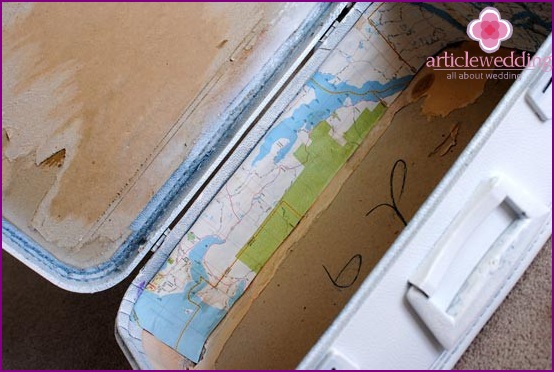 Card over cardboard parts. If you want to hang on «suitcase cover», then sew the thread to the appropriate cardboard part at this stage. And then glue the cardboard with the cards to the bottom and «cover» suitcases.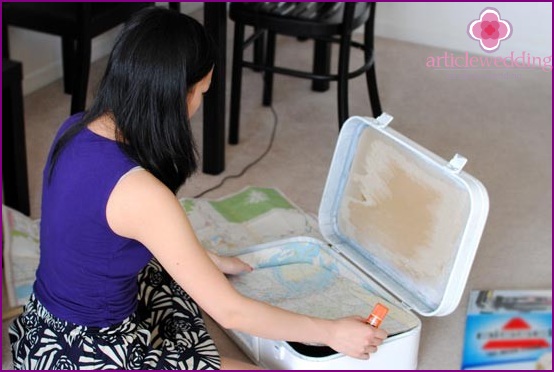 Cut out the letters that make up the lettering (e.g., «postcards» or «thank») If desired, the letters can be decorated with paintings, sparkles, ribbons or made of multi-colored paper.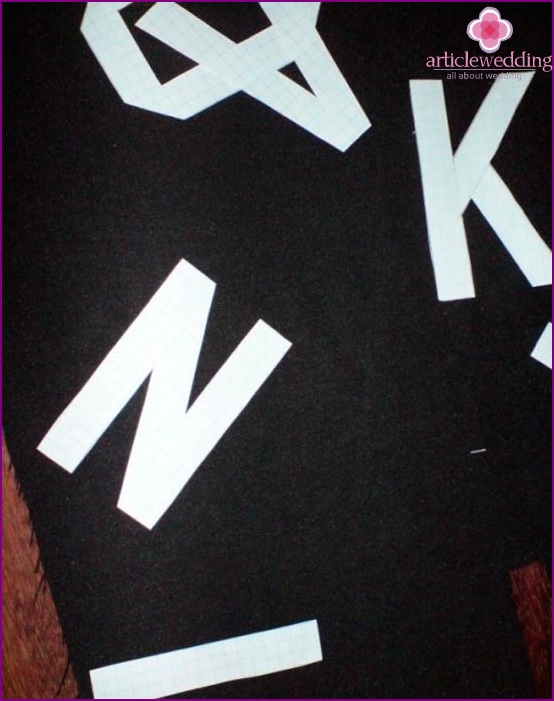 Hang letters on a thread with small wooden clothespins.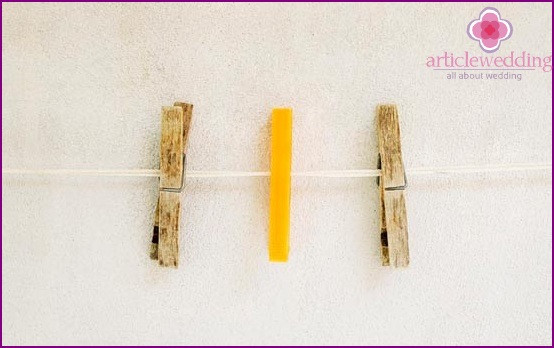 Card Suitcase Ready!
Application options
Experiment with shapes, patterns, and materials. The wedding portal www.articlewedding.com offers at the beginning to draw some sketches of the future accessory, and then choose the most harmonious one. At weddings in nature, suitcases with cut out look interesting «windows», through which bushes and trees are visible. In addition, during the presentation of postcards, you can put flowers and herbs in the suitcase, which successfully decorate it and add pleasant aromas. As a decoration for «covers» you need a small mirror that will make the accessory more mysterious and airy.
Use a variety of materials. So, instead of cards, you can issue a suitcase with real cards or illustrated rice paper for decoupage. If you handle thread and needle well, decorate the suitcase with various fabrics or shreds, stitching them in a patchwork style. Instead of a letter garland, write poetry in chalk on «cover» (for this you can either darken the wooden part on «cover» suitcases, or insert a thin graphite board). This accessory allows you to experiment with jewelry and styles..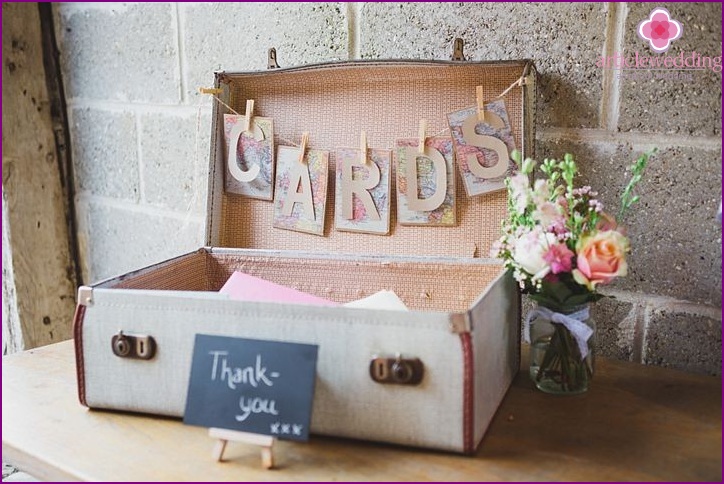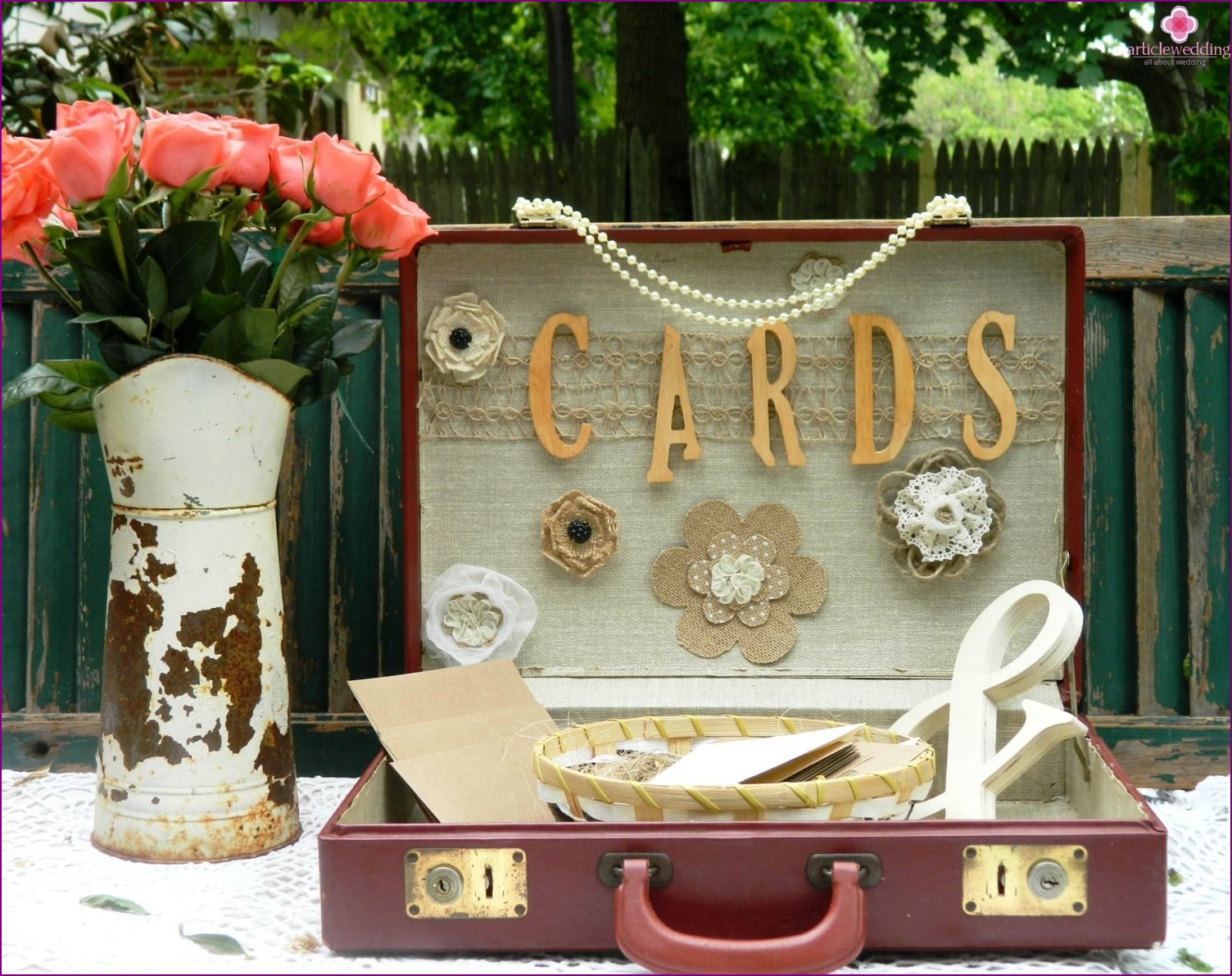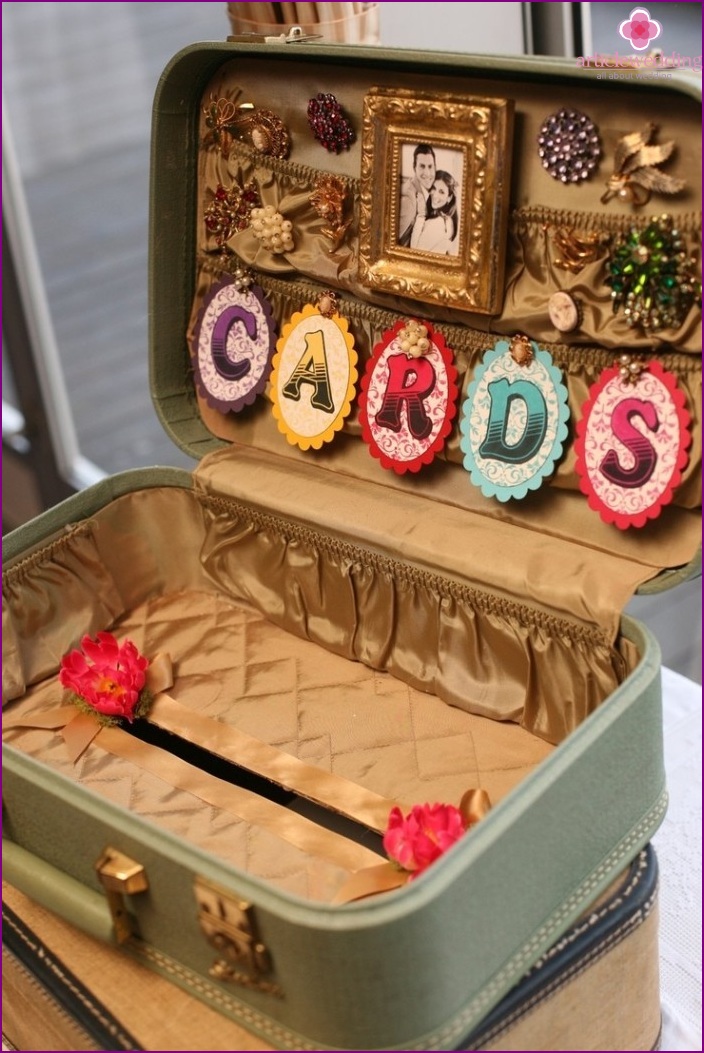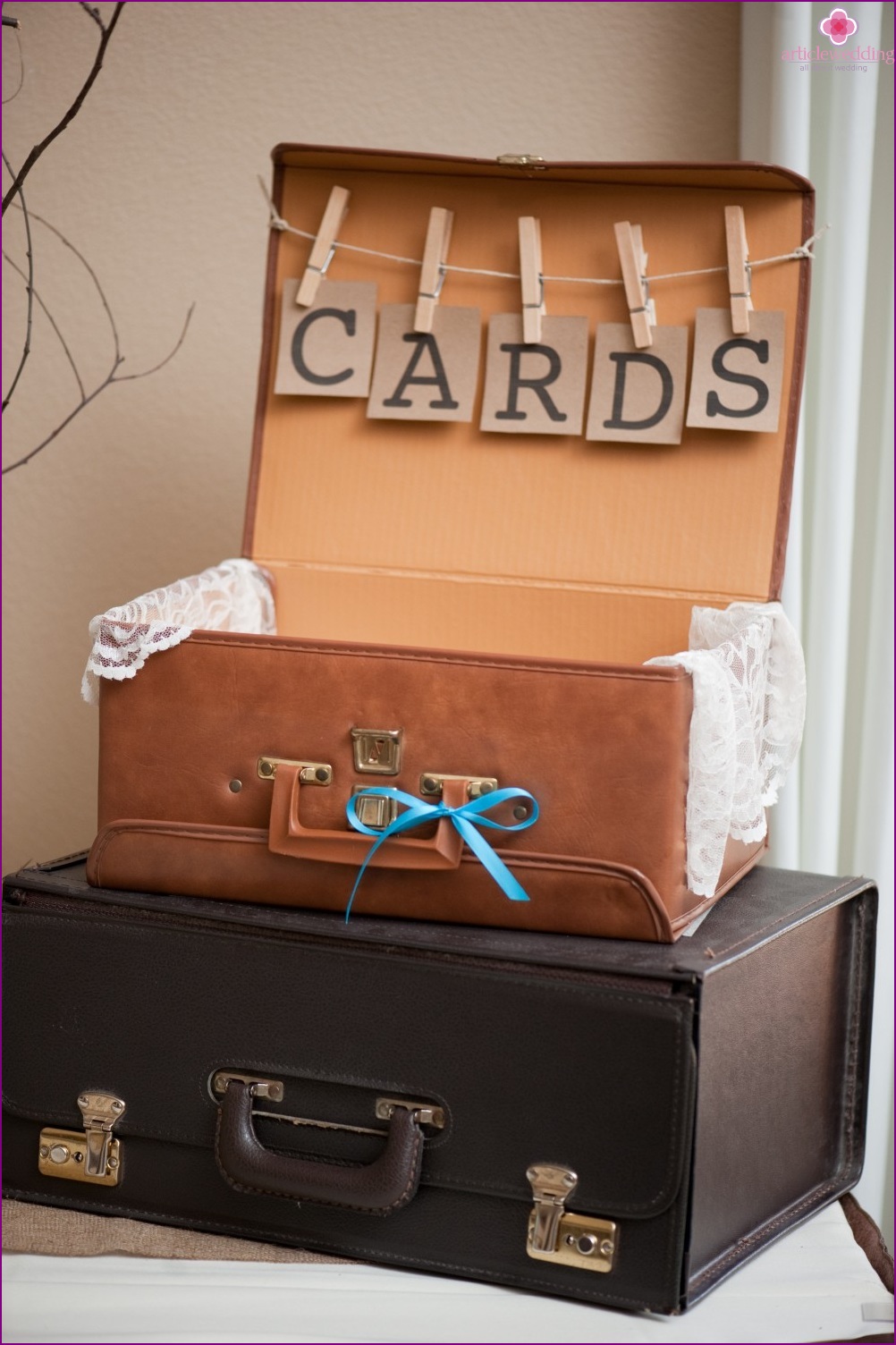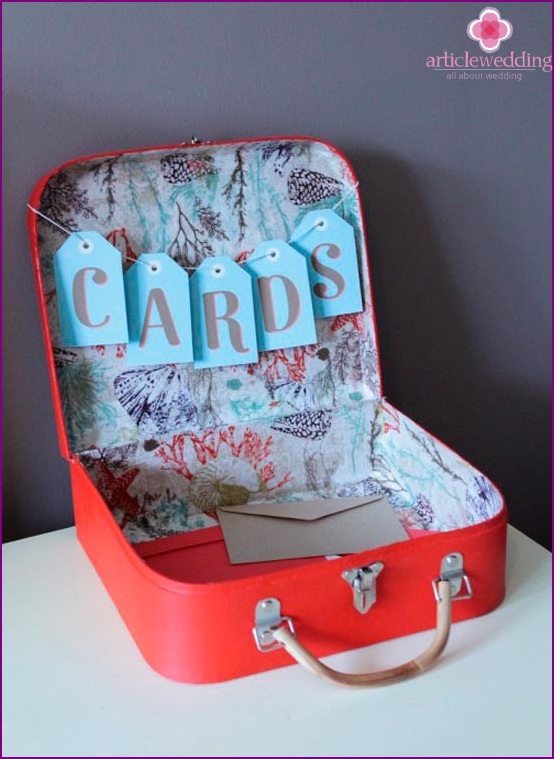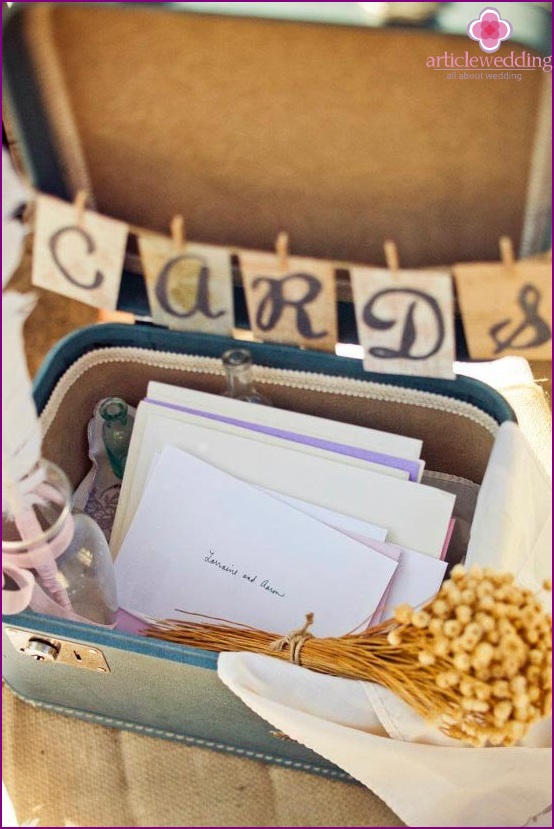 An interestingly designed suitcase for cards will make the wedding even more stylish and thoughtful. You will be able to show creative abilities and please guests with an extraordinary approach to organizing the holiday.