Contents
---
---
Refined style is an important part of creating a competent and beautiful wedding look. However, often the main focus is on the image of the bride, rather than the groom. The bride takes care of the selection of a stunning dress, jewelry and hairstyle. And who will think about the groom? After all, he also should look appropriately and look harmoniously next to his bride. A suit and men's accessories that will make the image of a newlywed couple a single and complete.
The site www.articlewedding.com invites the bride to surprise her beloved bridegroom! Why don't you make a DIY wedding accessory for him?
Firstly, you can give your future husband an unusual extraordinary gift, which, moreover, will only make his image brighter.
Secondly, you will have a great time and learn a lot of interesting things..
In our master class, we will teach you how to make a stylish boutonniere for the groom from bright satin ribbons. Such an accessory will distinguish your groom from other men and add it to the image of elegance and aristocracy, because boutonnieres speak of good manners and belonging to a noble family.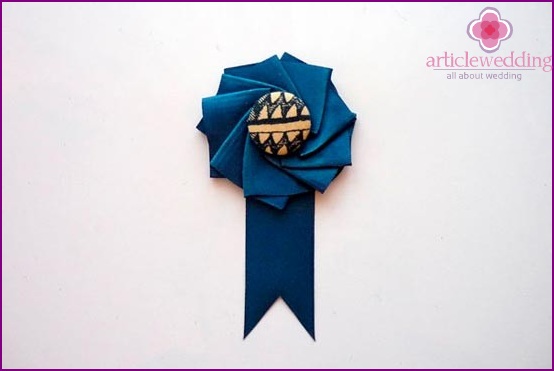 Materials and tools:
satin ribbon;
scissors;
thread and needle;
iron;
fabric or braid;
button.
Time
: 15-20 minutes.
Detailed instructions:
Show your concern for your beloved bridegroom even before you become his wife. Show that you are a true craftswoman, and know how to make pleasant surprises. Prepare all the necessary materials and proceed to needlework. Making a boutonniere won't take you more than 20 minutes.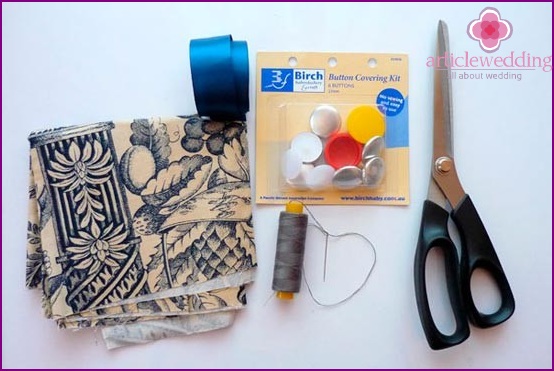 To get started, take the tape and start folding it into an accordion, as shown in the figure. Fold every 2 centimeters. You need to fold the tape until you get about 10 folds.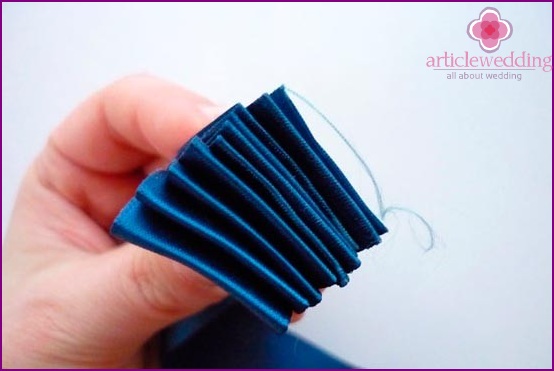 Now take the needle and thread. It is necessary to stitch our accordion at one point at the edge of the tape. Just make one stitch and tie the thread into a knot, but do not make it too tight. Now you can release the tape, because it is fastened in one place.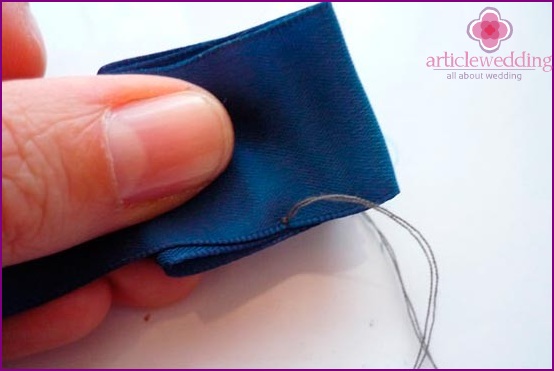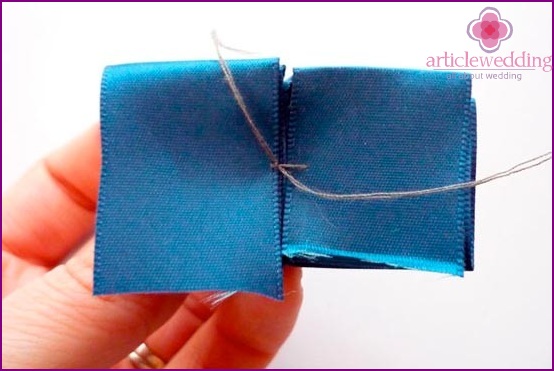 Fluff your ribbon so that you get a kind of flower. Try to direct each fold in one direction, for example, to the right. Now use the iron to smooth the tape.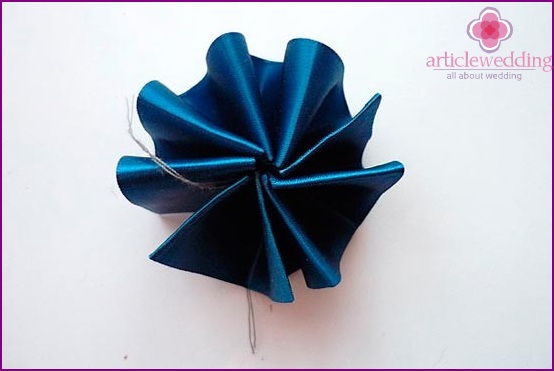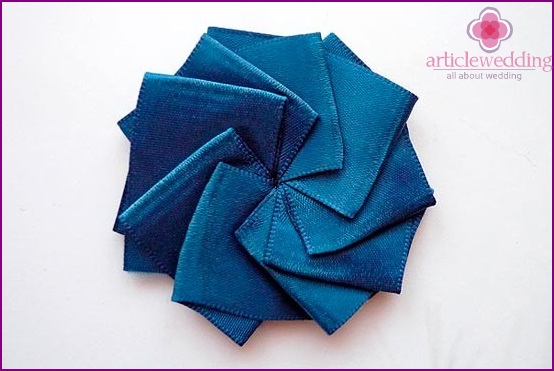 Cut another piece of ribbon, 5 cm long. Glue it to the back of the boutonniere..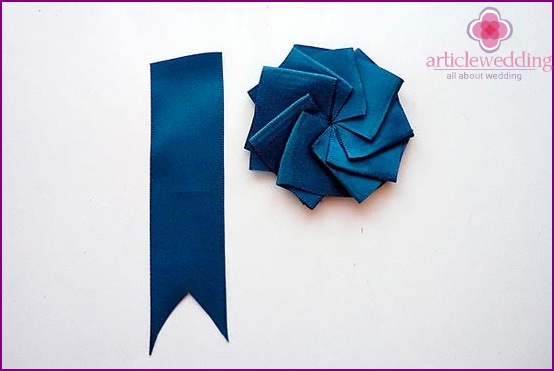 It remains to add a bright button to the center of the boutonniere! To do this, you can use a ready-made fabric button purchased in a store. You can also make a button yourself using a regular plastic or metal button and fabric. Just wrap it with fabric and glue the material from the wrong side. The button can be sewn or glued to the groom's buttonhole. And your accessory for your beloved groom is ready!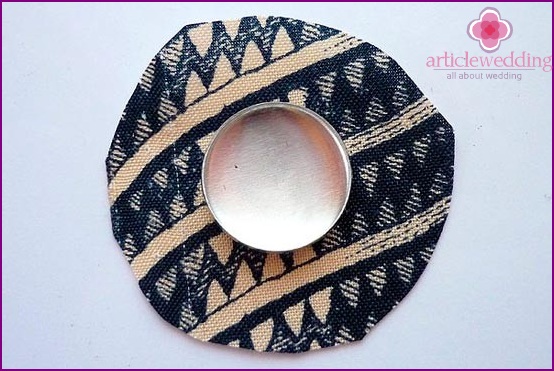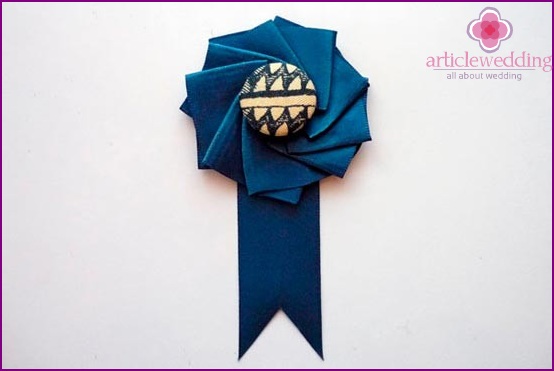 Application options
The buttonhole will be a wonderful gift for her husband. Choose those colors that are right for your wedding. In our case, we chose a blue color that would harmoniously blend with a blue bow at the waist of the bride. However, you can choose the colors that suit your wedding style: black, white, yellow, red! In any case, you will make the groom a pleasant surprise that will make him happier and will raise both of you the holiday mood.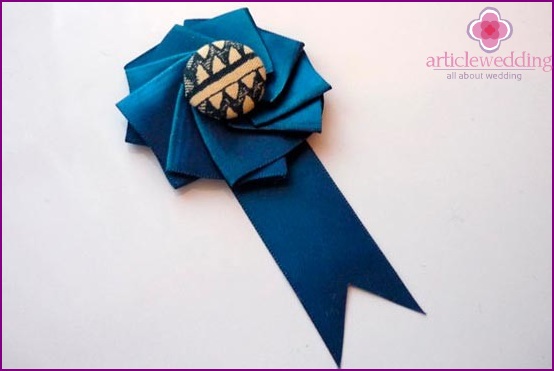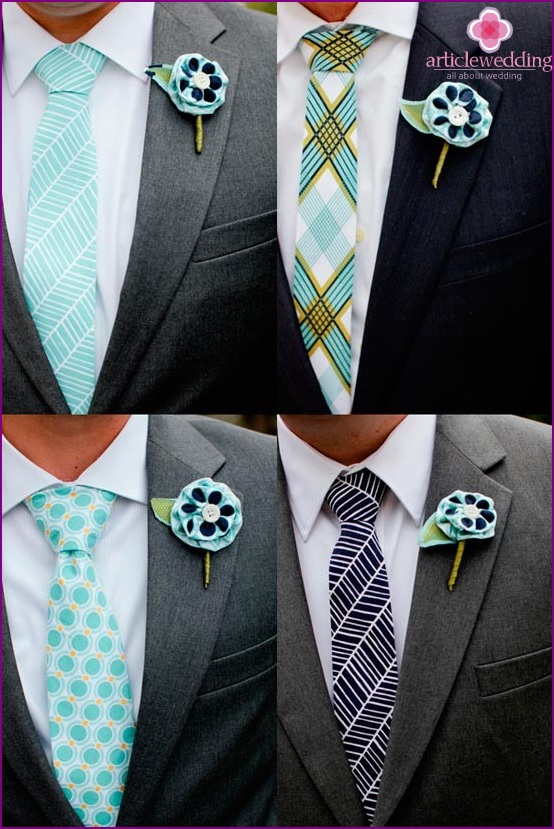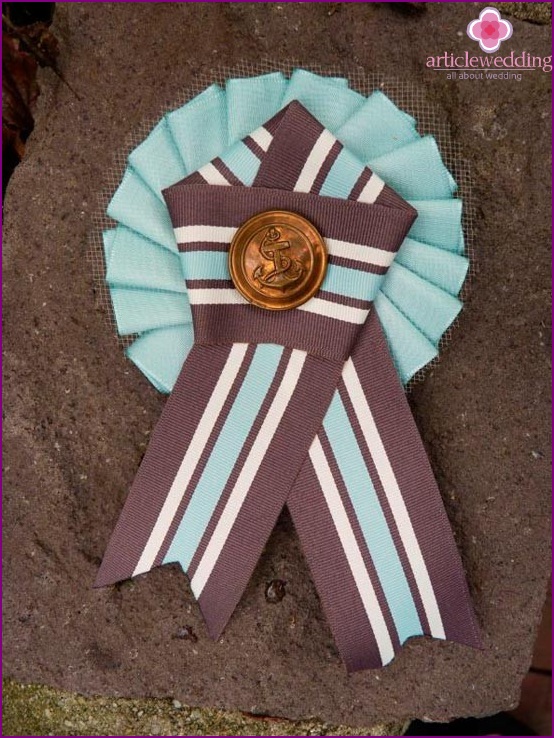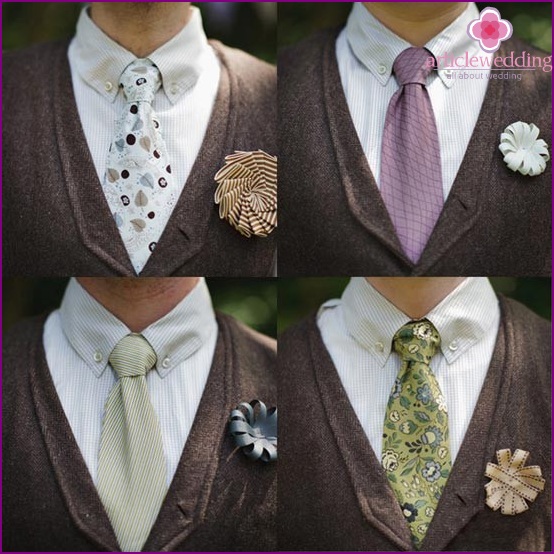 The wedding portal www.articlewedding.com hopes that your wedding will be the most extraordinary event in life, because it is your day, your holiday and your road to happiness!