Contents
---
---
Flowers allow you to make the image of the bride more subtle and sensual. That is why every bride must go to the altar with a luxurious wedding bouquet, which is carefully selected by the groom for a wedding outfit, image and even the nature of the bride.
However, often a bouquet is not the only accessory of flowers. Also, beautiful brides often decorate their hair with flowers or weave a real crown of bright flowers. A great option is also a floral wreath on the head, which helps to create a gentle, carefree look for a photo shoot..
The wedding site www.articlewedding.com will tell you today about another interesting way to use flowers as decorations for the bride. A wonderful necklace of flowers will be the highlight of your wonderful image, you choose it for the ceremony itself or for photography. Sometimes a dress, no matter how beautiful it may be, is a little lacking in details and accents. A stylish necklace of flowers is exactly the part that will help to make the image more interesting and unusual..
To make such a necklace under the power of every bride, you just need to pick up flowers to taste and purchase a coil of wire. The necklace will decorate your image and allow you to make unusually feminine and mysterious wedding photos..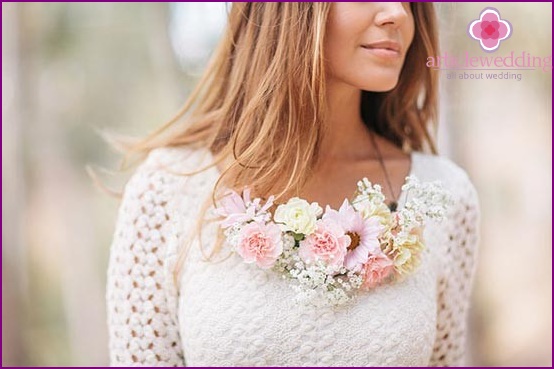 Materials and tools:
flower wire;
rope;
flower ribbon (green scotch tape);
pliers;
scissors;
fresh flowers.
Time
: 40-50 minutes.
Detailed instructions:
Sometimes the most beautiful things can strike you with their simplicity. Even the most ornate ideas can be done easily and simply with your own hands. In our master class, you can make a unique necklace without completely owning the skills of a florist. Just prepare everything you need, paying particular attention to the selection of colors.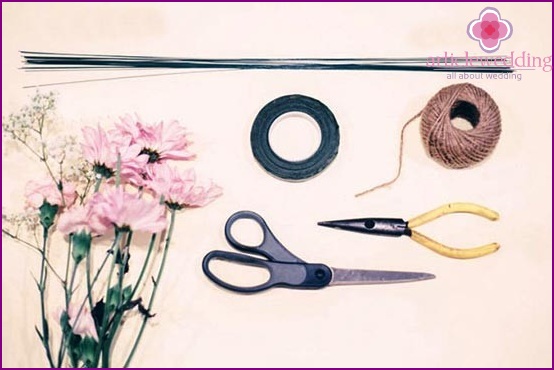 First, measure the desired length of the wire, leaving a little extra length just in case. Now you need to wrap the wire with a rope to get a beautiful and neat frame of the future necklace. Now cut a piece of green floral wire and attach it to the frame as shown. You should get a form «crescent moon». Also create several sections using wire. All this is necessary in order to firmly attach the flowers to the frame..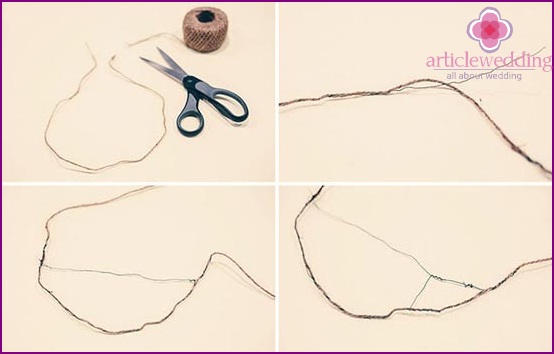 Take a flower bud and put the wire through the stem and core. Bend the wire with hook-shaped pliers so that its sharp edge snugly holds onto the bud. Repeat the same with other buds..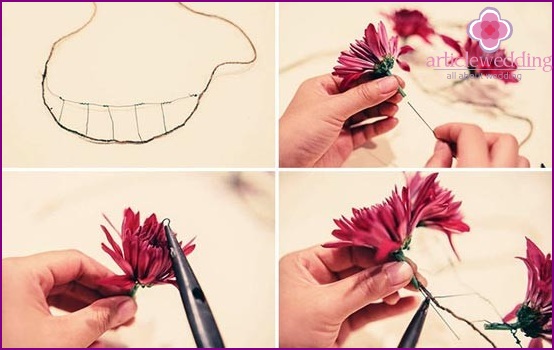 All that remains for you is to fix the buds on the frame. This can be done using the wire itself, which can be hidden with ordinary green scotch tape or floral tape. Try to choose buds that have not fully opened so that no wire is visible in their core. However, do not worry. Even if you cannot hide a piece of material, no one will notice this in the photographs. A beautiful necklace is ready to give you even more charm!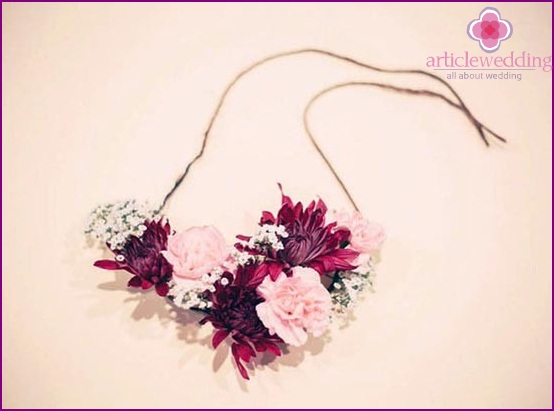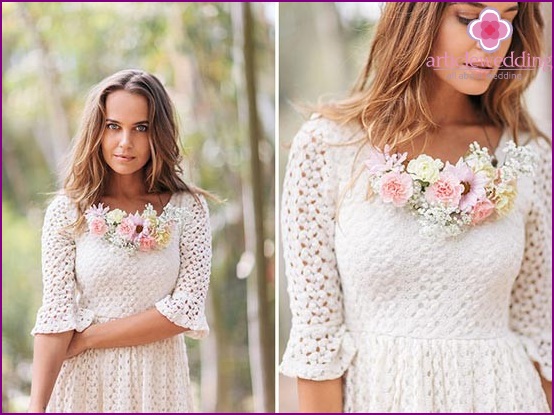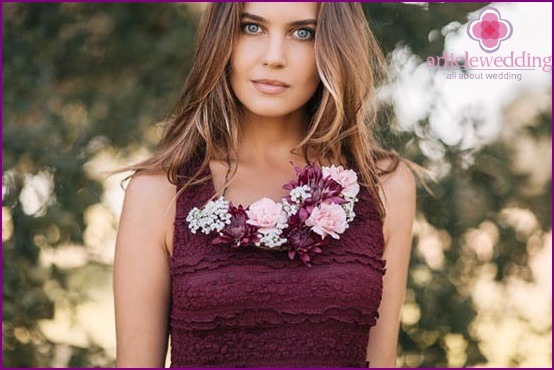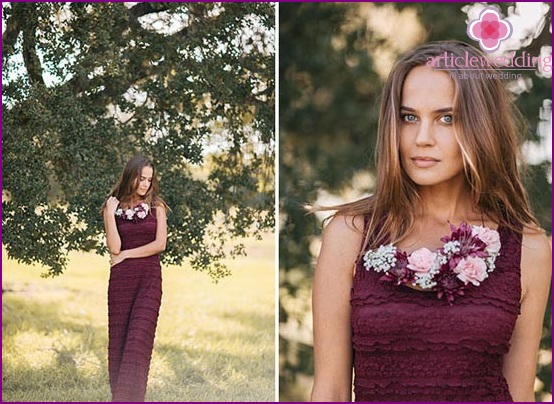 Application options
A flower necklace can complement your wedding look. You can also use a bright accessory for a thematic photo shoot. Such a necklace will be relevant at any time of the year. Choose tones that can emphasize your beauty and special style, and will also be in harmony with your wedding bouquet..
You can also make such necklaces to your bridesmaids. Such jewelry made with slightly asymmetric lines looks fashionable. Fashionable and unusual accessory!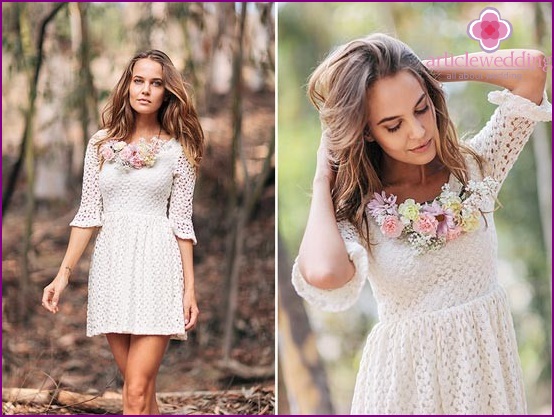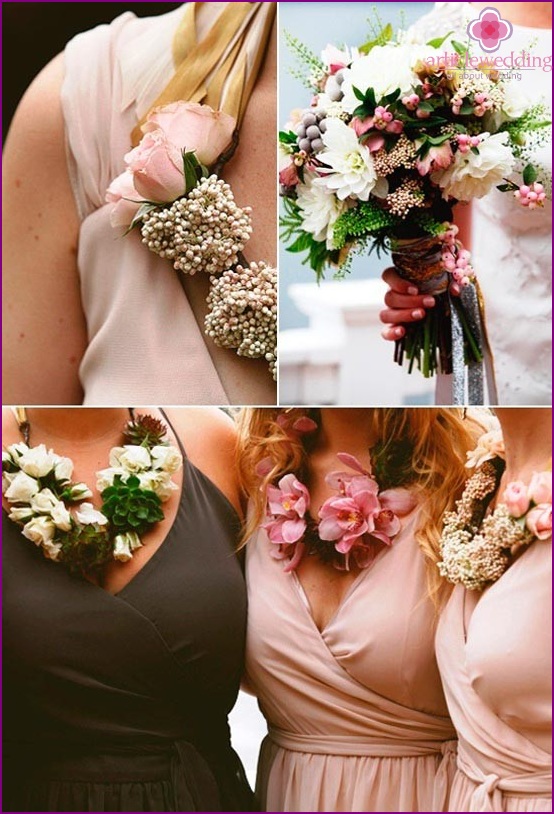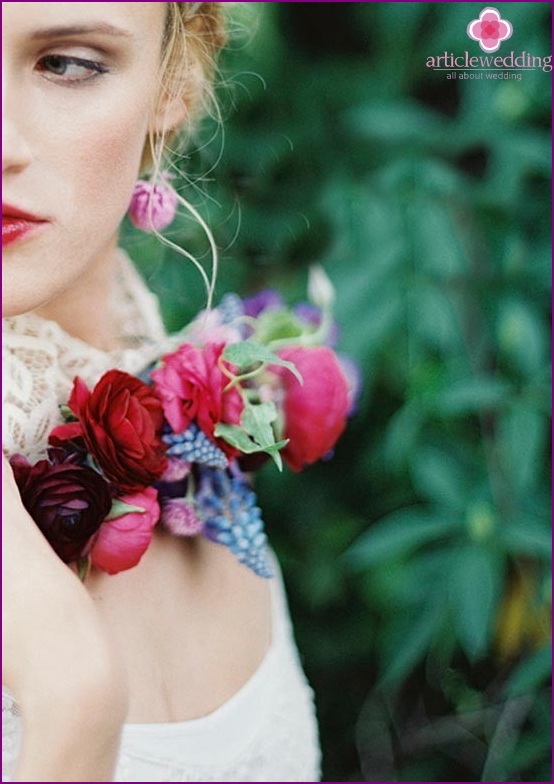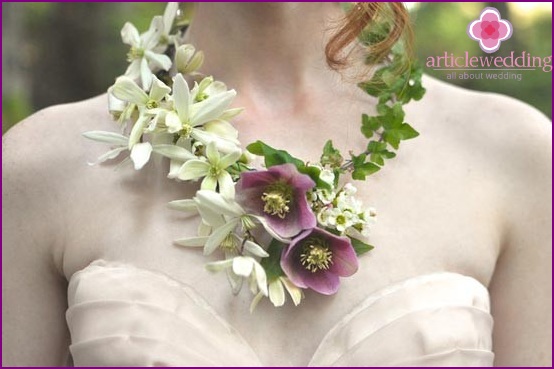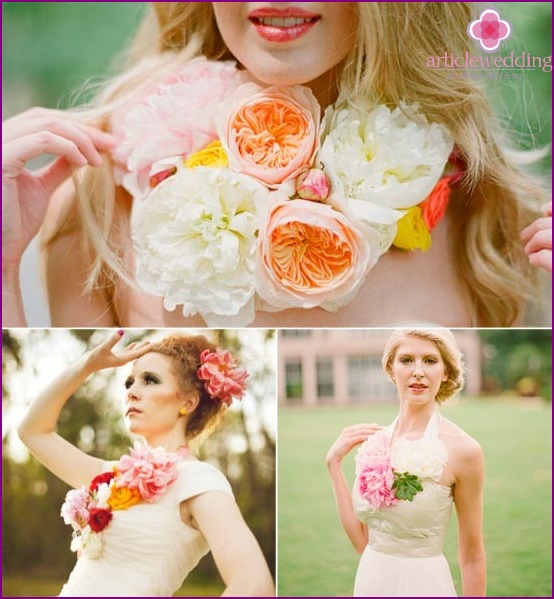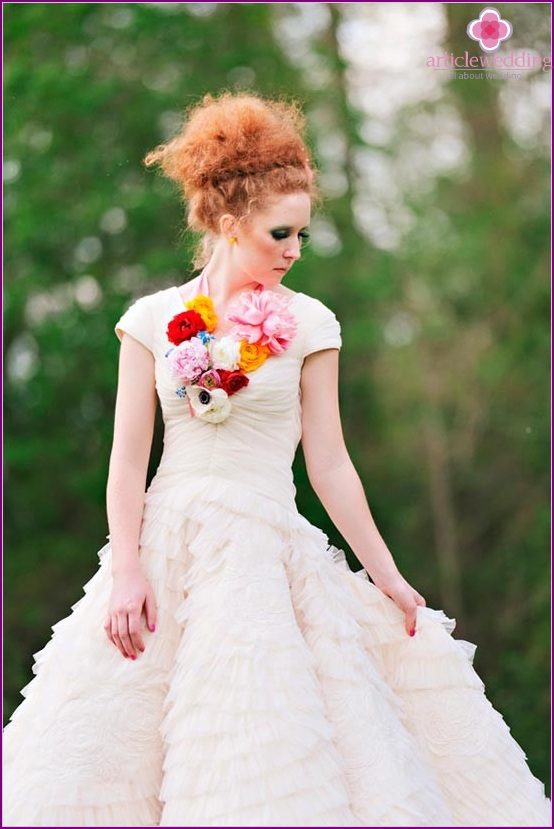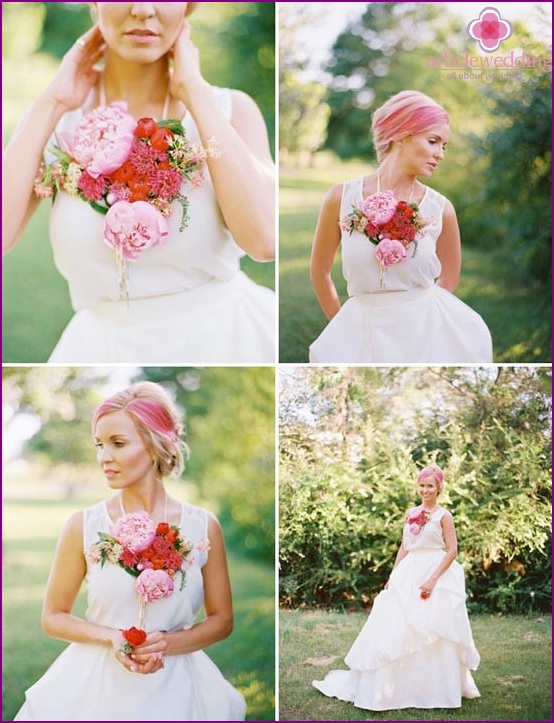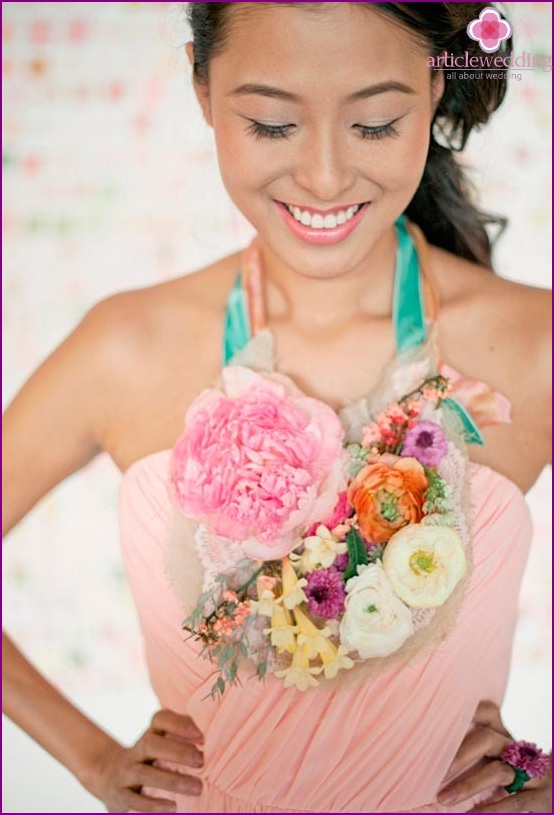 The website www.articlewedding.com is ready to offer you dozens of workshops on creating luxurious flower decorations!