Contents
---
---
Since ancient times, fresh flowers were considered the best decoration for the bride. And no wonder, because it is with the help of fresh flowers that you can create a truly feminine and delicate wedding look. And we are talking not only about the bride's bouquet, but also about the use of living flowers in the bride's hairstyle. You can weave flowers in braids or wear wedding wreaths of flowers, but the portal www.articlewedding.com offers you to give your wedding hairstyle grace and elegance with the help of a flower hair clip that you can do with your own hands. You can also prepare such hair clips for your girlfriends - they will be absolutely delighted with such lovely gifts!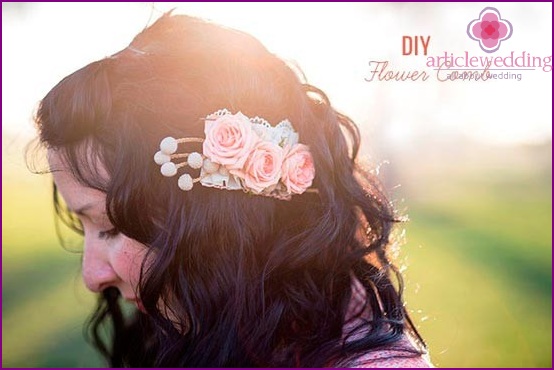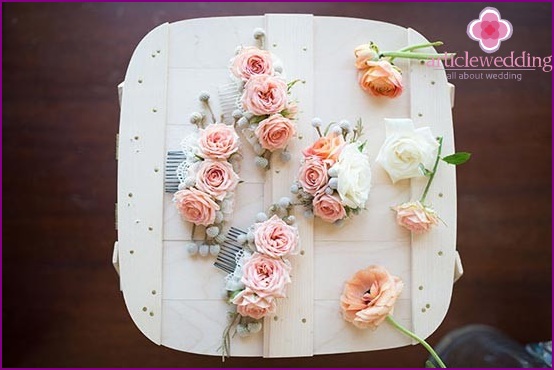 Materials and tools:
fresh or silk flowers;
scissors;
tape;
flesh-colored cardboard;
crest;
glue gun and tube glue.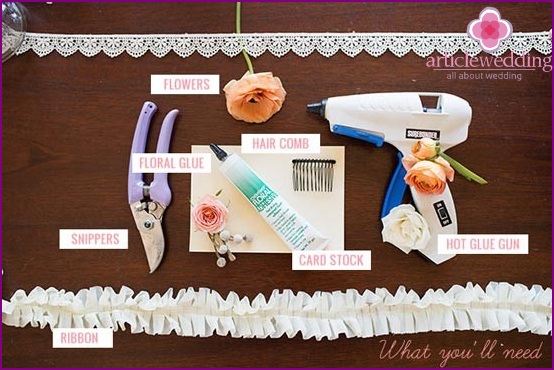 Detailed instructions:
Cut a piece of cardboard so that the edge of the cardboard is a quarter beyond the ridge.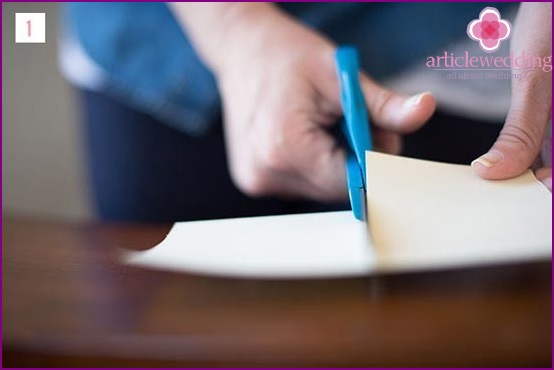 Apply a strip of glue along the back of the comb. Attach the comb to the unfolded side of the cardboard, glue the second part of the cardboard so that part of the comb disappears inside it. Cut off excess cardboard.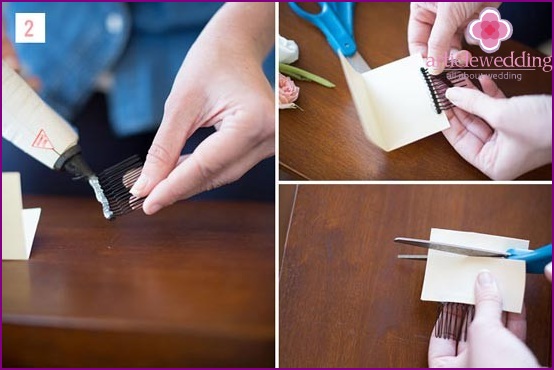 Cut the tape to the desired length so that it can hide the cardboard. Glue the tape to the cardboard with glue.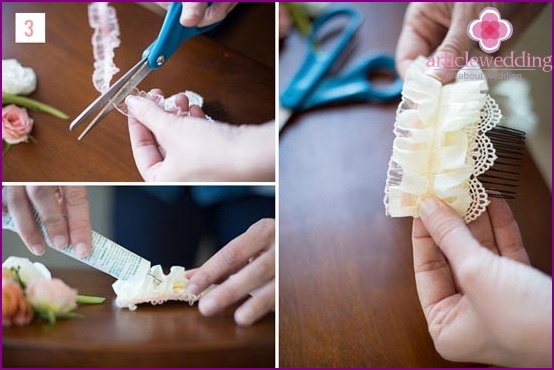 To attach fresh flowers to the crest, we will use cold glue in a tube; in the case of silk flowers, the same gun with hot glue would do. Apply glue with dots to the places where the flowers will be located. Glue the flowers to the ribbon by applying glue at the base of their buds. Wait 10-30 seconds after sticking each bud so that the glue sticks well.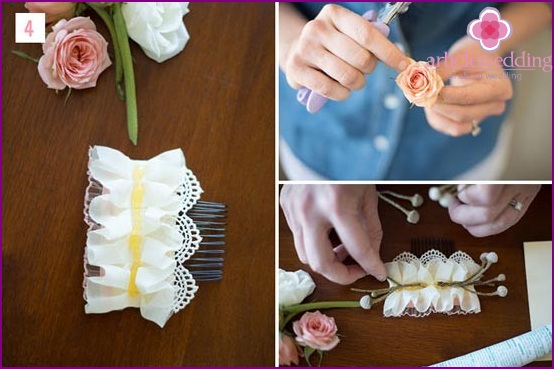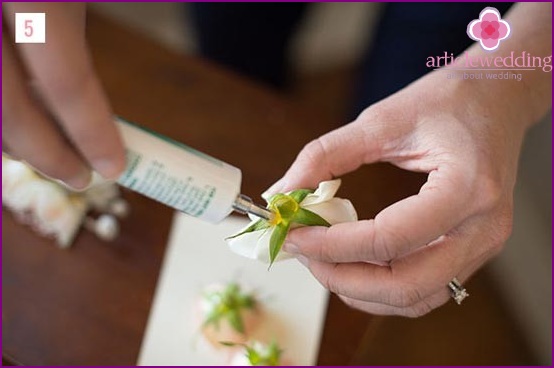 Fill with buds all the empty spaces that are on the cardboard. Allow the glue to dry well before using it for at least 30 minutes. So awesome hair clips are ready for you and your girlfriends!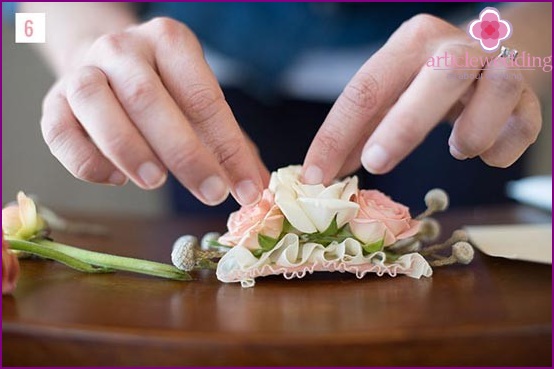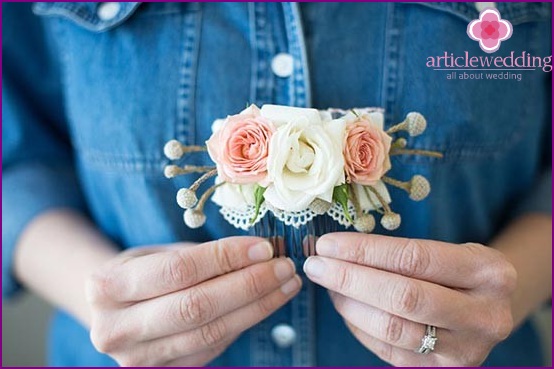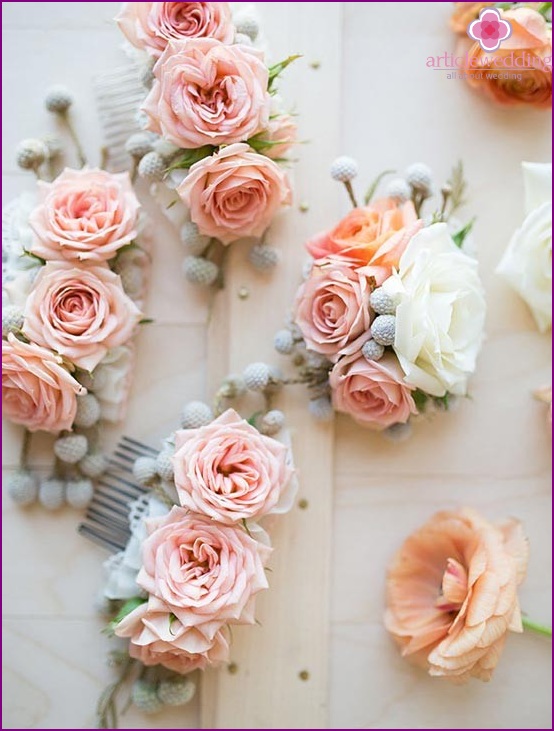 Application options
Self-made flower hairpins will add tenderness and femininity to the image of the bride and her bridesmaids, the portal www.articlewedding.com is sure. You will not find such original jewelry in any store. And this is wonderful, because with the help of such an elegant wedding accessory you can create for yourself a truly unique style, filled with natural beauty and incredible tenderness! The hairpin will look especially beautiful and harmonious if you take the same flowers for its production as in your bouquet.
You can also make flower hairpins for your girlfriends, choosing for yourself white flowers, and for them pink, lilac or yellow (it all depends on the color of the wedding and the color of their dresses). You will not only surprise and delight your girlfriends with a personal gift, but you can also distinguish them among the guests. Believe me, they will be insanely pleased!