Contents
---
---
How to make stylish accessories for decorating the wedding hall that will show your creative side and personality? The site www.articlewedding.com will try to draw you into a fascinating workshop where you can create stylish garlands of hearts. All that is required of you is a lot of colored paper! And also be patient and time to make your garland neat and beautiful. Making wedding accessories with your own hands will give you a sea of ​​pleasure, because the opportunity to express yourself and take your head in positive thoughts about the upcoming wedding, in the design of which you have invested so much soul!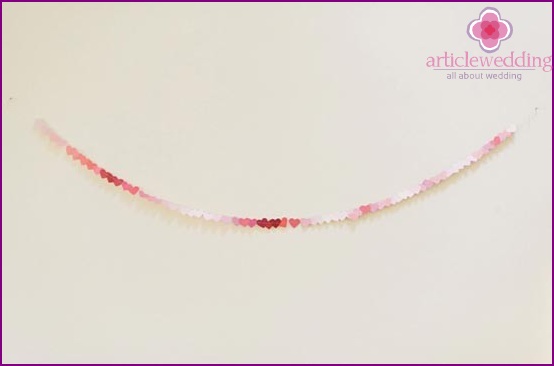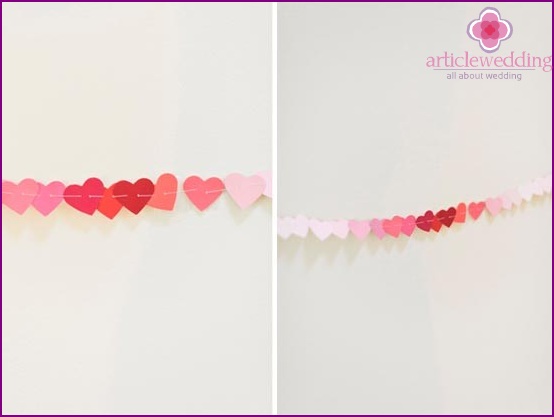 Materials and tools:
colored paper or cardboard of the desired color;
heart-shaped press;
thread;
needle.
Time:
30-40 minutes.
Detailed instructions:
Do you like everything unusual and original? Interested in experimenting and love to make fun little things? Then it's time to try to repeat our master class on creating a wedding garland of hearts. In this lesson we will use paper hearts, however you can choose any materials. The garland will decorate any wedding celebration, the main thing is to choose the right color scheme so that all the details of your decor are combined with each other. Hearts in themselves are a very romantic and gentle symbol of love. And what else is needed to create a wedding mood if not love?
Prepare all the materials and start creating a garland of multi-colored hearts!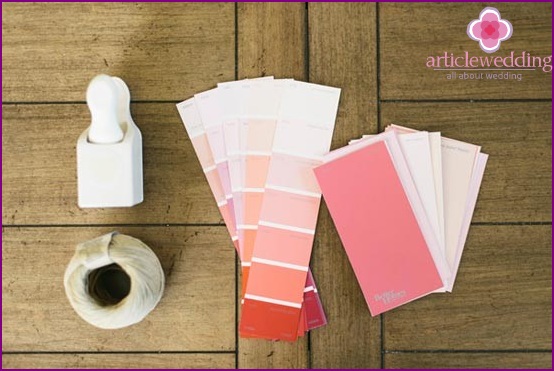 Take colored paper or cardboard of your favorite color. It is best to choose double-sided paper so that the garland is double-sided. Also use colors that blend well with each other. Let it be pink, red and white. If you use a blue palette for a nautical-style wedding, choose blue, blue and white shades of your hearts. Fold a few sheets of paper together and press on the paper using a press. You will get many small hearts of the same size. However, you can also use asymmetries in garland design..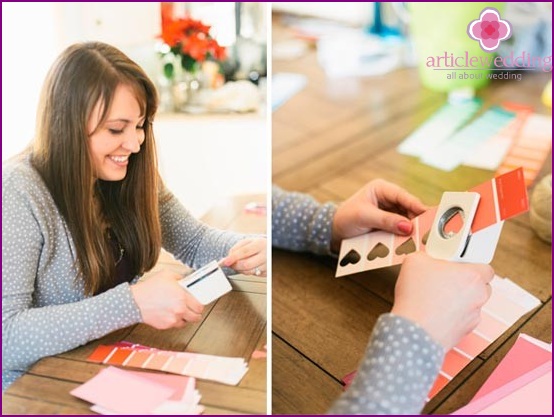 Now you need to string hearts one by one. You can use the fishing line so that only hearts are visible. Try to hide the fishing line or thread behind the hearts as much as possible.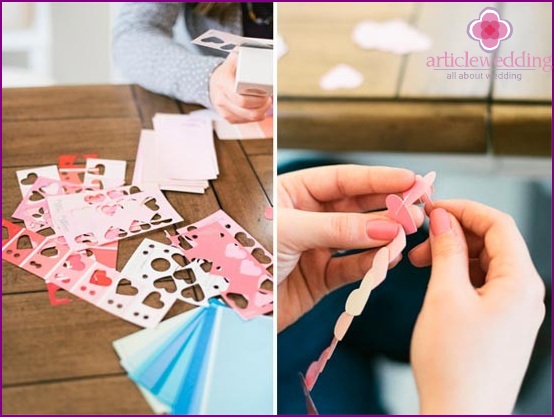 So, we have got a bright rainbow garland of paper hearts! You can adjust the length of the garland yourself. A garland made of three levels looks beautiful. The first level can be made the longest, the second and third - in short.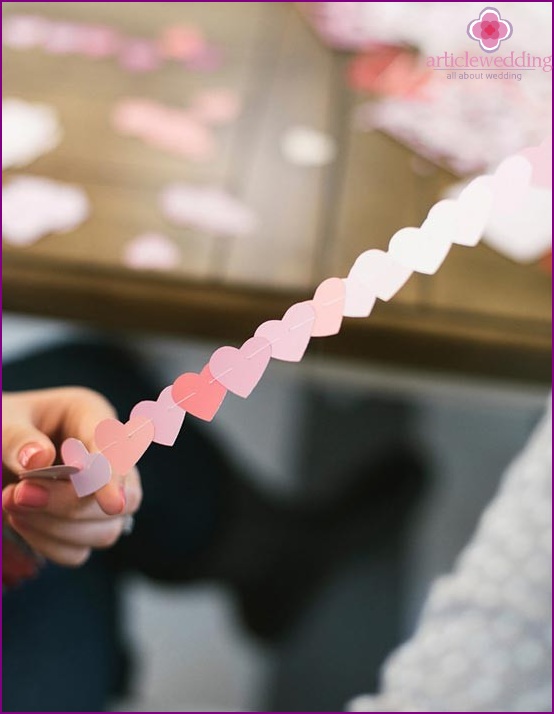 Application options
A paper garland will decorate any wedding. It can be used to decorate the walls of the banquet hall. Garlands can also be placed above the banquet table. They will also add a beautiful highlight during the romantic wedding photo shoot of the newlyweds..
What else can you make a garland of? It can be wood, plastic and even clay. It all depends on your personal preferences and on the style of your wedding..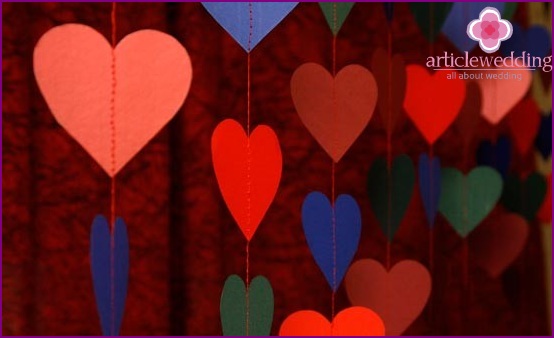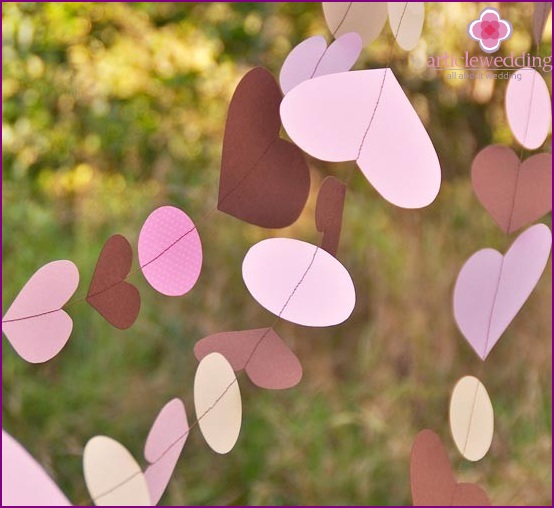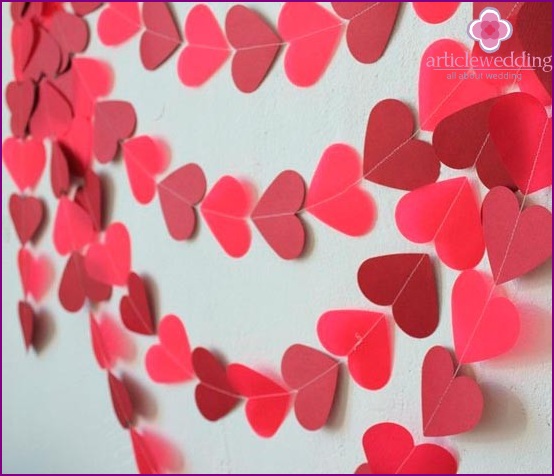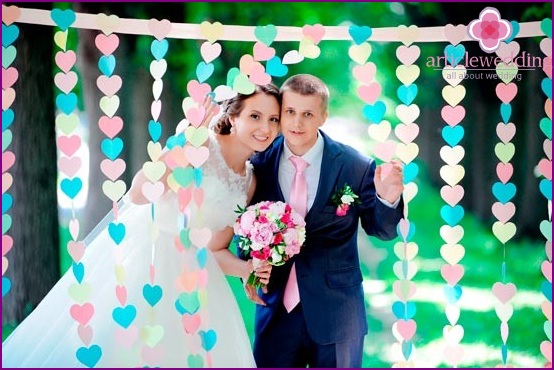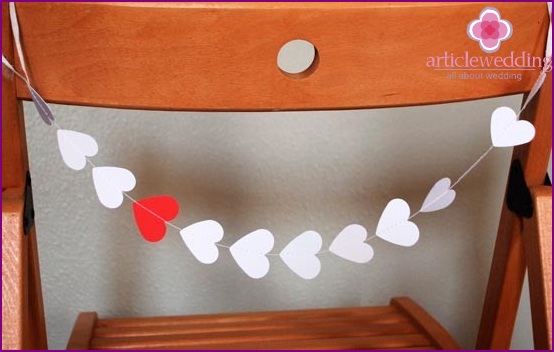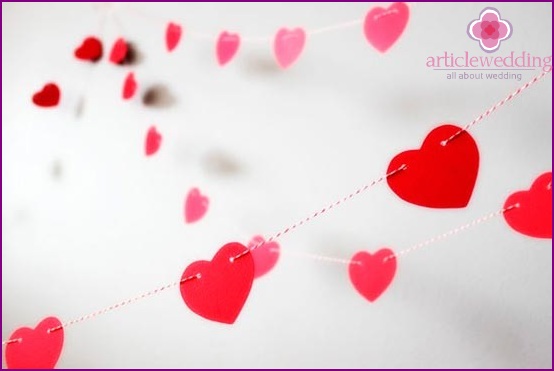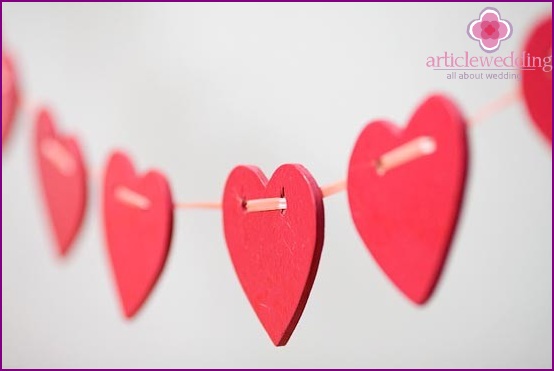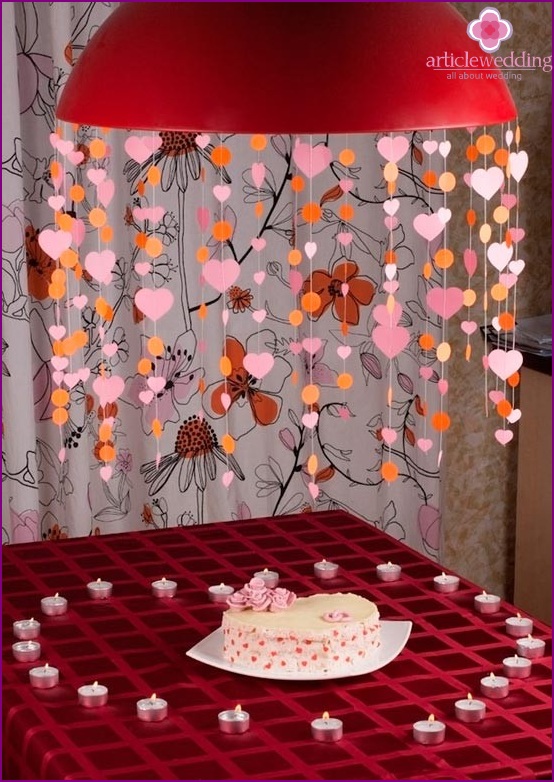 The wedding portal www.articlewedding.com offers the easiest and fastest option for creating garlands. After the wedding ceremony, you can reuse your accessory on other romantic evenings - birthdays, anniversaries, days of all lovers. You can also give a gift to the newlyweds at the wedding. If you are a witness, and you have to decorate a banquet hall, begin to craft hearts and make garlands! This is the most affordable option for creating accessories! Makes it so easy and so fast! Try it yourself!