Contents
---
---
If you want to create a tender and romantic atmosphere of your wedding celebration, pay as much attention as possible to the little things and details, because the whole picture is created from them. You just need a little creative fuse to create a delicate accessory for a wedding party.
The site www.articlewedding.com advises you to prove yourself in creating wedding paper flowers. There is nothing complicated here - follow the instructions and you will get a charming ball strewn with small delicate flowers. Such decoration will become the highlight of the decor, decorate the banquet hall or wedding table. Try and do miracles!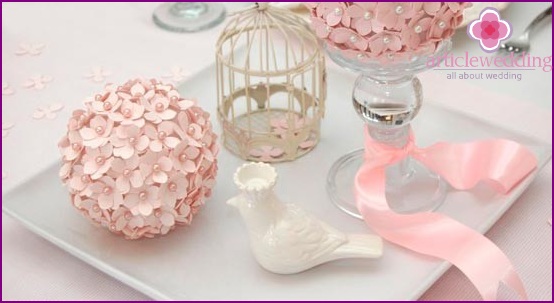 Materials and tools:
styrene foam ball;
20-30 pins with beads at the end;
scrapbooking leaflet;
hydrangea stamp.
Time:
1 hour.
Detailed instructions:
Balloons made of paper flowers will be an excellent decoration for your festive hall. They look very romantic and easy to manufacture. You do not need to be a true craftsman to make some original and stylish wedding balls. You can find all materials for the manufacture of this accessory on the Internet or in the store «handmade». With the help of such an accessory you will decorate your wedding celebration and make the decor more dynamic. So, prepare all the necessary materials for work and proceed!
First you need to cut out about 40-50 flowers with a stamp. In this master class, we used the hydrangea form, however you can use any forms for flowers. A sheet of scrapbooking paper is all you need..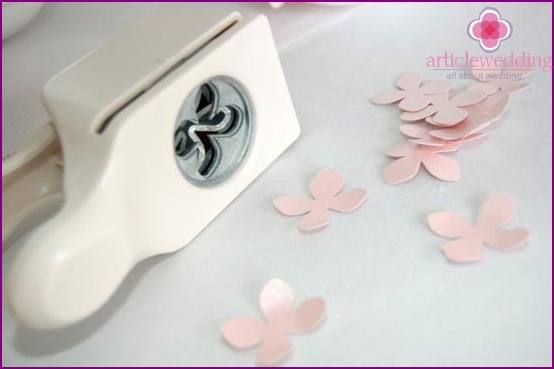 After you cut the small flowers, bend their edges so that they become more voluminous. At the end of our work, this will play into our hands, since the ball will look more attractive.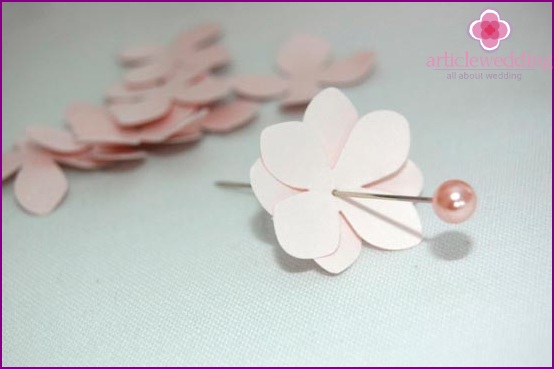 In order for the flowers to look more vibrant and natural, it is necessary to combine two flowers together by superimposing one flower on the other. Pierce the flowers exactly in the middle with a pin and pin them to your foam ball.
The same should be repeated with the rest of the hydrangea flowers. You can sprinkle flowers around the ball around the circle, so it will be much more convenient. Pick pins that will contrast with the petals to make the accessory more original.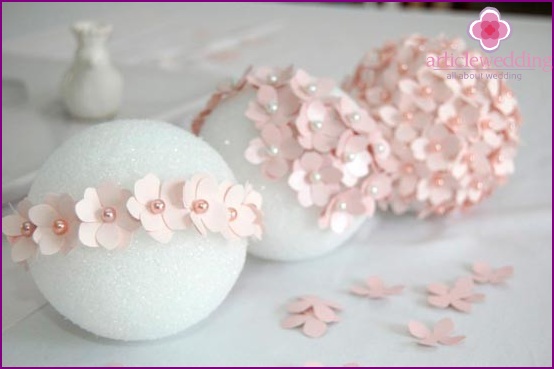 Try to cover the ball with flowers so that there is no empty space on it. Petals should carefully hide the foam. To do this, simply lay one flower on another. So, our cute wedding accessory is ready!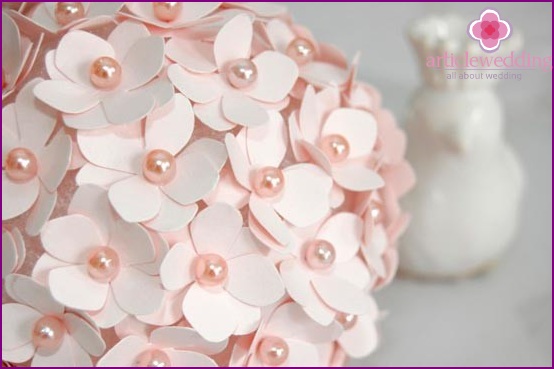 Application options
A wedding ball of flowers will give a romantic atmosphere to your holiday. It is interesting to consider, so guests will certainly be interested in your work. Balloons can be hung over the banquet table or at the wedding hall. You can also choose a different shape and shade of flowers. If you wish, you can use the origami technique, as well as make balls of fresh flowers, which, in addition to their beauty, will give guests a delicate floral aroma. Use bright silk or satin ribbons to hang balls from the table. You can also make memorable gifts to guests - a ball of flowers will be a wonderful bonbonniere and a lovely wedding souvenir.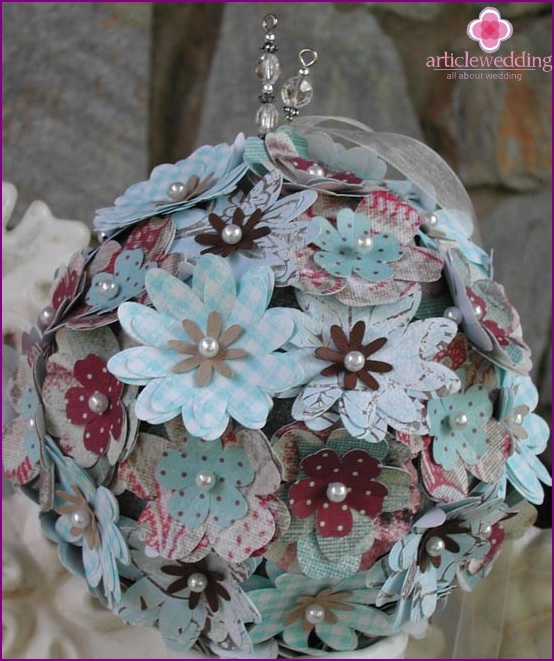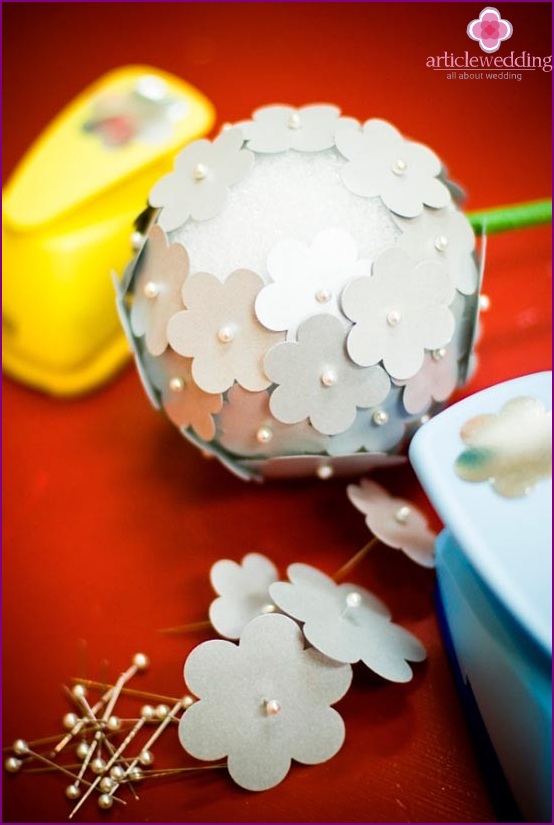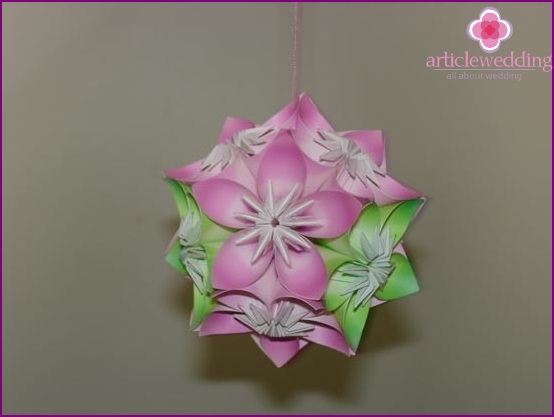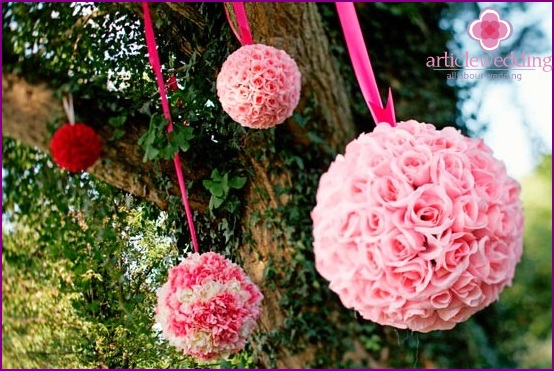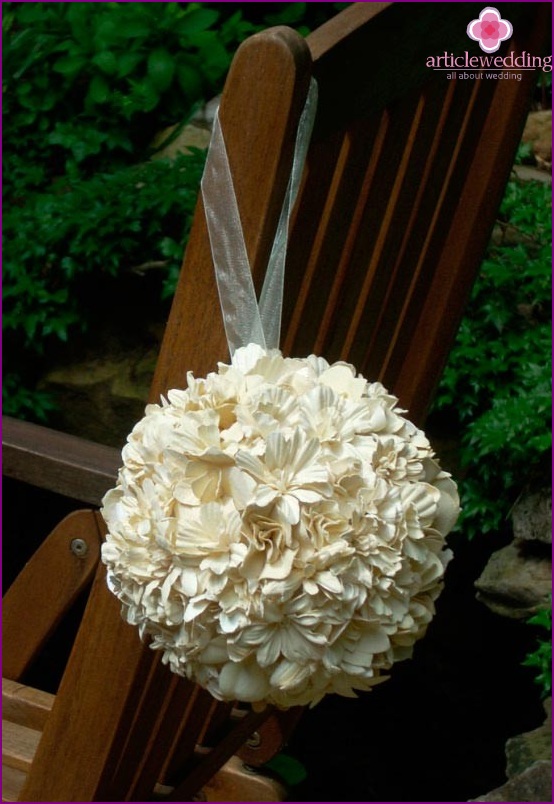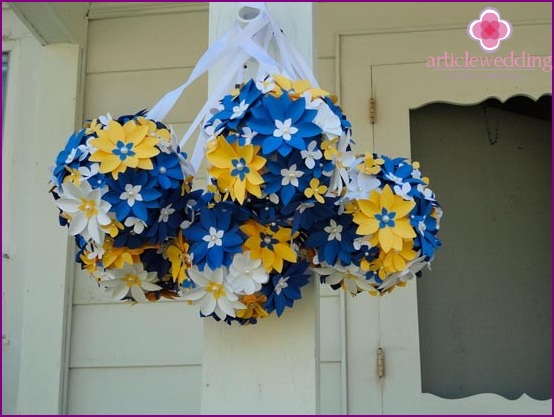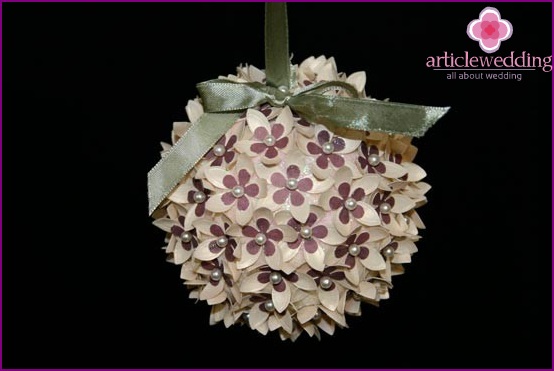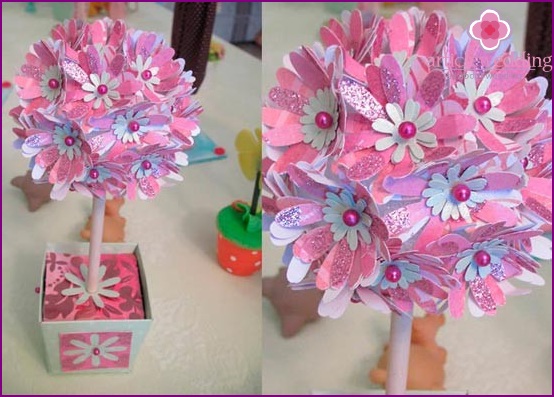 The wedding site www.articlewedding.com never ceases to amaze with its bright ideas for decorating a wedding! Craft amazing accessories with us with your own hands, and also try to implement your own ideas and projects!