Contents
---
---
Annunciators of any themed wedding. If your celebration is planning according to all the canons of the Russian and folk traditions, arrange invitations accordingly. Drawings of young rusichs in national costumes, miniature kokoshniks and handcuffs - both painted and embroidered. You can arrange invitations in the form of boxes under the Russian hut, and put inside «royal decree». Remember not only the external, but also the internal content - invite guests with traditional Old Russian slang.
Wedding «a train»
The site www.articlewedding.com advises you to forget about luxury cayenne, brutal SUVs, «tax-like» limousines. The best transport for a wedding in the Russian style is the favorite three horses harnessed to a cart, sledges, even a cart. Wreaths and simply individual flowers woven into the mane of well-groomed horses, sonorous bells that frighten away evil spirits and bring young luck, bright ribbons. Such a national crew, one hundred percent, will give odds to any, even the most expensive and trendy car.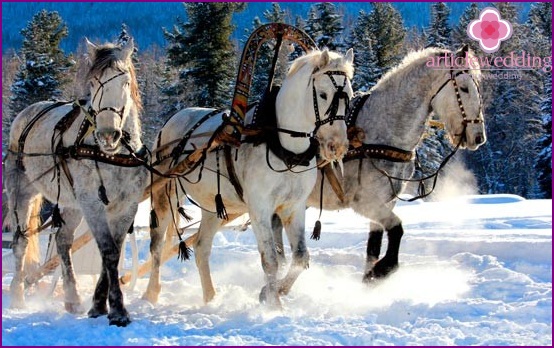 Old Russian newlyweds
Not a single theme wedding can do without the corresponding outfits. First of all, this applies to the newlyweds. Without a twinge of conscience, change the classic white Wedding Dress with a long train on a bright sundress, decorated with hand embroidery. Feet are shod in patterned slippers, graceful lapochki, morocco boots, if the season is cold. Of the accessories, pay attention to the kokoshniki. This national work of art eclipses any diadem. By the way, if you are planning a veil, Kokoshnik will tolerate such a neighborhood. The headpiece can be replaced with a wreath of wildflowers interwoven with bright ribbons..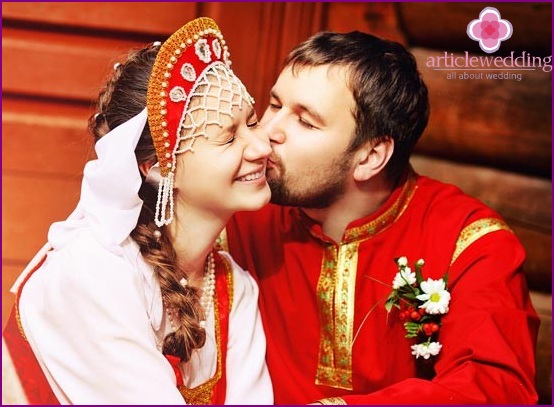 The groom is simply obliged to correspond to the beautiful bride. An embroidered braid, both white and bright colors. Homespun pants - believe me, this has its own chic. Mandatory Russian «accessory» - a wide belt or, as it is called, a sash, generously decorated with folk ornament. A cap with a visor, to which you can attach a red poppy or tandem, will complement the image. «cornflower daisies».
Guest Dress Code
Guests can offer two scenarios. The first is to raise lofts and chests, find ancient sarafans, linen shirts, canvas pants and completely transform into colorful representatives of the Russian people. The second option is to provide access passes directly at the entrance. It can be wreaths of wildflowers, bright ribbons, down shawls, patterned shawls, embroidered sashes, elegant kokoshniks.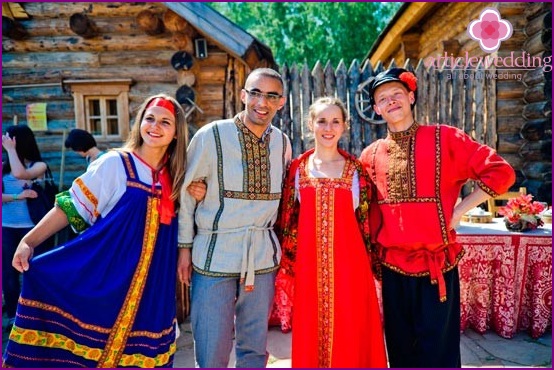 Banquet Place
Of course, the ideal place for such a themed wedding is the Russian field! Interpretations in the spirit of a forest edge, ennobled terrain on a river, a country estate are permissible. You can pick up a cafe for the wedding, but it is always stylized as a peasant's hut, well, or as a boyar's tower.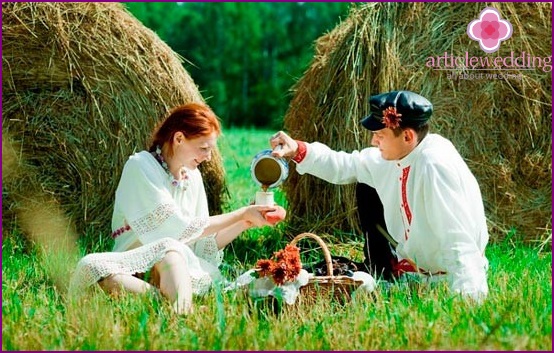 Yellow log walls, wooden whipped up furniture, sheaves of fragrant straw, arms of wildflowers tied with bright ribbons, clay and wooden utensils, embroidered tablecloths, handcuffs and napkins. Wicker baskets to the top filled with crispy apples, honey pears, seasonal berries.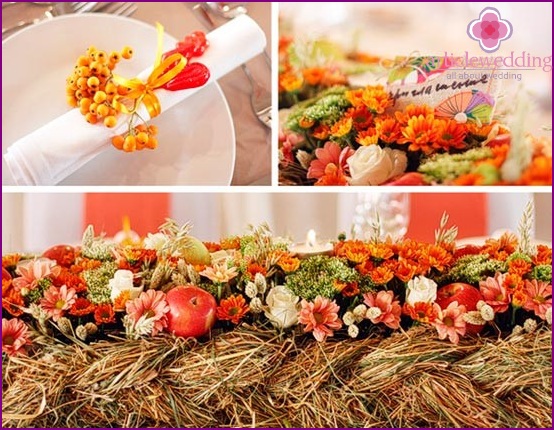 Banquet cards and bonbonnieres
Elements of national «dessert» You can continue in filling guest bonbonnieres. Who said it's obligatory to give candy? Jar of linden honey, miniature bast shoes filled with juicy red lingonberries, raspberry jam in a clay pot.
Speaking of bast shoes and pots. The wedding portal www.articlewedding.com thinks this is a great idea for a seating card. The initials of the guests and the numbers of the tables will look great on pot-bellied clay dishes, in beautiful linden paws. You can take on arms and scrolls-decrees with «official» seal.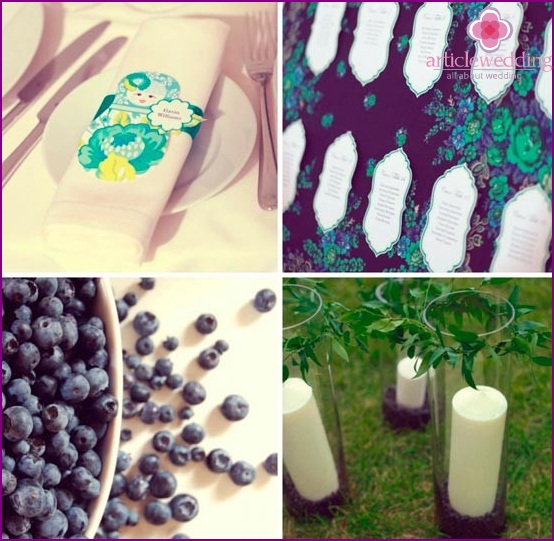 Russian wedding menu
We will treat guests with traditional Russian dishes. Roasted game stuffed with vegetables and fruits, a variety of fish dishes, which Russia has long been famous for. Instead of a wedding cake, you can safely serve a painted loaf with stucco patterns.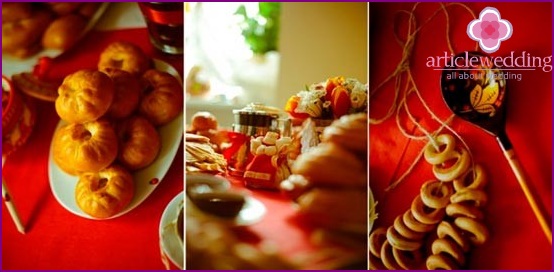 Do not forget about the chickens, pancakes, kalach, bagels. And it's worth drinking all these pickles with mead, stewed fruit, somnit, aromatic teas of their old samovar!